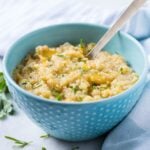 Print Recipe
Roasted Butternut Squash Risotto With Quinoa Recipe (Video)
This butternut squash risotto is prepared using quinoa and fresh roasted mashed butternut squash. A flavorful and delicious meal to serve as a side or a main dish
Roasting Butternut Squash
Preheat oven at 400F.

Peel and cut butternut squash into 1" pieces.

Mix squash pieces with some salt, pepper and spread evenly on baking tray.

Bake the squash for about 25-30 min until they are nice and tender. Once done, cool slightly and mash the pieces using the back of a wooden spatula.
Quinoa Risotto Base
Meanwhile, heat oil in a dutch oven on medium heat. Add garlic and cook for about 30-40 sec.

Then add onions and cook until translucent.

Add quinoa and saute for 2-3 min. Then add vegetable broth and bring the mixture to boil.

Season with salt and simmer on low heat for 15-18 min.

Now add mashed roasted butternut squash and mix to combine.

Cook further for 4-5 min. Keep adding water until it gets to the desired consistency.

Add parmesan cheese and fresh parsley to garnish. Serve warm
Do not mash the squash to a fine puree. Keep them as little chunks so that they are visible and add color to the risotto.