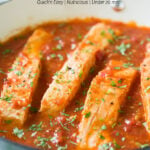 Print Recipe
Quick and Easy Garlic Salmon in Tomato Sauce
This super easy and quick garlic salmon in tomato sauce is perfect to pair with plain rice or grits or pasta. Your meal will be ready to serve in under 30 minutes.
Heat oil in a skillet on medium heat.

Add minced garlic and cook for a few seconds.

Then add tomato, paprika (optional) and cook 7-8 min. or until softens.

Add water and bring mixture to boil. Season with salt and pepper.

Place salmon fillets in the sauce and cook for about 2-3 min. Flip the salmon and cook for another 2-3 min.

Finally, garnish with chopped fresh parsley and serve warm.
In this recipe, I used frozen salmon. I thawed it naturally and then cut into total 4 small fillets.
Mash tomatoes once soft and before adding salmon to get a nice and smooth consistency of the sauce. You can use the back of a wooden spatula for this job.
Cook the sauce until you get desired consistency.