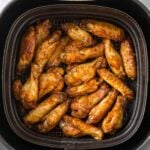 Print Recipe
Quick and Easy Air Fryer BBQ Chicken Wings
Fresh chicken wings cooked to perfection in Air Fryer and then tossed in bbq sauce for delicious smokey flavors.
In a large mixing bowl combine chicken wings with garlic powder, smoked paprika, oil, salt, and pepper. Mix well.

Preheat the Air Fryer to 360F.

Spread chicken wings on the wire mesh evenly in a single layer. Then cook the wings for about 12 min.

Flip the wings or just toss the wings for a few seconds and cook further for 5 min.

Take out out the wings in a mixing bowl. Add barbecue sauce and mix well.

Cook the coated chicken wings for an additional 2 min.

Serve warm.
Spray some oil using an oil spray on the wire basket before placing the chicken wings. Or lightly brush the oil on the wire mesh. It will help prevent sticking the wings to the basket.
You can add more barbecue sauce than mentioned in the list as per your likings.