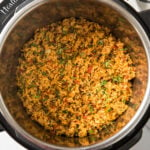 Print Recipe
Instant Pot Mexican Brown Rice 
Make this delicious brown rice in Instant Pot for easy and simple side to your favorite Mexican meal. It is prepared using authentic spices, fresh tomato, onion, and garlic.
Heat cooking oil on medium saute mode in Instant Pot.

Add garlic, onion and cook until translucent or for 2-3 mins.

Now add rice, chipotle chili powder, and cumin powder and stir fry for 2-3 mins.

Add tomatoes and cook for another 1-2 min.

Then add water, salt to taste and mix well.

Cook the mixture on manual high pressure for 22 mins.

Let the steam release naturally for 1 min and then quick release the remaining.

Add freshly chopped cilantro and mix well. Serve warm.
I prefer to clean the rice with water before using them in recipes. You can rinse and drain the excess water from rice using a large strainer.
This rice dish has a slight heat coming from chipotle chili powder. You can consider it adding as per your taste. I love its flavors even though it is slightly hot.
You can also serve lime wedges on the side of this brown rice dish.