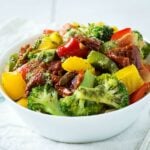 Print Recipe
Simple, Quick Yet Delicious and Nutritious Stir-fry Veggies
This stir-fry veggies get ready in no time. Serve as a side to pasta or rice dishes for a complete wholesome meal.
Heat oil in a pan on medium heat. Add garlic, onion, and saute for few mins.

Then add diced bell peppers, broccoli and saute 5-6 mins.

Add sundried tomatoes, oregano, salt, and pepper; mix well

Before serving, top with some basil pesto and apple slices. Serve as a side to delicious pasta like mac'n cheese or any other dish
You can reserve and use olive oil drained from a can of sun-dried tomato to stir fry veggies.
You can also add some greens for added nutrition.
If you are super busy, you can go with frozen peppers to cut down prep time.