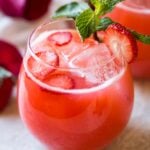 Print Recipe
Homemade Fresh Strawberry Lemonade Recipe
Refreshing and cooling homemade strawberry lemonade for making summer party time special.
1 1/4

lb

fresh strawberries stems removed

1

cup

lemon juice freshly squeezed

3/4

cup

cane sugar

4

cup

water chilled

ice

few fresh mint leaves to garnish

few strawberry slices to garnish
In blender jar combine strawberries, sugar and lemon juice. Blend until everything gets pureed.

Strain the mixture using a strainer to remove the grits from the fine seeds of the strawberries.

Transfer the strained pulp mixture to a large pitcher.

Now add water and mix well. Let the lemonade chill before serving.

Serve with ice cubes and garnish with a few mint leaves along with a sliced strawberry.
Add more sugar if you want it sweeter. I usually prefer lemonade that is not oversweet. Therefore, with the amount of sugar I mentioned above you may find the lemonade little less sweet for you.
You can tear and add few mint leaves to the pitcher to get the nice minty flavor.
You can find more helpful tips above.