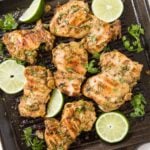 Print Recipe
Easy Cilantro Lime Grilled Chicken Thighs Recipe
Prepare these cilantro lime grilled chicken thighs with delicious and healthy marinade. A quick and easy prep-ahead recipe perfect for grilling party dinners. Or just cook marinated chicken on the grill or frying pan for the weeknight dinner.
6

chicken thighs

boneless and skinless
In a small mixing bowl combine all the ingredients mentioned under cilantro lime marinade.

Coat the chicken thighs with the prepared marinade evenly. Cover and marinate the chicken for at least 1 hour or so.

Preheat the grill to about 400F or preheat the grill pan on medium heat.

Brush some oil on the grill and cook the chicken thighs for about 5-6 minutes. Flip them and cook for another 5-6 minutes or until well done.

Serve warm when ready.
You can also use this cilantro lime marinade with chicken breasts or drumsticks. However, cooking times may vary.
Cook the chicken until the pink color in the center disappears. And do not overcook it; otherwise, it will become hard in texture. Perfectly cooked chicken gives a soft and juicy texture.
Lime juice also acts as a meat tenderizer, and in this case, it makes the chicken tender and juicy.
You can use less lime juice than mentioned above if you are not a fan of the strong tangy taste.