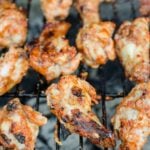 Print Recipe
Grilled Tandoori Chicken Wings
Fresh chicken wings are marinated in yogurt and Indian spices for long enough to infuse all the spices perfectly into the chicken. Then these marinated chicken is cooked to perfection on a preheated grill. The smoky taste that develops during grilling make these grilled tandoori chicken wings even more delicious.
2

lb

chicken wings

1

cup

plain greek yogurt

fat-free

1

tbsp

tomato paste

2-3

large garlic cloves finely minced

1/2

" ginger peeled and finely grated

1

tsp

red chili powder

1

tsp

garam masala

salt to taste

1

tbsp

lemon juice

2-3

tbsp

finely chopped cilantro
In a large bowl prepare marinade by mixing plain greek yogurt* with other ingredients (except chicken and cilantro).

Then add chicken wings to the yogurt marinade. Mix thoroughly to coat all the chicken wings evenly. Cover the bowl and let it marinate for at least 1 hr**.

Then cook the marinated chicken wings on the preheated charcoal grill or gas grill for 10-12 min on each side or until well done.

Spread finely chopped cilantro and serve warm
*Use only greek yogurt to marinate the chicken because it contains less water and makes the marinade thick enough to stick on to the wings. If you do not have greek yogurt you can use regular yogurt by removing its water to some extent. Just place the yogurt in few layers of cheese cloth lined over a large strainer. Place a bowl underneath to collect excess water. Put the bowl with a strainer in the refrigerator for 4-5 hours. Prepare greek yogurt this way well in advance.
**The longer you marinate the chicken the more flavorful it will be. And if you decide to marinate the chicken wings for more than 1-2 hours, place them in the refrigerator.