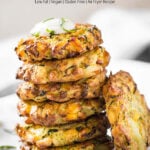 Print Recipe
Air Fryer Healthy Zucchini Corn Fritters
These healthy corn and zucchini fritters are perfect for healthy snacks or appetizers. Made using grated zucchini, corn kernels, and potato.
2

medium zucchini

1

cup

corn kernels

1

medium potato cooked

2

tbsp

chickpea flour

2-3

garlic finely minced

1-2

tsp 

olive oil

salt and pepper
Grate zucchini using a grater or food processor. In a mixing bowl, mix grated zucchini with little salt and leave it for 10-15 min. Then squeeze out excess water from the zucchini using clean hands or using a cheesecloth.

Also, grate or mash the cooked potato*.

Combine zucchini, potato, corn, chickpea flour, garlic, salt and pepper in a mixing bowl.

Roughly take 2 tbsp batter, give it a shape of a patty and place them on parchment paper**.

Lightly brush oil on the surface of each fritter. Preheat Air Fryer to 360F.

Place the fritters on the preheated Air Fryer mesh without touching each other. Cook them for 8 min.

Then turn the fritters and cook for another 3-4 minute or until well done or till you get the desired color.

Serve warm with ketchup or yogurt tahini sauce (see notes to prepare)
*Cooking potato - cook the potato in a microwave oven for 3 min. Then place in cold water for a few minutes. Peel and then grate or mash.
**Place the prepared patties on the parchment paper before cooking. It will really help to brush the oil and then take them out without breaking or sticking to the bottom. (Please do not put the parchment paper inside the Fryer. The parchment paper is simply to keep the raw fritters before loading them into the Air Fryer)
Add more flour if necessary. You can also use all purpose flour instead of chickpea flour.
Yogurt tahini sauce - mix 1/2 cup yogurt with 1 tsp tahini and season with salt according to taste.