Make these Air Fryer Zucchini Corn Fritters using fresh zucchini, corn, and potato with an easy and simple recipe. You will need only 5-6 ingredients. Perfect for healthy appetizers or snacks.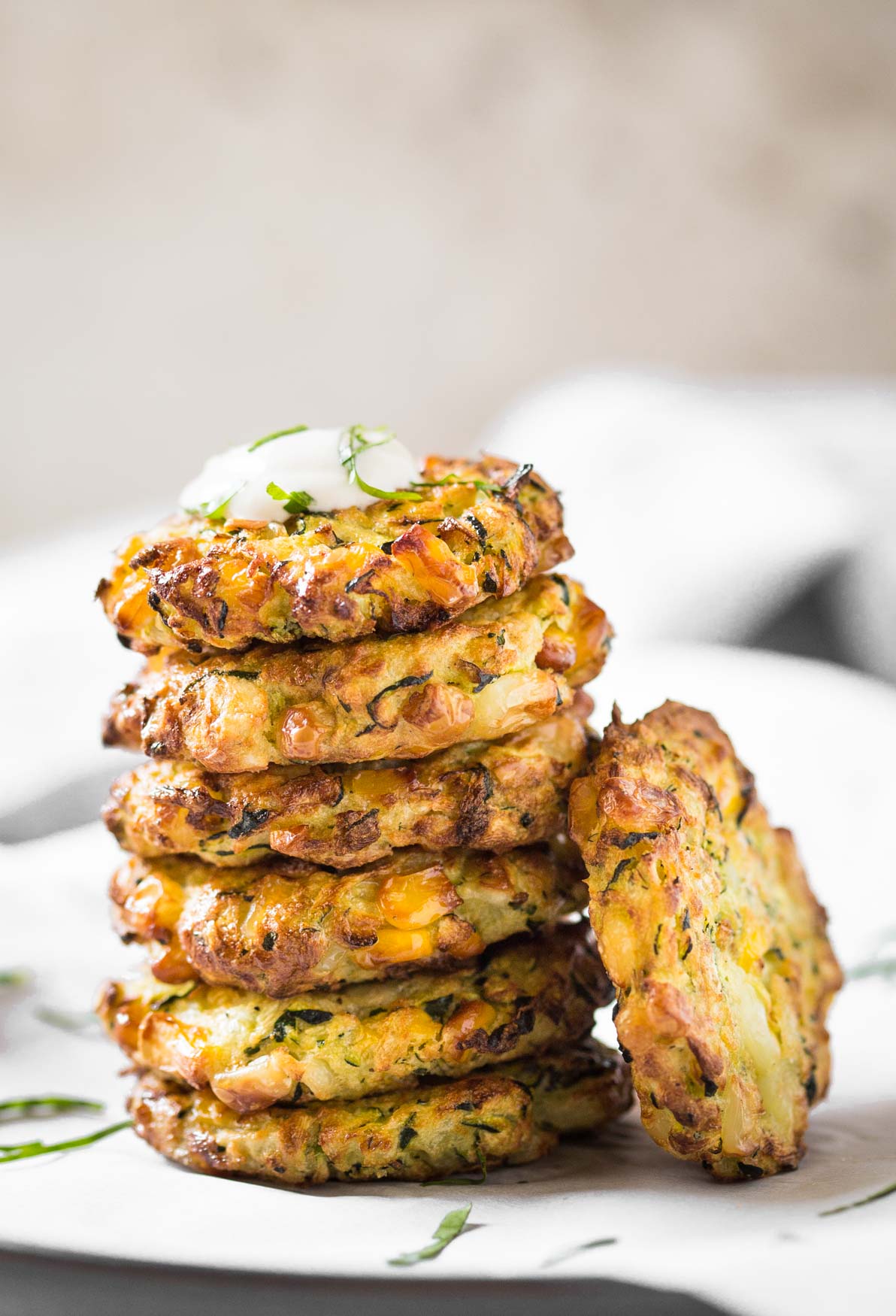 Do you have abundant zucchini harvest from your garden this season? Do you love farm-fresh zucchini? Are you bored of just making roasted zucchini and squash?
Then this healthy air fryer zucchini and corn fritters recipe will give you one more reason to love zucchini and will add another variation to your list of zucchini recipes.
Do not have Air Fryer? Then, shallow fry them in a nonstick fry pan.
Jump to:
Key Ingredients
Zucchini – use medium-size fresh, and firm zucchini. If it is from your garden, use it as soon as possible while it is still fresh and firm. Firm zucchini makes the shredding process easier.
Corn – use corn kernels, either fresh or frozen. If you are using frozen corn, make sure to thaw them and pat dry to remove excess moisture before adding to the batter. You can also use the kernels from this freshly roasted corn on the cob.
Potato – It helps bind the batter and gives a nice texture to the fritters. I usually cook the potato in the microwave and then peel and mash it before using. One small to a medium-size potato is good enough for this recipe.
Chickpea flour – This also helps bind the fritters and adds a nice nutty taste. Also, it adds more protein compared to the regular flour. However, you can skip it and use the regular all-purpose or whole wheat flour instead.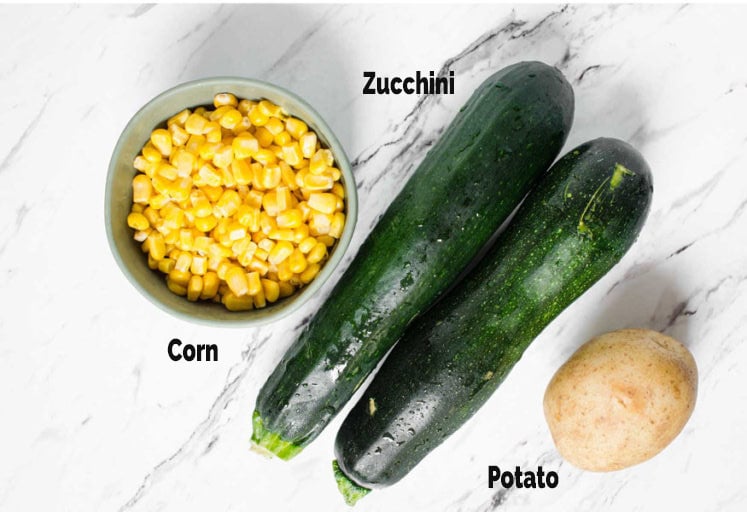 How to shred zucchini
Using a Box Grater (Manual Process)
Thoroughly clean the zucchinis before using them. Trim one end of the zucchini and leave the stem side intact. This will help hold the zucchini while shredding. In a large and shallow bowl, place the box grater and shred the zucchini on the largest side of the grater, starting from the trimmed end, and continue until it reaches the other end.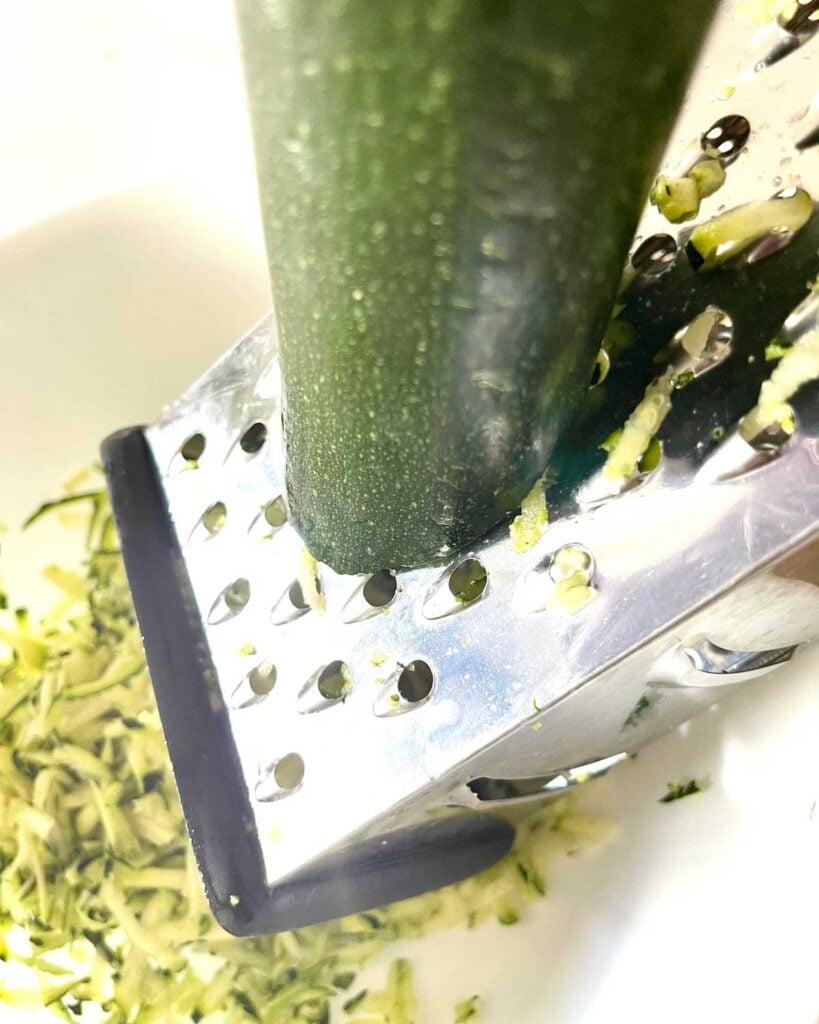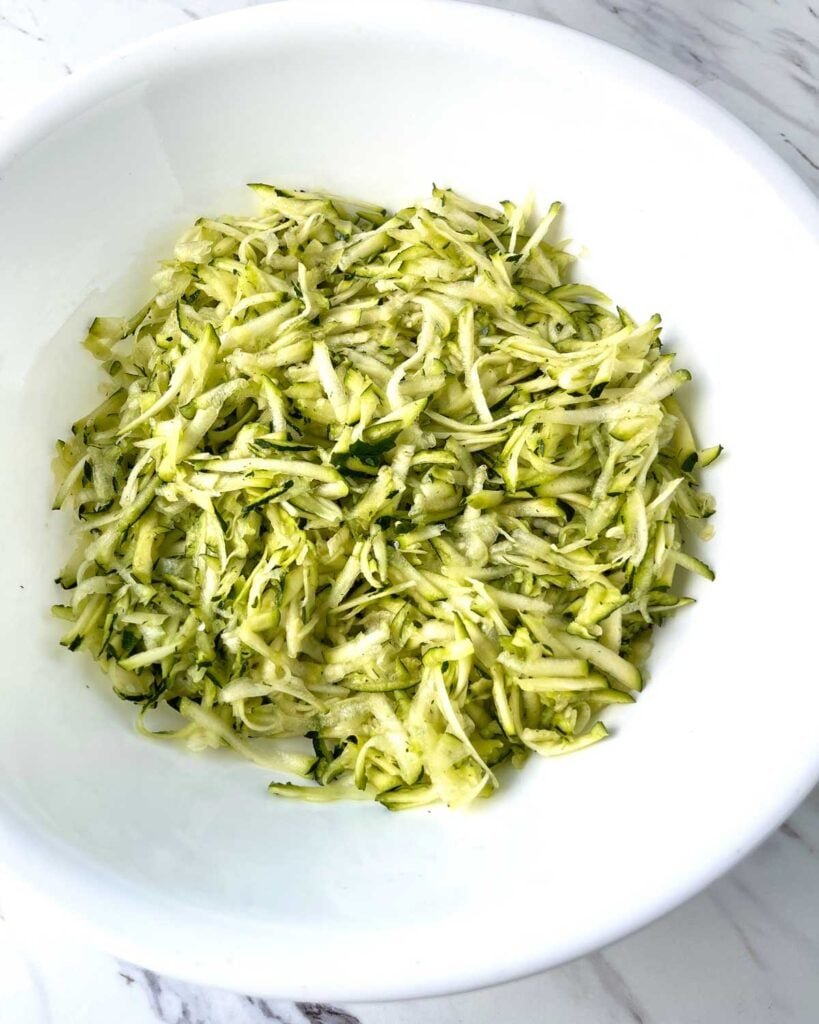 Chef's Tip – As soon as the shredding is done, rinse the grater under running water. It will clean up easily while it is still wet.
Using a Food Processor
You can also shred the zucchini using a food processor or stand mixer with their grater attachment. In this case, trim both ends of the zucchini and then shred it using your machine. It is a quick process, but it increases the cleanup later. Therefore just for one or two zucchinis, I prefer shredding it manually.
How To Squeeze Water Out Of Shredded Zucchini
Add a little salt to the shredded zucchini; mix well, and transfer the mixture to a bowl lined with a cheesecloth or a thin cotton towel. Let it rest for 10-15 min. Adding salt will help to release out excess water from the zucchini. Squeeze out the excess water by twisting the cheesecloth. You can also squeeze the water with clean hands.
This step is critical, or else you will end up adding quite a bit of flour to the batter to get the right consistency.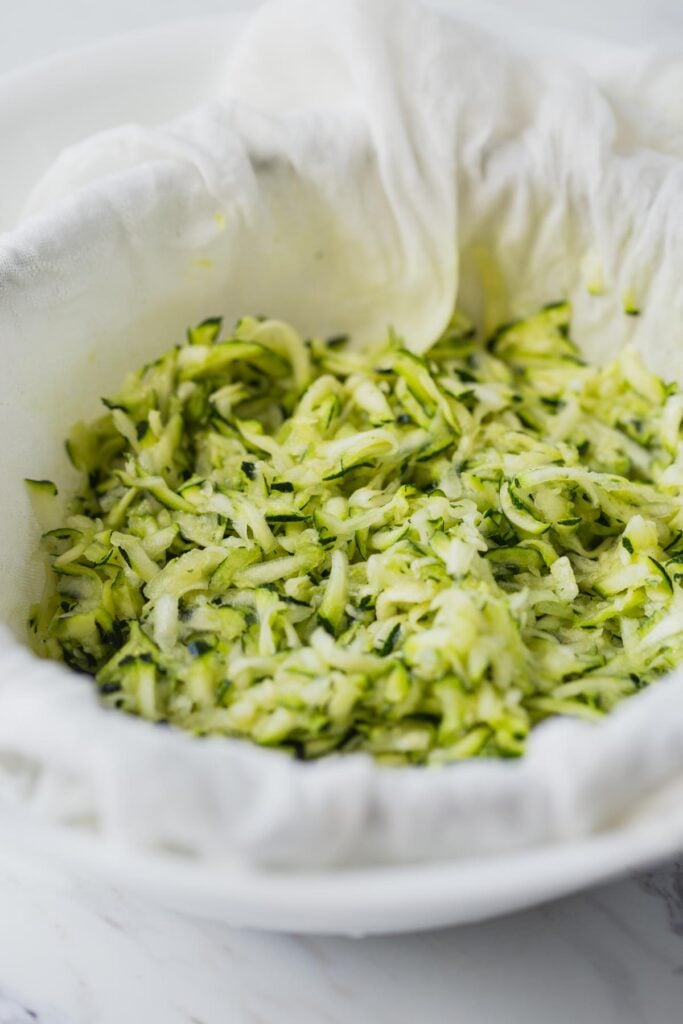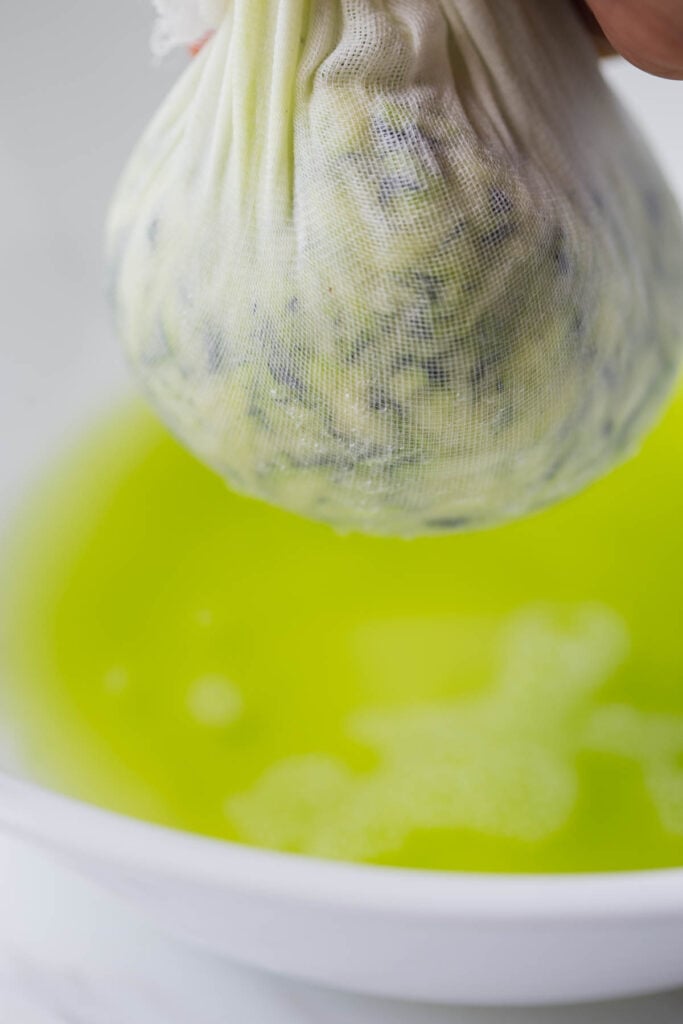 Chef's Tip – Do not throw away the juice collected after squeezing the grated zucchini (mentioned above). You can use it in soups, curry, sauces, or even kneading the flatbread dough, as it contains a ton of nutrients. Also, remember the water has some salt in it.
How to Make Air Fryer Zucchini Corn Fritters?
Step 1: Prepare Batter
Combine shredded zucchini with mashed potato, corn, and chickpea flour. Also, add salt, pepper, and some finely minced garlic to make the fritters more flavorful. Mix everything well to make a thick batter.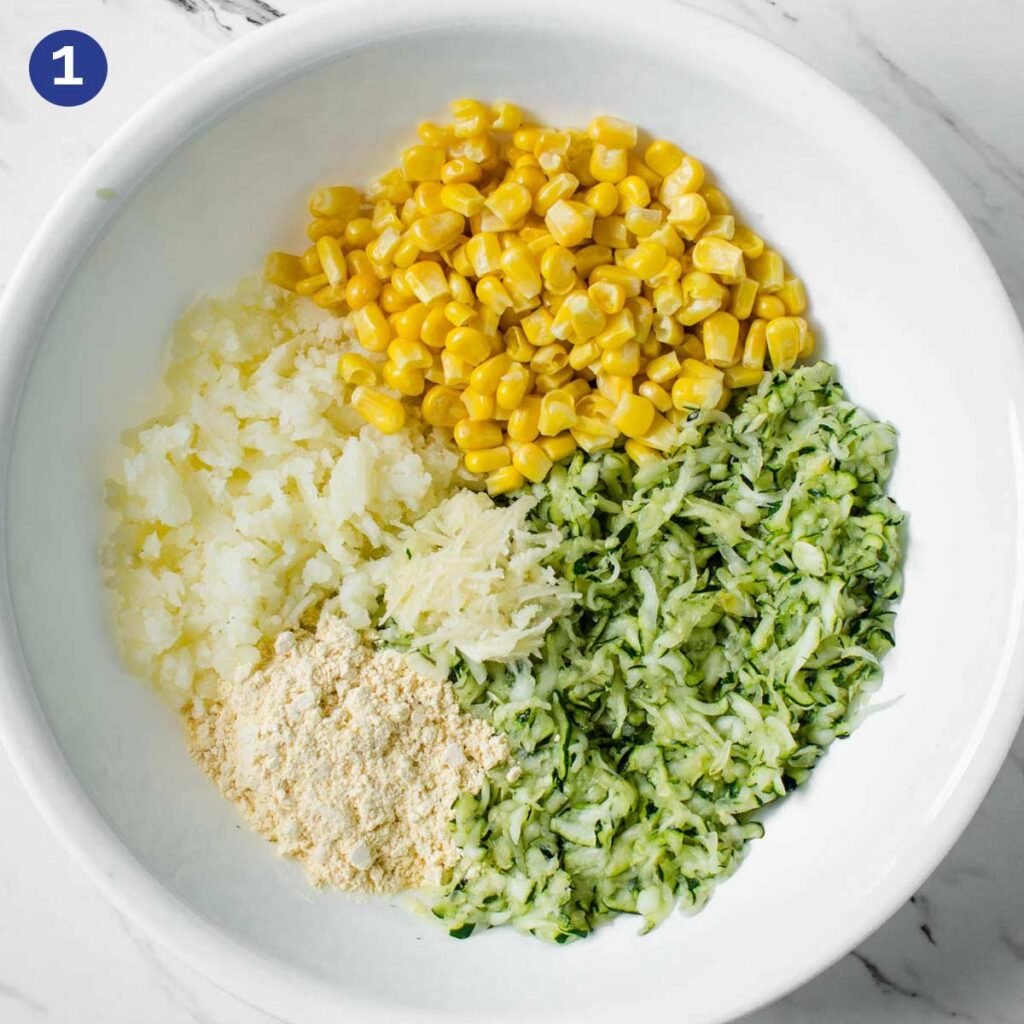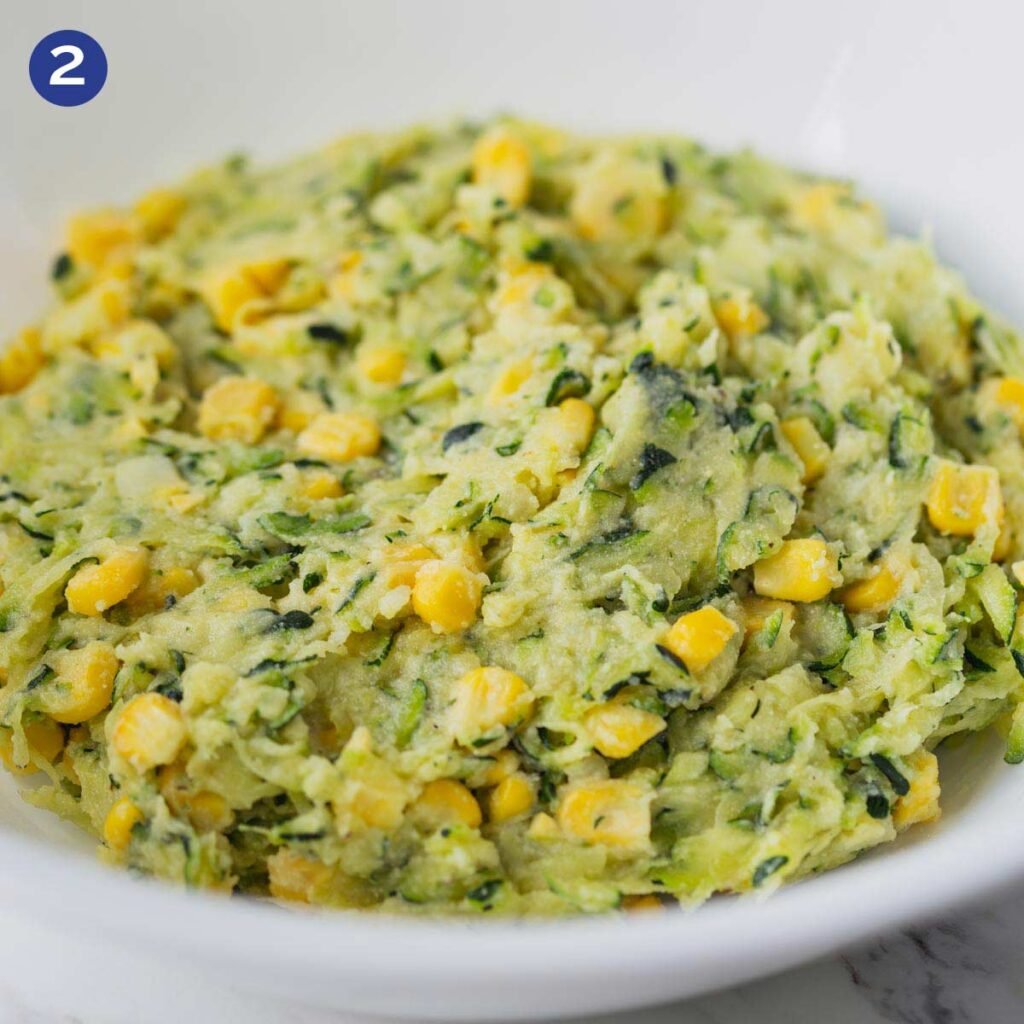 Step 2: Make patties
Divide the batter into small equal portions and shape them into patties. Place the prepared patties on the parchment paper before cooking. Parchment paper will make it easier to lift them without sticking.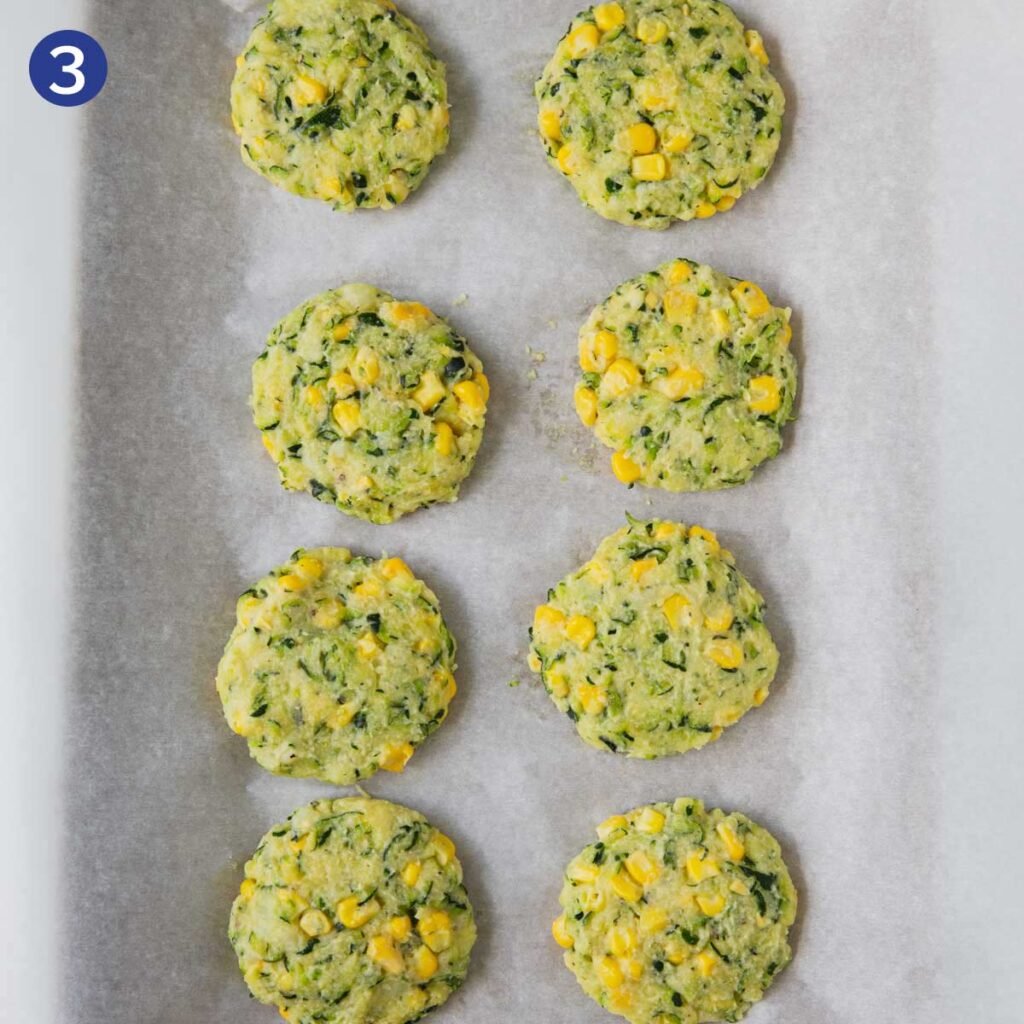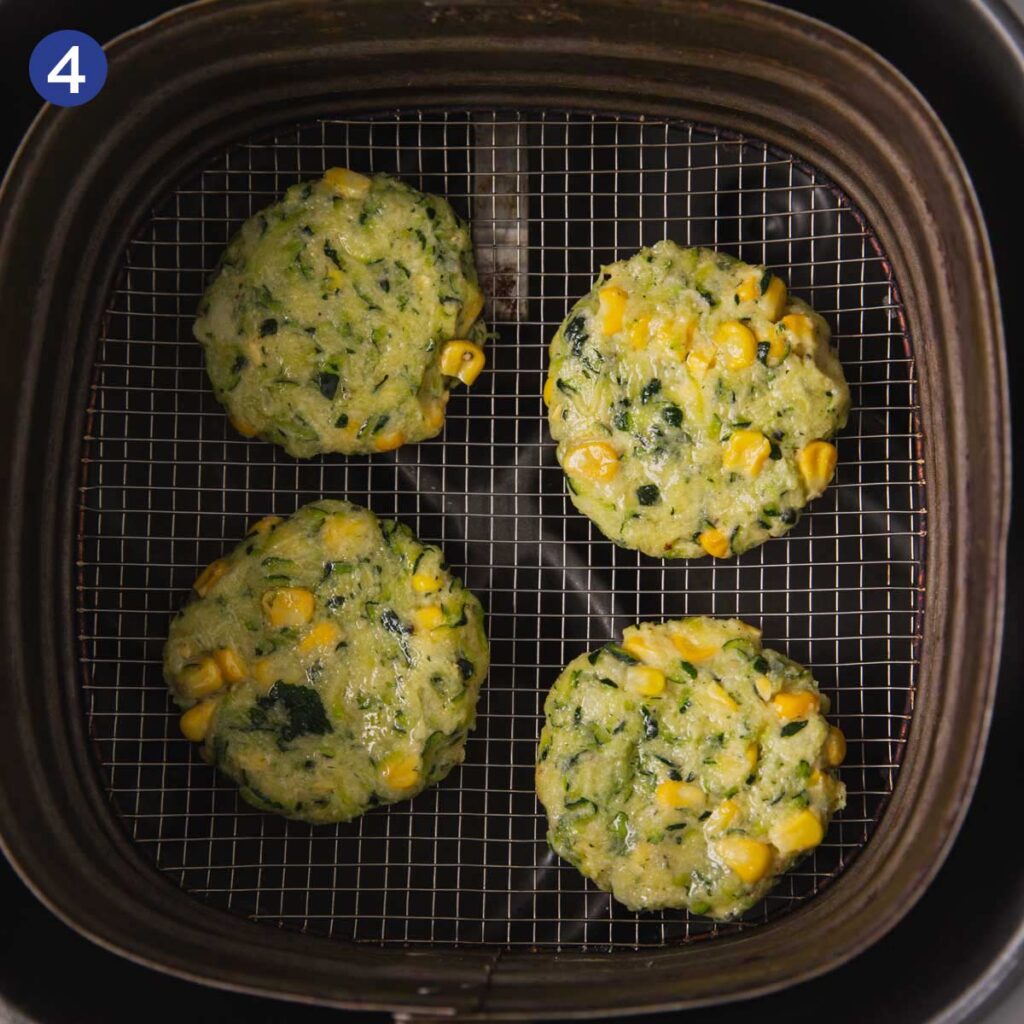 Step 3: Cook zucchini fritters in Air Fryer
Lightly brush the raw fritters with oil and place them in a preheated Air Fryer basket making sure they don't touch each other. Cook them for 7-8 min, flip and continue cooking for 3-4 min or until well done.
A detailed list of ingredients and instructions are given below.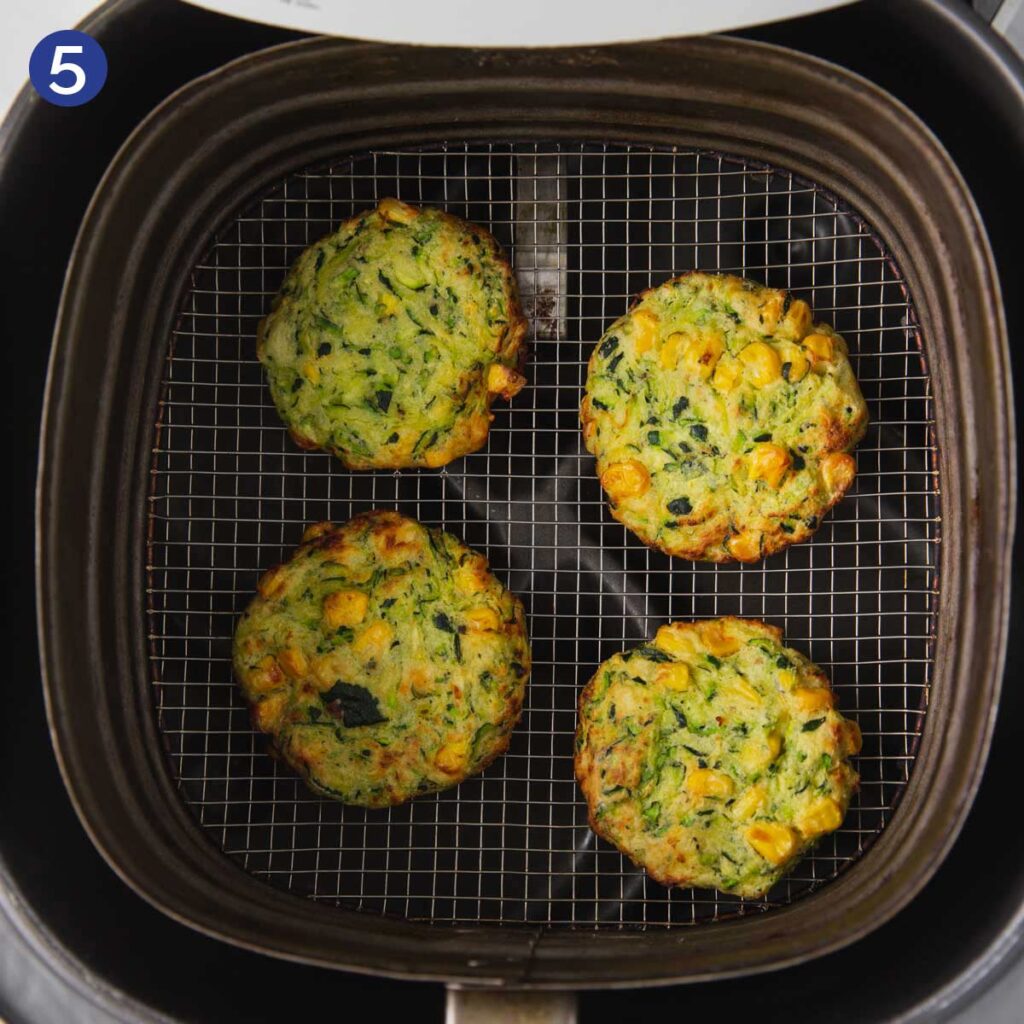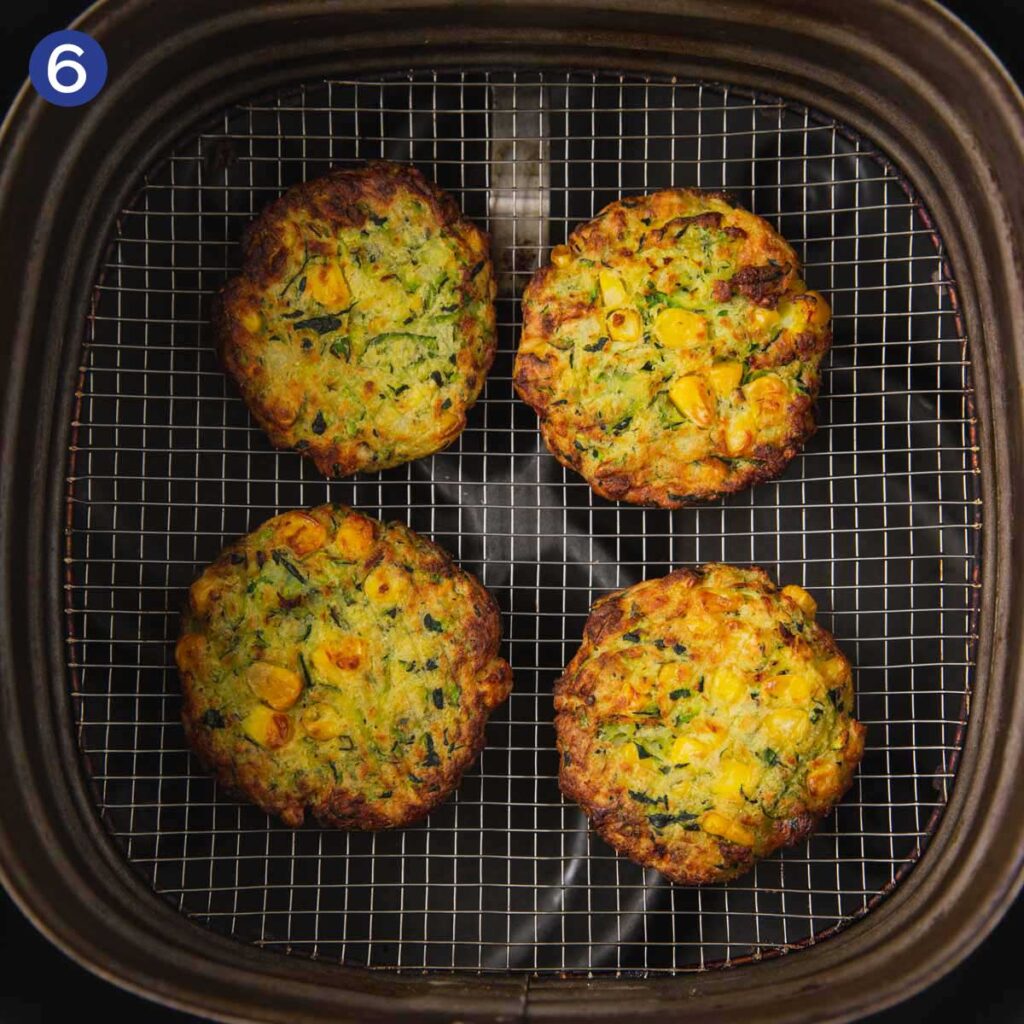 Air Fryer Cooking
I love the XL size of the Phillips Air Fryer. It can accommodate four large or 6-7 small fritters at a time. In this recipe, I made them in two batches.
If you are on the fence about buying a new Air Fryer, I would suggest going for a bigger size. It will initially cost you a few extra dollars, but you will save running costs and time while using it in the kitchen.
DO NOT have an Air Fryer?
No worries! Simply heat some oil in a nonstick frying pan or a well-seasoned cast-iron skillet. Cook these prepared zucchini fritters on low heat until well done (approx. 10-12 min).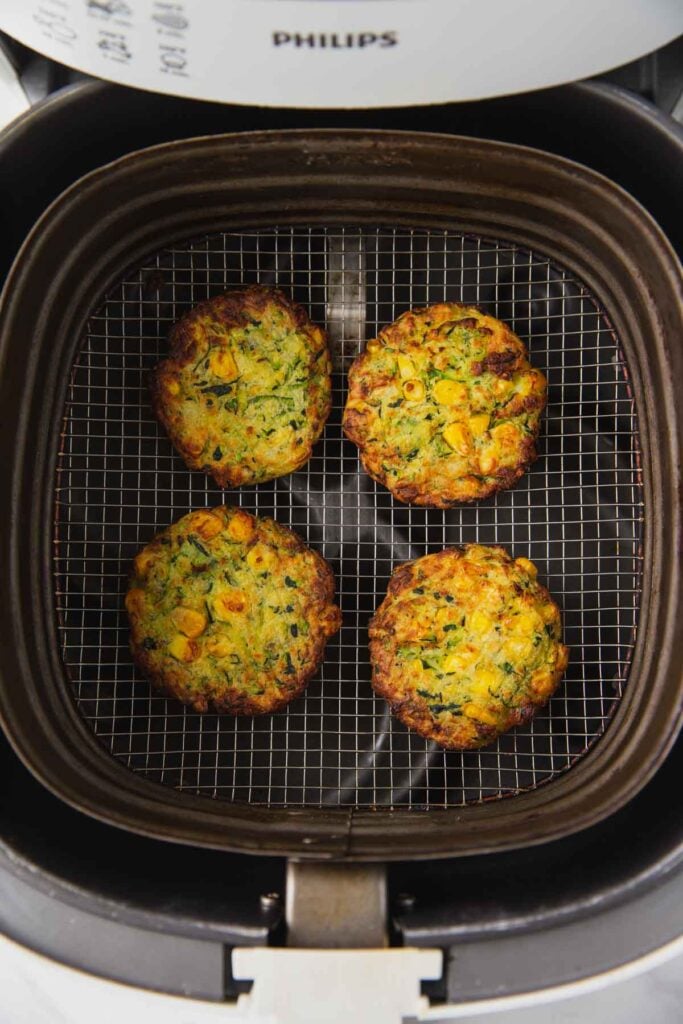 Serving Suggestions!
Serve these zucchini corn fritters warm with ketchup or dipping sauce on the side for a healthy snack or appetizer. I made tahini-yogurt sauce to serve with them.
Serve them on the side of salads like brown rice and lentil salad or garlic kale pasta for a wholesome meal.
Add them to this quinoa bowl instead of roasted veggies.
Helpful Tips!
Choose medium-sized zucchinis without any dents and blemishes. Press lightly all over and check its firmness. Always buy firm and fresh-looking zucchini with a dark, rich green color.
Thoroughly clean the zucchini before cutting to remove all the dirt and pesticide layers using clean water. Give a bit of pressure while rubbing and cleaning. It may sound obvious, but I wanted to mention this step. Because 'great' people like my husband simply 'show' water to the veggies in the name of cleaning. So this tip is for those who are like him.
You can use freshly removed corn kernels. However, I have used frozen corn in this recipe.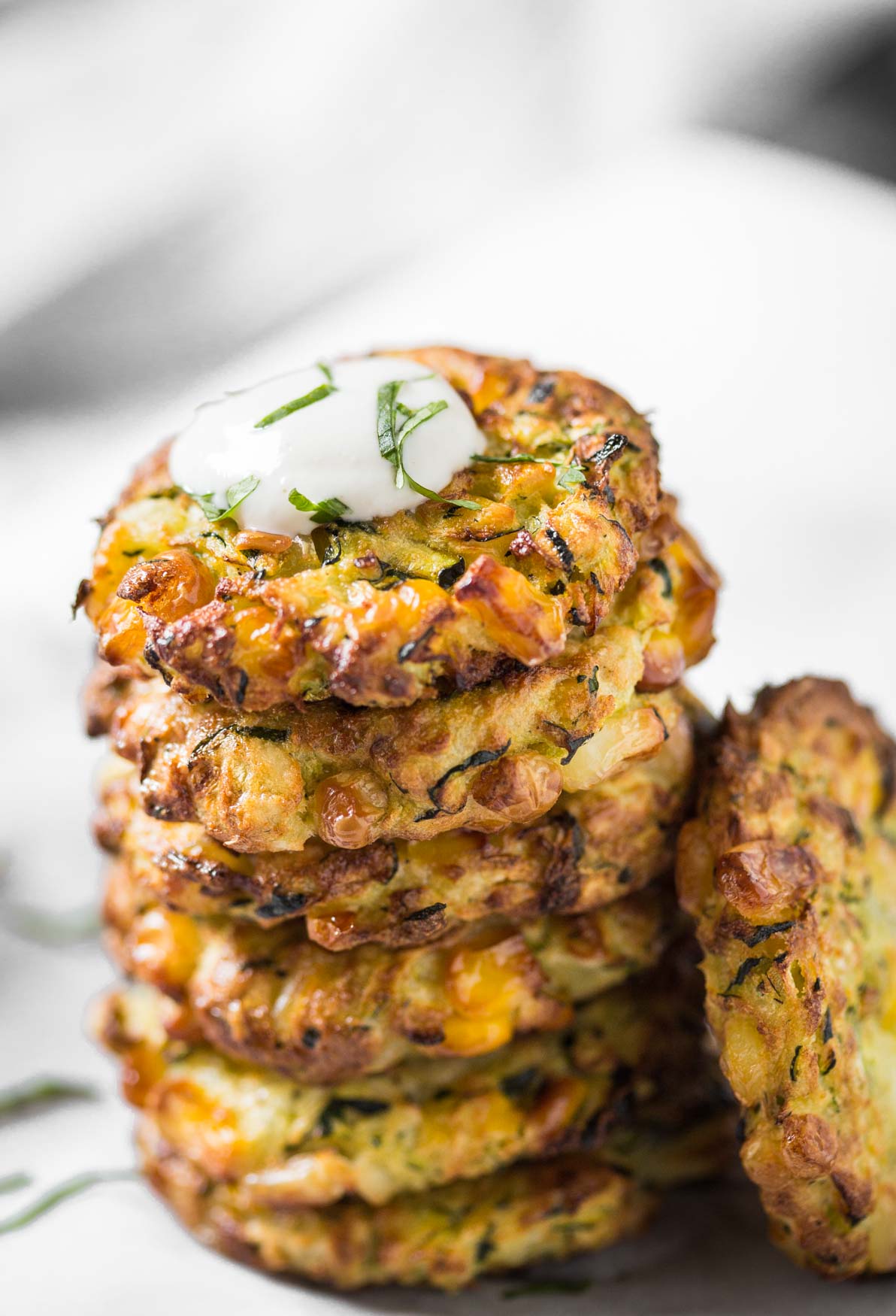 How Are These Zucchini Fritters Healthy?
The Air Fryer does not require a lot of oil to give a fried texture to the food. These fritters are made in the Air Fryer by lightly brushing oil on the surface.
These fritters do not contain any cheese or butter, and is therefore low in saturated fat.
They are loaded with nutrients from fresh zucchini and corn. Read more about the benefits of zucchini in this huff post's article.
Chickpea flour in this recipe is a perfect swap for the traditional all-purpose flour.
FAQs
Why are my zucchini fritters soggy?
There are a few reasons that can make the zucchini fritters soggy — a) not using sufficient salt, b) not letting the shredded and salted zucchini rest for sufficient time (at least 10 min), c) not squeezing out the water completely. This can result in a moist batter and, thus, soggy fritters.
Can regular flour or almond flour be used instead of chickpea?
Yes. You can use regular all-purpose flour, whole wheat flour, or almond flour to make these fritters.
How to store and reuse leftover fritters.
Preferably, store excess batter or prepared raw zucchini corn patties layered on a parchment paper in an airtight container. The next day you can cook them in the Air Fryer just before serving.

Or, you can also store fried leftover fritters in an air-tight container, and next time before serving, reheat them in the Air Fryer for about 1-2 min.
More Air Fryer Recipes To Try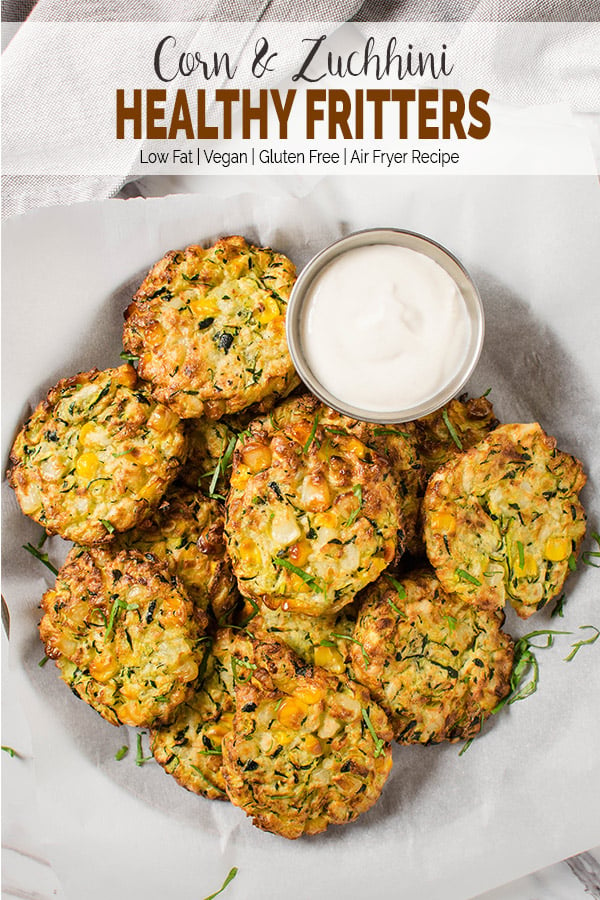 Love this recipe? Please leave a 5-star ⭐⭐⭐⭐⭐ rating in the recipe card below & a review in the comments if you REALLY like this recipe. Thank You!
📖 Recipe
Air Fryer Zucchini Corn Fritters
These healthy corn and zucchini fritters are perfect for healthy snacks or appetizers. Made using grated zucchini, corn kernels, and potato.
Ingredients
2

medium zucchini

1

cup

corn kernels

1

medium potato cooked

2

tablespoon

chickpea flour

2-3

garlic finely minced

1-2

tsp 

olive oil

salt and pepper
For Serving:
Ketchup or Yogurt tahini sauce
Instructions
Grate zucchini using a grater or food processor. In a mixing bowl, mix grated zucchini with a little salt and leave it for 10-15 min. Then squeeze out excess water from the zucchini using clean hands or using a cheesecloth.

Also, grate or mash the cooked potato*.

Combine zucchini, potato, corn, chickpea flour, garlic, salt, and pepper in a mixing bowl.

Roughly take 2 tablespoon batter, give it a shape of a patty and place them on parchment paper**.

Lightly brush oil on the surface of each fritter. Preheat Air Fryer to 360F.

Place the fritters on the preheated Air Fryer mesh without touching each other. Cook them for 8 min.

Then turn the fritters and cook for another 3-4 min or until well done or till you get the desired color.

Serve warm with ketchup or yogurt tahini sauce (see notes to prepare)
Notes
*Cooking potato – cook the potato in a microwave oven for 3 min. Then place in cold water for a few minutes. Peel and then grate or mash it.
**Place the prepared patties on the parchment paper before cooking. It will help to brush the oil and then take it out without breaking or sticking to the bottom. (Please do not put the parchment paper inside the Fryer. The parchment paper is simply to keep the raw fritters before loading them into the Air Fryer)
Add more flour to the batter, if necessary. 
For the given quantity of ingredients and using my XL size Philips Air Fryer I cook these fritters in two batches. You can prepare a total of 8 medium to large-size or 12-14 small-size fritters.  
For two medium-size zucchini, I could squeeze a little more than ½ cup of water. It is necessary to squeeze out the water as much as possible, to avoid getting mushy or soggy fritters. Also, pat dry, thawed corn kernels if you plan on using frozen ones.
Yogurt tahini sauce – mix ½ cup yogurt with 1 tablespoon tahini and season with salt according to taste. 
Please read the Helpful Tips and Ingredients section above for more tips and details.
Nutrition
Calories:
123
kcal
|
Carbohydrates:
22
g
|
Protein:
4.3
g
|
Fat:
3.2
g
|
Saturated Fat:
0.5
g
|
Potassium:
615
mg
|
Fiber:
3.6
g
|
Sugar:
3.7
g
|
Iron:
2
mg
Tried this recipe?
Tag us on Instagram @watchwhatueat or tag #watchwhatueat! OR leave us a comment & rating below. Your feedback is very important to us.