Make these garlic herb garlic-herb pumpkin flatbread to enjoy the fall and pumpkin season. These are perfect for pairing with curries and soups or making wraps.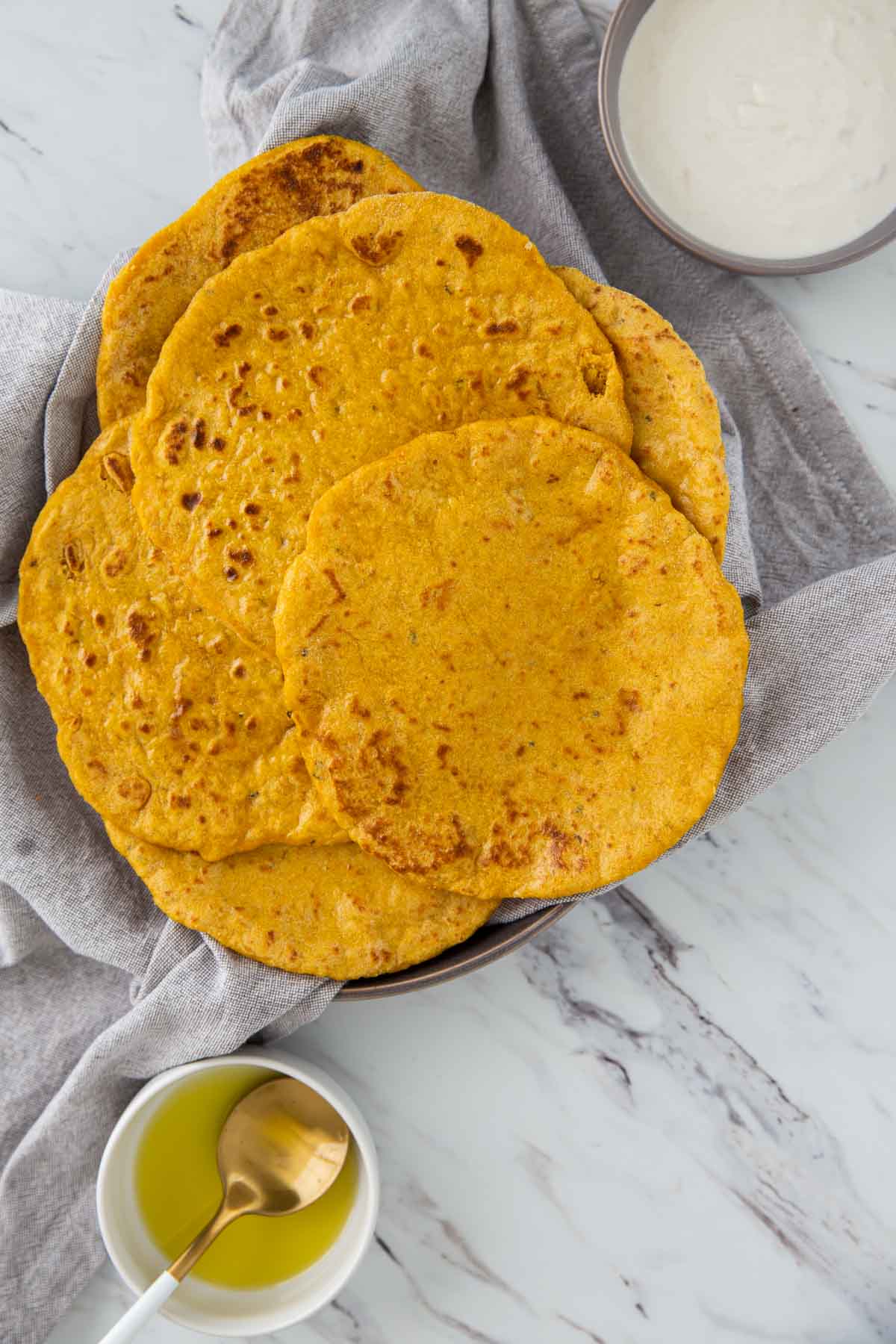 If you have made pita bread or naan bread before, then making these pumpkin flatbreads will be almost similar. And even if you don't have experience, this is not rocket science; you can still make them easily.
Next time instead of buying flatbreads from the store, try this healthy pumpkin flatbread recipe to make them at home. I am sure you will enjoy them fresh. And the beautiful golden yellow color from pumpkin puree automatically adds fall vibes to the flatbreads. You can also make them for fall gatherings or festive parties.
Let's get started.
Ingredients Needed!
Flour – these flatbreads are prepared using whole wheat flour.
Pumpkin puree – use either freshly made or canned pumpkin puree.
Warm water – use warm water that helps to activate the yeast faster.
Garlic and herb – use fresh, finely chopped rosemary and minced garlic to flavor the flatbreads.
Yeast – helps to make the flatbread soft and supple. Also, I find the dough is very easy to roll after proofing. And prefer using Instant yeast (or Rapidrise yeast) for quicker results.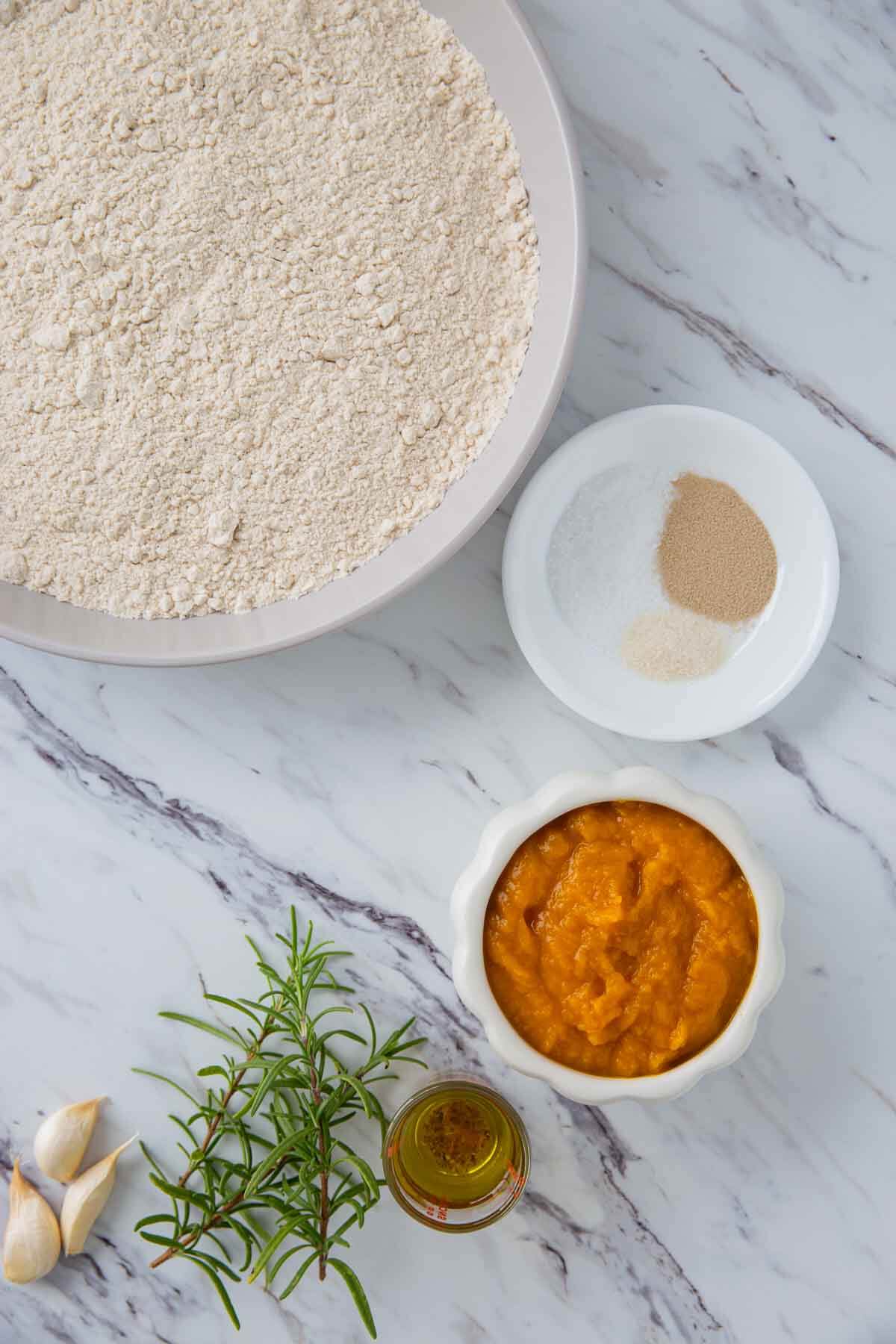 The best flour to make healthy flatbreads
Usually, flatbreads are prepared using all-purpose flour. However, to make them healthy, I used whole wheat flour. And I always use the Indian version (aka atta) as it is superfine in texture compared to the whole wheat flour available in local grocery stores. You can easily find them in Indian grocery stores or some local grocery stores that carry Indian flours. If you don't find the Indian flour brands, use a 50-50 ratio of all-purpose and regular whole wheat flour in this recipe. This combination will also give a soft texture to the flatbreads.
How to make flatbread dough?
Hand-kneading the dough – Combine flour, minced garlic, finely chopped herbs, yeast, and salt in a large mixing bowl. Mix the dry flour with these added ingredients. Then add pumpkin puree and warm water. Using a wooden spatula, mix the flour and water until the dry flour becomes crumbly. Then using hands, knead the mixture for 6-8 minutes or until it forms into a soft, supple dough. You can also rub some oil on your hands to avoid sticking the dough to the hands. Cover the dough and let it rise for 15-20 min.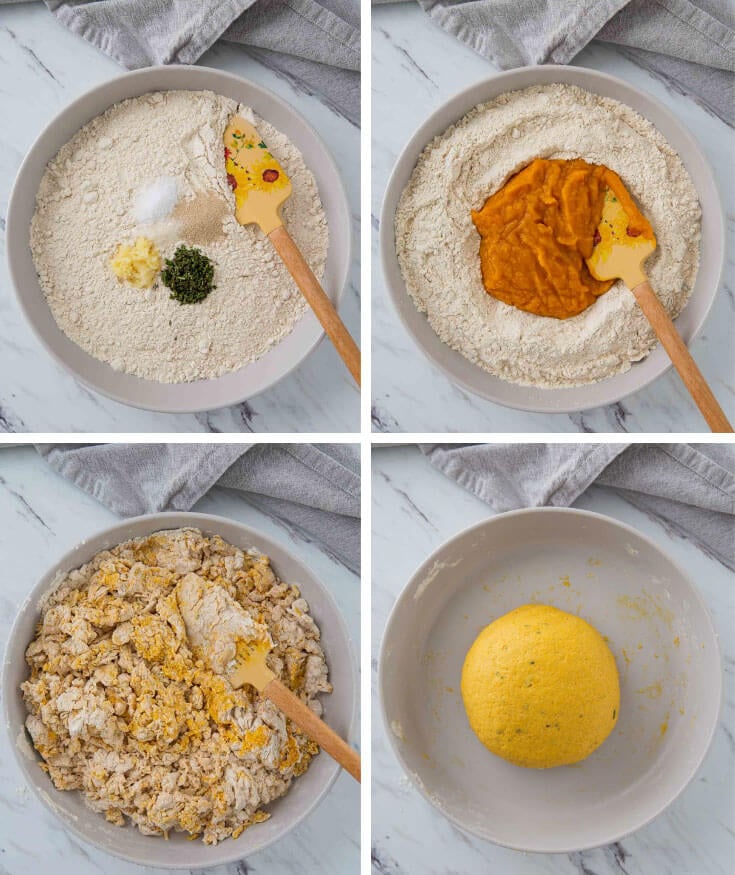 Machine-kneading the dough – Add flour, garlic, herbs, yeast, salt, and pumpkin puree in a mixing bowl. Attach the dough hook to the stand mixer. Gradually add warm water and knead the dough on low to medium settings (I have a KitchenAid stand mixer, and I always knead all kinds of dough on its NO-2 setting). Knead the dough for 5-6 min. Finally, drizzle some oil and knead for a few more seconds. Remove the mixing bowl from the machine, cover it, and let the dough rise for 15-20 min.
How to make pumpkin flatbread?
Once the dough has risen, you can start making flatbreads. Deflate and divide the dough into small equal portions. Give each portion a round shape and roll it to make a roughly ¼″ thick round flatbread. Meanwhile, heat the cast iron pan on medium to high heat. Cook the prepared flatbread on a preheated pan on both sides until well done. Take out the cooked flatbread from the pan and then lightly brush it with olive oil on both sides. Finally, store them in a tortilla keeper lined with a kitchen paper towel.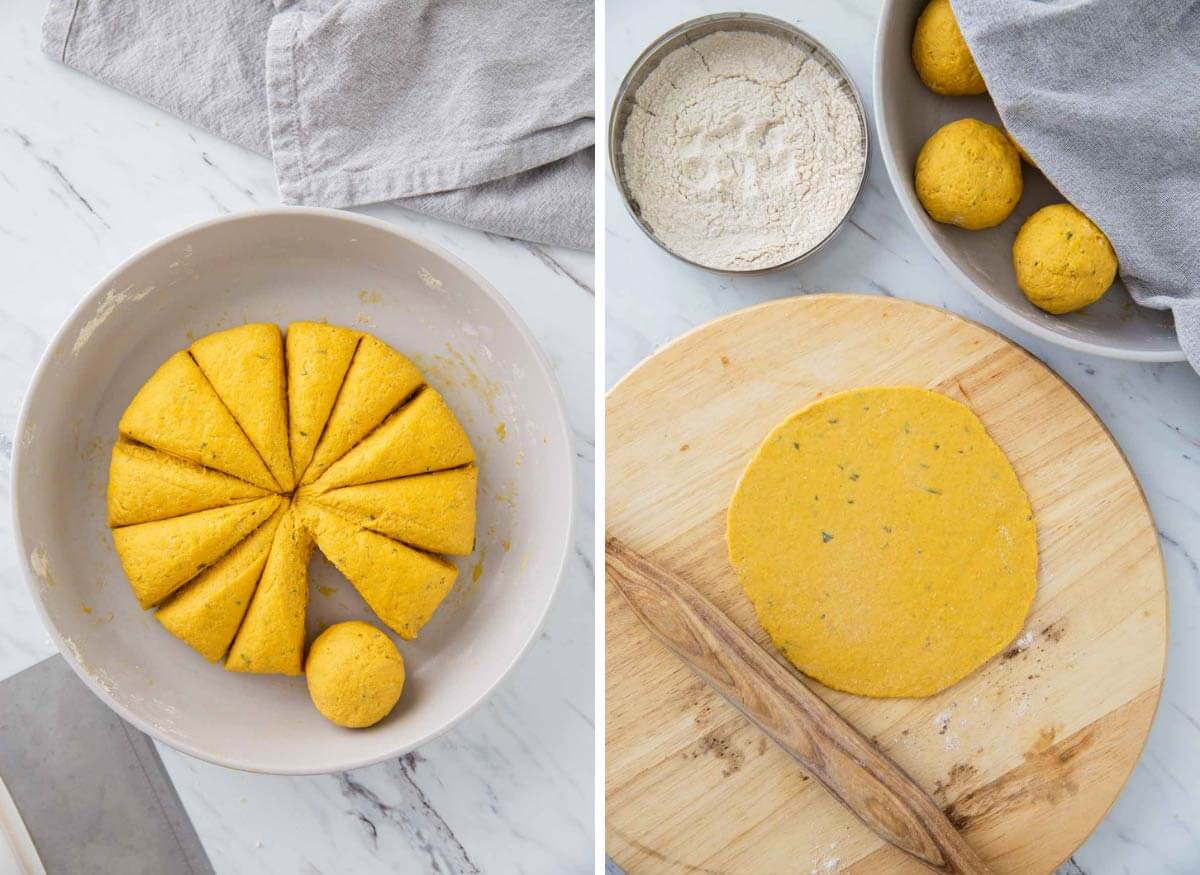 Serving Suggestions!
Helpful Tips!
Preferably use Rapidrise yeast so that the dough is ready in less than 1 hr to prepare the flatbreads. Regular yeast needs to be activated first with warm water and some sugar before adding it to the flour. It will also take a bit longer for the dough to rise.
Use warm water for kneading the dough so that it will rise faster. Warm water helps the yeast to activate.
Use finely chopped herbs and finely minced garlic in making the flatbread dough. It will help to distribute the flavor evenly. And also, while rolling they won't come in your way.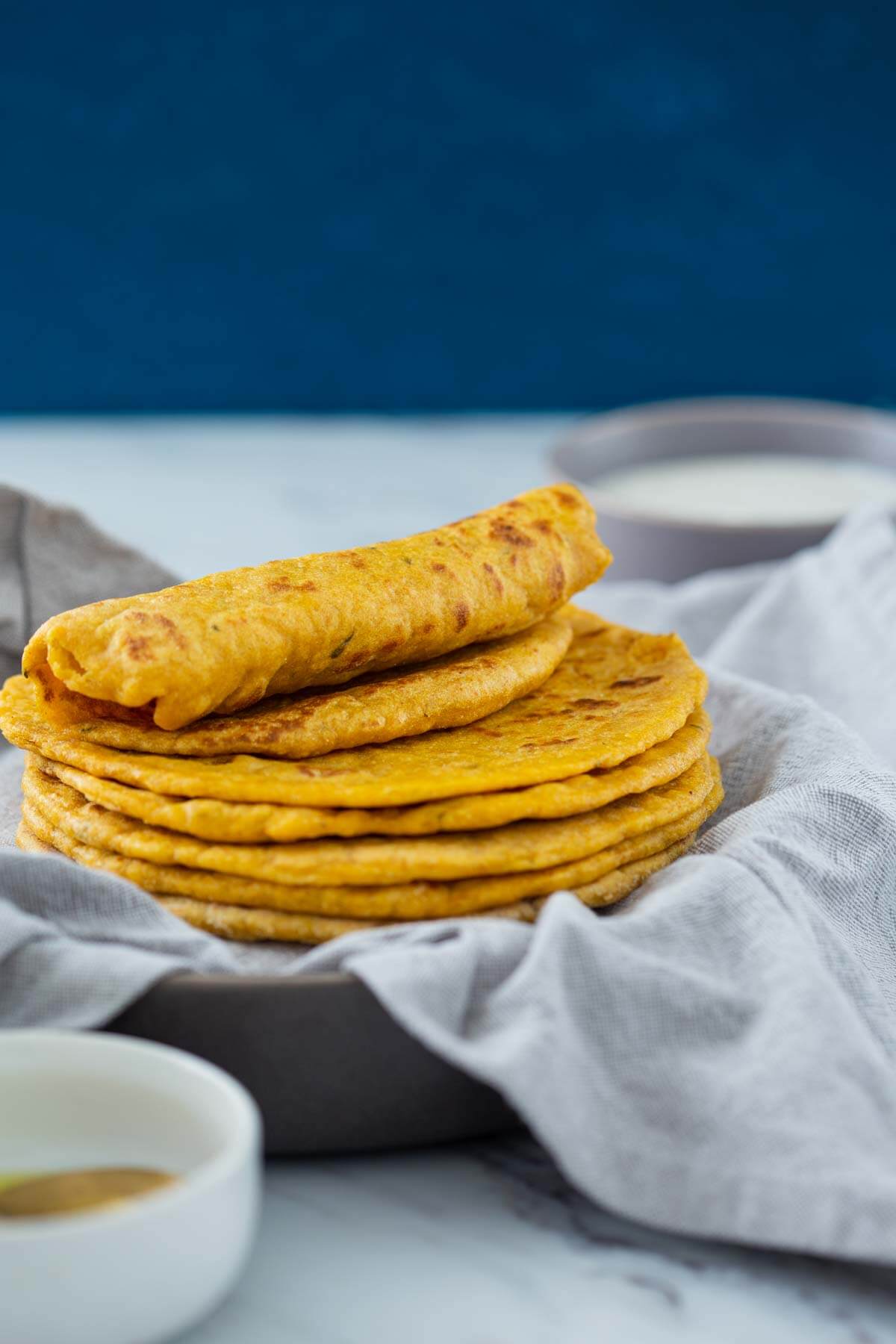 Recipe Variations!
Make these flatbreads using all-purpose flour. However, you may need to use less water than mentioned in the recipe, as the whole wheat version absorbs more water.
Feel free to use herbs of your choice in making these flatbreads. Fresh parsley or cilantro, or oregano will also work in the recipe.
If you are not a garlic fan, then you can skip it completely.
You can also make these flatbreads using sweet potato puree instead of pumpkin puree.
FAQs
How to store and reuse the leftover flatbread dough?
Store the leftover dough in an airtight storage container. Make sure the container is big enough and has space for the dough to rise while it is covered. Store it in the refrigerator for a couple of days. Before using the dough again, please bring it to room temperature naturally and then make the flatbreads.
How to store the leftover garlic herb pumpkin flatbread?
Place leftover pumpkin flatbreads in an air-tight container and store them in the refrigerator. Before serving, warm them in a hot pan or microwave for 30-45 seconds.
Personally, I prefer storing leftover dough and then making fresh flatbreads the next day. This way we get fresh soft flatbreads to eat.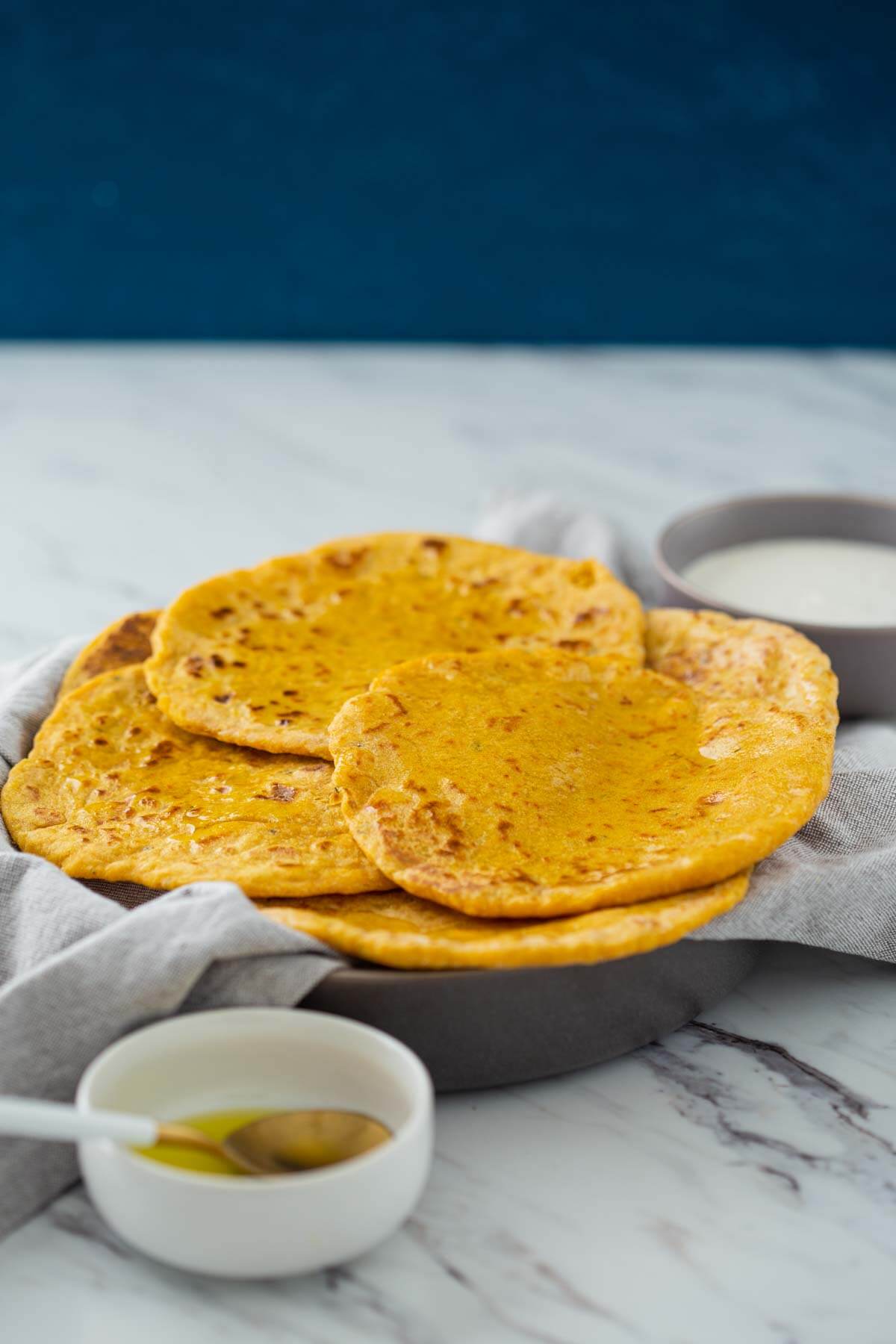 You will also love these whole wheat bread
📖 Recipe
Whole Wheat Pumpkin Flatbread
Make these golden whole wheat pumpkin flatbreads at home with an easy and simple recipe to enjoy the fall and festive season. Flavored with garlic and fresh rosemary these are perfect for pairing with curries and soups or for making
Instructions
In a large mixing bowl combine flour with sugar, yeast, salt, finely chopped rosemary, and minced garlic. Mix well.

Then make room at the center of the flour mixture, add the pumpkin puree and warm water in it. Using a spatula start mixing the flour slowly until all the dry flour absorbs the moisture and becomes a crumbly mixture.

Then using your hands knead the mixture to form a soft dough. You can also use little oil to avoid it sticking to the bowl. Finally cover the dough and let it rest for 10-15 mins.

Divide the dough into 12 equal parts and make them into small rounds.

Sprinkle some dry flour on a flat surface and roll the dough ball to form 6-7" round flatbreads.

In a preheated pan cook the rolled flatbread on both sides until well done. It will take 1-2 min to cook on each side. Repeat these steps with the remaining dough to make more flatbreads.

Lightly brush the olive oil on cooked flatbreads and serve warm.
Notes
Kneading the dough using a stand mixer – add all the ingredients mentioned, except oil and water, in a mixing bowl. Attach a dough kneading hook and run the mixer on its number 2 settings. Gradually add water, let the machine run, and knead the dough for about 3-4 mins. Add a little oil and knead it for a few more seconds. Remove the mixing bowl and the kneading hook. Cover the dough and let it sit for 10-15 mins before rolling the flatbreads.
Cast iron pan – use it for cooking the flatbreads. Even heat from a cast iron pan helps to cook the flatbreads evenly and make them soft in texture.
Storing flatbreads – store prepared flatbreads in an insulated tortilla keeper to keep them warm until serving. Prepare pumpkin wraps – to prepare wraps, roll the dough as thin as possible without breaking. This will help to easily wrap around the filling.
Nutrition
Calories:
134
kcal
|
Carbohydrates:
26.3
g
|
Protein:
4.6
g
|
Fat:
1.8
g
|
Saturated Fat:
0.2
g
|
Potassium:
75
mg
|
Fiber:
5.1
g
|
Sugar:
3
g
|
Calcium:
11
mg
|
Iron:
2
mg
Tried this recipe?
Tag us on Instagram @watchwhatueat or tag #watchwhatueat! OR leave us a comment & rating below. Your feedback is very important to us.