Learn to prepare Indian healthy butter chicken meatballs using all the authentic spices and flavors. Moreover, it is healthy without any added cream and tons of butter.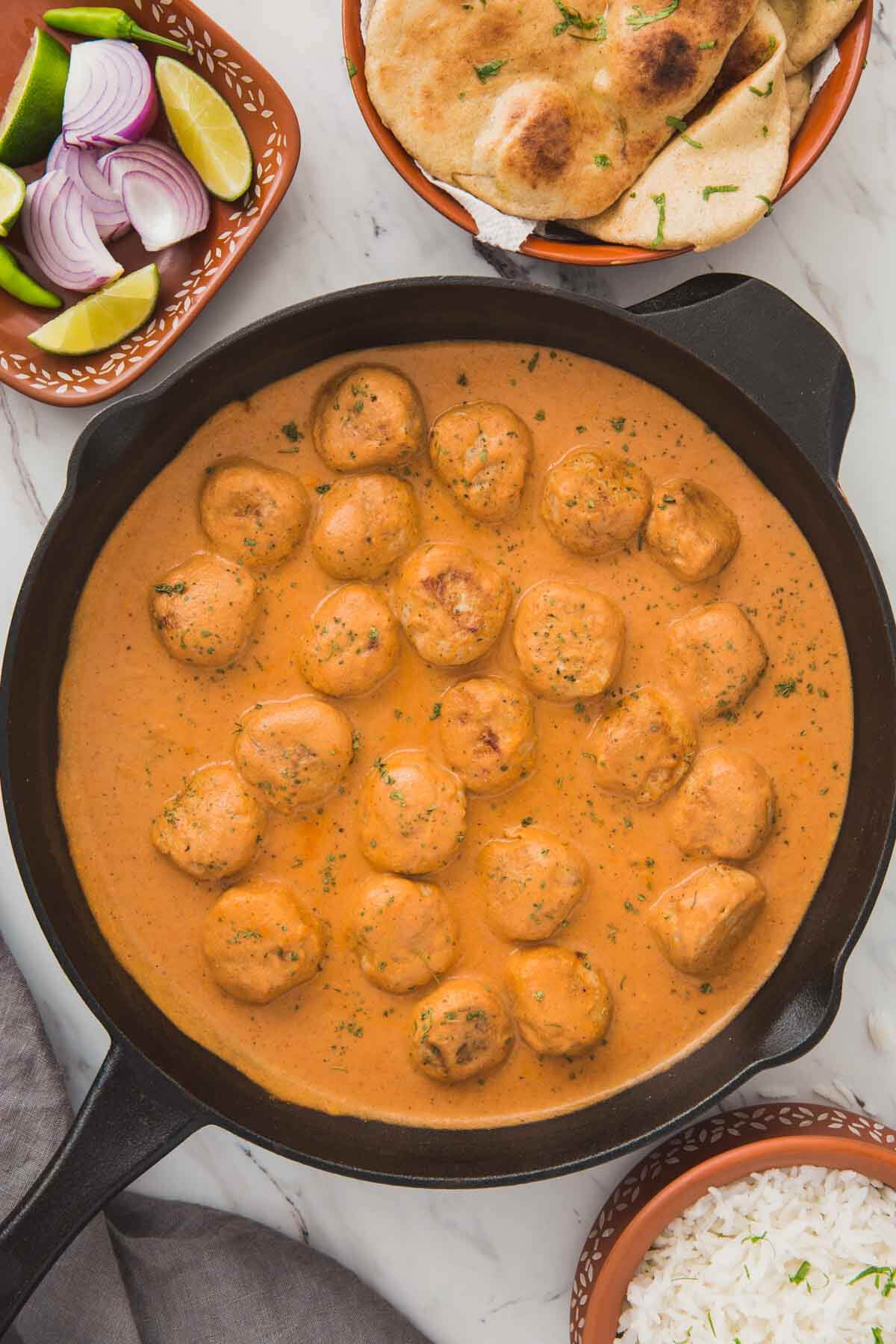 A few years back, my father-in-law shared with me his restaurant-style recipe to prepare butter chicken at home. And guess what, my in-laws are Punjabi.
The reason I am mentioning this is… Punjab is the state/province in India where butter chicken, palak paneer curry, chicken tikka masala, etc., are staple dishes.
Here I am sharing a butter chicken recipe originally adapted from my family's version with some twist.
Why is it adapted??
Because I am swapping dairy cream and butter with some healthy alternatives that I will explain below. And of course, these swaps are approved by my father-in-law, who used to manage a restaurant for quite a few years as part of his business.
Let's get started!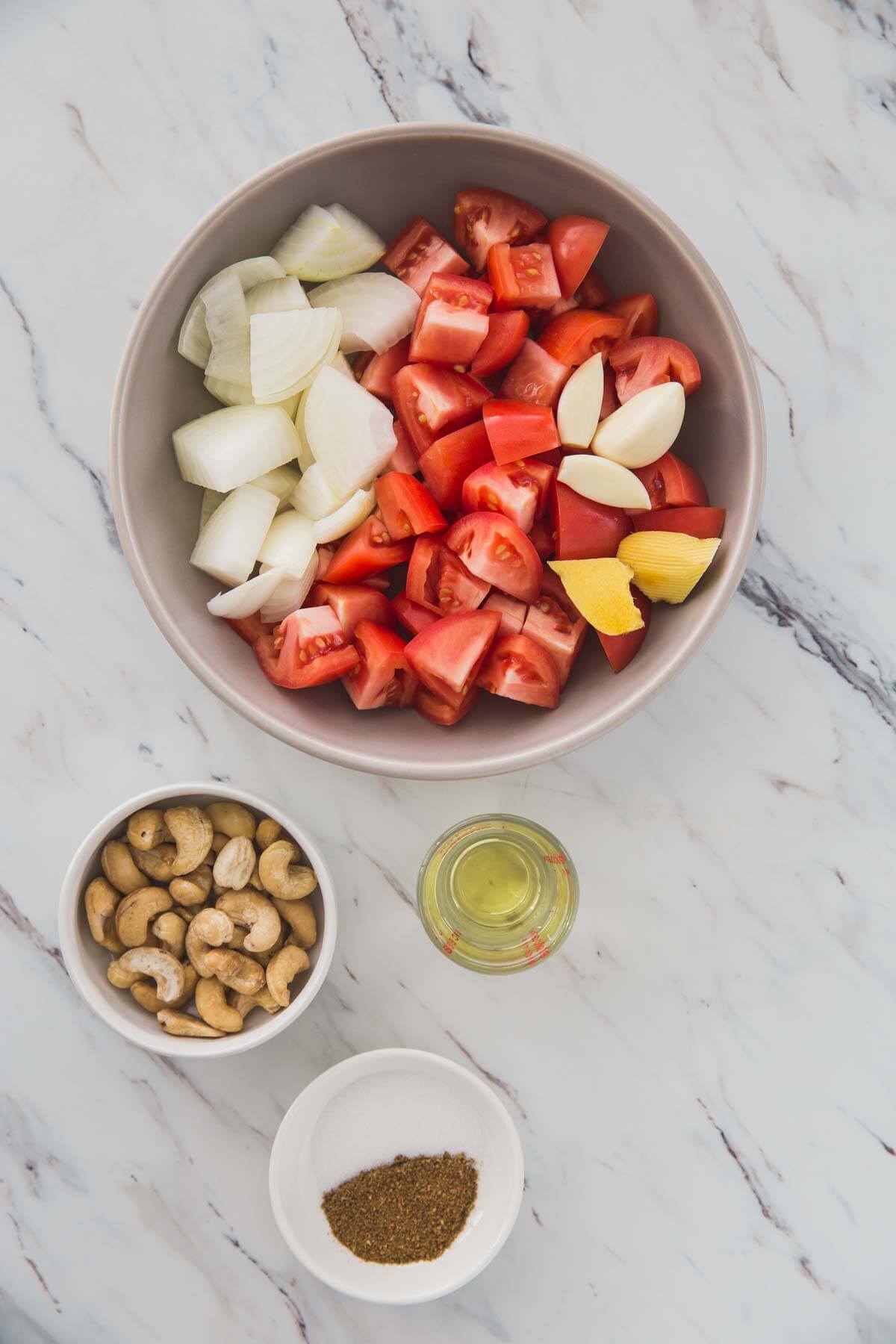 Ingredients you will need
Chicken – ground chicken for making meatballs
Marinade – for adding flavors to the ground chicken, use ginger, garlic, garam masala, chili powder, lemon juice, and onion
Masala sauce – for making the gravy base gather fresh tomatoes, small onion, garlic, and ginger
Creamy base – I use raw cashews, sesame seeds, and a few coconut flakes to get the dairy-free cream base.
Garnishing – use finely chopped fresh cilantro. Or, optionally use Kasuri methi (dried fenugreek leaf) if you have.
Oil/ghee – either ghee or cooking oil to cook the meatballs and the masala (tomato base)
How to make Indian healthy butter chicken meatballs
Making chicken meatballs
In a large mixing bowl, combine ground chicken with finely chopped ginger, garlic, and onion. Then add garam masala, chili powder, and some lemon juice. Mix everything well.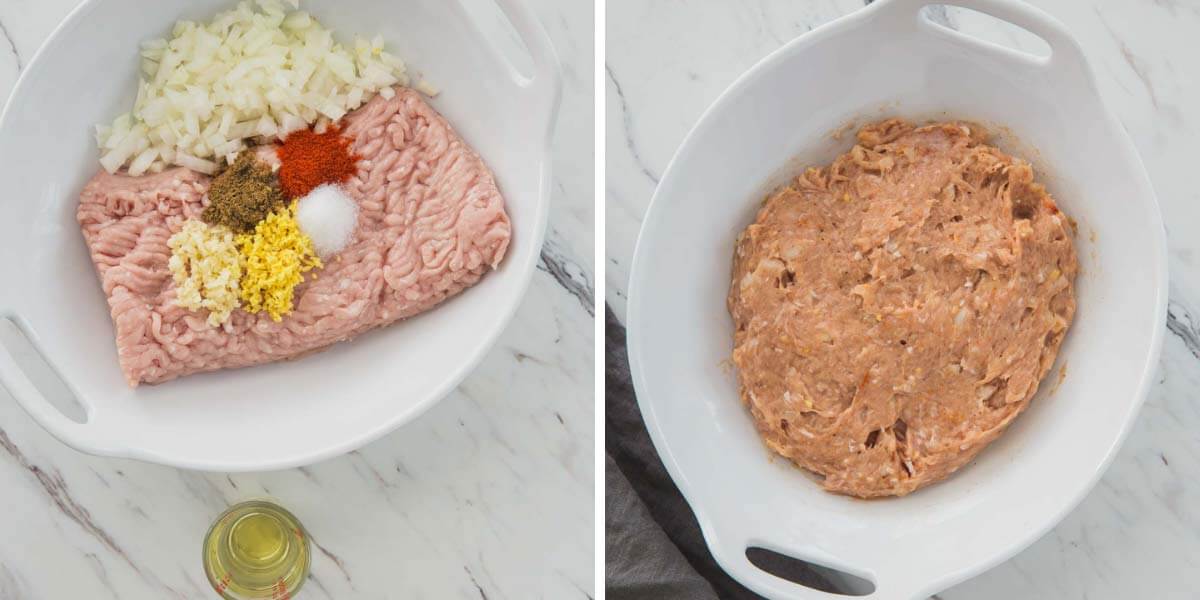 Use a tablespoon or a metal cookie scoop to divide the ground marinated chicken mixture into equal parts. Put these small portions of the meat mixture on a large plate ensuring they don't touch each other. Spray some oil over the divided meat or rub it on your palms. Now turn each portion into round shapes to form meatballs. This will make your job less messy.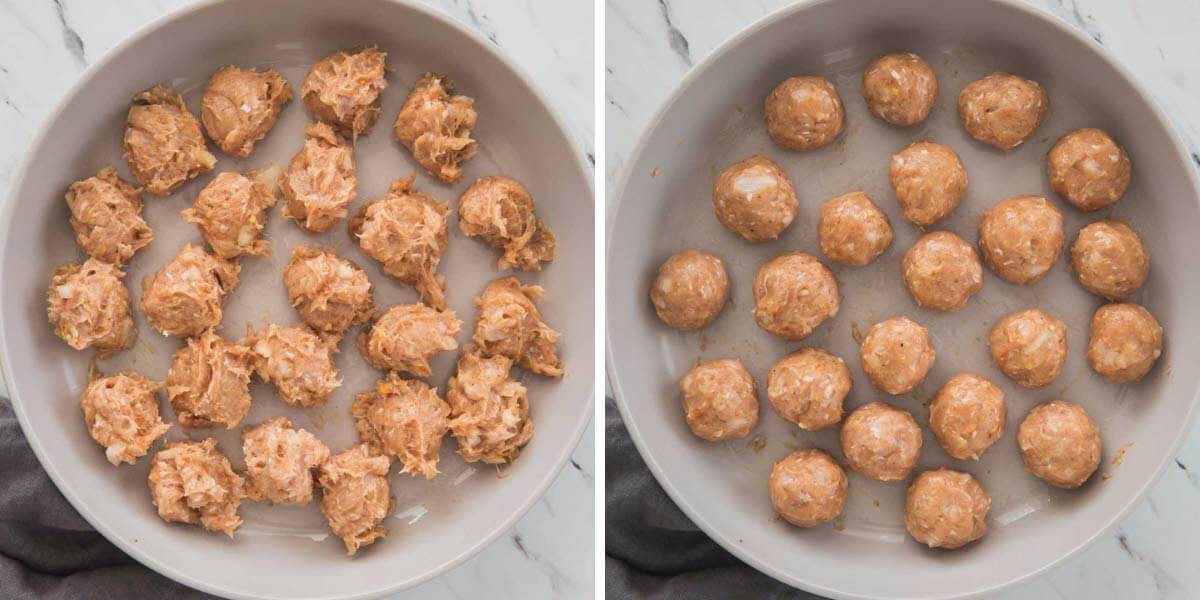 Cook these chicken meatballs in a large frying pan using little oil. Take them out and keep them aside. See the helpful tips section below for more details.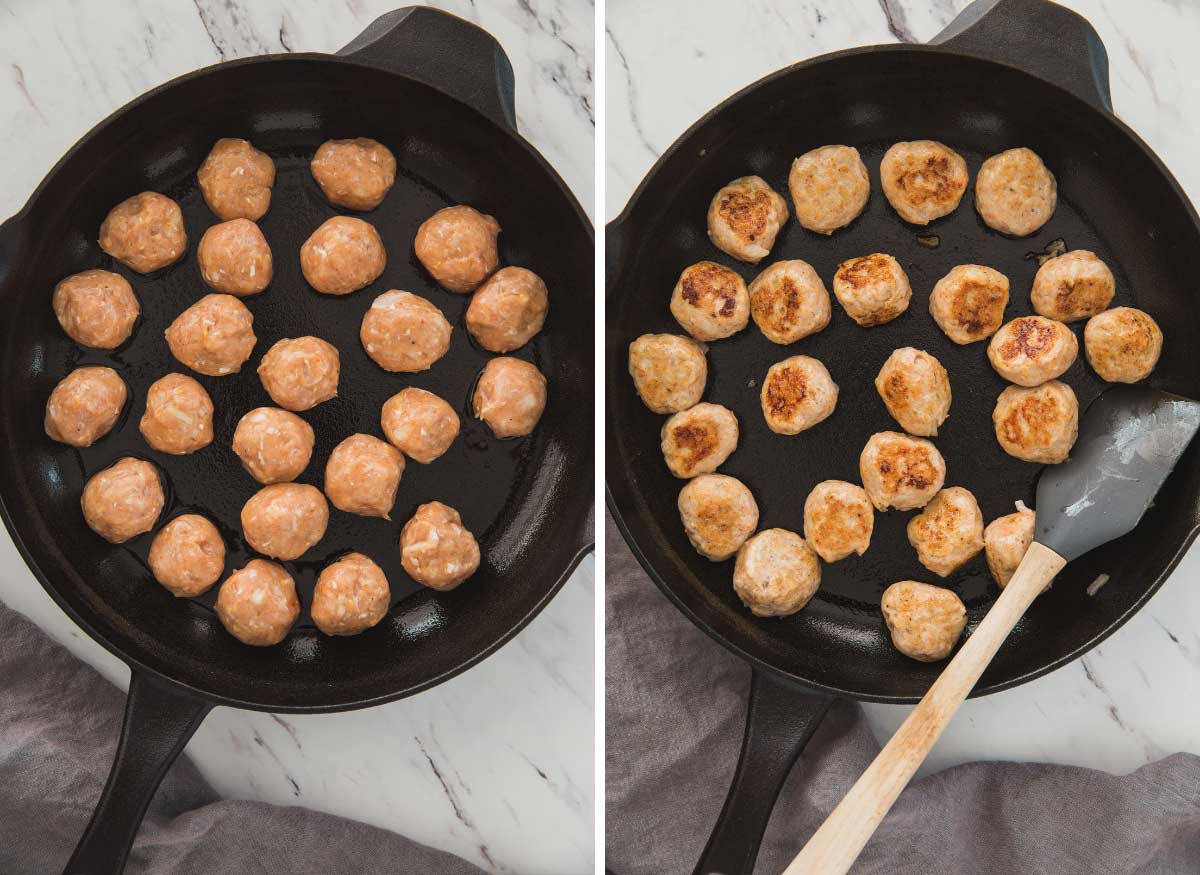 Preparing Butter Chicken Masala base
In the same pan with leftover oil, add ginger pieces, garlic cloves, roughly chopped onion, and sauté until translucent. Then add tomato pieces, raw cashew, sesame seeds, and shredded coconut and cook until the tomato softens. Turn off the heat, let the mixture cool down slightly and blend it in a blender with some water to ensure a smooth consistency.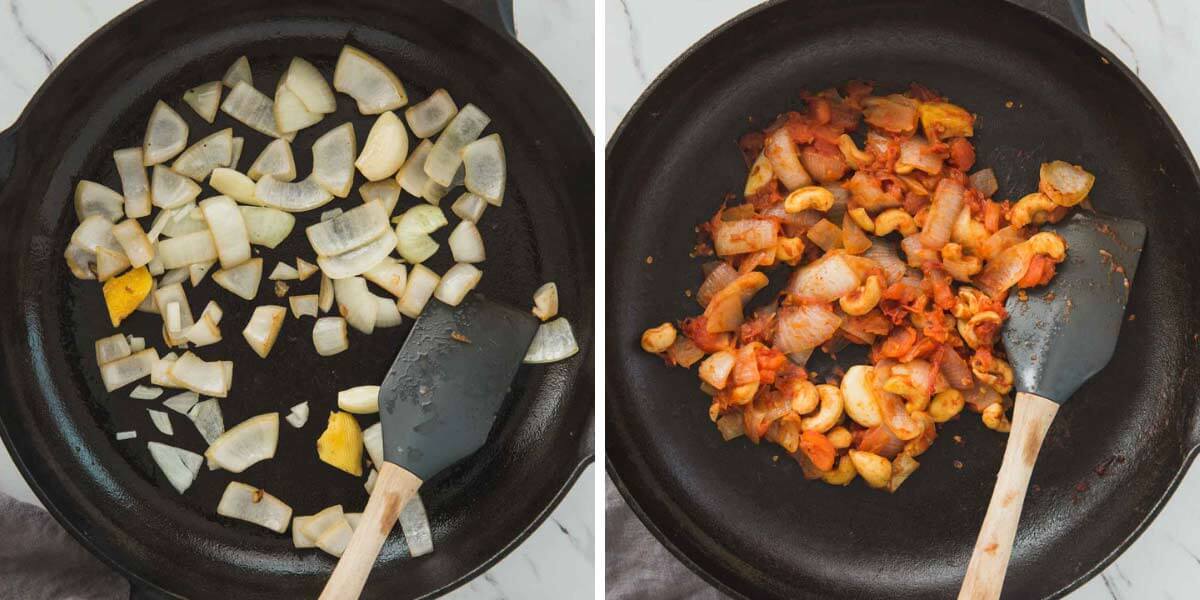 Now heat some ghee or oil in a pan and add the pureed tomato mixture. Add more water if necessary to get the desired consistency. Bring the mixture to boil and season with some garam masala and salt to taste.
Add cooked meatballs, cover the pan and turn off the heat. Before serving, garnish with chopped fresh cilantro and serve warm.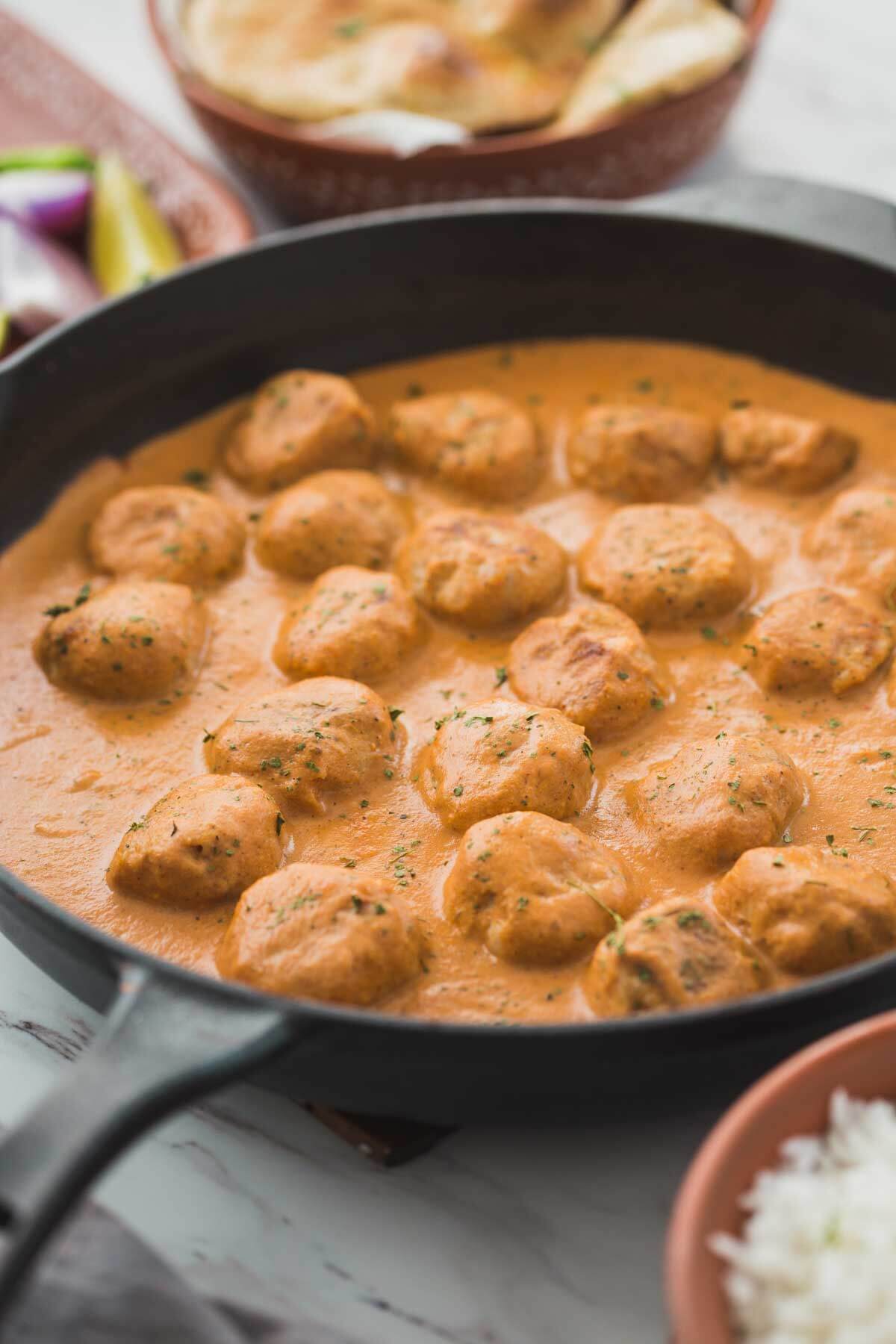 Serving Suggestions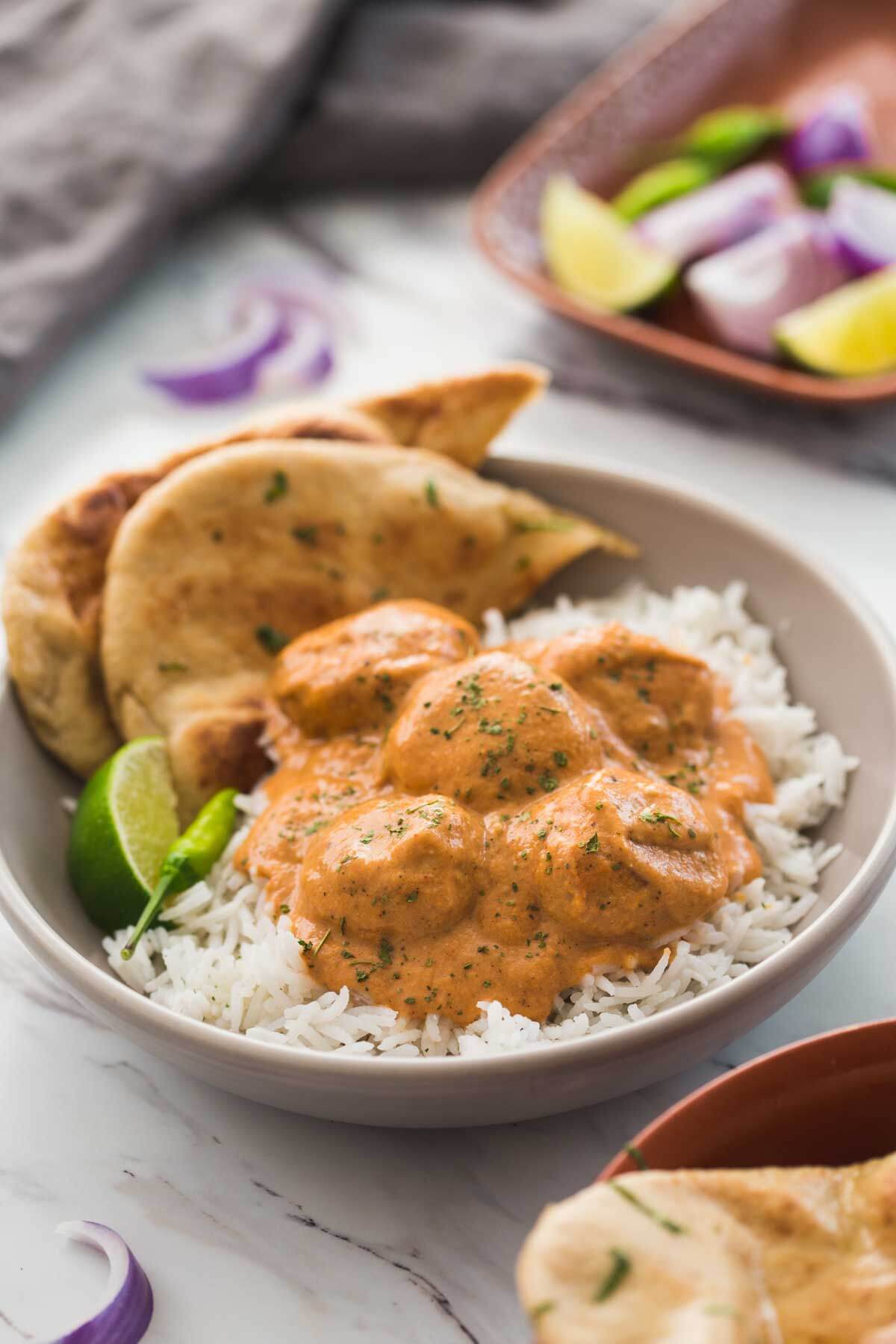 Helpful Tips!
Buy organic ground chicken whenever possible.
Cook meatballs on medium heat and do not cook them for a longer time. Overcooking and high heat can make the meatballs tough in texture.
If you have enough time, allow the meat and spice mixture to marinate for at least 20-30 min.
Recipe Variations
Skip making the butter masala sauce and serve these perfectly cooked meatballs as an appetizer with some green mint chutney on the side. Just make sure the meatballs are fully cooked.
You can replace ground chicken in this recipe with cubes of firm tofu or paneer and turn this dish into a vegetarian butter masala.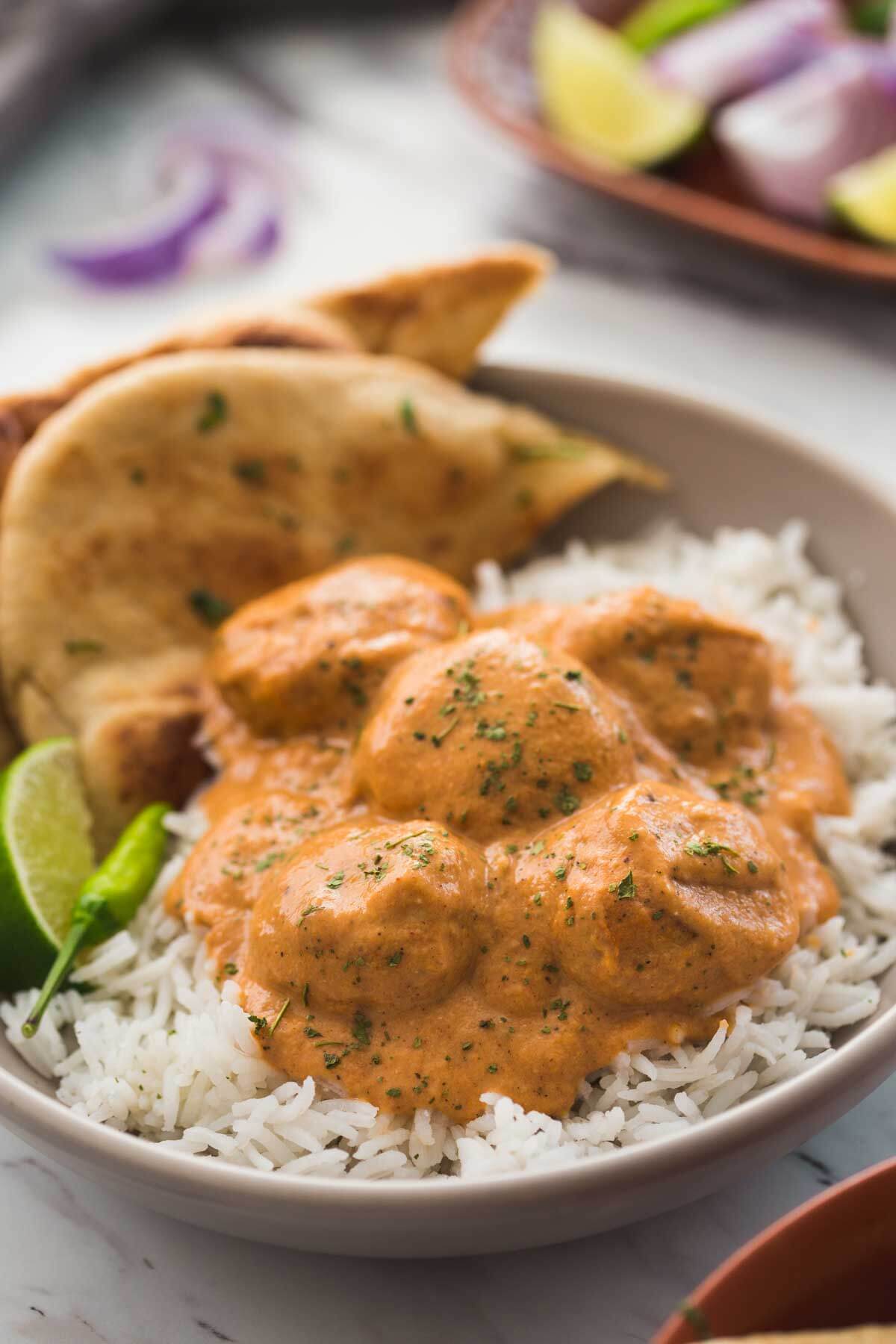 FAQs
Can I use chicken thighs or chicken breast in this recipe?
You can use boneless and skinless chicken thigh or breast in this recipe. Cut them into bite-size pieces, follow the same instructions, and use the same ingredients to marinate the chicken. Sear the marinated chicken until well done before adding to the butter masala sauce.
Is this butter chicken healthy?
This butter chicken meatballs recipe does not contain any added butter, heavy cream, or whole fat yogurt. It does contain a little amount of ghee (clarified butter). Eating good quality ghee in limited quantities is advisable. Ghee falls into the category of healthy fat if consumed moderately. However, you can avoid using ghee, and it won't affect the final dish's deliciousness.
butter chicken vs chicken tikka masala
This question does cross most people's minds. Even Indians can get confused about these two dishes. Both dishes use similar ingredients; however, the slight and subtle difference lies in its sauce or the gravy base.
Chicken tikka masala: this dish is rich in flavors from spices. Usually, in this recipe, marinated chicken is roasted in a tandoor or clay oven and then added into the tomato-based gravy. Surprisingly tikka masala has a British origin.
Butter chicken: this dish is more creamy, buttery, and mild in taste than tikka masala. Often marinated chicken is simply pan-roasted before adding into the creamy tomato sauce. Butter chicken originated in the capital of India, which is Delhi.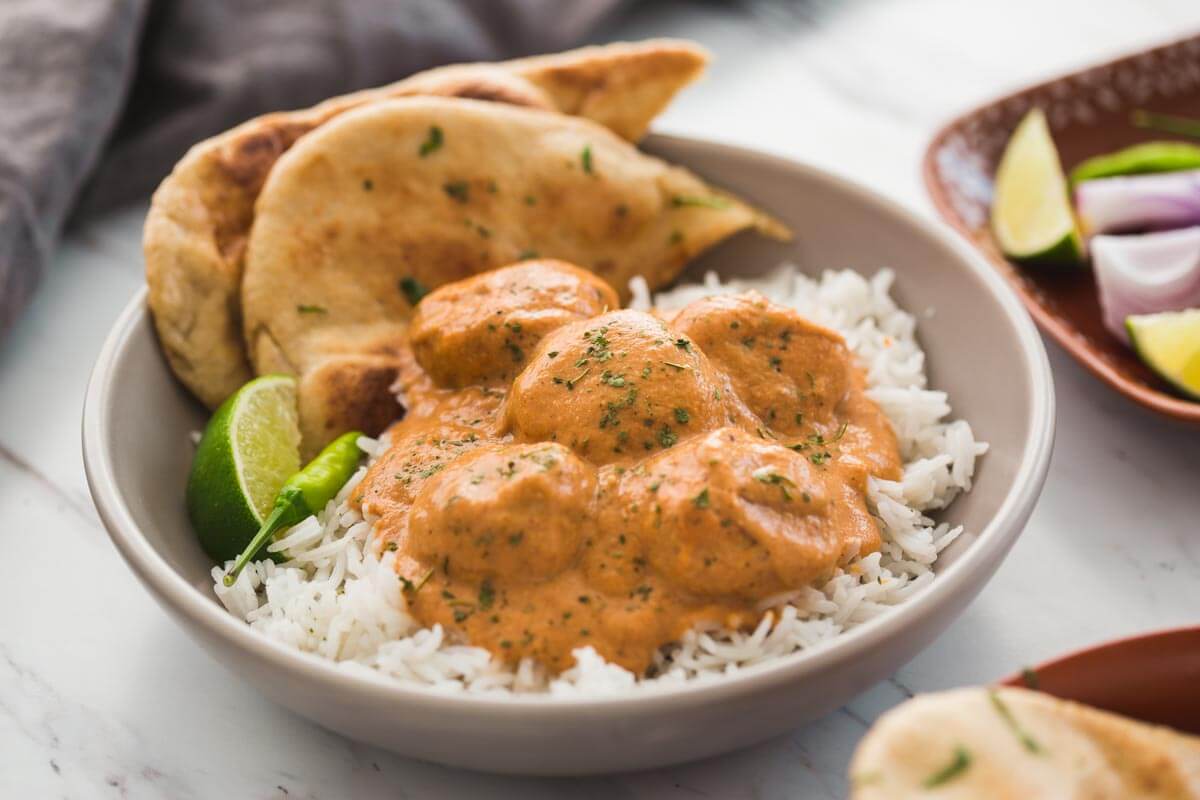 MORE INDIAN DISHES YOU WIll ENJOY
📖 Recipe
Indian Healthy Butter Chicken Meatballs
Learn to prepare Indian healthy butter chicken meatballs using all the authentic spices and flavors. Moreover, it is healthy without any added cream and tons of butter.
Ingredients
Meatballs
1

lb

ground chicken

½

teaspoon

garlic paste

(or minced)

½

teaspoon

ginger paste

(or minced)

1

small

onion

finely chopped

½

teaspoon

garam masala

½

teaspoon

chili powder

1

teaspoon

lemon juice

1-2

teaspoon

oil

salt
Instructions
Making Meatballs
In a medium bowl combine everything listed under 'Meatballs' except the oil. Mix everything well.

Lightly apply some oil on a large plate. Using a tablespoon, scoop out the mixture and lay it on the plate. Repeat until the mixture is over.

Then rub some oil on the hands and shape the meat mixture to form round meatballs.

Heat some cooking oil in a large skillet or frying pan on medium heat. Place the meatballs without touching each other, cook them for 3 min.

Flip them and continue cooking for another 3 mins or until the pink color goes away on the outside. Take them out and keep them aside.
Making Butter Masala Sauce
In the same pan heat the remaining oil/ghee. Then add garlic cloves, ginger pieces and diced onion. Cook them until golden brown for about 2-3 mins.

Now add diced tomatoes, raw cashews and cook them until they soften for about 4-5 min.

Let the mixture cool down slightly and blend it in the blender with some water to get a smooth consistency.

Add back pureed mixture to the pan and add more water if necessary. Bring the mixture to a boil and season with salt and garam masala. Simmer the sauce with the lid on for 5 min.

Add the meatballs to the sauce and bring to a boil. Turn off the heat and keep it covered until it is time to serve.

Garnish with fresh cilantro or dried fenugreek leaves (kasuri methi) and serve warm.
Notes
Adjust consistency of the butter masala sauce by adding more or less water as per your preference.
You can also use butter instead of cooking oil or ghee to prepare the tomato sauce.
I could make 20-22 meatballs from the amount of ingredients mentioned in the recipe.
Nutrition
Tried this recipe?
Tag us on Instagram @watchwhatueat or tag #watchwhatueat! OR leave us a comment & rating below. Your feedback is very important to us.