This salmon curry recipe is developed in partnership with PrimeWaters Seafood. All opinions expressed here are 100% mine.
This delicious and healthy Indian salmon curry with coconut is perfect for busy weeknights. Make this quick and easy Indian fish curry in less than 30 min.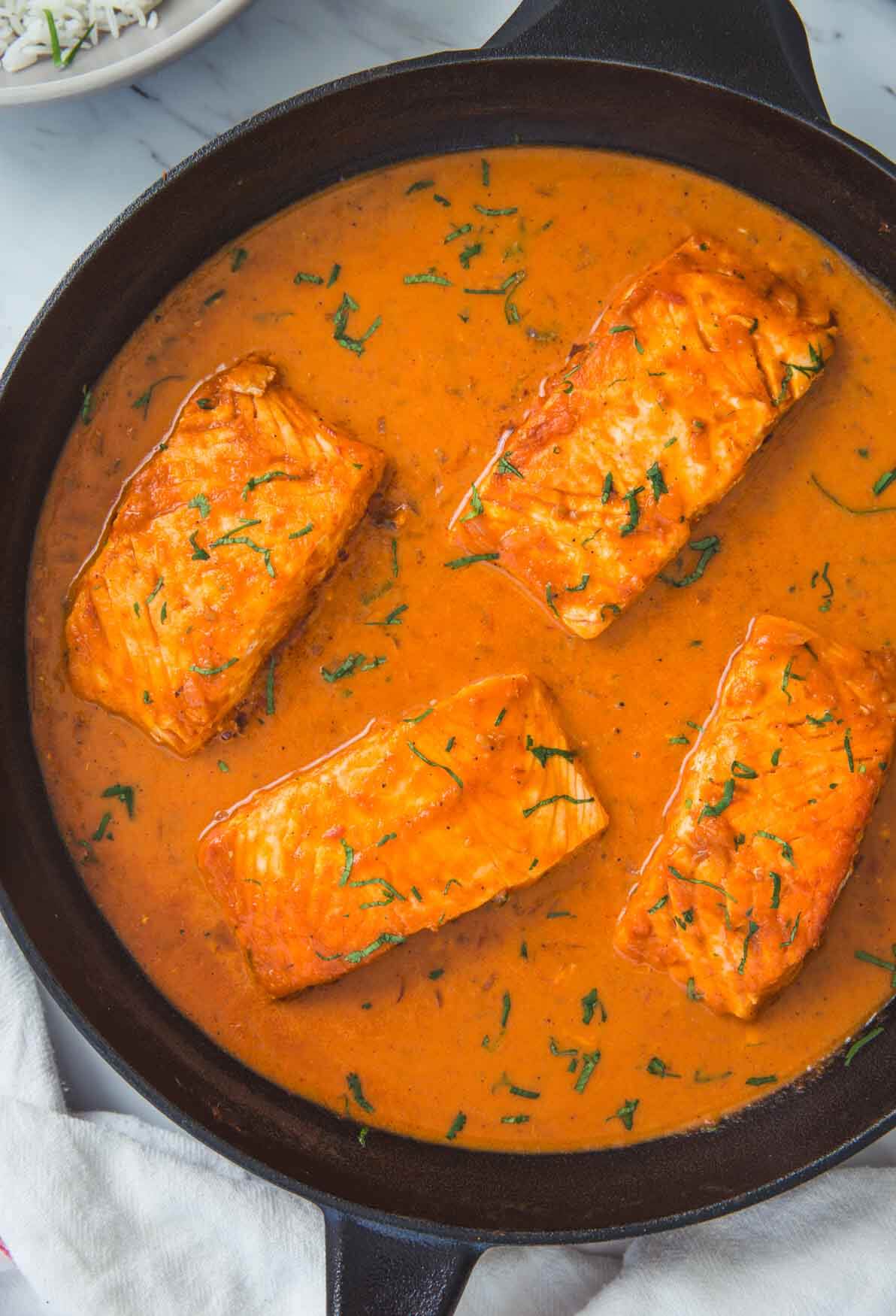 Seafood recipes with a coconut base are not new to me. I grew up eating this combination when I was in India. Recipes like shrimp coconut curry, chickpea curry, etc., inspired by the coconut flavor, make me nostalgic.
Here I am sharing with you coconut fish curry from the archives of my childhood favorites.
Let's get started!
What you will need?
Salmon fillets – get portioned fillets for making this curry
Onion – peel, and dice into small pieces
Tomato – clean and cut into large pieces
Ginger and garlic – use to flavor the dish
Jalapeno – it's optional. Use it if you are okay with hot curries.
Coconut milk – either use regular or reduced-fat coconut milk
Seasonings – garam masala makes the curry aromatic and flavorful
Oil – I always use cooking olive oil in my kitchen.
Sourcing Salmon
For making this fish curry, I am using PrimeWaters® Norwegian Atlantic Salmon Portioned fillets.
Why I like using them? Because —
Quality – their salmons are raised without antibiotics.
Traceable – you can trace back your fish sourced from carefully selected locations for sustainability.
Sustainability – salmons are farm-raised, meet rigorous standards, and have stringent sustainability requirements.
Shipping – you can get the salmon at your doorstep. They ship them frozen in perfect condition without losing quality and freshness.
How to make Indian Salmon Curry with Coconut?
In a mini blender jar, combine roughly chopped tomatoes, garlic cloves, ginger, and jalapeño. Blend everything well to get a fine tomato mixture.
In a large frying pan or skillet, heat some oil. Place salmon fillets and cook them on both sides. Carefully remove and keep them aside.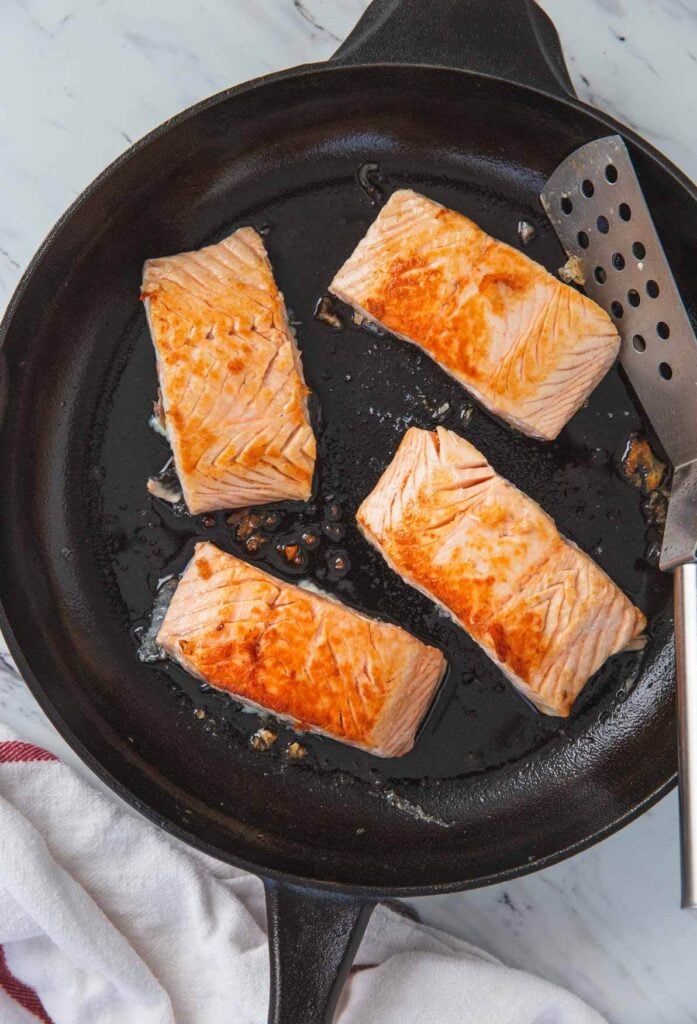 In the same pan with leftover oil, saute some finely chopped onions. Then add the pureed tomato mixture and cook until the sauce thickens to a paste-like consistency. Now add coconut milk, water, and mix well. Bring the mixture to boil and season with salt and garam masala. Cook the curry for a few more minutes, and then add cooked salmon fillets. Garnish with fresh cilantro leaves and serve warm.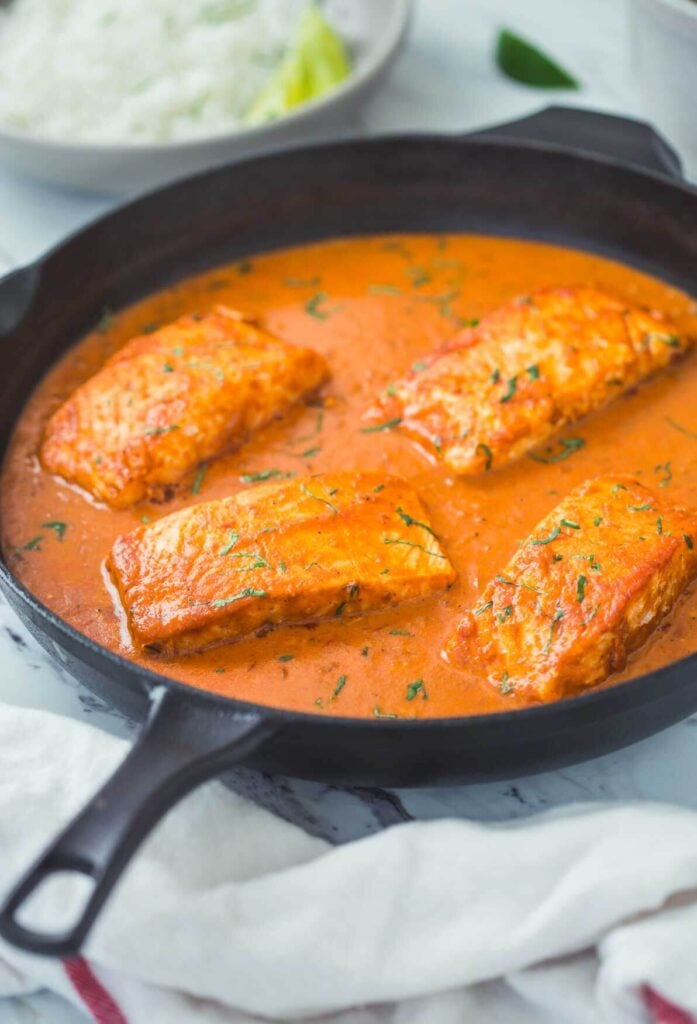 Serving Suggestion!
This salmon curry with coconut goes very well with plain steamed white rice.
You can also serve homemade flatbreads like these garlic naan bread with this Indian fish curry.
Helpful Tips!
Always use antibiotic-free and sustainably grown seafood or salmon whenever possible.
If you are using frozen fillets then make sure to thaw them well in advance before cooking.
For a creamy gravy or curry base, chop onions finely and use tomato puree instead of diced tomatoes.
Seafood takes very little time to cook compared to other types of animal proteins. Therefore, closely monitor the salmon while cooking to avoid overcooking or burning the fish.
Recipe Variations
Make this coconut shrimp curry using a similar recipe.
Use chicken in place of salmon – cut boneless skinless chicken thighs or breast into bite-size pieces. Cook them in a skillet with some oil until well done before adding them into the curry.
For vegetarians or vegan diets, try this chickpea curry prepared using coconut milk.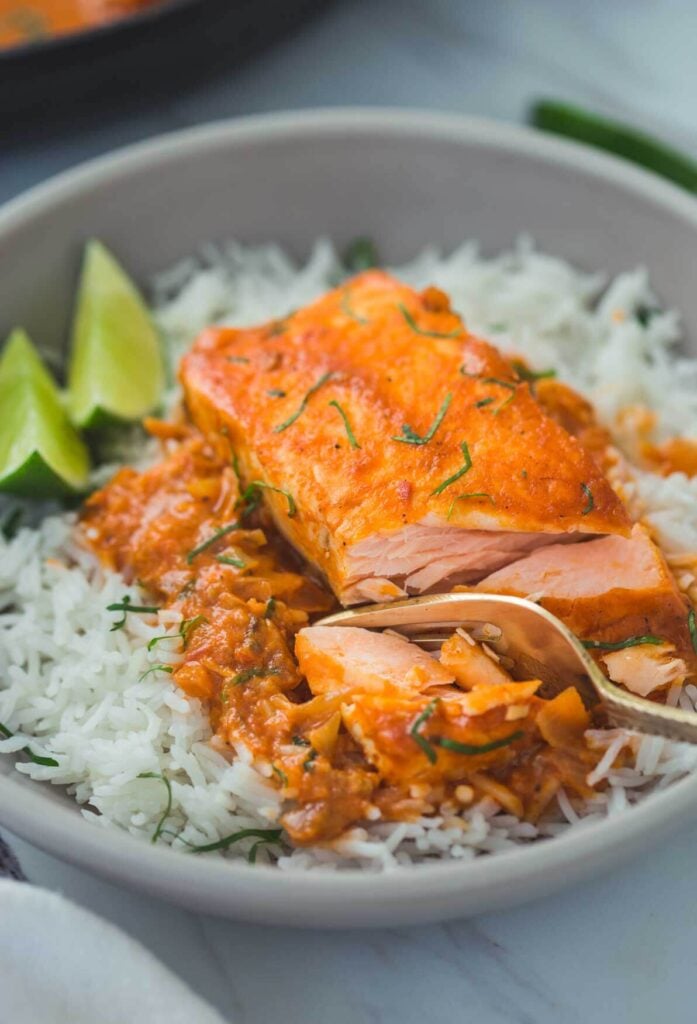 You will also love these Indian Curry Recipes
📖 Recipe
Indian Salmon Curry With Coconut
Pan sear salmon fillets and dunk them in a coconut-tomato gravy to make this Indian salmon curry. And for a satisfying, wholesome meal, serve it with steamed white rice or flatbread or naan bread.
Ingredients
4

salmon fillets

1

medium

onion

finely diced

2

red tomatoes

cut into large pieces

½

jalapeno

optional

2-3

garlic cloves

½″

ginger

peeled

½

cup

coconut milk

1 ½

cup

water

½

tablespoon

cooking oil

1

teaspoon

garam masala

salt and pepper

¼

cup

fresh cilantro

finely chopped
Instructions
Combine tomato pieces with garlic, ginger, and jalapeno in a blender or food processor. Keep it aside.

Heat some cooking oil in a large skillet over medium heat.

Then add salmon fillets to the skillet and sear them for 2-3 minutes on each side. Take them out and keep aside.

In the same pan, with leftover oil, sauté onions until golden brown.

Add the tomato-garlic mixture and cook until it thickens to a paste-like consistency for about 6-8 min.

Add coconut milk and water. Mix well and bring the mixture to a boil

Season the curry base with some salt and garam masala. Cover and cook the curry for 5 min.

Add pan-seared salmon fillets, gently coat them with the coconut-tomato curry. Cover and turn off the heat.

Finally, garnish with finely chopped cilantro and serve warm.
Notes
Do not rinse or clean the skillet after searing salmon fillets. Use pan drippings and oil from salmon to cook the onions and curry in the same pan. It will add more flavor to the dish.
Thaw frozen fish before cooking. It will reduce the cooking time and also preserve the texture of the salmon.
Include fresh lime wedges while serving this Indian salmon curry with rice for added deliciousness.
Nutrition
Tried this recipe?
Tag us on Instagram @watchwhatueat or tag #watchwhatueat! OR leave us a comment & rating below. Your feedback is very important to us.