Learn to make garlic naan bread that contains whole wheat flour and no butter. Even though it is super soft and delicious to eat. It is a must-try recipe.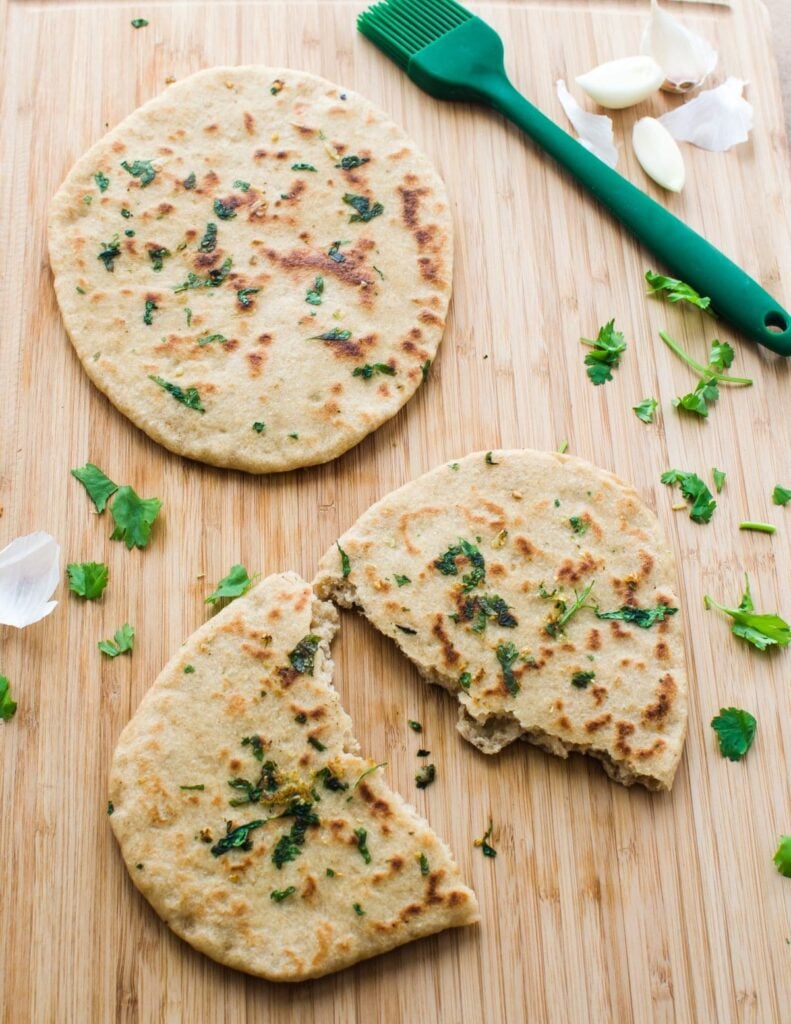 Recipe Background / Inspiration
Making whole wheat garlic naan bread is not difficult. If you've ever made pita bread or pizza dough at home, you will find this recipe quite familiar. I had never made any kind of naan at home until last year. I only enjoyed them in restaurants in India.
I belong to the western part of India, where naan bread is not eaten commonly. Naan is the staple bread diet of the northern part of the country.  I never saw my mother cooking it either. So, I had no clue about how to prepare them at home, and I also believed in the fact that certain dishes are best eaten in restaurants. It was when I started to explore and learn to cook different types of dishes at home, that garlic naans were the one on my priority list.
I got some basic ideas for making naan bread from Tushar's aunty, who is a great cook. But, I made some changes to the ingredients to give it a healthy twist.
Generally, naan is made from all-purpose flour with lots of butter. All-purpose flour and butter make it soft and delicious. In this commonly used recipe, I partially (about 70%) replaced all-purpose flour with 100% whole wheat flour. I didn't use butter at all. Even with these replacements, garlic naan bread turned out super soft and delicious.
However, I am still not satisfied with my partial replacement of whole wheat flour. I will try to make them using whole wheat flour without using any refined flour. If I am successful, I will share the recipe with you all. Till then, try this recipe and enjoy a low fat, partial whole wheat version of garlic naan bread.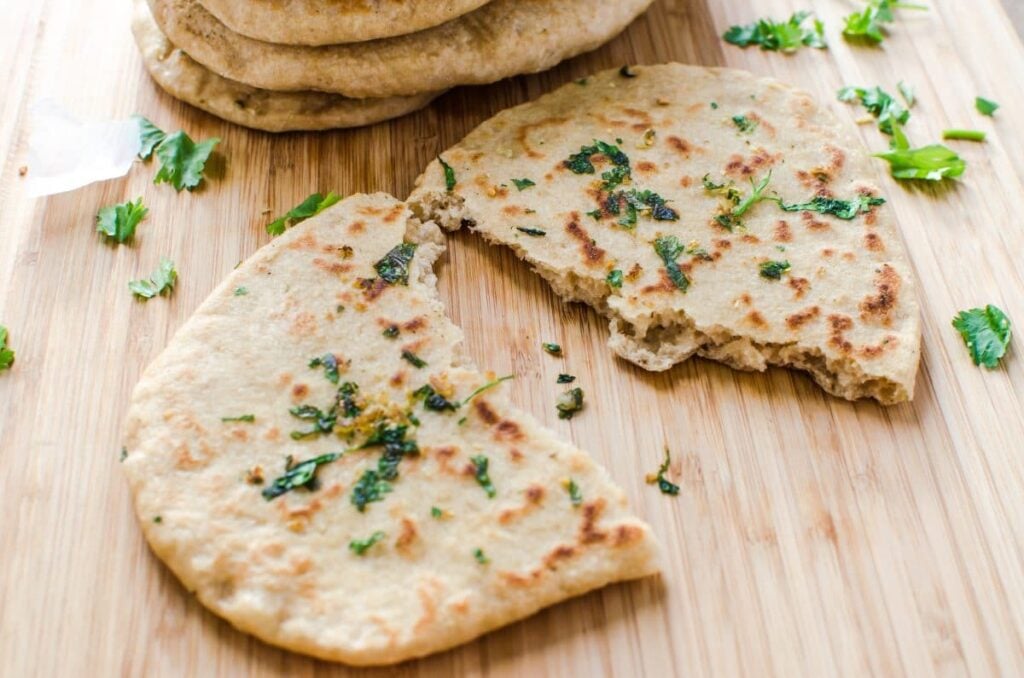 How is this whole wheat naan bread recipe healthy?
This naan bread is healthy because it contains:
100 % whole wheat flour
olive oil instead of butter, so it is low in saturated fat
non-fat plain greek yogurt instead of whole-milk yogurt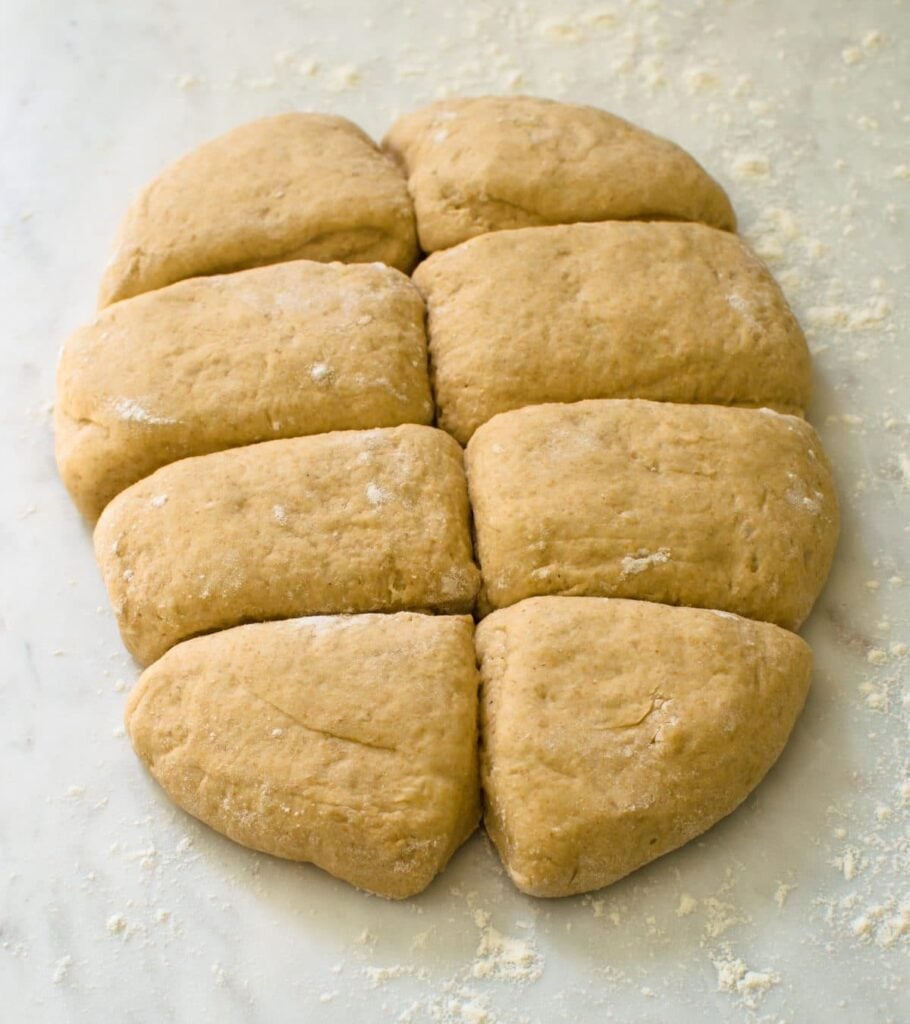 More Whole Wheat Bread Recipes To Try
📖 Recipe
Garlic naan bread recipe
Homemade garlic naan bread for guilty free eating. Made with whole wheat flour and no butter at all.
Ingredients
2

cups

100% whole wheat flour

1

cup

all purpose flour

1

teaspoon

rapid rise yeast

¼

cup

plain nonfat greek yogurt

(at room temperature, optional if vegan)

1

teaspoon

sugar

salt to taste

1 ½

tablespoon

minced garlic

1 ½

tablespoon

olive oil

1 ¼

cup

warm water

2

tablespoon

chopped coriander
Instructions
In a large bowl combine whole wheat flour, all purpose flour, sugar, salt and yeast

Add yogurt and ½ tablespoon minced garlic. Add warm water and mix until well combined using a wooden spatula

Knead the dough in the bowl itself for about 5-6 min. until it becomes soft. Use the remaining ¼ cup water during kneading to wet the hand and avoid sticking the dough to the hand. Cover the bowl and place it in a warm area and let the dough rise for about 1 hr

To make the toppings, mix 1 tablespoon minced garlic, 1 tablespoon olive oil and chopped coriander in a small bowl; mix well

Once the dough has risen to double its size, transfer it to a flat surface. Add some dry flour to avoid sticking the dough on to the surface. Spread the dough using hands and give it a rectangular shape (almost). Cut the dough into roughly 8 equal parts (see image above) and then give each of them a round shape. Roll the naan to roughly ¼ in. in thickness

Heat a cast iron pan on medium-high heat. Put the rolled naan onto the preheated pan. Cook naan on one side for about 2 min on medium heat and then flip it over. Let it cook on this side for another 2 min. Meanwhile spread some water using a brush on the cooked surface to provide some moisture. Then, spread some toppings using a spoon. Once the other side is cooked, flip it over and just cook for 10 sec to remove the raw garlic flavor from the toppings.
Nutrition
Tried this recipe?
Tag us on Instagram @watchwhatueat or tag #watchwhatueat! OR leave us a comment & rating below. Your feedback is very important to us.