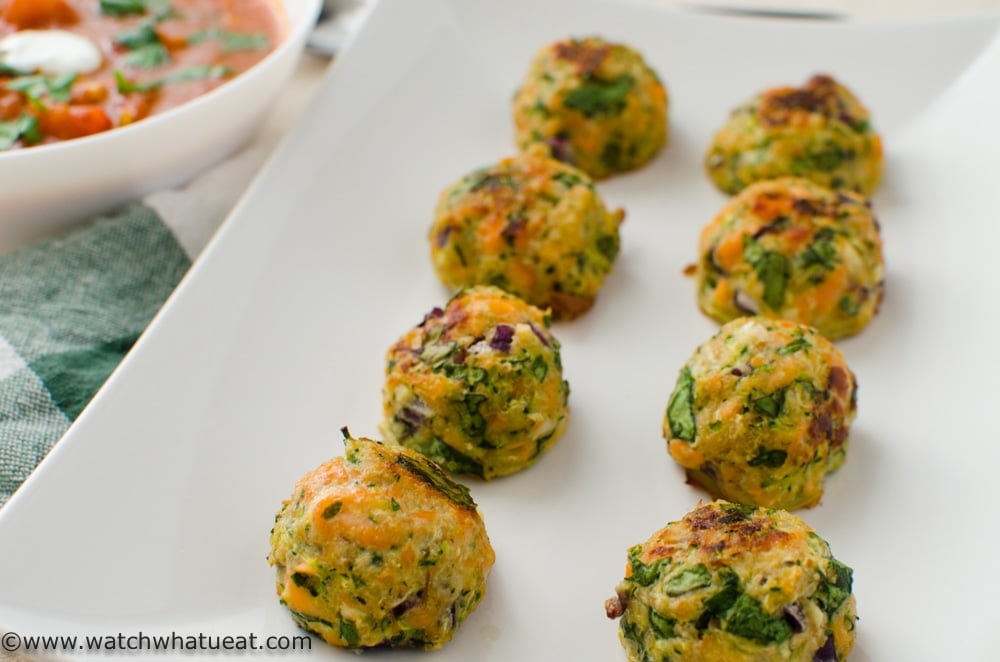 This baked salmon meatballs recipe was a happy accident. Last week when we shopped for grocery we purchased ground chicken. One evening I decided to prepare meatballs since I assumed I had the required ingredients. I never prepared them before and didn't know its recipe either. So, I started to look for meatballs recipe online and bookmarked a few websites. When I entered the kitchen and started to look for the ground chicken in the fridge, I couldn't found it. Then I thought I might have forgotten to keep it in the fridge and started to look around. When I asked Tushar he told me that we did not purchase it at all since all the packages on the aisle about to expire the next day. I had completely forgotten about this. I felt good then that we are into this habit of looking labels on the items that we purchase. It helps, especially in such situations, to avoid consuming expired food without knowing.
After realizing this chicken incident, I started to look for alternatives. We had frozen salmon so I thought to experiment a regular meatball recipe with salmon and other available ingredients. To give it a healthy twist, I added zucchini and ground oats instead of breadcrumbs. It turned out amazing!.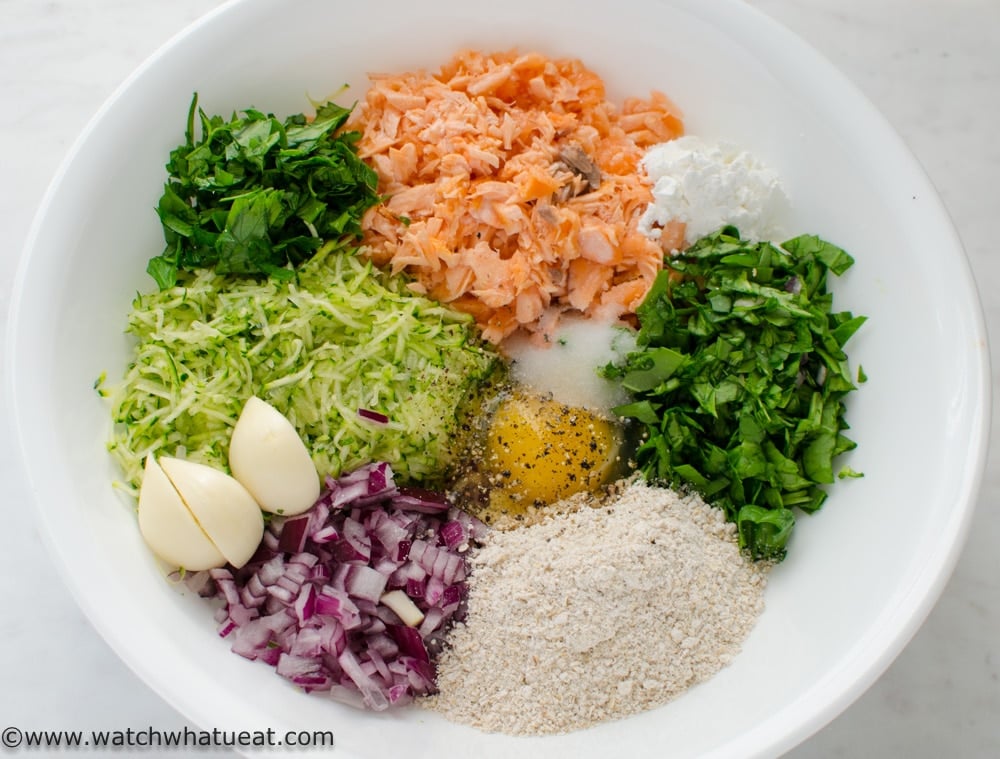 I was so happy with this accidental recipe that I noted it down the same night to share with all of you. For this post, I prepared it again and this time it turned out even better.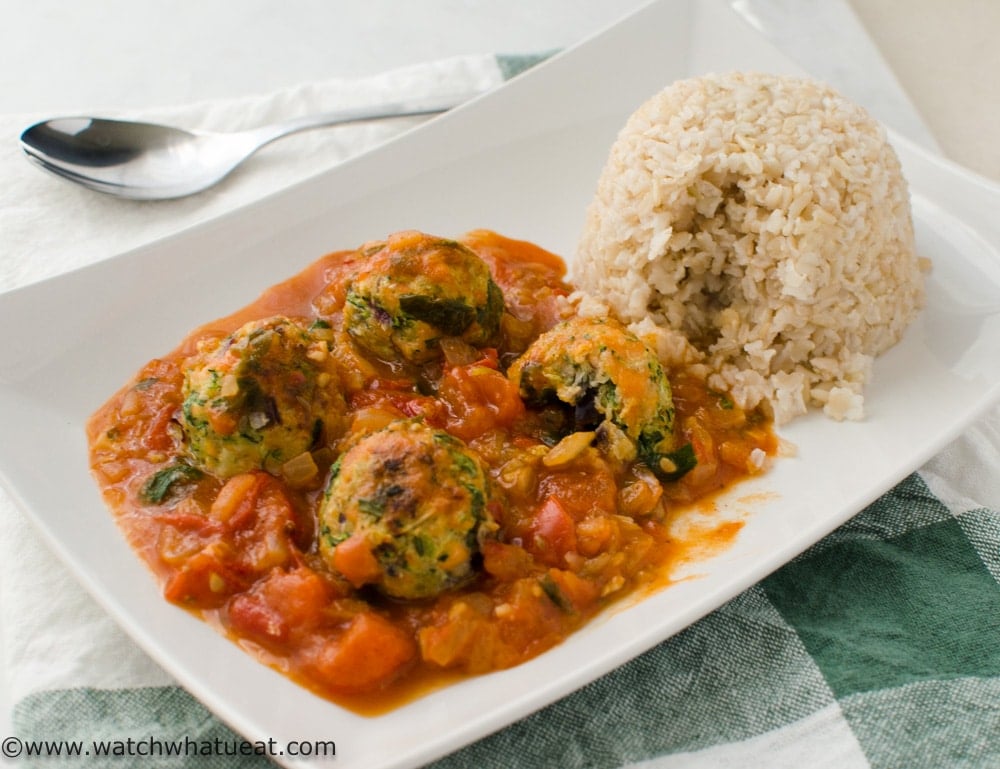 Ingredients: Serves 5
Meatballs:
2 fillets (6 oz each) Salmon fresh or frozen finely chopped

1 zucchini finely shredded

1 small onion finely chopped

½ cup chopped spinach (optional)

½ cup ground oats

1 tablespoon cornstarch

1 small egg

2-3 garlic cloves finely chopped

Finely chopped parsley

1 teaspoon olive oil

Salt and black pepper
Sauce:
1 onion chopped

2 large tomatoes chopped

1 tablespoon tomato paste

2-3 garlic cloves chopped

1½ cup chicken stock or water

¼ teaspoon cinnamon powder

Parsley

2 teaspoon oil

Salt and pepper
Instructions:
Meatballs:
Preheat the oven at 400 F and grease a baking sheet using olive oil spray

In a large bowl, add finely shredded zucchini. Squeeze it as much as possible to remove the juice. This juice is full of nutrients so do not throw it away. It can be added back to the sauce

Add all remaining meatball ingredients and mix until well combined.

Prepare roughly 1½  inch size balls and place them on the baking sheet making sure that they do not touch each other

Transfer the baking sheet into the preheated oven and bake for 15 mins. Then flip the balls and bake on other side for another 10 mins
Sauce:
In a medium skillet, heat oil on medium heat. Add chopped garlic and roast until it turns light brown

Add onions and cook until light brown

Add tomato paste, chopped tomatoes and cook for 3-4 min or until tomatoes become tender

Add chicken stock, juice squeezed out from the shredded zucchini and bring the mixture to boil

Finally, add cinnamon powder, parsley, salt and pepper; simmer the sauce on low heat for 10-12 minutes

Add baked salmon-zucchini balls to the sauce and remove from the heat
Notes: 1) Salmon can be roasted on a pan for 5-6 mins before chopping. Roasting makes it easy to chop finely and it is less messy. I prefer to roast the salmon as it also adds some roasted flavor to the dish. 2) This baked salmon meatballs with sauce goes well with brown rice, couscous or quinoa.
Sometimes accidents are happy :). Don't you think so? Have your ever experienced such incidents? We would love to hear them.