This whole wheat pita bread recipe is super simple and easy to prepare. Make this soft, fluffy, and healthy pita bread at home whenever you want.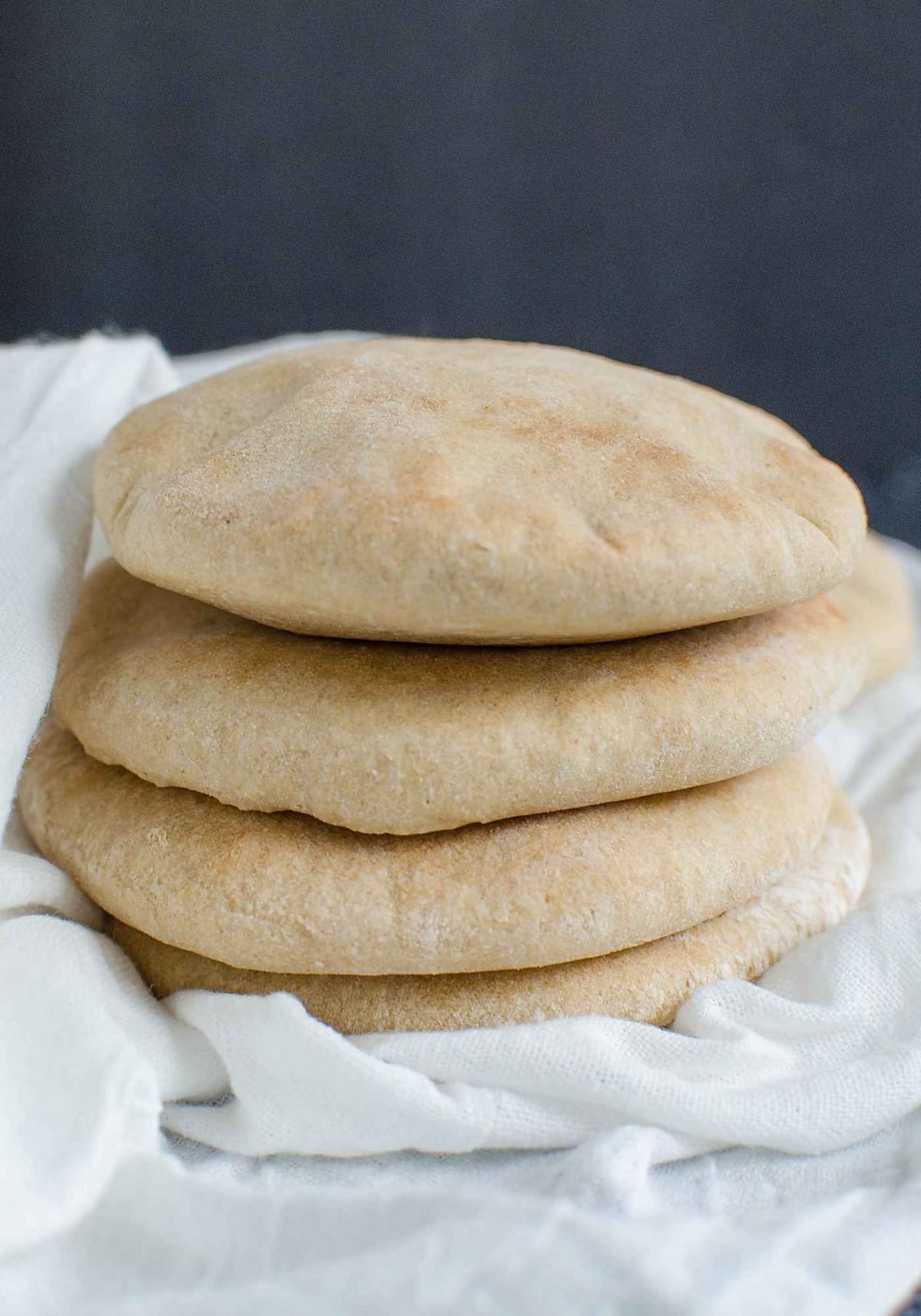 Jump to:
Recipe Introduction / Background
I always prefer wheat-based flatbreads much more than rice dishes. But, most of the breads found in grocery stores are generally prepared using 100% all-purpose flour.
Moreover, these breads are loaded with way too many chemicals in order to increase their shelf life. The next time when you visit the bakery section of your local grocery store, take a good look at the labels on the bread packages. You'll get an idea of what I am talking about here.
Hence, I figured it is better to prepare them at home. I make the pizza base, naan bread, dinner rolls, etc. at home using whole wheat flour. And now it is time to add this pita bread recipe to the list.
If you've got yourself an electronic dough maker/stand mixer, it'll be even easier to make any kind of bread at home. I do not own one yet (I am trying to get Tushar on board with me on this :P), and I have found that making bread at home is not complicated at all. Give it a try, and you'll love fresh homemade bread much more than the store-bought one.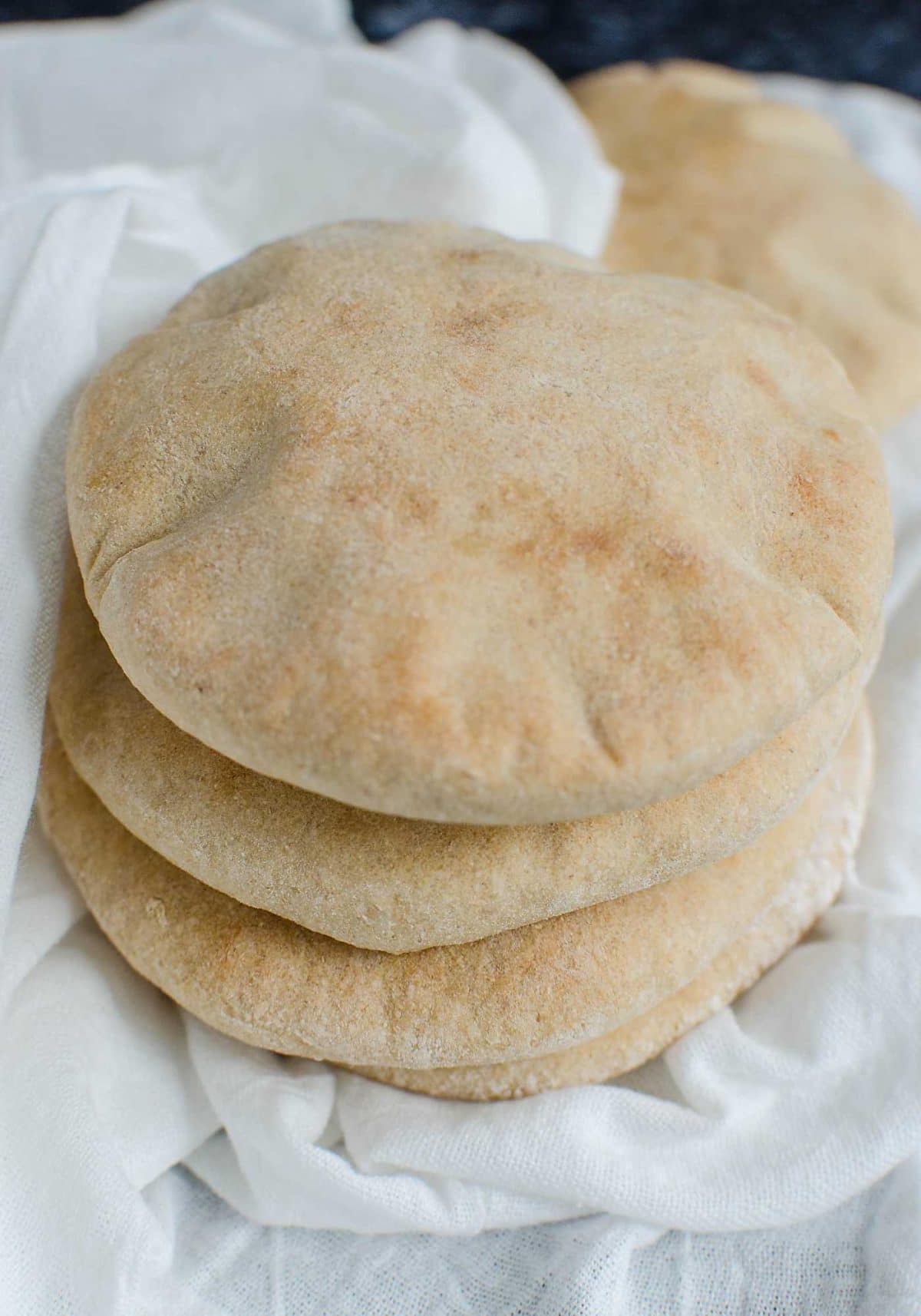 Pita bread vs. Naan bread
Do you know and wonder what is the difference between a pita and naan bread. If you look at the ingredients that go in a naan bread recipe, you will find no difference at all from those of pita bread. Let me try to help you differentiate between the two: from what I have understood, naan bread is not allowed to puff, and it is usually baked at very high temperatures (e.g. broil mode in an oven).
Traditionally, in India, they use a tandoor oven which is like a furnace. Naan cooks so quickly in the tandoor that it does not get enough time to puff. However, pita bread is baked at a lower temperature over a longer period. As you can see, although they have the same raw ingredients, the difference in time and cooking temperature makes them so much different in taste and texture. This is what I understood as the difference between the two.
If you know a better answer, I would love to know from you through your comments below.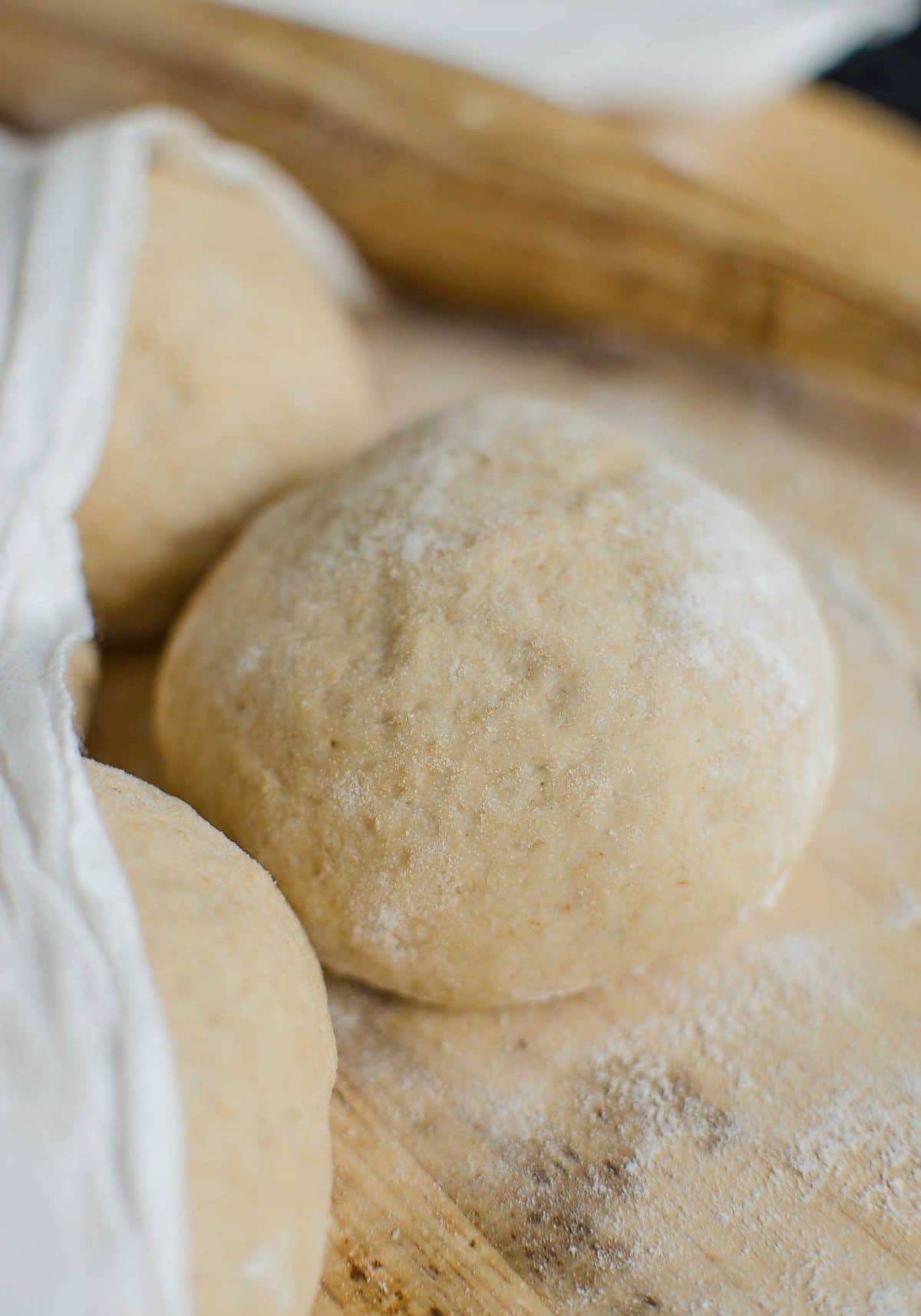 How to make whole wheat pita bread?
You will need very few ingredients for this recipe: wheat flour, yeast, a little sugar to activate the yeast, salt to taste, and of course, water. I used instant rapid rise yeast to reduce proofing time. Just combine all the dry ingredients in a mixing bowl and knead the dough using warm water. Once the dough has risen, roll them into small flat rounds and bake until golden brown in color.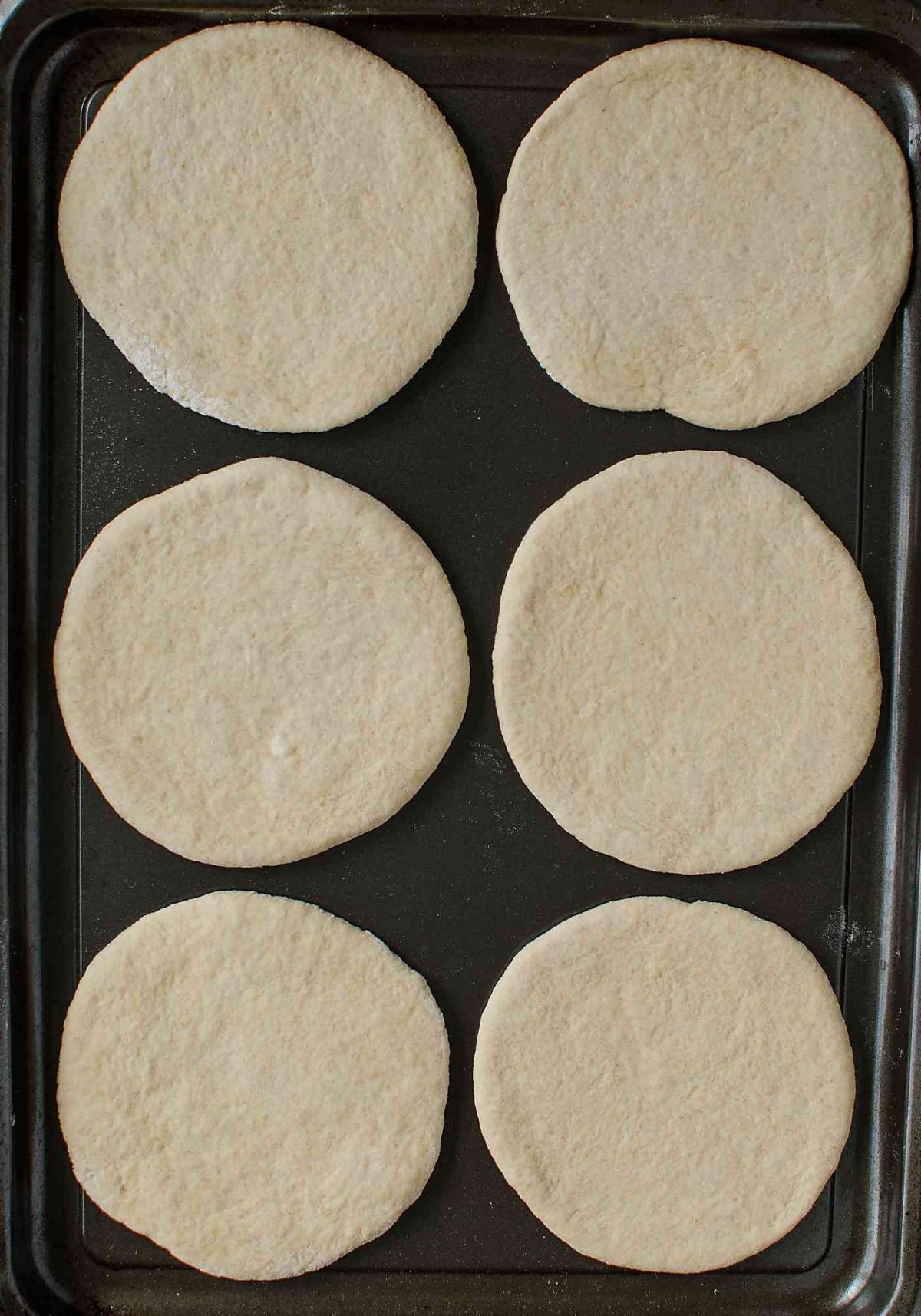 How is it healthy?
This pita bread is prepared using whole wheat flour.
Also, it is low in fat and contains olive oil, which consists of healthy fats.
It does not contain preservatives and chemicals as opposed to store-bought ones.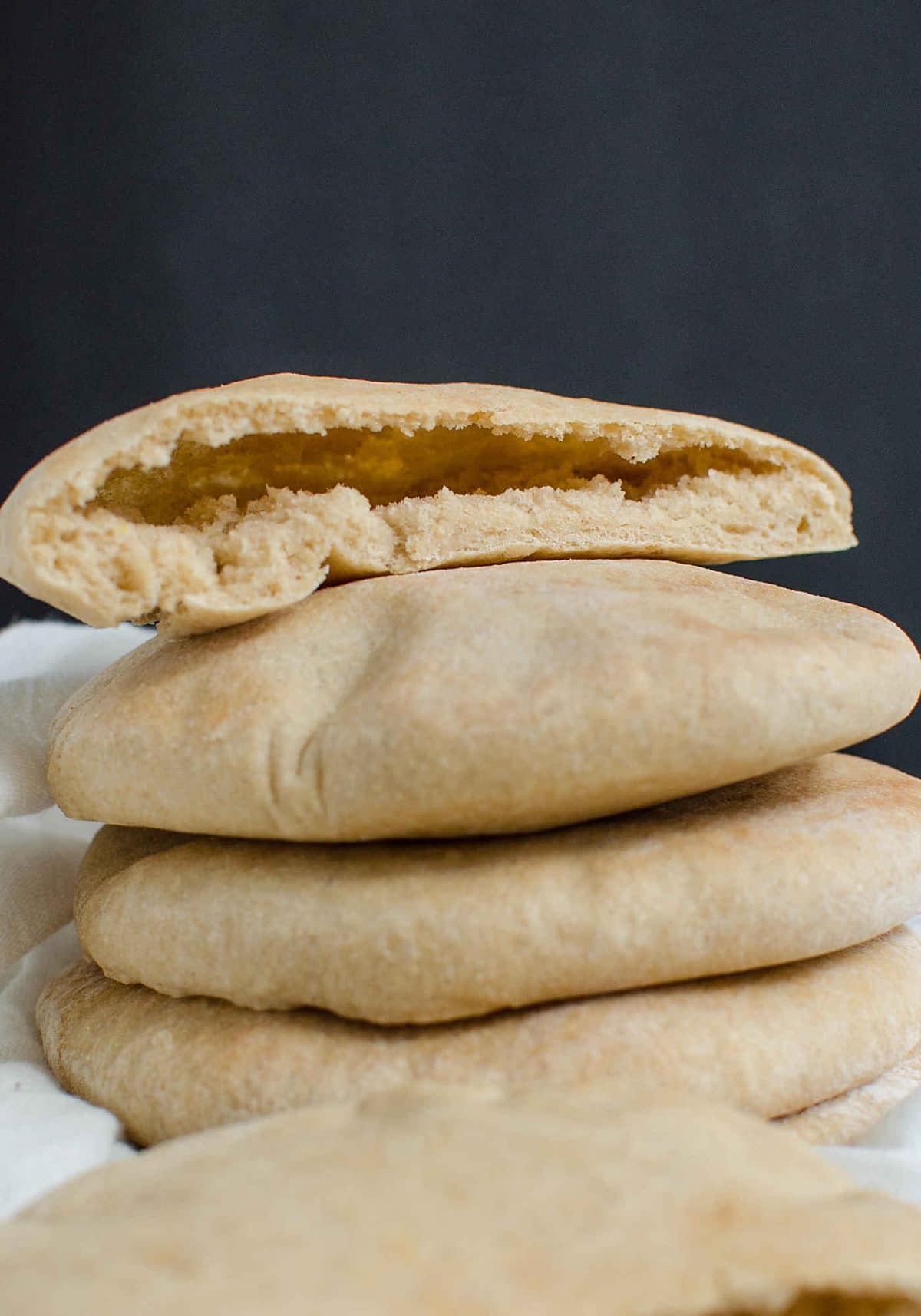 More Whole Wheat Bread Recipes To Try
📖 Recipe
Whole Wheat Pita Bread
Prepare this soft, fluffy and healthy whole wheat pita bread at home with this simple and easy recipe.
Instructions
In a large mixing bowl combine all dry ingredients including sugar or honey (if you decide to use) and mix well.

Slowly add warm water and mix the flour using a wooden spatula. Mix until it forms a crumbly mixture with no dry flour anymore

Add 1 tablespoon olive oil and using hand knead the dough. Add dry flour if necessary to avoid sticking the dough to the bowl. Continue kneading for about 6-7 min till it forms a homogeneous and soft dough

Cover the bowl with a wet cloth and put it in a warm place for at least 1 hour

Preheat the oven to 450F and lightly oil the baking tray

Divide the dough into roughly 12 equal part and form them into small balls

Dust some dry flour on the flat surface and roll each dough portion into 5-6″ round pitas. Cover the tray with a clean cloth and let it rest for 10 min

Put the tray in preheated oven and bake for 8 min. To get light golden color on the surface, bake them in broil mode for 1-2 min.
Notes
Keep a close watch on the pitas while broiling to avoid excess browning
Store remaining pitas in an airtight container in a refrigerator for 2-3 days. Microwave them before using the next day
Serve pita bread with roasted red pepper hummus or any kind of hummus that you love. 
Nutrition
Tried this recipe?
Tag us on Instagram @watchwhatueat or tag #watchwhatueat! OR leave us a comment & rating below. Your feedback is very important to us.