Make this healthy zucchini flatbread to up your veggies in the diet. It is wholesome, nutritious, and prepared using whole wheat flour and fresh zucchinis.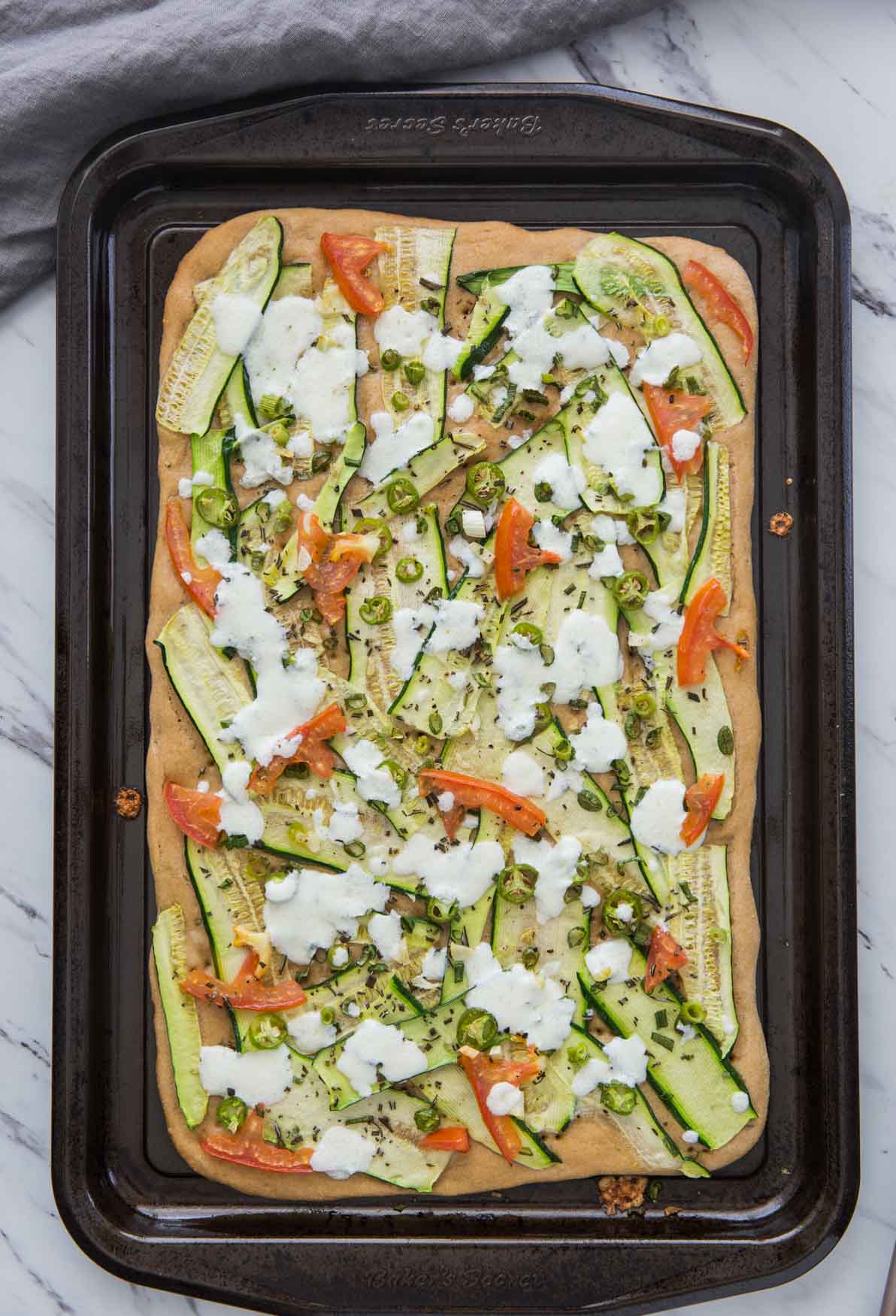 Zucchini is in season now and I am motivated to make it as part of our diet these days. Yes, it's one of my most favorite veggies. I even ended up planting them in my super small balcony. While seeing them grow from the seedlings I published this zucchini pancakes a few weeks back.
Ingredients you will need!
Dough – I prepare homemade whole wheat flour dough for this healthy flatbread recipe
Fresh zucchini – cut them in thin slices or long ribbons
More fresh produce – use scallions, sliced tomatoes for additional toppings
Garlic and Herbs – use chopped garlic and fresh rosemary to add flavors
Mozzarella cheese – top with fresh mozzarella cheese for extra deliciousness
Olive oil – I prefer using extra virgin olive oil to drizzle on the flatbreads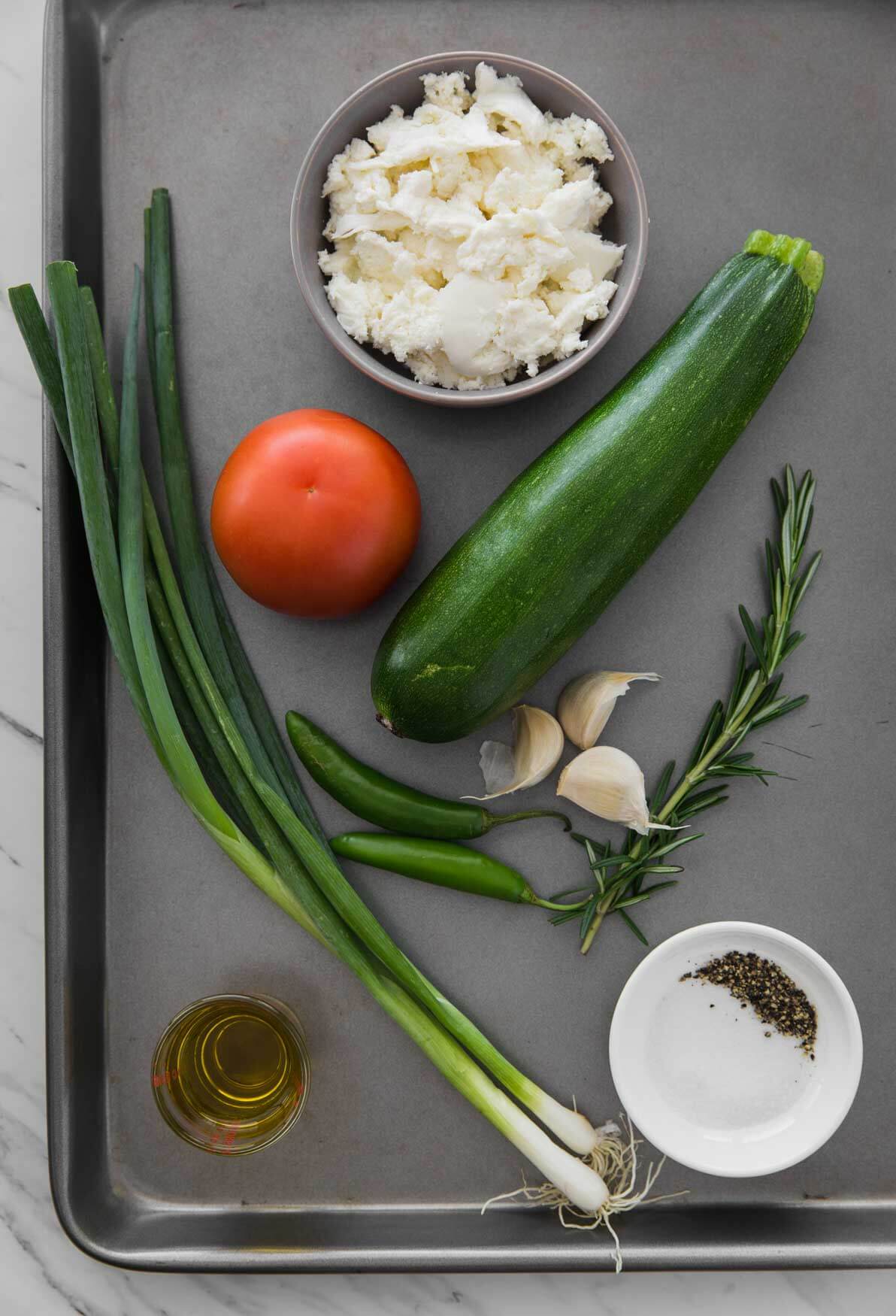 How to cut zucchini for flatbreads?
Particularly, for making this kind of flatbread cut the zucchini into thin slices or thin ribbons. Make sure to clean the zucchini thoroughly before cutting.
Cutting into slices: For even cooking cut the zucchini into thin slices and as even as possible. You can use a sharp knife for this job. Or, use a mandoline slicer for a quicker and even results.
Cutting into ribbons: Trim off the ends of the zucchini and cut it in half. Then just use a regular peeler or mandoline to get thin and even ribbons from half the zucchini. Some mandolin slicers also come with a ribbon attachment. I prefer cutting zucchini in half for making ribbons. This helps to manage them easily compared to superlong ribbons.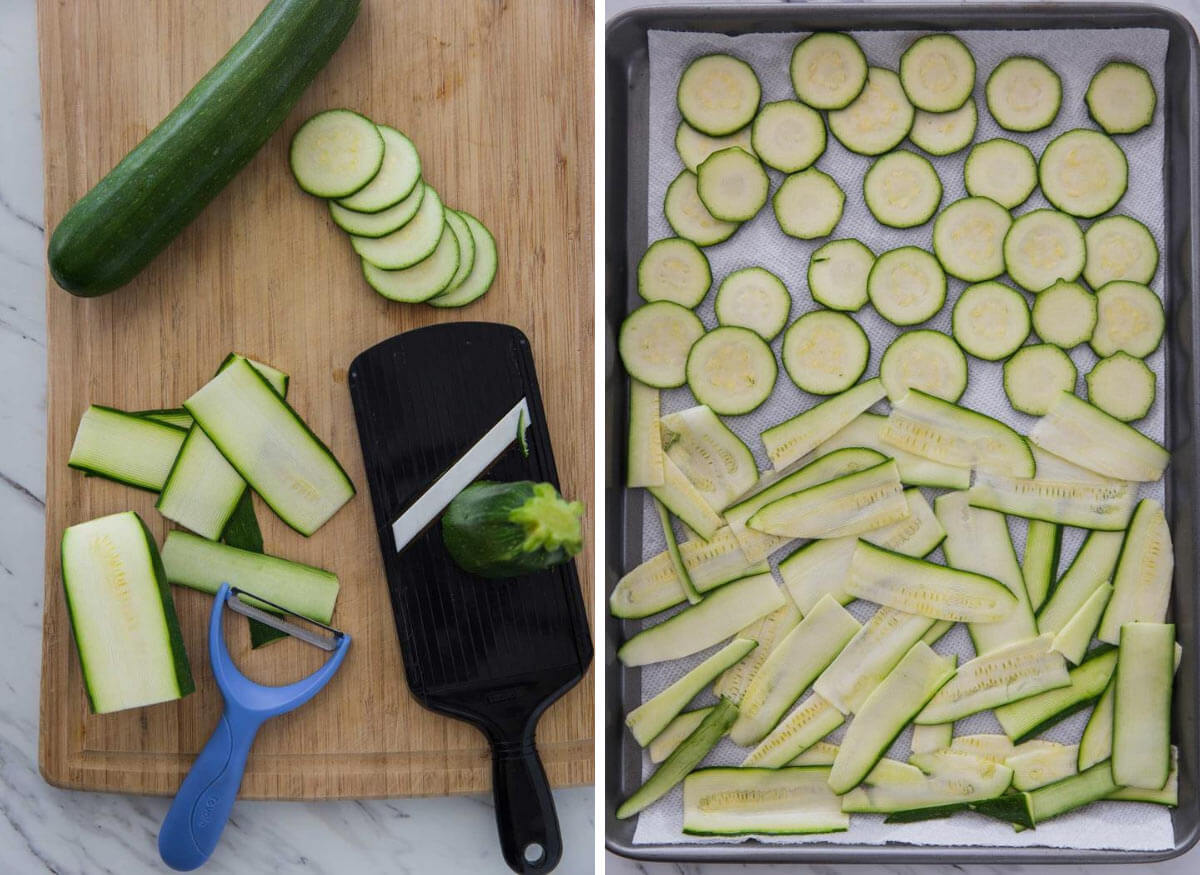 How to make dough for flatbread?
Usually, dough for making flatbread does not require proofing, and in some recipes, they don't even use yeast. As you can see, there are a number of ways one can prepare the dough for making flatbreads. I prefer using little yeast in my flatbread dough.
Combine whole wheat flour, salt to taste, some yeast, little sugar to activate the yeast and warm water in a large mixing bowl. Knead it into a soft supple dough. Use a stand mixer if you have one for a mess-free and quick kneading job. There is no need to let the dough rise and you can use it immediately.
Sometimes, I simply use my homemade pizza dough for making flatbreads. You can't go wrong using the pizza dough as it gives an excellent texture and taste upon baking. Who won't love the texture of a pizza base?
How to make healthy zucchini flatbread?
This recipe makes two 10×15″ size or one large 12×17″ flatbreads.
Spread the flatbread or pizza dough in two baking trays evenly. Then add sliced zucchinis or ribbons in a single layer. For additional toppings and pop of color add some sliced tomatoes and scallions. For the flavors sprinkle fresh chopped rosemary and chopped garlic. Then drizzle some olive oil on the top.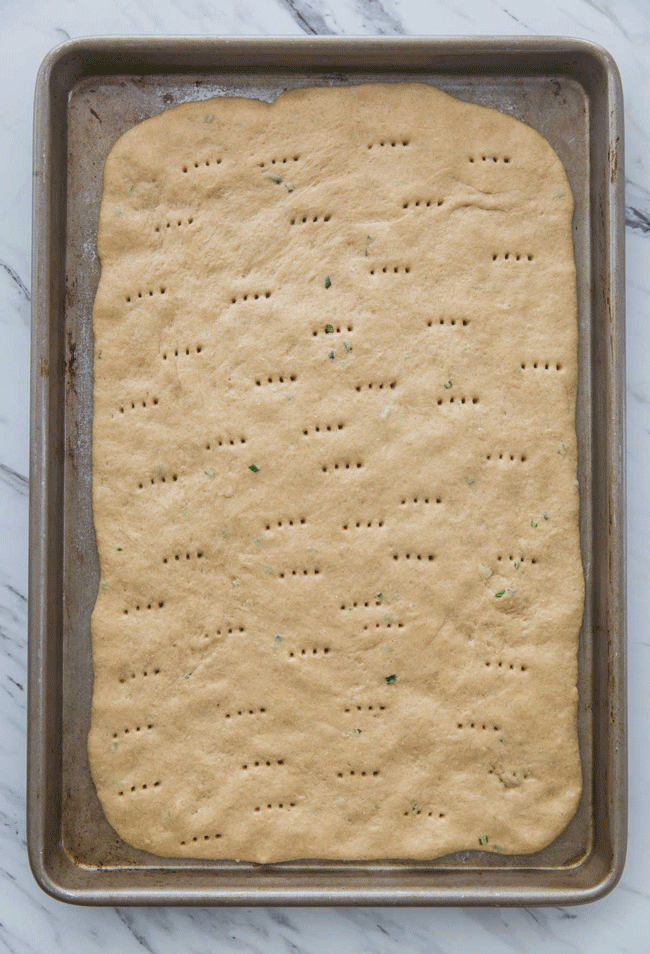 Bake the flatbreads in a preheated oven (400F) for about 15 min. Then add some fresh mozzarella cheese and continue baking for another 3-5 min or until the cheese melts down and is bubbly.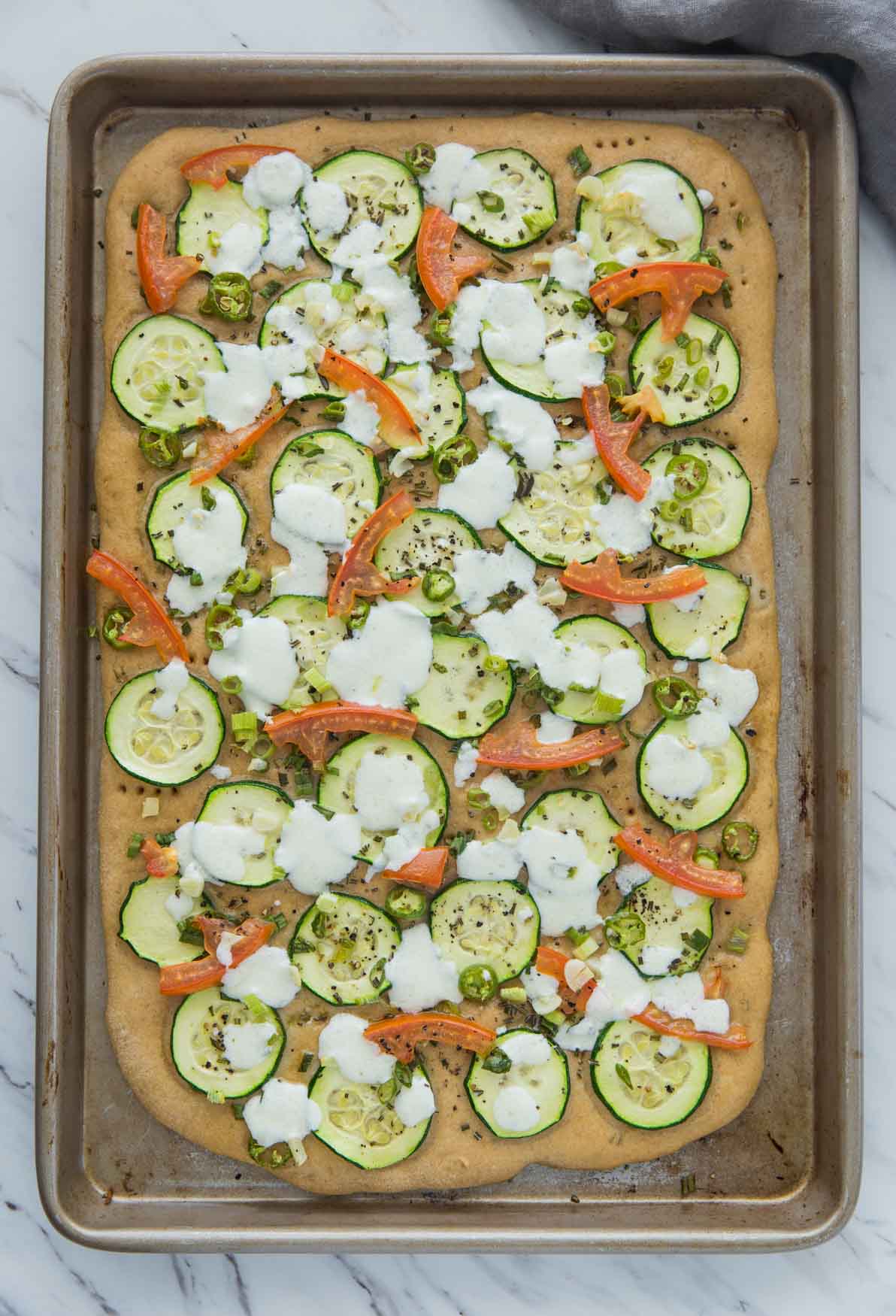 Serving Suggestions
Helpful Tips!
Cut the zucchini into even slices or ribbons and then mix with a little salt. Spread them on a kitchen paper or clean kitchen towel in a single layer for 10-15 mins. This will help remove some moisture from the zucchini.
For more health benefits use whole wheat flatbread or pizza dough. You can use this whole wheat pizza dough recipe for making it at home.
If you are making homemade pizza dough then you can skip the proofing time and use the dough immediately. The flatbread doesn't necessarily need a spongy pizza-like base. Moreover, you don't have to wait for at least an hour for the dough to rise.
Use fresh mozzarella cheese instead of processed and preserved ones for more deliciousness in the flatbread.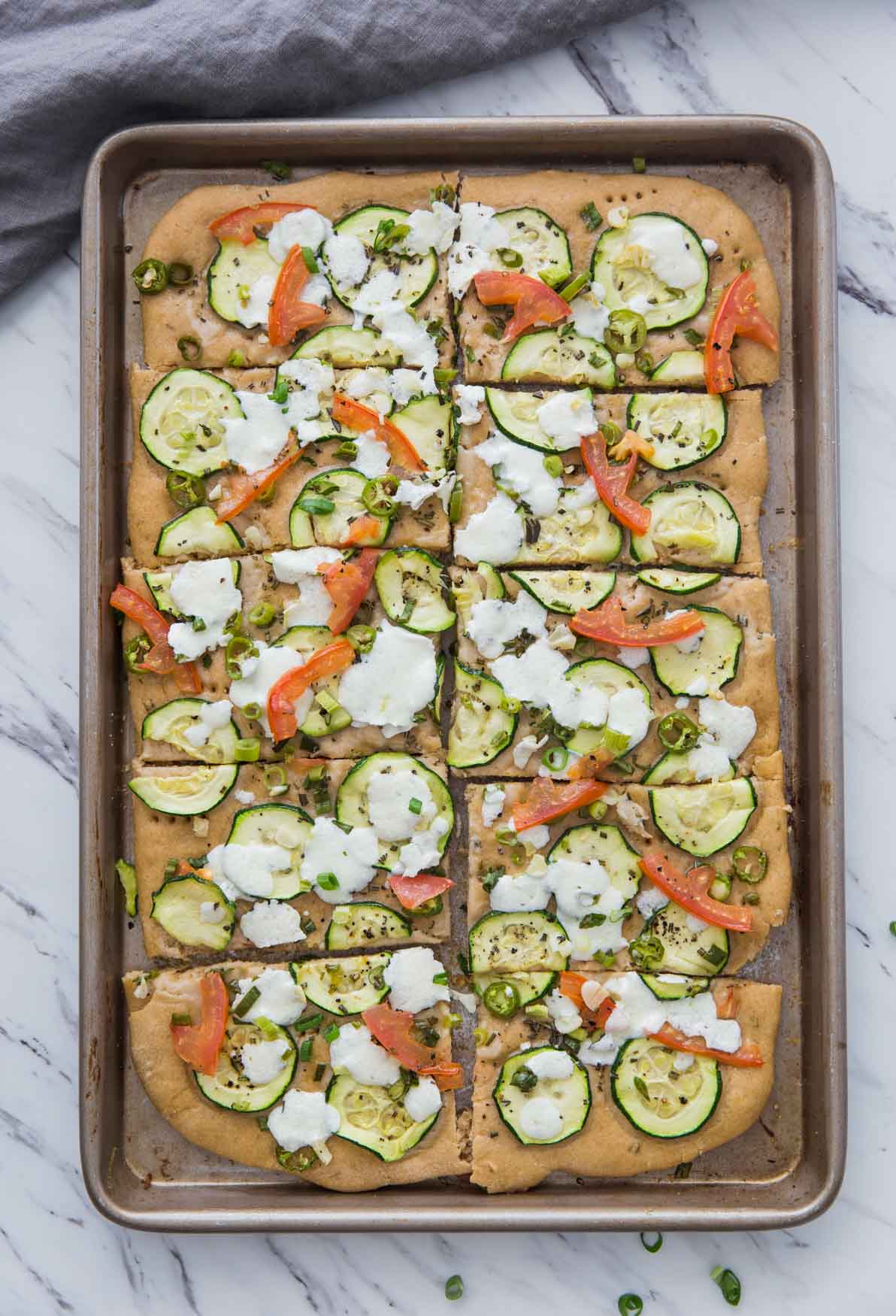 Recipe Variations
Add a variety of toppings: You can consider adding thinly sliced onion, spinach, eggplant, jalapeño, etc in addition to zucchini on your flatbread.
Turn flatbread into veggie pizza – spread your favorite pizza sauce on the dough base and build your pizza toppings using the rest of the ingredients. You can bake it over a pizza stone or in a pizza pan. For more Italian flavors add some fresh basil leaves.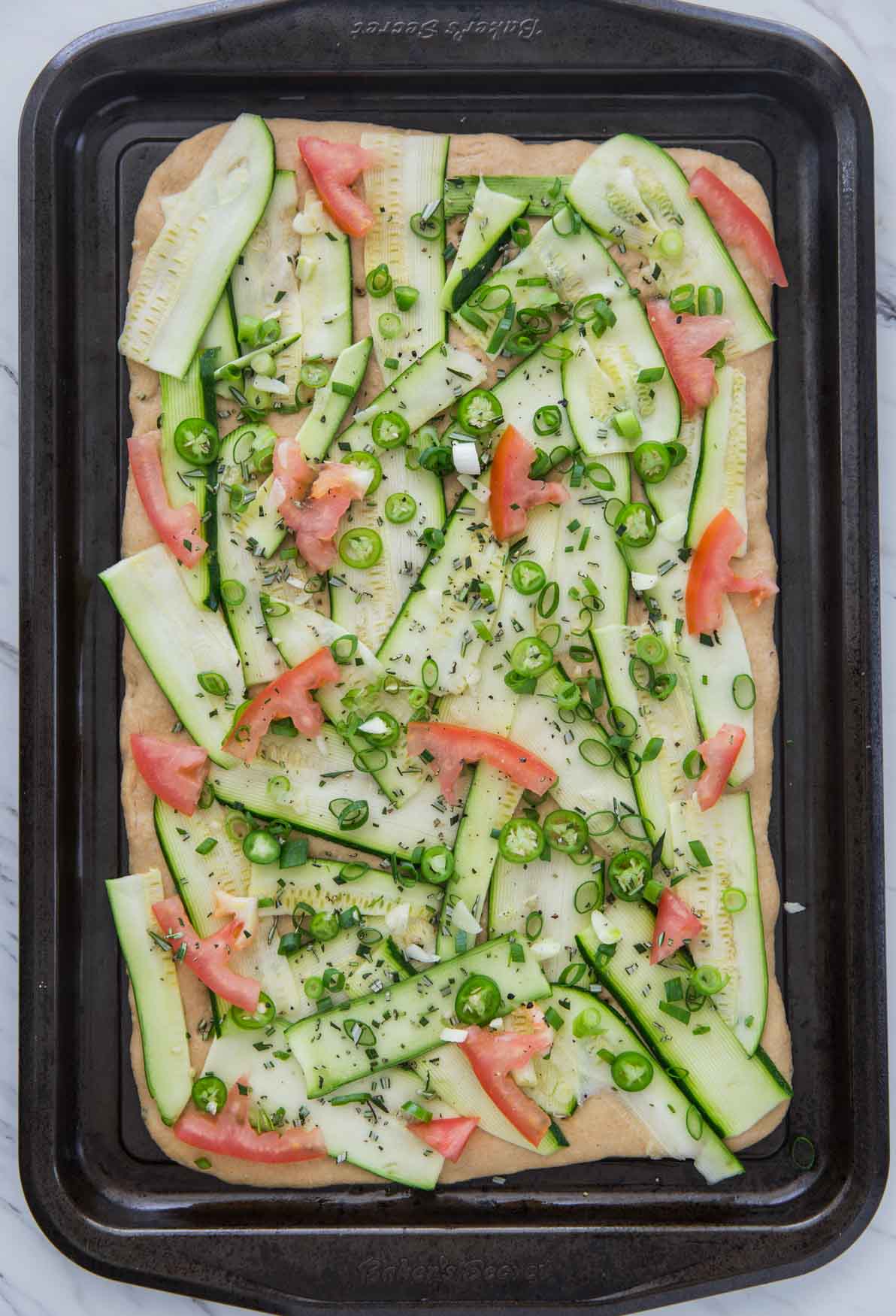 FAQs
What is the difference between a Flatbread and Pizza?
I find it very confusing to differentiate between a flatbread and a pizza. As far as I understand and what I've read from different sources, the following points can help to differentiate.
Flatbread does not have a layer of sauce (tomato or pesto or any other etc) as the pizza.
The base of the flatbreads is more thin, dense, and crispy than regular pizzas.
Flatbread dough does not necessarily require to add yeast. Also, no proofing is needed.
You can make flatbreads of any shape. It does not matter. Pizza is usually round or square in shape.
This means flatbread is more rustic and forgiving yet delicious.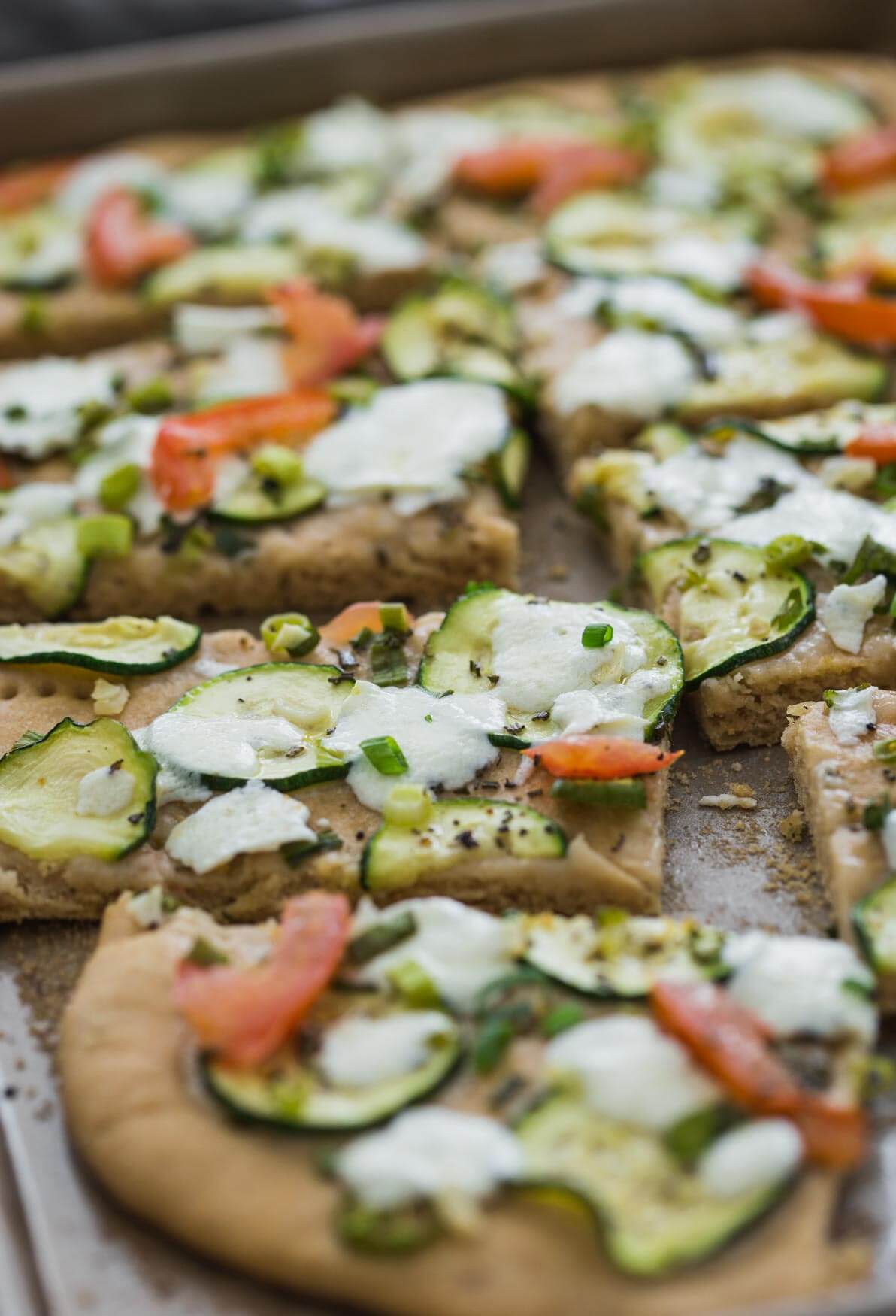 MORE ZUCCHINI FAVORITES
📖 Recipe
Healthy Whole Wheat Zucchini Flatbread
This super simple homemade healthy flatbread loaded with fresh herbs, garlic, whole wheat and fresh mozzarella will tempt you to make it again and again.
Ingredients
Toppings
1

large

zucchini

thinly sliced or cut into ribbons (see notes)

3-4

garlic cloves

finely chopped

1 to

tomato

seeded and thinly sliced (see notes)

½

tablespoon

fresh rosemary

or more

1

tablespoon

olive oil

or more

½

cup

mozzarella cheese

salt
Instructions
Mix the sliced zucchini (or ribbons) with some salt and spread them on a paper towel in a single layer. Let it rest for 10-15 mins. Meanwhile, prepare the dough and other ingredients.

Combine flour, yeast, sugar, and salt in a stand mixer with the dough hook attached. Gradually add warm water and let the machine run on setting no. 2 (mine is a Kitchenaid Stand Mixer). Knead the dough for about 3-4 mins to form a soft dough.

Preheat the oven to 400F.

Brush or spray some oil on the two 10×15" baking trays. Divide the dough into two equal parts and spread it evenly on the trays to form the base.

Evenly place zucchini slices or ribbons in a single layer over the dough.

Build up more toppings such as scallions, serrano pepper (optional), rosemary, tomato, and chopped garlic.

Bake the flatbread in a preheated oven for 15 mins.

Finally, add some fresh mozzarella cheese and continue baking for another 3 min or until cheese melts and is bubbly.
Notes
Hand mixing the dough – In a large mixing bowl combine flour, yeast, sugar, and salt. Add warm water gradually and mix the flour with water using a wooden spatula. Transfer the mixture to a flat surface and knead it to form a soft dough. Keep using little oil at a time to avoid sticking the dough to the surface and hands.
There is no need to proof the dough. It is ready to use as soon as the kneading is done.
Want to use pizza dough?? — Then use around 1.75 lb ready-to-use pizza dough instead of making the flatbread dough above.
This recipe can make two 10×15″ or one 12×17″ size flatbreads. You can use either size trays to prepare the flatbreads. Do not forget to apply a little oil on the trays before shaping the dough in it. Otherwise, the crust may stick to the bottom upon baking.
Nutrition
Calories:
244
kcal
|
Carbohydrates:
46.5
g
|
Protein:
10.4
g
|
Fat:
5.5
g
|
Saturated Fat:
0.7
g
|
Potassium:
159
mg
|
Fiber:
9.8
g
|
Sugar:
2.9
g
|
Iron:
3
mg
Tried this recipe?
Tag us on Instagram @watchwhatueat or tag #watchwhatueat! OR leave us a comment & rating below. Your feedback is very important to us.