This healthy veggie salmon burger is a perfect heathy meal option. It contains healthy proteins, whole grains and green veggies.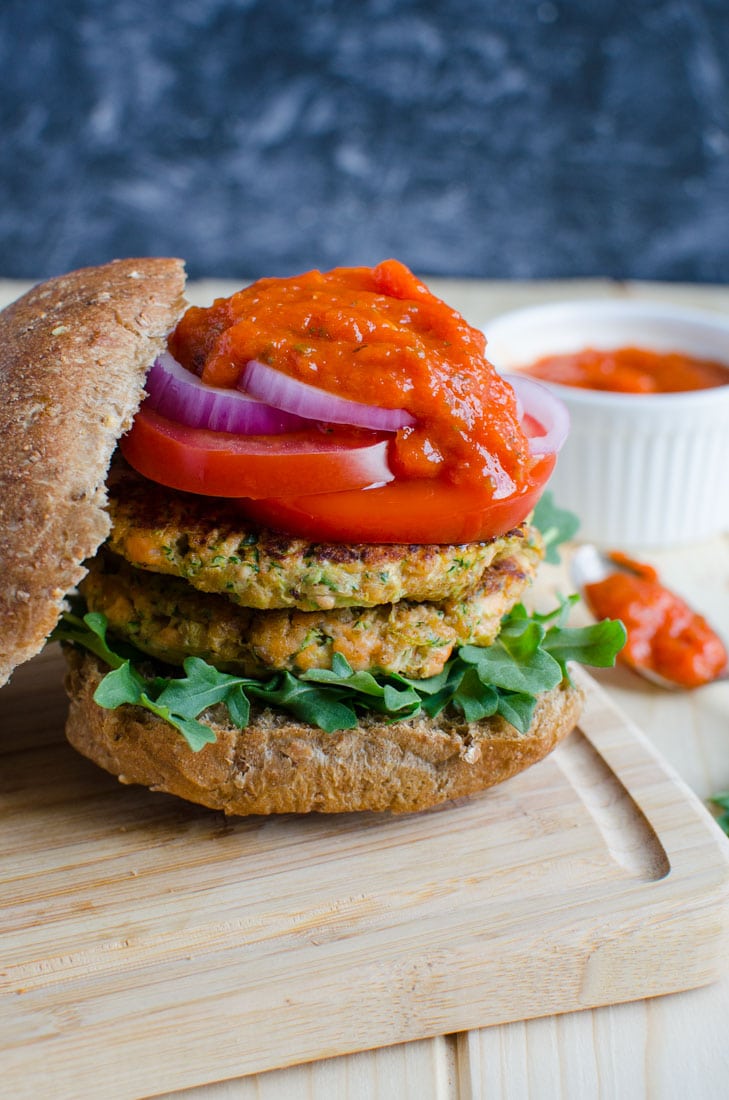 These days I am trying to prepare healthy meals that are balanced.  Balanced in the sense that it should contain healthy whole grains, healthy proteins and vegetables as well. And, that is the goal of this blog. Our goal is to have a balanced diet, not just low fat or low calorie or carb free diet. Unless we are allergic to certain foods (for example, some people are lactose intolerant so that they can't have dairy based foods) one should eat healthy carbs, fibers and proteins from plant and/or animal source in moderate amounts.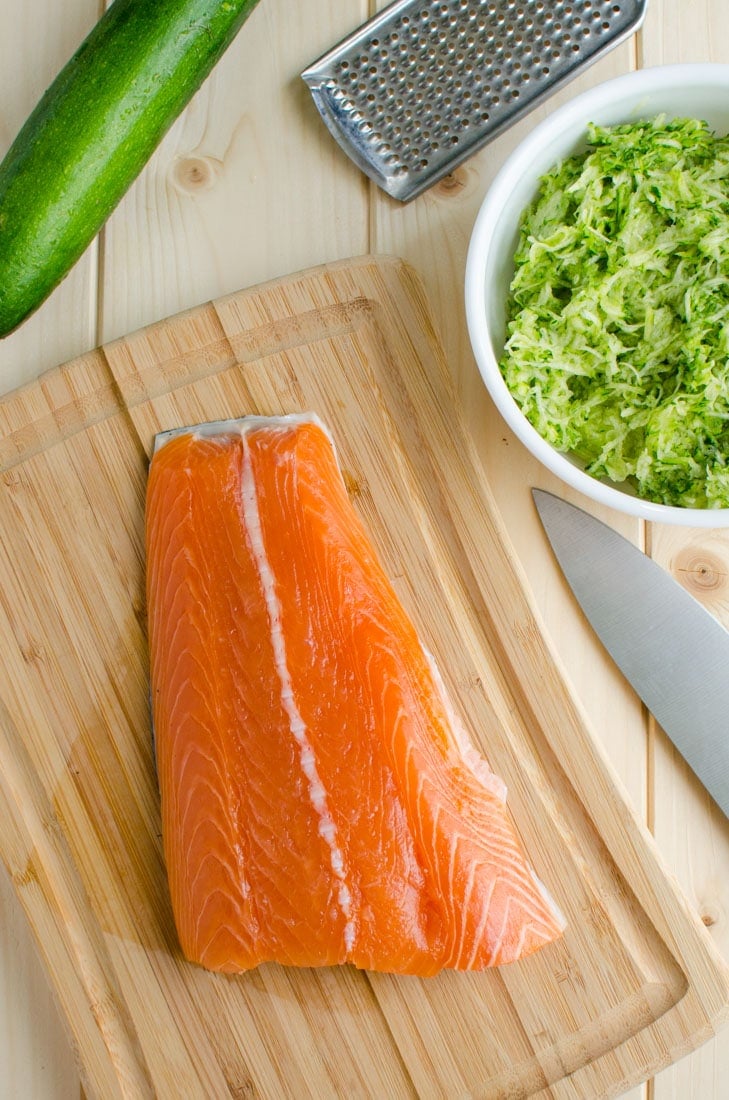 This time I am sharing with you salmon burger recipe. If you will look at the ingredients below, you can see that it is prepared using all healthy ingredients such as fresh salmon, zucchini, whole wheat bread crumbs and egg whites. Also, I prepared roasted red pepper sauce as an alternative to fat loaded dressings such as mayonnaise, ranch etc. And, it tastes really good even without adding any cheese. Give it a try to believe me. I am sure you will love it. Because it is….
satisfying

filling

healthy

nutritious

easy to prepare
You can also serve this delicious salmon burger with this homemade healthy oven baked sweet potato fries on the side.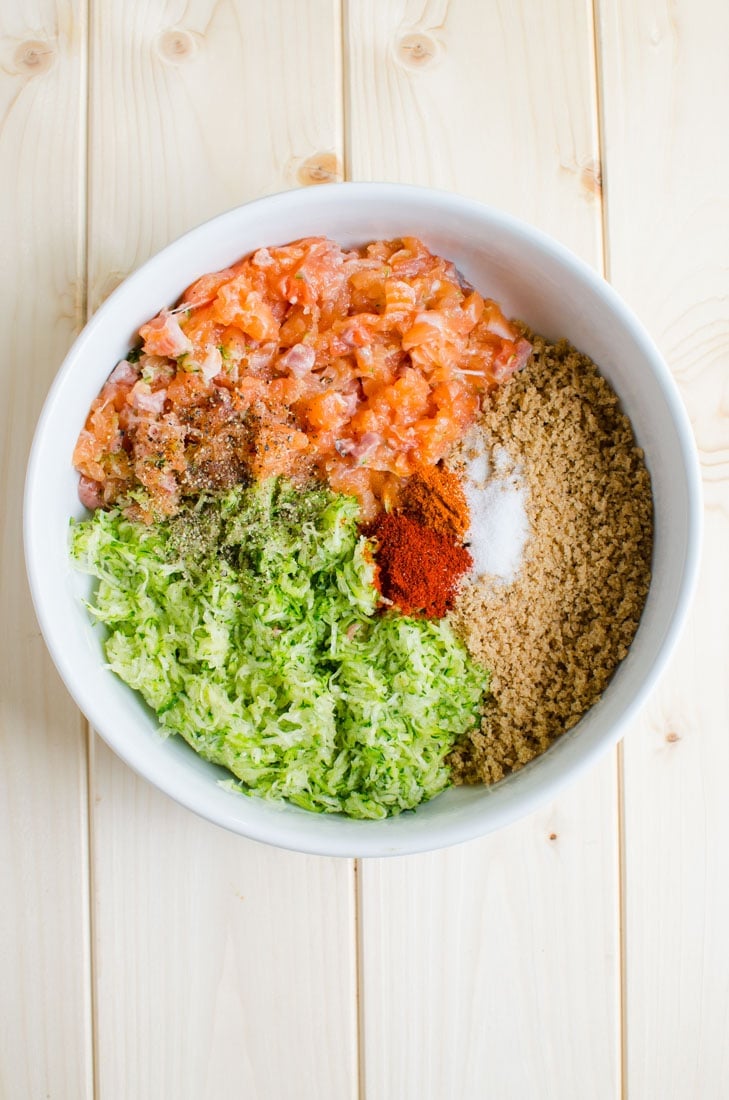 How is this veggie salmon burger healthy?
This salmon burger is healthy as it is prepared using healthy ingredients
Salmon is rich in Protein, healthy fats, Vitamin B12 and Selenium. It is also a good source of Thiamin, Niacin, Vitamin B6 and Phosphorus

Zucchini is low in calorie and a good source of folate, potassium, and provitamin A etc.

This burger does not contain added cheese which is high in saturated fat

Roasted red pepper sauce recipe included in this post will be a healthy alternative to traditional dressings such as ranch and mayonnaise that are loaded with saturated fat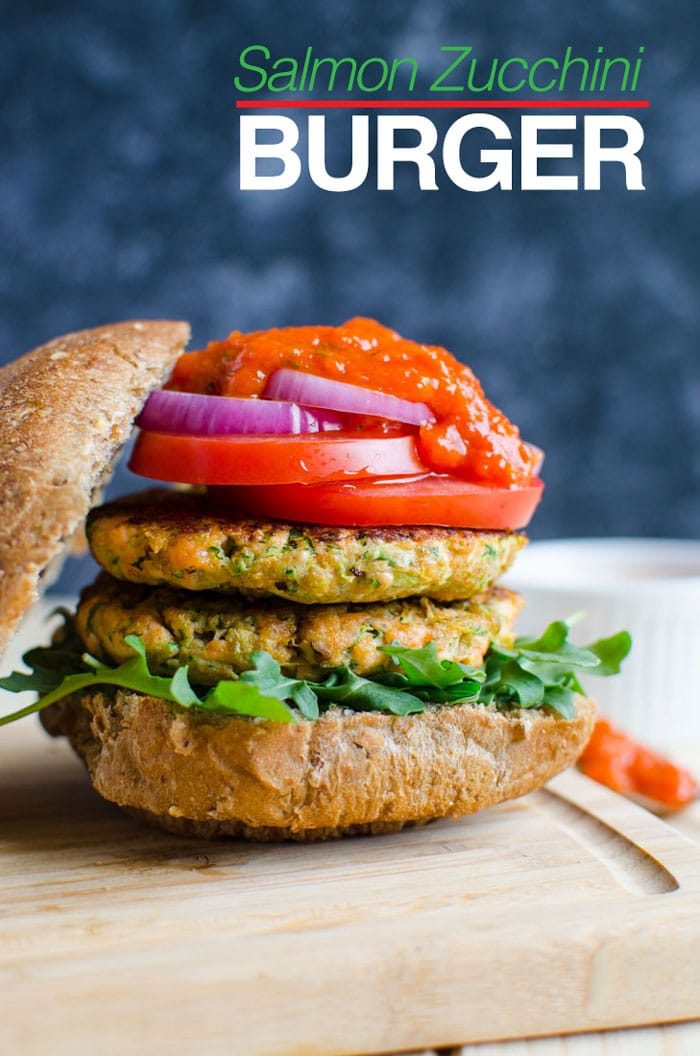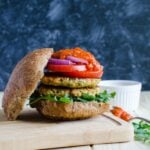 Healthy Zucchini Salmon Burger
It is prepared using all healthy ingredients such as fresh salmon, zucchini, egg white, whole wheat bread crumbs etc etc...
Ingredients
ZUCCHINI SALMON PATTY

1/2

lb

fresh salmon finely minced

(or frozen and thawed)

1

large zucchini finely shredded

(and squeezed to remove juice)

1/2

cup

whole wheat bread crumbs

1

egg white

1

tsp

smoked paprika

1

tbsp

avocado oil

salt and pepper

.

RED PEPPER SAUCE

2

red peppers

1

medium onion

2-3

cloves

garlic

1

tsp

dried basil

(or fresh if possible)

1

tsp

oil

(or oil spray)

salt and pepper

.

FOR SERVING

6

whole wheat buns

leaves

arugula

1

large tomato thickly sliced

1

red onion thinly sliced

fresh cheese

(optional)

slices

avocado

(optional)
Instructions
Preheat the oven to 400 F

Line a baking sheet with aluminum foil and spray oil. Place red peppers, onion, along with garlic wrapped in foil to avoid charring and then transfer the baking sheet into the oven. Bake it for 30-40 min. Flip the peppers and onion half way into roasting.

Meanwhile in a medium mixing bowl combine mixed salmon, shredded zucchini, breadcrumbs, paprika, egg white, salt and pepper. Divide the mixture into six equal parts and form them into patties.

Heat oil in a large iron skillet on a medium heat. Cook the prepared patties for 3-4 min on each side or until well done.

Now, peel the roasted red peppers and remove all seeds and the core. Peel roasted onions and garlic as well.

In a food processor (or blender) add roasted red pepper, onion, garlic, basil, salt and pepper and pulse until well combined.

Now it is time to assemble the burger. On one side of the burger bun, place few leaves of arugula followed by cooked salmon patty, tomato slice, and onion slice. Finally, top with prepared roasted red pepper sauce. Enjoy this healthy salmon burger with your choice of sides
You may also like some more healthy side or dinner options: