Red lentil curry is prepared using flavorful Indian spices. A protein filled, vegan and vegetarian option perfect for lunch or dinner. And, it tastes amazing with garlic naan bread or plain rice.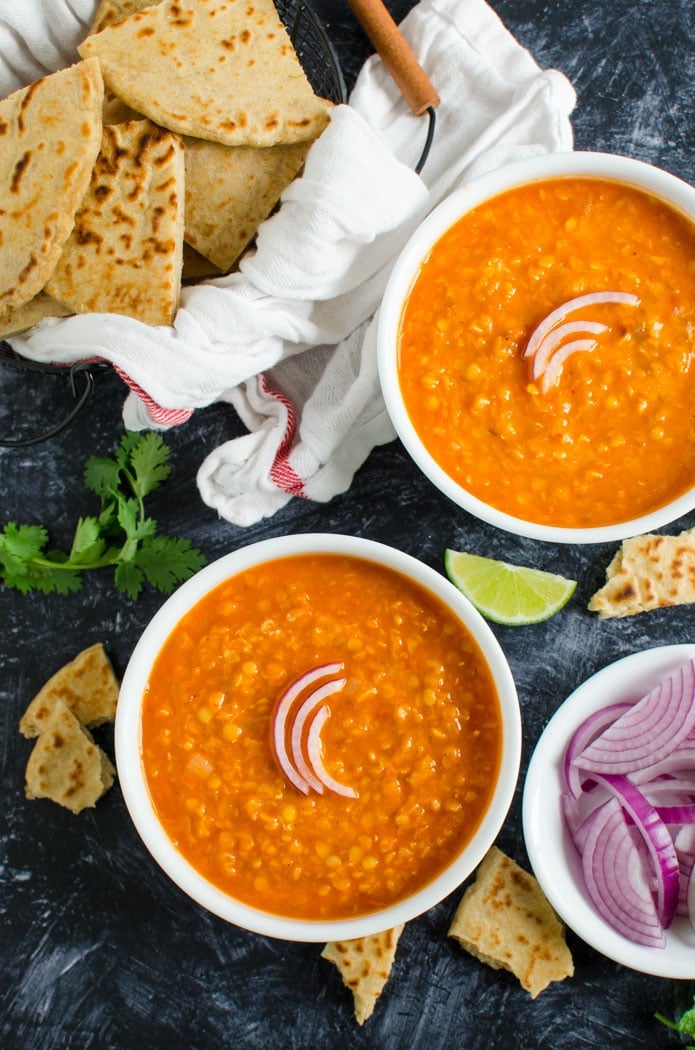 Lentil curry is a very common delicacy in Indian households. I would say it is a staple diet for many Indians and is popularly known as Dal. Usually, lentils are cooked separately in a pressure cooker and then added into the curry prepared with onions, tomatoes and spices. However, I decided to make this curry in one pot. Do you know why? It becomes very messy inside the cooker after the lentils are done and I absolutely hate washing the cooker. Much to my dismay, my pressure cooker is not dish washer safe and whenever I do have to use a cooker, Tushar is the one who cleans it—he simply cannot escape it (:P).
Generally in India, dal is prepared using split pigeon peas (also known as toor dal), red lentils or mung beans or sometimes a mixture of lentils. In this curry recipe, I used red lentils because it is commonly available in US local grocery stores (I found it in the Mexican aisle). And, making this lentil curry is really simple. Prepare basic onion and tomato base with spices then add lentils, water and simmer the mixture until cooked. It is our recent favorite dish and we love it. It is…
flavorful

tasty

satisfying

healthy

one pot recipe
We enjoy this red lentil curry with naan bread. It also goes very well with plain rice.
How this Red Lentil Curry is Healthy?
Red lentils are packed with dietary fibers, healthy proteins and essential minerals

This curry is prepared using very less fat. It does not contain added saturated fat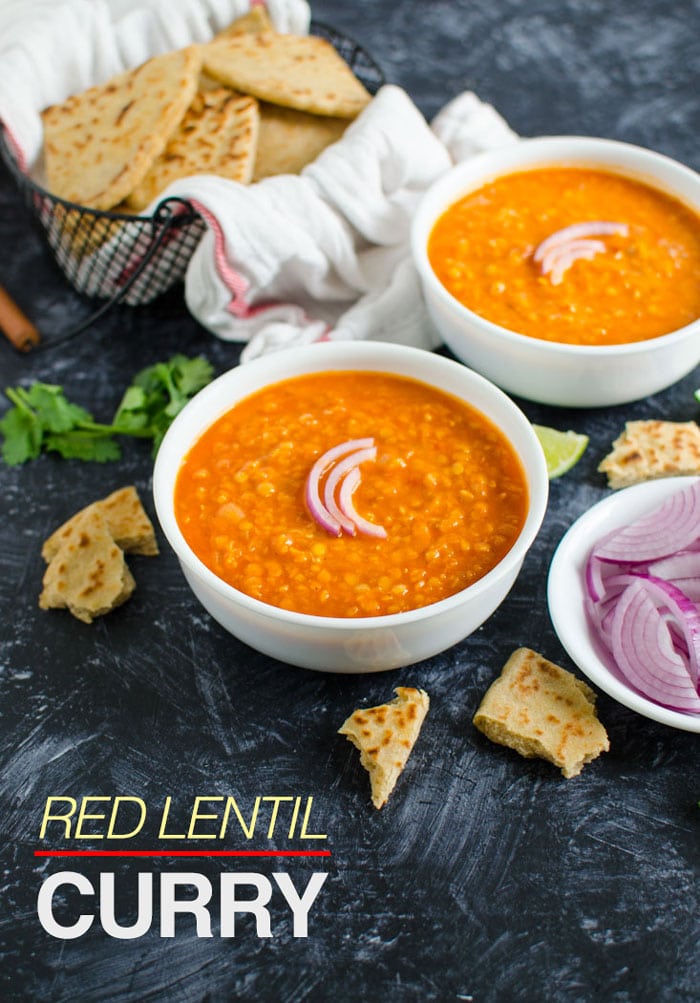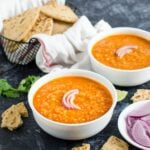 Indian Styled Red Lentil Curry
Indian styled red lentil curry. Vegan, gluten free & healthy dish
Ingredients
1

cup

red lentil

4

cup

water or vegetable stock

1

medium onion chopped

3-4

red tomatos chopped

1

tsp

minced garlic

1

tsp

finely chopped ginger

2

tbsp

tomato paste

(optional)

1

tsp

red chili powder

(mild for less hot curry)

1

tsp

garam masala

1

cinnamon stick

1-2

leaves

bay

1

tsp

cumin seeds

salt

1

tsp

cooking oil

FOR SERVING

(Optional)

1

lime cut into wedges

1

onion sliced

Naan or Rice
Instructions
Heat oil in a pan on medium heat. Add cumin seeds, garlic, ginger and sauté until fragrant

Add onions and cook until translucent. Add tomato paste, chopped tomatoes, garam masala and cook until tender or it gets to a sauce like consistency

Now add red lentils and water; bring it to boil

Add salt, cinnamon stick and bay leaves. Simmer the mixture with lid on for 35-40 min or until the lentil is tender. Serve warm with naan or rice along with a lemon wedge and onion slices