This flavorful, creamy coconut shrimp curry is simple, easy, and quick to prepare. Grab some fresh tomatoes, coconut milk, seasonings, and fresh or frozen shrimp, and you will have this Indian-inspired curry ready in no time.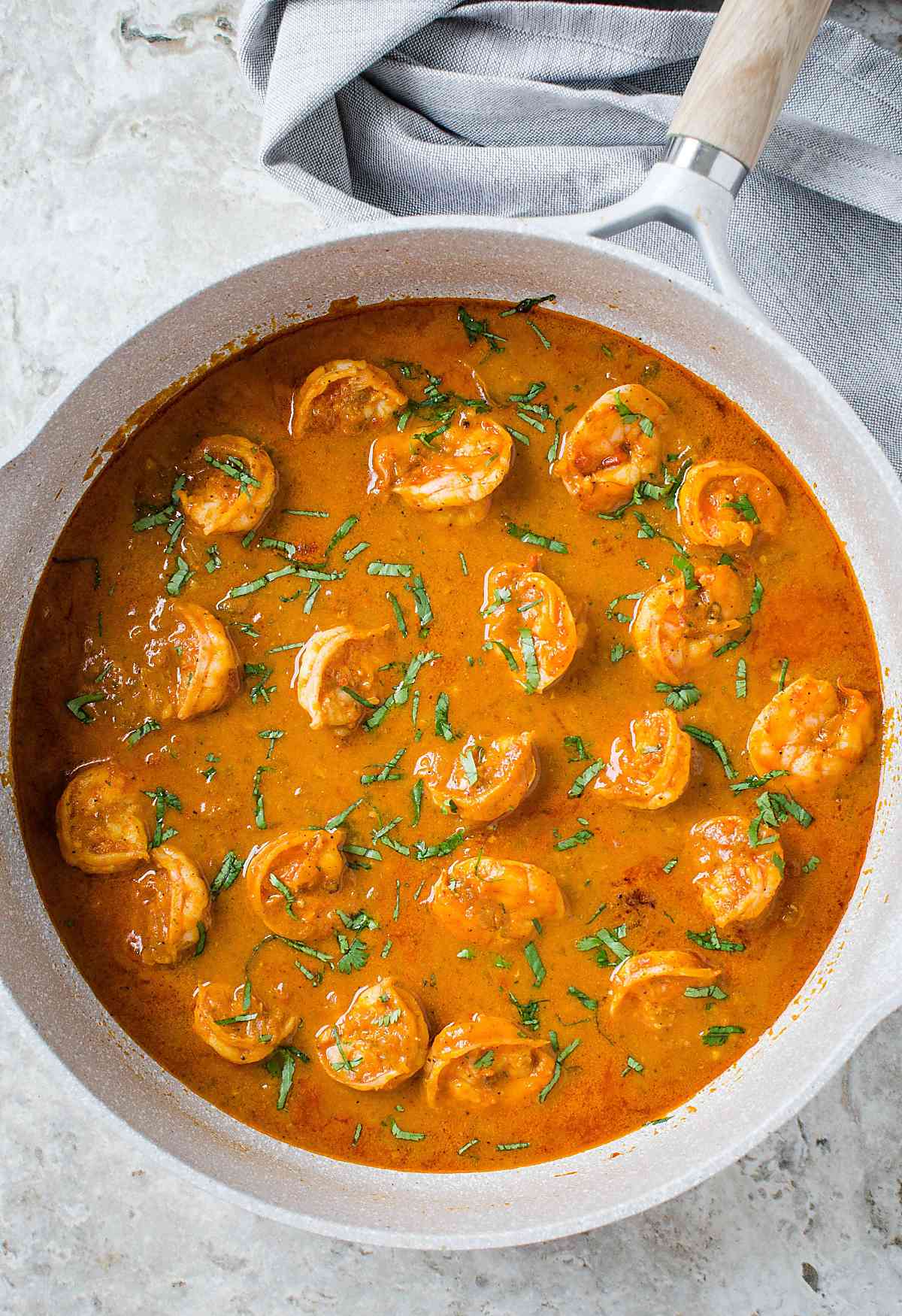 This shrimp curry is prepared with coconut milk and has more of a touch of Indian flavors. Like Thai cuisine, coconut is also an integral part of coastal cooking in India. That's where I spent a few years of my life. I enjoy dishes prepared using fresh coconut and coconut milk. So, let's get to this super easy yet delicious recipe.
Jump to:
Ingredients
Shrimp – use fresh or frozen raw shrimp or prawns. If you have frozen shrimp, then thaw them before. Shrimp with shells need to be cleaned and deveined.
Onion – finely chopped and lightly caramelized onion creates a delicious curry base. You can either use red or yellow onion for this recipe.
Tomato – like onion, tomato is also a key ingredient for the curry base. It also gives a nice color and thickness to the curry.
Coconut milk – gives a pleasant, nutty taste, color, and creamy texture to the curry. Use regular or reduced-fat coconut milk as per your liking.
Ginger and garlic – both are necessary to add flavors to almost all Indian savory dishes.
Garam masala – this is a blend of key aromatic Indian spices. It adds authentic Indian flavors to the curry.
Cooking oil – I use avocado or olive oil for sautéing and grilling.
Recipe variations/substitutions
Salmon – use salmon instead of shrimp or prawns. You may need to cook them a little longer until they are well done in the curry. Or, follow this Indian salmon curry recipe for detailed instructions.
Chicken – add cooked chicken pieces towards the end of cooking if you do not want to use seafood.
Chickpeas – use them instead to prepare a meatless curry. Or, follow this chickpea coconut curry recipe for more details. This is perfect for a vegan or vegetarian meal.
Curry powder – use curry powder instead of garam masala. Both work well in this recipe.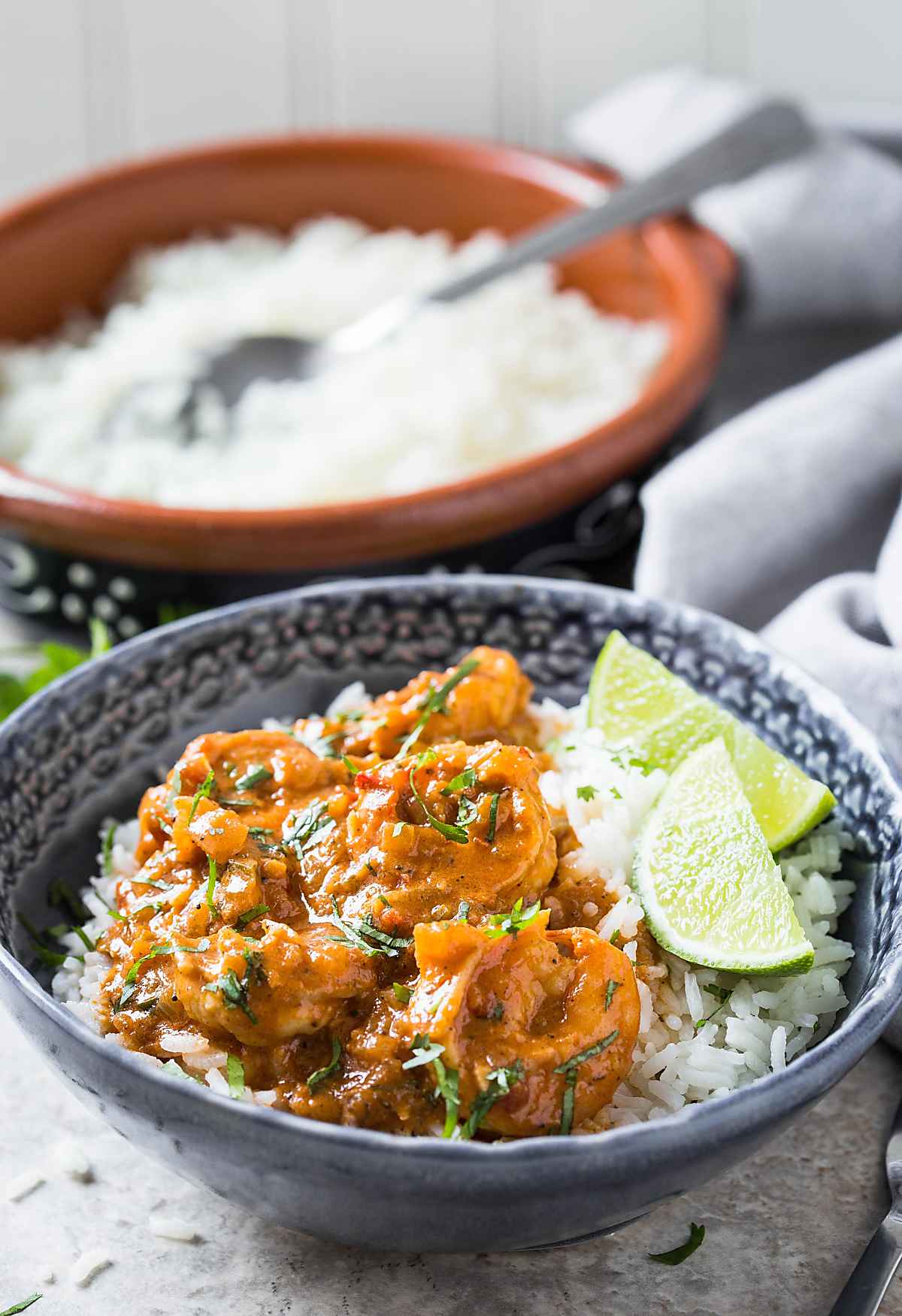 Are shrimp and prawns the same?
Shrimp and prawns are different crustaceans. However, both look very similar, and you have to inspect them closely to notice any difference, that too when they are not peeled. Shrimp are found in salt water, whereas prawns live in fresh and somewhat salty water. Shrimps are slightly curved, while prawns are straight and typically larger in size.
Culinary-wise, both are interchangeable. The taste and texture after cooking are similar. However, prawns taste slightly sweeter.
You can very well turn this recipe into coconut prawn curry instead of shrimp.
What makes a good Indian curry?
Essential to delicious flavors in the Indian curry are the lightly caramelized onion, slight tanginess from the tomato, fresh garlic and ginger, and a blend of aromatic spices. Using fresh garlic and fresh ginger really makes a difference. Also, seering the onion-tomato mixture on low heat for longer times develops a rich taste in the curry.
Adding spices like garam masala at the right time matters. Adding them at the beginning can burn or lose flavor at high heat while adding them at the very end can give the curry a raw taste.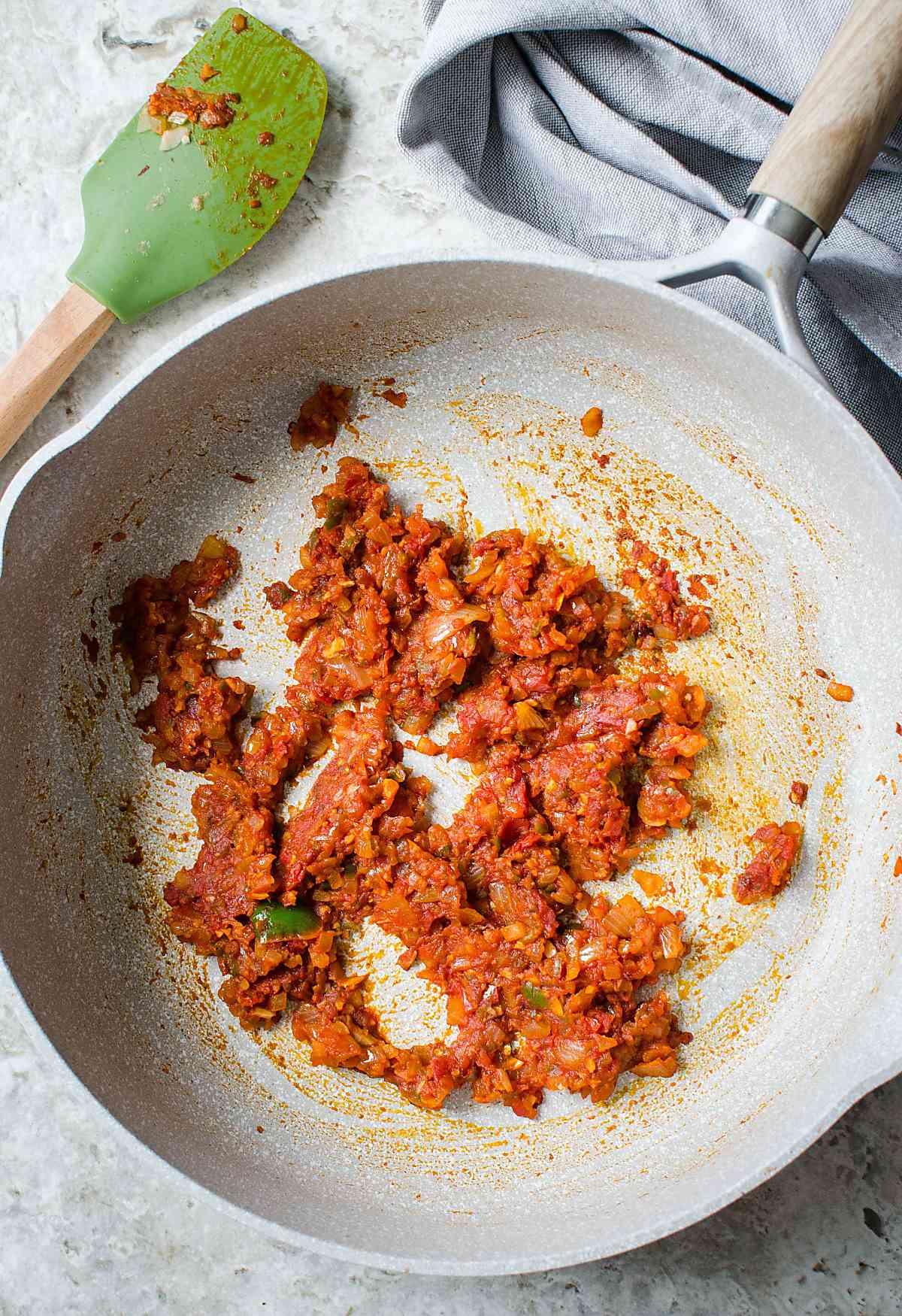 How to tell if shrimp is cooked and how to avoid overcooking?
Raw shrimp or prawn is translucent gray in color and turns into light pink-orange-white upon cooking. Also, it loses its translucency, and it curls up towards the center.
Shrimp can overcook quickly therefore, do not let them cook in this coconut curry or sauce for an extended period of time. Also, remember that the hot curry will continue to cook them further even after turning off the heat.
How to make Coconut Shrimp Curry?
Step 1 – Pulse fresh tomatoes with fresh ginger, garlic, and jalapeno or green chili (optional) in a food processor.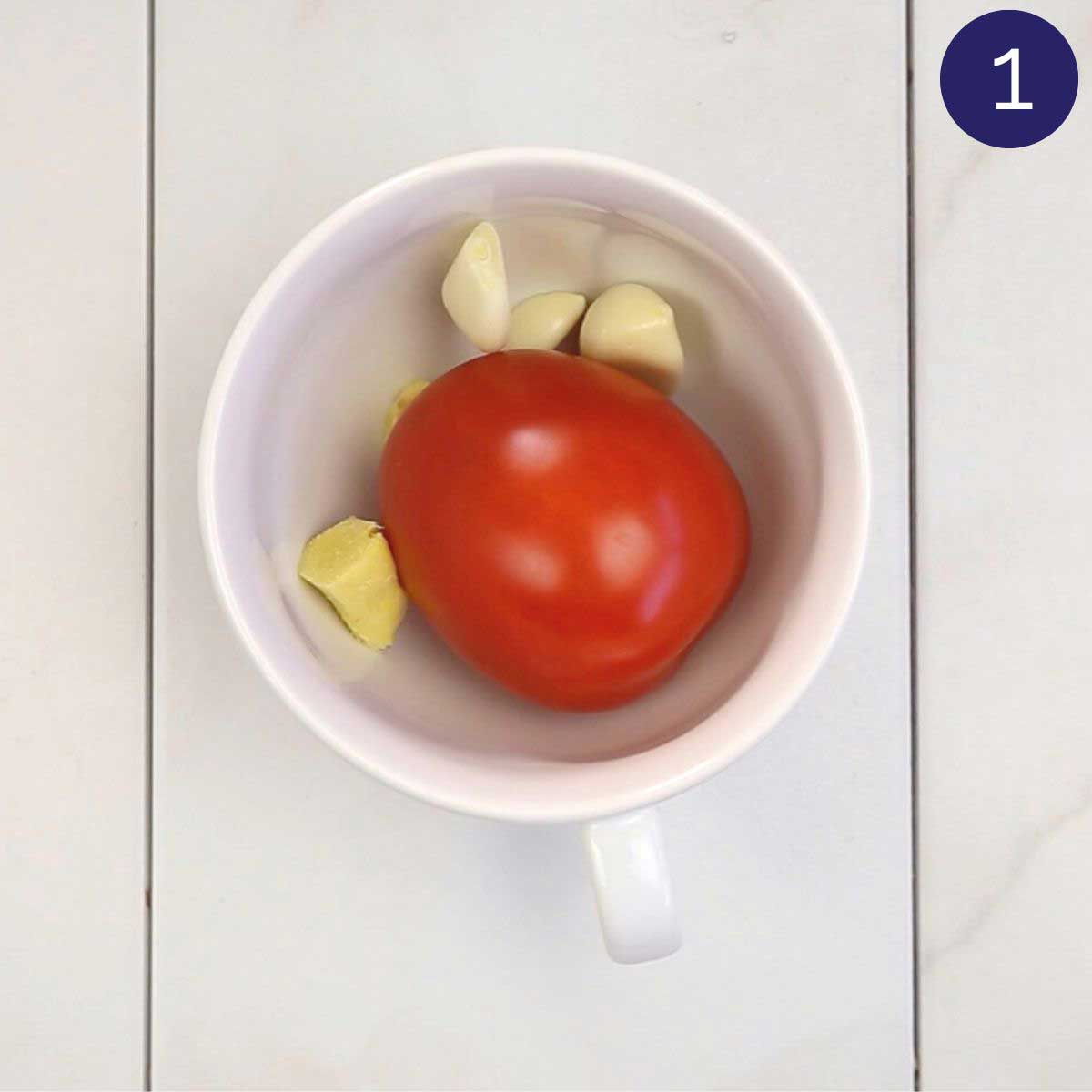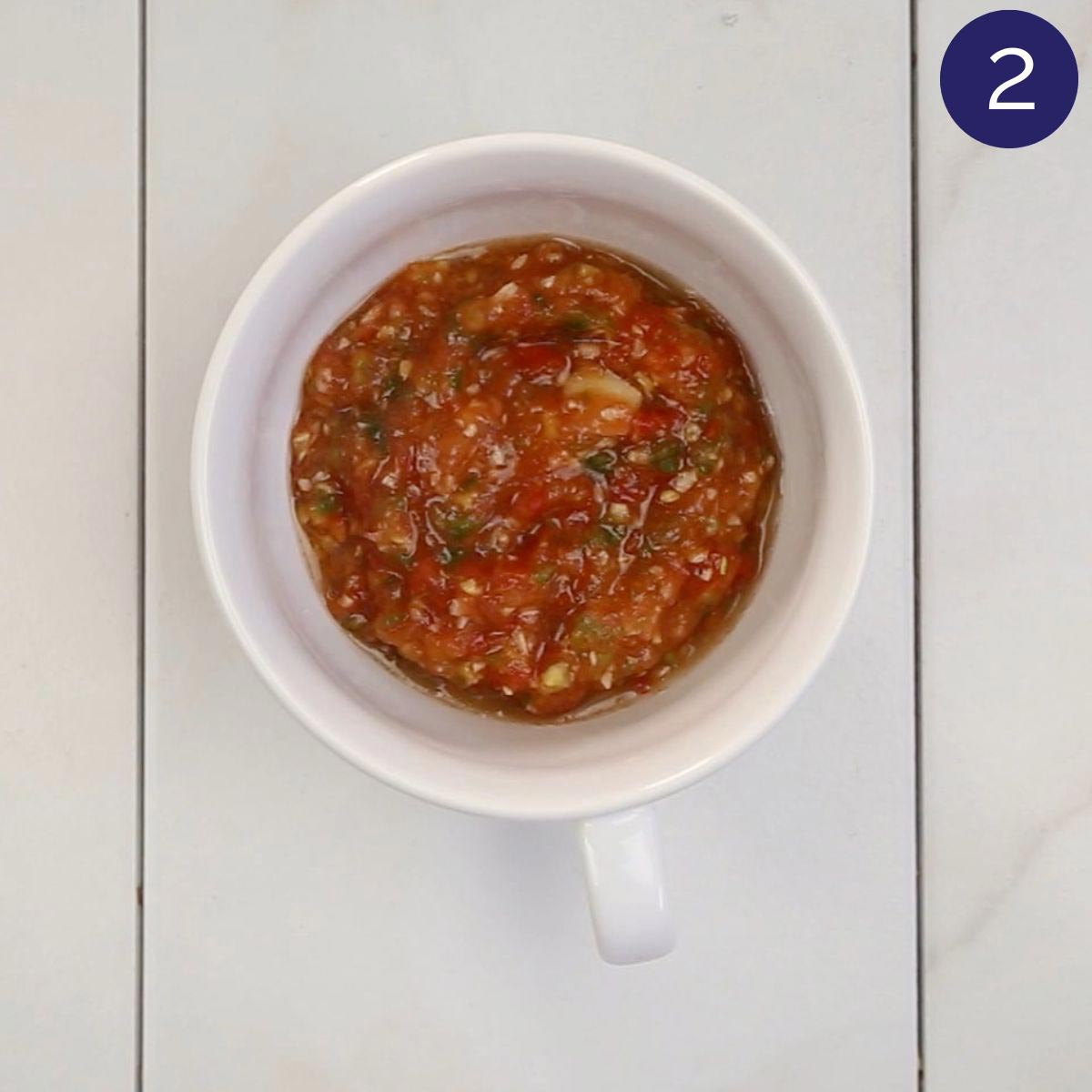 Step 2 – Heat some oil in a skillet over medium heat. Add finely diced onion and lightly caramelize them. Add pureed tomato and cook the mixture until most of the water evaporates.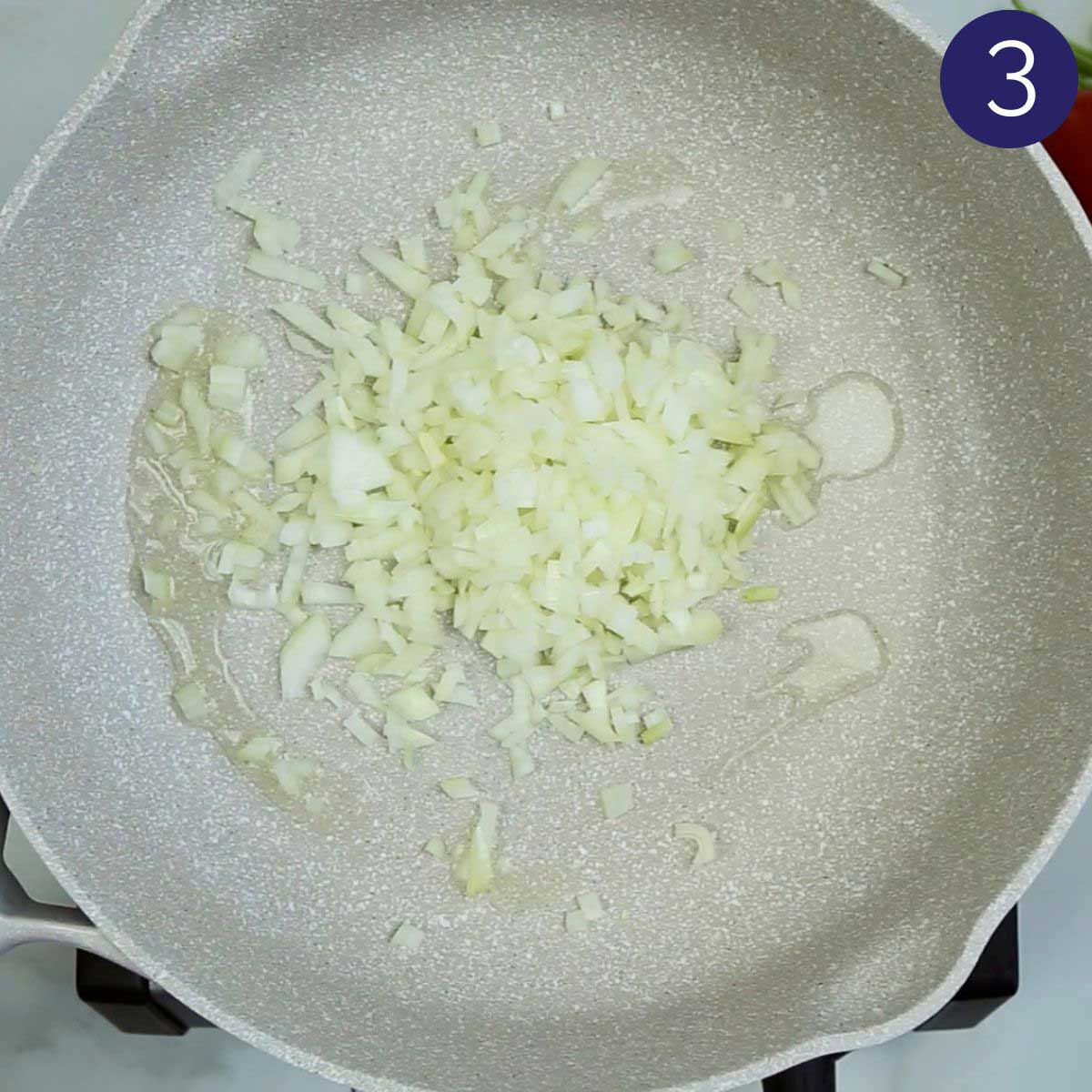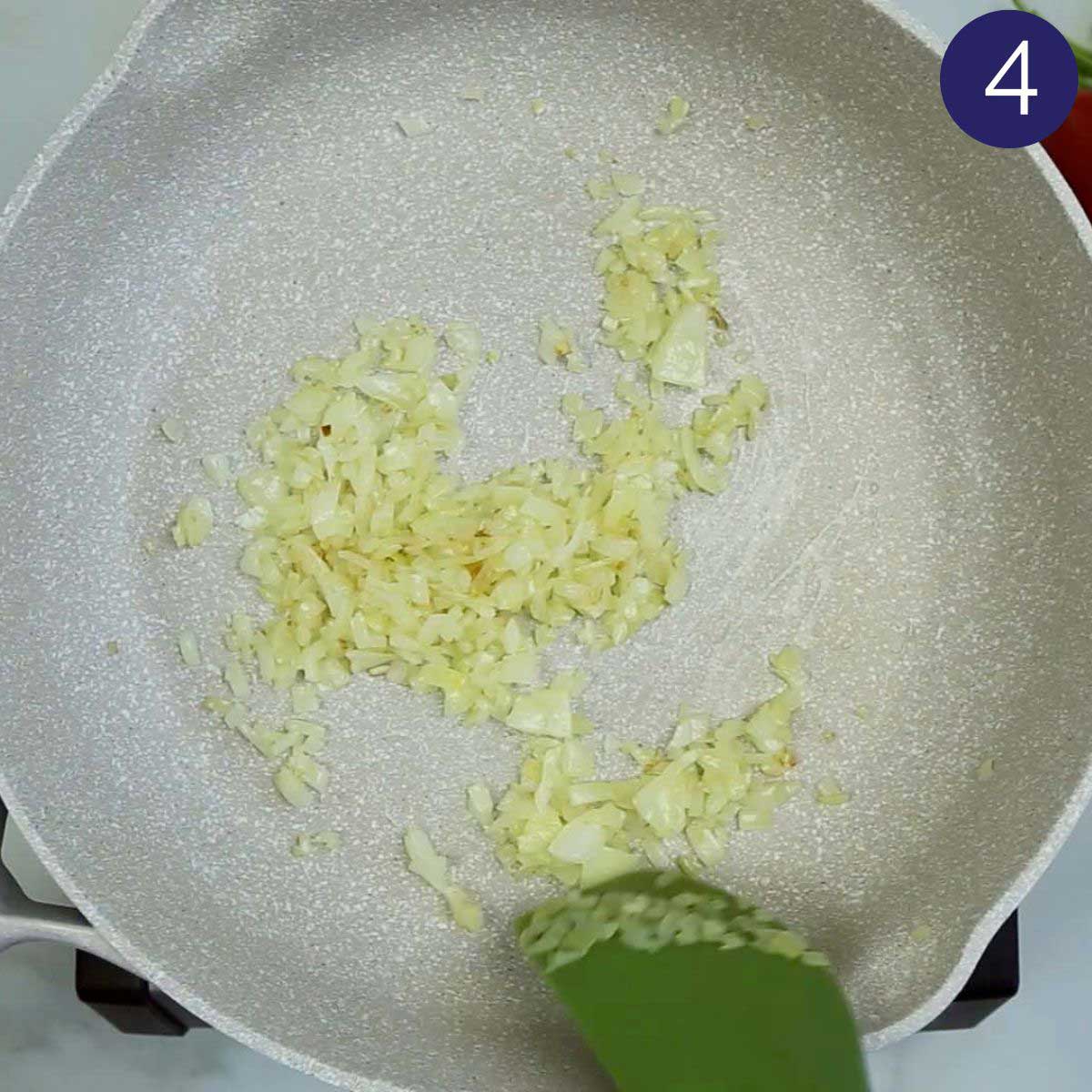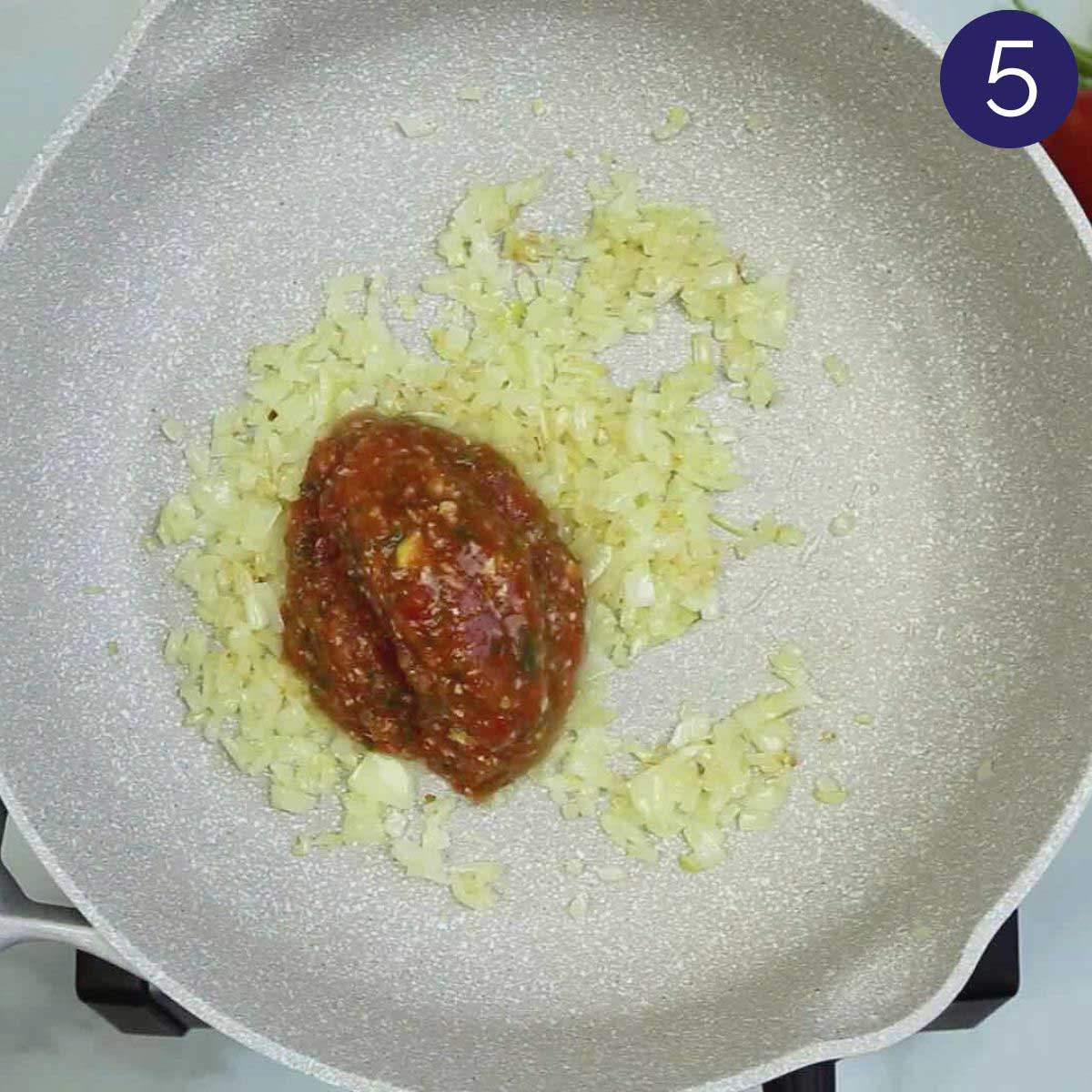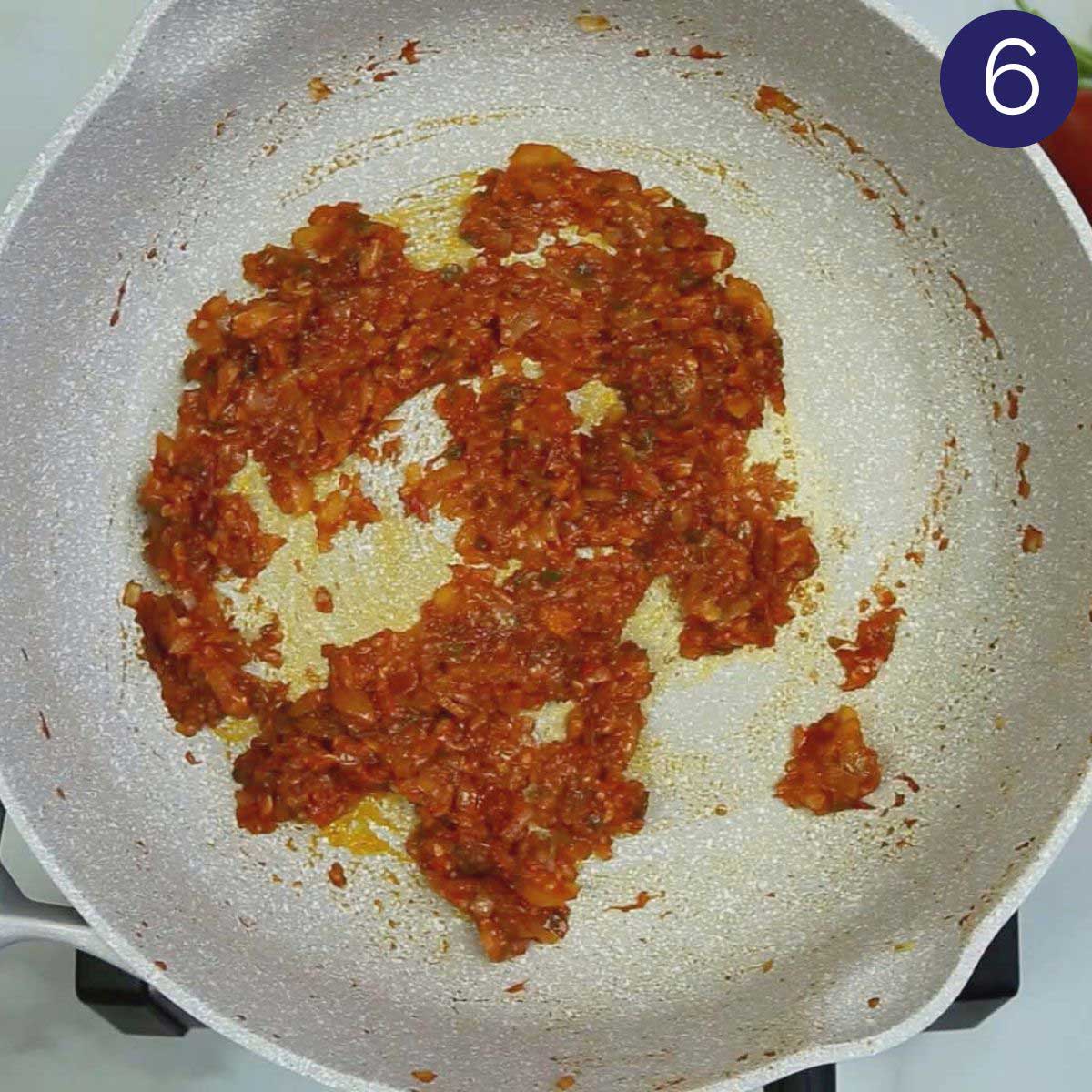 Step 3 – Add the coconut milk, seasonings, and some water and bring the mixture to a boil.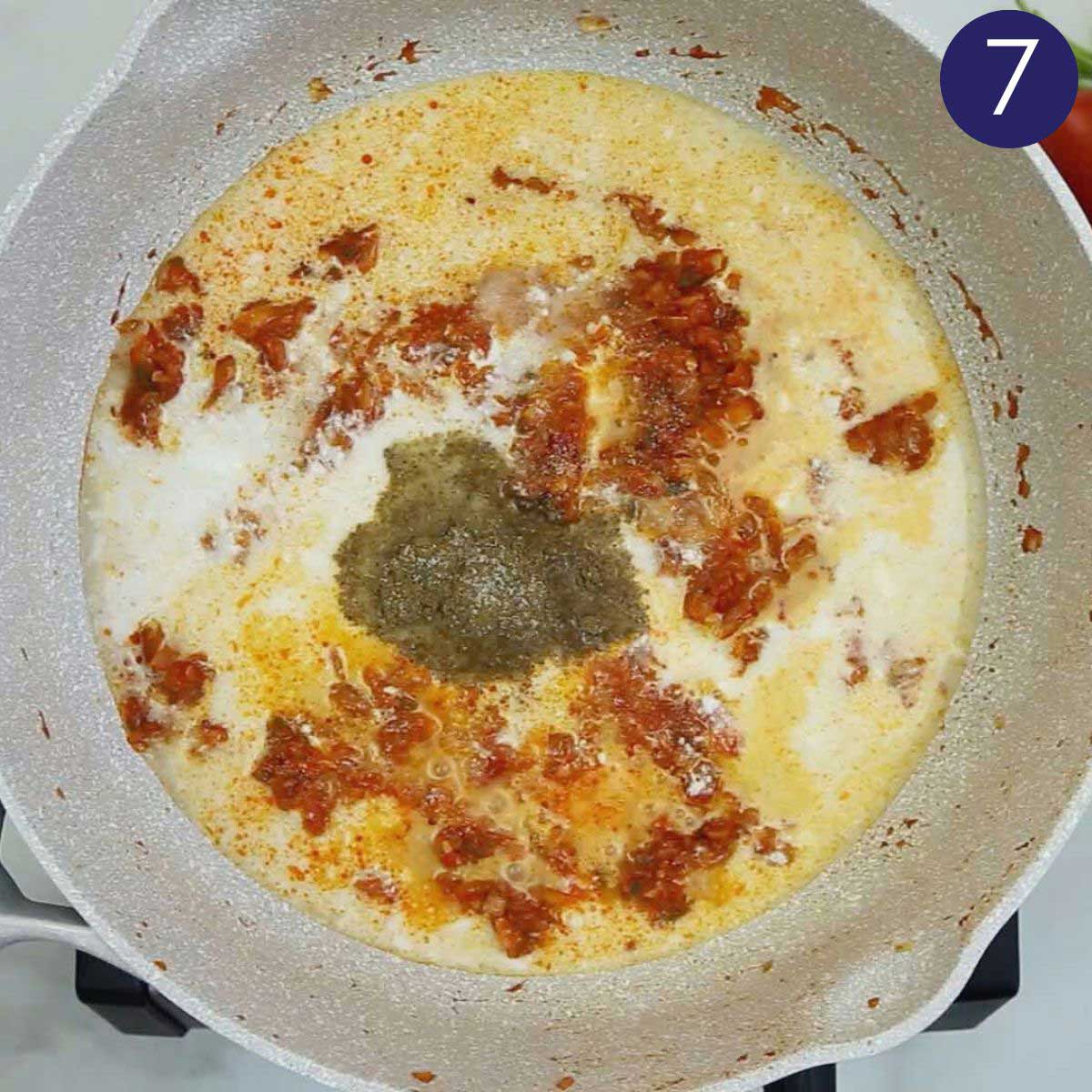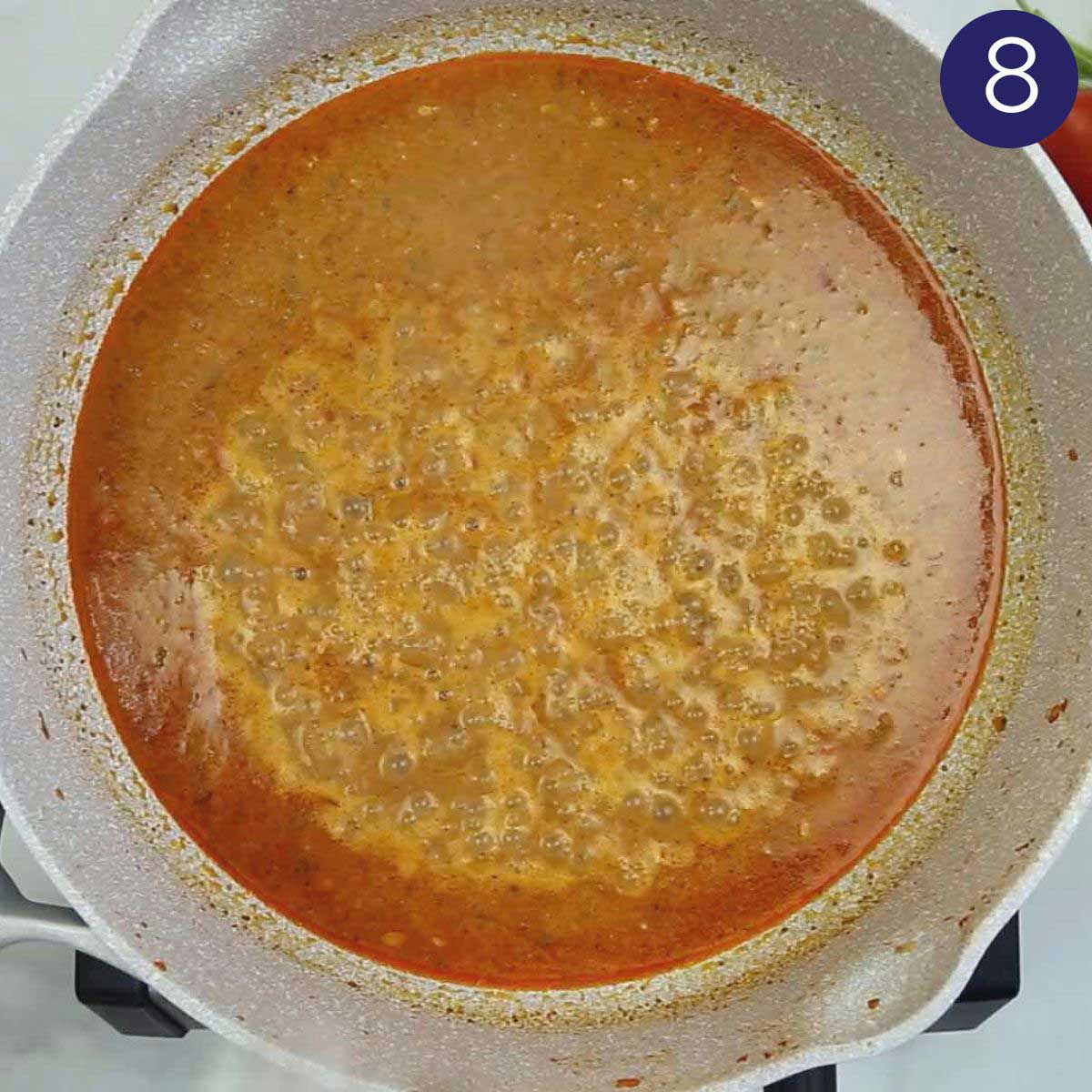 Step 4 – Add and cook shrimp/prawns until well done. Turn off the heat and remove the pan from the hot stove to avoid overcooking the shrimp. See the recipe variation section above for more ways and options to prepare healthy coconut curry.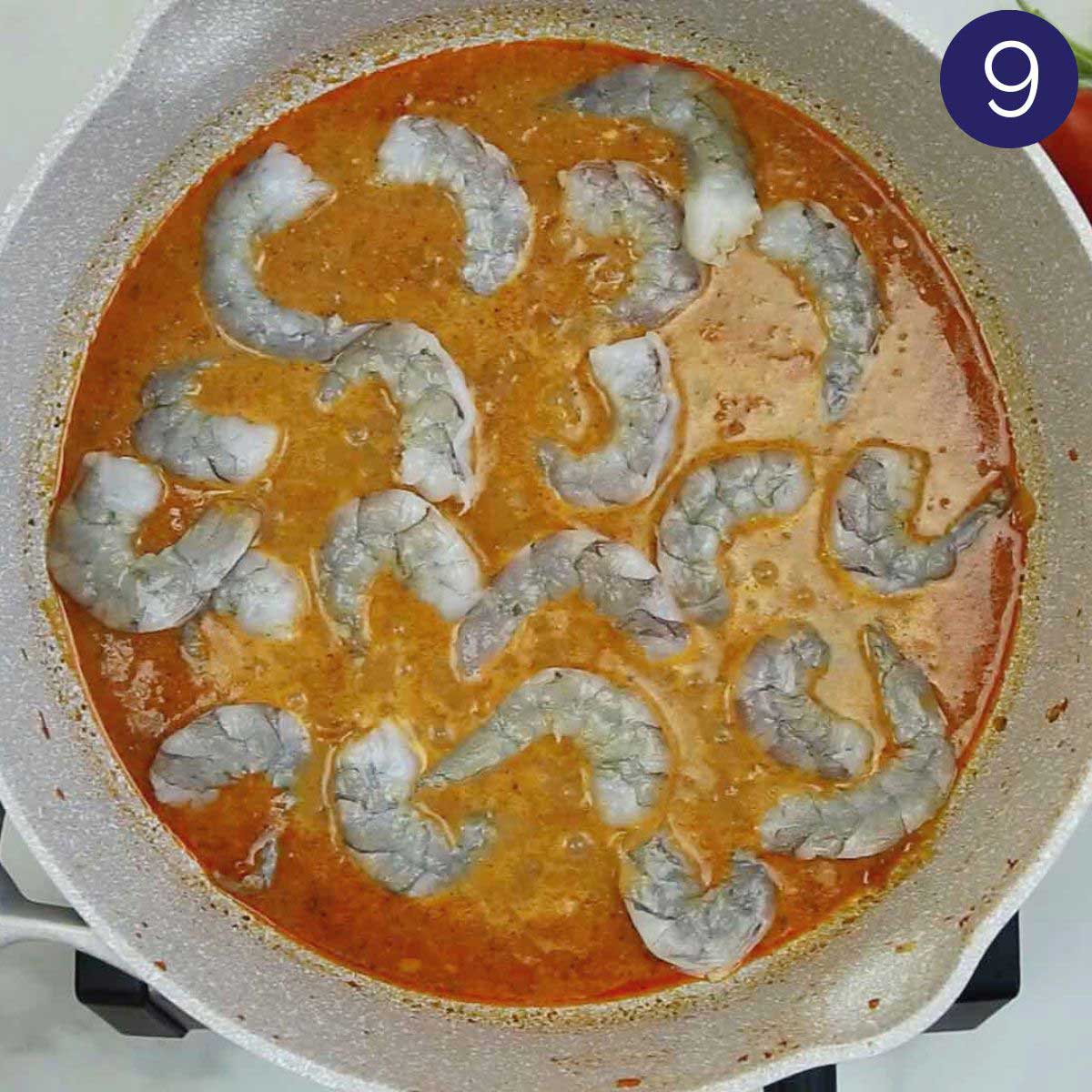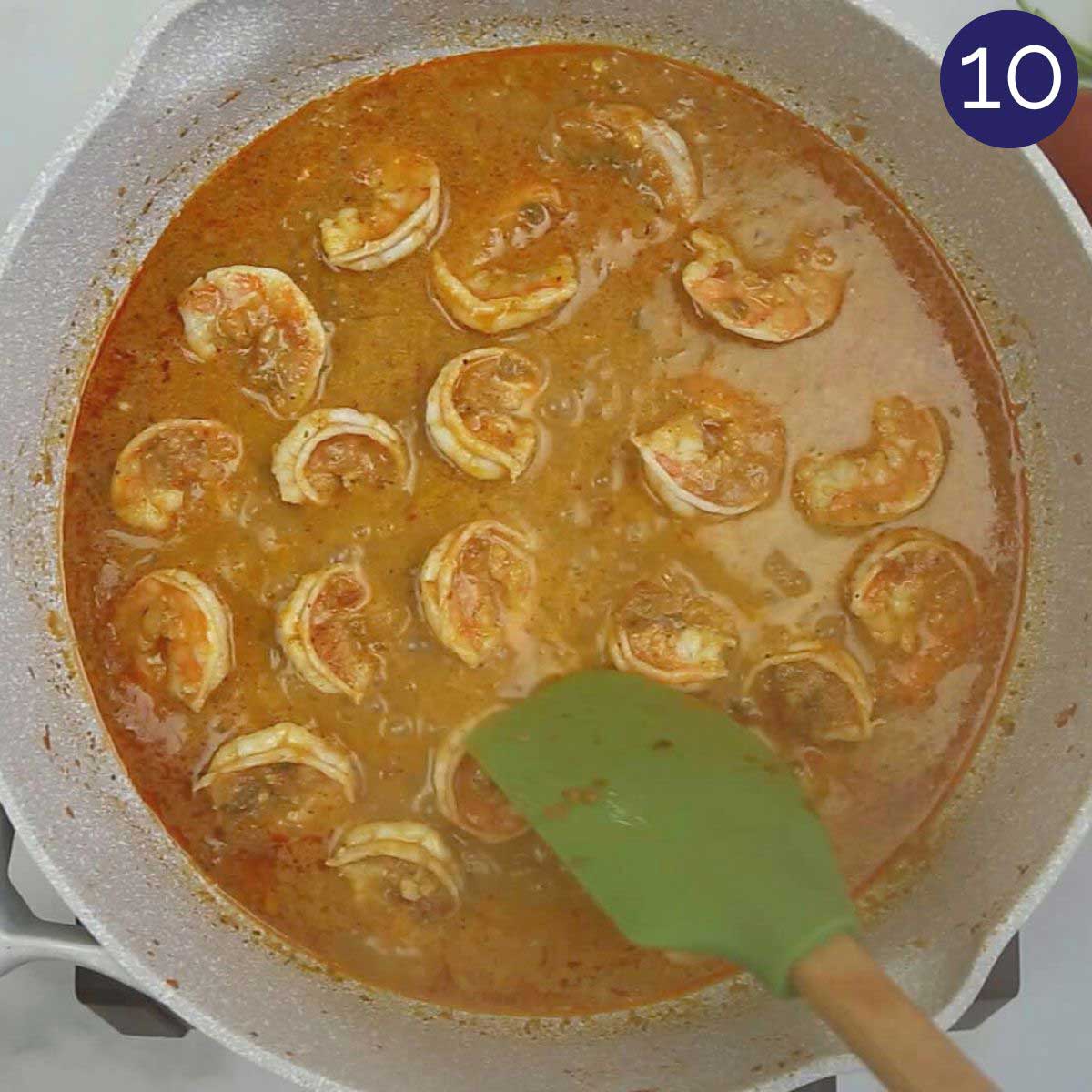 Serving suggestions!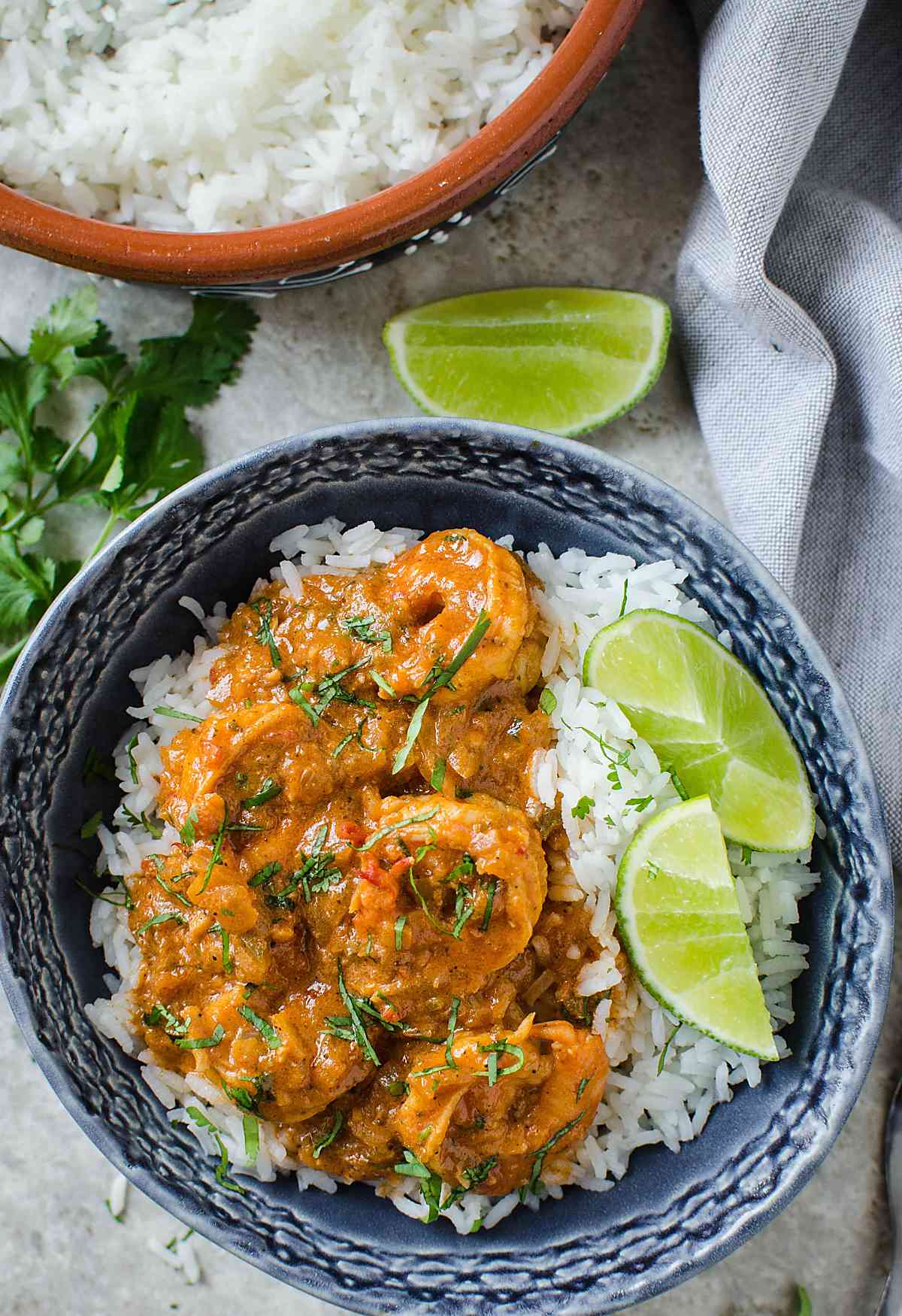 Helpful Tips!
Please read the labels while purchasing shrimp to check if they are sustainably harvested or farmed. We should take this extra step to minimize damage to the ecosystem and our Ocean floors. Read more details in this Huffington Post article on buying the right shrimp.
Peel and devein the shrimp before using them. I find the vein part very unappealing.
Do not overcook the shrimp. It hardly takes a few minutes for them to be well done with a soft texture. Overcooking makes the shrimp hard and chewy. Again, very unappealing.
Buy preservative and chemical-free, good-quality coconut milk. I find the price is pretty much the same, and you only need an extra step to read the label. I love the coconut milk from Trader's Joe.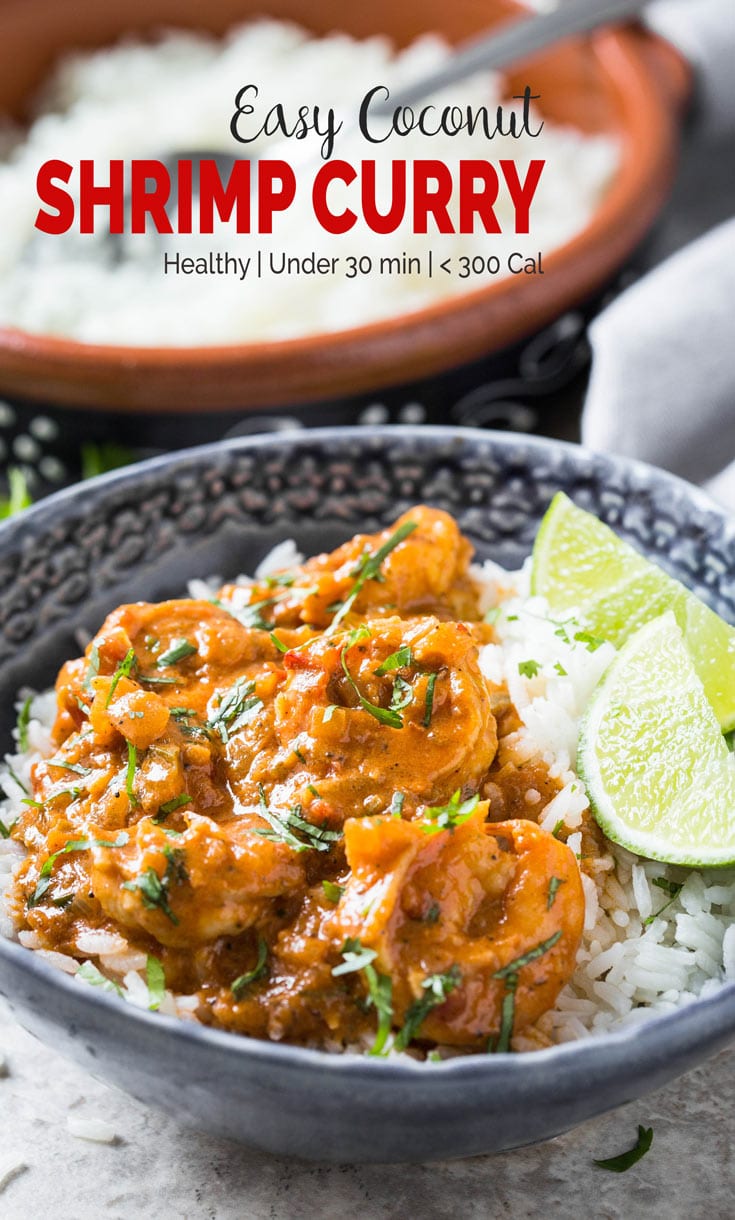 Recipe FAQs
How to store and reheat leftover coconut shrimp curry?
Let the leftover shrimp/prawn curry cool down completely and store it in an air-tight container in the refrigerator for a couple of days.
Next time, before using, bring it to a boil in a skillet or microwave it until steamy hot. If the curry is too thick, you can add some water or broth to adjust the consistency.
What can I use if I don't have coconut milk?
Use chicken or vegetable broth instead and allow the curry base to cook a little longer to thicken slightly before adding raw shrimp and garam masala.
Or you can also use cashew cream or non-dairy milk, such as almond milk, to prepare the curry.
Love this recipe? Please leave a 5-star ⭐⭐⭐⭐⭐ rating in the recipe card below & a review in the comments if you REALLY like this recipe. Thank You!
📖 Recipe
30 Min Indian Coconut Shrimp Curry
Quick and easy Coconut Shrimp Curry is perfect for busy weeknights. You can make it in under 30 minutes using creamy coconut milk, tomato, and onion based gravy.
Ingredients
20

large jumbo shrimps

peeled and deveined

1

medium

onion

finely diced

1

medium

medium tomato

cut into quarters

2-3

garlic cloves

1

tbsp

tomato paste

(optional)

1

jalapeno

seeded

½"

ginger peeled

1

teaspoon

garam masala

½

tablespoon

cooking oil

1

cup

light coconut milk

1

cup

water

2

tablespoon

finely chopped cilantro

salt to taste
Instructions
In a food processor add tomato, garlic, ginger, and jalapeno. Pulse them until pureed.

Heat oil in a medium-size skillet over medium heat. Add onion and cook until it turns golden brown.

Add the tomato-garlic puree and tomato paste, and cook for about 5-6 minutes or until much of the water evaporates.

Add coconut milk, garam masala, salt, and ½ cup water. Bring the mixture to a boil. Add remaining water, if necessary.

Add cleaned shrimp or prawns and cook for 2-3 min on each side or until well done.

In the end, sprinkle some chopped cilantro and serve warm.
Notes
You can skip the jalapeno if you don't the prefer hot and spicy taste
Use low-fat coconut milk for cutting down some fat content
If you find the curry thin and runny, let it cook for a few more minutes on medium to high heat until it gets to your desired consistency 
To get the desired red color as shown in the images, use 1 tablespoon (or more) of tomato paste in addition to the fresh tomato-ginger-garlic mixture.
If you have time cook the onion and tomato mixture with spices for a little longer on low heat before adding the coconut milk. It really develops a rich flavor.
Smart Points — 8
Nutrition
Tried this recipe?
Tag us on Instagram @watchwhatueat or tag #watchwhatueat! OR leave us a comment & rating below. Your feedback is very important to us.