If you are looking for a healthy alternative to potato french fries then these oven-roasted sweet potato fries are perfect for you. Its sweet-salty and spicy taste will make you want them again and again.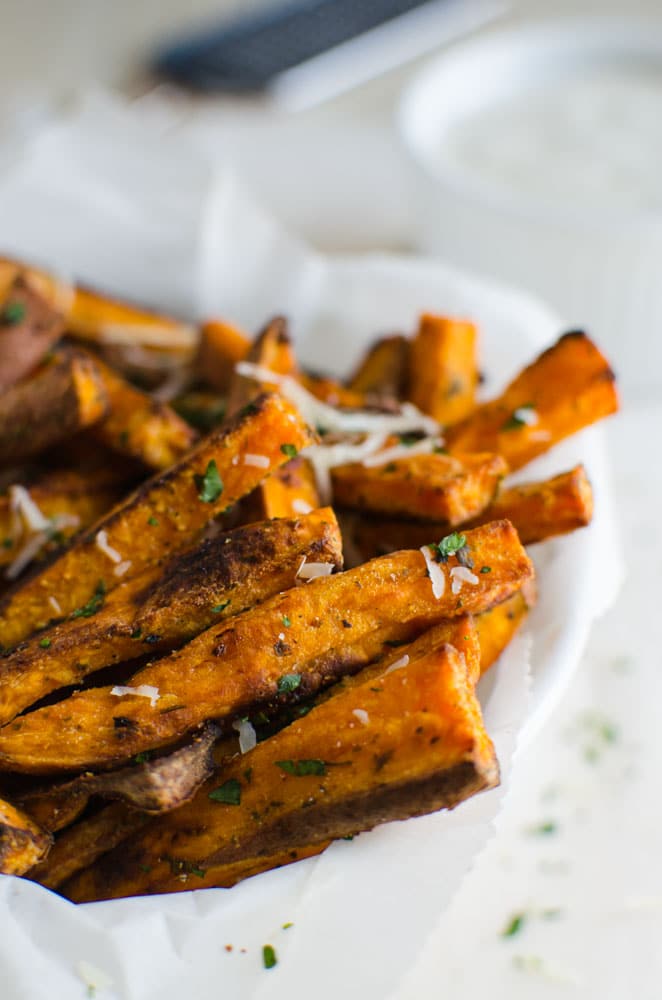 Adopting healthy eating habits is not difficult as one may think. It is just a matter of making healthy choices. Choosing healthy alternatives to what we love to eat will help us get into eating healthy. For example, choosing oven-baked or air fryer french fries over deep-fried makes a huge difference. Think of cutting down on those saturated fats in the oils that are used for deep frying them.
These little things matter a lot and can add up over time to help you to cut down on 'bad' calorie intakes while you still get to enjoy your favorite foods!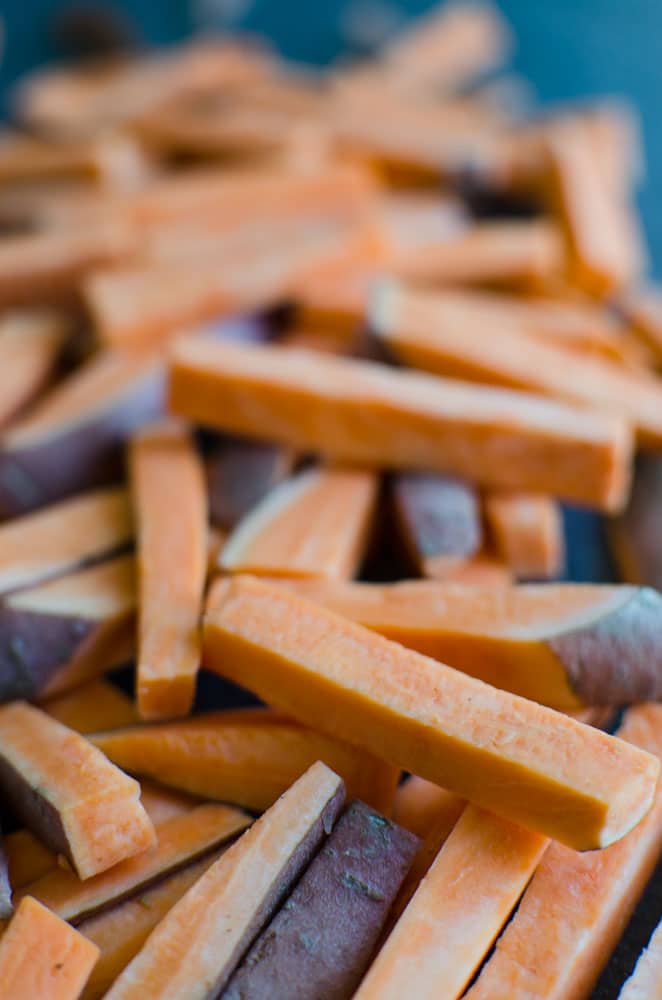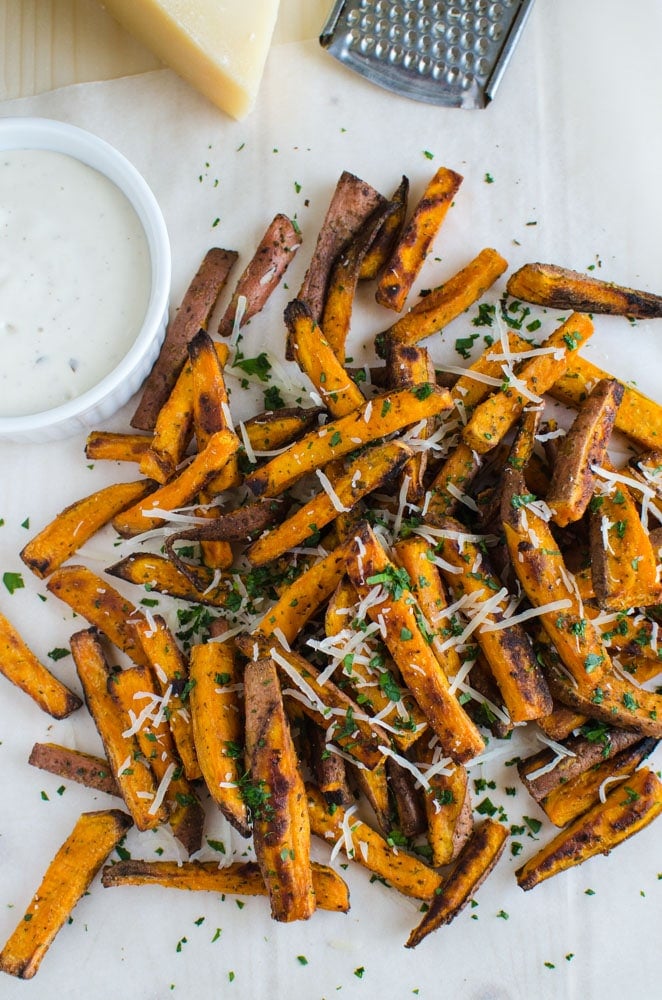 These days I am exploring more and more options to include healthy and nutritious ingredients into our diet. And no doubt that sweet potato is nature's gift as a healthy food.
These oven-roasted sweet potato fries are a great option to potato french fries and are perfect as a side to any homemade burger, sandwiches, or wraps. Why we love them….because of its…
tempting orange-red color
nutritional value
packed with flavors
sweet-salty and spicy fusion taste

How are these roasted sweet potato fries healthy?
Sweet potatoes are rich in dietary fiber, complex carbohydrates, and beta-carotene i.e, vitamin A
It is also a moderate source of micronutrients like manganese, vitamin B5, and B6
These sweet potato fries are oven-baked and do not contain fats from oils used for frying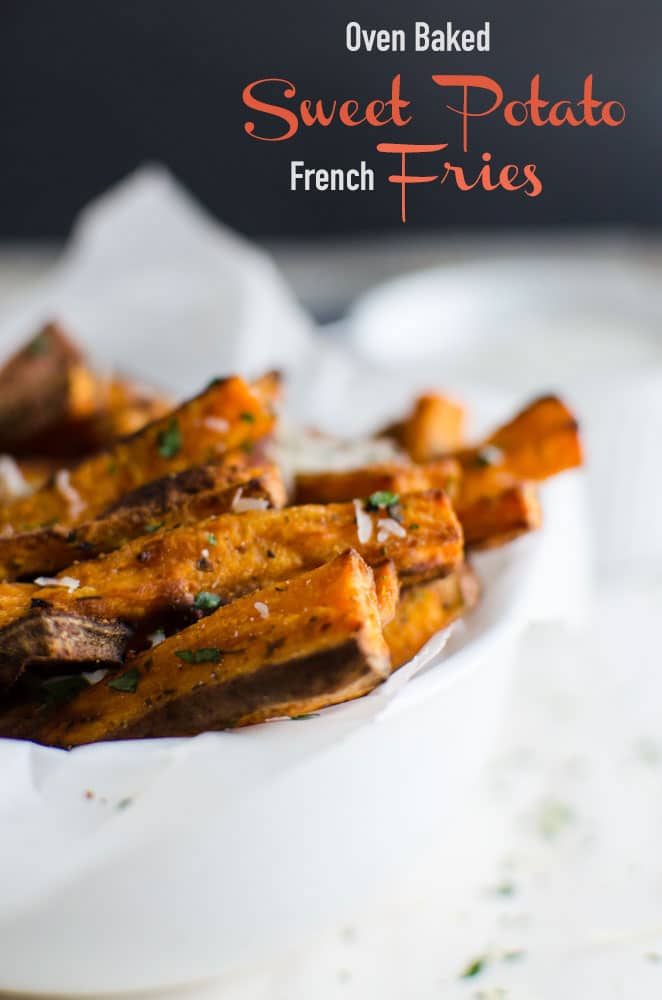 More Healthy Sides Or Appetizers To Try
Love this recipe? Please leave a 5-star ⭐⭐⭐⭐⭐ rating in the recipe card below & a review in the comments if you REALLY like this recipe. Thank You!
📖 Recipe
Oven Roasted Sweet Potato Fries
Healthy sweet potato fries that are baked in oven. Less in fat and loaded with complex carbohydrates, dietary fibers and vitamin A
Ingredients
2

sweet potatoes

½

teaspoon

garlic powder

1

teaspoon

dried parsley

1

tablespoon

white vinegar

½

teaspoon

smoked paprika

1 ½

tablespoon

olive oil

salt and pepper

1-2

tablespoon

parmesan cheese to garnish

(optional)

1

tablespoon

finely chopped parsley to garnish

(optional)
Instructions
Preheat the oven at 400 F.

Wash the sweet potatoes thoroughly. Dry and cut it into half across the length and then into even sized sticks.

In a large mixing bowl add 1 tablespoon oil, vinegar, garlic powder, dried parsley and paprika. Then add sweet potato sticks, salt and pepper. Mix well until sticks are evenly coated with oil and spices.

Prepare a baking sheet by evenly coating with remaining oil. Spread the sweet potato sticks onto the pan. Ensure each stick is touching the pan and not overlapping each other for even heating.

Transfer the pan into preheated oven. Bake it for 15 min. and then flip the fries. Bake further for 10 min. Again flip, turn the oven on to the highest heat setting (mine is 500 F) and bake for another 10 min to get those little brown and crispy edges.
Nutrition
Tried this recipe?
Tag us on Instagram @watchwhatueat or tag #watchwhatueat! OR leave us a comment & rating below. Your feedback is very important to us.