These Air Fryer BBQ Chicken Wings are juicy and tender with amazing smokey flavors from the bbq sauce. A quick and easy healthy appetizer that will be ready in less than 30 minutes.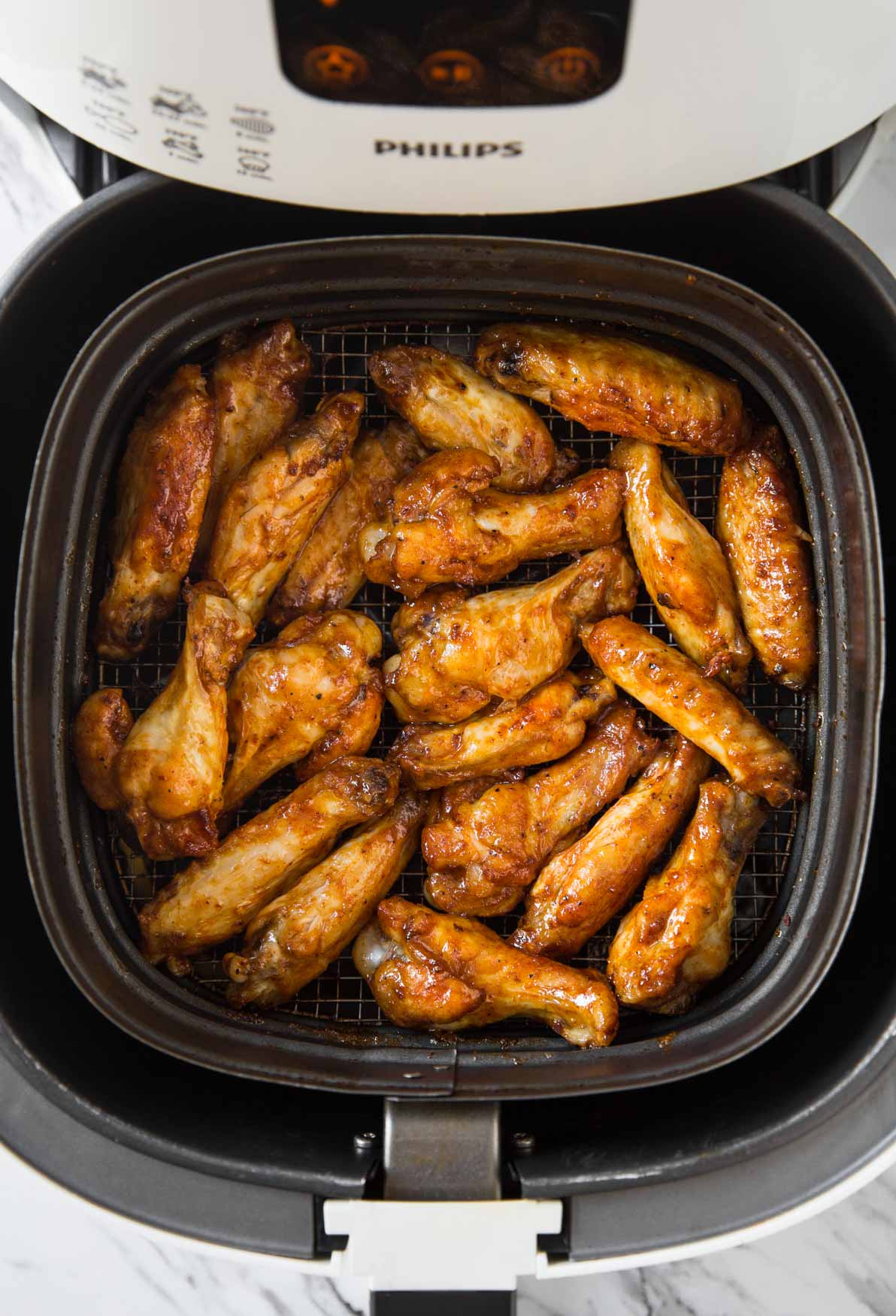 If you are looking for a quick appetizer recipe, then try this Air Fryer bbq chicken wings recipe. Super easy marinade, 15-20 min of Air Frying and finger licking wings are ready to enjoy!
Let's get started!!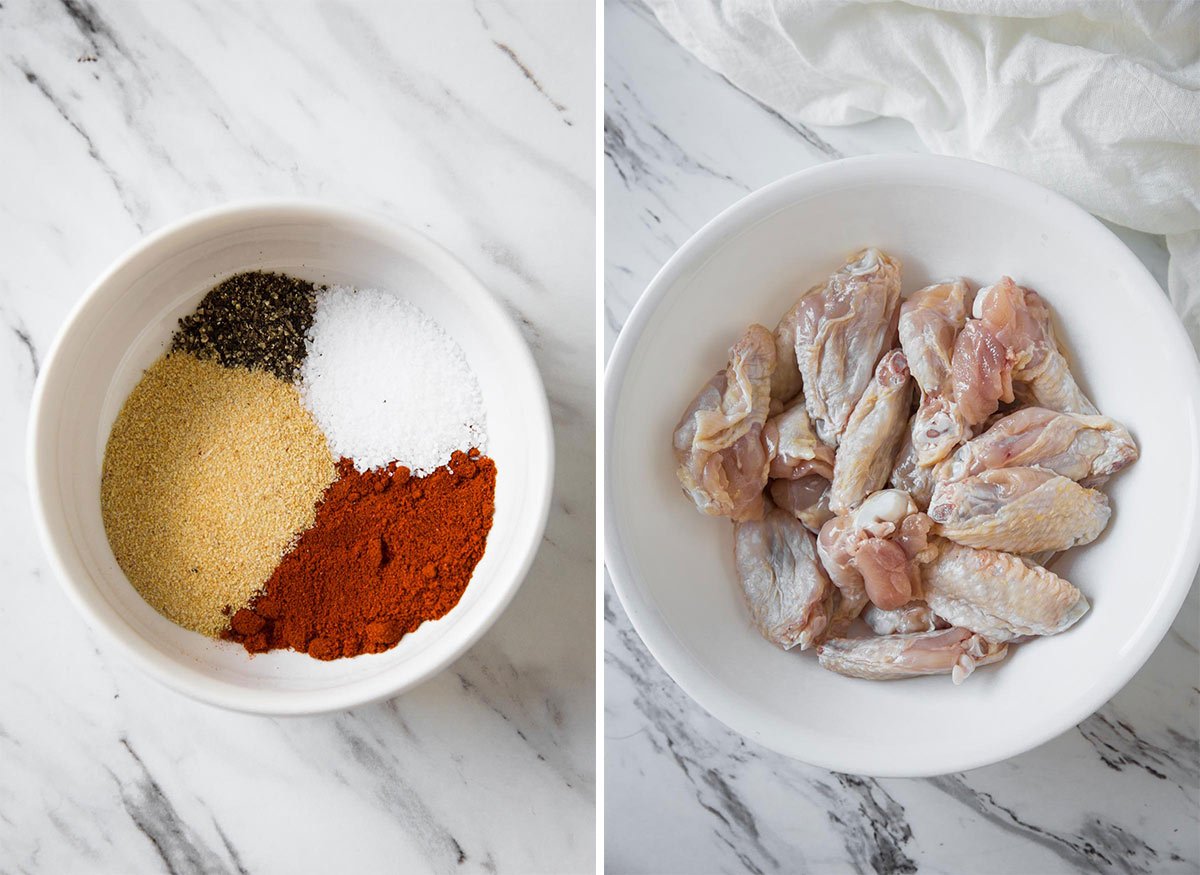 How to Cook BBQ Chicken Wings in the Air Fryer?
Simply season the wings with salt, pepper, and smoked paprika. For more flavorful results you can also add fresh minced garlic or garlic powder. Put these seasoned wings in the preheated Air Fryer basket making a single layer. Preheating the Air Fryer takes around three minutes. Cook the wings for about 12 min and stir it and, continue 'frying' further until well done. Take out the cooked wings in a mixing bowl and mix them all with some barbecue sauce. Finally, cook the bbq sauce coated wings in the Air Fryer for additional 2 minutes. Doing this step would bring nice flavors to the wings. Find below ingredients list and instructions in detail.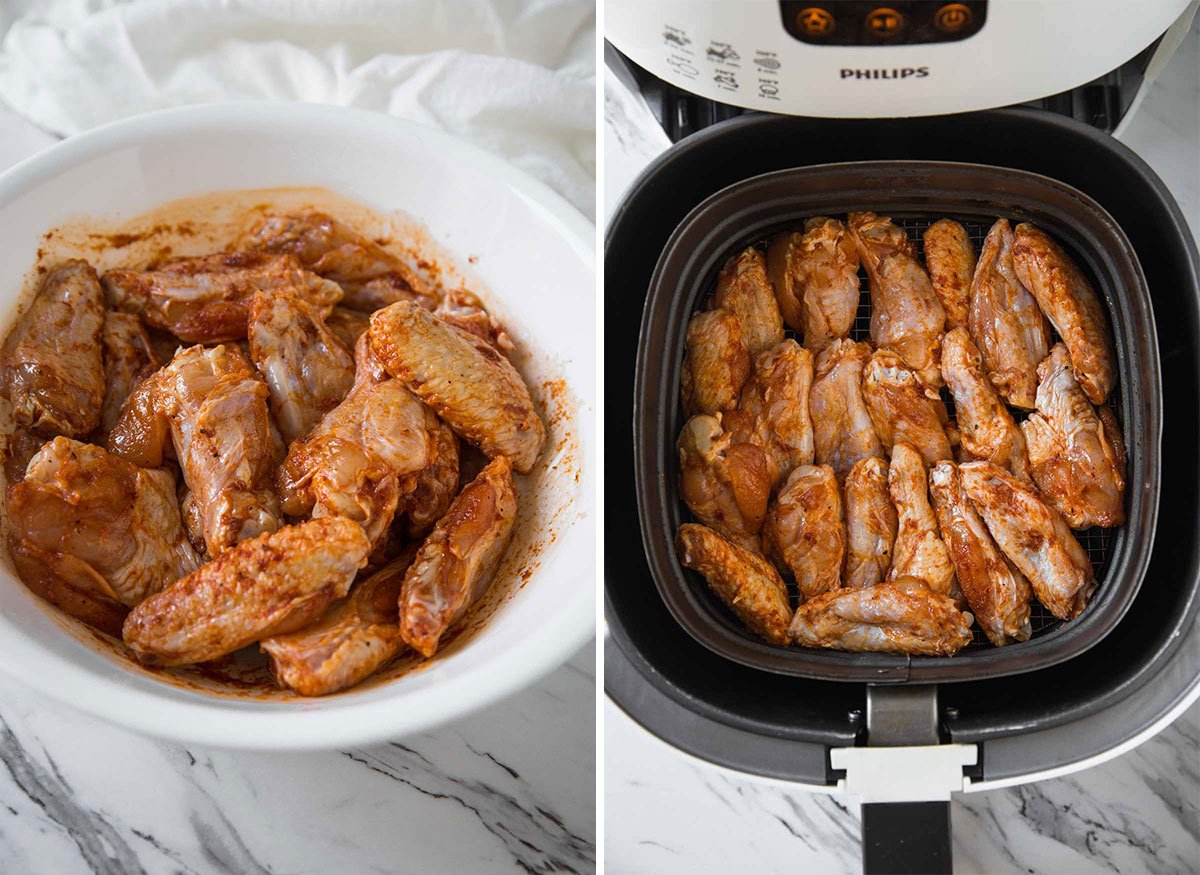 Air Fryer BBQ Chicken Wings – Helpful Tips!
Use organic chicken wings whenever possible. Organic chickens are antibiotic and hormones free.
Most of the time I prefer washing the chicken wings under cold water. Somehow I don't like the smell just after opening the packet. Like me, if you wash your chicken, please make sure to pat dry the wings using a thick paper towel to take out the moisture. Also, immediately clean the surface that came into contact with the meat to avoid contamination.

And even if you don't like to wash the chicken, still pat dry the wings with a paper towel to remove the excess moisture from the wings.

You can cut the loose skin from the wings using a pair of clean kitchen shears. It will help to cut down the fat content from the skin. You will be amazed at how much skin you can remove easily and make the wings healthier.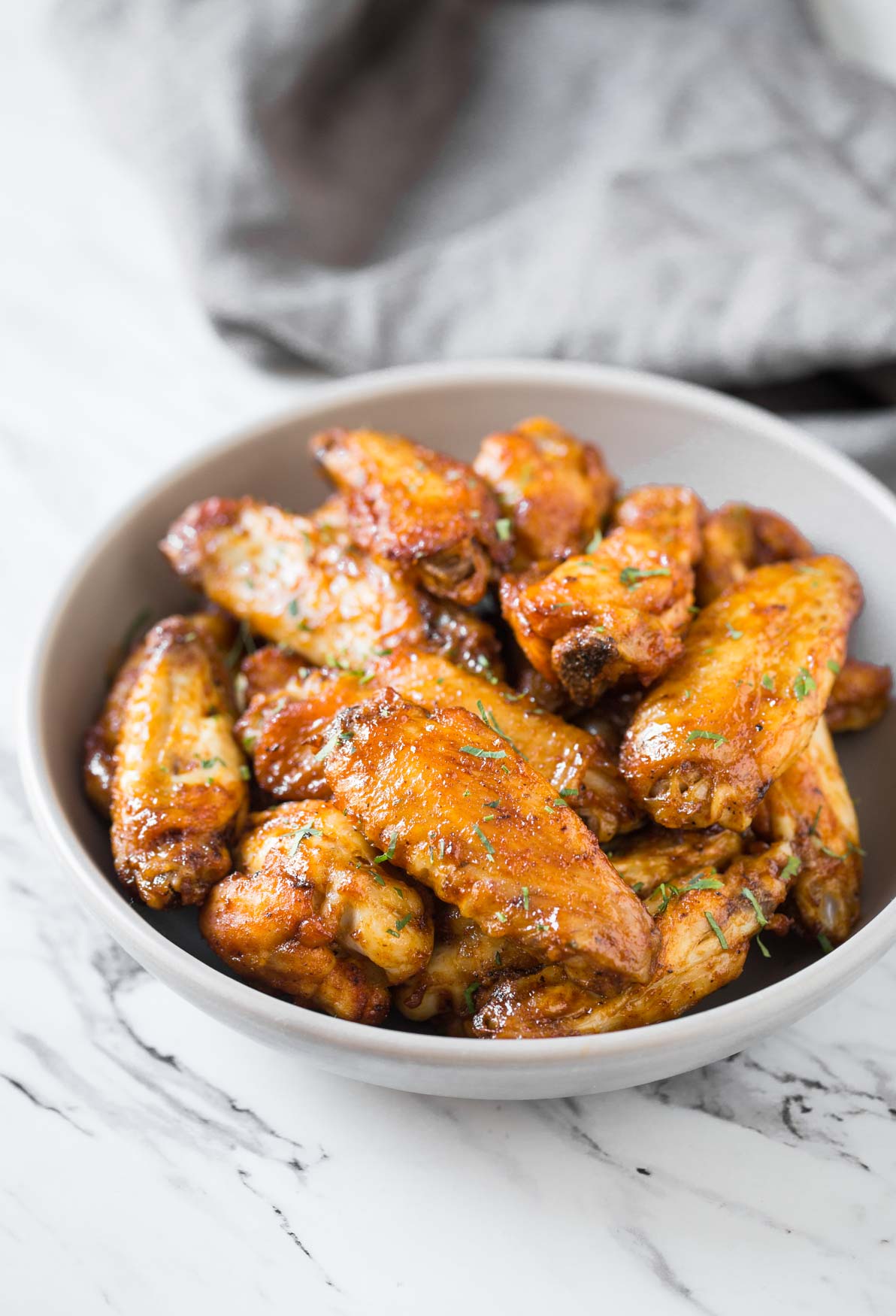 Air Fryer Chicken Wings Recipes – FAQs
Are Air Fryer Chicken Wings Healthy?
YES! Compared to deep fried chicken wings Air Fryer chicken wings are healthy. Air Fryer gives the fried texture to the wings without the need to use a lot of oil. Also, cooking the wings on the wire mesh of the Air Fryer helps to drip out excess fat from the skin which gets accumulated in the basket underneath. This also significantly reduces the fat content coming from the fatty skin of the chicken wings.
How many wings can you cook in the Air Fryer?
It depends on what type of texture you prefer and the size of your Air Fryer. My Philips XL Air Fryer can cook 15-20 chicken wings (around 1.75 lb) maximum in a single layer with a minimal gap in between. If you want a nice tender and soft texture you can place as many wings as the wire mesh can hold in a single layer. If you want a crispy fried texture, leave more gap between the wings for hot air circulation.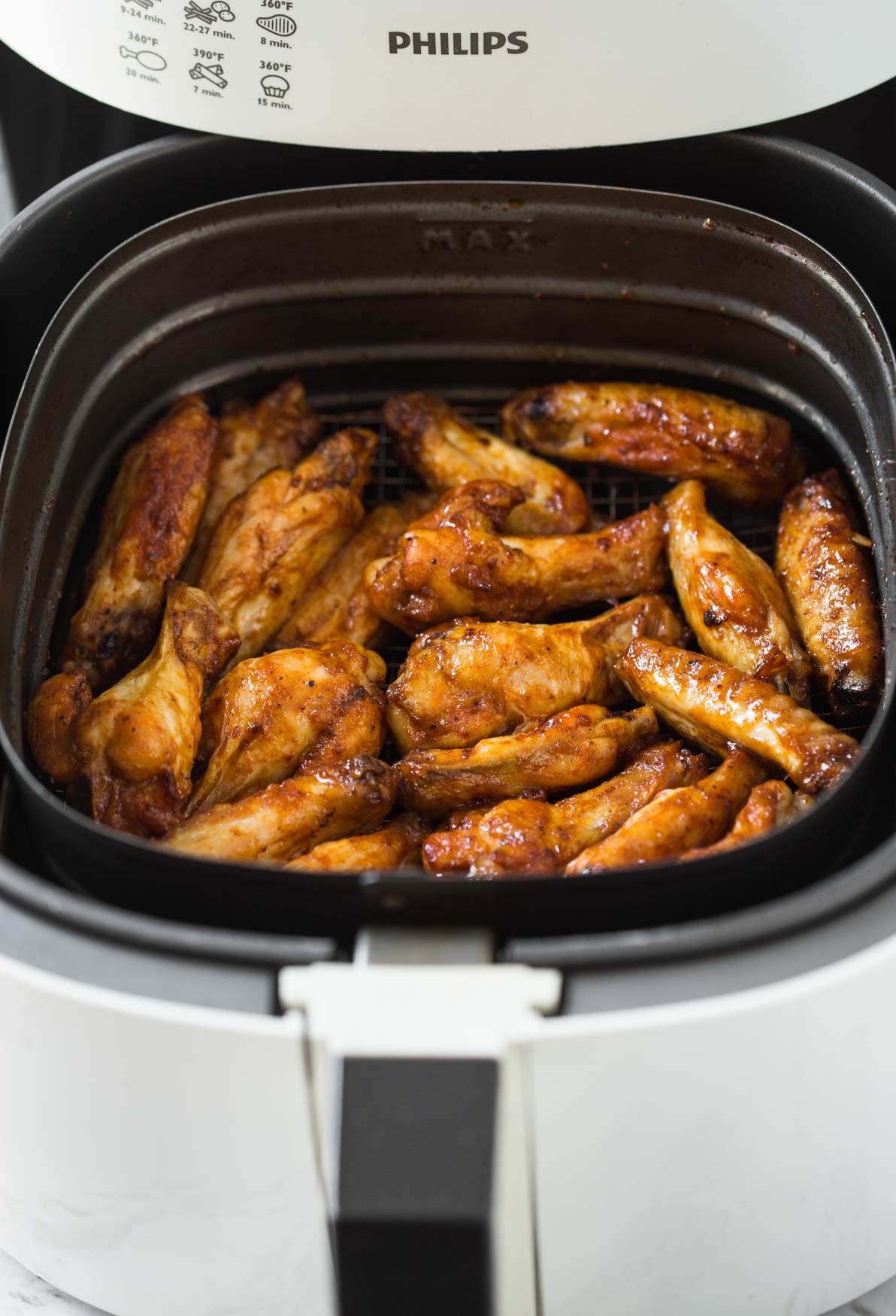 How long to cook chicken wings in an air fryer?
At 360 F temperature, our Philips XL Air Fryer takes 18-20 min to cook the chicken wings with a nice tender texture and a soft crust. However, to get the crispy texture, it will take a long time.
How to Reheat Chicken Wings in the Air Fryer?
Preheat the Air Fryer to 360 F and heat the leftover wings for 1-2 minutes. It will bring back the fresh taste and texture of the wings.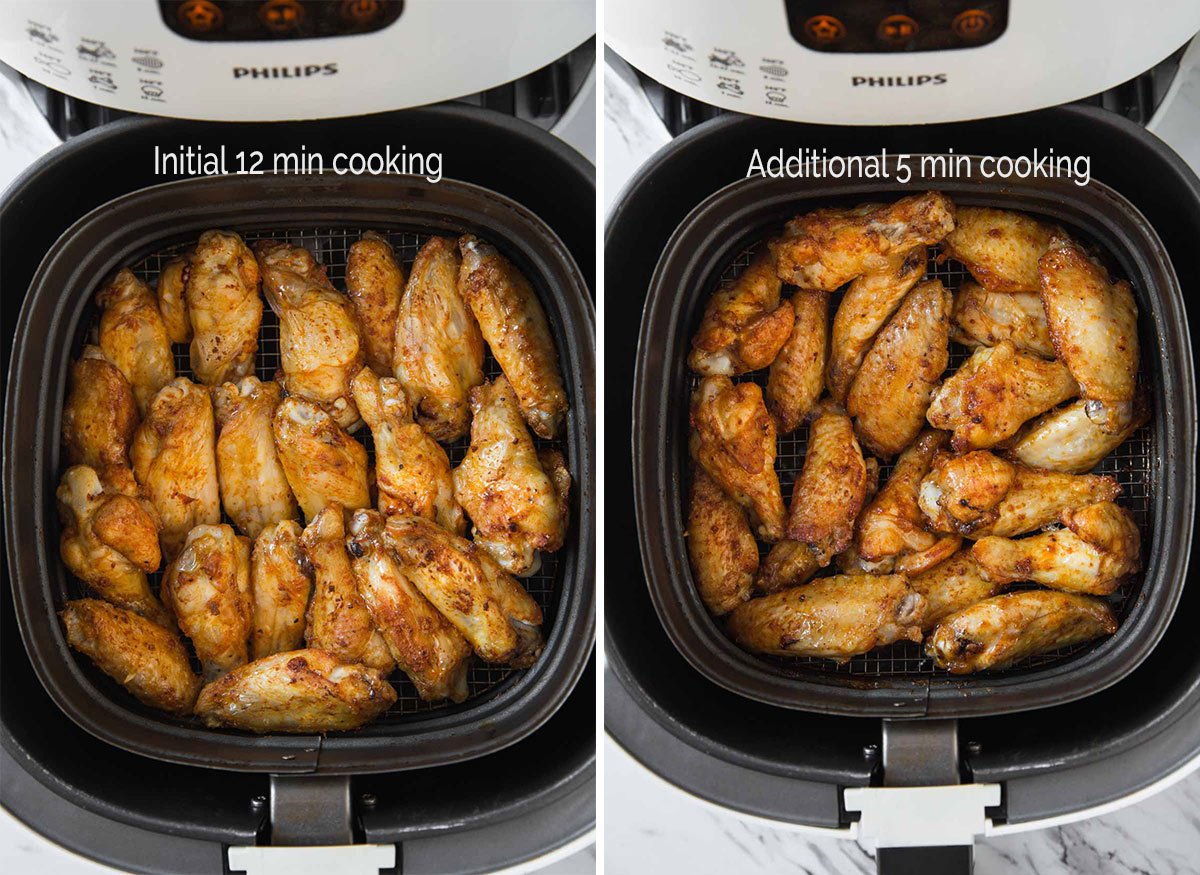 More Air Fryer recipes you will love to try
---
FOOD FOR THE SOUL
Meditation is the only way you can grow…Because when you meditate, you are in silence. You are in thoughtless awareness. Then the growth of awareness takes place — Shri Mataji
(Experience your self-realization now.)
---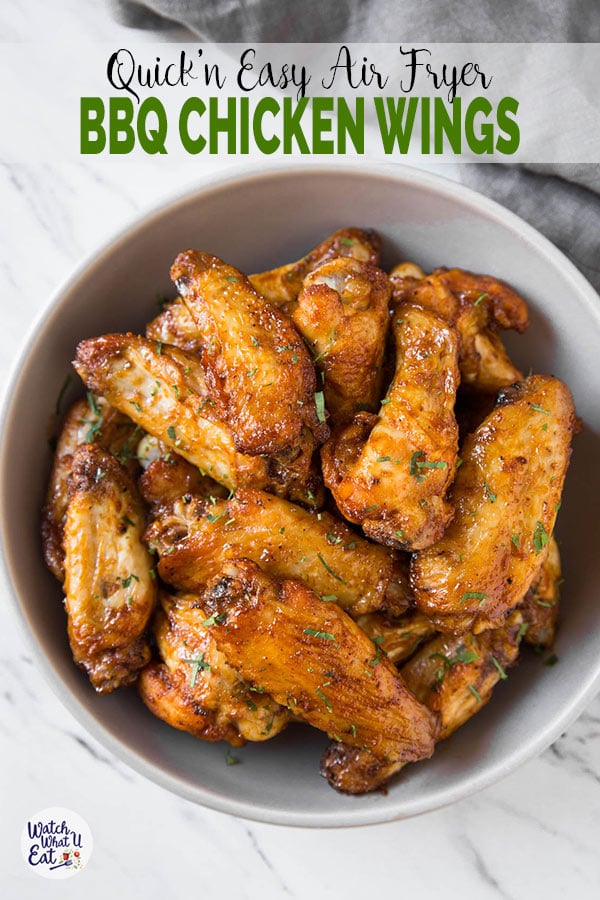 📖 Recipe
Quick and Easy Air Fryer BBQ Chicken Wings
Fresh chicken wings cooked to perfection in Air Fryer and then tossed in bbq sauce for delicious smokey flavors.
Instructions
In a large mixing bowl combine chicken wings with garlic powder, smoked paprika, oil, salt, and pepper. Mix well.

Preheat the Air Fryer to 360F.

Spread chicken wings on the wire mesh evenly in a single layer. Then cook the wings for about 12 min.

Flip the wings or just toss the wings for a few seconds and cook further for 5 min.

Take out out the wings in a mixing bowl. Add barbecue sauce and mix well.

Cook the coated chicken wings for an additional 2 min.

Serve warm.
Notes
Spray some oil using an oil spray on the wire basket before placing the chicken wings. Or lightly brush the oil on the wire mesh. It will help prevent sticking the wings to the basket.
You can add more barbecue sauce than mentioned in the list as per your likings.
Nutrition
Tried this recipe?
Tag us on Instagram @watchwhatueat or tag #watchwhatueat! OR leave us a comment & rating below. Your feedback is very important to us.
This post contains affiliate links. For more information on our Affiliate and Advertising Policy, please click here.