This quinoa bowl is prepared using oven roasted summer vegetables like squash and zucchini. It also contains toasted chickpeas. I would call it a super quinoa bowl as it is loaded with all dietary fibers, healthy proteins and essential vitamins and minerals.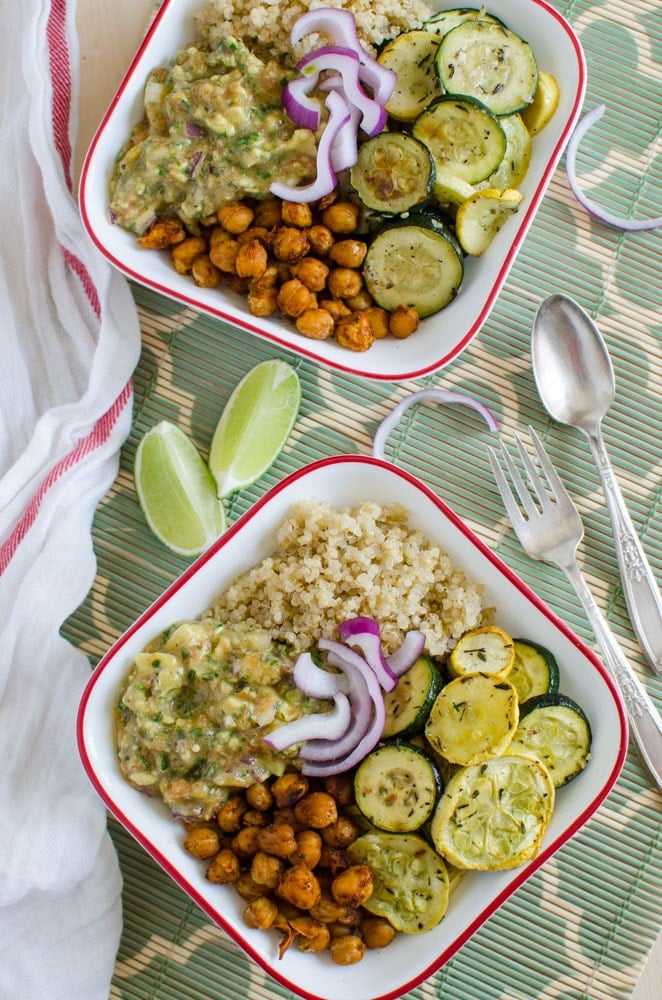 I love the toasted flavors from chickpeas as well as vegetables especially, zucchini and squash. Chickpeas toasted with some spices are so tempting and I never miss an opportunity of using them for example these toasted chickpea naan wraps. I usually have oven baked veggies several times for our side dishes. However, I never combined them with chickpeas for a single dish like this quinoa bowl before. And, quinoa is accepted as a super grain or superfood world-wide. If you want to include quinoa into your diet, try this super bowl–you will love it. It is really….
satisfying
nourishing
filling
simple and easy to prepare
a super bowl
How this Quinoa Bowl is healthy
This quinoa bowl is healthy as it is prepared using all healthy ingredients
quinoa is packed with protein, fiber and various essential vitamins and minerals. It is gluten free too.
fresh veggies like zucchini and squash that are rich in vitamins and mineral with some dietary fibers
chickpeas are a source of healthy and plant based protein. It means protein with no cholesterol.
avocado is rich in healthy fat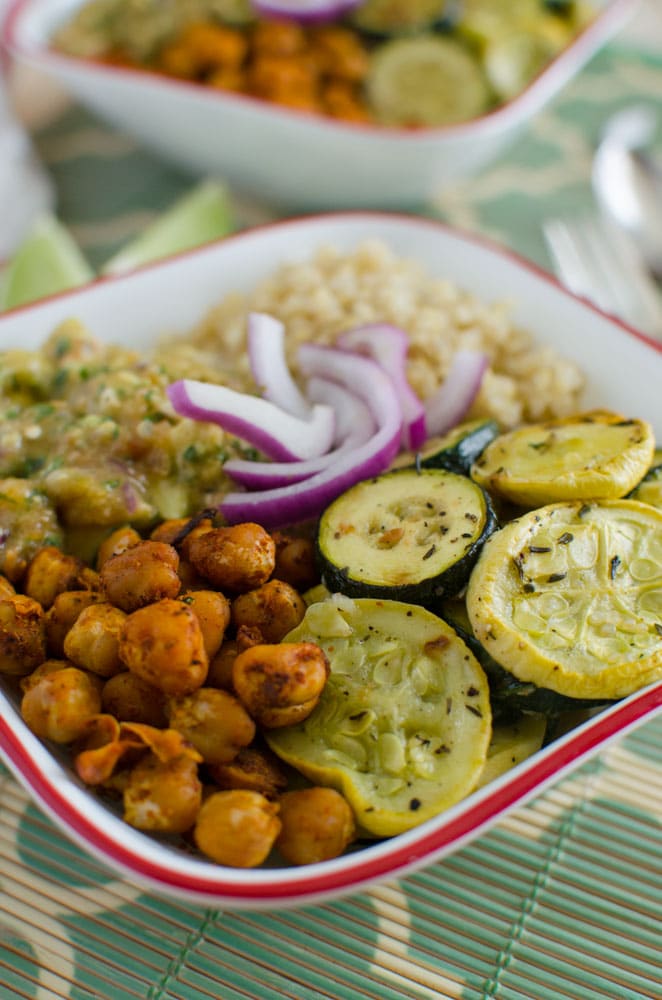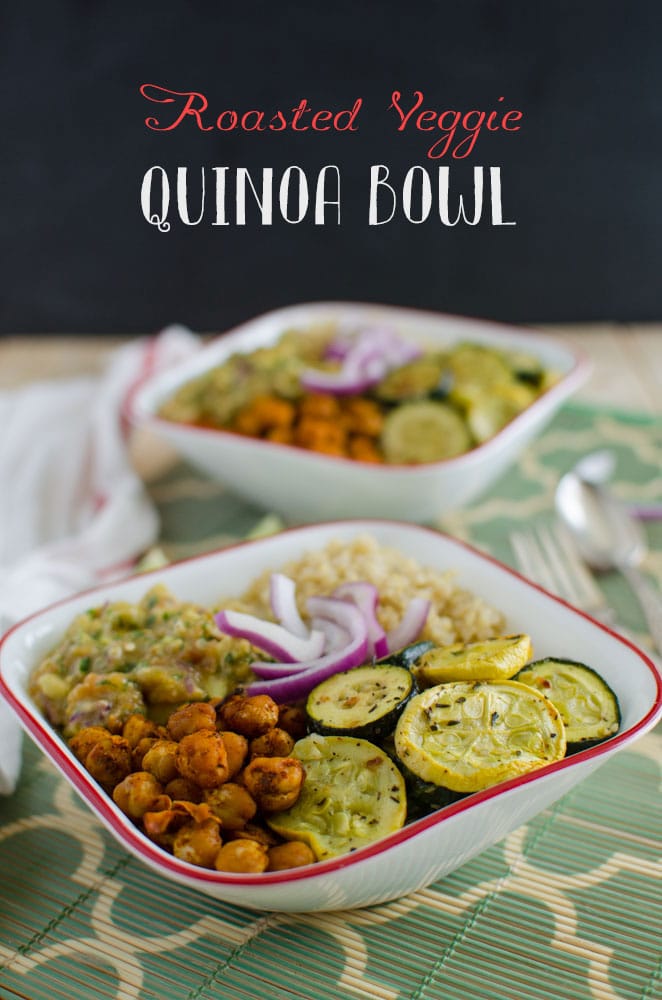 Roasted Veggie & Quinoa Bowl With Avocado Sauce
Healthy quinoa bowl loaded with all dietary fibers, healthy proteins and essential vitamins and minerals. Prepared using all healthy ingredients.
Ingredients
2

medium zucchini sliced

2

medium yellow squash sliced

1

can chickpea drained and rinsed

1

cup

quinoa uncooked

2

cups

organic low sodium chicken stock

(or vegetable stock if vegan)

2

tsp

avocado oil or olive oil

2

cloves

small garlic minced

1

tsp

thyme

1/2

tsp

smoked paparika

1

tsp

roasted cumin powder

1/2

tsp

curry powder or garam masala

1

large tomato

pulp from half avocado

1/4

cup

finely chopped onion

salt and pepper

oil spray
Instructions
Preheat the oven to 400 F. Line a baking tray with Aluminum foil or parchment paper and spray some oil.

In a mixing bowl, combine sliced zucchini and squash. Add thyme, garlic, 1 tsp oil, salt and pepper according to taste. Mix well and spread the slices on the baking tray. Also, place one large tomato in the tray

Then, in the same bowl add chickpeas, paprika, cumin powder, curry powder, remaining oil, salt and pepper. Mix well and spread the mixture on the baking tray*. Transfer the tray into the baking oven. Bake it for 35-40 min. in total. After 20 min. or so, flip the vegetables and stir the chickpeas. Once done turn off the heat and let it cool for few mins.

Meanwhile, in a medium sauce pan add quinoa, chicken stock or vegetable stock and bring it to boil. Add salt according to taste and simmer the quinoa on low heat for about 18-20 min.

Peel off the skin from roasted tomato, chop it finely and add it to a mixing bowl. Add avocado, onion, salt and pepper. Mash the mixture to combine well.

In a serving bowl assemble quinoa, roasted vegetables and roasted chickpeas. Serve with roasted tomato-avocado sauce to enjoy this healthy quinoa bowl.
Notes
*If you do not have large tray use separate trays for veggies and chickpeas
Nutrition
Tried this recipe?
Tag us on Instagram @watchwhatueat or tag #watchwhatueat! OR leave us a comment & rating below. Your feedback is very important to us.
Some healthy recipe options that you may like: