Make this quick, easy, and healthy restaurant-style chicken tikka masala with all the authentic flavors at home. Perfect for a wholesome lunch/dinner or to include in a party menu. Trust me, your guests will never forget the dining experience.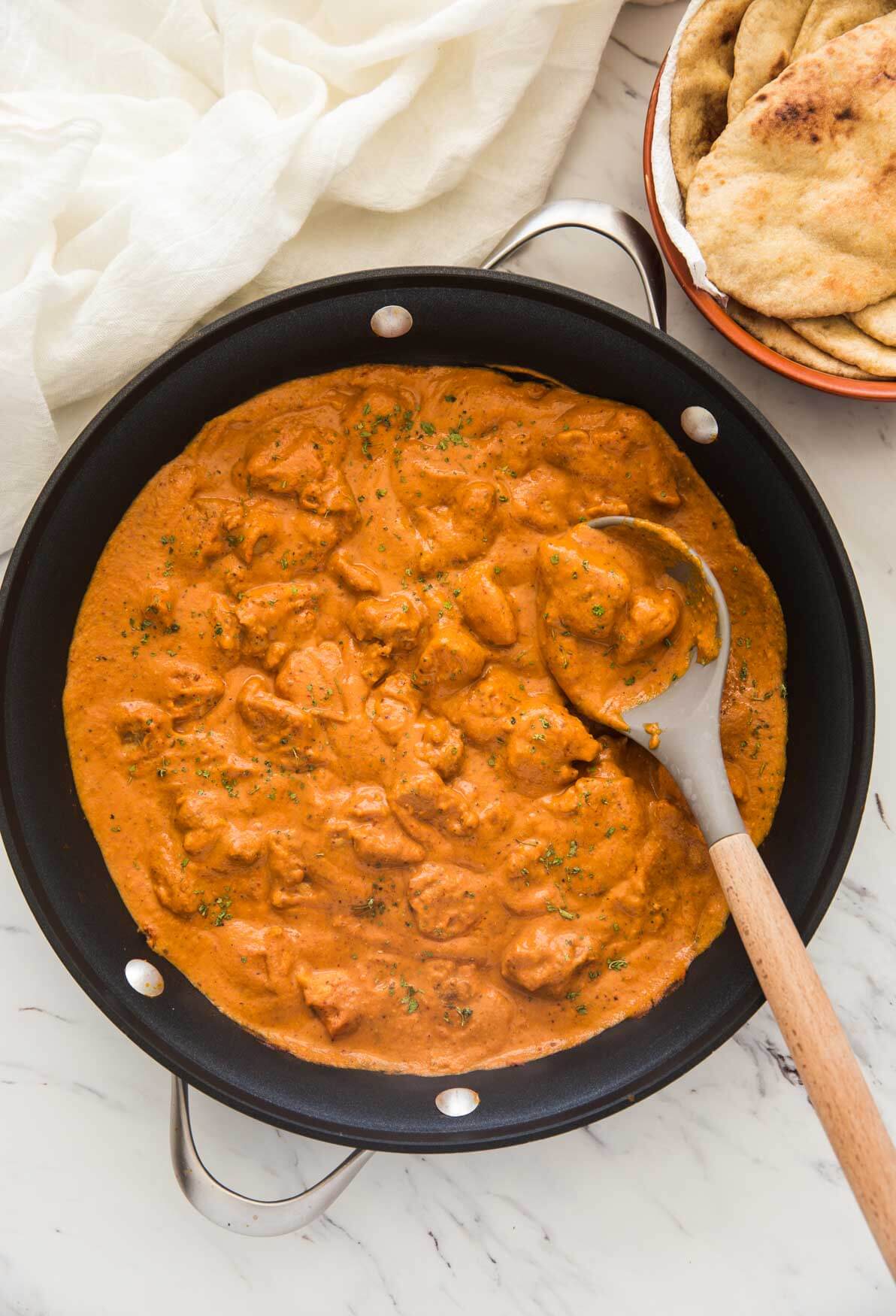 Jump to:
What is Chicken Tikka Masala?
Tikka masala is very popular in Indian restaurants worldwide. There will be hardly any Indian restaurant in western countries that won't serve this dish on their menu. 
Traditionally, marinated chicken is cooked to perfection in a hot tandoor (clay) oven, after which this smokey chicken is dunked in a tomato-based sauce or gravy (aka masala). Marination, as well as the sauce, is generously infused with Indian spices for the unique flavors and taste that this dish has. And it is usually served with plain rice and/or fresh naan bread.
People who don't eat meat or are vegetarian; they can also enjoy this dish by preparing vegetarian tikka masala with all the authentic flavors.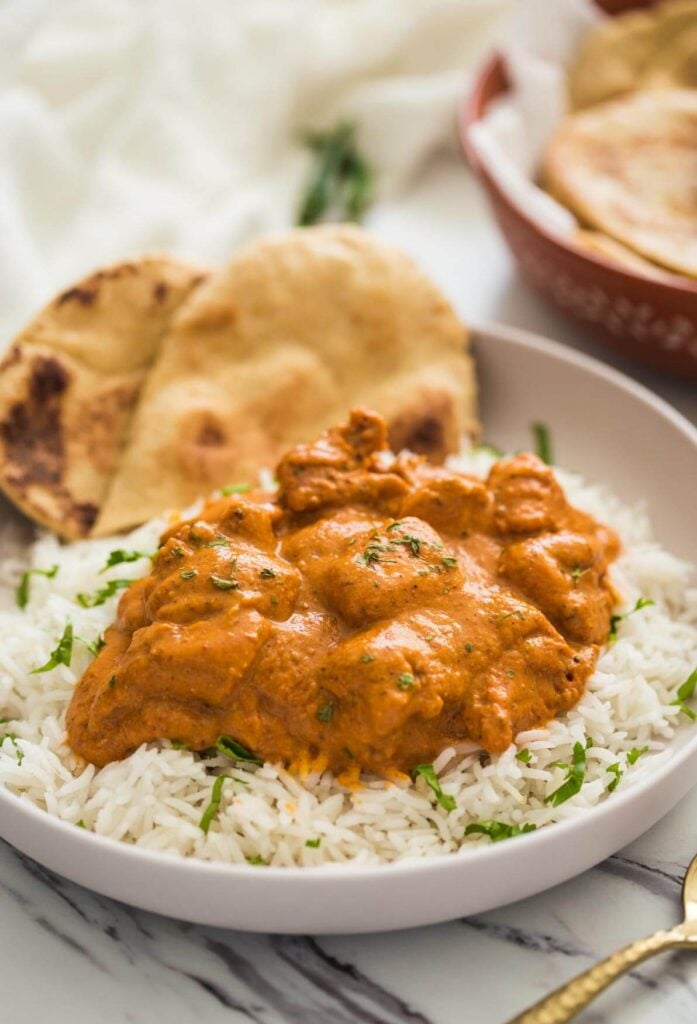 Ingredients
As usual, my goal is to turn such recipes into simple, easy to follow and healthy dishes. Here are the ingredients that you will need for making this healthy tikka masala. 
Chicken – skinless and boneless chicken thighs cut into bite-size pieces
Tomato – fresh red tomatoes cut into large pieces
Onion – peel, and dice into large pieces
Fresh ginger and garlic – use fresh garlic cloves and peeled ginger pieces
Raw cashews – helps to thicken and gives a creamy texture to the sauce
Spices – use a variety of spices like cumin powder, coriander powder, chili powder, turmeric powder, and garam masala
Oil – use your favorite cooking oil or ghee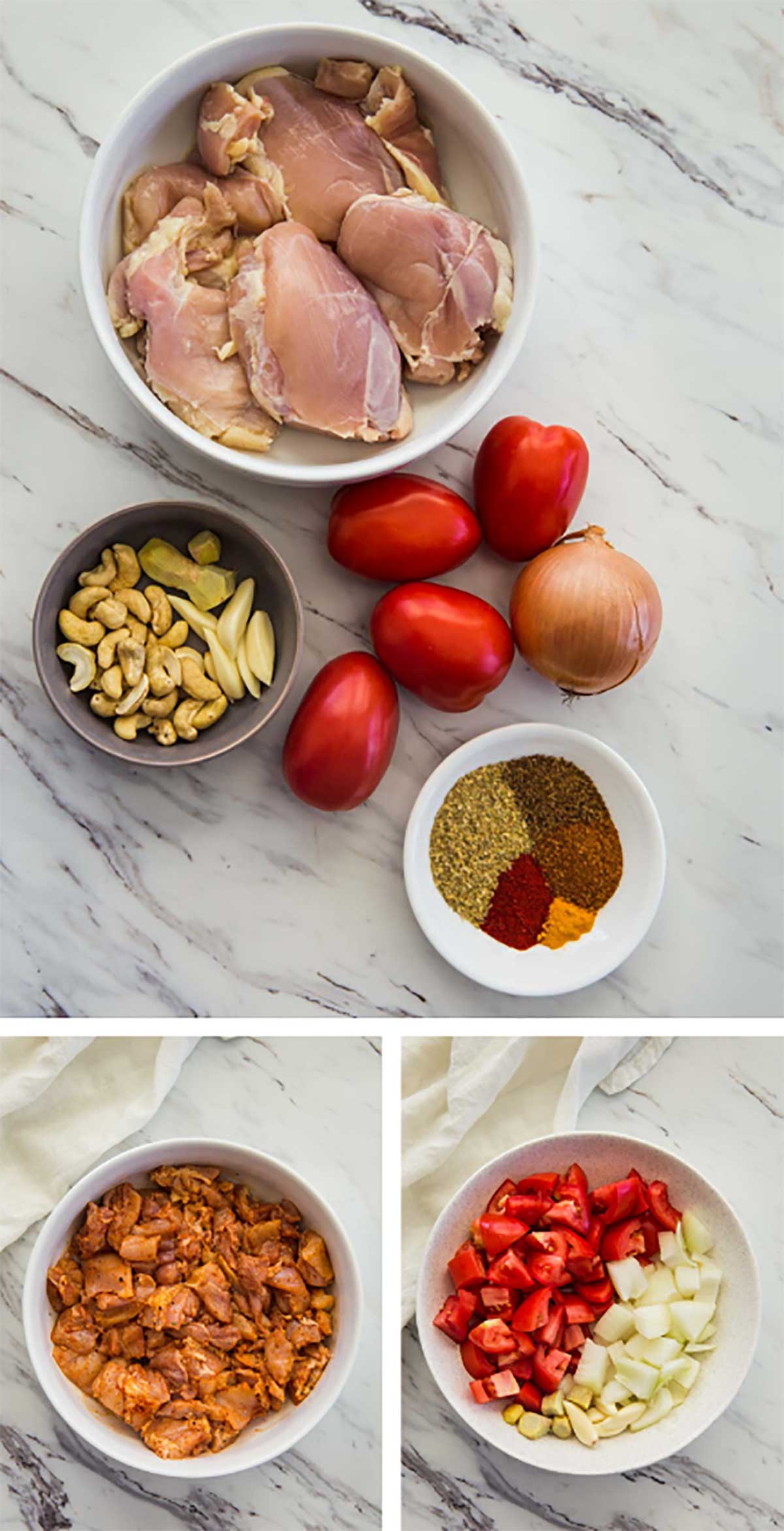 How to make healthy restaurant-style chicken tikka masala
Cooking Chicken: Boneless chicken thighs are cut into bite-size pieces and then sauteed in little oil with some chili powder, garam masala, lemon juice, salt, and pepper. Cook the chicken until all the water evaporates. Once done take out chicken pieces and keep them aside. If you have time marinate the chicken with mentioned spices well in advance for a more flavorful taste.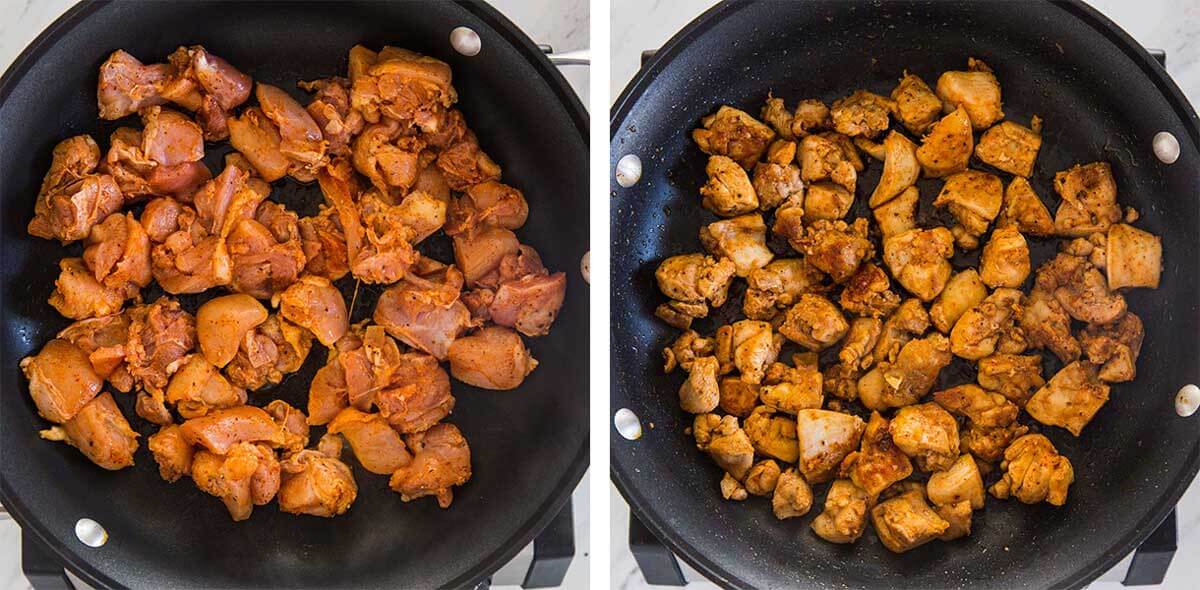 Preparing authentic tikka masala sauce: In the same pan with leftover oil cook garlic cloves, ginger, and onion chunks until translucent. Then add tomatoes, raw cashews and cook until softened. Take out this tomato mixture in a blender jar and blend until it gets smooth and creamy.
Clean the pan and heat some ghee or oil in it on low heat. Now add some turmeric and chili powder and cook until fragrant for a few seconds. Pour in the creamy tomato mixture and bring to boil. Then add garam masala, ground cumin, coriander powder and mix well. Season with salt and pepper according to your taste. Cover and simmer the mixture for a few more minutes on low heat. Finally, add cooked chicken and mix well. Turn off the heat and keep it covered. Serve warm.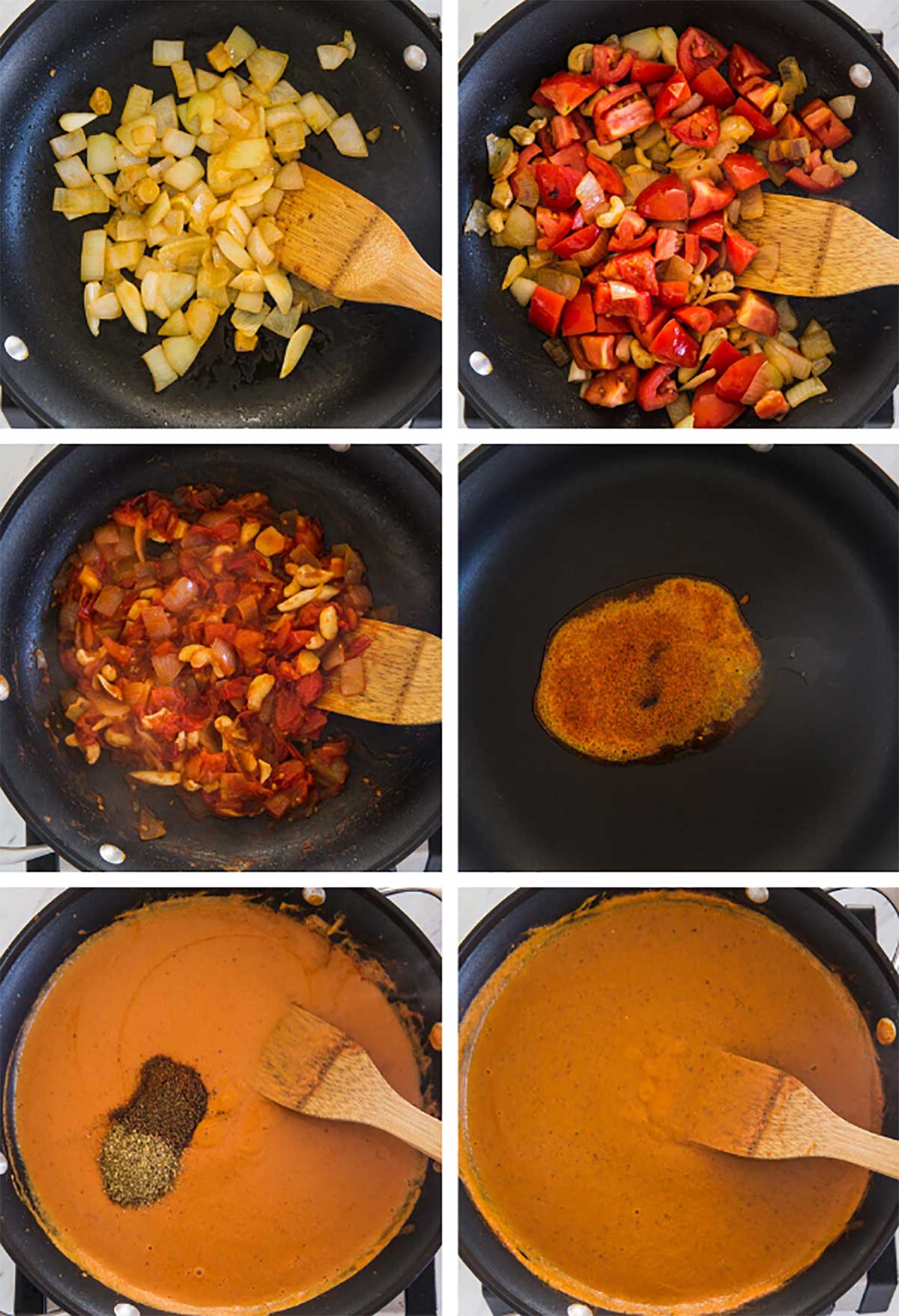 Helpful Tips!
Buy organic and pasture-raised chicken whenever possible. Use skinless and boneless chicken in this recipe. Boneless chicken is easy to cut into bite-size pieces. And skinless chicken helps to cut down fat and unwanted cholesterols.
Use homemade roasted ground cumin and ground coriander for the best flavorful results.
If you are allergic to cashews, you can use raw almonds instead. Soak the almonds in water for a few hours, peel and then use it in the recipe. For quick use, boil raw almonds in some water in the microwave for 3 mins and then peel them before using.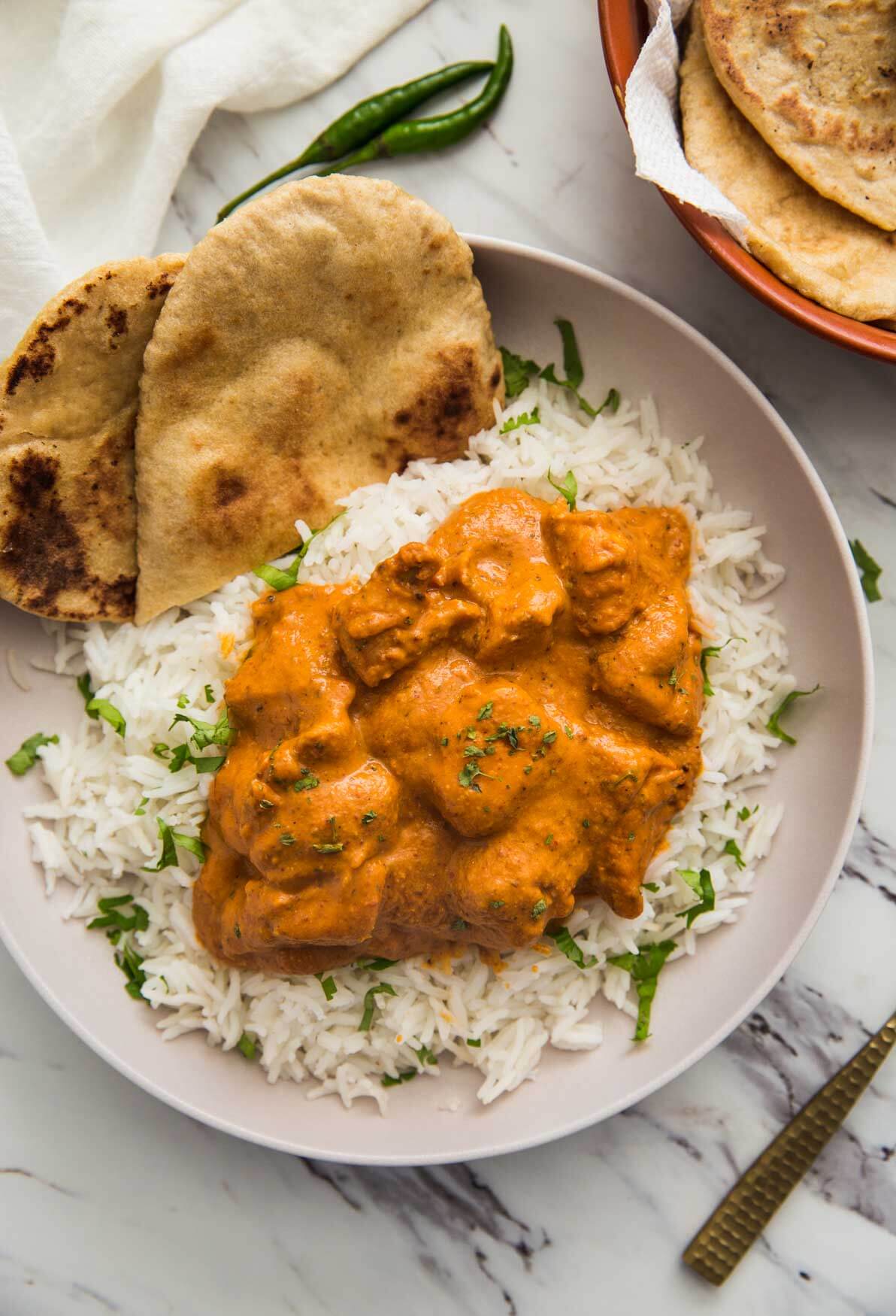 FAQs:
Whether to use chicken thighs or breasts?
Personally, I prefer using chicken thighs when making Indian dishes. I think that works best as Indian cooking involves sauteeing, cooking or roasting for long times in order to infuse the aromatic spices in the recipe. In my experience, thigh pieces absorb the spices very well and give a juicy texture upon cooking.
On the other hand, chicken breasts tend to get hard, dry and chewy in texture if overcooked. However, you can use chicken breast in this recipe–just look out for the cooking time and if possible, marinate the chicken well in advance for best results. 

To blend or not to blend the tikka masala sauce
Usually, tikka masala sauce is creamy in texture. I will recommend blending the sauce to get a smooth and creamy texture. Also, blending the sauce brings out more flavors as pulverized particles of the base ingredients combine well with flavorful spices. 
What does chicken tikka masala taste like?
The chicken in this dish has a smokey and roasted taste while the tikka masala sauce is creamy and slightly tangy, nutty, and creamy in taste. Along with aromatic spices, it brings out an amazing combination of flavors and aroma in the masala. 
Is Chicken Tikka good for you?
Definitely, it will healthy if you can avoid unhealthy ingredients. For example, use skinless chicken for less fat and cholesterol. Also, avoid adding full-fat yogurt, whole cream, and butter that can make this dish loaded with saturated fats and cholesterol.
And if you want to completely avoid the meat then try this vegetarian chickpea tikka masala.
Difference between butter chicken and chicken tikka masala
The main difference between two dishes is in its sauce or gravy base. Typically, both dishes use almost the same ingredients with slight variations in making the masala or sauce.
Butter Chicken: It is an Indian dish that originated in Delhi. It is a more creamy, buttery, and mild in spices version with less on the tomatoes. It also has less flavors from the spices. Most of the time the marinated chicken is simply sauteed in a pan or cooked in tandoor oven before adding into the creamy tomato gravy. You can try this butter chicken meatballs masala.
Chicken Tikka Masala: Surprisingly, it is a dish of British origin similar to butter chicken. It has more tomatoes in it along with being rich in flavors from spices. Usually, in this recipe, marinated chicken is cooked in a tandoor (clay) oven and then added into the creamy tomato sauce.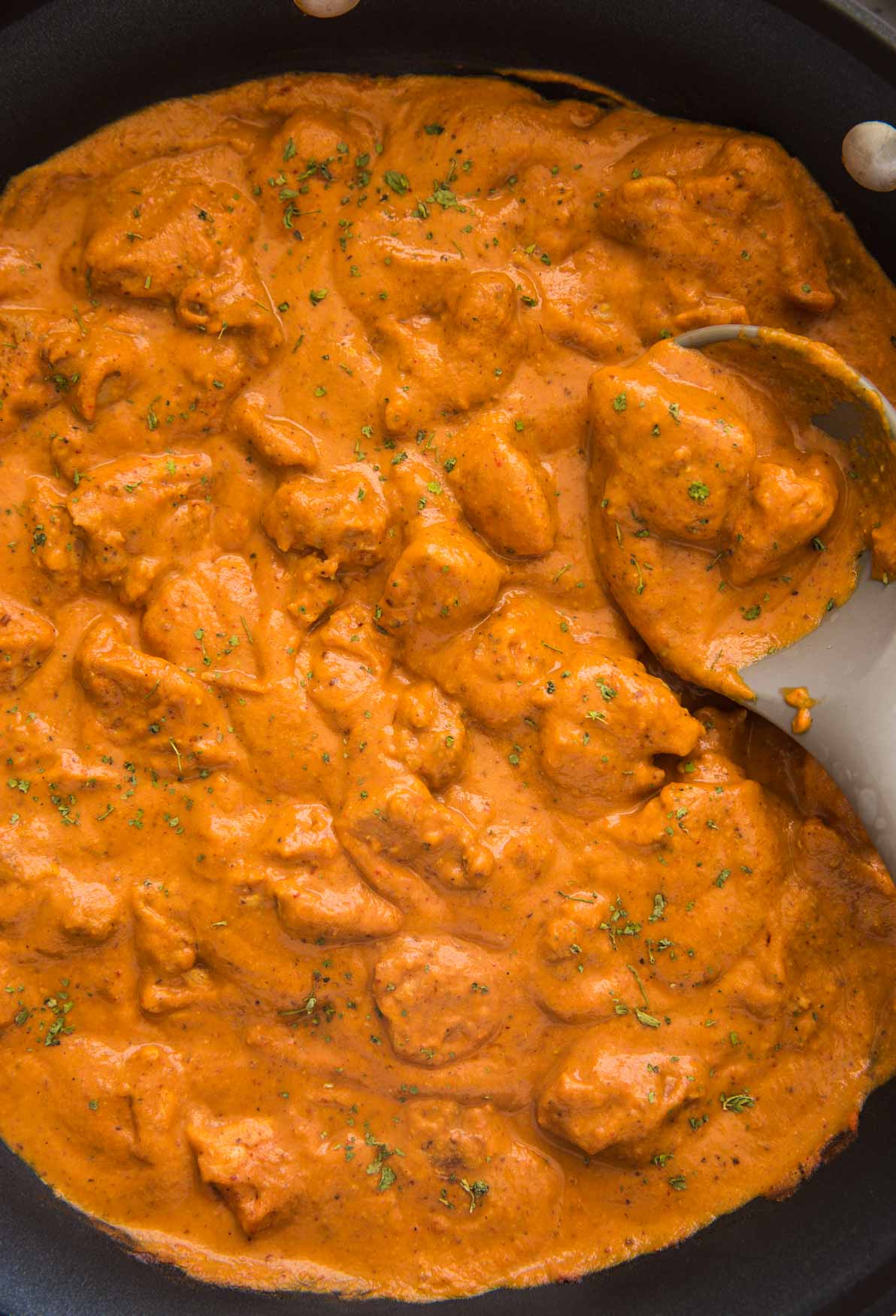 More Indian dishes you will enjoy
Love this recipe? Please leave a 5-star ⭐⭐⭐⭐⭐ rating in the recipe card below & a review in the comments if you REALLY like this recipe. Thank You!
📖 Recipe
Healthy Restaurant-style Chicken Tikka Masala
Pan-roasted chicken dunked in tomato-based creamy and authentic tikka sauce to make this healthy restaurant-style chicken tikka masala. 
Ingredients
Prepping Sauce
3-4

whole garlic cloves

peeled

½"

ginger

peeled and cut into large chunks

1

medium

onion

cut into larger pieces

4

medium

tomatoes

cut into larger pieces

¼

cup

raw cashews

1 ½

cup

water

1

teaspoon

oil

or ghee

¼

teaspoon

turmeric powder

½

teaspoon

chili powder

2

teaspoon

coriander powder

1

teaspoon

cumin powder

1

teaspoon

garam masala

salt

to taste

fresh cilantro optional for garnishing
Instructions
Making Chicken Tikka:
Heat oil in a large frying pan or skillet on medium to high heat.

Add chicken, chili powder, garam masala, lemon juice, salt, and pepper; mix well.

Saute the chicken on medium to high heat for 10-12 mins or until they start developing a light brown roasted crust. Once done, take them out and keep aside.
Preparing Tikka Masala Sauce:
In the same pan add garlic cloves, ginger, and onion; cook them on medium heat until translucent for 2-3 min.

Add tomato, raw cashews and cook them for 5-6 min or until it gets a sauce-like consistency.

Transfer this tomato mixture to a blender jar, add 1 cup of water and blend until smooth and creamy.

Then heat oil (or ghee) in a frying pan on low heat. Add chili powder, turmeric powder and cook until fragrant for just a few seconds.

Immediately add the blended creamy tomato mixture, remaining water and bring to a boil.

Then add coriander powder, chili powder, garam masala, and salt to taste. Mix well and simmer the mixture (cover with lid) on low heat for 5 mins.

Finally, add pan-roasted chicken, optionally, garnish with cilantro and serve warm.
Notes
Add more water if necessary to adjust the consistency of the sauce as per your likings.
Try to use freshly ground cumin and coriander powder whenever possible. Homemade ground spices make the dish more aromatic and flavorful. For quick use in this recipe, I always roast 1 teaspoon cumin seeds and 2 tsp coriander seeds together in the same frying pan before cooking the chicken. And using a spice grinder or stone molcajete I ground the roasted seeds into fine powder.
If you don't want to use raw cashews, you can use raw almonds instead. Read helpful tips section above for details and some more interesting tips.
This dish is dairy-free. Traditionally, people use yogurt to marinate and flavor the chicken and use full-fat cream to thicken the tikka sauce. However, I always try to avoid combining dairy and meat together. (According to Indian Ayurveda they advise to not combine milk products with meat. The only exception is ghee and it is okay to use.) 
Nutrition
Tried this recipe?
Tag us on Instagram @watchwhatueat or tag #watchwhatueat! OR leave us a comment & rating below. Your feedback is very important to us.