Turn authentic Indian Palak Paneer curry into a complete meal with this delicious one pot Easy Palak Paneer Rice recipe. You will love the twist on traditional palak paneer. Perfect recipe for a quick weekday lunch or dinner.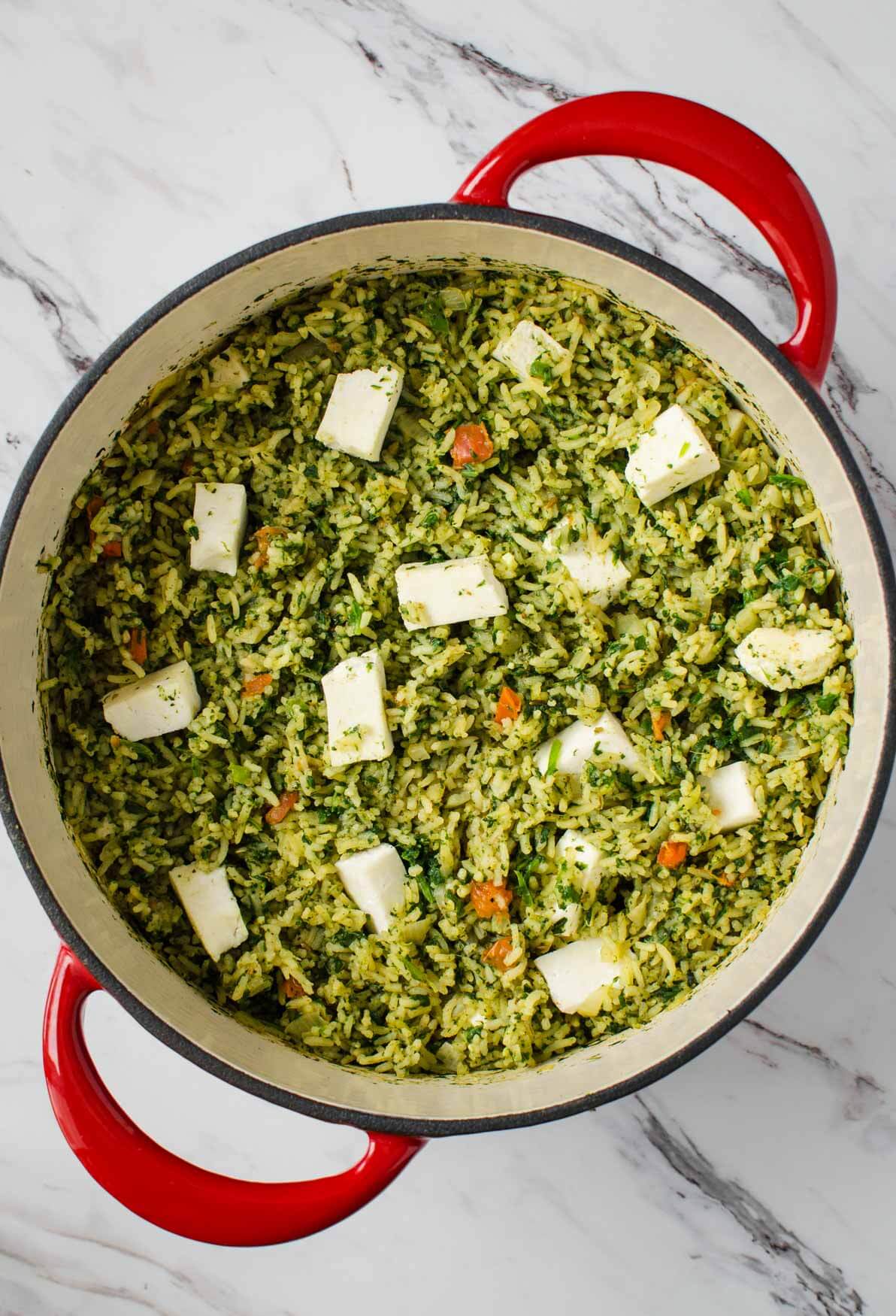 Have you ever had 'palak paneer' curry in an Indian restaurant? And, did you like it?
Then you will definitely love all the flavors in this one pot palak paneer rice. Greens, proteins, and carbohydrates all in one dish. What else do we need for an easy weeknight dinner? That is what this easy palak paneer rice recipe offers.
Since the last few months, we have been making it almost every week. We both love palak paneer curry. However, the thought of adding rice to it really made us excited to give this one pot spinach rice a try.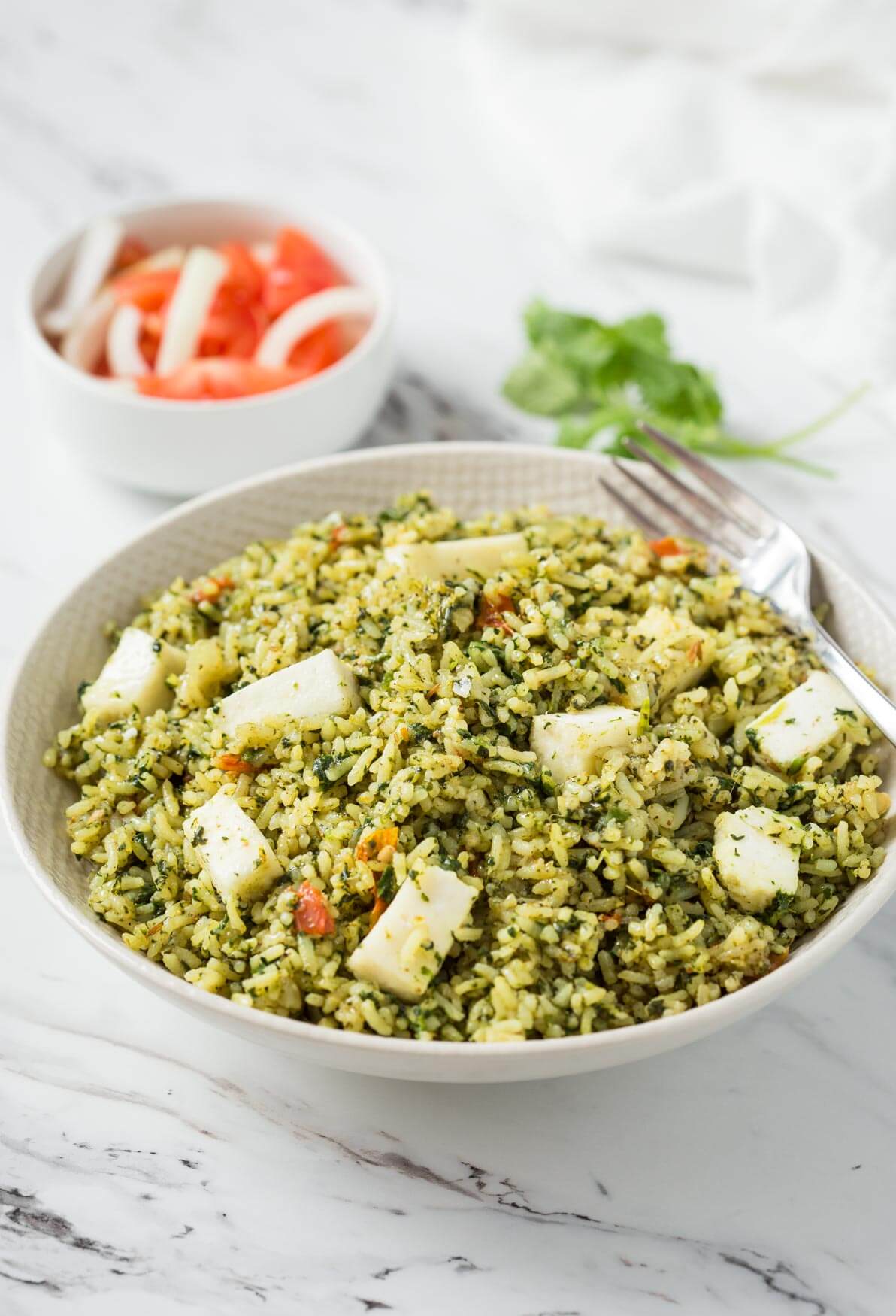 How to make Easy Palak Paneer Rice?
First, we need to puree the spinach. To do this heat a medium pot or dutch oven over medium heat. Then add fresh spinach leaves and cover with a lid for 2-3 min or until the leaves wilt down. Then remove the wilted spinach into a blender jar or food processor. Also, add in some fresh cilantro and pulse until it forms into a puree.
Now in the same pot heat some oil. Add some cumin seeds and let them fry until fragrant for a few seconds. Add finely chopped fresh garlic, ginger, and finely chopped onions and cook for a few minutes. Then add raw white rice, some cumin powder, and coriander powder and saute for another few minutes. Add water and season with salt and some garam masala. Cook the rice on low heat with the lid on for a few minutes. After 7-8 minutes of cooking rice add the spinach puree, paneer and gently mix. Return the lid and cook the rice-spinach mixture until well done. Detailed instructions are given below.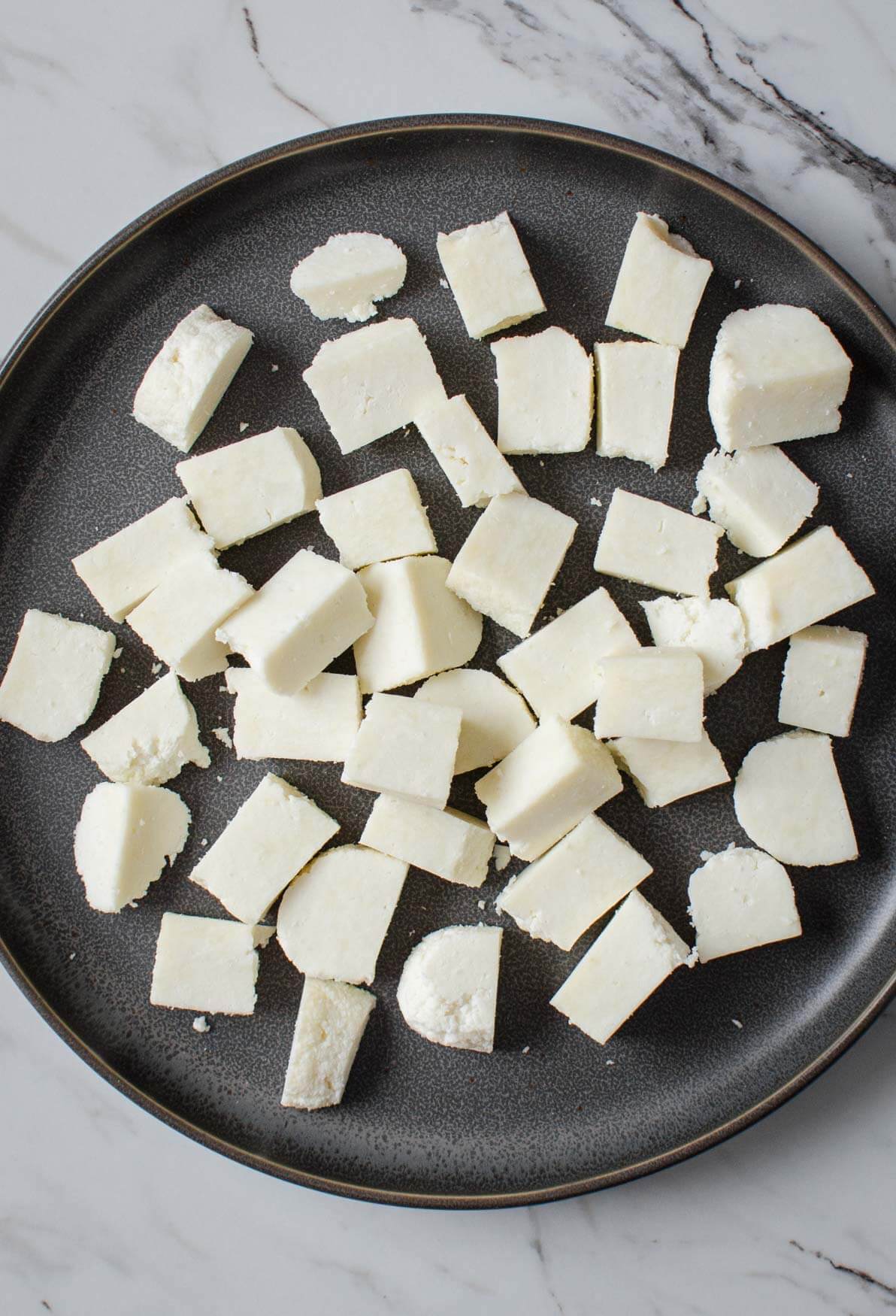 Helpful Tips!
Use fresh baby spinach leaves for a fresher taste

Use reduced fat paneer for making this recipe to cut down on saturated fats. I usually make paneer at home using reduced-fat milk. And freshly made paneer really makes a ton of difference in the taste. However, you can use good quality paneer from Indian grocery stores.

Also, freshly roasted and ground cumin and coriander powder add wonderful flavor to this rice. Just roast some cumin seeds and coriander seeds together in a small frying pan for few minutes. Once they cool down, make them into powder using a spice grinder or molcajete.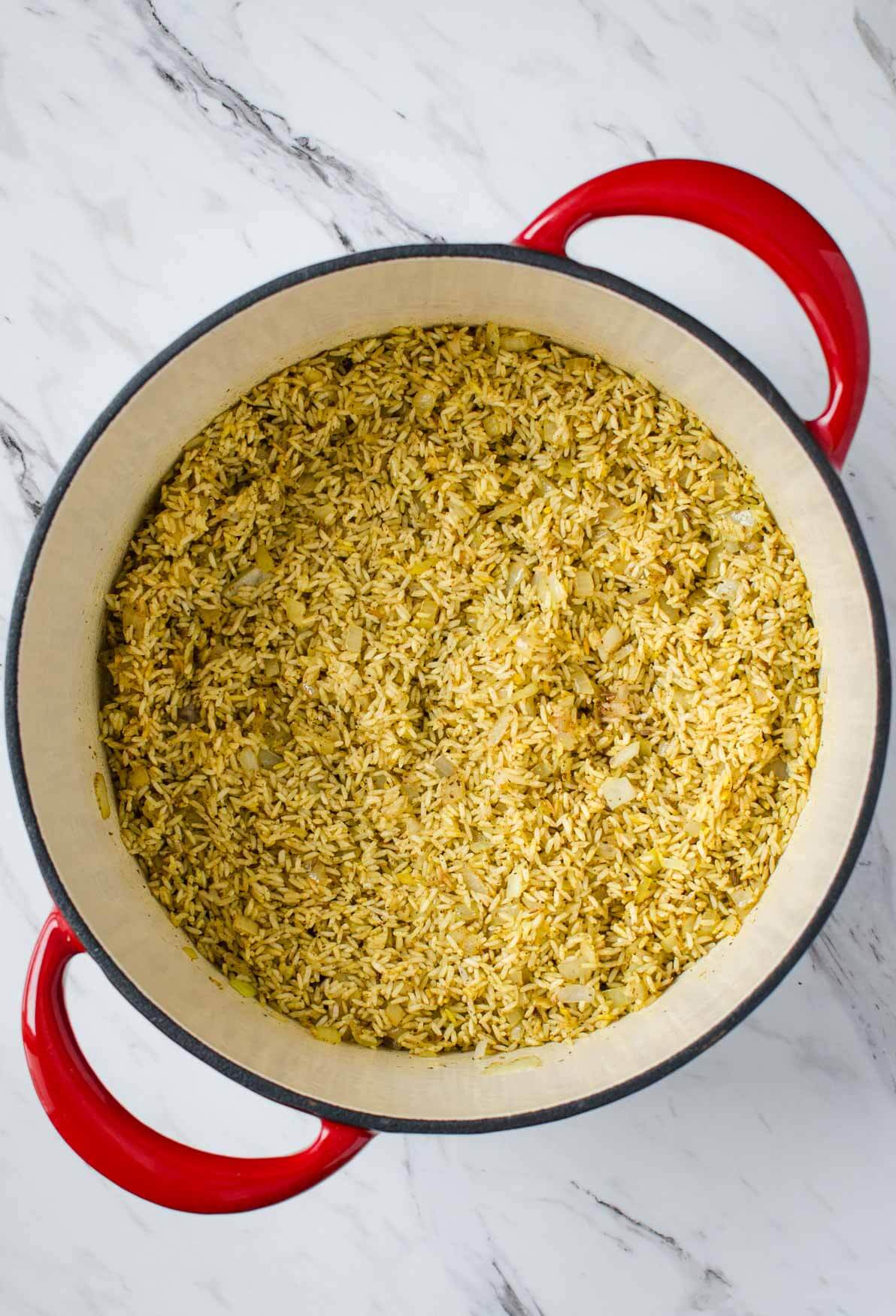 Other Spinach Recipes You'll Love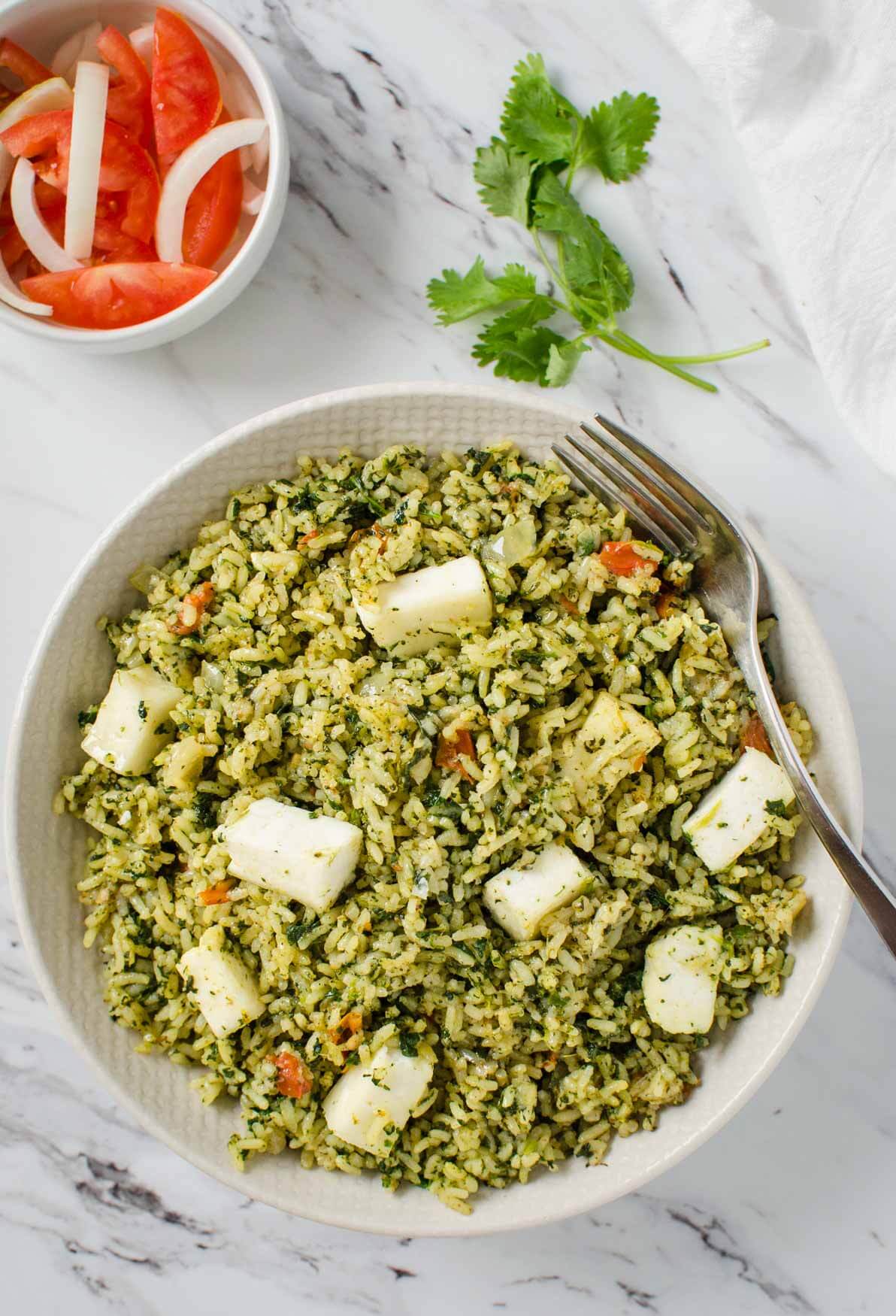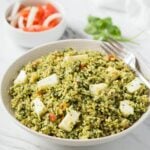 One Pot Easy Palak Paneer Rice
Turn authentic Indian palak paneer curry into a complete meal with this delicious one pot Easy Palak Paneer Rice recipe.
Ingredients
1 1/2

cup

white rice

6-8

oz

baby spinach

4-6

oz

paneer (Indian cottage cheese)

reduced fat

1

onion finely chopped

1

tomato roughly chopped

3

cup

vegetable broth

1

tsp

garam masala

1/4

tsp

turmeric

1

jalapeno seeded

2-3

garlic cloves minced

1/2

" ginger minced

1

tsp

cumin powder

1

tsp

coriander powder

1/4

cup

fresh cilantro

reserve some for garnishing
Instructions
Heat a non-stick pot or dutch oven over medium heat. Add spinach and cover the pot for 1-2 minutes. It will help to soften or wilt down the spinach leaves. Take wilted spinach in a processor or blender jar and set it aside.

In the same pan heat oil. Add onion, ginger, garlic and saute until golden brown.

Then add cumin powder, coriander powder, turmeric, garam masala, and rice. Mix everything and saute for a 2-3 minute.

Now add water and bring mixture to boil. Add tomato and salt to taste. Cover and simmer the rice for 7-8 minutes.

Meanwhile, add jalapeno and some fresh cilantro. Pulse the mixture to reduce into small pieces or puree and keep it aside. Do not over blend.

Add this spinach mixture to partially cooked rice and gently mix them.

Then add paneer pieces and mix slightly.

Cover and continue cooking the rice for another 7-8 minutes or until well done.

Serve warm
Recipe Notes
Do not cook the spinach for long else it will start to stick to the pot.
Adding spinach after halfway cooking of rice will help to retain the green color.
Smart Points: 13

This page may include affiliate links which help us to deliver free recipes and maintain this blog.