Make this Instant Pot Vegetable Biryani with all the authentic Indian flavors. Super easy to prepare at home whenever you crave for Biryani. This rice dish is loaded with fresh vegetables and perfect for a vegetarian meal.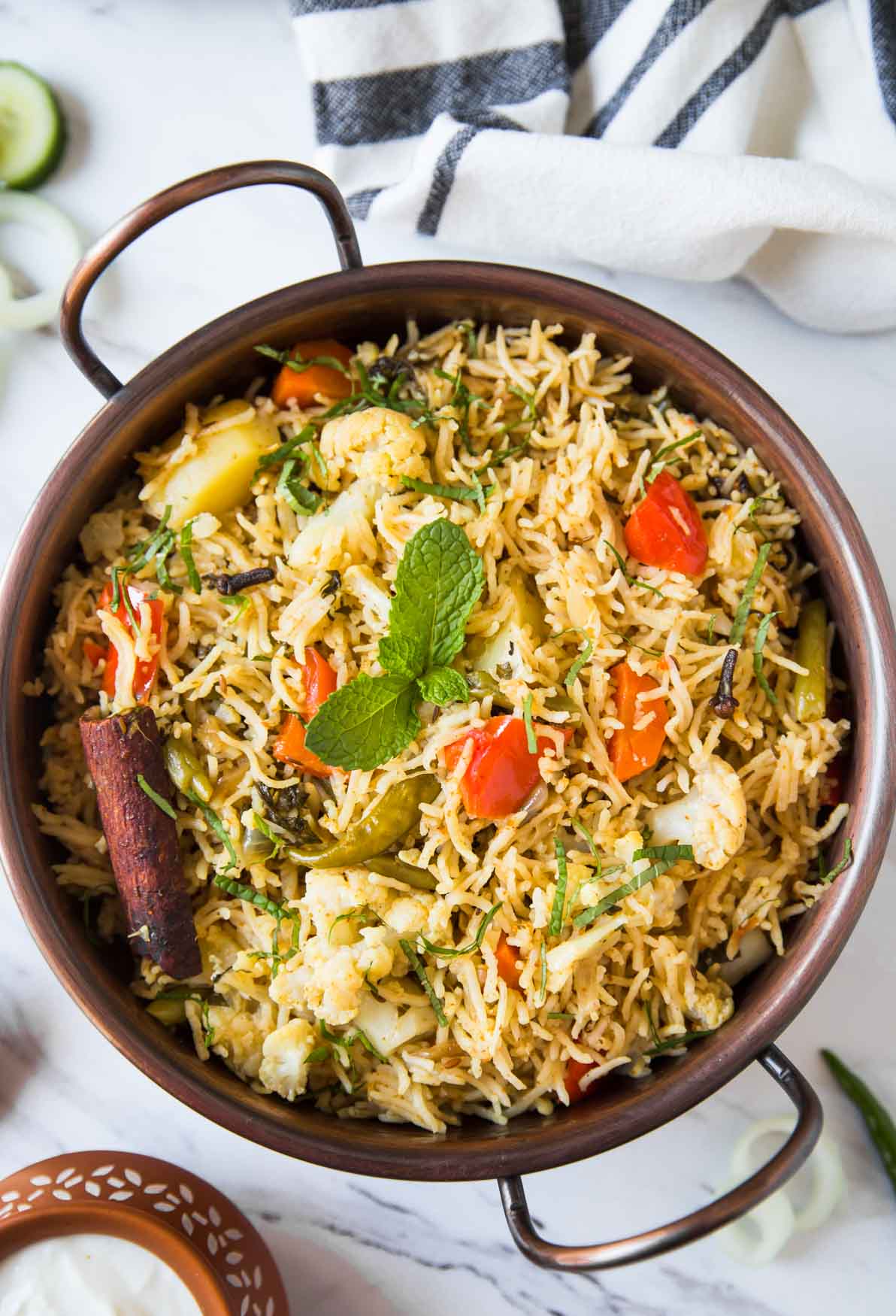 Don't have an Instant Pot? No worries! You can make this one-pot easy veg biryani on the stovetop.
Looking for a meat version? Then try this easy chicken biryani.
What is Biryani
Biryani is a rich and flavorful Indian rice dish prepared using aromatic rice, meat or veggies, yogurt, a variety of exotic spices, fried onions and fresh herbs like cilantro and mint.
Usually, biryani is a very involved recipe. Meat or veggies are cooked in yogurt with spices and are then layered with partially cooked rice in a large pot. This pot is then completely sealed to trap the steam and cooked on very low heat to develop the flavors inside the rice.
However, today I am sharing with you a simple and easy way to prepare this dish in an Instant Pot with all the authentic flavors.
What you will need to prepare Instant Pot Veg Biryani?
You can find the following main ingredients needed for any type of biryani very easily in a nearby Indian grocery store or online. Some local grocery stores also carry Indian spices and basmati rice in their International section.
Rice – for making biryani, long grain aromatic basmati rice is usually the prime choice.
Vegetables – use fresh vegetables like carrot, cauliflower, green beans, green peas, and potatoes. Cut vegetables into large cubes.
Yogurt – it gives moisture and a little tangy taste to the biryani rice.
Ginger and garlic – finely mince them or make them into a paste.
Spices – you will need whole spices like black cumin seeds (aka shah jeera), cloves, cinnamon stick, black pepper, green cardamom, and biryani masala.
Onions – cut them into slices. Caramelized onion adds a distinct flavor to the biryani.
Fresh herbs – lots of fresh cilantro and mint leaves. Chop them finely.
Oil – usually ghee (clarified butter) is used for making biryanis. However, you can use your choice of fats and oils.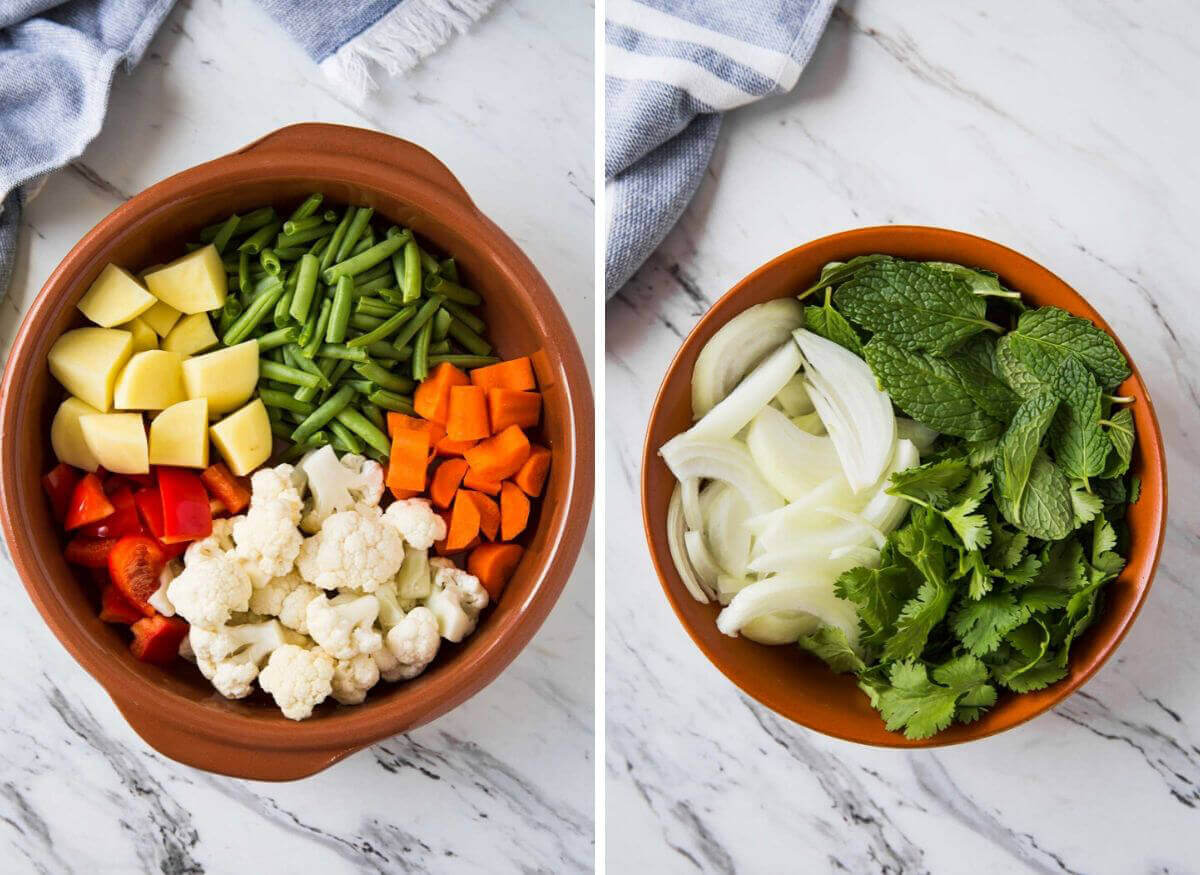 How to make Instant Pot Vegetable Biryani?
Preparing Rice and Veggies:
In a large bowl soak the rice in water. Add spices like black cumin seeds, cloves, cinnamon stick, black pepper and cardamom to the rice. It will infuse the flavors into the rice. While the rice getting soaked, in a small mixing bowl combine yogurt with ginger, garlic, biryani masala, salt, and some chopped fresh herbs. Then in a large mixing bowl mix all the cut vegetables with the prepared yogurt marinade. Keep it aside.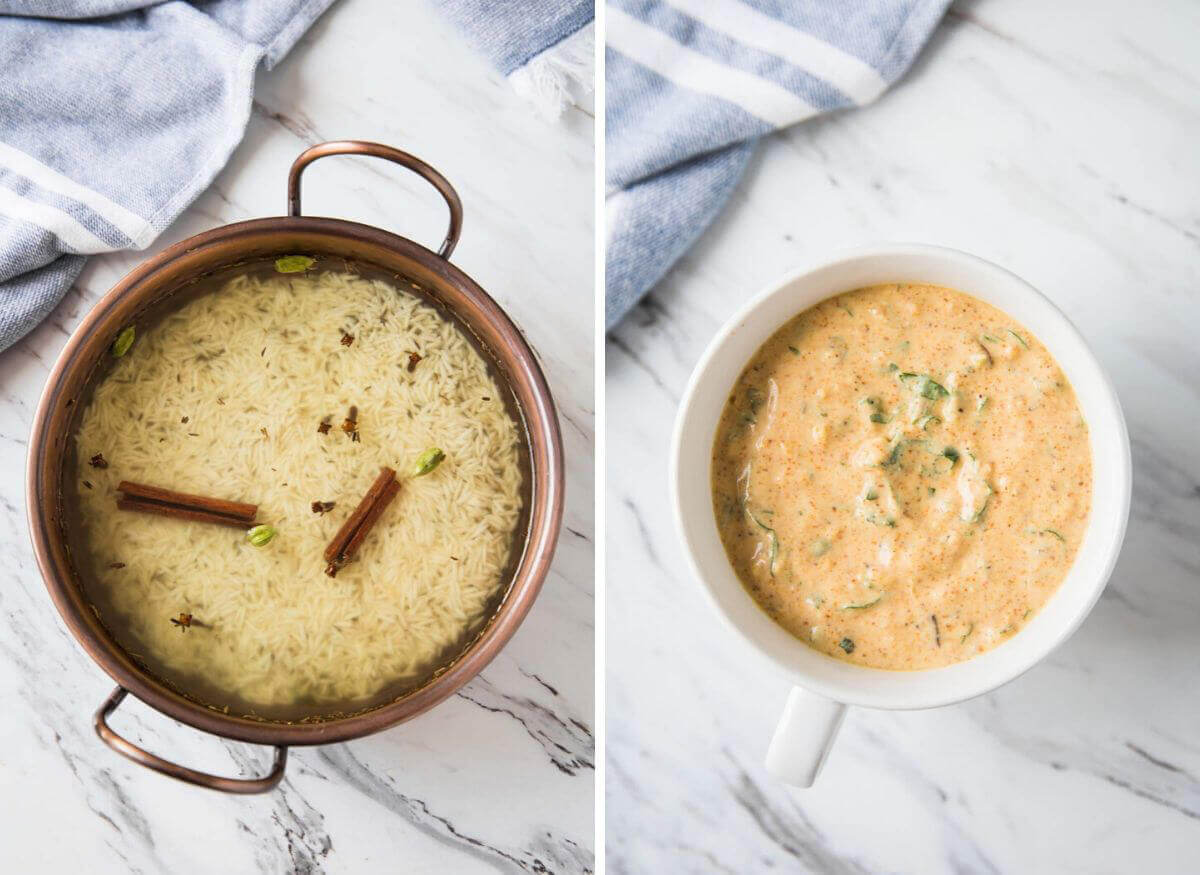 Cooking Biryani in Instant Pot:
Cook onions in little oil or ghee on high saute mode of Instant Pot until they caramelize or turn dark golden brown. Then add marinated vegetables and cook for a few minutes. Add soaked rice along with water and spread the rice evenly. No need to completely mix it with veggies. Adjust salt if necessary. Finally, add the remaining chopped herbs, few strands of saffron and chopped tomato. Cover the lid and cook on manual low pressure for just 5 mins. Then quick release the pressure and keep the lid closed for about 20 min or so (do not keep the valve on Seal position after releasing the pressure). Gently stir the rice and serve warm.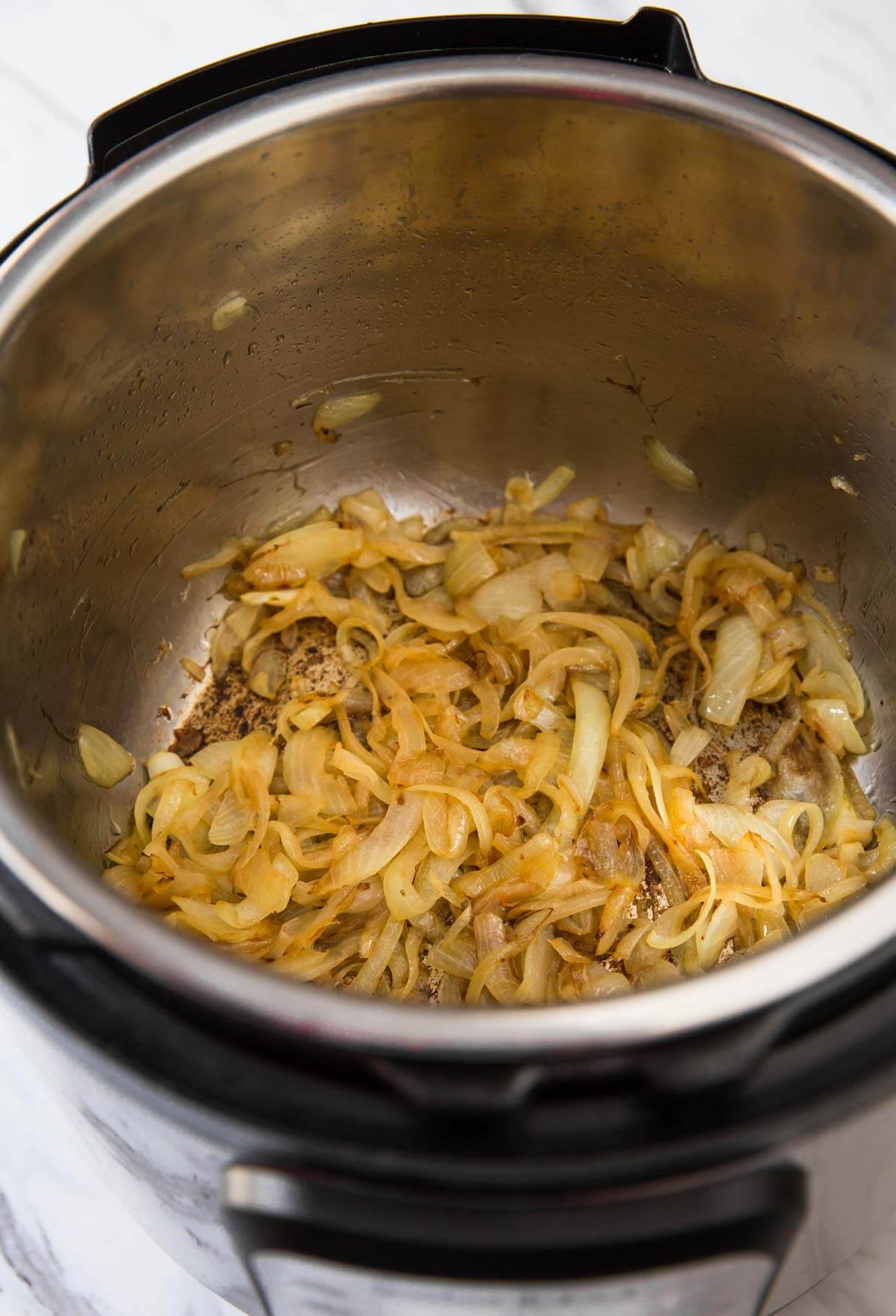 Instant Pot Easy Veg Biryani – Helpful Tips!
Use fresh vegetables and organic ones whenever possible. Cut vegetables into large sizes so that they don't get overcooked and become mushy. Frozen vegetables won't work well for this kind of recipe.
While cooking onions you may find brown or burnt spots from caramelization at the bottom of the pot. This is normal. To remove them, simply add a tablespoon of water after caramelization and scrape it off using a spatula. Also, you can scrape them after adding the veggies with yogurt. Water from the yogurt will remove the brown spots of the caramelized onions. Don't worry–it will add flavor to the dish unless it is really burnt and black.
Soaking rice with spices for some time will help to absorb the flavors from them. Use rice along with this flavored water to add to the veggies.
Once the pressure cooking timer is off, quick release the pressure to remove the steam. It will stop further cooking the biryani. Once all the pressure is gone keep the lid closed and let the biryani sit in IP for another 20-30 min. It will help to develop the flavor in the dish without overcooking the rice.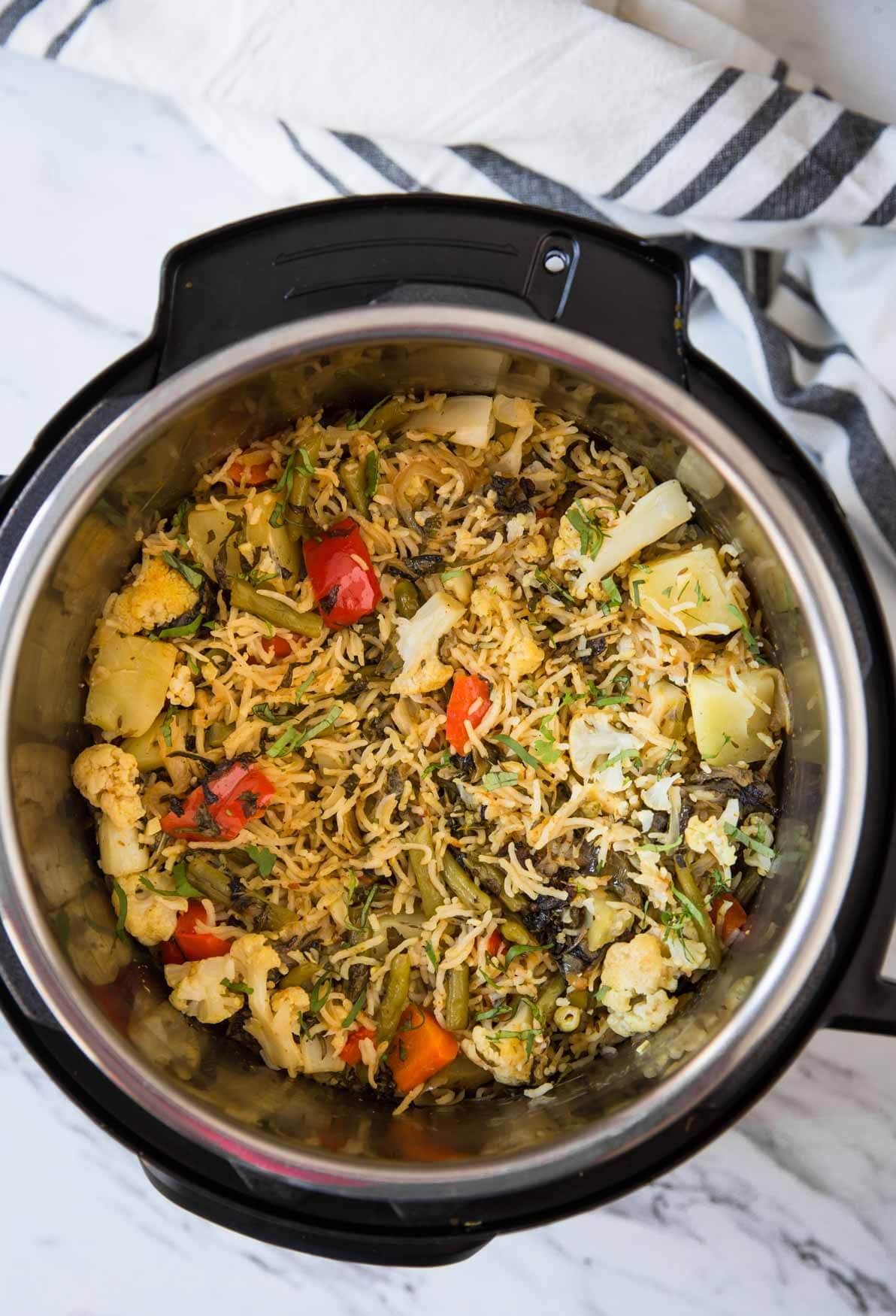 What to serve with veg biryani:
Biryani is usually served with spiced yogurt sauce also known as raita. This raita is very similar to the Mediterranean tzatziki.
You can also pair this veggie biryani with naan bread and curries like chickpea tikka masala or palak paneer for a complete party menu. To complement the menu you can also include homemade mango lassi.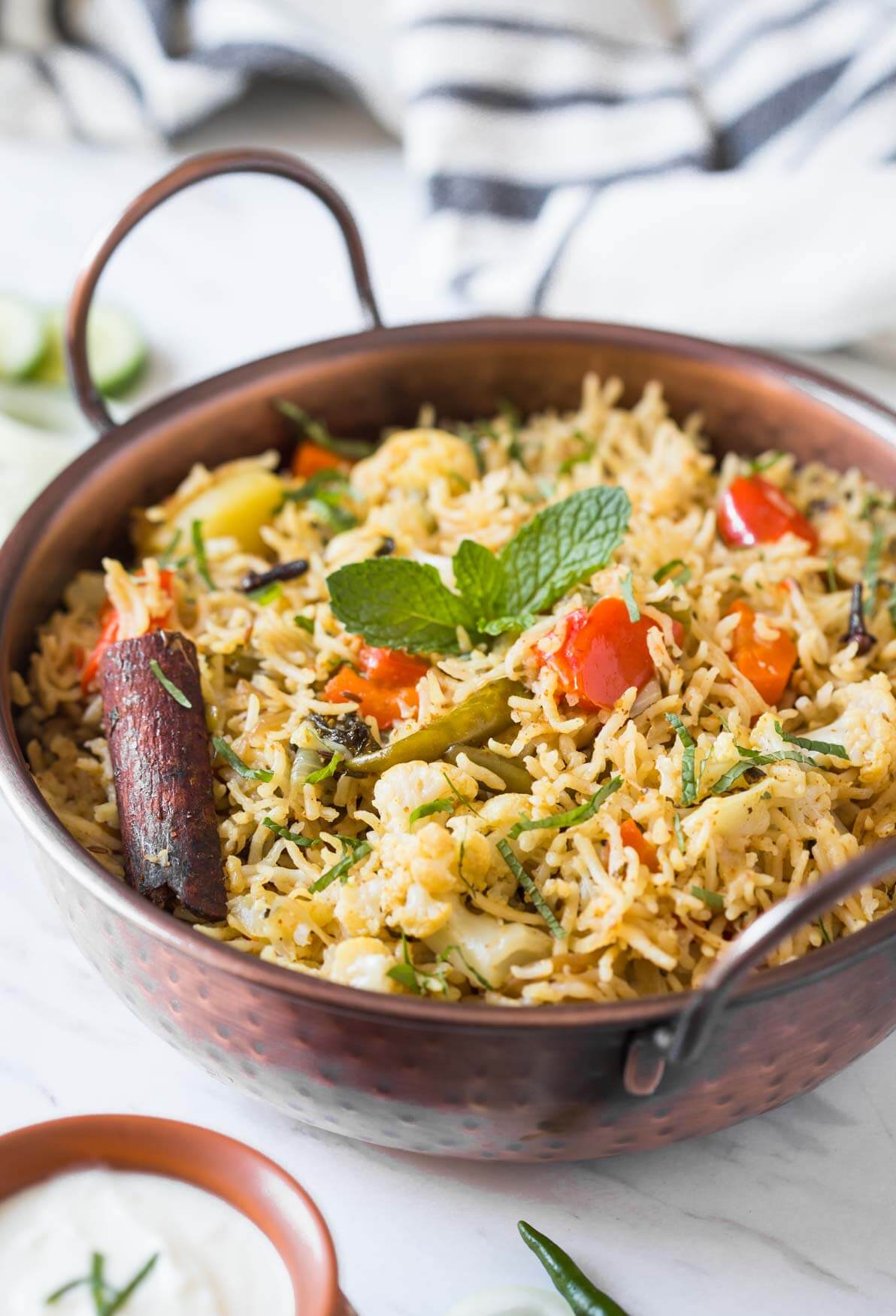 FAQs:
Is it necessary to soak the rice before making biryani?
In short, the answer is YES.
Especially, when making this Instant Pot veg biryani it is a must to soak the rice before cooking.
Why? If you use dry rice it will take more time to cook. And cooking rice for a longer time will overcook the vegetables which will make them mushy in the biryani. This will not give an appealing taste and texture to the dish.
I tried making this biryani without soaking the rice and it was a complete failure.
Which rice is good for biryani?
For making biryani extra long grain aromatic basmati rice is the preferred choice. Upon cooking, long grain basmati rice gives soft texture and the grains stay separated from each other. These non-sticky aromatic cooked rice add a beautiful touch and flavor to the dish which makes biryani tempting.
How to use leftover Biryani?
Simply reheat the biryani rice in the microwave for 2-3 min. You can also sprinkle some water over the rice before putting it in the microwave. This way the rice will stay moist.
Leftover biryani always tastes more delicious as more and more flavors infuse into the rice over time.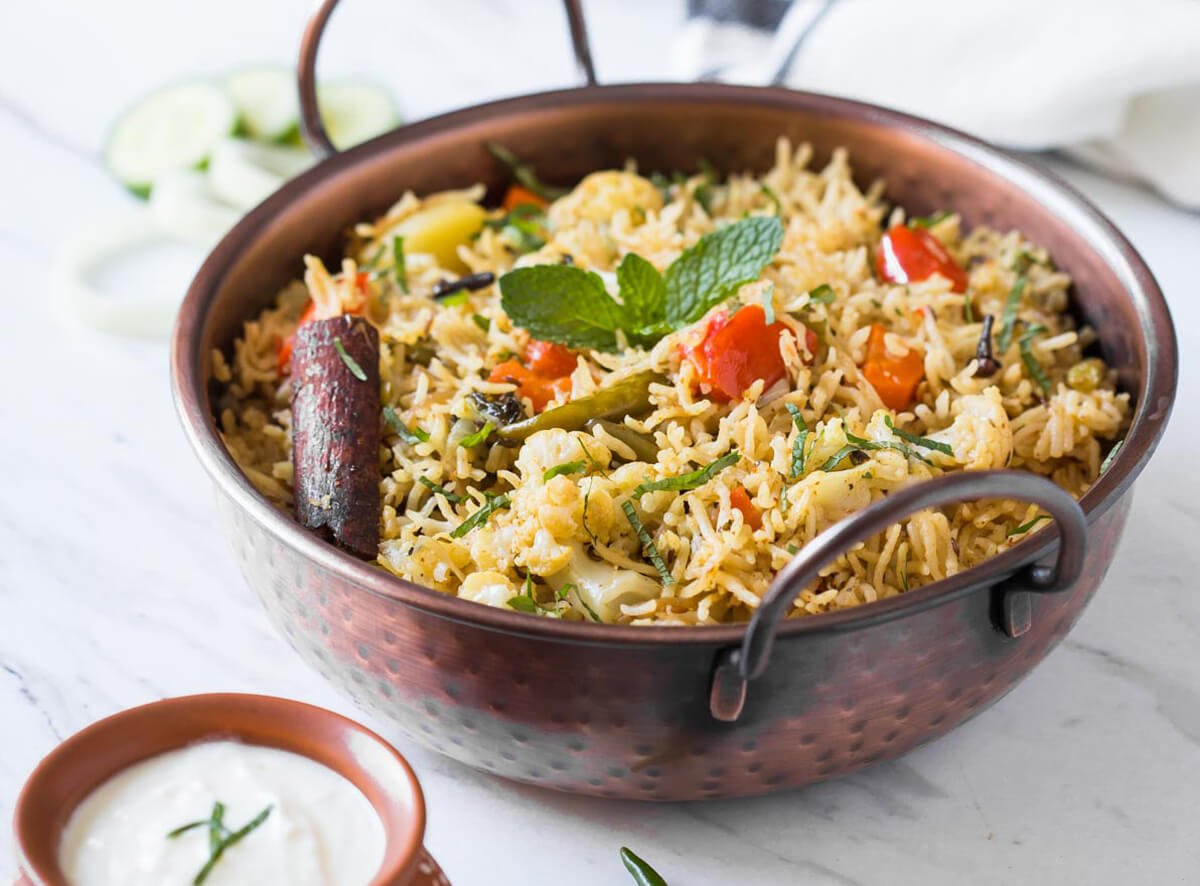 More Recipes to Try In Instant Pot
You Will Also Love These Indian Recipes
📖 Recipe
Instant Pot Vegetable Biryani With Authentic flavors
Instant Pot Vegetable Biryani - Quick and easy recipe to prepare healthy veg biryani with all the authentic flavors.  
Ingredients
Vegetables
2

cups

cauliflower florets

around 2" size

2

small

carrots

peeled and diced into 1-2" size

1

small

red bell pepper

cut into 1-2" size

1

cup

green beans

cut into 1-2" size

2

medium

potatoes

diced into 1-2" size

2

medium

onions

sliced

1

medium

tomato

cut into 1-2" size

2-3

garlic cloves

finely chopped

1"

ginger

finely chopped

1

tablespoon

cooking oil

(or ghee)

pinch

of

saffron
Spiced Yogurt
¾

cup

low-fat yogurt

2 ½

tablespoon

biryani masala

⅓

cup

fresh mint leaves chopped

divided

⅓

cup

fresh cilantro leaves chopped

divided

salt
Instructions
In a medium bowl soak rice in warm water along with spices mentioned under 'rice preparation' for about 20-30 min.

Meanwhile in a small bowl mix yogurt with biryani masala, half of the fresh herbs, and salt. Save some herbs to use at the end.

Then in another large bowl combine all the cut vegetables like cauliflower florets, carrot, bell pepper, green beans, and potatoes. Add the prepared yogurt mixture and combine well to coat all the veggies with yogurt and spices evenly.

Heat oil or ghee on high saute mode in the Instant Pot.

Add sliced onions and cook them until caramelized for about 6-8 min.

Add chopped garlic and ginger and cook them for about a min.

Then add marinated vegetables and saute them for 2-3 min.

Now add water from the soaked rice and mix well with vegetables. Then add soaked rice and gently mix to make sure the water covers the rice.

Top it up with chopped tomatoes,  fresh mint, fresh cilantro and a few strands of saffron.

Finally, put the lid and cook the rice on manual LOW PRESSURE for 5 mins (make sure the valve is in seal position). Once done turn off the Instant Pot and then quick release the pressure and steam. Keep the rice covered for another 20-30 min (this will help to develop the flavors).

Serve warm.
Notes
Adding spices while soaking will make the rice more flavorful.
In this recipe, I used regular yogurt. However, you can also use greek yogurt. If you decide to use greek yogurt instead make sure to add an additional ½ cup water to the rice. This is because greek yogurt has very less retained water compared to regular yogurt.
After quick releasing the pressure keep the valve on vent position to avoid building up steam again and overcooking the rice. 
Nutrition
Tried this recipe?
Tag us on Instagram @watchwhatueat or tag #watchwhatueat! OR leave us a comment & rating below. Your feedback is very important to us.

This post contains affiliate links. For more information on our Affiliate and Advertising Policy, please click here.