Make Instant Pot pumpkin risotto to enjoy pumpkin flavors during this fall season. Risotto can't get simpler than this, and it is perfect for a quick, easy, and healthy weeknight meal. You can also serve it at family or holiday gatherings.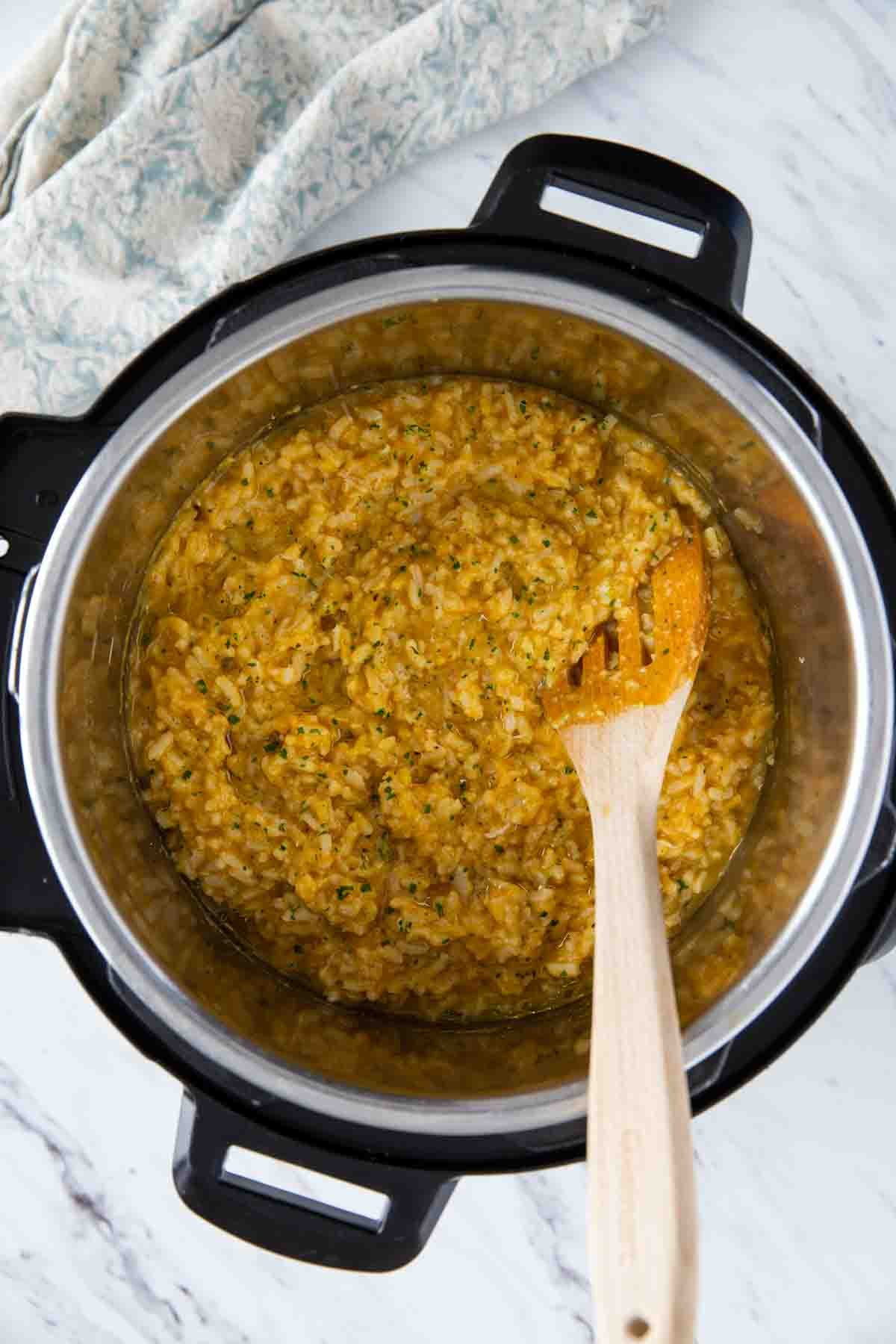 Jump to:
Fall is my favorite season – it is neither too cold nor so hot. The perfect balance in nature brings out its beautiful colors, giving everyone joy, and inspiring me to reflect back, meditate and try to learn something new from nature.
Another reason why I love Fall is the pumpkin season and its use in home decor and food. When they are in season, you will fall short of ideas on how to use them in different ways!
I decided to develop various recipes using this beautiful fruit this time. So far, my favorites are easy whole wheat pumpkin flatbreads and creamy pumpkin hummus.
Fact: Pumpkin is a fruit and not a vegetable. Did you know that?
Let's come to the Instant Pot risotto recipe with pumpkin.
What is special about this pumpkin risotto?
The classic way of risotto needs great skills to prepare on the stove. You must continuously attend to it and ensure that it does not burn by stirring frequently and adding hot broth from time to time. Now, you can make healthy risotto in Instant Pot without babysitting it on the stove; no need to handle hot broth and continuous stirring.
Adding pumpkin makes the risotto attractive. Moreover, it gives fall and holiday vibes to the dish.
Ingredients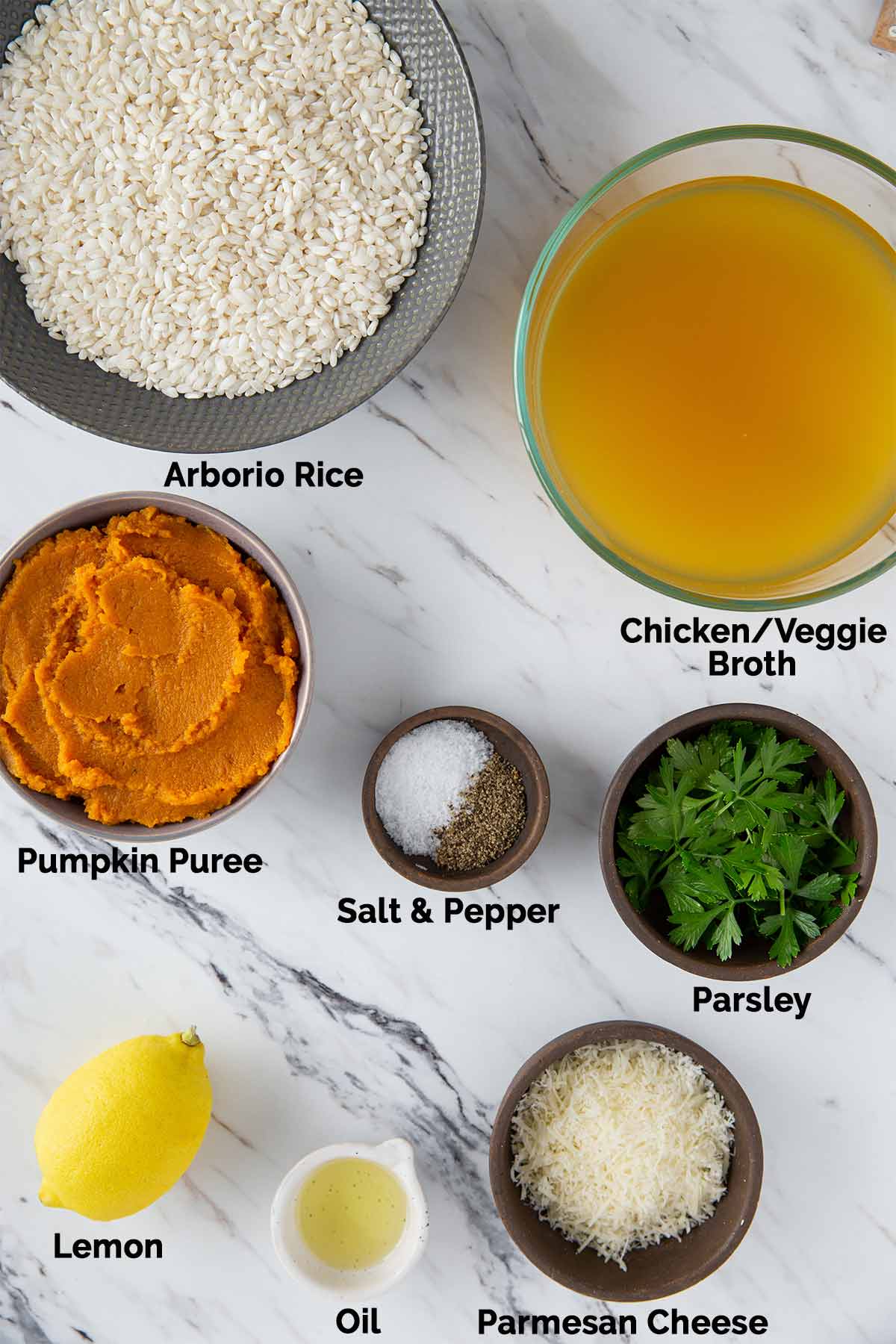 Rice – use arborio rice to prepare risotto. This particular variety of rice is recommended for risotto recipes. The amount of starch in this rice gives a perfect creamy texture to the risotto. Also, it holds its shape pretty well after cooking.

Pump

kin – you can either use pumpkin puree or fresh diced pumpkin pieces. I tried this risotto using both.
Broth – use good quality low sodium chicken broth. If you are vegan/vegetarian, use vegetable broth instead.
Parmesan cheese – it gives a nice nutty flavor to the risotto. You can skip it or use a vegan alternative if you follow a vegan diet.
Gremolata – I use fresh garlic, parsley, lemon zest, and salt to add unique flavors to the pumpkin risotto.
Best pumpkin to use in risotto
The edible pumpkins are ideal for roasting and pureeing, and their deep orange color (such as sugar pie, fairytale, etc.) is perfect for making this Instant Pot pumpkin risotto. Simply, pumpkins that are suitable for making soups and pies will work in this recipe. Peel and dice the pumpkin and then add to the risotto rice before pressure cooking.
You can also use homemade or canned pumpkin puree in risotto, and this will save time on cutting the fruit. This way, you can prepare pumpkin risotto even when pumpkins are not in the season.
Do not use jack-o-lantern pumpkins that are used for carving. These are not suited for cooking.
Can you make risotto with regular rice?
You can use the short-grain variety instead of arborio rice to prepare risotto. I prepared this Instant pot risotto using both types. From my personal experience, regular short-grain rice needs some more water than arborio rice to get the same consistency in the risotto.
How to make instant pot pumpkin risotto?
Cooking risotto rice in Instant Pot
Toast rice in some oil in Instant Pot on saute mode. Add pumpkin puree, salt, and pepper. Mix to combine. Add chicken broth plus water, and mix well. Cover and cook the rice on manual high heat for 6min.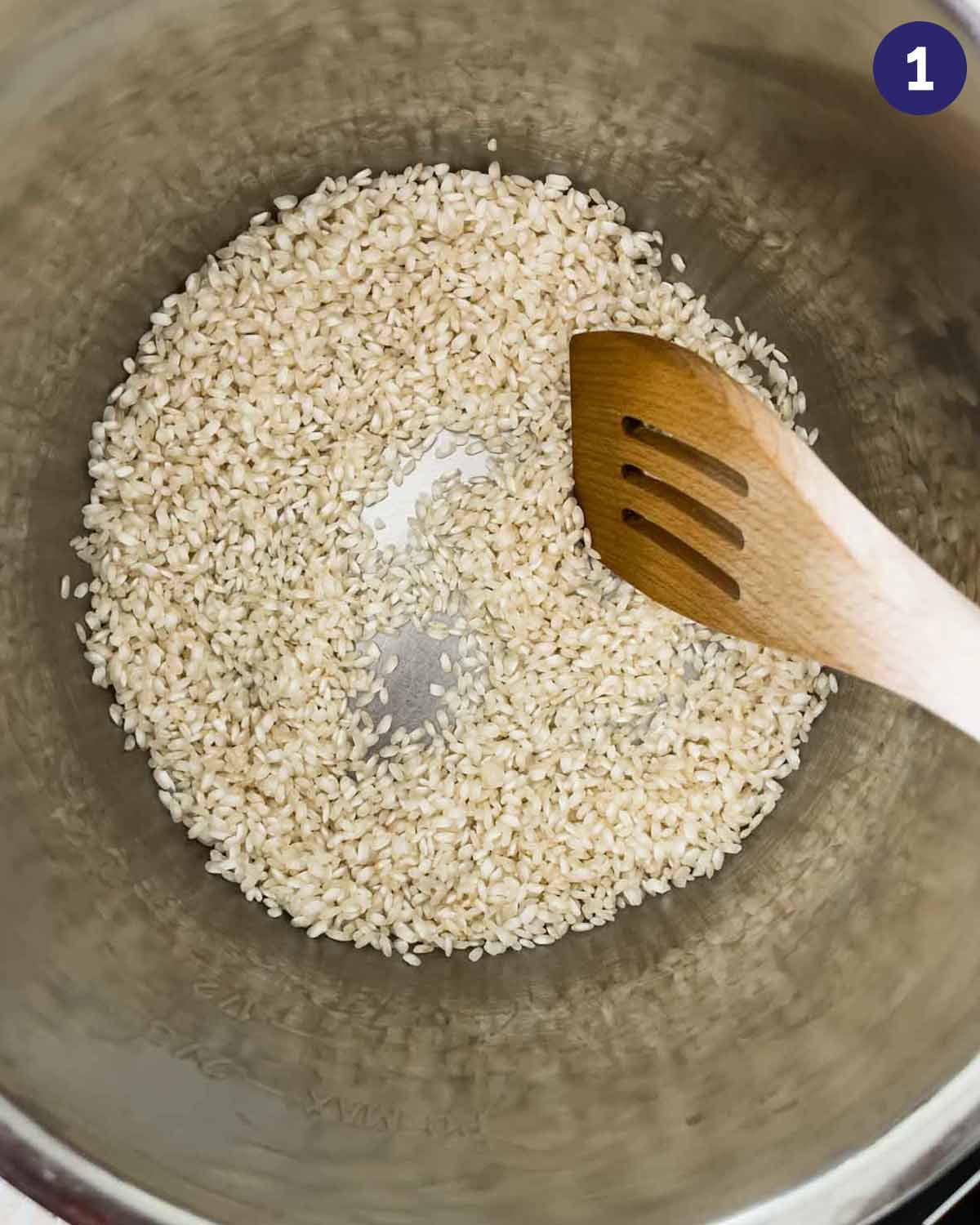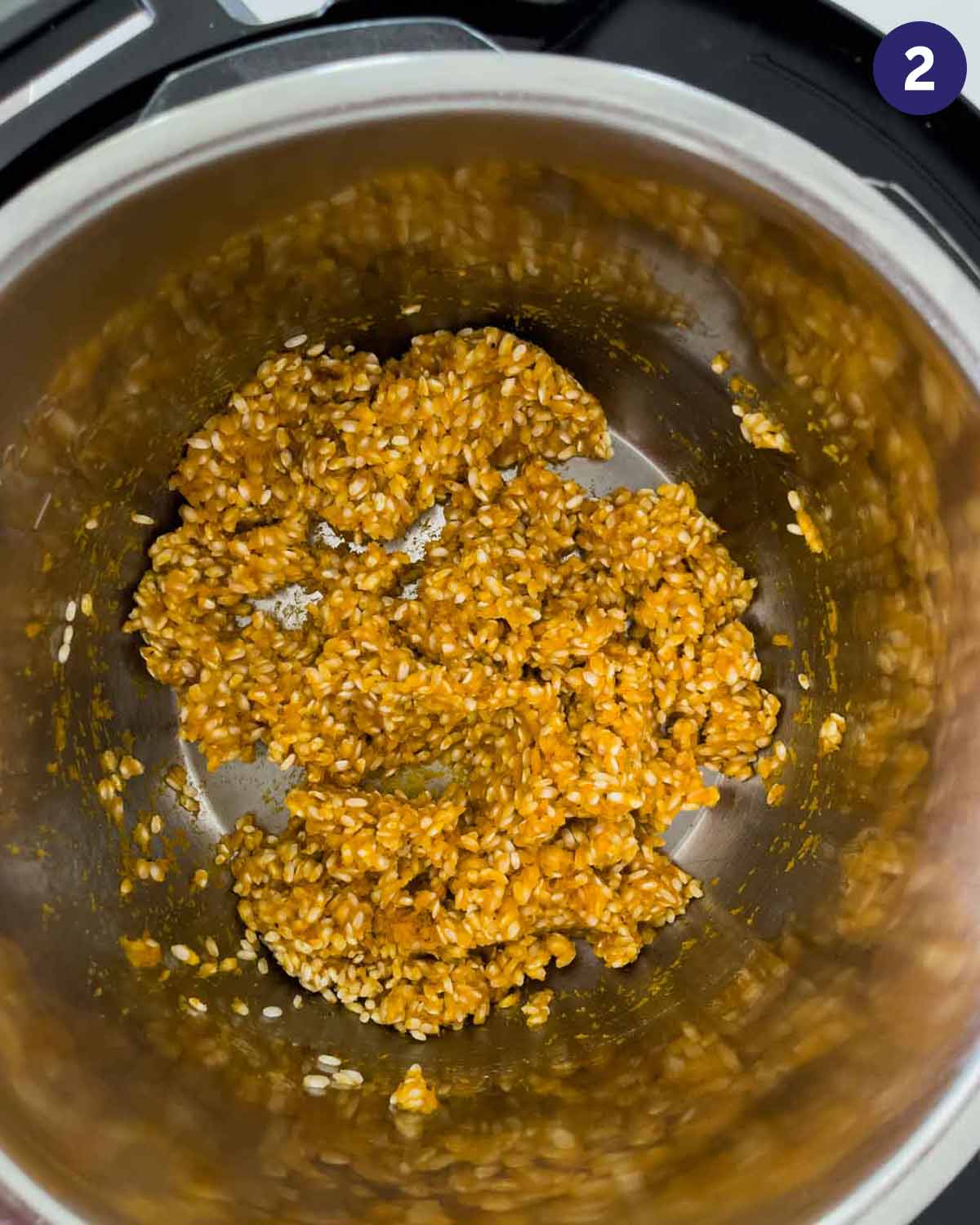 Prepare gremolata
Meanwhile, when the rice is cooking, prepare the gremolata. Take fresh leaves of parsley, garlic clove, and lemon zest on a wooden cutting board, sprinkle some salt and chop everything finely using a large knife (I used the Chef's knife).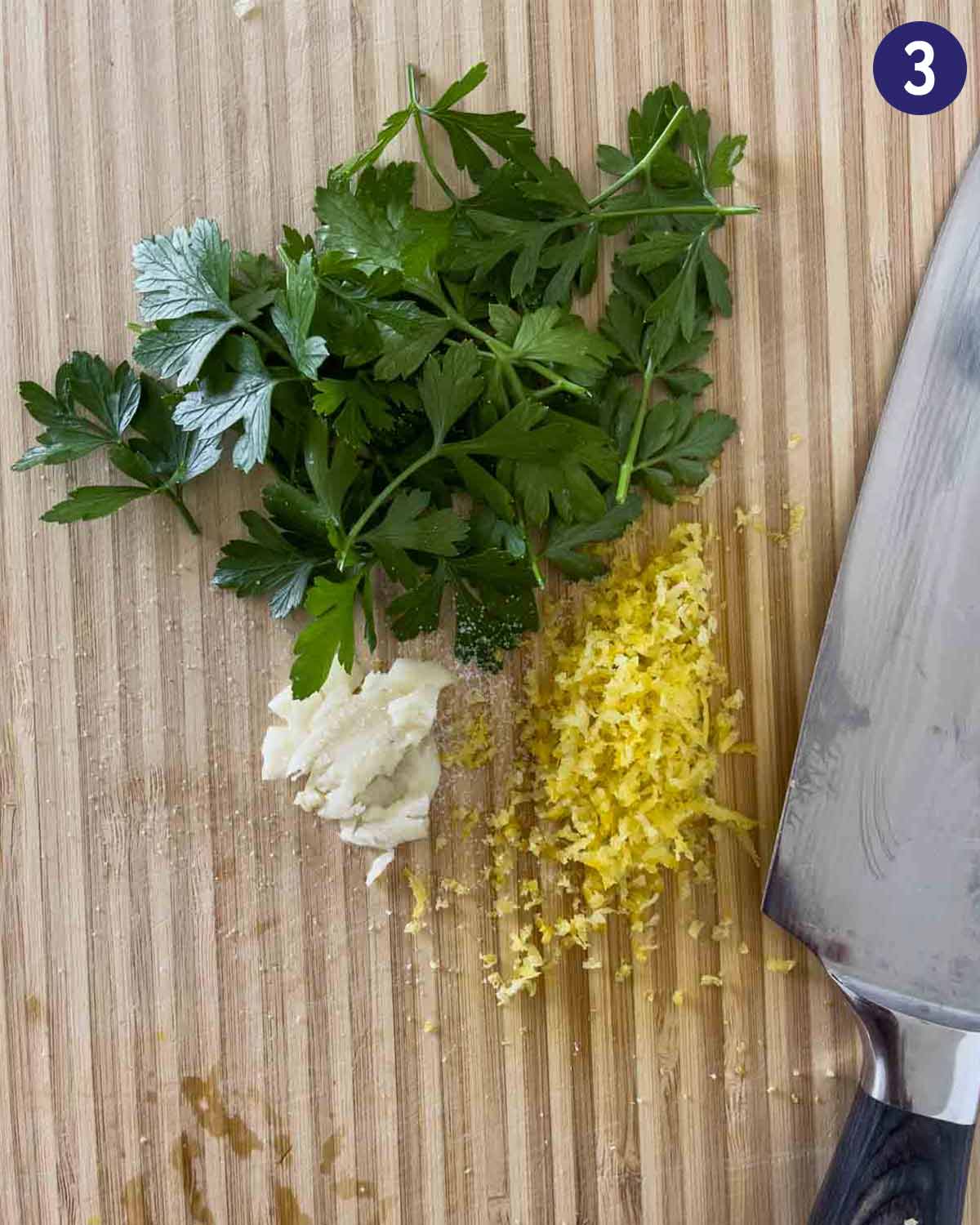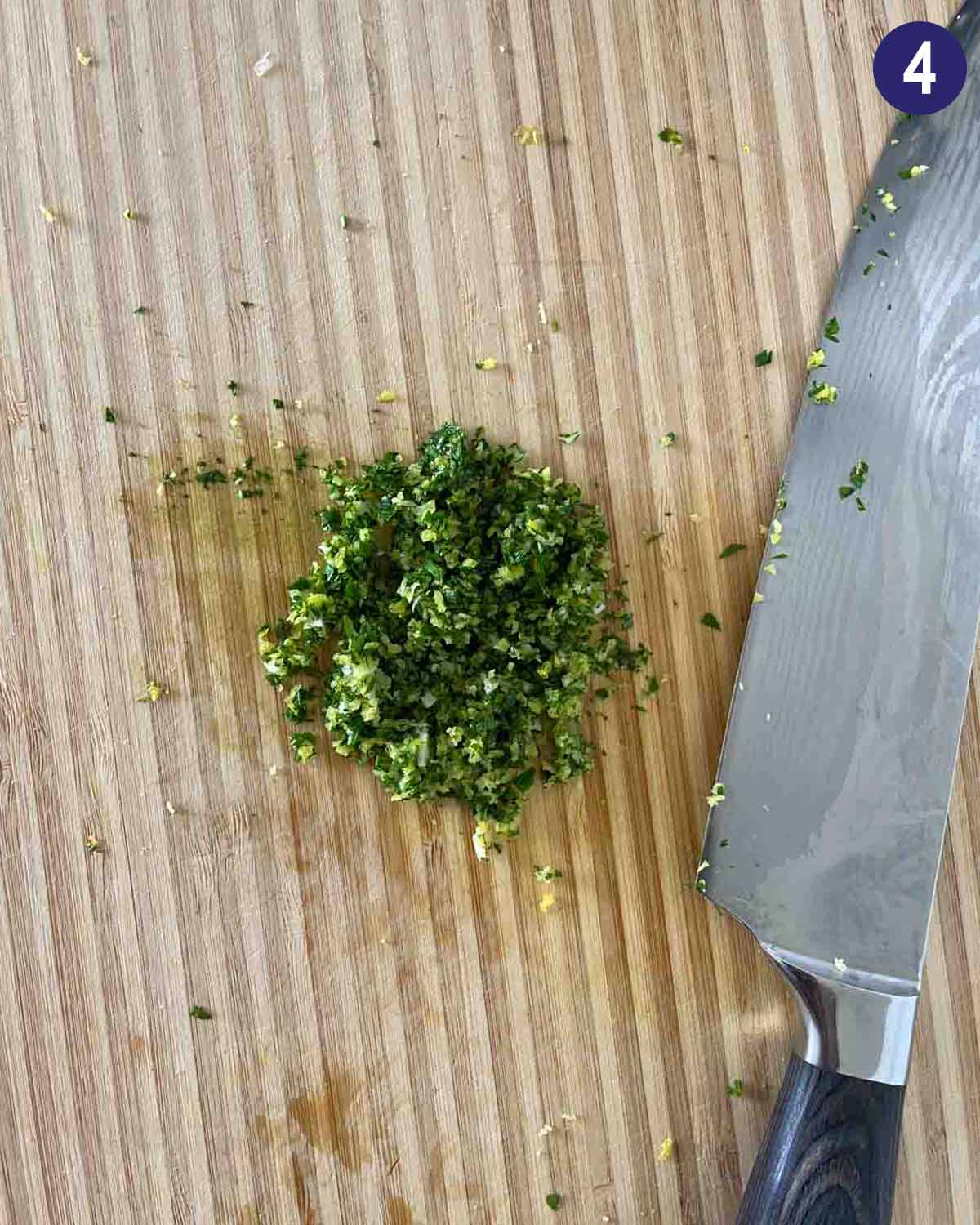 Adding parmesan cheese and flavors, and adjusting the consistency
Let the steam release naturally for 10 min, and then open the vent to release the remaining steam.
Add freshly prepared gremolata and parmesan cheese to flavor the risotto. Also, add more broth if necessary to get the desired consistency. Mix well to combine. Serve warm.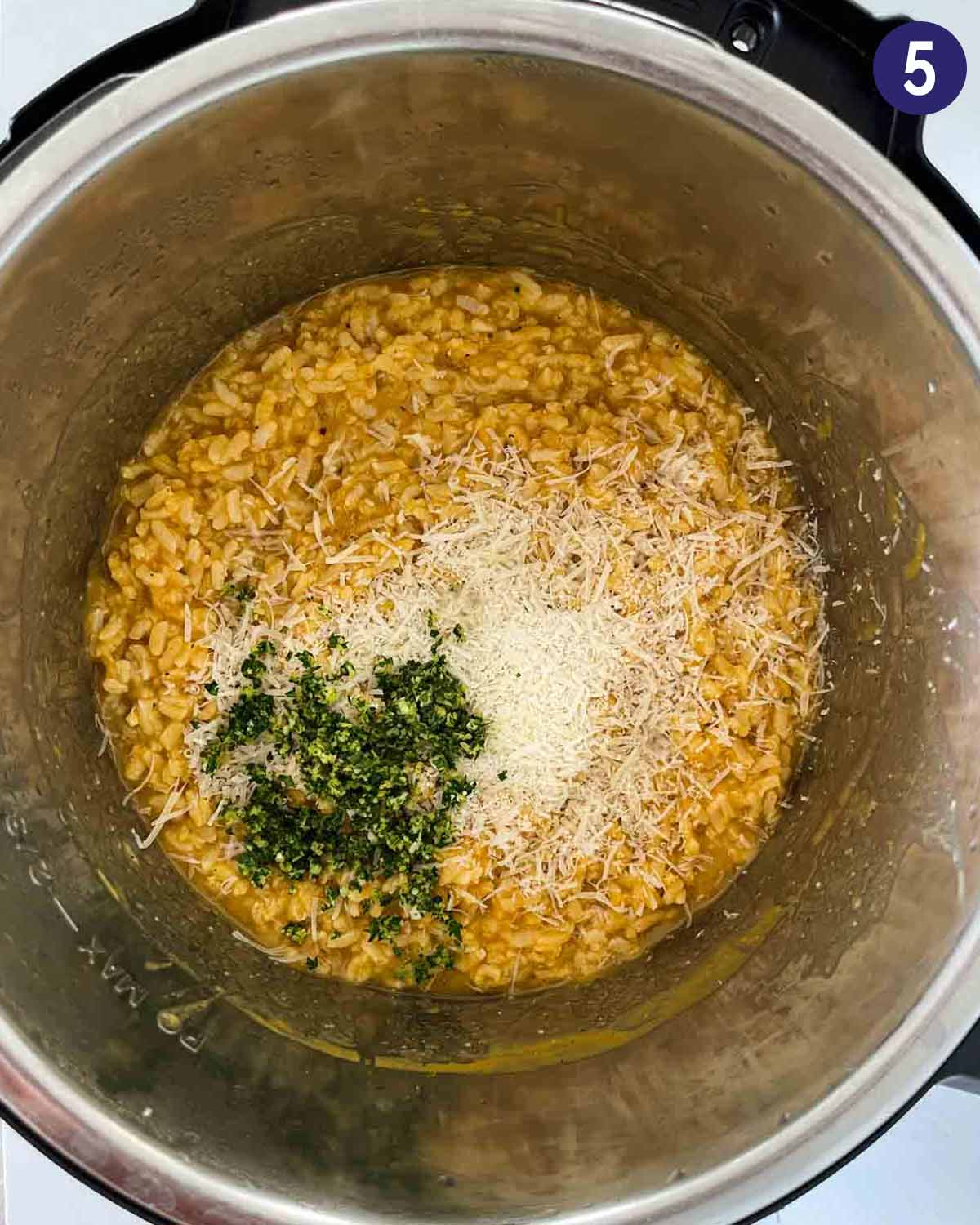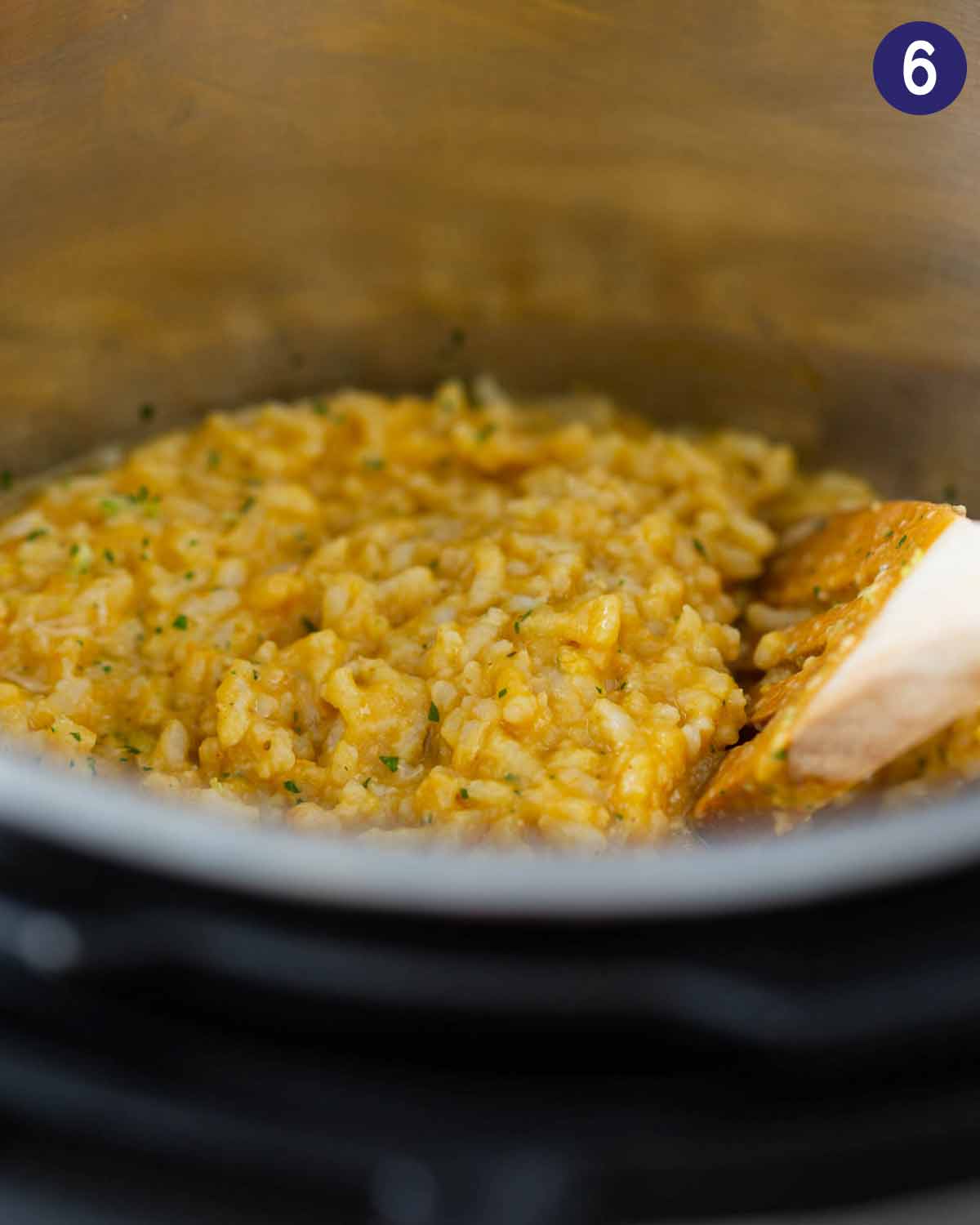 Recipe substitutions/variations
Add onion – saute finely chopped onion in oil before toasting the rice. Then follow the remaining recipe. Or add 1-2 teaspoon onion powder while adding salt and pepper (before pressure cooking).
Mushroom risotto – while pumpkin risotto is cooking in Instant Pot, saute some sliced mushrooms in a skillet separately until they are light brown, and add them once the risotto is done.
Other additions – You can consider adding green peas, pine nuts, etc., to this risotto to make it nutritious.
Use butternut squash – You can replace the pumpkin with butternut squash and follow the recipe. Or try this variation of risotto using oven-roasted butternut squash and quinoa.
Quinoa – you can make risotto using quinoa instead of rice. You will not get the perfect creamy consistency like the classic risotto; however, you still get to enjoy risotto-inspired variation with a healthy grain swap. To prepare, follow this healthy quinoa risotto.
Serving suggestions!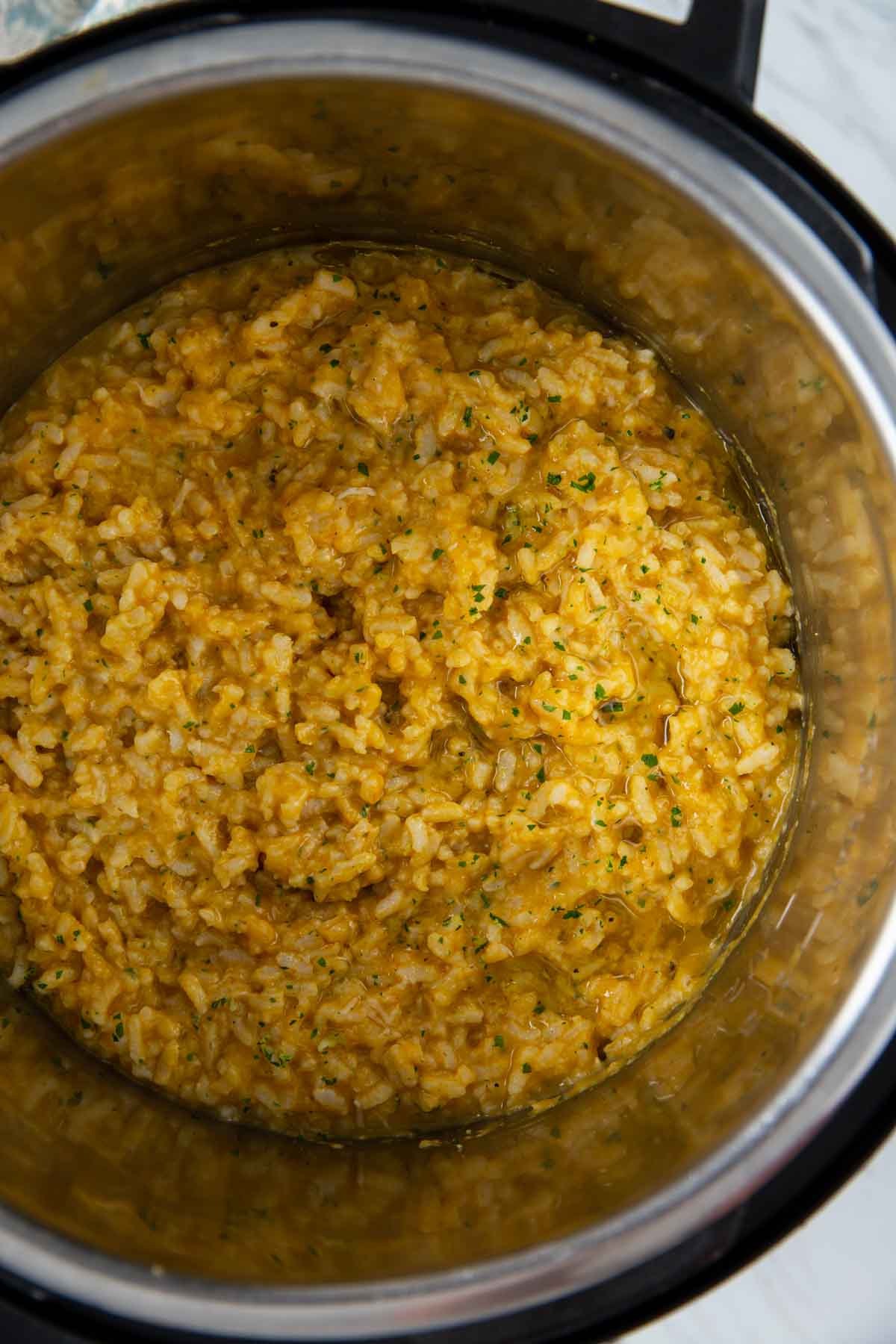 Helpful tips!
Use arborio or carnaroli rice for authentic taste and consistency in this pumpkin risotto.
Do not rinse rice before using it so as to retain the starch on the surface, this makes the risotto more creamy.
Buy good-quality parmesan cheese and avoid getting cheese loaded with preservatives. Getting the right cheese may cost a bit more, but it's worth it.
For added deliciousness, drizzle some brown butter/ghee over the warm risotto while serving. To prepare brown butter, heat some butter in a small pan until it turns golden brown on low heat.
After adding parmesan cheese and gremolata, mix the risotto really well to distribute the flavors evenly.
FAQs
How to store and reheat leftover risotto?
Allow the leftover risotto to cool down completely. Then store it in an air-tight container in the refrigerator for 1-2 days.

Risotto may dry out a bit during storage. Just add some broth and heat it in a skillet until steamy hot, or microwave it for 1-2 min.
Can I freeze the risotto?
I recommend not freezing risotto as it will be difficult to get back to its original consistency upon thawing due to changes in the rice's texture. Also, I avoid storing rice dishes for longer periods of time (>2 days) and prefer eating them fresh.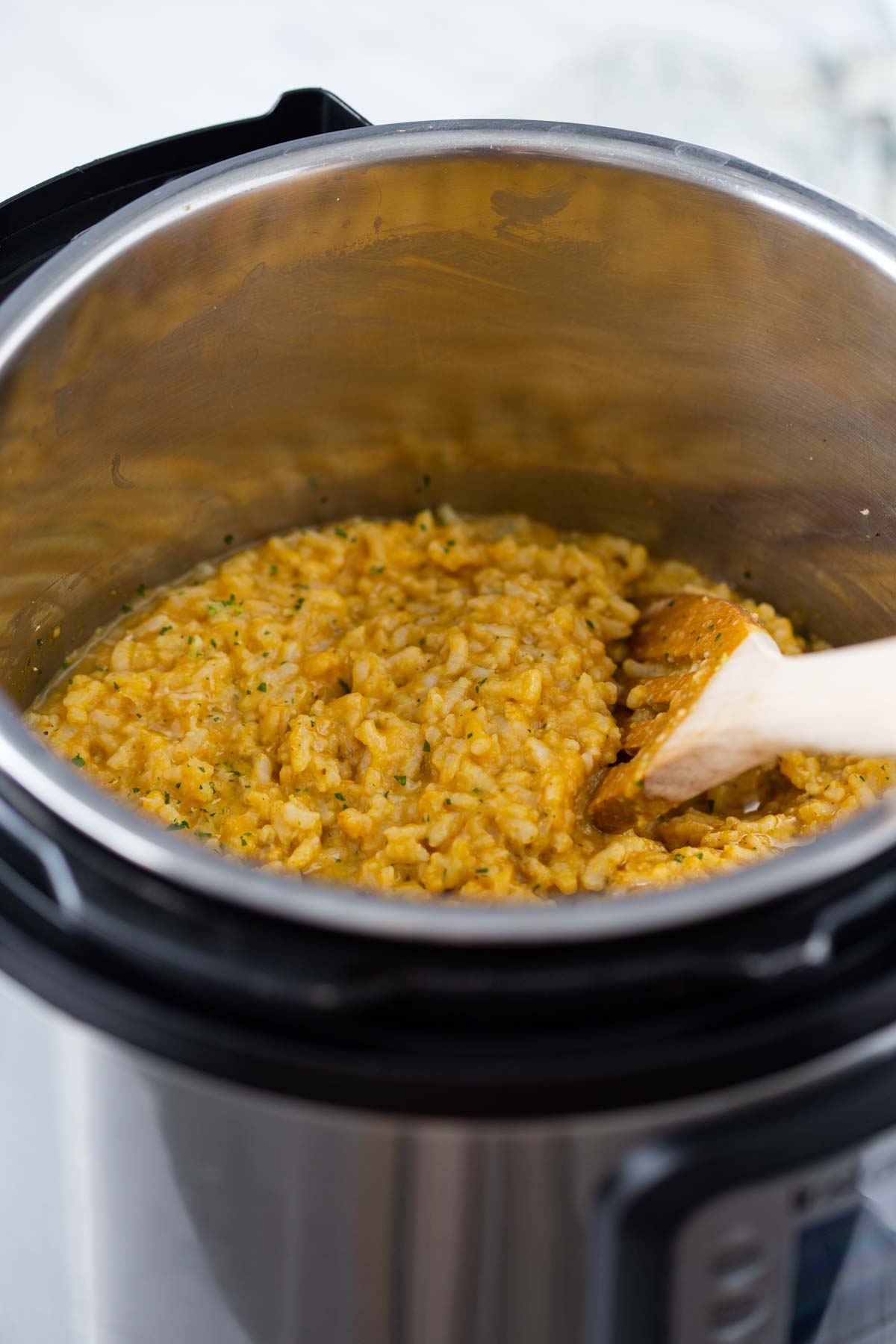 More easy rice recipes
More Instant Pot recipes
Love this recipe? Please leave a 5-star ⭐⭐⭐⭐⭐ rating in the recipe card below & a review in the comments if you REALLY like this recipe. Thank You!
📖 Recipe
Instant Pot Pumpkin Risotto
Make this creamy Instant Pot risotto using either pumpkin puree or fresh pumpkin in under 20 mins. Perfect fall recipe to enjoy pumpkins. Risotto couldn't be easier than this.
Ingredients
1 ½

cup

arborio rice

1

cup

pumpkin puree

2-3

tablespoon

parmesan cheese

3

cups

chicken broth + 2 cups water

use veggie broth if vegan or vegetarian

¼

cup

loosely packed parsley leaves

1

large garlic cloves

1

tablespoon

lemon zest

1

teaspoon

cooking oil

salt and pepper
Optional
1

tablespoon

extra virgin olive oil/brown butter
Instructions
Turn Instant Pot to high saute mode, add cooking oil and rice, and toast it for 1-2 min.

Add pumpkin puree, salt, and pepper; mix well.

Then add a total of 5 cups of chicken/veggie broth plus water and mix everything well.

Turn off the Instant Pot, cover, and then turn it back to manual high pressure for 5 min. Make sure the valve is in the sealing position.

When the cooking time is over, turn off the Instant Pot and let the steam release naturally for 10 min and then release the remaining steam manually.

Meanwhile, prepare gremolata, i.e., finely minced parsley, garlic, and lemon zest with a pinch of salt.

Remove the lid, add parmesan cheese and gremolata (and more broth if necessary and mix it with the rice.

Optionally while serving, drizzle some extra virgin olive oil or brown butter and serve warm.
Notes
Using broth – If you are vegan/vegetarian, use vegetable broth instead of chicken broth. I always use a mixture of water and broth in the recipe. It helps to cut down on the cost, and I never notice the difference in taste.
Unlike other rice dishes, it is advised not to rinse the rice as it helps to get a creamy texture in the risotto.
Risotto consistency – Risotto is slightly flowy and tender in texture; therefore, it needs more water than cooking regular rice. In this case, when you open the Instant Pot after the cooking is over, add more broth if necessary and mix it well with rice. Keep adding the broth and mix simultaneously until you get the desired consistency.
Add gremolata, i.e., a mixture of finely chopped garlic, parsley, and lemon zest, at the end when the risotto is fully ready. This will add fresh and amazing flavors to the risotto. Do not add it before cooking the rice, as it will lose its flavor at high temperatures while cooking.
Nutrition
Calories:
286
kcal
|
Carbohydrates:
62
g
|
Protein:
-19.8
g
|
Fat:
2.9
g
|
Saturated Fat:
0.9
g
|
Fiber:
0.9
g
|
Sugar:
1.1
g
Tried this recipe?
Tag us on Instagram @watchwhatueat or tag #watchwhatueat! OR leave us a comment & rating below. Your feedback is very important to us.