This super easy and quick garlic salmon in tomato sauce is perfect to pair with plain rice or grits or pasta. Your meal will be ready to serve in under 30 minutes.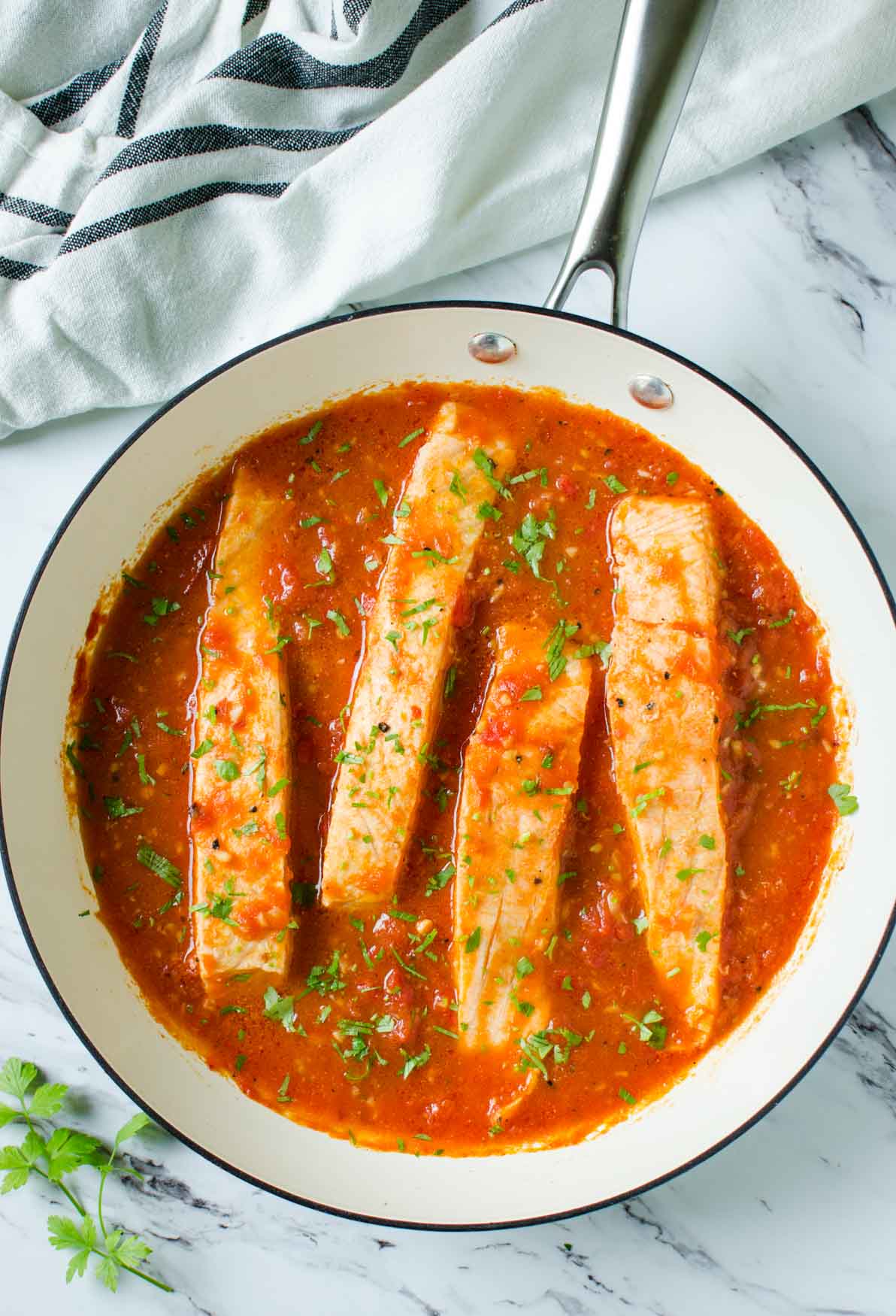 Happy New Year Guys!!
I know it's almost the end of January, and I am wishing you all so late. I was in India on a long vacation and came back last week.
It was truly an amazing trip. And the most beautiful part of our trip was the Christmas celebrations. We celebrated Christmas at Ganapatipule, India. It is one of the most beautiful places on the western shore of India. In Sahaja Yoga, this place has special importance. Thousands of yogis (Sahaja Yoga practitioners) from around the world gather here to attend the International Sahaja yoga Christmas Seminar every year. And last year, we were fortunate to be part of the event!
Another thing I loved about my trip to India this time was getting away for one and a half months from the winter here in upstate New York. I can't write enough about this trip. I guess it will need a separate article.
Let's get back to our recipe for now – Salmon in tomato sauce.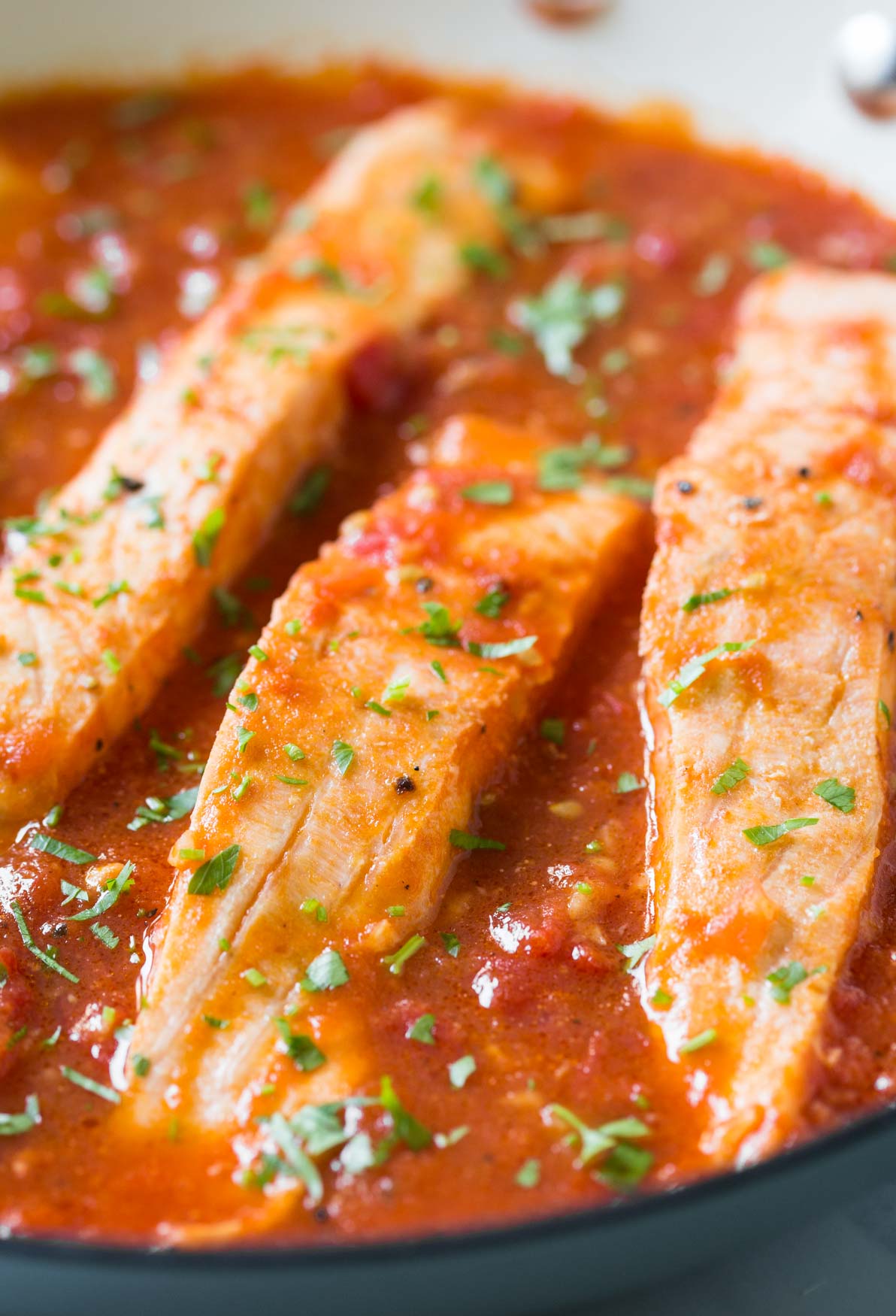 Salmon in Tomato Sauce
Use fresh tomatoes to prepare the base of the sauce. Just cook them with fresh garlic. When you get it to a sauce-like consistency, add salmon fillets and cook until well done. Salt, pepper, and paprika are enough to season this dish–so convenient, right?.
Serve warm on the side of pasta or pasta salad or plain rice. It even goes well with plain creamy grits.
Helpful Tips!!
Salmon – Use organic fish whenever possible. Also, always buy fresh or frozen seafood from sources that follow the standards of sustainable farming.
If you are using frozen salmon, then thaw it well in advance before making the dish. I mean that you allow enough time for the fish to thaw naturally.
Use fresh tomatoes instead of canned ones. Though canned tomatoes are very convenient to use, fresh tomatoes give a very nice aroma and taste to the dish.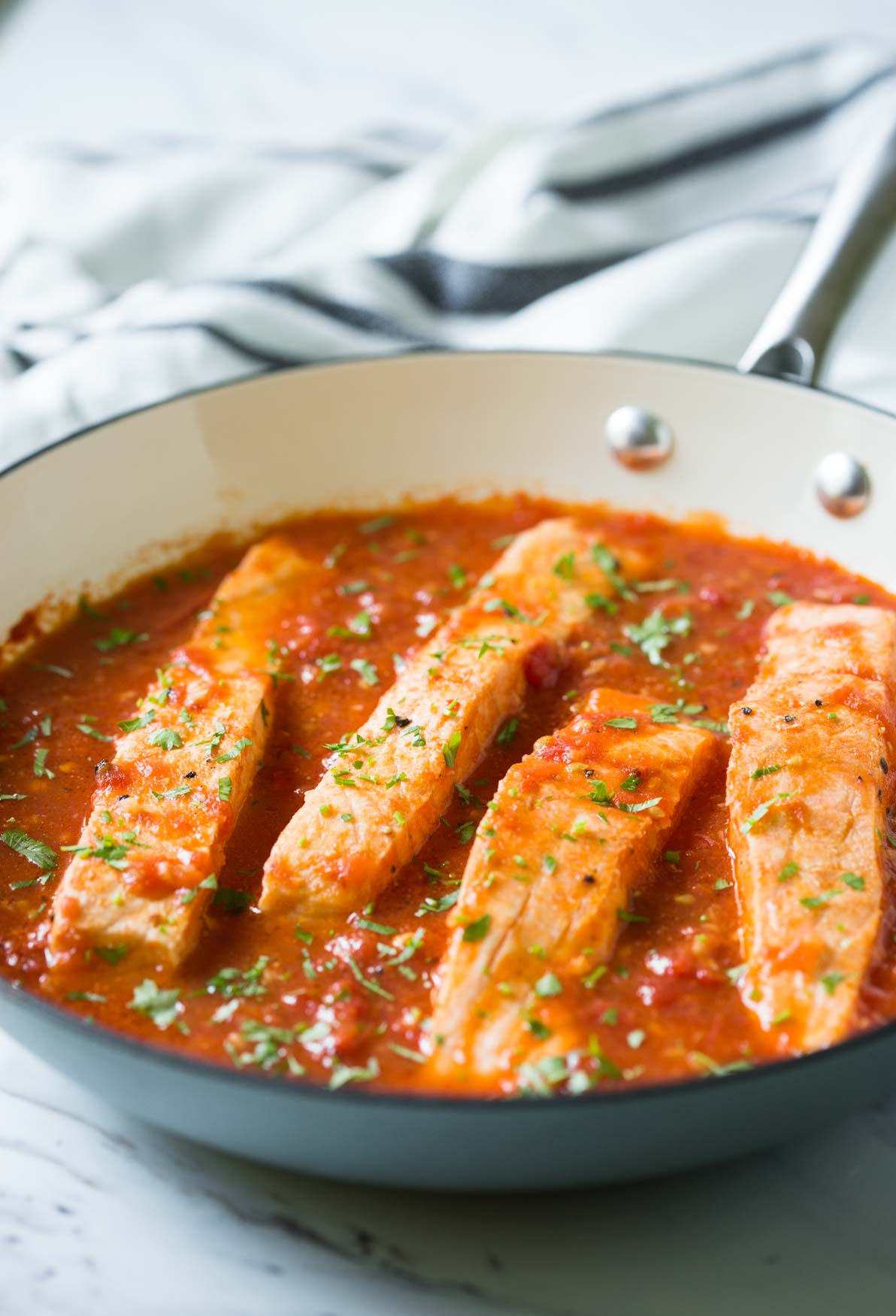 More Seafood Recipes You Will Love to Try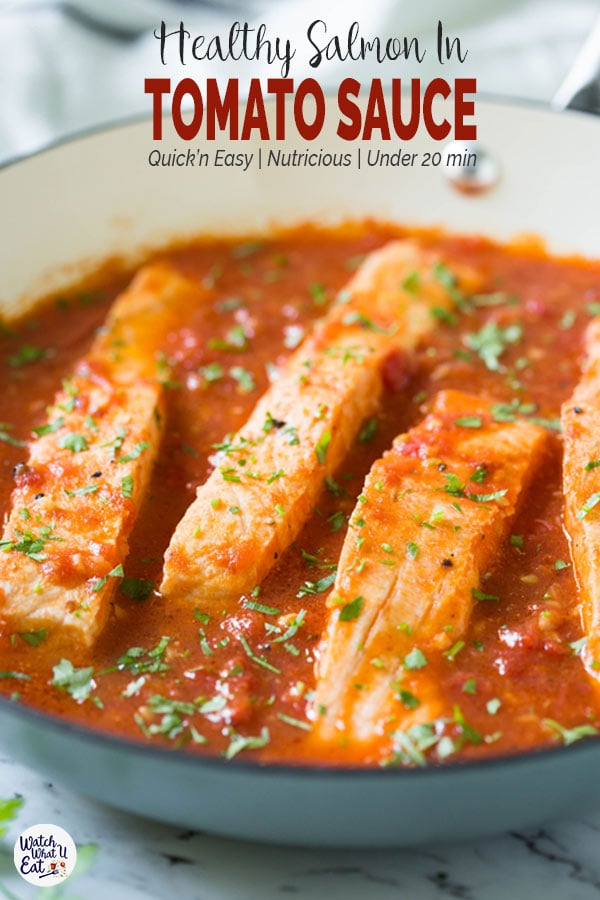 Quick and Easy Garlic Salmon in Tomato Sauce
This super easy and quick garlic salmon in tomato sauce is perfect to pair with plain rice or grits or pasta. Your meal will be ready to serve in under 30 minutes.
Ingredients
Instructions
Heat oil in a skillet on medium heat.

Add minced garlic and cook for a few seconds.

Then add tomato, paprika (optional) and cook 7-8 min. or until softens.

Add water and bring mixture to boil. Season with salt and pepper.

Place salmon fillets in the sauce and cook for about 2-3 min. Flip the salmon and cook for another 2-3 min.

Finally, garnish with chopped fresh parsley and serve warm.
Notes
In this recipe, I used frozen salmon. I thawed it naturally and then cut into total 4 small fillets.
Mash tomatoes once soft and before adding salmon to get a nice and smooth consistency of the sauce. You can use the back of a wooden spatula for this job.
Cook the sauce until you get desired consistency.
Nutrition
Calories:
175
kcal
|
Carbohydrates:
7.8
g
|
Protein:
26.4
g
|
Fat:
5.1
g
|
Saturated Fat:
0.9
g
|
Cholesterol:
69
mg
|
Potassium:
908
mg
|
Fiber:
2.4
g
|
Sugar:
4.9
g
Tried this recipe?
Tag us on Instagram @watchwhatueat or tag #watchwhatueat! OR leave us a comment & rating below. Your feedback is very important to us.
This post contains affiliate links. For more information on our Affiliate and Advertising Policy, please click here.