Make this super easy and healthy Vegetable Thai Fried Rice using a variety of fresh veggies and aromatic jasmine rice with Thai style sauce. It is a perfect wholesome fried rice recipe for making a quick dinner or lunch.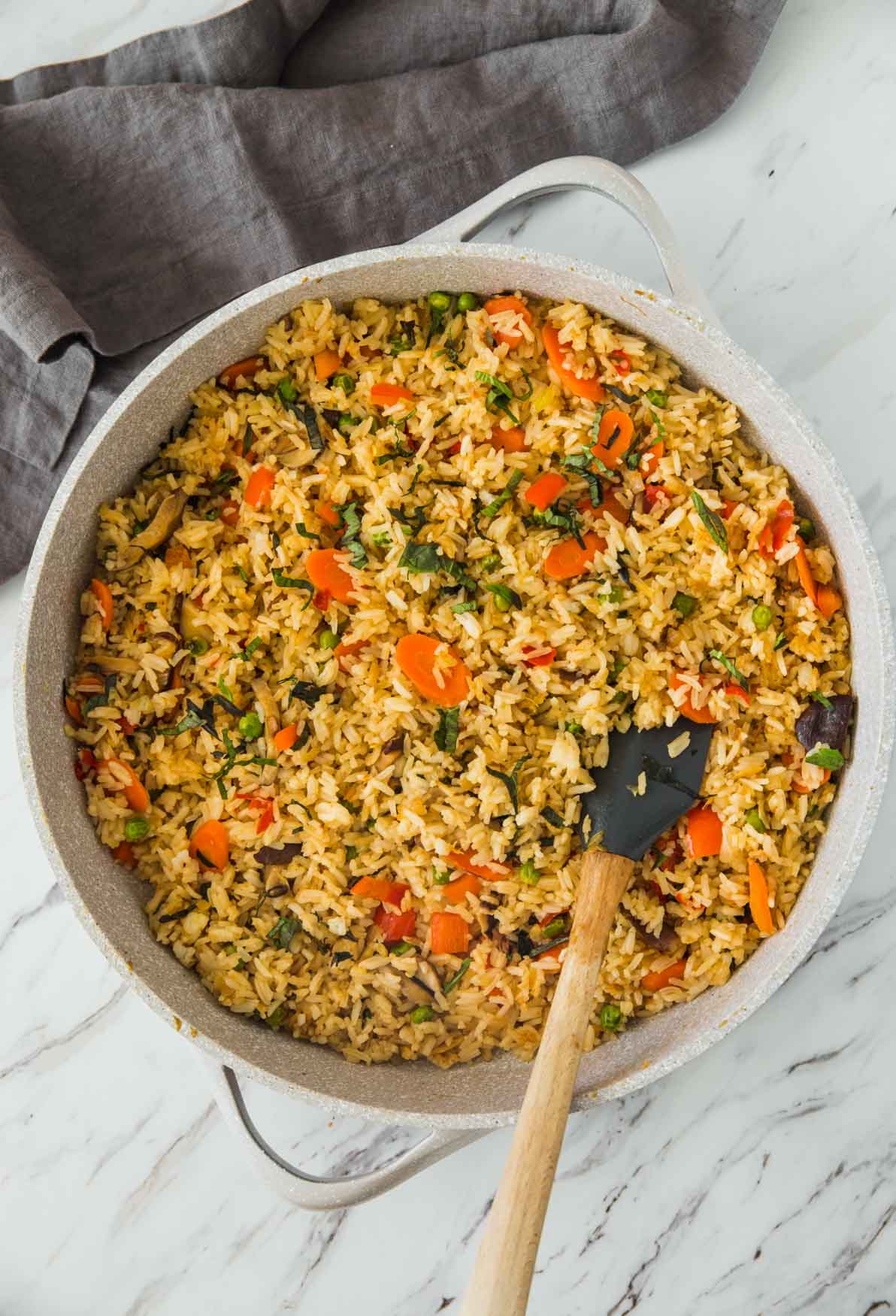 Have you tried drunken noodles in Thai restaurants? If you love the flavors in it, then you will enjoy this homemade Thai style fried rice. This dish is slightly different from Chinese fried rice.
In the past few months, I have made it several times for our picnic potlucks, meditation gatherings and of course for our weeknight dinners. It took a long time to make it happen on this website though, but finally, we have it for you all!
Jump to:
Ingredients
Rice – use aromatic brown or white jasmine rice.
Thai fried rice sauce – use a blend of soy sauce, fish sauce, oyster sauce, rice vinegar, and little honey to flavor the dish.
Veggies – dice carrot, bell peppers, mushrooms, etc., into small pieces. I also use green peas.
Shallot or small onion – dice into small pieces.
Garlic, ginger, and Thai red chili – Mash or chop them finely.
Cooking oil – Most of the time, I use olive oil for cooking. You can also use sesame oil in this recipe.
Thai basil – use a generous amount of fresh Thai basil leaves for the authentic flavors.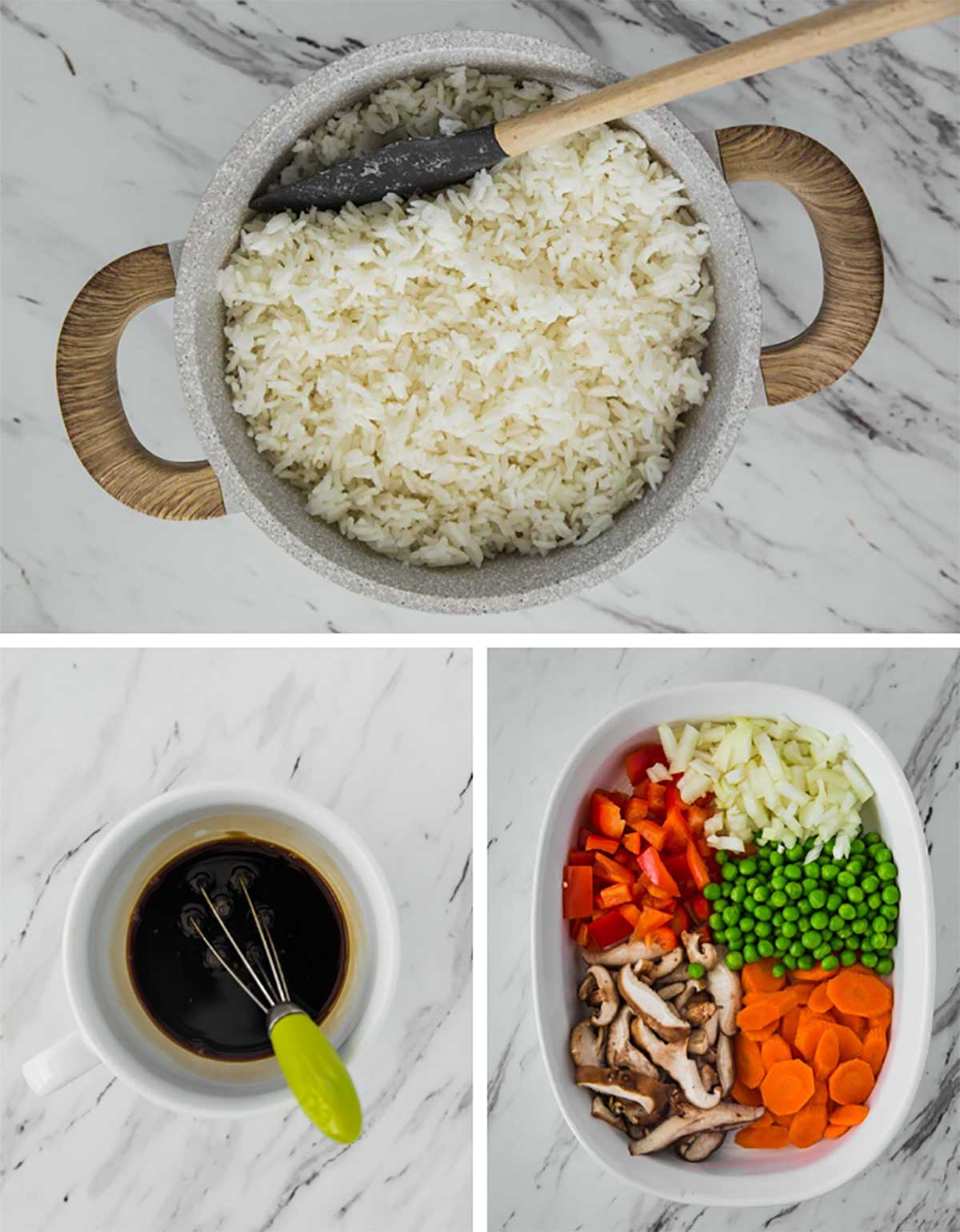 How To Make Vegetable Thai fried rice?
Cooking Rice:
Cook brown or white jasmine rice according to package instructions. Preferably cook the rice well in advance and allow it to cool or keep it in the refrigerator to chill. Cold rice works perfectly well in making fried rice recipes. Leftover rice also works better if you have them.
Thai Fried Rice Sauce:
In a small mixing bowl, combine oyster sauce, soy sauce, fish sauce, rice vinegar, and some honey. Mix everything well and keep it aside.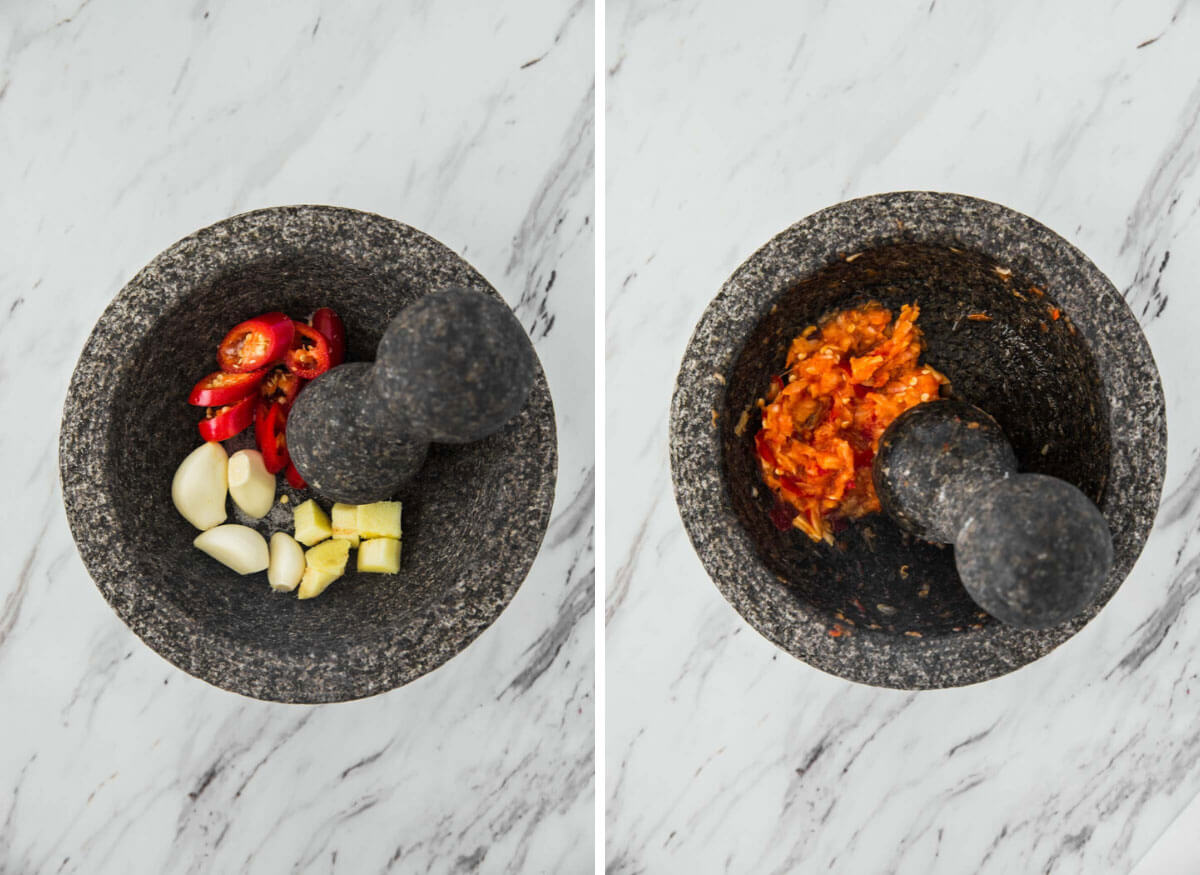 Cooking Veggies and Rice
Cook mashed fresh garlic, ginger, and Thai red chili in some oil in a large skillet on medium heat. Then add diced vegetables, green peas and cook them until they soften. Pour in prepared sauce blend and mix everything well. Now add cooked cold or chilled rice and mix well to coat the sauce evenly with the rice. Finally, add fresh Thai basil leaves for the added flavors. Serve warm.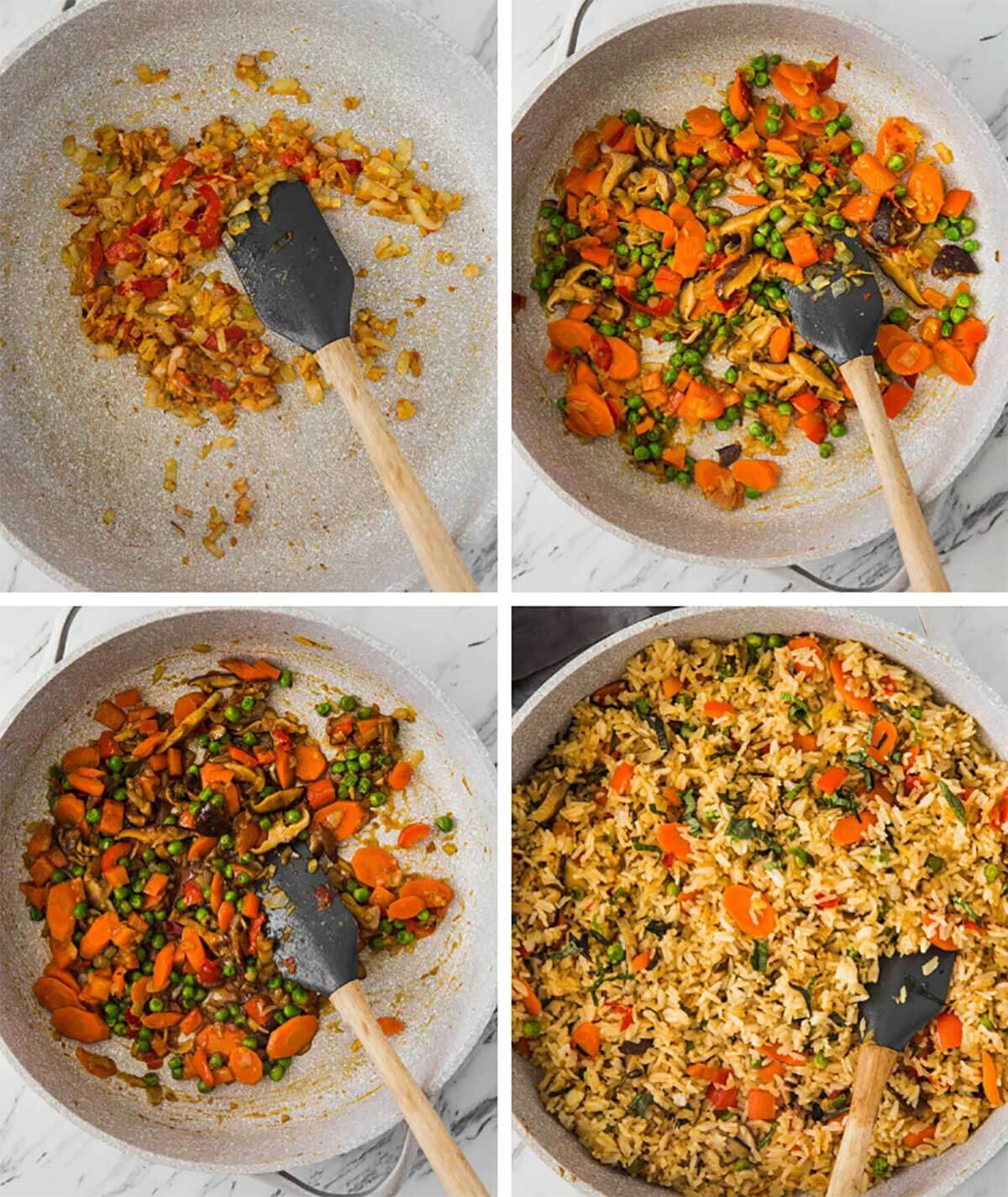 Serving suggestions
You can serve this vegetarian Thai fried rice warm with some lemon wedges, fresh cucumber slices, and thinly cut cabbage threads on the side. That's how they serve rice or noodles in Thai restaurants.
Or pair this dish with chili garlic tofu for added protein content.
Helpful Tips!
Cook the Jasmine rice well in advance and let it cool before using in the recipe. This way, you can get nice fluffy rice without breaking the grains. When the rice is cold, the grains separate easily and mix well with the Thai sauce blend and vegetables.
Cut all the vegetables into equal sizes so that they cook evenly. You can keep them crunchy or cook until tender as per your preference.
Use a generous amount of fresh Thai basil leaves. This is a key ingredient that adds a lot of flavors into this rice dish.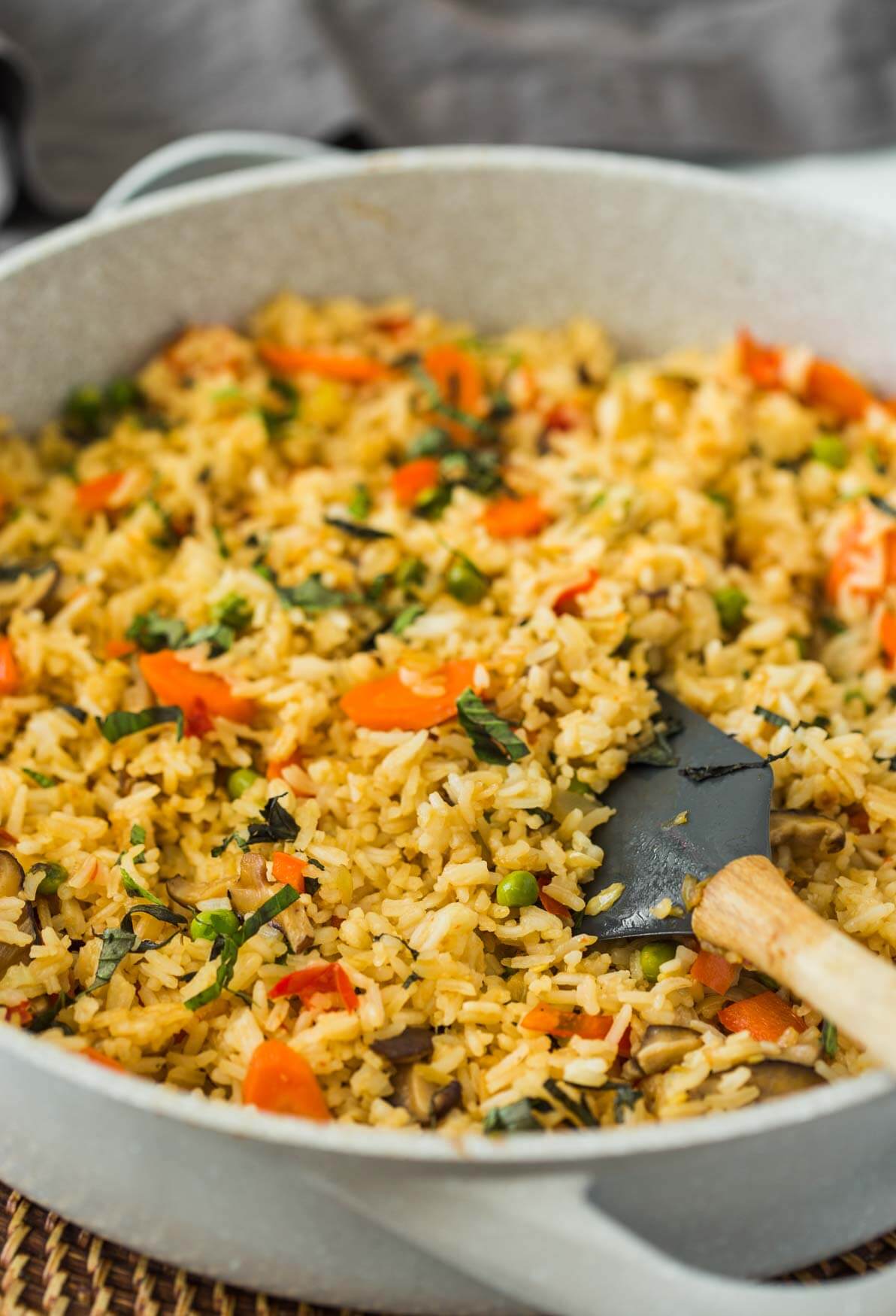 Recipe Variations
Thai fried rice with egg
Once the vegetables are cooked with fish sauce blend, make some space in the pan and cook eggs on one side of veggies. Once the eggs are done, mix them with veggies in the pan and then add cooked rice.
Or you can also cook eggs with some oil in a separate frying pan. Then mix this scrambled eggs with prepared fried rice.
Tofu Fried Rice
Cut extra-firm tofu into bite-size pieces. Then stir-fry them in little oil and add it to the prepared fried rice to make it a more filling dish.
Chicken Thai Fried Rice
You can cut the chicken into bite-size pieces, cook them in some oil until they are well done, and then add into the fried rice.
Seafood Fried Rice
Use a variety of seafood like shrimp, fish, or scallops in this rice dish to make it rich in omega-3 fatty acids and proteins. Just cook them to perfection before adding into the rice.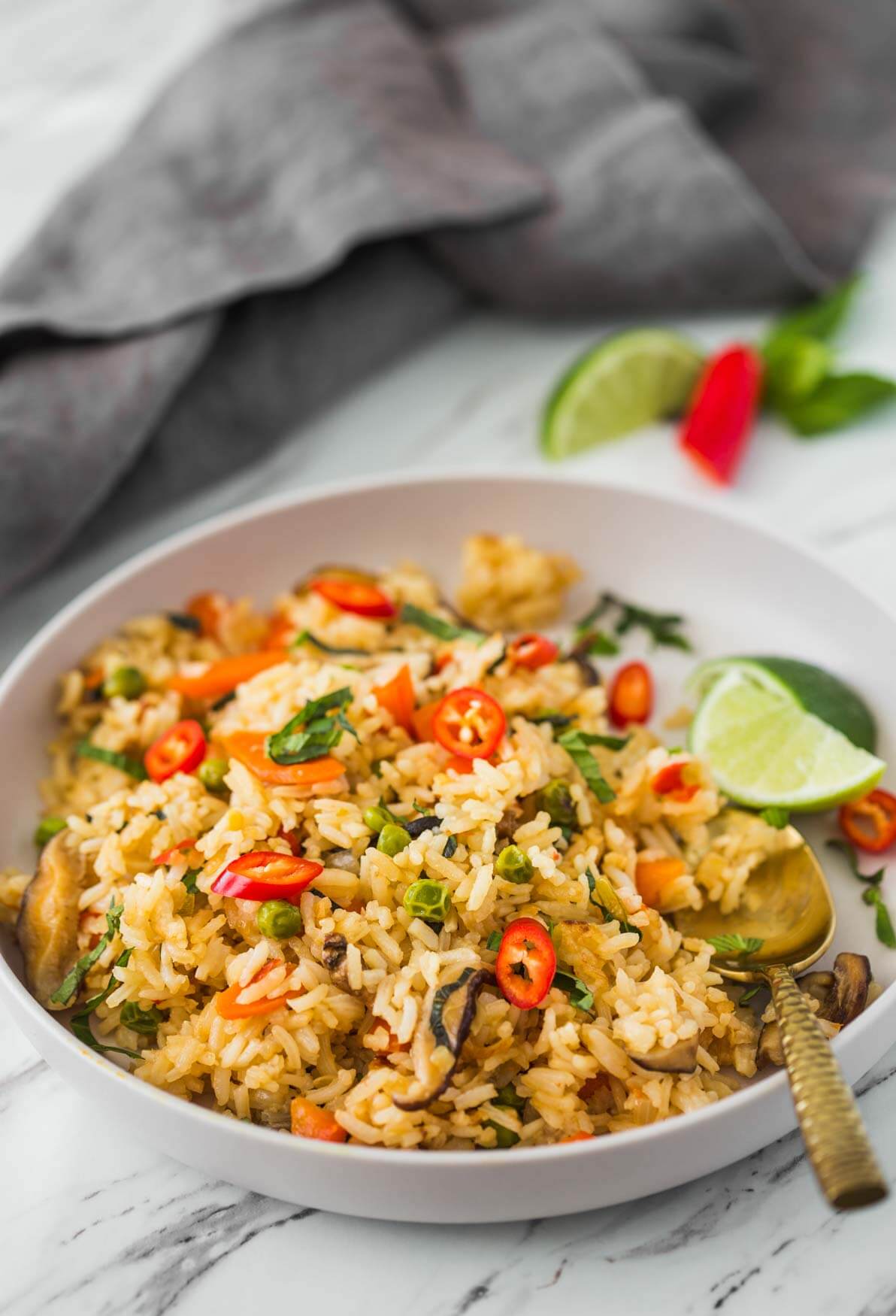 Best kind of rice to use in Thai fried rice?
Usually, aromatic Jasmine Rice is the prime choice for making Thai Fried Rice. It also comes in brown rice variety, if you prefer.
Precooked or Leftover Rice Vs. Fresh Rice?
For making any kind of fried rice precooked, cold and slightly dried rice or leftover rice works best. Because precooked rice does not stick to the pan and makes the dish more fluffy.
However, you can still use freshly cooked rice to make this dish. Although, it will take some time to mix the rice and sauce properly. Also, fresh and soft rice breaks easily while stirring. Despite this, fresh rice gives a more delicious and fresh taste, which I always prefer. Because fresh rice is easy to digest and does not put pressure on our stomach.
Difference between Chinese fried rice and Thai fried rice
The key difference is that Chinese fried rice uses only soy sauce to flavor the dish while Thai fried rice is flavored using fish sauce and fresh Thai basil leaves in addition to soy sauce.
In my recipe, I also love to use the oyster sauce for added deliciousness.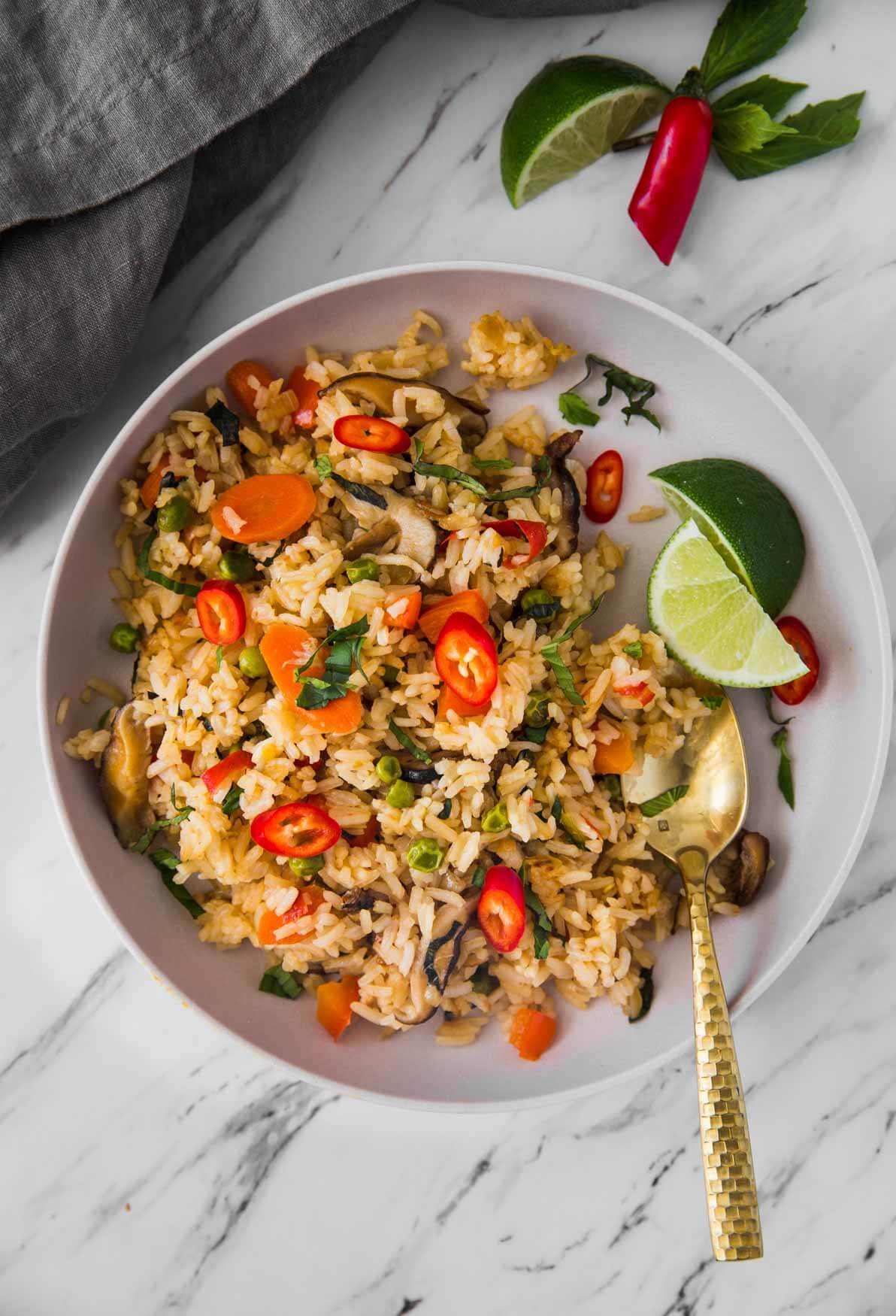 You will also love these Asian recipes
Love this recipe? Please leave a 5-star ⭐⭐⭐⭐⭐ rating in the recipe card below & a review in the comments if you REALLY like this recipe. Thank You!
📖 Recipe
Healthy Vegetable Thai Fried Rice
Thai fried rice prepared using colorful vegetables and aromatic jasmine rice. Make it using white rice or brown rice for a wholesome lunch or dinner. 
Ingredients
Veggies
1

small onion

finely chopped

2

medium

carrots

peeled and sliced

½

red bell pepper

diced

½

cup

green peas

1

cup

sliced shitake mushroom

1

Thai red chili

3-4

whole

garlic cloves

peeled

1"

ginger

peeled

1

tablespoon

cooking oil

salt to taste

1

cup

fresh Thai basil chopped
Instructions
Cook rice according to instructions given on the package. Let it cool.

In a small mixing bowl, combine oyster sauce, soy sauce, fish sauce, honey, and vinegar. Mix well and keep it aside.

In a molcajete, mash Thai red chili, garlic cloves, and ginger (or finely chop them or use a mini food processor).

Heat oil in a large frying pan or wok on medium to high heat. Add mashed chili, garlic, ginger, and cook for a min or so.

Then add onion and cook until translucent.

Add diced carrot, pepper, green peas, and mushroom and cook them for 2-3 min.

Then add prepared sauce blend and mix well.

Now add cooked rice and combine well with veggies and sauce. Add salt if necessary.

Finally, add chopped fresh Thai basil leaves and serve warm.
Notes
Cook rice well in advance and let it cool down completely before adding them to the veggies. Leftover rice will also work great in such recipes. Gently fluff the rice using a fork to separate the grains before adding them into the pan or wok.
You can taste test at the end and add more oyster sauce or soy sauce according to your preference. I always tend to add less soy sauce in my recipes to keep the sodium content down.
Be generous in adding Thai basil leaves that make this rice distinct and flavorful.
For additional tips, read the Helpful Tips section above.
Nutrition
Tried this recipe?
Tag us on Instagram @watchwhatueat or tag #watchwhatueat! OR leave us a comment & rating below. Your feedback is very important to us.