In this article, I will be sharing my ideas for buying healthy food to stock up the pantry during the quarantine period. If you purchase the items thoughtfully, then you will not end up piling stuffs that you won't end up using.
Helpful Tips!
Only buy those items that you know you will use. Don't be stressed–just think twice if you really need it.
Do not buy things just because others are buying it. If it is really necessary and you need it then only go for it.
Consider stocking up food for at least 2-3 weeks or more given the situation in your country or state or city.
How To Stock Up Healthy Food for Quarantine Time?
This is a general list of food ingredients to stock up the pantry which I use in most of my recipes. This will give you an idea to help make your shopping list to prepare for the upcoming time.
1. Dry and Raw Food:
Beans and Lentils: Buy dried items like black beans, chickpeas, mung beans, pinto bins, and whole lentils according to your preference. You can easily soak and cook them on the stovetop or in the Instant Pot.
Rice: Buy a variety of rice that you always cook with—for example, white rice, brown rice, Jasmine rice or wild rice, etc.
Flour: Get whole wheat flour, all-purpose flour (essential for baking), oats flour, etc. I always use whole wheat flour, finger millet flour (Ragi flour) for making chapatis or homemade naans. This is a must for our kitchen.
Quinoa, Buckwheat, Couscous, Bulger Wheat: These are perfect options for eating whole grains.
Premade Pasta: Buy brown rice pasta or lentil pasta or whole wheat pasta for making wholesome pasta dishes. And these are perfect for cooking when you don't have much time.
Noodles – get soba noodles, ramen noodles, pad thai noodles, etc for making soups or Asian noodle dishes. For example, you can make pad thai noodles, soba noodle soup, spring roll salad bowl etc.
These are the food items you can easily cook with if you don't have any fresh produce or if you can't go to a grocery store for any reason.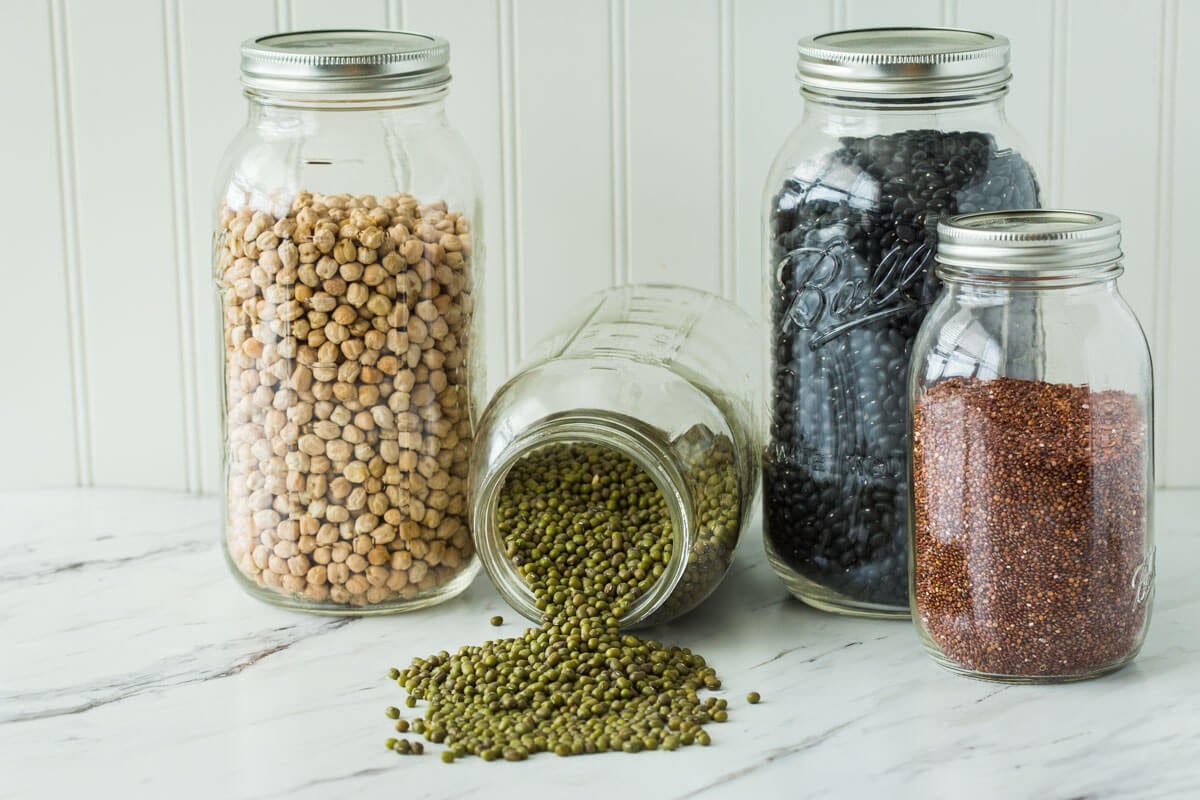 2. Dairy:
Milk: Buy organic pasture-raised whole milk in Tetrapaks as they have a longer shelf life.
Butter: Buy the butter that comes in individually wrapped sticks. You can freeze extra sticks if need be.
Cheese: Get the shredded cheese which you can freeze and use later.
Parmesan Cheese: Usually, parmesan cheese has a long shelf life. You can also shred and freeze it.
3. Meat and Seafood:
Eggs: This is a very versatile ingredient. From making breakfast to dinner and of course in baking, you can't go wrong with them. Having extra of them will always be a good idea. They have a shelf life of several weeks.
Meat: You can freeze the fresh chicken or any other meat. Keep some in the fridge to use for the initial few days and freeze the remaining ones.
Seafood: Seafood is one item that has a very short shelf life. Therefore, instead of buying fresh seafood get frozen items like shrimp, scallop, tilapia, etc. as per your likings.
4. Frozen Items:
Seafood – Buy a variety of frozen seafood like shrimp, scallops, salmon or tilapia
Vegetables and fruits – you can purchase frozen spinach, green beans, green peas, corn kernels, kale, peppers, frozen berries, etc that can last a few weeks in the freezer.
Ice-creams – for those times when you want to treat yourself 🙂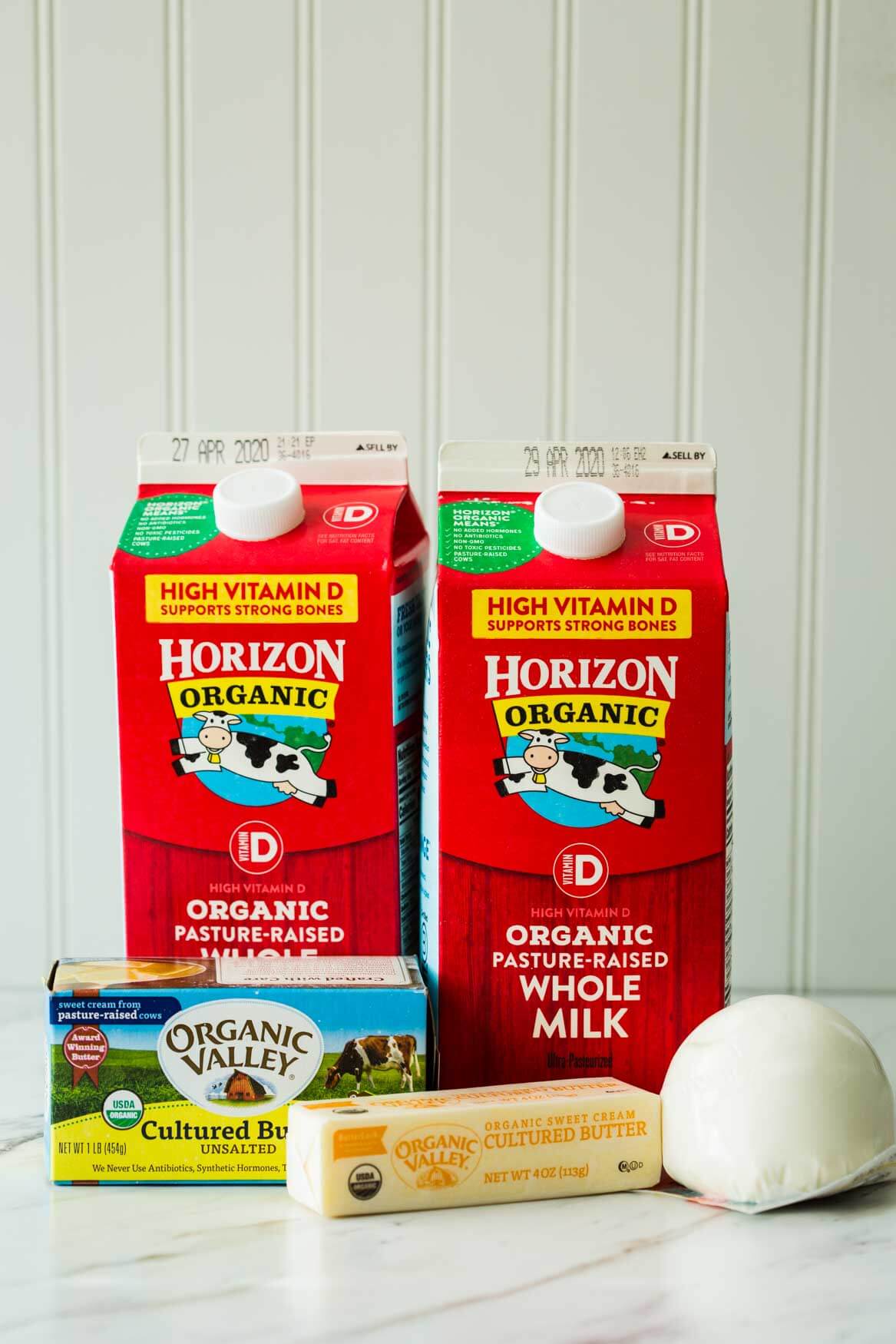 5. Fresh Vegetables and Fruits:
Carrot and Celery – both of them can last for 2-3 weeks in the lower section of the fridge. You can use them to make a variety of soups.
Potatoes – you will never go wrong with them as they last for a couple of weeks easily.
Apples – apples can also last easily for a few weeks if stored properly.
Bell Peppers – These can last for 7-10 days in the refrigerator. You can chop and freeze them in freezer bags if you want.
6. Herbs and Spice Essentials
I use these spices and herbs most of the time in my kitchen. Feel free to include your favorite ones in your shopping list
Black Pepper
Paprika
Chili Flakes
Italian Seasonings
Oregano
Curry Powder
Garam Masala
Turmeric Powder
Cumin Seeds
Coriander Seeds
Green cardamom
7. Pantry Essentials
Garlic – it also lasts for a few weeks without any problem.
Ginger – you can include it in your diet to increase immunity. It works great against cough.
Onion – get enough to last for 2-3 weeks.
Tomato Puree and Paste – Buy canned tomatoes and tomato paste for using them in cooking when you don't have fresh tomatoes. I usually purchase passata which gives good results in making curries or cooking Indian dishes like chickpea tikka masala or chicken tikka masala
Pasta sauce – for making quick pasta dishes
Oils – Get extra virgin olive oil for making salads and cooking olive oil, avocado oil, etc for sauteeing, grilling and baking.
Essential baking ingredients – sugar, baking powder, baking soda, yeast will need for baking projects like making homemade naan, homemade dinner rolls or bread or cookies, etc.
Vegetable or Chicken Stock and Broth – You will need them for making soups and stews.
Dry Fruits – In most of my creamy dishes I use raw cashews instead of dairy cream. So for me, it is one of the must-buy items.
Lemon and Lime juice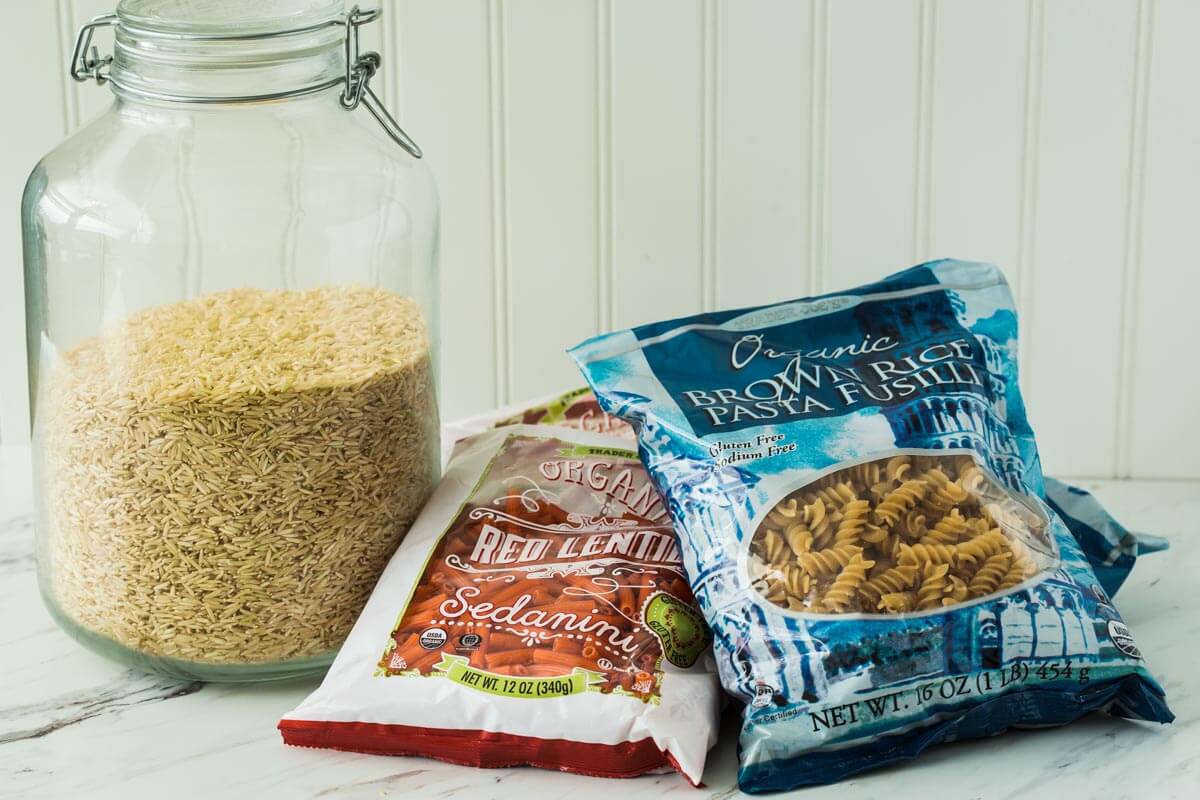 8. Fresh Herbs:
Instead of buying fresh herbs from the grocery store isles get plants. It is almost springtime and you can keep them alive easily for the coming months. Try growing these plants at home and you will have fresh herbs whenever you need fresh flavors in your cooking.
Italian Basil
Cilantro
Rosemary
Parsley
Mint – you can use them in herbal teas
Indian Holy Basil – it has lots of medicinal benefits
9. Essentials For Asian Inspired Cooking
If you frequently cook Chinese or Thai dishes then these items are necessary.
Soy Sauce
Rice Vinegar
Sesame Oil
Corn starch,
Thai Red Curry Paste
Oyster Sauce
Fish Sauce
Coconut Milk
Essential Non Food Items:
Bathroom Supplies
Home Cleaning Supplies
Hand Soaps and Sanitizers
Over the counter and prescribed medicines
This list is to give you an idea and to help make your shopping list before you visit your local grocery store next time.
I hope you find this post helpful.
Be Safe and Take Care. We will get out of this situation soon.
Thank you!