Air Fryer Whole Chicken – get roasted chicken with soft and juicy meat on the inside and a crispy crust on the outside in an Air Fryer. An easy recipe for weeknights or a large gathering. Also, learn how to make a delicious gravy that adds awesome flavors to this dish.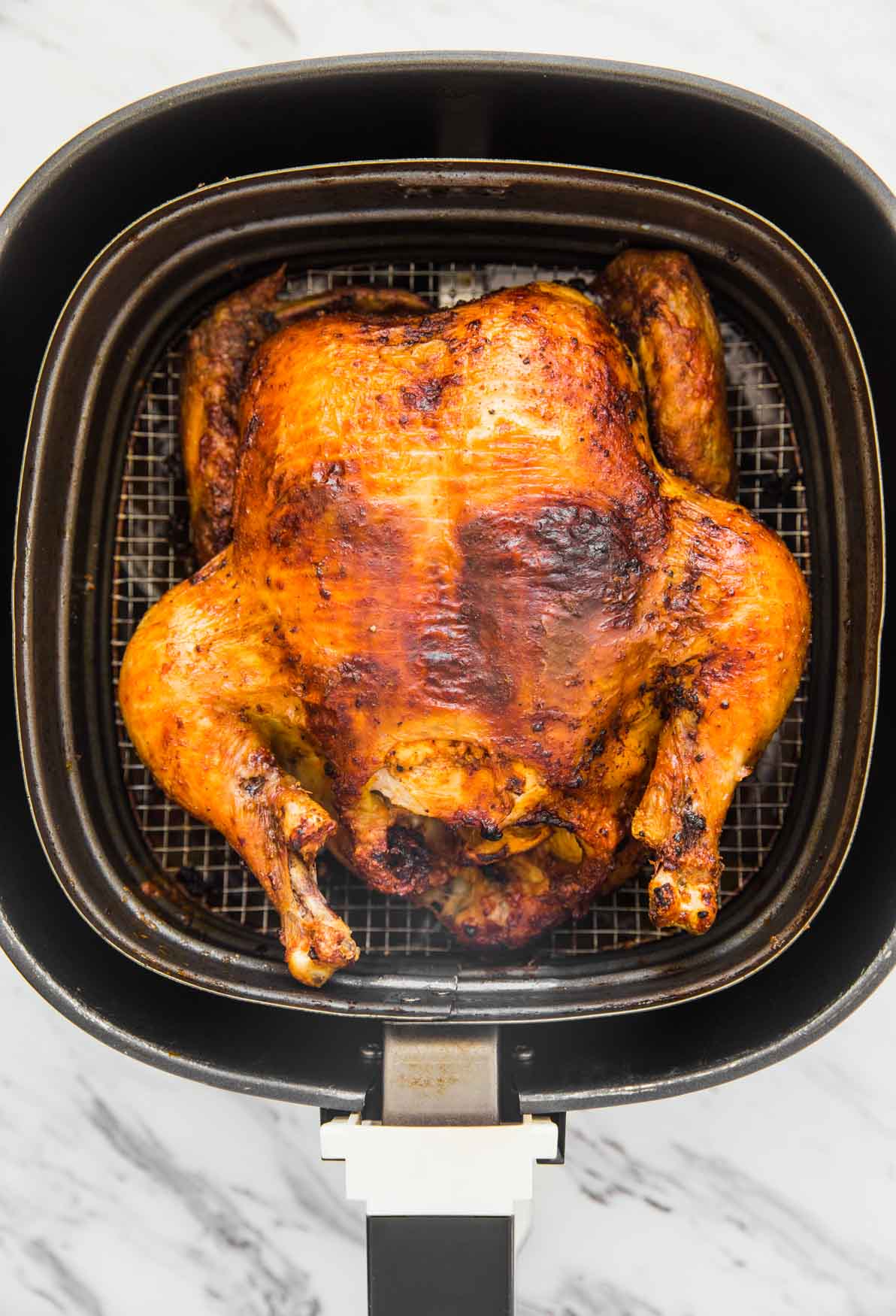 Personally, I feel an Air Fryer (AF) is like a small compact oven. You can fry, cook, or roast mostly everything in it. Whether it is frying french fries, making BBQ chicken wings, roasting corn on the cob or reheating leftover pizzas, it will never fail you. And it is energy efficient as well because it takes less time and electricity compared to preheating and baking in large household ovens.
Recently, I have started to make whole roasted chicken in Air Fryer. To my surprise, it came out amazingly delicious with crispy skin and soft and moist meat inside. On my husband's request, I also prepared a delicious gravy using the drippings from the chicken collected in the AF pan.
I am sure you will love this recipe for Air Fryer rotisserie-style whole chicken. Let's get started.
Jump to:
Ingredients you will need!
Chicken – Use chicken based on the size of your Air Fryer.
Garlic – Finely chop using a knife or use a garlic crusher to mince it.
Oil – I use olive oil or avocado oil.
Lemon – Cut into smaller pieces. Also, you will need some lemon juice.
Paprika – Smoked paprika gives a nice flavor to the roasted chicken.
Black pepper and salt – Use according to taste.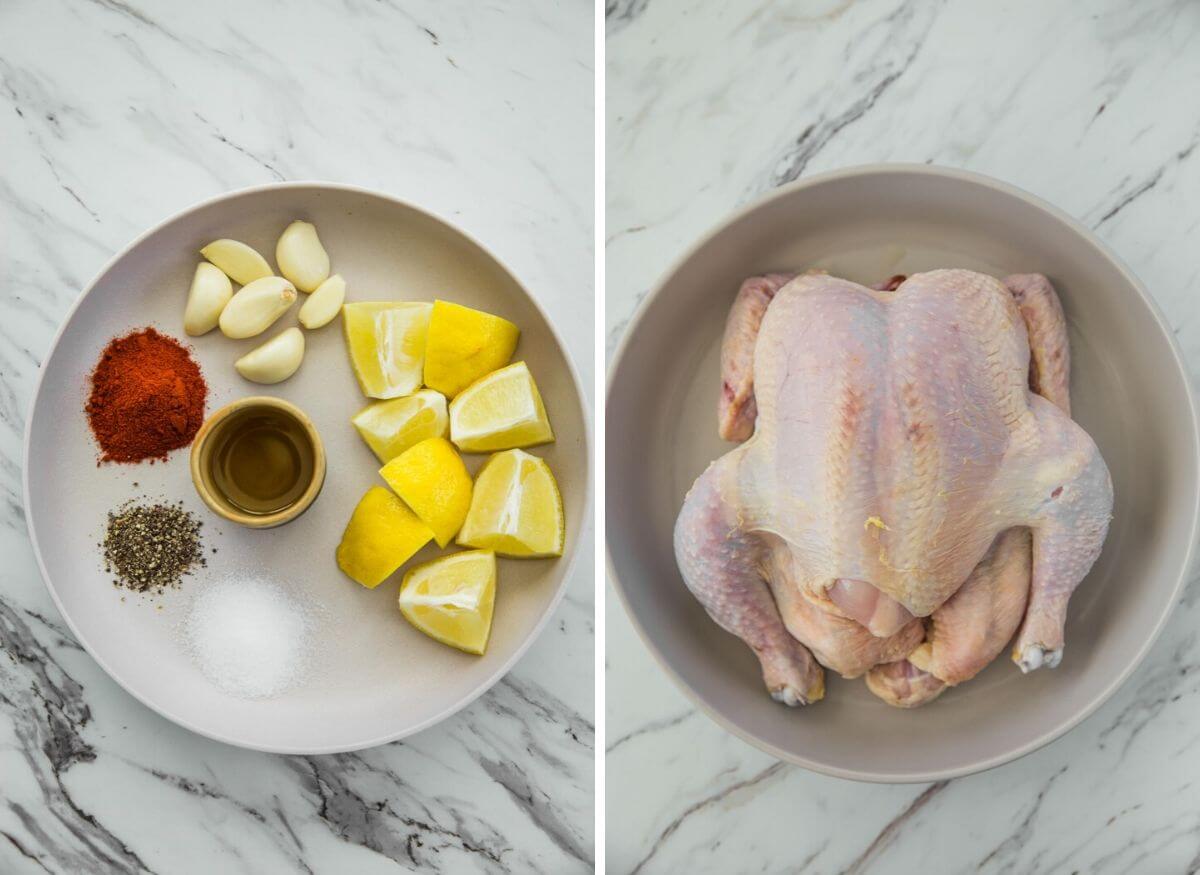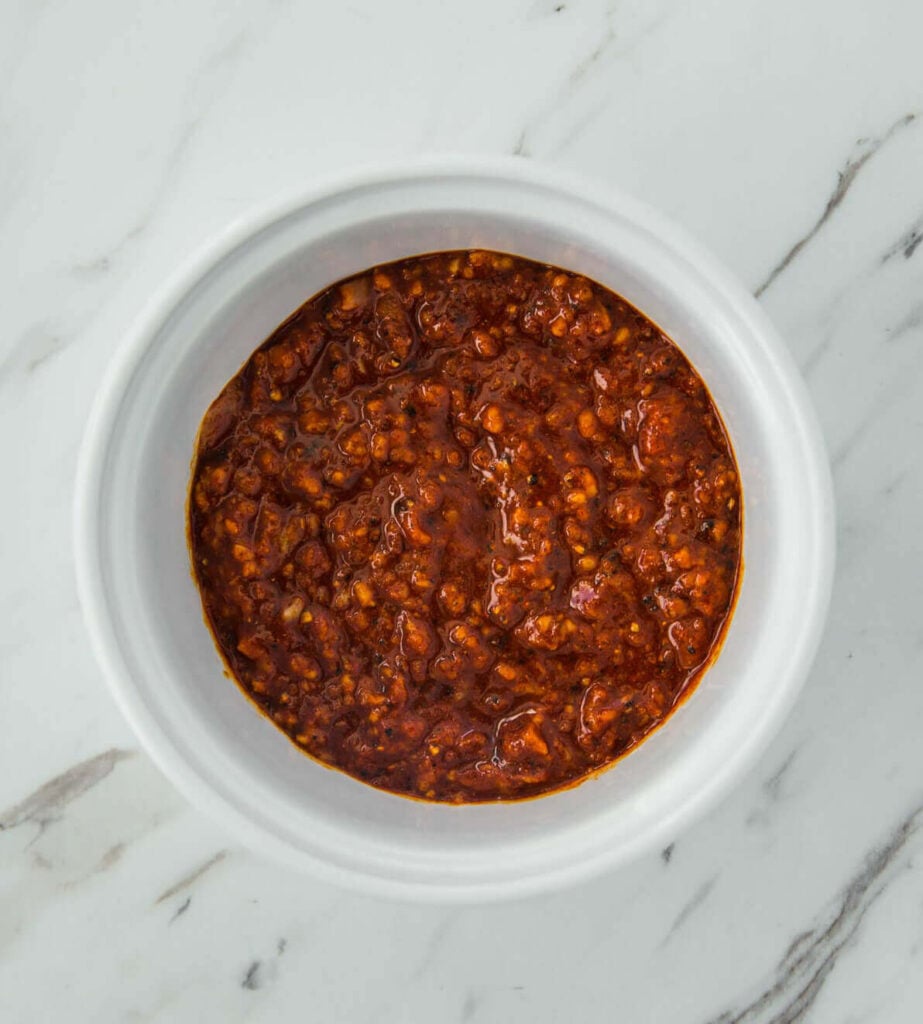 How to cook a whole chicken in an air fryer?
Marinating Whole Chicken:
In a small mixing bowl prepare marinade using minced garlic, oil, lemon juice, smoked paprika, salt, and black pepper. Mix everything well.
Take the chicken out from its packaging and empty its cavity. If you prefer you can rinse the whole chicken under running cool water in the kitchen sink. Using a paper towel pat dry the chicken to remove all the excess water from the surface and its cavity as well. If you do not prefer to rinse the chicken you would still need to pat dry the chicken for any moisture that is already present.
Apply the prepared marinade all over the chicken and inside the cavity. Also, try to gently insert the marinade inside the loose skin using fingertips. This way chicken breasts will absorb the flavors. Cover and let the chicken marinate in the refrigerator for at least 1 hour for a flavorful result. The longer you marinate the more flavorful the chicken will be.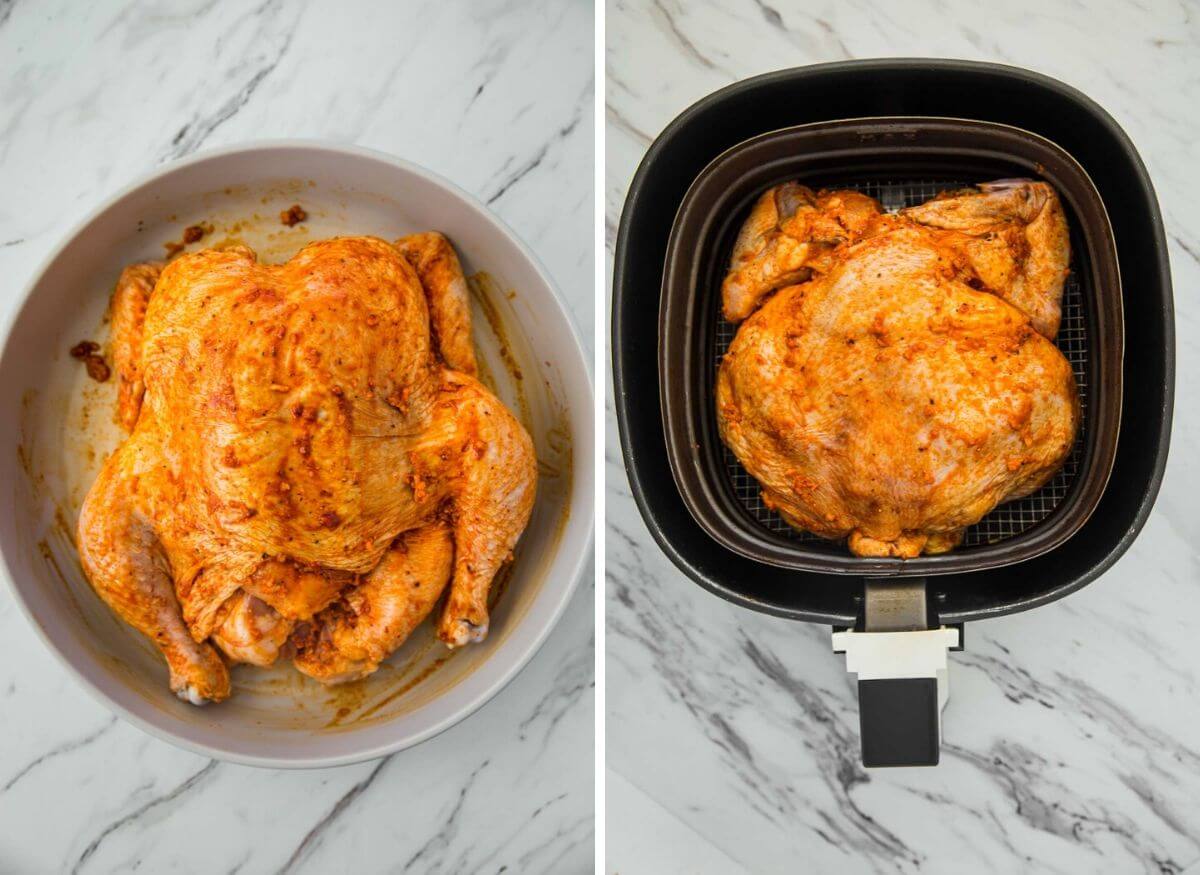 Roasting Whole Chicken in Air Fryer:
Preheat the Air Fryer to 360F if you have that as an option in your Air Fryer. My Philips XL Air Fryer takes 3 min to preheat. Meanwhile, add some lemon pieces into the cavity of the marinated chicken. Place the chicken on the wire basket of the AF with the breast facing down. Cook at 360F for 30 min and then flip the chicken to continue cooking for another 20 mins. Drizzle some water over the chicken after every 10 min of cooking to avoid burning the chicken. Once the chicken is well done let it cool for sometime before carving it. This will help to distribute the juices inside the meat and keep it moist.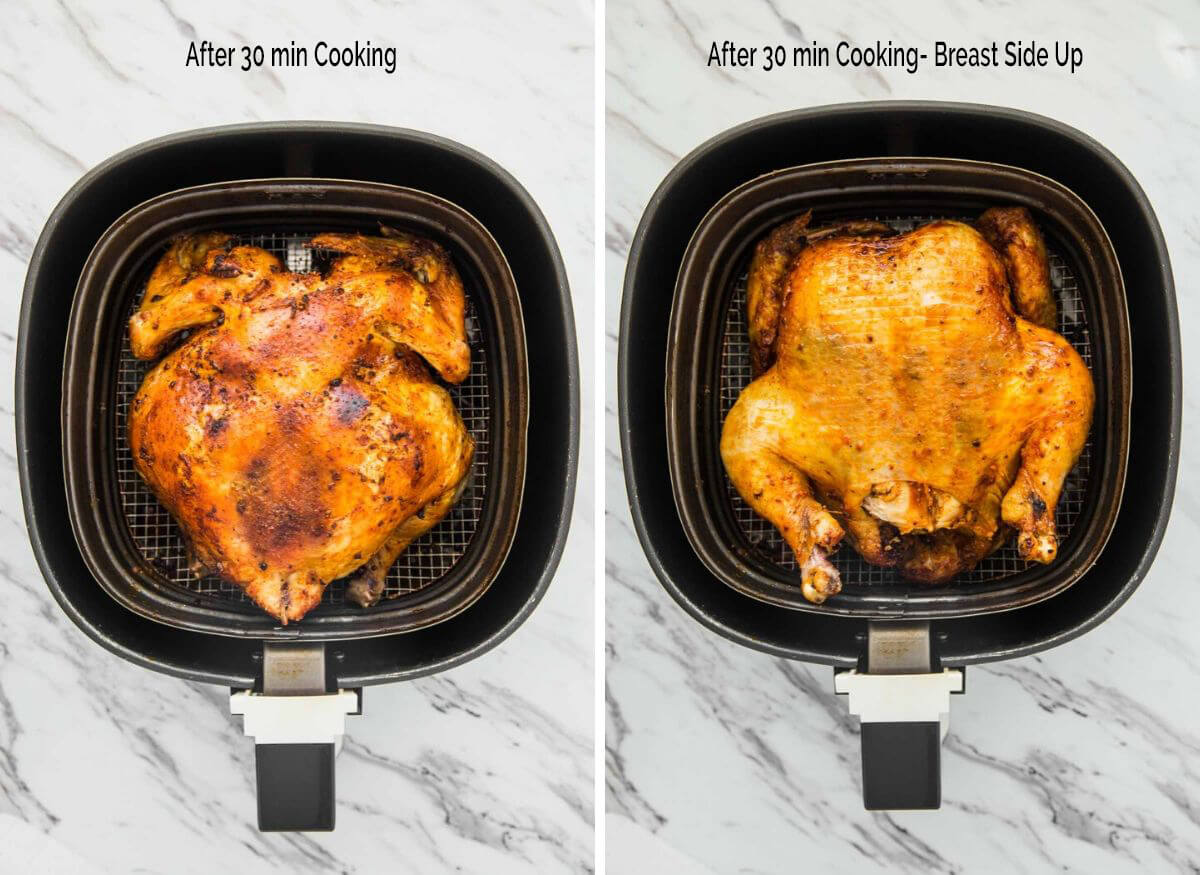 How to make gravy?
Heat a medium-sized pan on medium heat. Add all the chicken drippings collected in the Air Fryer pan. You can also add some lemon juice and pulp from the lemons cooked while roasting the chicken. Then add whole-wheat or all-purpose flour into the drippings. Mix well and cook the mixture for 2-3 min. Gradually add water and simultaneously stir the mixture to get a smooth consistency. Bring mixture to a boil and simmer for about 5 min. Add salt if necessary and serve warm to add flavor to the whole roast chicken.
Recipe variations
Cooking whole chicken in Instant Pot: You can cook the whole marinated chicken in an Instant Pot in less than 30 min. For this, you can follow the steps in this recipe for Instant Pot Whole Chicken
Roasting whole chicken in oven: Cook the marinated chicken in a preheated oven at 375F. Initially, cover the chicken with Aluminum foil in a baking tray and then cook for 40 min. Then remove the cover and bake further for another 30-35 min to develop the crust. You can follow the instructions mentioned in this Oven Roasted Whole Chicken Recipe.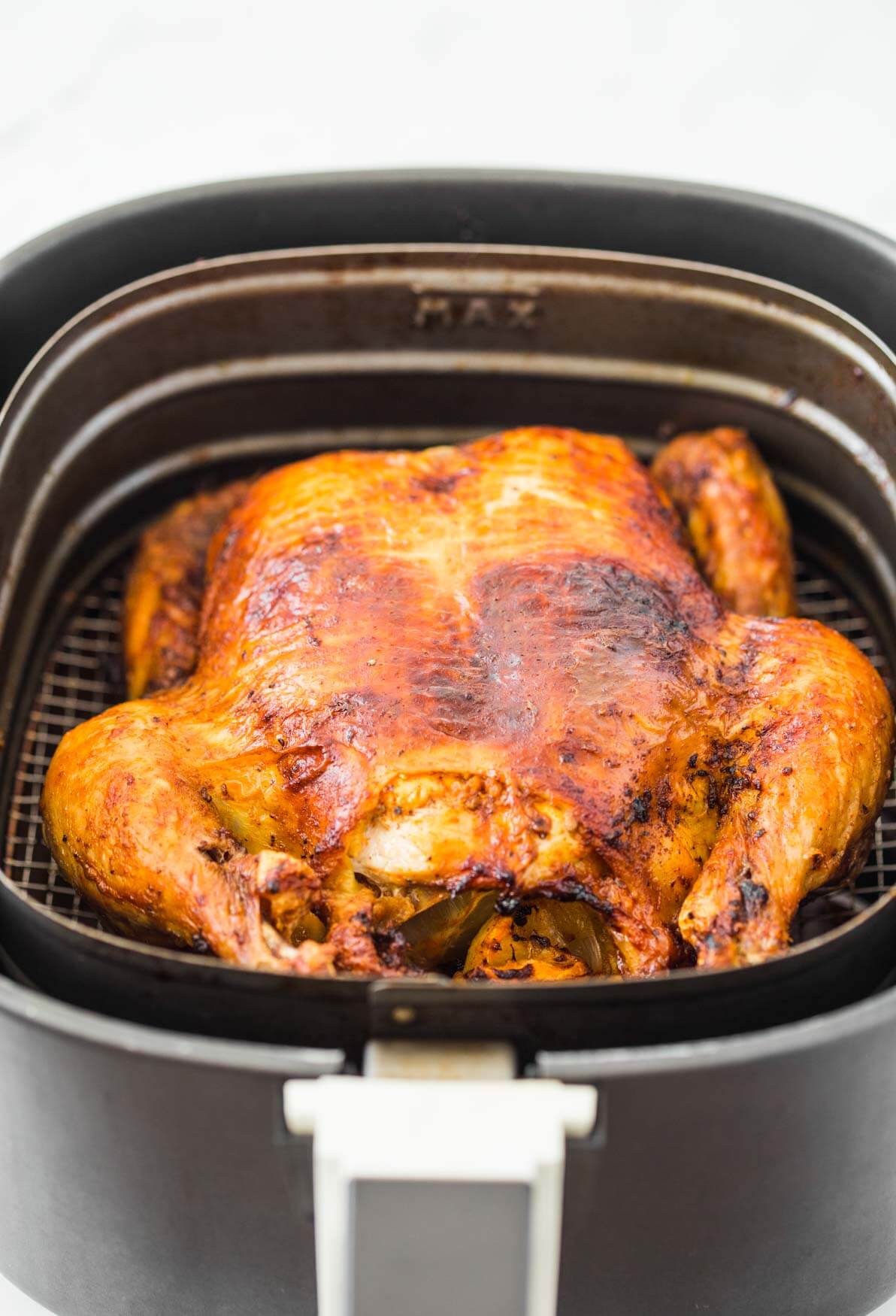 Helpful Tips!
Use organic and pasture-raised chicken whenever possible. I always prefer to buy chicken locally raised to support local businesses.
If you have time let the chicken marinate with spices for a few hours. It will be even more flavorful. You can also brine the chicken well in advance with some salt and pepper for delicious flavors.
If you have a Philips XL Air Fryer (3.5qt) then buy whole chicken that weighs less than 3.5 lb for better results. Air Fryers larger than 3.5 qt can accommodate bigger chicken than what I have mentioned in this recipe.
You can use your choice of spices to marinate and flavor the chicken. Cooking time will not vary in this case.
Prepare delicious gravy from the drippings collected in the Air Fryer pan. Make sure the pan is clean before roasting the chicken. See below for the gravy recipe.
Stuff lemon and garlic cloves inside the chicken cavity just before roasting it. Also, take out the cooked lemon pieces as soon as possible after the cooking is done. Keeping lemon for long inside the chicken might give a bitter taste. You can add the lemon juice and pulp from this cooked lemons into the gravy for a slight tangy taste if you prefer.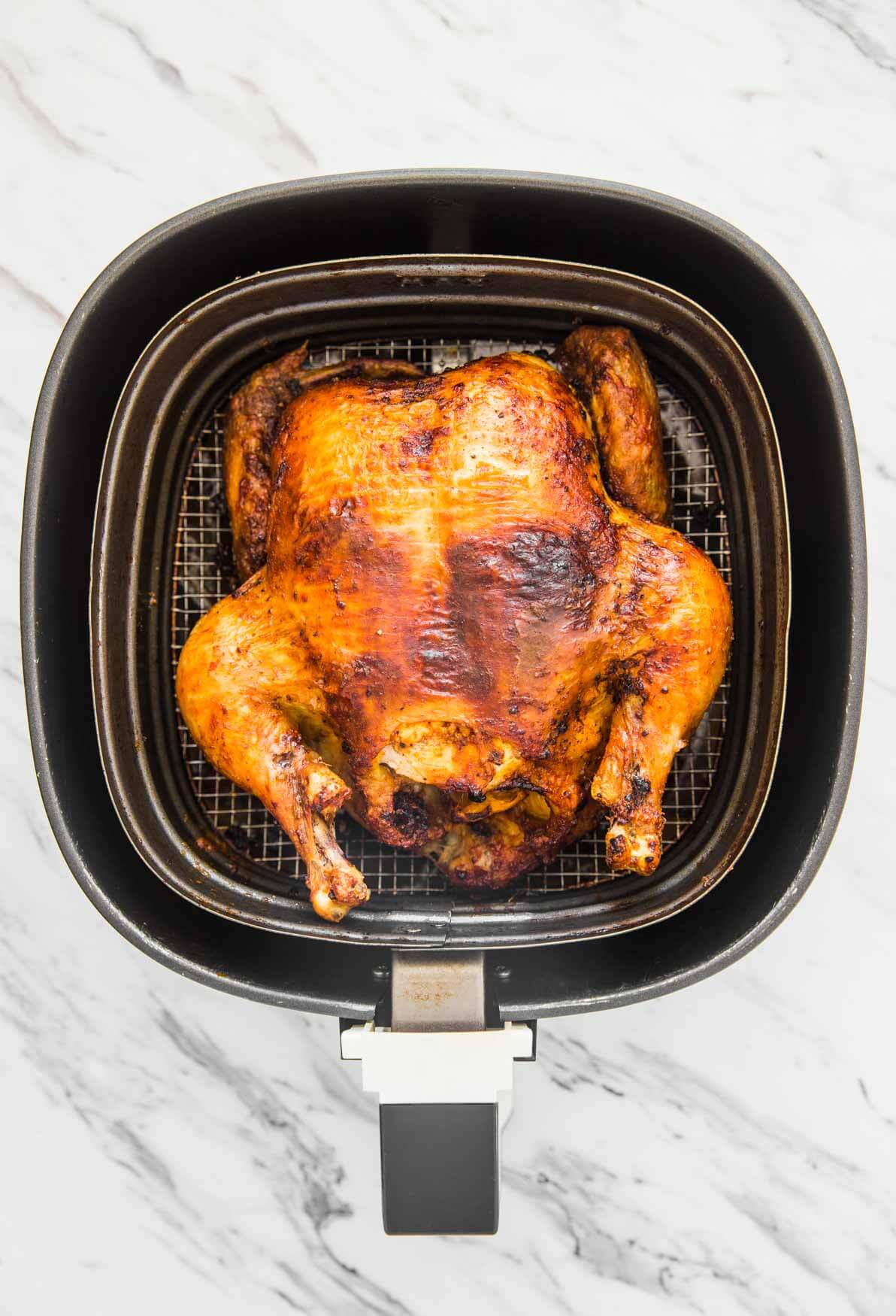 Is air fried chicken healthy?
Air fryer needs very little oil to cook or fry the food. And it gives a similar texture that of fried food without the need to deep fry it in oil.
What can i make with leftover chicken?
You can try these recipes to utilize leftover roast chicken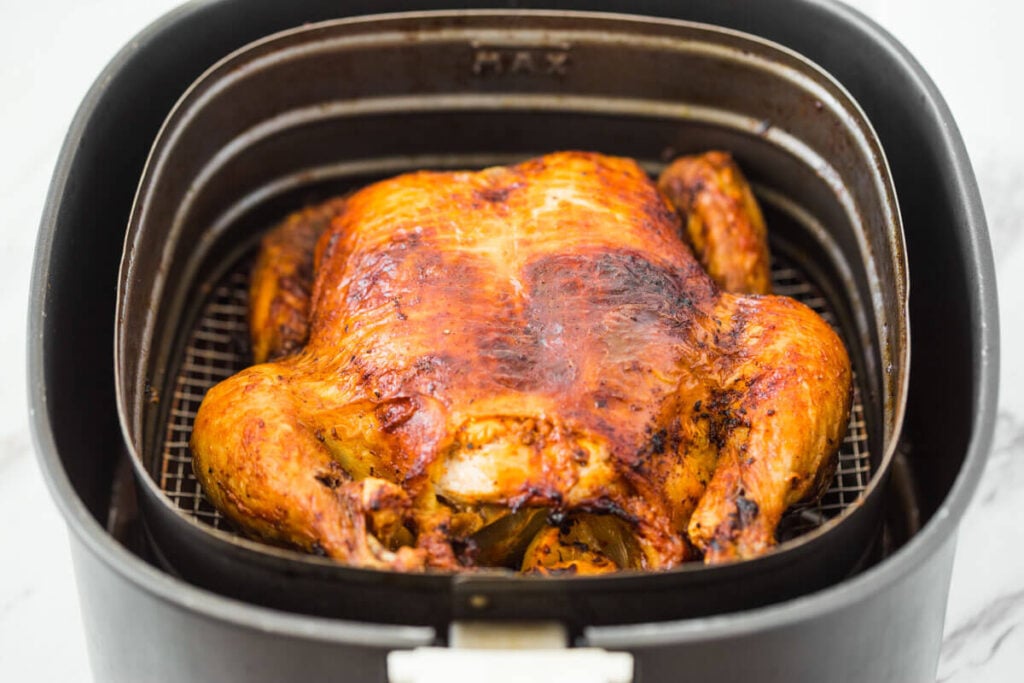 More Air Fryer recipes to try
Love this recipe? Please leave a 5-star ⭐⭐⭐⭐⭐ rating in the recipe card below & a review in the comments if you REALLY like this recipe. Thank You!
📖 Recipe
Easy Air Fryer Whole Chicken
Air Fryer Whole Chicken – get roasted chicken with soft and moist meat on the inside and a crispy crust on the outside in an Air Fryer. An easy recipe for any weeknight or a large gathering.
Ingredients
Roasting Chicken
3

lb

whole chicken

4-5

garlic cloves

plus 2-3 more for stuffing in the cavity

1

tablespoon

avocado oil

1

tablespoon

lemon juice

2

teaspoon

smoked paprika

1

teaspoon

crushed black pepper

Salt

1

lemon

cut into 8 pieces
Gravy Preparation (optional)
Instructions
Roasted Whole Chicken In Air Fryer:
In a small bowl combine minced garlic, oil,  lemon juice, smoked paprika, crushed black pepper, and salt. Mix well.

Empty the cavity and clean the whole chicken. Pat dry using a paper towel to remove excess water.

Rub or brush the prepared spice mixture inside the cavity and all over the chicken. Then stuff the lemon pieces and some garlic cloves inside the cavity.

Place the chicken with the breast side down in the Air Fryer basket and cook it for 30 min at 360 F.

Flip the chicken and continue cooking for another 20 min. Once done let the chicken cool down slightly before carving. Remove the cooked lemons and extra garlic from the cavity.
Preparing Delicious Gravy (optional)
Heat a medium frying pan or saucepan on medium heat. Add all the chicken drippings collected in the Air fryer pan. Also, add lemon juice and pulp from the cooked lemons and garlic.

Add flour and cook the mixture for 2-3 min. Stir continuously.

Then gradually add chicken stock and keep stirring simultaneously to make a smooth gravy without lumps.

Bring mixture to a boil, cover and cook it on low heat for 5 min. Serve warm.
Notes
I recommend using whole chicken weighing around 3 lb (and not more than 3.5 lb) if you have a Philips XL Air Fryer (similar to mine).
After the first 20 min of cooking drizzle 1 tablespoon of water every 10 min over the chicken until well done. It will prevent the chicken skin from burning.
You can use large stainless steel tongs and a wooden spatula to flip the chicken.
For more flavorful results marinate the chicken with the spice mixture well in advance for a few hours. 
Nutrition
Tried this recipe?
Tag us on Instagram @watchwhatueat or tag #watchwhatueat! OR leave us a comment & rating below. Your feedback is very important to us.