Learn to make perfect super juicy garlic & herb roasted whole chicken in the oven. Quick preparation & tons of flavors with delicious gravy prepared using pan drippings.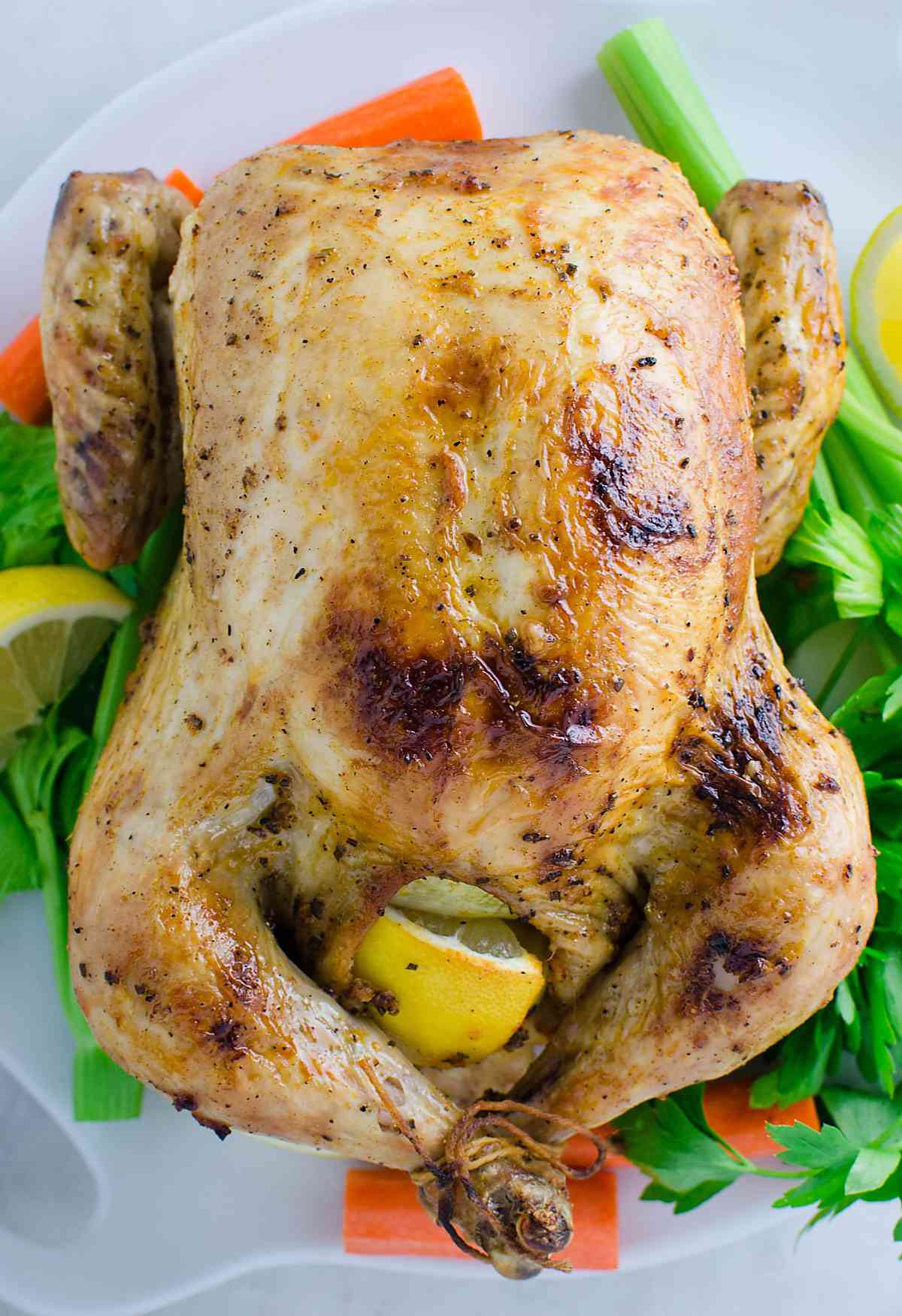 This simple herb-roasted chicken will be a perfect addition to a weekend family dinner or holiday party menu.
Its preparation is super easy and I can confirm that it won't take a lot of your time. Once prepared, the chicken just has to sit in the oven for all the ingredients to do their job.
Moreover, this easy-roasted chicken is a great alternative to Thanksgiving turkey. Especially, for small gatherings, it will be a perfect sized dish compared to a giant size whole turkey that can result in a ton of leftovers (I am not a big fan of leftovers :P). I am sure this melt-in-mouth whole chicken roast will definitely be a crowd-pleaser.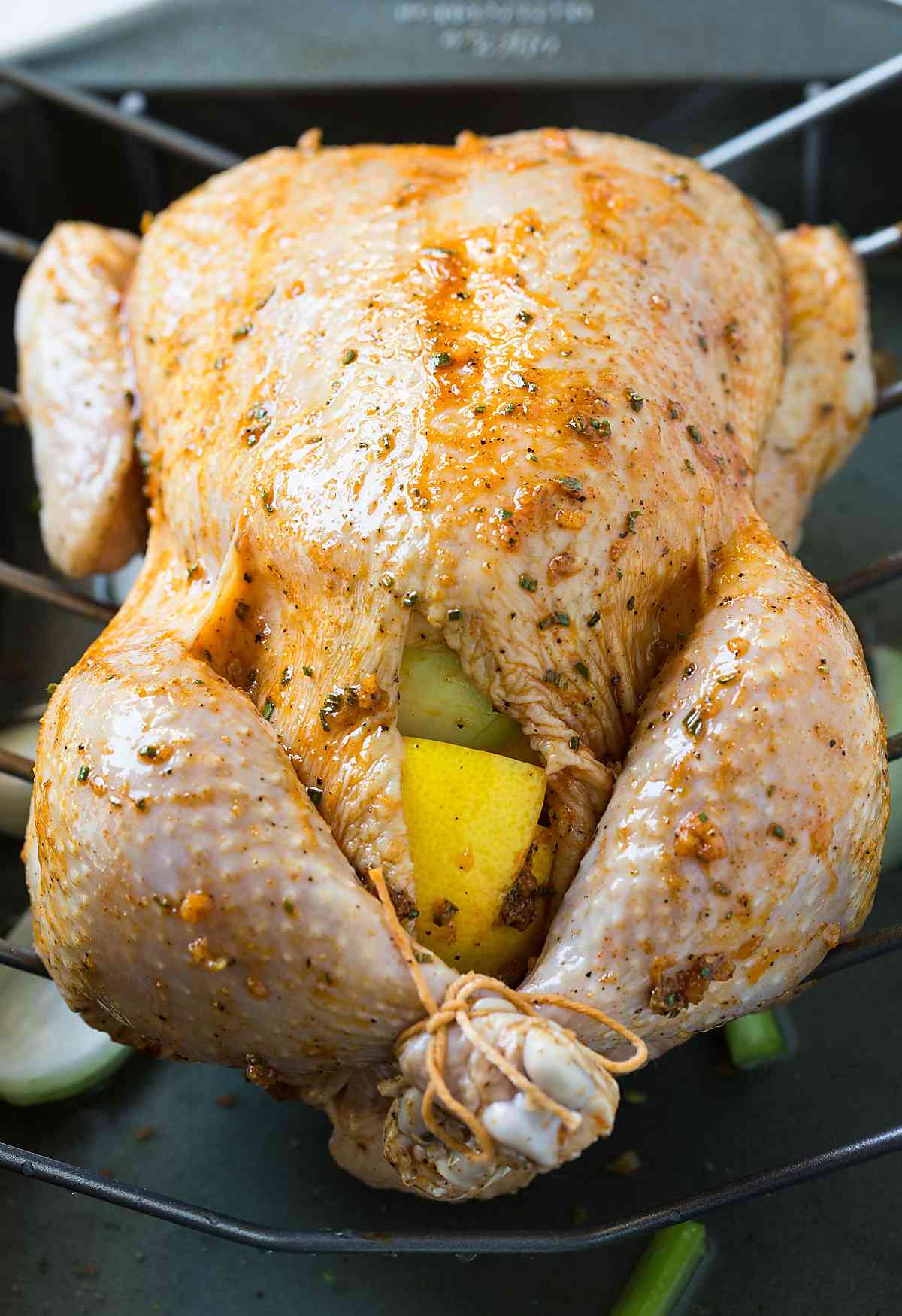 How to make Herb Roasted Whole Chicken in the oven?
For making the rub you will need a generous amount of fresh rosemary, garlic, salt, oil, lemon juice, black pepper, and smoked paprika. For filling the cavity of the chicken you will need fresh celery, onions, and lemon wedges. And of course, whole chicken which is absolutely compulsory (:P).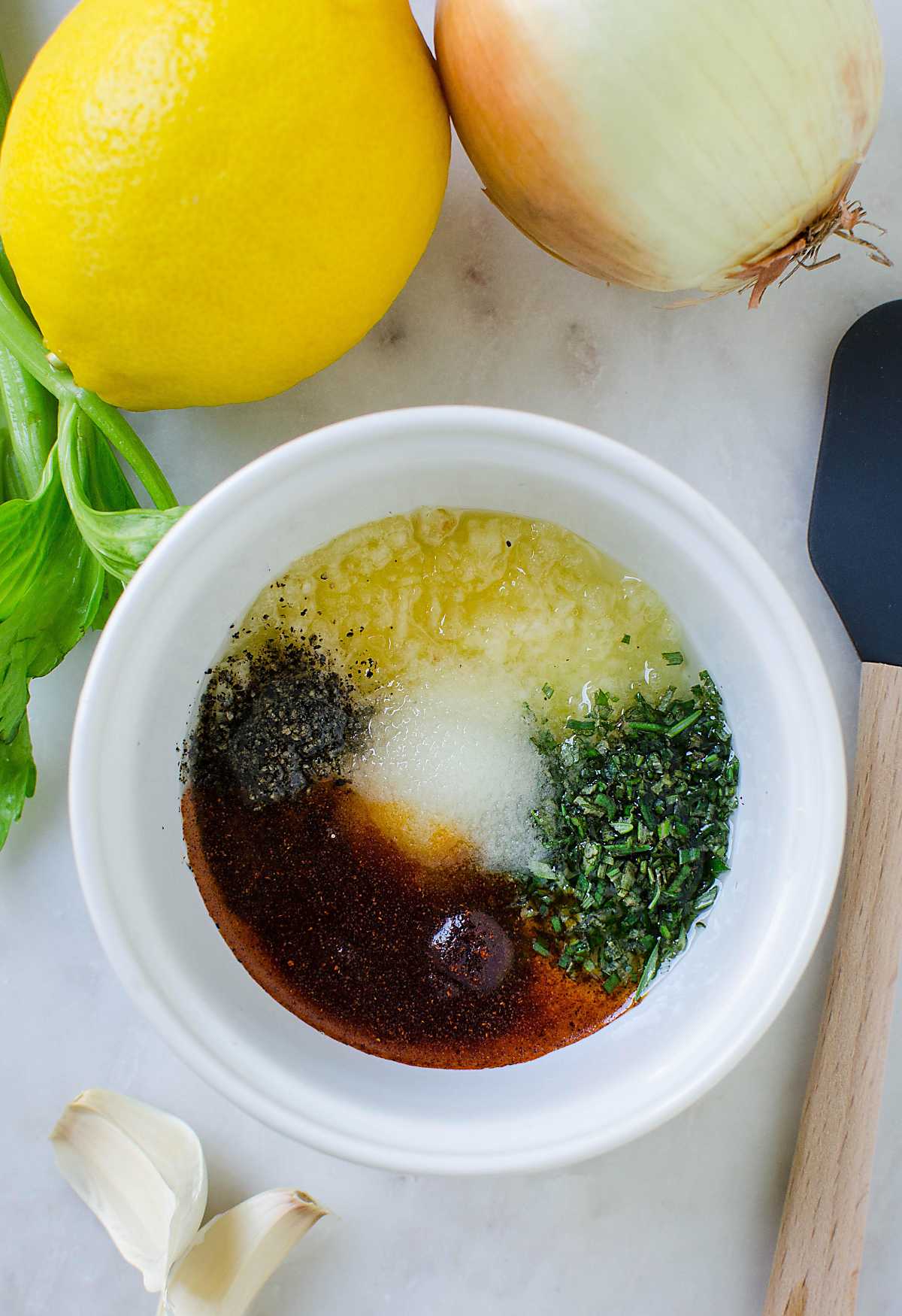 Mix all spices with lemon juice and oil and rub it over the chicken and inside of the cavity evenly. You can marinate the chicken and store it in the refrigerator before baking for more flavorful results. Fill in large onion pieces, celery and lemon quarters inside the cavity. Tie both legs together using a cotton twine. Then place the chicken on the metal rack with a roasting tray beneath. Pour some chicken stock in the tray and bake in a preheated oven to perfection.
Once the chicken is fully cooked make the gravy using pan drippings, celery, onion, and lemons. Step-by-step instructions are given below.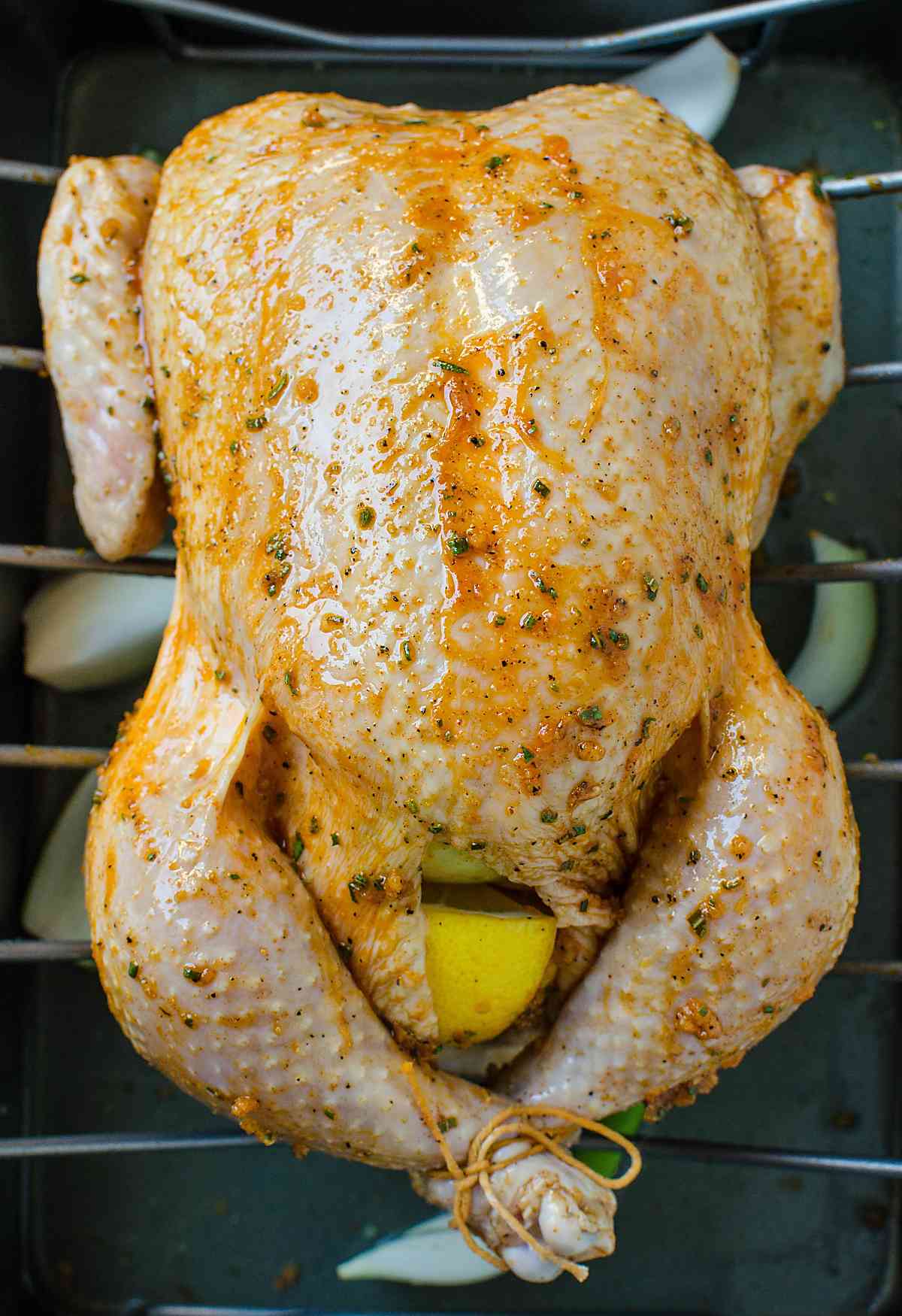 Helpful Tips:
Buy organic whole chicken whenever possible. It's a bit pricey but I find it tastes so much better than regular chicken.
I usually wash and pat dry the chicken before using. Make sure you empty kitchen sink and clean it before washing the chicken (if you decide to). Clean the sink and prep area thoroughly immediately after using meat products to prevent contamination. It may sound obvious but just a reminder in case you forget.
If you have plenty of time, marinate the chicken well in advance. Let the chicken sit in the refrigerator after rubbing the spices. The longer you marinate more flavorful the bird will be.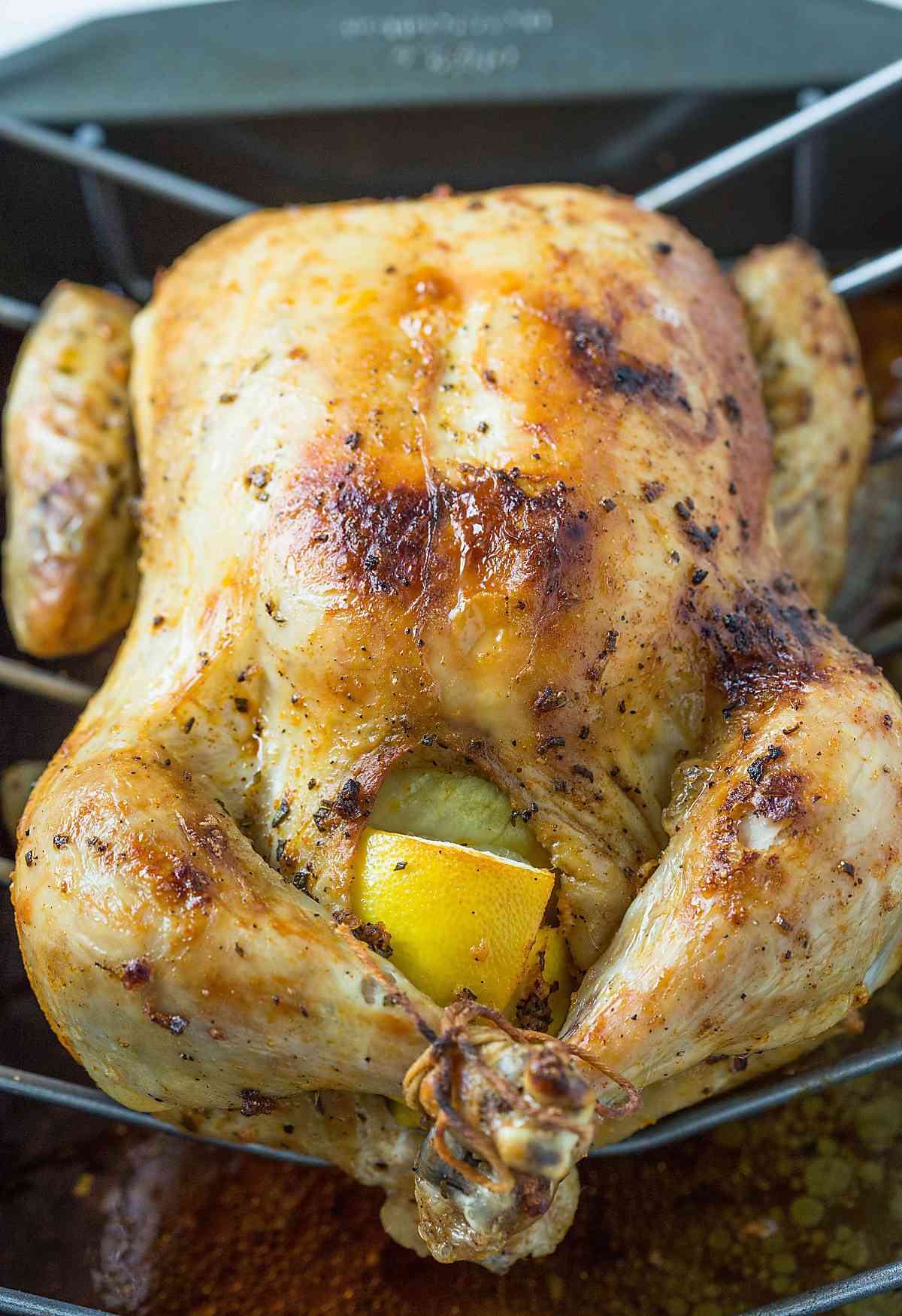 Helpful Tools And Related Products: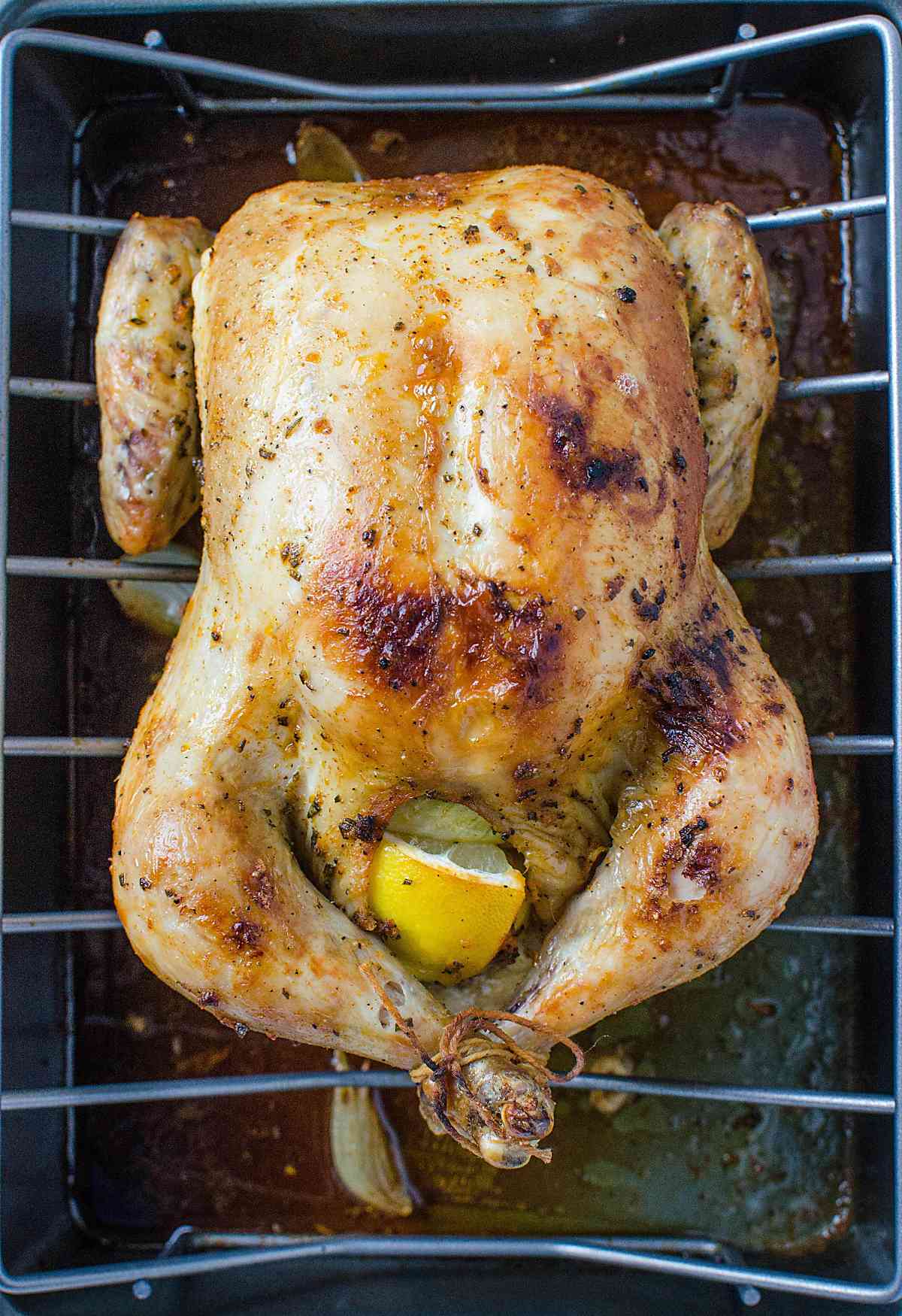 📖 Recipe
Super Juicy Garlic And Herb Roasted Whole Chicken With Delicious Gravy
Super juicy garlic and herb roasted whole chicken that you can make for your weekend family dinner or holiday party night. Quick preparation and tons of flavors.
Ingredients
Spice Rub:
5-6

garlic cloves

finely chopped

2-3

tablespoon

finely chopped fresh rosemary

1

tablespoon

smoked paprika

1

tablespoon

olive oil

2

tablespoon

lemon juice

salt and pepper
Filling:
a large celery stalk

cut into 1-2" length

1

medium onion

cut into quarters

1

lemon

cut into quarters
Instructions
In a small bowl, mix all the ingredients listed under 'spice rub'

Rub this spice mixture all over the chicken and inside the cavity

Fill in the chicken cavity with large pieces of onion, celery, and lemon. Tie the legs together using a cotton twine

In a roasting pan pour chicken stock and place a metal rack on the pan

Then lay the spiced chicken on the metal rack facing breast-side up

Bake the chicken covered using aluminum foil in the preheated oven for 40 mins. Uncover the chicken and bake further for 35 mins.

Let the chicken cool down slightly before carving

Then discard the twine. Collect pan drippings along with onion, celery and lemon pulp from the cavity into a blender jar. Blend it into a fine puree that you can use as gravy on the side
Notes
Wash and pat dry chicken before using. Remove giblets etc., if there are any.
To get nice golden brown color, broil the chicken for 1-2 minute at the end of baking. 
Have leftover chicken?
Make this shredded chicken sandwich recipe using leftover roasted chicken. 
Nutrition
Tried this recipe?
Tag us on Instagram @watchwhatueat or tag #watchwhatueat! OR leave us a comment & rating below. Your feedback is very important to us.