You will love this fall-apart-from-the-bone Instant Pot whole chicken with creamy and delicious gravy. Only a few minutes for preparation and under 25 min pressure cooking is what you will need for this whole chicken to cook.
Are you a proud owner of Instant Pot?
Why do I say 'proud owner'?!!!
If you have an Instant Pot, then I am sure you will definitely understand why I said so. I feel it is an amazing invention among kitchen counter appliances. It really makes life easy when you are super busy and still want to cook at home.
Moreover, you can cook raw beans (for example making black bean soup), and chickpeas in it even without soaking them. I completely stopped buying canned beans and chickpeas etc.
Enough about praising Instant Pot for now. Let's talk about cooking a whole chicken in the pressure cooker.
Jump to: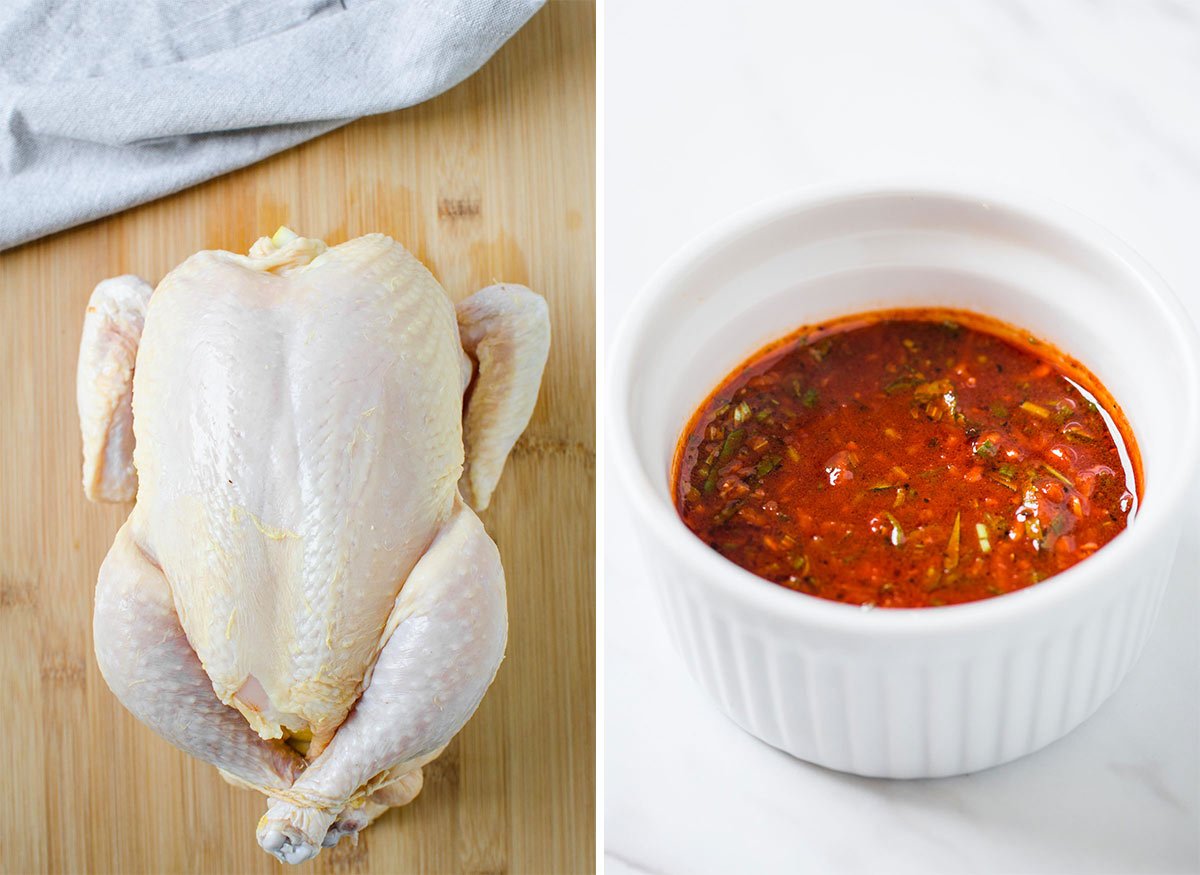 How To Cook a Whole Chicken in the Instant Pot
Heat the pot on medium saute mode. Then in little oil cook the whole chicken on both sides for a few minutes. It will help to develop a nice crust on the chicken surface. Take out the chicken on a large plate.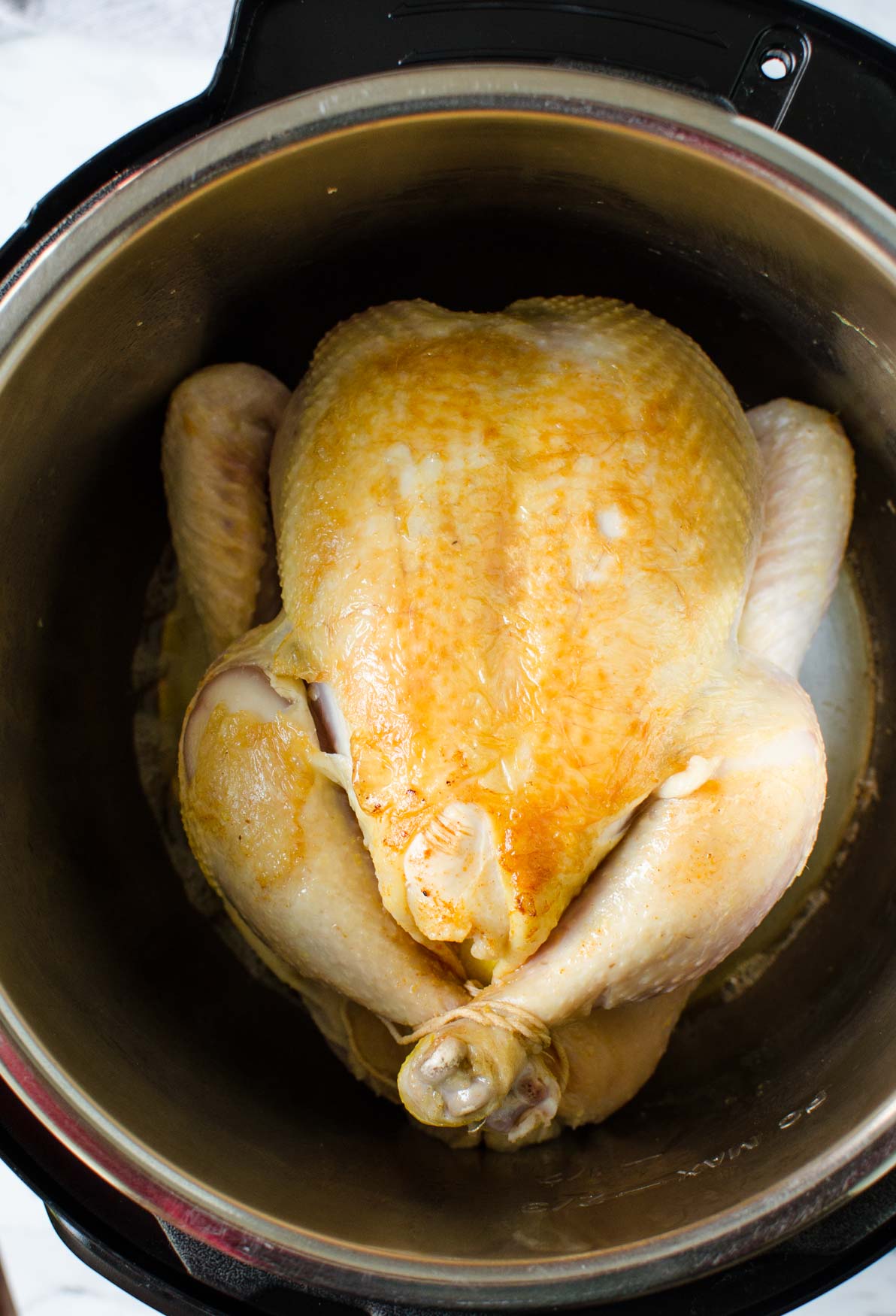 In the same pot add onion, a few peeled garlic cloves, and saute for a couple of mins. Add chicken stock and place on a trivet. Brush the spice mixture evenly all over the chicken and then lay it on the trivet facing breast side up. Cook on manual high-pressure mode for 22 min.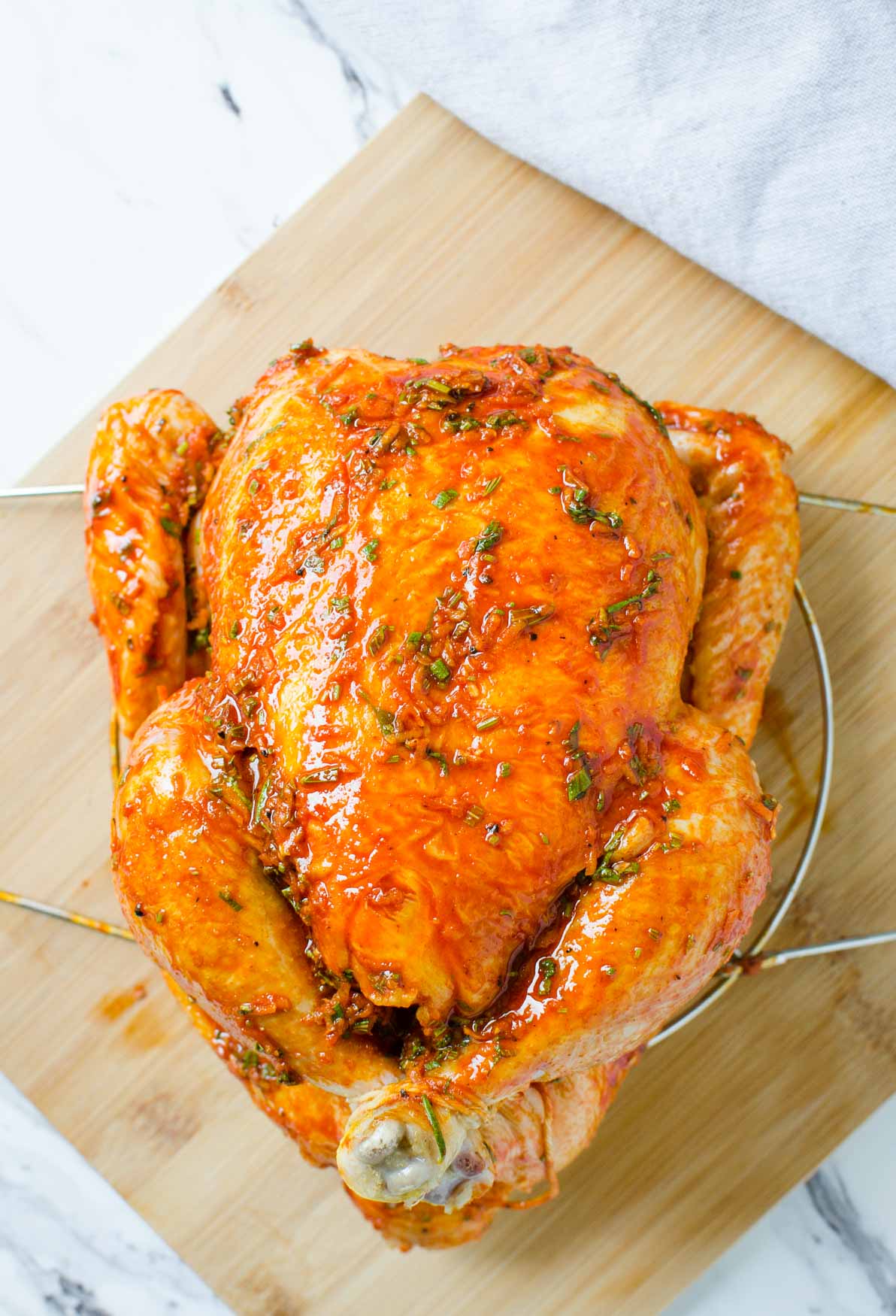 Once done, allow releasing pressure naturally for 10 minutes and quick release the remaining pressure. Carefully remove the trivet and transfer the chicken to the serving tray. Make the gravy using the drippings from the chickens.
Serve the chicken with delicious gravy on the side of roasted potatoes or mashed potatoes or roasted vegetables for a wholesome dinner. Even tastes amazing with creamy grits or polenta.
How to get a crispy crust?
You can get a brown crust either by broiling the chicken in the oven once it is cooked. Or, you can sear the chicken on saute mode of the pressure cooker before cooking.
The only difficulty of searing a whole chicken in the Instant Pot, I feel, is flipping it in the deep pot. You can turn it carefully, but it gets difficult, especially when things are hot. Therefore, I use long tongs and a spatula to do this job.
However, you cannot keep on flipping this whole chicken till you are satisfied with the desired color and texture of the crust. It may tear up the skin during the process and ruin the dish's look. If you have a larger Instant Pot, this step might be easier. Mine is a 6-quart size which holds a maximum of 4 lb whole chicken.
My suggestion would be (based on experience), once pressure cooking is done, transfer the chicken to an oven-safe baking tray or dish facing breast side up. Cook it on broil mode in the oven for 3-4 min or until it reaches the desired color. This sounds easy, right?
Helpful Tips!
Use organic whole chicken whenever possible. It is not loaded with antibiotics and hormones. And we can hope that they are raised as free birds.
I usually wash the chicken before using it to get rid of the smell coming from the packaging. You may skip it if you prefer not to wash it.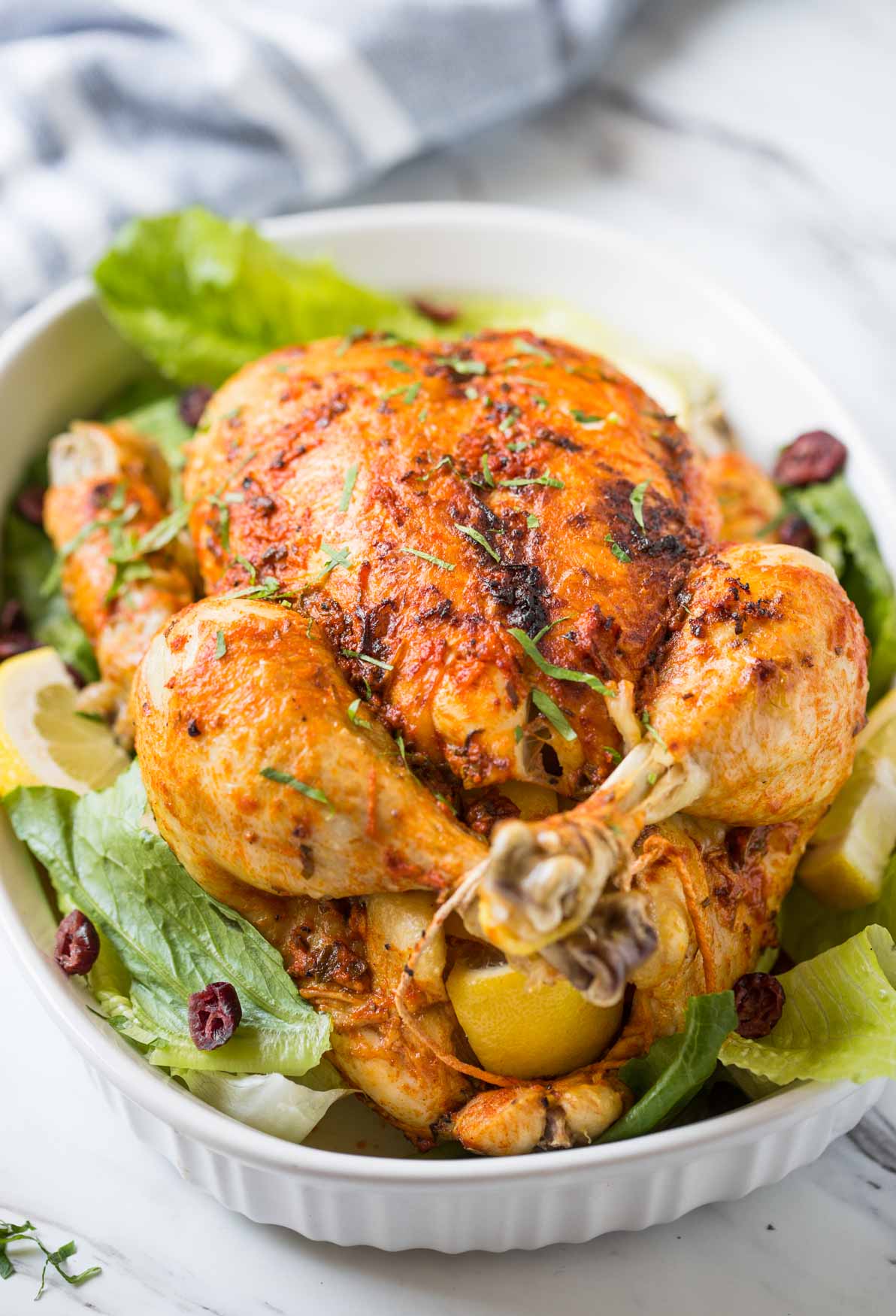 Alternatives to Instant Pot Whole Chicken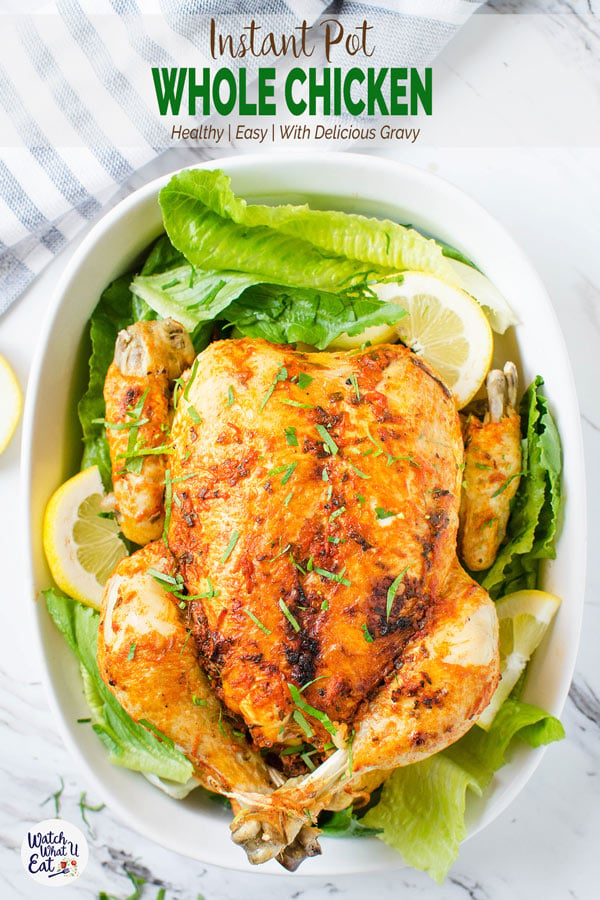 Instant Pot Whole Chicken
Like this recipe? Pin it to your Chicken/Holiday Recipes pinboard!
And follow Watch What U Eat on Pinterest (We always pin Yummy recipes)
You Will Love These Instant Pot Recipes
📖 Recipe
Easy Instant Pot Whole Chicken With Delicious Gravy (in 30 mins)
Fall off the bone Instant Pot Whole Chicken with delicious gravy made in the same pot. Super easy with tons of flavors, a perfect chicken recipe for a holiday dinner or get-together meal.
Ingredients
For Chicken
4

lb

whole chicken

1

medium onion

cut in 8 pieces

1

lemon

cut into thick slices

4-5

garlic cloves

finely chopped

1

tablespoon

smoked paprika

1

tablespoon

fresh rosemary

finely chopped

2

tablespoon

lemon juice

1 ½

tablespoon

olive oil

divided

salt and pepper
Instructions
In a small bowl combine chopped garlic, smoked paprika, chopped rosemary, lemon juice, 1 tablespoon olive oil, salt, and pepper. Keep it aside.

Rub some of the garlic mixture inside the chicken cavity. Then fill in the cavity with large pieces of onion (use remaining for the gravy), and lemon slices. Tie the legs together using a cotton twine.

Heat remaining oil on medium saute mode. Place whole chicken facing breast side down. Sear it for 3-4 min to get a nice golden color on the skin. Carefully turn it and sear for another 3-4 min. Remove the chicken and place it on a trivet.

Meanwhile, in the same pot add garlic cloves, onion, and cook until translucent. Then add some fresh rosemary and chicken stock.

Evenly spread remaining garlic-herb mixture over the chicken using a brush. Place the trivet with the chicken in the pot.

Cook the chicken on manual high pressure for 22 min. Once done release pressure naturally for 10 minutes and then quick release the remaining pressure.

Carefully transfer the chicken to an oven safe dish. Optionally, broil for 3-4 min in the oven for additional color, texture, and flavor.
Making the Gravy
Turn on the saute mode. Add cooked onion and squeeze the lemon juice from the chicken cavity into the drippings inside the pot.

Then add flour and blend everything using a hand blender until it gets to a smooth consistency. Add salt and pepper, if necessary.

Cook the gravy for 4-5 min. Serve warm over carved chicken pieces.
Notes
Broil – You can skip the step no.3 and cook the chicken without initial searing in the oil. Broil the chicken in the oven once it is cooked to get a nice brown crust on the skin.
Searing the chicken – After searing the chicken place it directly on a trivet with breast side facing up. Apply the garlic mixture and return the trivet to the pot. I do not apply spices before searing the chicken because it gets burnt from high heat and adds a burnt flavor to the dish. In earlier trials, I made this mistake.
Cooking time – it depends on the size of the chicken. Adjust the cooking time by ±5 min for every 1 lb change in the size of the chicken.
Nutrition
Calories:
404
kcal
|
Carbohydrates:
4.5
g
|
Protein:
38.3
g
|
Fat:
27.5
g
|
Saturated Fat:
0.2
g
|
Fiber:
1.2
g
|
Sugar:
1.1
g
Tried this recipe?
Tag us on Instagram @watchwhatueat or tag #watchwhatueat! OR leave us a comment & rating below. Your feedback is very important to us.