Make moist and flavorful Instant Pot chicken drumsticks for a protein-rich lunch/dinner. You can prepare this chicken meal in less than 30 mins. These chicken drumsticks are coated with a delicious finger-licking sauce that is so tempting.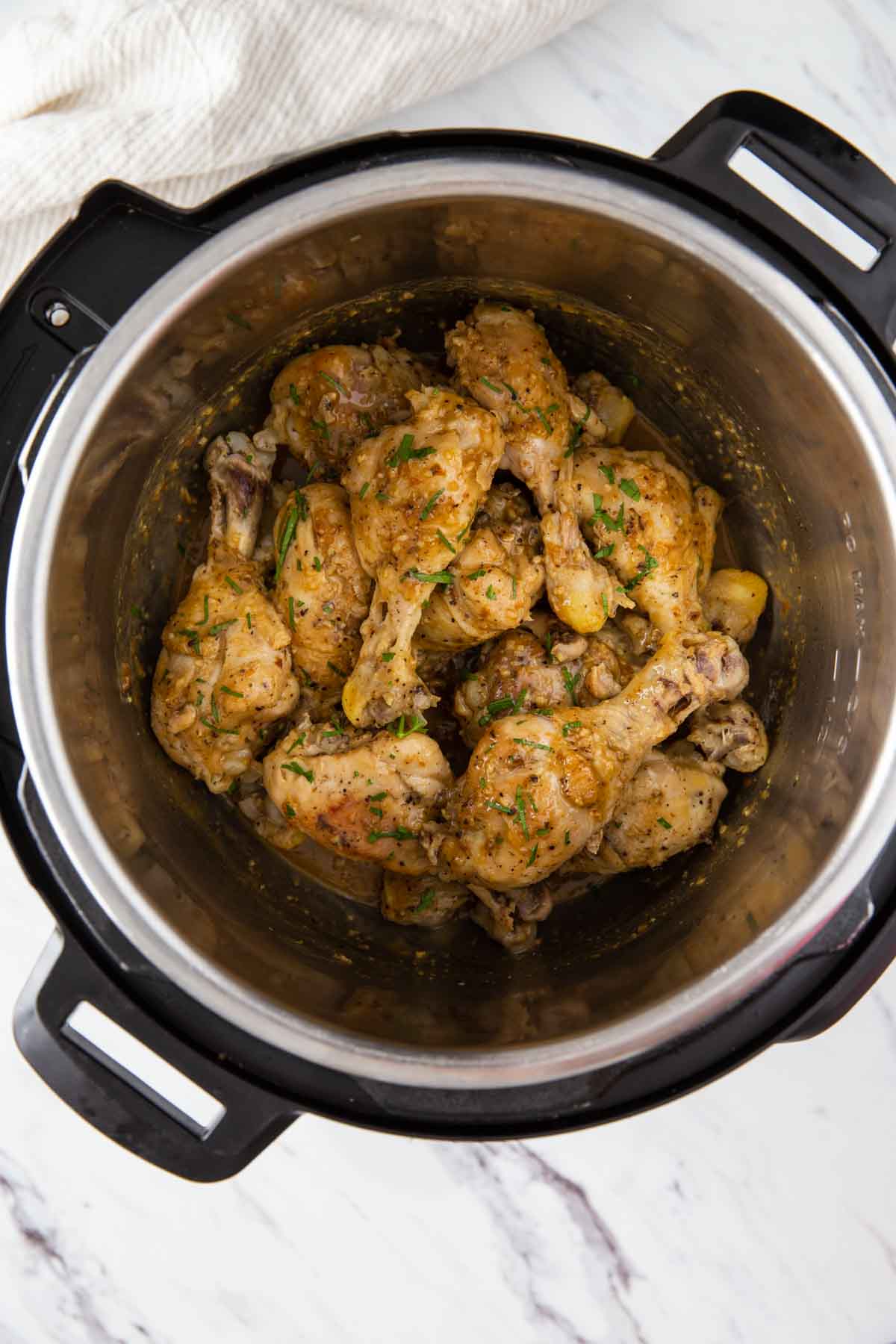 Instant pot never fails in cooking bone-in-chicken and results in a moist and tender texture. Therefore, I love chicken dishes prepared in it. I even make whole chicken with delicious gravy in my Instant Pot.
Here I will share with you our favorite Instant Pot chicken legs recipe that I prepare using very few ingredients. Also, it takes far less time than cooking them on the stove or in the oven.
Jump to:
What is special about This Dish
You get super moist and tender, fall off the bone texture of the drumsticks
Quick and easy recipe with few and simple ingredients that will be ready in under 30 mins.
Full of flavors
Perfect for serving in gatherings.
Ingredients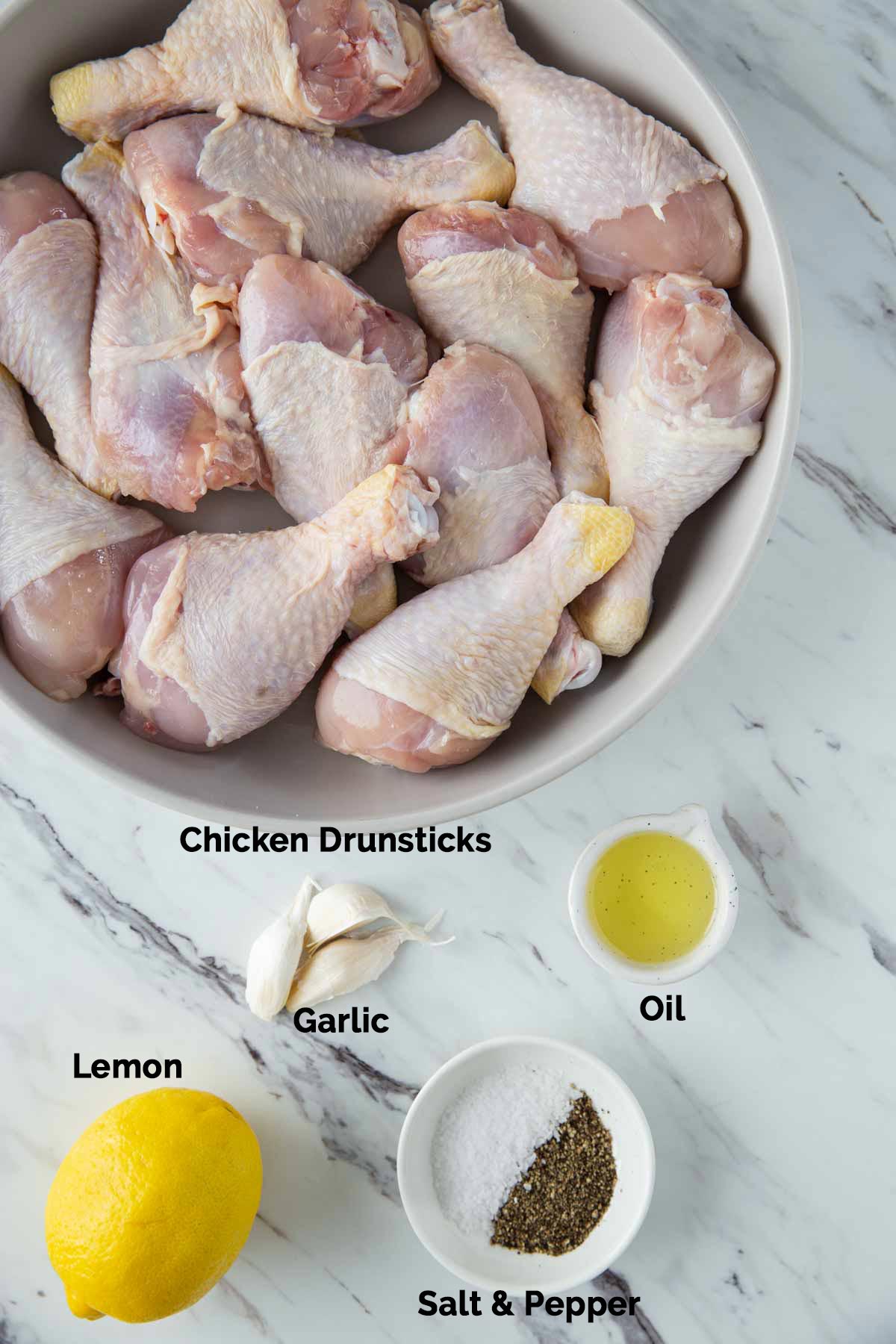 Chicken drumsticks – I always prefer buying organic meat products. To get a nice roasted brown color on them, I do not remove the skin.
Lemon juice – this adds a slight tanginess to the dish.
Garlic – use freshly chopped garlic for amazing flavors. I feel processed garlic lacks flavor.
Salt and pepper – generously season the drumsticks with salt and pepper to make them flavorful.
Recipe Substitutions/variations
You can prepare these chicken drumsticks in Instant Pot with some variations or substitutions without compromising on the taste.
Skinless chicken – to cut down the fat content, remove the skin from the chicken legs before adding them to the Instant Pot.
Spicy – Add some slices of green jalapeno or paprika to add a little heat to the dish.
Herbs – add some chicken rub blend with your favorite spices for added flavors.
Chicken thighs – you can use bone-in-chicken thighs instead of chicken legs.
How to make Instant Pot chicken drumsticks?
This is a two-step process. Roasting chicken drumsticks on saute mode and then pressure cooking them.
Step 1 – Roasting chicken legs in Instant Pot
Clean and pat dry chicken drumsticks with a paper towel. Rub them evenly with salt and pepper.
Turn on Instant Pot in high saute mode. Let it preheat fully, and then place chicken drumsticks in a single layer and roast them for a few min on both sides to get brown color. You may need to roast them in batches if necessary.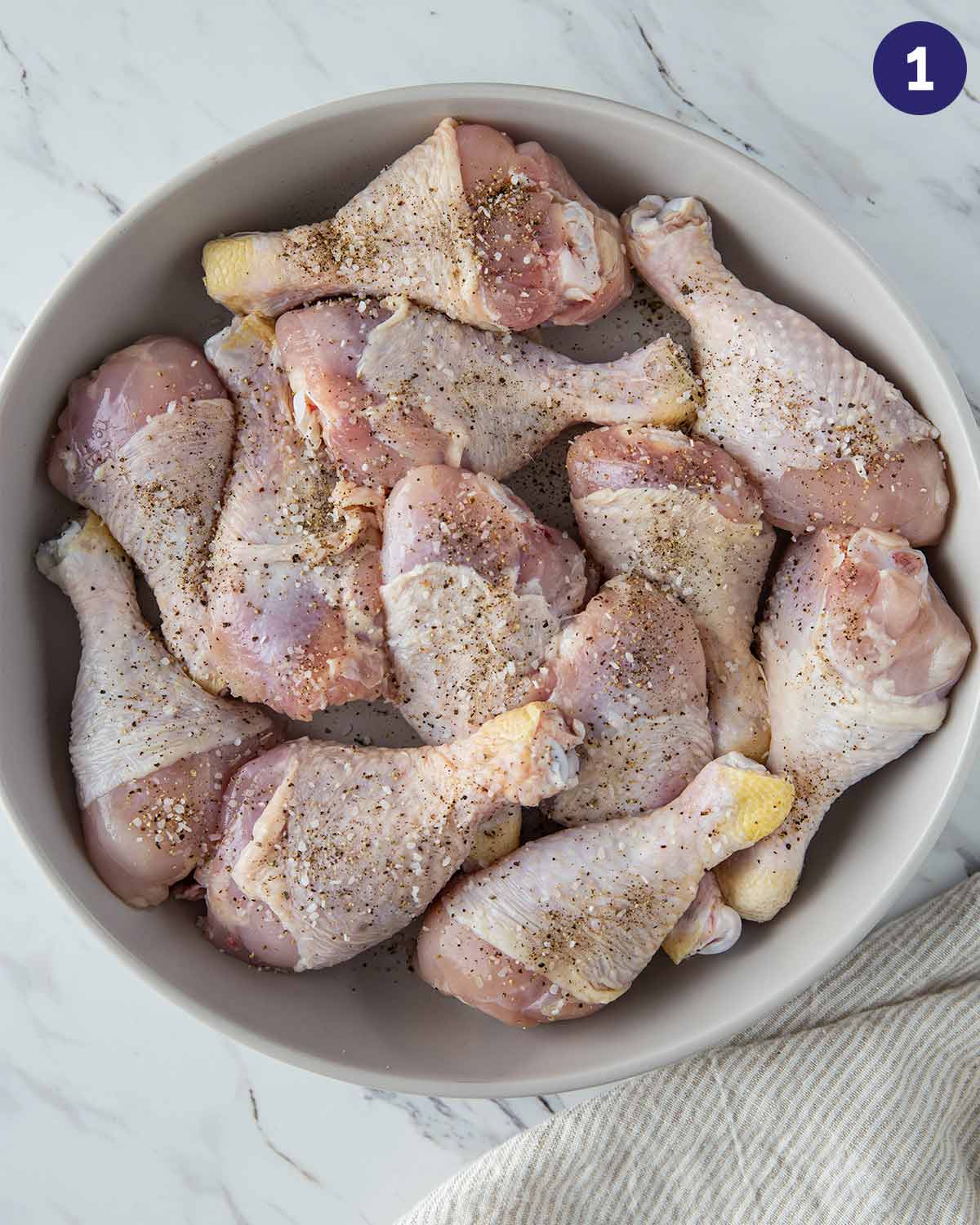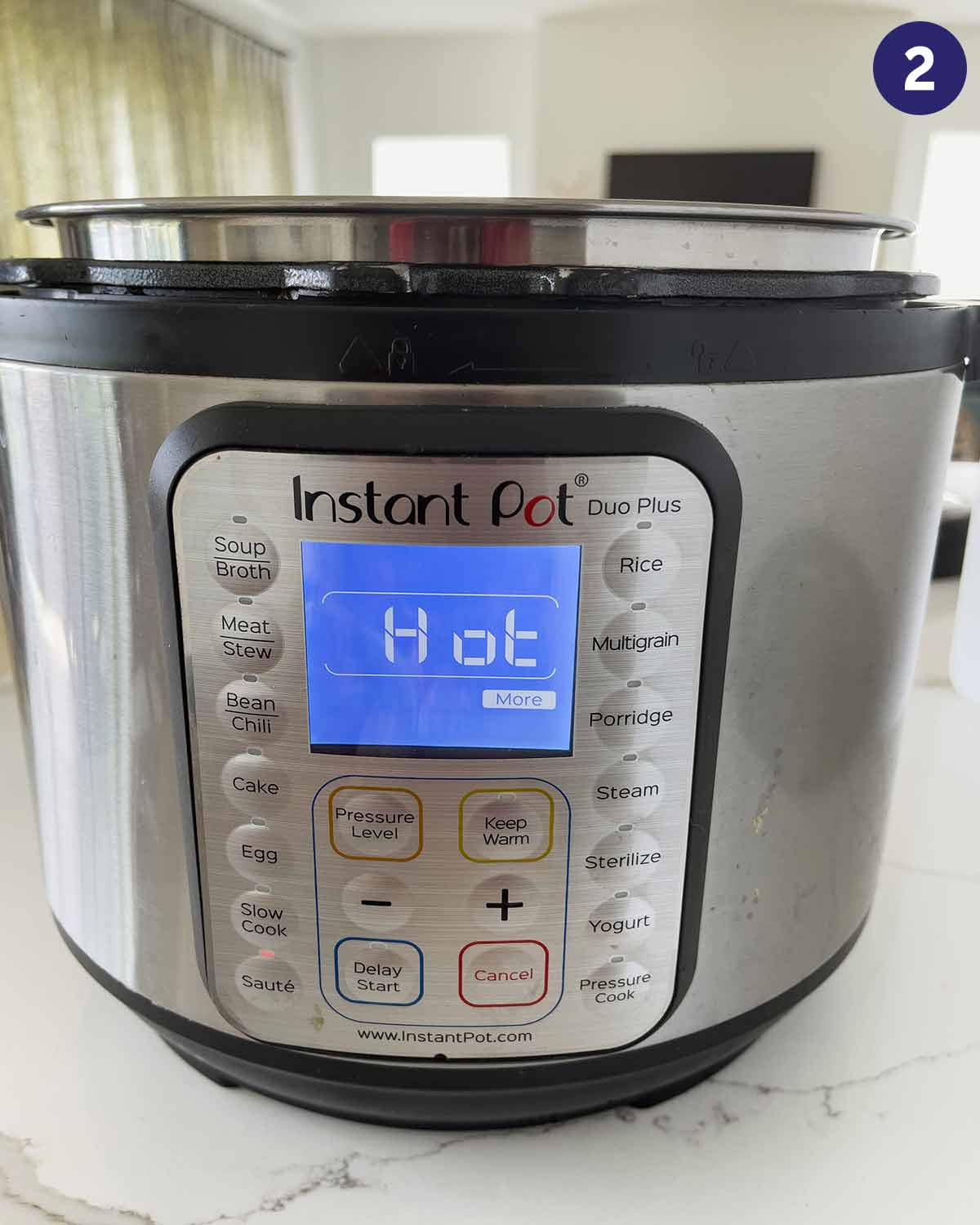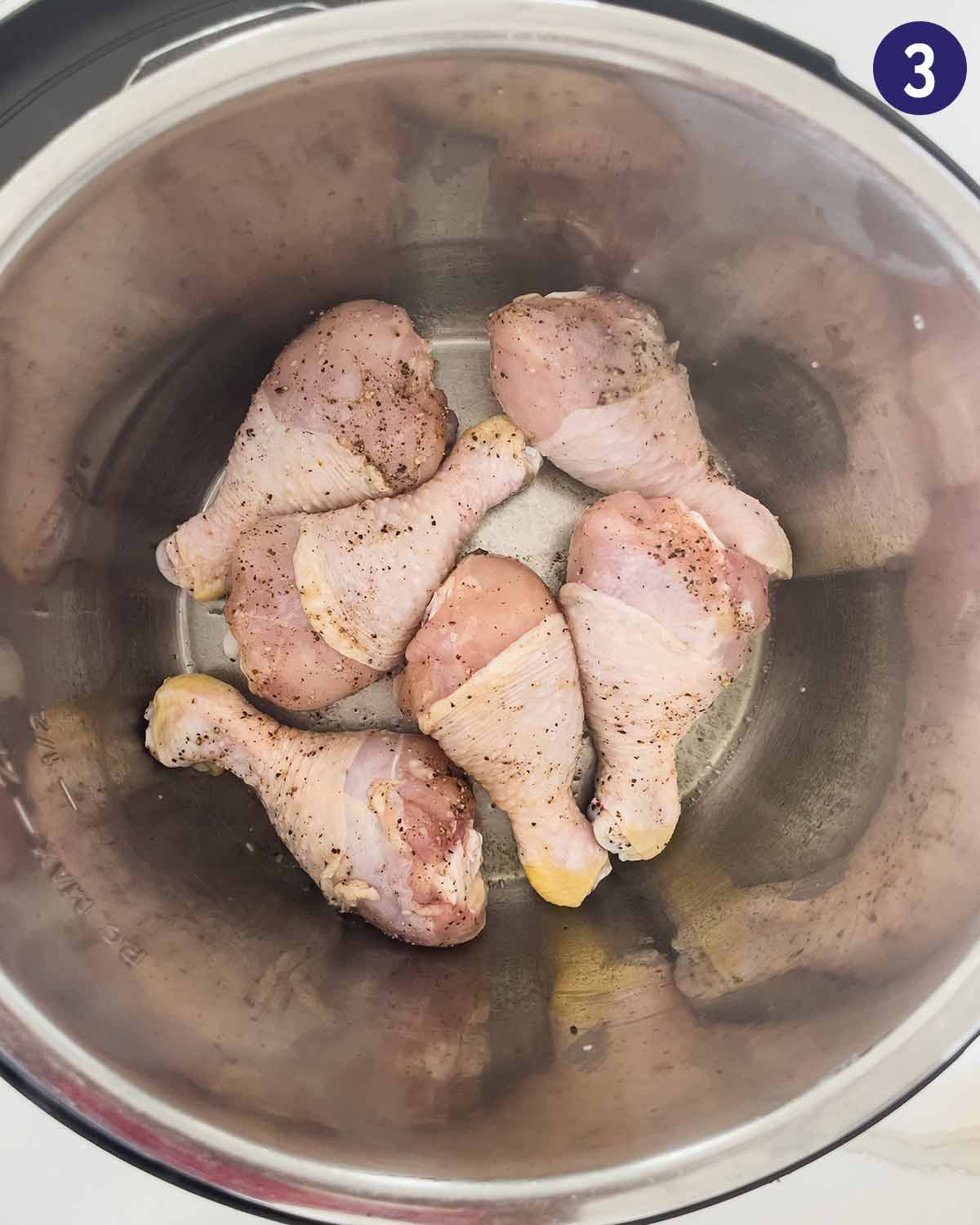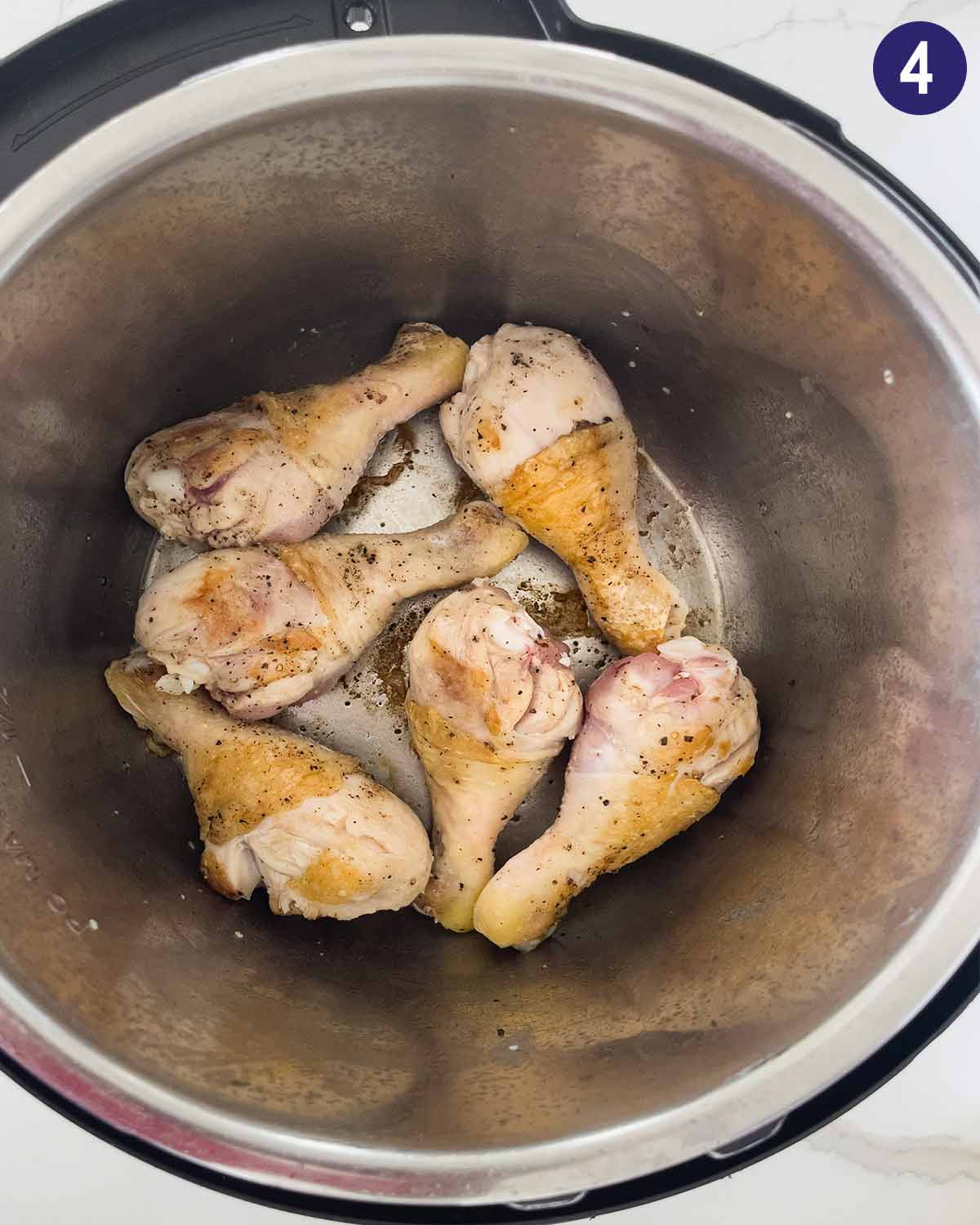 Step 2 – Pressure cooking
Once the roasting is done, take the drumsticks out and keep them aside. Add some water and deglaze the pot by scraping to avoid burnt sign trigger. Add chopped garlic, lemon juice, and roasted drumsticks and gently mix them. Adjust the drumstick to form even layers or stacks.
Cover, turn off the Instant Pot, and then turn it back on to the manual pressure mode. Cook the drumsticks on manual high pressure for 10 mins. Let the steam release naturally for 5 min, and then open the vent to release the remaining steam.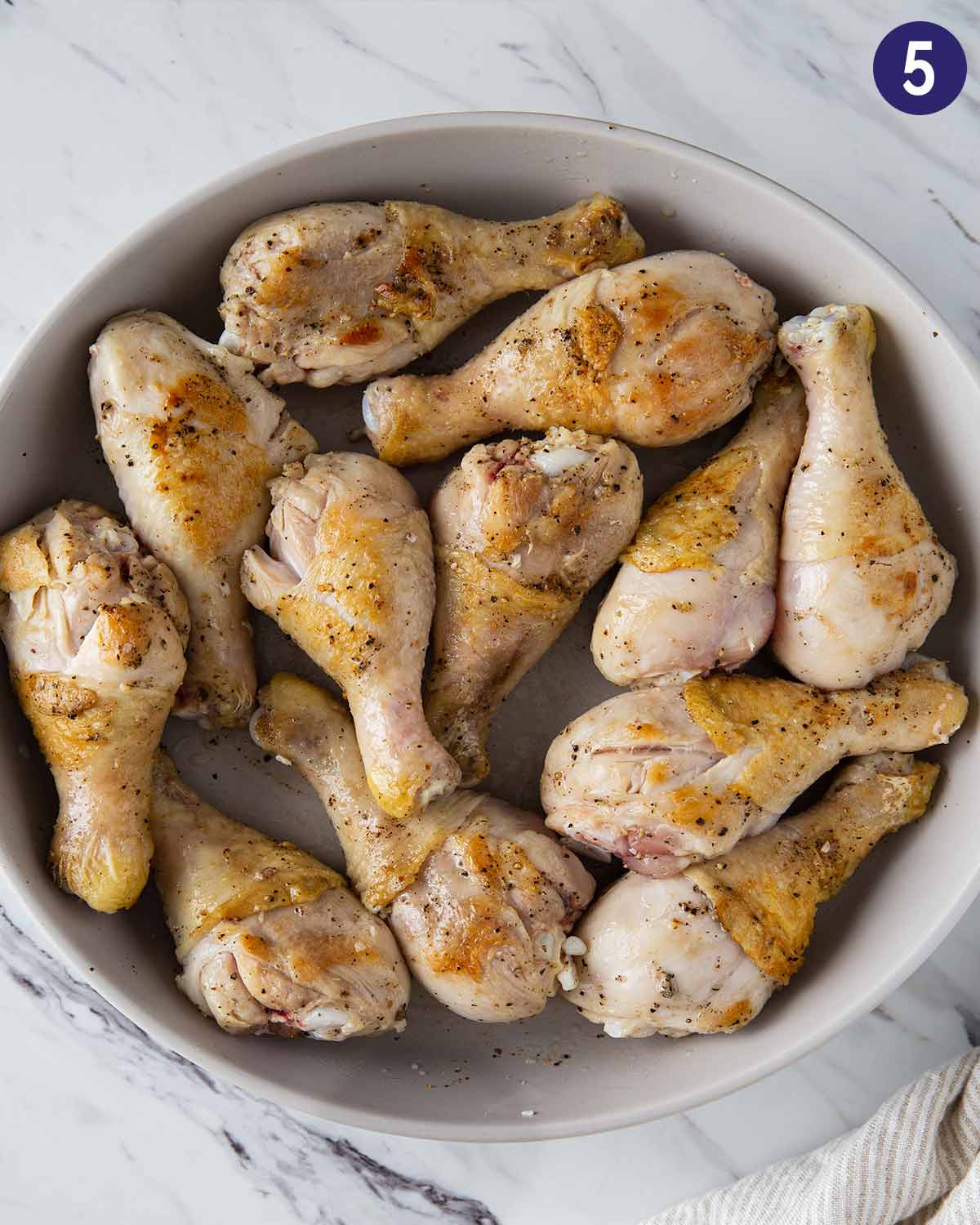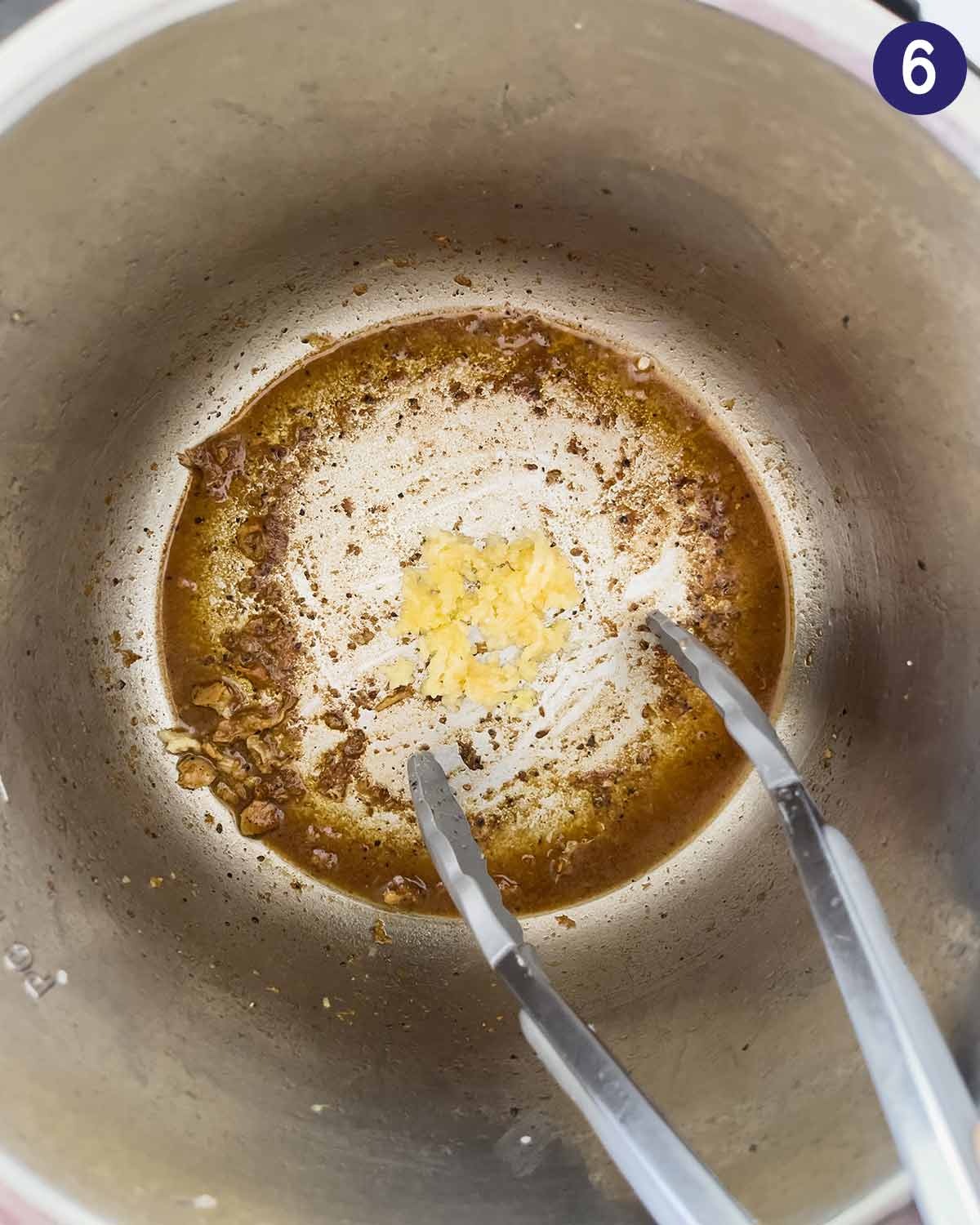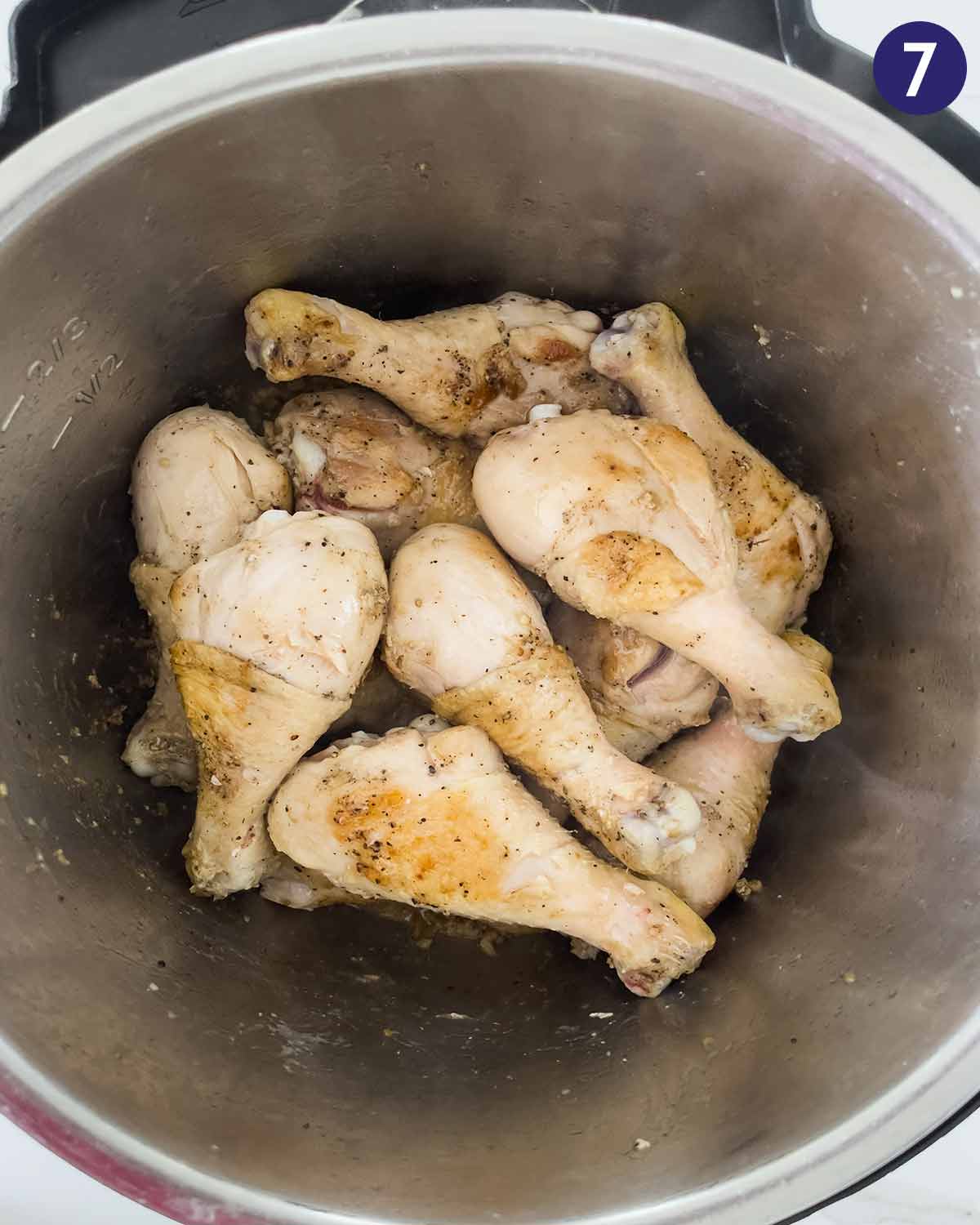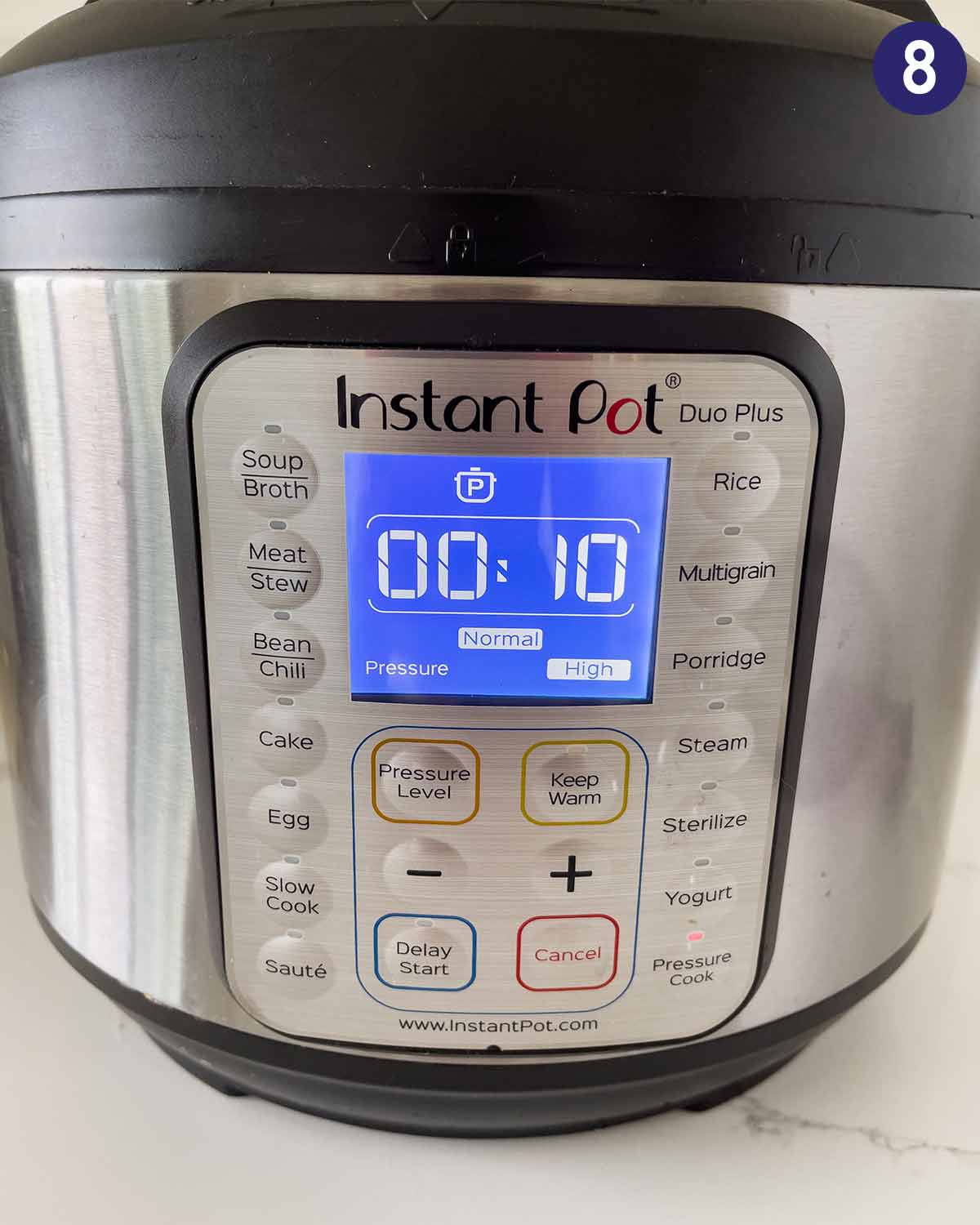 Step 3 – Thickening the sauce and giving final touch
Using tongs, carefully take out the cooked chicken drumsticks in a serving bowl or dish. Then turn on saute mode and let excess water evaporate from the drippings until you get a sauce-like consistency. Pour the sauce on chicken wings evenly to coat them. Garnish with fresh herbs and lemon slices, and serve.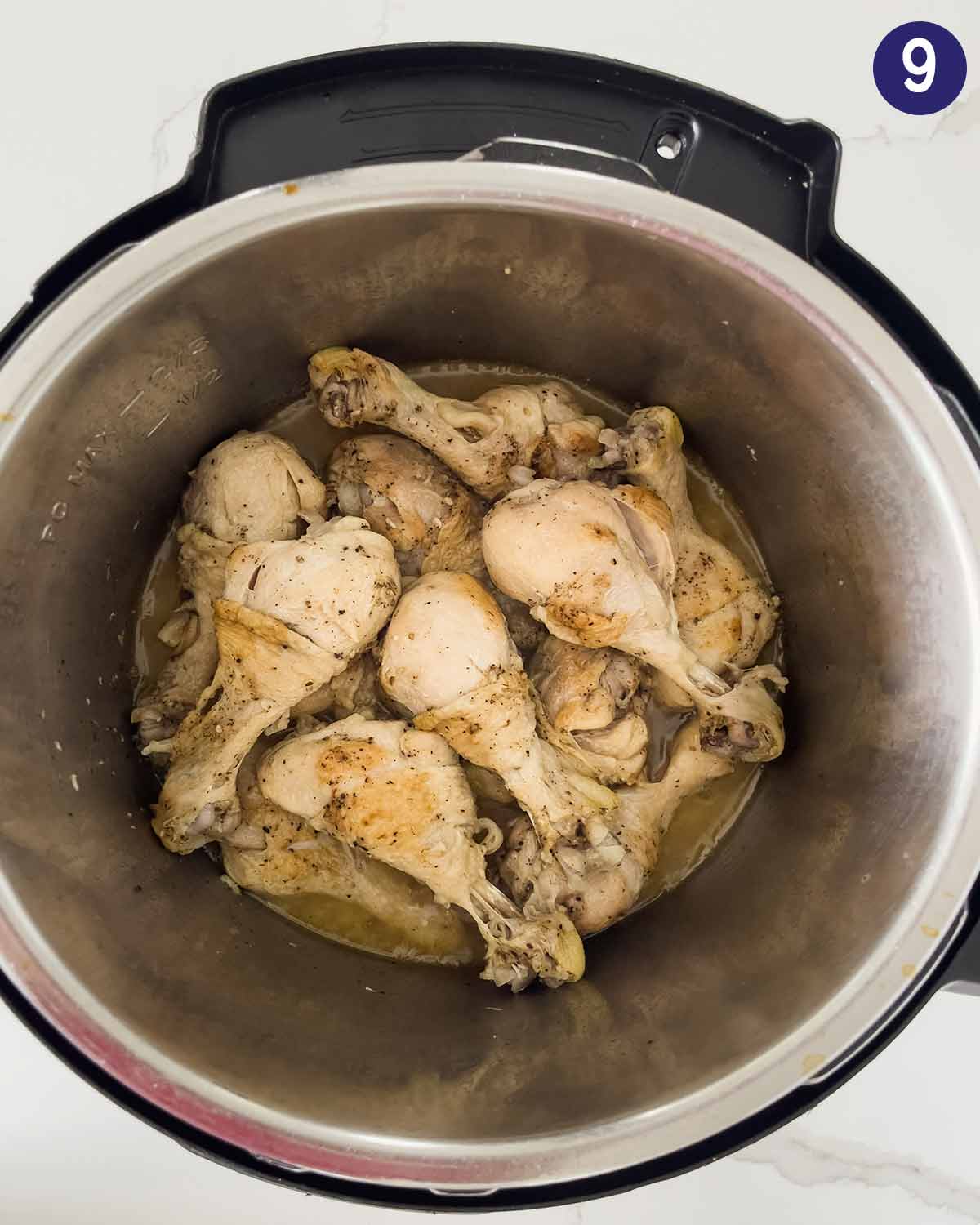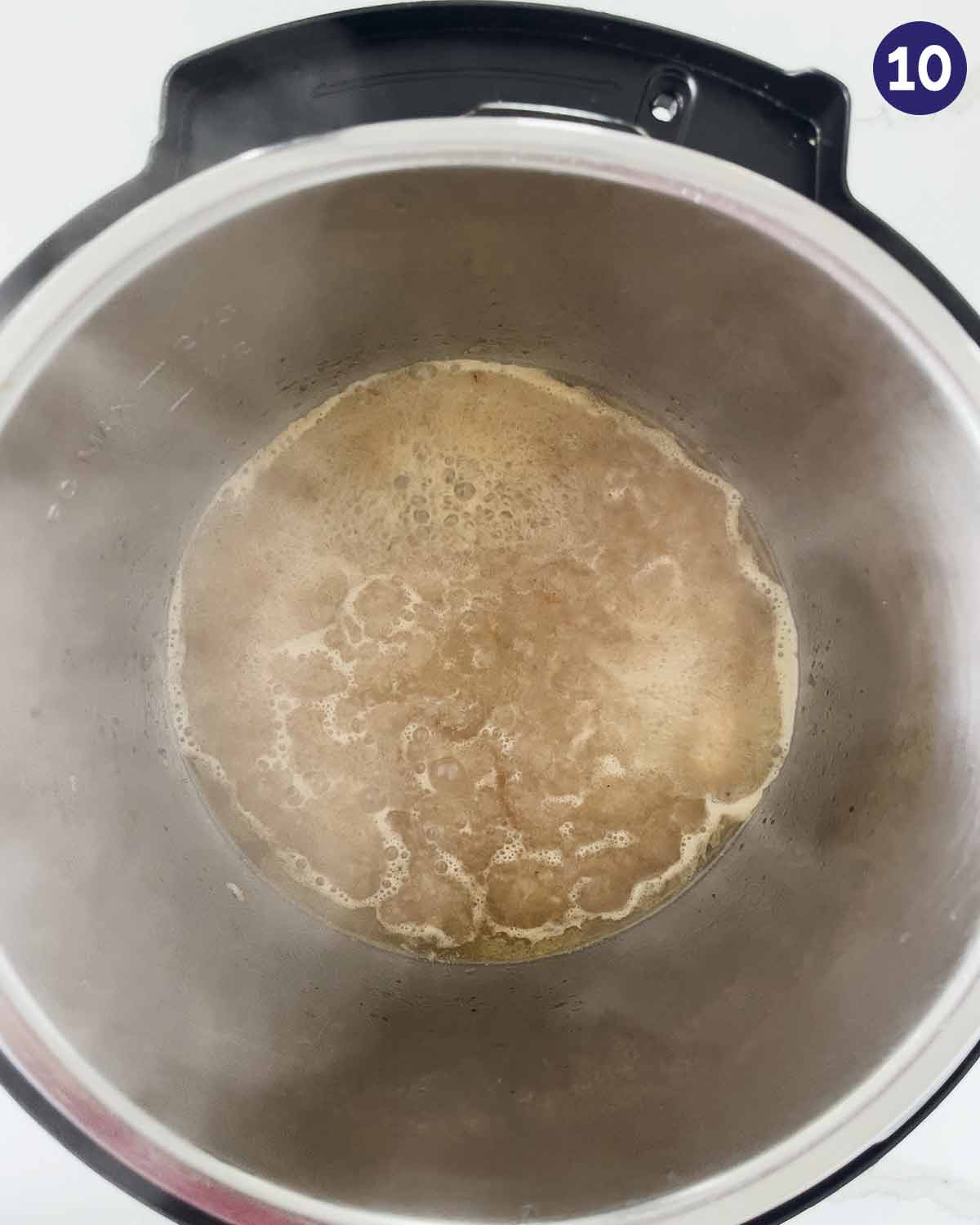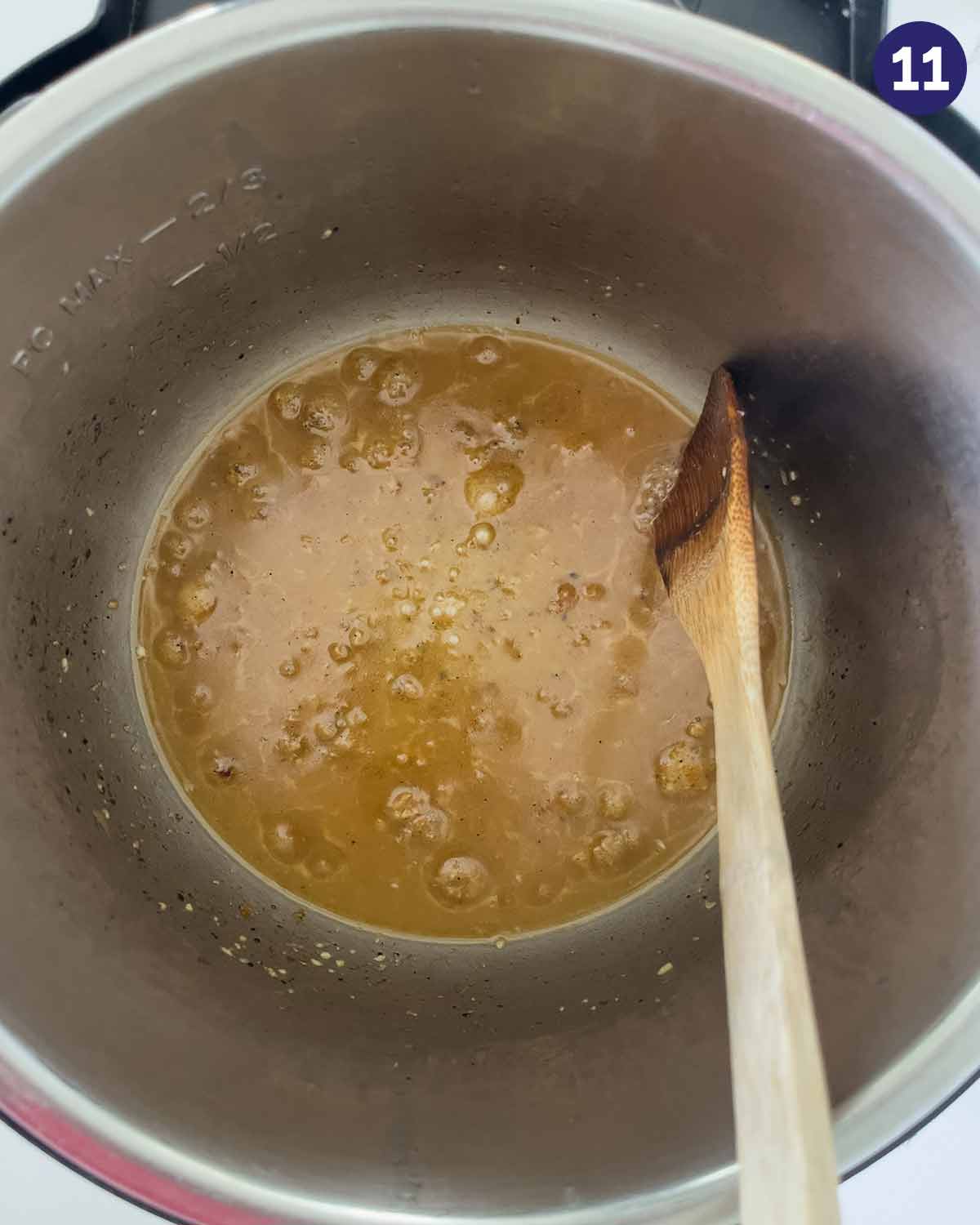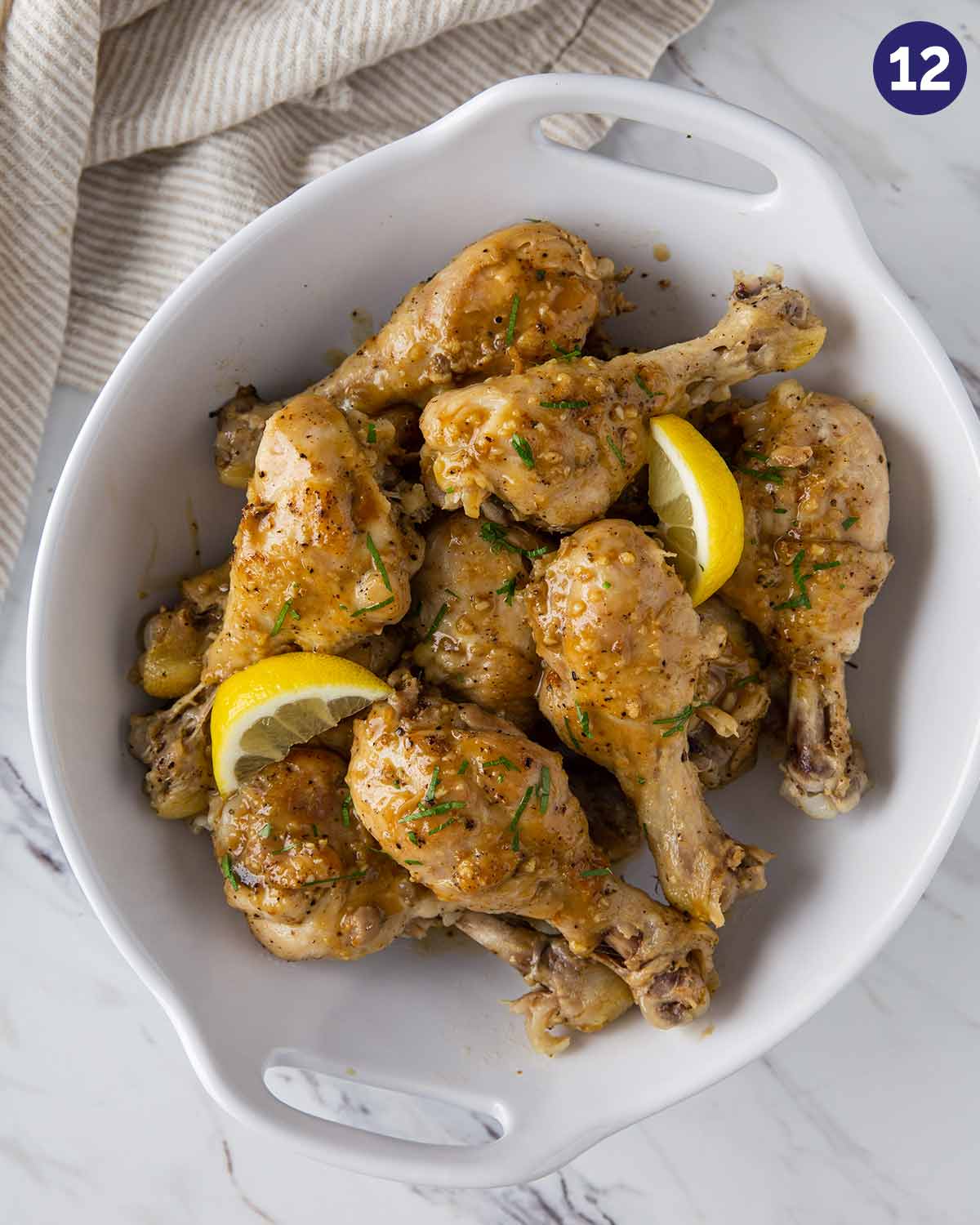 Cooking frozen chicken legs in Instant Pot
You can cook frozen chicken drumsticks in Instant Pot. There is no need to thaw them before cooking. However, you will need to skip the roasting step before pressure cooking. And, add 5 min extra time in high-pressure cooking.
For example, for fresh chicken drumsticks, it will take 10 mins. at high pressure; however, cook them for 15 mins. on high pressure, if using frozen.
How many drumsticks can I put in Instant Pot?
You can cook as many drumsticks in the Instant Pot that can fit below the maximum mark. So far, I've cooked 5-15 drumsticks in my 6 qt Instant Pot. There is no change in the pressure cooking time. Regardless of the quantity, pressure and cooking times are similar.
However, you may need to roast the chicken in several batches before pressure cooking, which will take some more time, depending on how many pieces you have.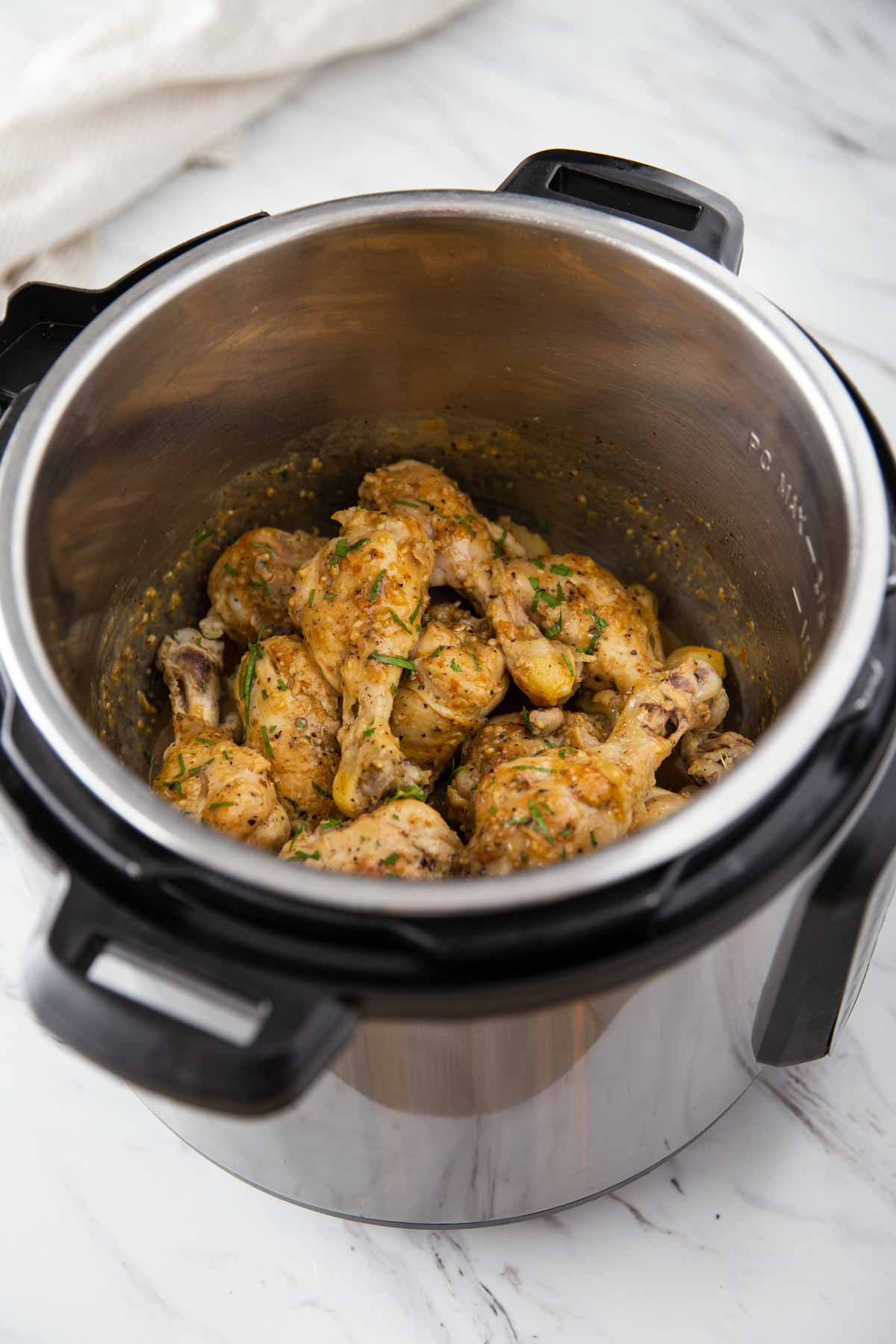 Serving suggestions
You can serve these garlic lime chicken drumsticks with many dishes.
Helpful tips
Chicken drumsticks – Use organic chicken drumstick whenever possbile. You can remove the skin if you prefer and want to cut down on fat content.
Roasting in Instant Pot – Let the pot heat fully and wait until it shows the Hot sign before adding the chicken legs. This will help to roast them nicely.
Cooking time – High-pressure cook time will remain the same whether you cook 5 or 15 drumsticks at a time. However, the total roasting time will increase as you will have to roast them in several batches depending on the quantity.
FAQs
How to store leftovers?
Let the drumsticks cool down completely, and then store them in an air-tight container in the refrigerator for about two days. Use an air-tight container to avoid drying them.
How to reheat leftovers?
Drizzle some water and heat the drumsticks coated with sauce in a small frying pan over low heat. Make sure to cover the pan and heat them until steamy hot.
Or microwave for 1 minute, gently stir, and heat them for another 30 seconds.

Can you overcook chicken legs in an Instant Pot?
Surprisingly, chicken drumsticks do not become rubbery or chewy if you overcook them in Instant Pot for a long time, unlike cooking them on a stovetop or oven. Instead, they become super soft, and the meat can completely fall off the bone with the fibers separating out. Therefore, they need to be cooked optimally to get the best texture.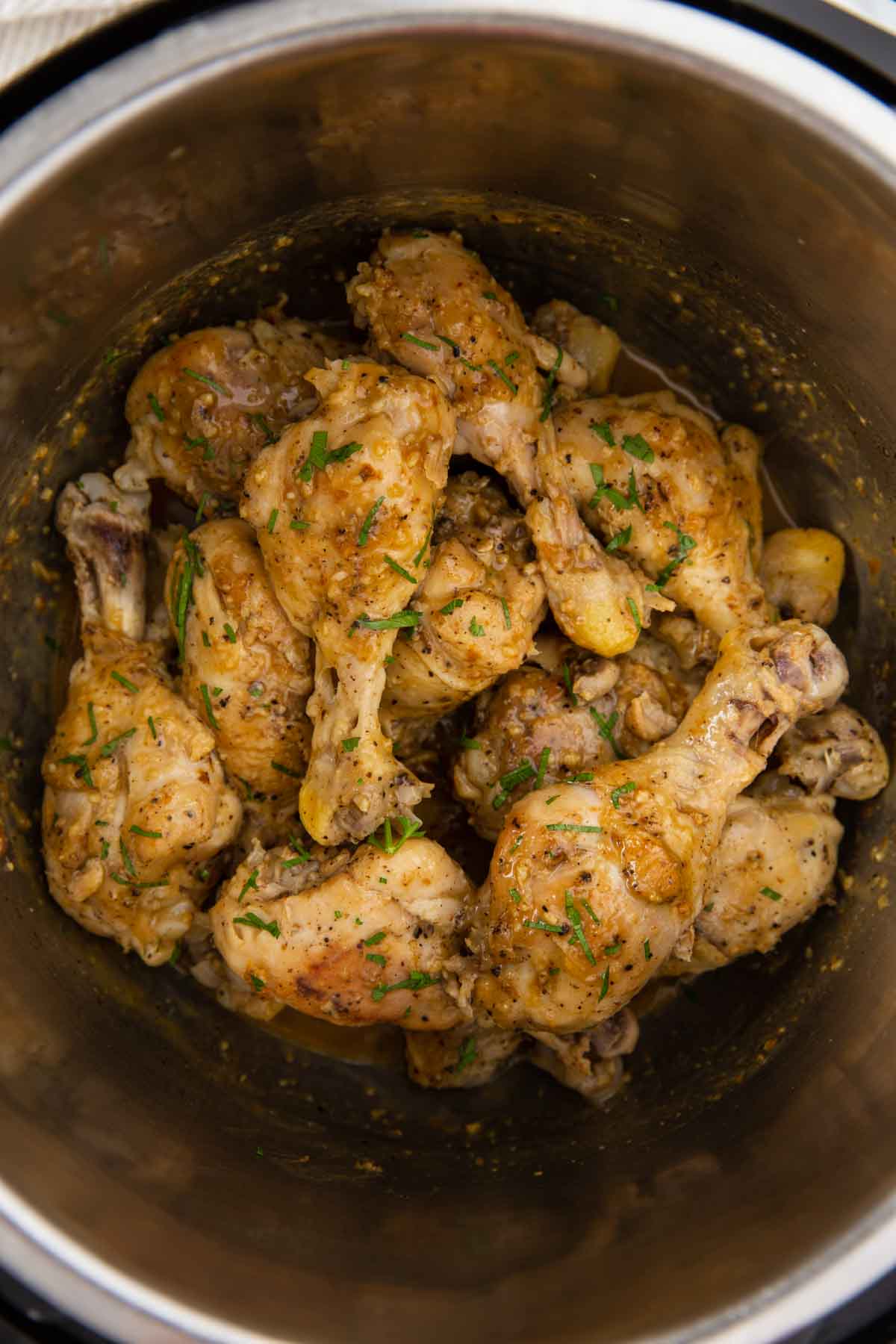 More chicken recipes you will love
More recipes to try in Instant Pot
Love this recipe? Please leave a 5-star ⭐⭐⭐⭐⭐ rating in the recipe card below & a review in the comments if you REALLY like this recipe. Thank You!
📖 Recipe
Easy Instant Pot Chicken Drumsticks
Make these easy juicy and flavorful Instant Pot chicken drumsticks for healthy and a protein-rich lunch/dinner. You can prepare them in under 30 mins. with simple ingredients. Also, prepare finger-licking sauce from the drippings, which make them so tempting.
Ingredients
10

chicken drumsticks

1

tablespoon

cooking oil

2-3

garlic cloves chopped

1

tablespoon

lemon juice

from ½ fresh lemon

2

tablespoon

water

Salt and pepper

2

tablespoon

fresh cilantro or parsley
Instructions
Roasting chicken drumsticks
Turn on high saute mode and let the Instant Pot preheat till it shows the HOT sign.

Meanwhile, clean and pat dry chicken drumsticks to remove excess moisture as much as possible. Rub salt and pepper generously to coat them evenly.

Add oil and place chicken drumsticks in a single layer. Roast them for 3-5 min and turn and roast on the other side for 3 more mins.
Pressure cooking
Turn off the Instant Pot, add 2 tablespoon of water and deglaze the pot by scraping the button using a spatula or the tip of the tongs.

Add finely chopped garlic, lemon juice, and chicken drumsticks, mix and adjust them evenly into layers.

Turn back on Instant Pot on manual high pressure. Cover and cook the drumsticks for 10 mins. on normal high pressure.

Then allow the steam to release naturally for 5 mins. and release the remaining steam manually by turning the valve to the vent position.
Preparing sauce
Carefully take out chicken drumsticks in a large serving bowl. Evaporate excess water from the drippings in the pot on high saute mode until it gets to a sauce-like consistency.

Pour the sauce over cooked drumsticks.

Garnish with herbs and serve warm.
Notes
Preheating Instant Pot to HOT helps to roast the first batch of chicken drumsticks nicely. Otherwise, it will take a longer time to roast them.
I always roast 5-6 drumsticks at a time in my 6 qt Instant Pot. Therefore, for 10 drumsticks, I do this step in two batches.
Pat drying chicken drumsticks is important to remove excess water from the skin. This will help to get the roasted brownish color on the skin in less time.
Quantity – I have pressure cooked a batch of a minimum of 5 and a maximum of 15 drumsticks this way in my Instant Pot. Adjust the seasonings accordingly, depending on the quantity.
Sauce – It will take 5-8 mins. or more to thicken the sauce on saute mode after pressure cooking. Again, it will depend on the number of drumsticks being cooked. Also, pour the sauce over the cooked drumsticks evenly and gently mix them to coat the sauce evenly. Make sure not to overmix. The Instant Pot drumsticks are super moist and tender, and the meat can easily break or fall off the bones.
Nutrition
Calories:
182
kcal
|
Carbohydrates:
0.5
g
|
Protein:
25.4
g
|
Fat:
8
g
|
Saturated Fat:
1.8
g
|
Potassium:
194
mg
|
Fiber:
0.1
g
|
Sugar:
0.1
g
|
Calcium:
13
mg
|
Iron:
1
mg
Tried this recipe?
Tag us on Instagram @watchwhatueat or tag #watchwhatueat! OR leave us a comment & rating below. Your feedback is very important to us.