Make these easy pull-apart Christmas Tree Pizza Bites to serve healthy appetizers during the festive season. With all the pizza ingredients, this will be a super hit.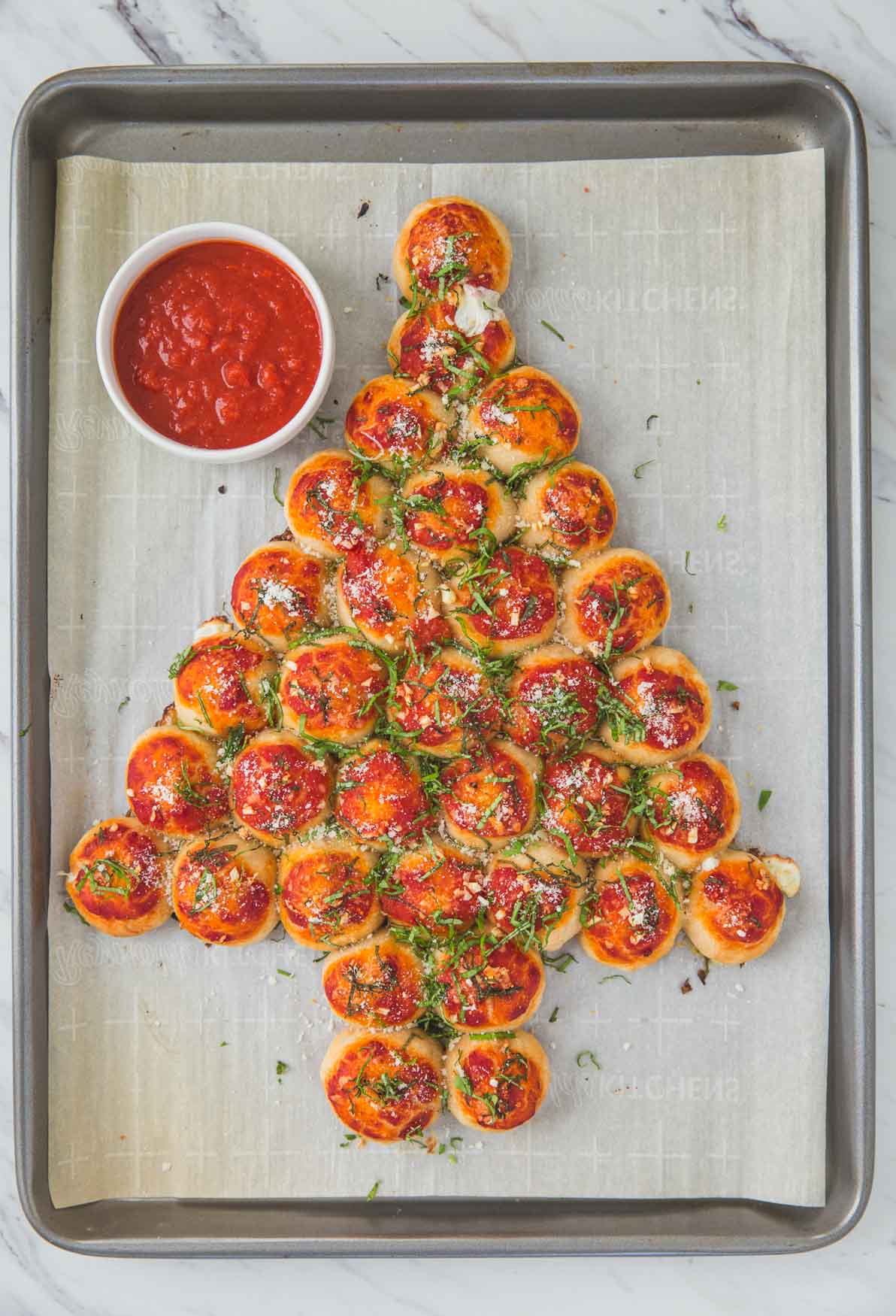 If you are thinking about options for serving appetizers for Christmas Eve, then give these pizza bites a try. These are made into a Christmas tree shape and are perfect for the occasion. I am sure these will be a super hit.
This recipe is inspired by our artichoke spinach pinwheels Christmas tree that I published 3 years back on Watch What U Eat. Whenever Christmas arrives, these pinwheels get so much love from the readers.
This time, I thought to make such a Christmas tree appetizer using traditional pizza ingredients. Perfect for pizza lovers like me, huh…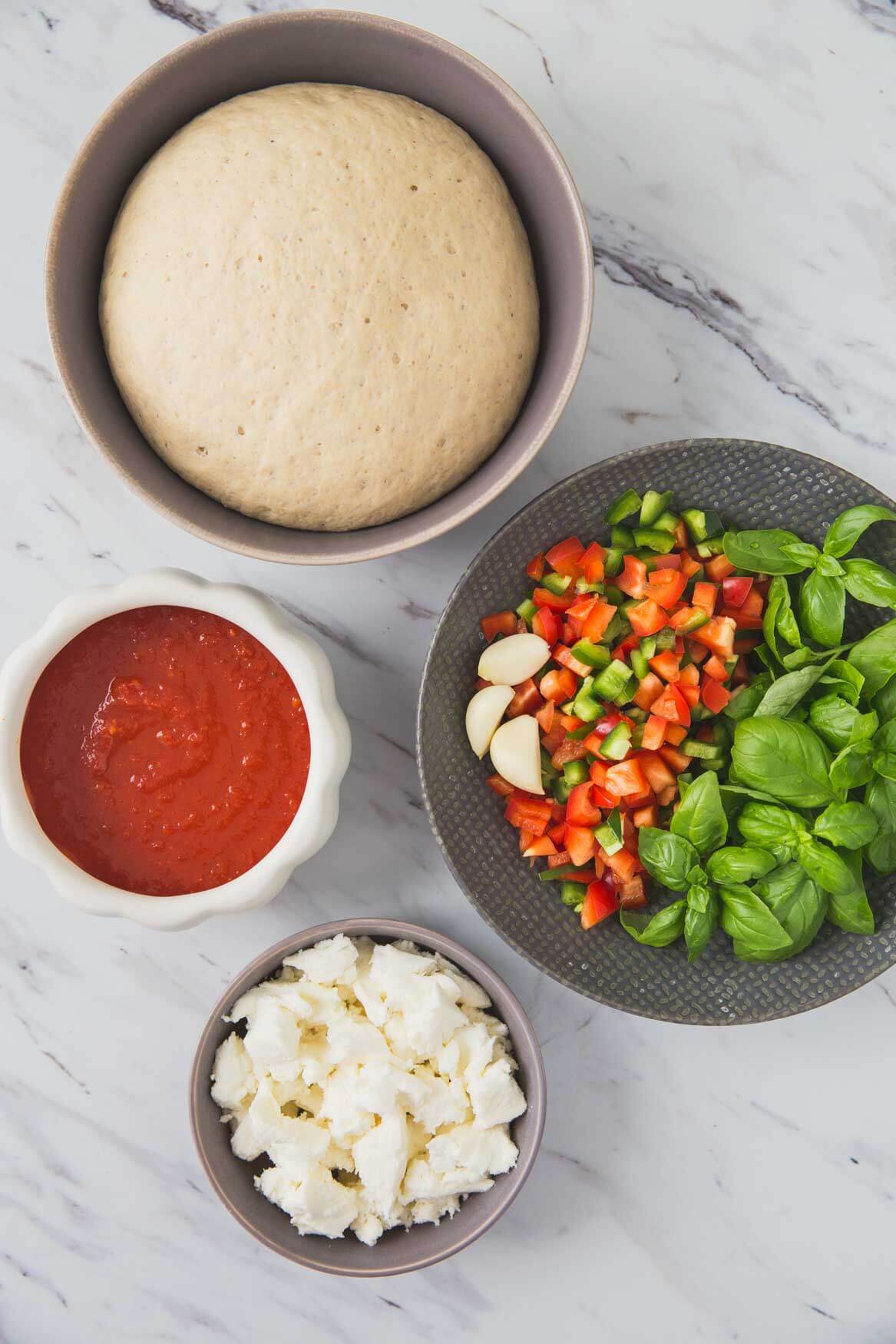 What you will need?
Pizza dough – use store brought or homemade whole wheat pizza dough for healthy appetizers. Or, use the regular all-purpose dough.
Peppers – for making pizza balls, you will need to dice peppers, jalapeno, etc., into small pieces.
Garlic – it adds a roasted garlicky flavor to the dish.
Pizza sauce – either prepare pizza sauce at home or get a good one from stores to save some time.
Mozerella cheese – for delicious results, use fresh mozzarella cheese. Grate or tear them into small pieces.
Seasonings – for amazing flavors and aroma, I like to add mixed Italian herbs and salt to the filling.
How to make pull-apart Christmas tree pizza bites
In a mixing bowl, combine finely diced bell peppers and jalapeño. Season with the Italian seasoning mix, salt, and some pepper; mix well.
Line a baking sheet with parchment pepper.
Divide 1 lb pizza dough into a total of 33 parts. Using your hand, make the dough into 3-4″ round balls. Now place some veggie mixture and mozzarella cheese in the center. Gather all sides of the dough and make it into a veggie-filled ball. Repeat the steps with the remaining pizza dough. Simultaneously, arrange the filled pizza dough balls on the lined baking sheet in a Christmas tree shape.
Spread a thin layer of pizza sauce over the Christmas tree dough balls. Then sprinkle some finely chopped garlic, chopped fresh basil leaves over it. You can also use some parmesan cheese here if you like.
Bake the veggie pizza balls in a preheated oven until well done. Let it cool slightly. Add some more fresh basil leaves and parmesan cheese before serving for a greener look. Serve warm.
Serving suggestion!
Serve them with homemade pizza sauce or marinara sauce on the side.
Make this cranberry mimosa or cranberry sangria to include in the Christmas dinner menu, along with these pull-apart Christmas tree pizza bites. These are non-alcoholic drinks, and kids can also enjoy them.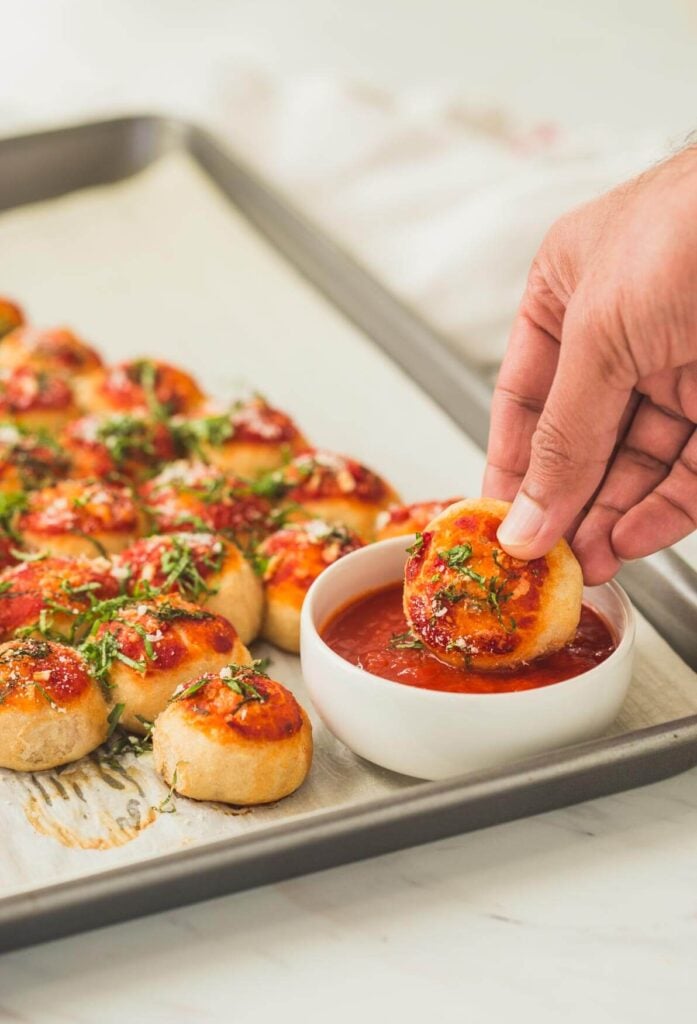 Helpful Tips!
Dice veggies like bell pepper and jalapeño for this recipe to about ¼″ in size. The small size will make it easier to fill them into the dough.
Spread the diced peppers onto a kitchen paper towel for a few minutes to remove the extra moisture. Or, dab the paper towel over the veggies to take the excess moisture out. This way, the pizza bombs will not become soggy from excess moisture.
Try to divide the pizza dough into even size parts to get a uniform look on the final Christmas tree pizza.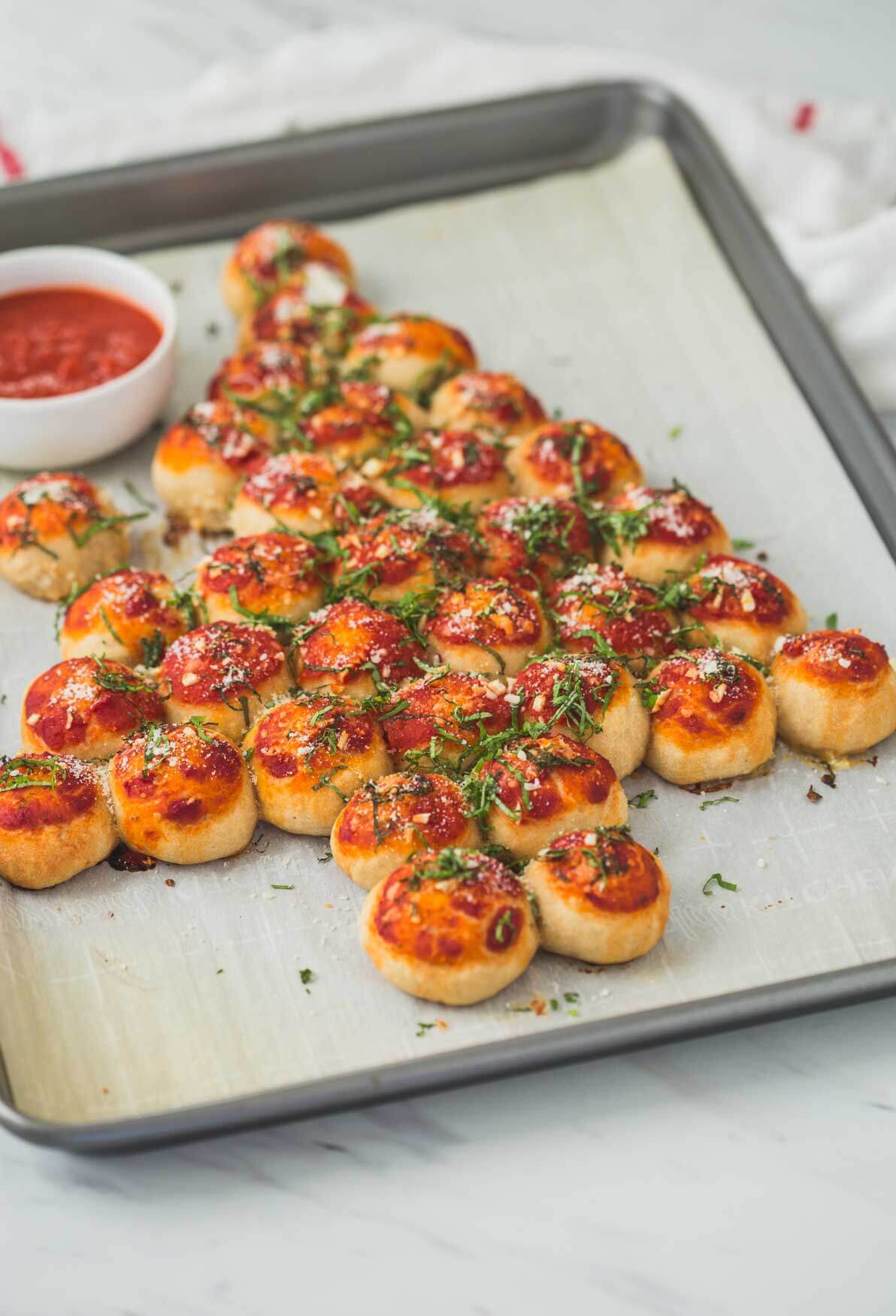 Recipe variations!
You can also add small pieces of pepperoni or olives into the filling mixture.
Use basil pesto to spread over the prepared pizza dough balls instead of a tomato-based pizza sauce.
Just arrange the dough balls in the shape of a rectangle instead of a Christmas tree, and you can enjoy them any time of the year.
More festive recipes you will love to try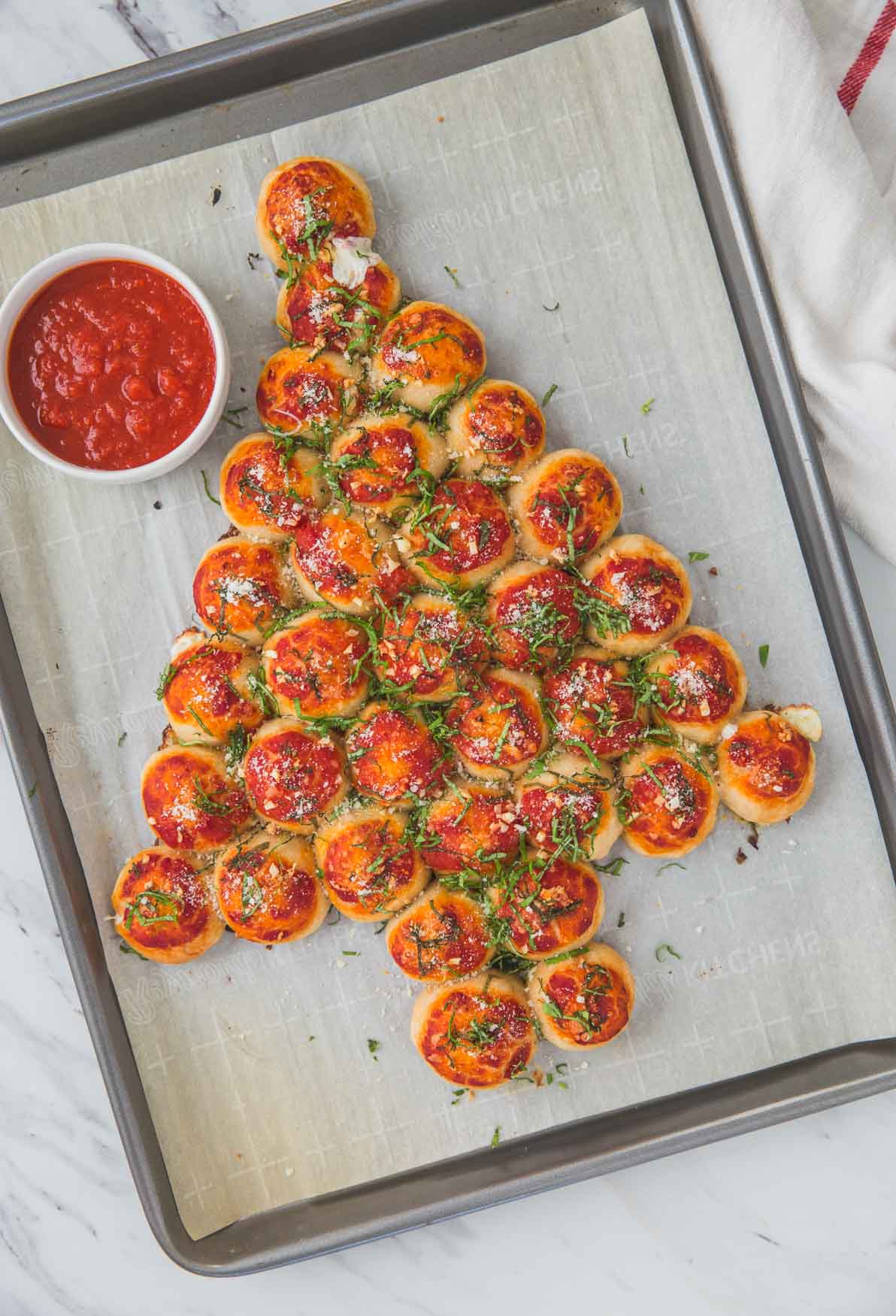 📖 Recipe
Pull-Apart Christmas Tree Pizza Bites Appetizer
Make these pull-apart Christmas Tree Pizza Bites to serve as appetizers during the festive season. The pizza ingredients will make this a super hit.
Ingredients
Filling
½

red pepper

diced into ¼" pieces

1

jalapeno

seeded and diced into ¼" pieces

½

cup

mozzarella cheese

shredded or torn into ½" size

½

teaspoon

Italian seasoning mix
Toppings
½

cup

pizza sauce

plus more for dipping

2-3

garlic

cloves chopped

⅓

cup

basil leaves

chopped (or more)

2

tablespoon

parmesan cheese

(or more)
Instructions
In a medium mixing bowl combine diced pepper and jalapeno. Then add Italian seasoning mix and some salt to taste. Mix well and keep it aside.

Preheat the oven to 425F.

Divide the pizza dough into 33 equal parts. Using your fingertips, press the dough ball to form a roughly 3" flat round base. Place some diced pepper-herb mixture and a small piece of mozzarella cheese in the center.

Wrap all sides of the dough around the veggie and cheese to form a tightly sealed ball. Now place the dough ball seam side down on the lined baking sheet. Repeat the process with the remaining dough and simultaneously arrange the pizza dough balls into the shape of a Christmas tree.

Now spread a thin layer of pizza sauce over the prepared Christmas tree pizza dough.

Then add toppings like chopped garlic, basil leaves, and some parmesan cheese. Bake the dough balls in a preheated oven for 12-15 mins.
Notes
Line the baking sheet with parchment paper to avoid pizza bites sticking to the base and for easy cleanup.
Remove excess moisture from diced pepper using a kitchen paper towel before adding herbs and salt. See helpful section for more details.
You can customize the toppings as well as fillings as per your likings.
I use a teaspoon to measure and add veggie mixture fillings. It helps to get even sized pizza bites.
Nutrition
Tried this recipe?
Tag us on Instagram @watchwhatueat or tag #watchwhatueat! OR leave us a comment & rating below. Your feedback is very important to us.