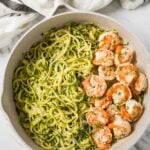 Print Recipe
One Pan Lemon Garlic Shrimp And Zucchini Noodles
Cook shrimps and zucchini noodles in fresh garlic and lemon juice and top with finely chopped fresh herbs for a healthy, quick and easy lunch or dinner. 
Heat oil in a large skillet on medium heat.

Add garlic, some chili flakes and cook for 40-60 sec.

Then add shrimp, lemon juice and season with salt and pepper. Cook them for 3 min on both sides (total 6 min). Once done take them out.

Now in the same skillet, in leftover oil and garlic, add zucchini noodles. Cook them on high heat for 3-4 min.

Add salt and pepper; mix well. Add back the cooked shrimp or serve separately.
Do not overcook the shrimp. Cooking seafood for long results in a hard and chewy texture.
You can cook the zucchini noodles according to your preference. I prefer mine soft and fully cooked.
Also, add salt only toward the end of cooking the zucchini. Else, it will make the zucchini noodles soggy.