This easy and healthy apple crisp recipe is perfect for enjoying dessert guilt-free. No one will notice that it is skinny with no butter and white sugar. So trick your family and friends and feed them this healthy dessert.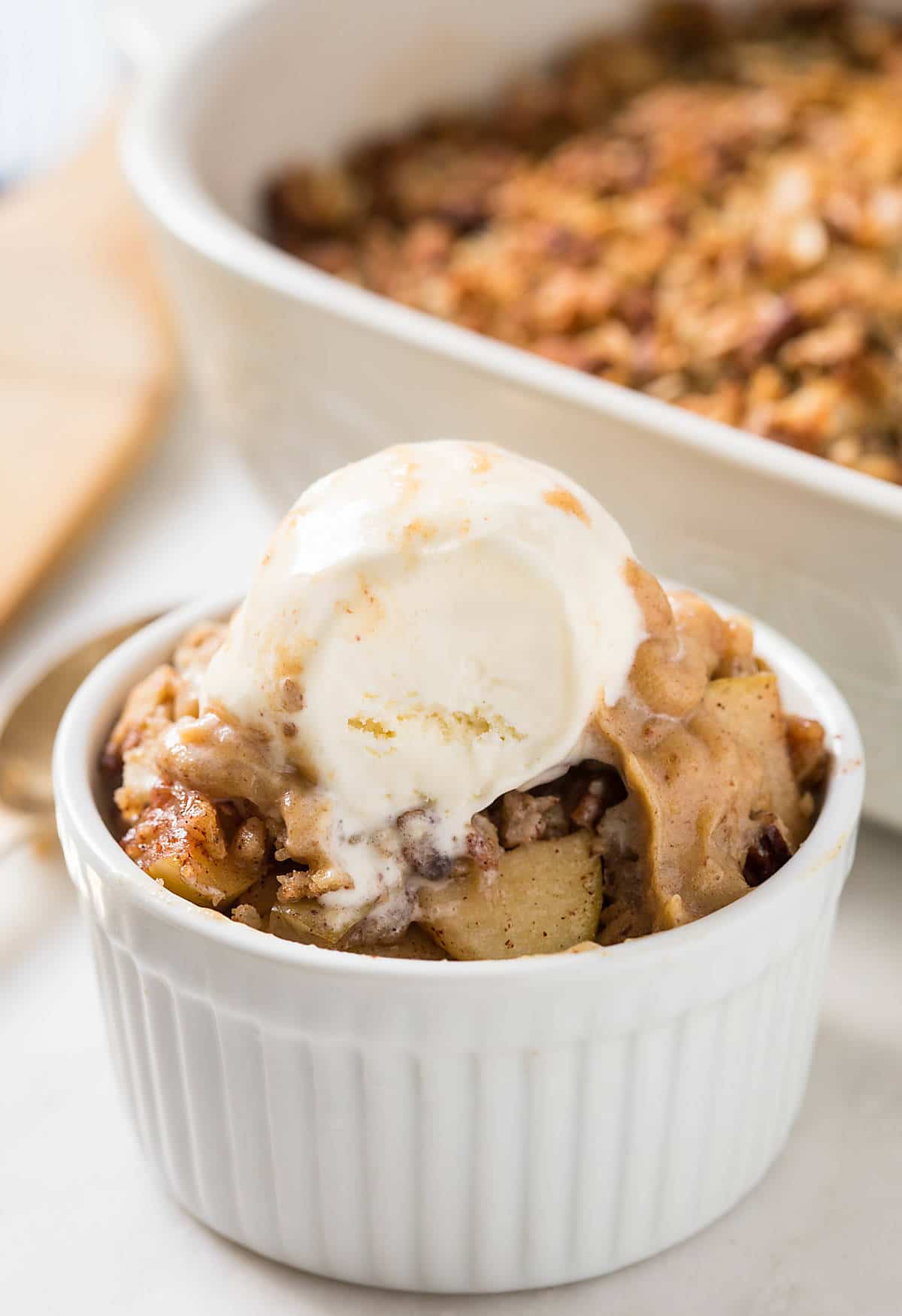 This time I deliberately wanted to make apple crisp for dessert. And, if it is homemade it needs to be healthy or at least have a healthy twist. This is the prime reason I never liked the one I bought from the store. Its loaded with enormous amounts of butter and sugar. And, I found it too sweet for my taste.
After a couple of trials in the kitchen, I finally came up with a healthy apple crisp recipe that I am going to share with you. It is very easy to prepare and you can get it to the table in less than an hour. Its preparation is pretty quick and most of the time it will sit in the oven.
Easy Healthy Apple Crisp Recipe!
For the base, you will need fresh apples. For this recipe, I used granny smith apples. You can use other varieties too if you like something different. If the apples you decide to use are sweeter then there is no need to add any sweeteners. Dice apples into small sizes and then mix with cinnamon, cornstarch, and sweetener. Layer it into oven-safe casserole dish.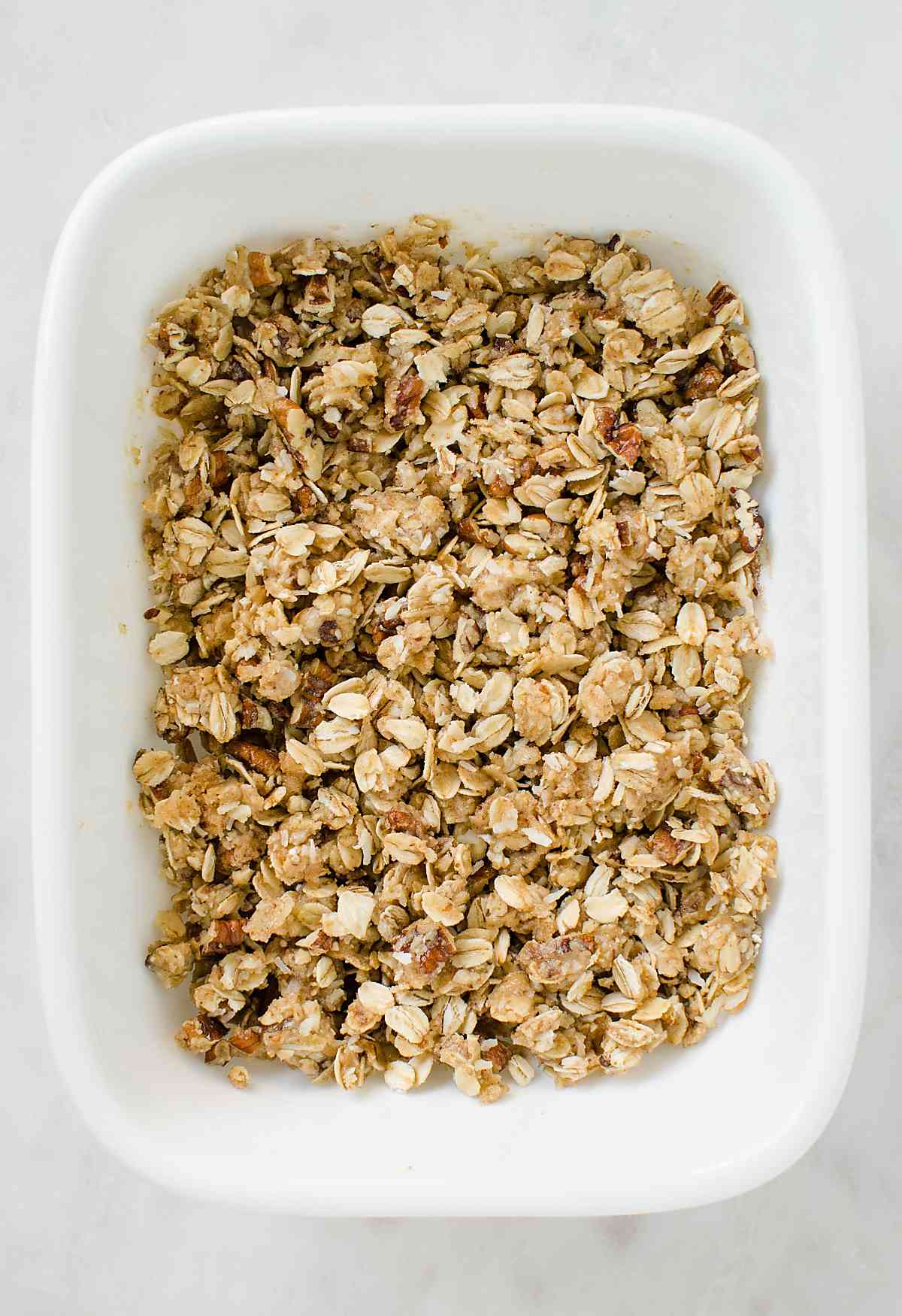 For the toppings, in a medium bowl, mix rolled oats, whole wheat flour, almond butter, crushed pecans, desiccated coconut, agave or honey and some oil. Spread this oat streusel over the apples and bake in a preheated oven to perfection. Serve this delicious warm skinny apple crisp with the scoop of vanilla ice cream or banana ice cream.
Next time when you throw a party at your home, try this easy apple crisp for a light dessert. I am sure no one will notice that it is healthy.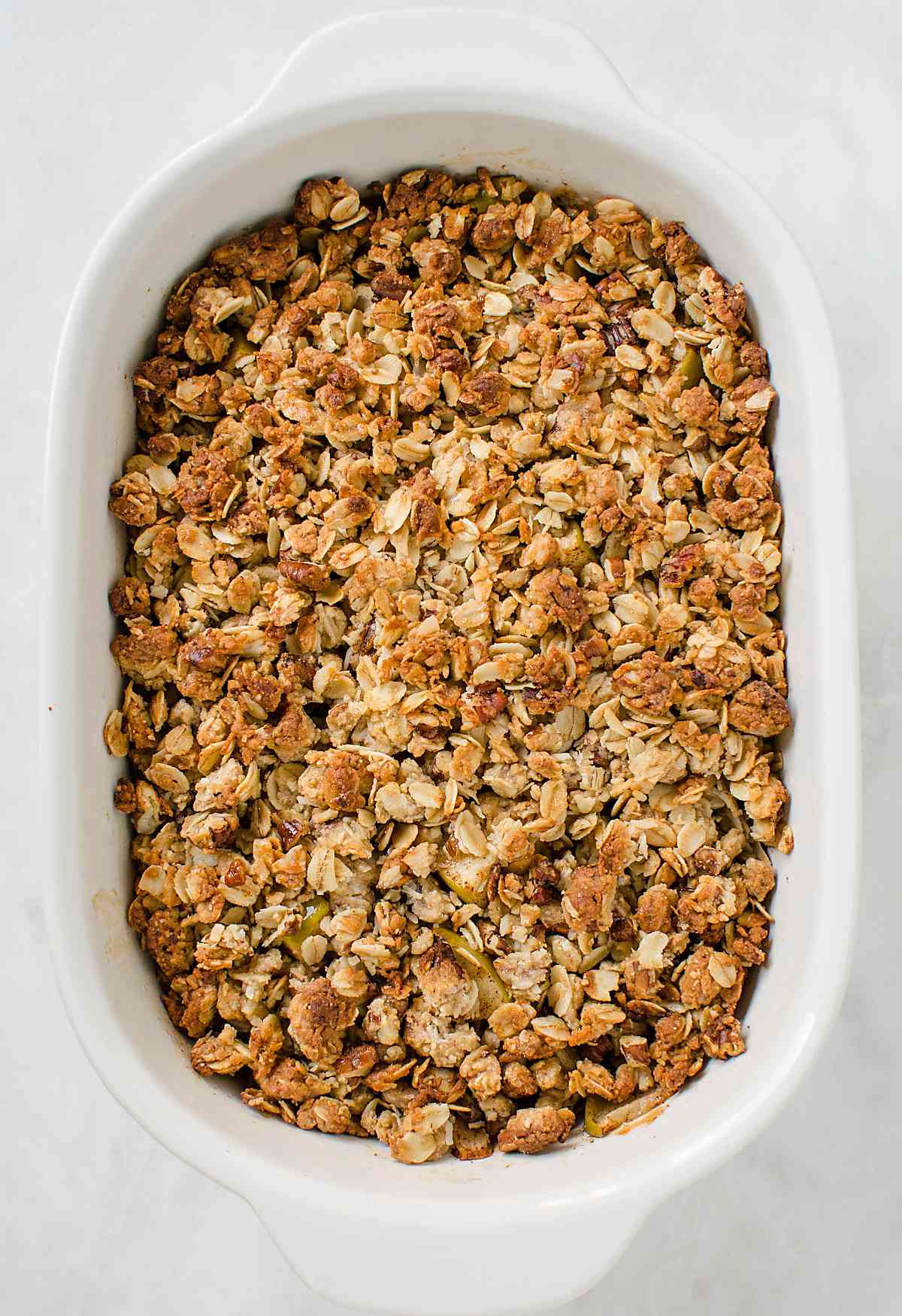 Helpful Tips!
Choose firm green apples without any dents or spots. Use organic variety whenever possible.
Use apple corer slicer for even cutting and quick prepping. I find this little tool very effective when it comes to cutting apples. It's completely optional and you can definitely use a knife to cut and dice the apples if you do not have this apple slicer.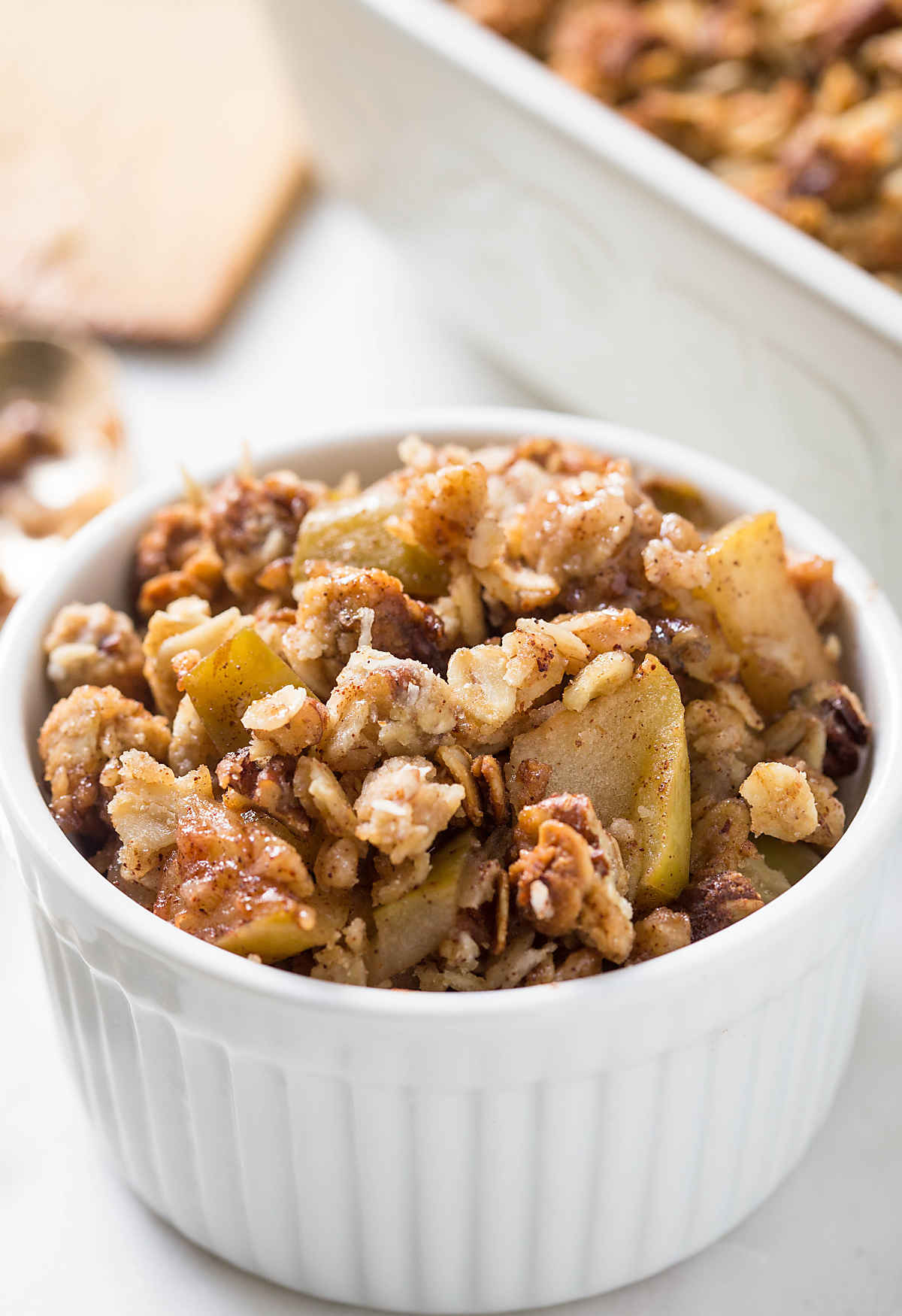 📖 Recipe
Best-Ever Healthy Apple Crisp Recipe For Guilt-Free Dessert
Delicious healthy apple crisp recipe to utilize fresh apples in the season. It is totally a game changer.
Ingredients
Apple Filling
2

green apples

granny smith diced into ½" pieces

½

teaspoon

cinnamon powder

1

teaspoon

cornstarch

1

tablespoon

agave
Optional sauce
4

medjool dates seeded

½

cup

skim milk
Instructions
Preheat the oven to 350 F.

In a medium bowl mix apple with cinnamon, cornstarch, and agave. Layer the mixture in a casserole dish

In an another medium dry bowl, mix all the ingredients listed under toppings.

Spread this prepared streusel on apple layer evenly.

Cover the casserole dish with aluminium foil and bake in a preheated oven for 20 mins.

Remove foil and bake for another 15-20 min until well done.

Optionally prepare the sauce to drizzle over the apple crisp by blending medjool dates with skim milk. Blend it until it gets to a smooth consistency.

Serve apple crisp warm with a scoop of vanilla ice cream and some drizzles of dates caramel sauce.
Nutrition
Tried this recipe?
Tag us on Instagram @watchwhatueat or tag #watchwhatueat! OR leave us a comment & rating below. Your feedback is very important to us.
This post contains affiliate links. For more information on our Affiliate and Advertising Policy, please click here