These listed kitchen tools and gadgets will inspire you to cook and eat healthy. Give them a try.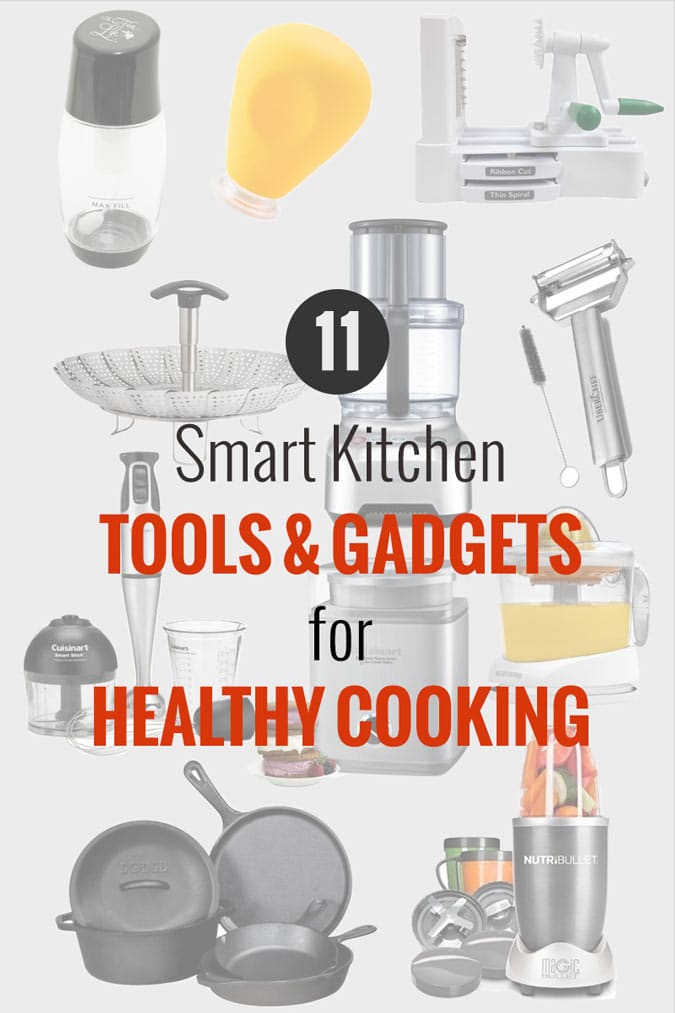 When New Year is around the corner, most of us make resolutions of leading a healthy lifestyle. Are you one of them? Here I am list some of the kitchen tools and gadgets that will inspire you to prepare clean meals. These are also great for giving as gifts.
Disclaimer: This page includes affiliate links which help make this blog possible. We support only those products that we use and love. Thank you for your support.
This little tool is perfect for reducing oil content in meals. Instead of pouring spray oil on your fresh salads, grills and pans etc. spraying helps to cover surface evenly and reduces the need of adding too much oil.  And, it is reusable. Get it from Amazon for $30.
The yolk (yellow portion) of the egg contains significant amounts of cholesterol. After certain limits,cholesterol is not good for heart. This egg yolk separator helps to separate the yolk from egg whites without creating a mess. A very handy tool. Get it from Amazon for $5.45.
This small gadget is perfect for creating noodles form fresh vegetables like zucchini, squash, cucumbers, beets etc. Ditch grain pasta and make veggie noodles instead for low carb meals. I got mine for $10 in Walmart during Black Friday sale.  However, the same is available on Amazon for $19.91. 
Steaming vegetables retain their nutrients more as opposed to deep frying and sautéing. Having steamed vegetables on the side will take you one more step in healthy eating. This stainless steel steamer will make your job easy and less messy to steam fresh veggies. It is available on Amazon for $22.49.
Food processors are very useful in preparation of a variety of dishes. They save you tons of time especially, when you are cooking for parties, gatherings etc. In my kitchen, I use the 12-cup Sous Chef Breville Food Processor. I have been using it since the last 1 year and I absolutely love it. It is a bit expensive but I feel my money is well spent on this one. If you decide to buy one it is available on Amazon for $320. Or you can choose other brands like kitchen aid or Cuisinart that are less expensive than Breville.
This immersion hand blender is very useful when preparing soups, sauces, gravies etc. because it can be used directly in pans while cooking. I  use it all the time. You can find it Amazon for $50.06
Cutting veggies into julienne is a time consuming task. This peeler however, makes the job very easy. Get one for yourself too from Amazon for $9.95
This small appliance is very useful for squeezing oranges as well as lemons and limes. It is always better to have freshly squeezed juice than buying packaged ones. The vital nutrients aredestroyed during processing of packaged juices. Next time make fresh juice at home with this citrus juicer. You can buy it online from Amazon for $22.10.
If properly seasoned and maintained, cast iron pans and pots are the best to use in kitchen. These are cheaper than regular stainless steel and non-stick pans. Also, these last longer and do not carry the risk of coating removal. Moreover, it boost iron content in foods. Get them individual or in set from Amazon for $15.92-$119.43
Making homemade ice-cream is fun. You can customize taste, sugar, flavors according to your need. And, this Cuisinart ice-maker is amazing in doing its job. It is available on Amazon for $54.99. It seems they have reduced the prize. I got mine for $80.
For making fresh smoothies NutriBullet is perfect. Get one for you or give it as a gift. Available on Amazon for $72.99