Healthy fried cauliflower rice: vegan, gluten-free, and a low-carb dish perfect for dinner or lunch. Also, it is a one-pot recipe that is ready in less than 30 mins.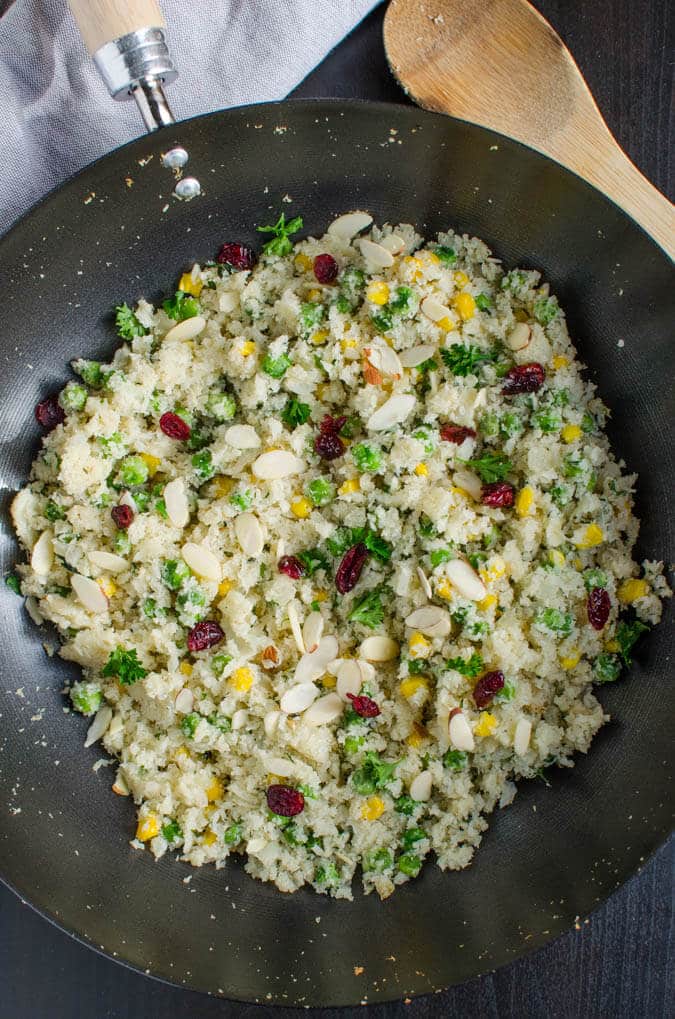 This was my first attempt of making a dish using cauliflower rice. Prior to this, I heard about cauliflower rice but never got a chance to try it. Therefore, I was not sure how it would taste.
A few weeks back, just before Thanksgiving, I got a chance to try cauliflower rice pilaf in Wegmans (our local grocery store). Usually, on weekends they prepare samplers for some of their ready-to-cook meals. When I tried, I really liked the taste and the idea of turning cauliflower into fried rice-type dishes. Here I am sharing with you all my version of cauliflower rice.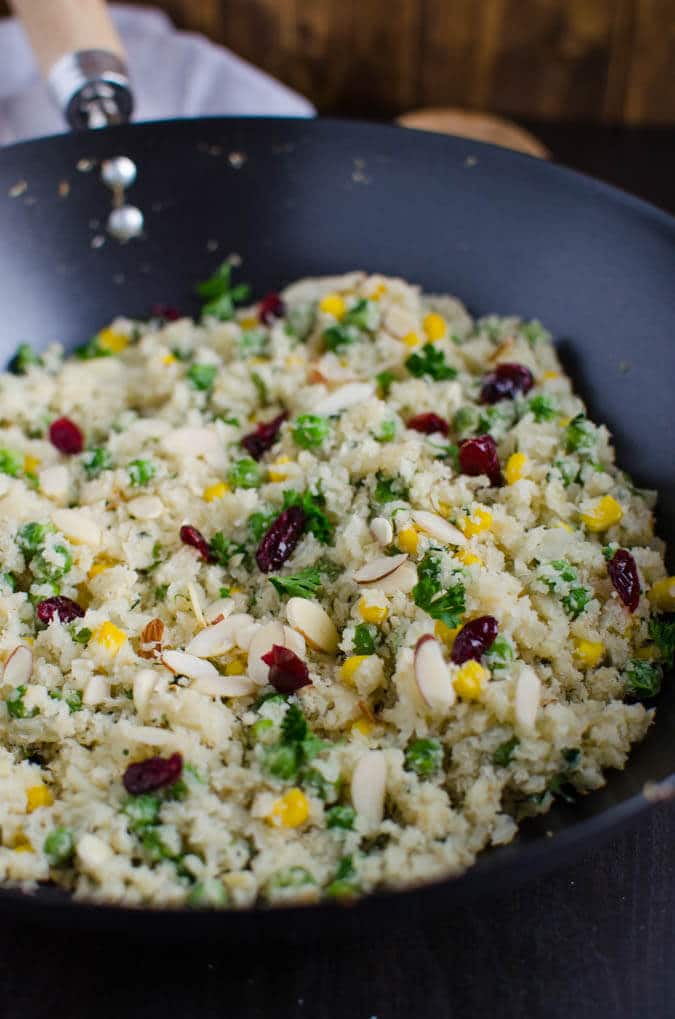 We both enjoyed this fried cauliflower rice. Give it a try the next time you purchase cauliflower. I am sure you will love this healthy stir-fried rice. It is…
delicious
low carb
low calorie
vegan
one pot
nutritious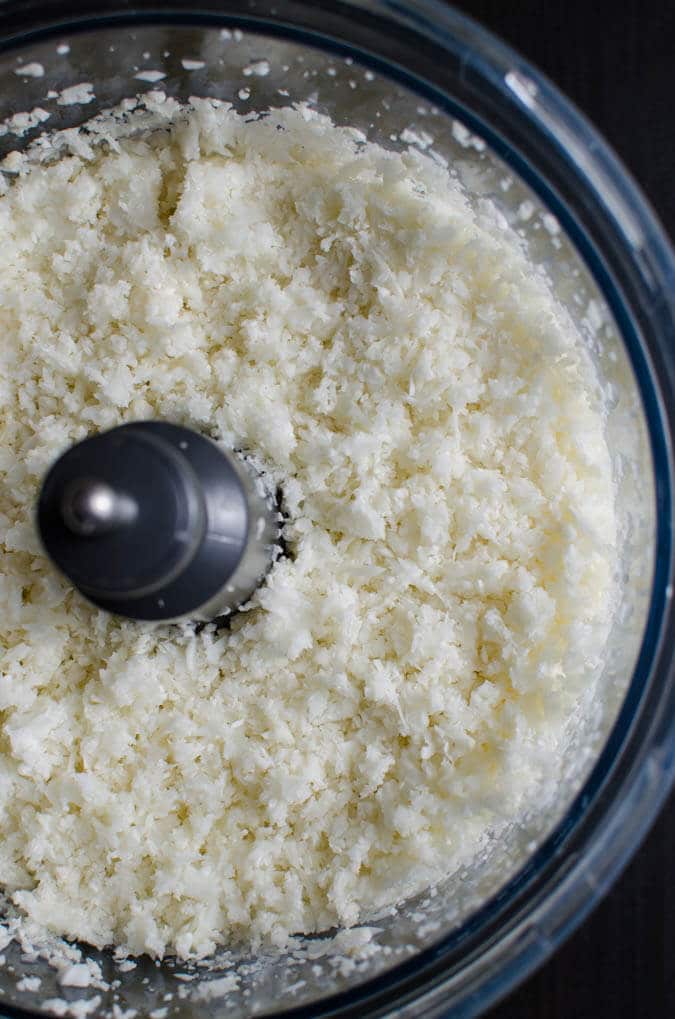 How to rice cauliflower?
Reducing cauliflower into grainy rice is not difficult at all if you have a food processor. Cut cauliflower into 1-2″ size florets and pulse them in a food processor for a few seconds.
I have a 12-cup Breville Sous Chef Food Processor that reduced the whole cauliflower (cut into large florets) into rice in a single batch. I love my Sous Chef because it reduces the pain of using it multiple times given its large capacity. So far a great investment :).
If you do not have a food processor, you can purchase packaged raw cauliflower rice from local grocery stores. However, I find it a bit expensive given the quantity they sell.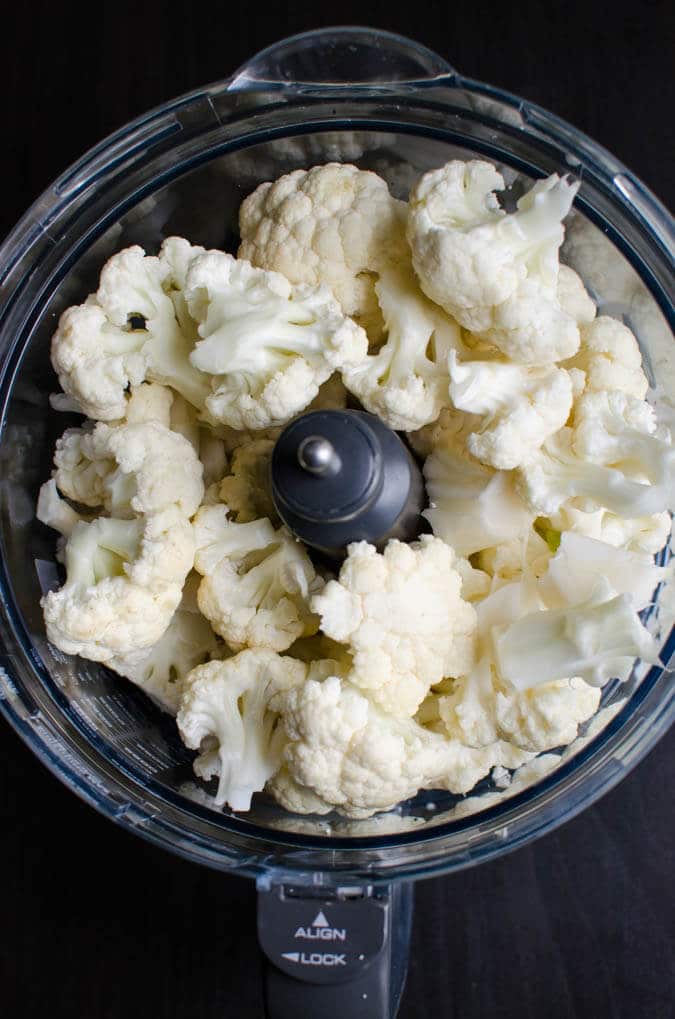 How is this fried cauliflower rice healthy?
This cauliflower rice stir fry is healthy because
it is low in carbohydrates, dairy free and gluten free
it does not contain saturated fat added from butter.
This dish is prepared using fresh cauliflower which is rich in Vitamin C, K, and manganese. It is rich in fiber too and has several phytochemicals (1,2)
It also contains green peas and corn. Green peas are very good source of fiber, protein, Vitamin A, B6, C and K, Phosphorous and Magnesium. Corn is a good source different B vitamins and folate. They also contain protein and fiber in moderate amounts.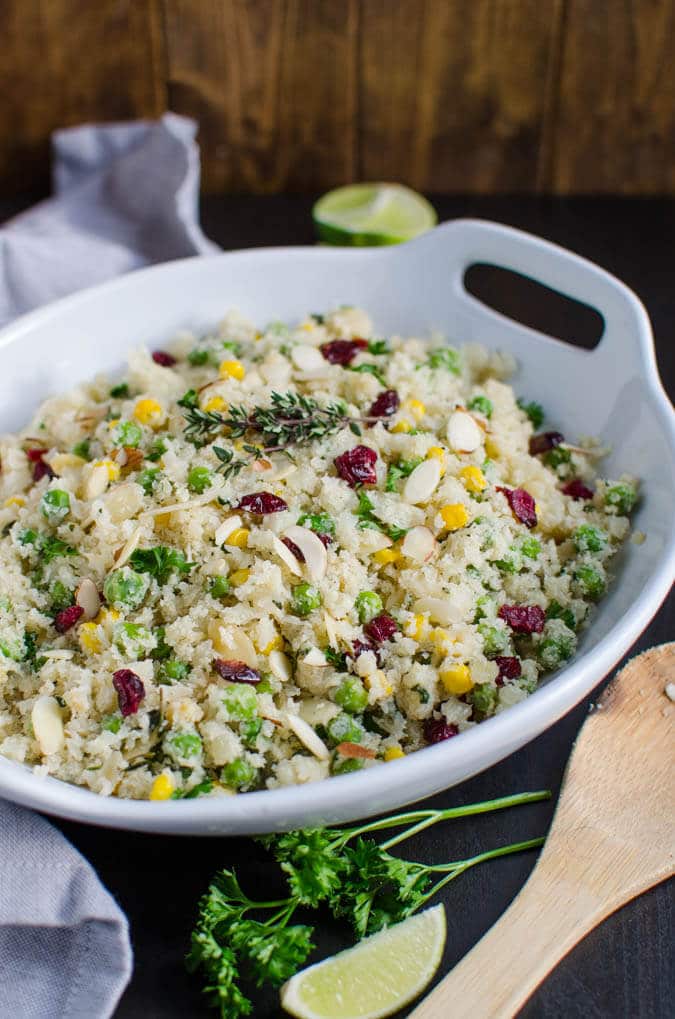 📖 Recipe
The Best Fried Cauliflower Rice | V, GF, Low Carb
15 min healthy fried cauliflower rice. Make it for vegan, gluten free and low carb lunch or dinner.
Ingredients
4-5

cups

cauliflower rice

1

cup

green beans

½

cup

fresh

or frozen corn

1

medium onion finely diced

2-3

cloves

garlic finely chopped

1

tablespoon

olive oil

2-3

springs of fresh thyme

2

tablespoon

roughly chopped almonds

2

tablespoon

dried cranberries

salt and pepper
Instructions
Heat a medium wok or fry pan on medium heat. Add oil, garlic and thyme leaves into the wok and sauté until fragrant for about 30 sec.

Then add onions and fry until translucent for about 2-3 mins.

Add cauliflower rice, peas, corn and stir fry them on high heat for about 10-12 min. Make sure to not burn the rice. Towards the end of cooking, season with salt and pepper according to taste.

Once done turn the heat off and add chopped almonds and dried cranberries. Serve warm as a main meal or on the side.
Nutrition
Tried this recipe?
Tag us on Instagram @watchwhatueat or tag #watchwhatueat! OR leave us a comment & rating below. Your feedback is very important to us.