This healthy broccoli soup is for guilt-free eating. It is prepared using all healthy and clean ingredients. A bowl of this warm soup is perfect for light lunch or dinner. It is also vegan and plant based.
Watch the video here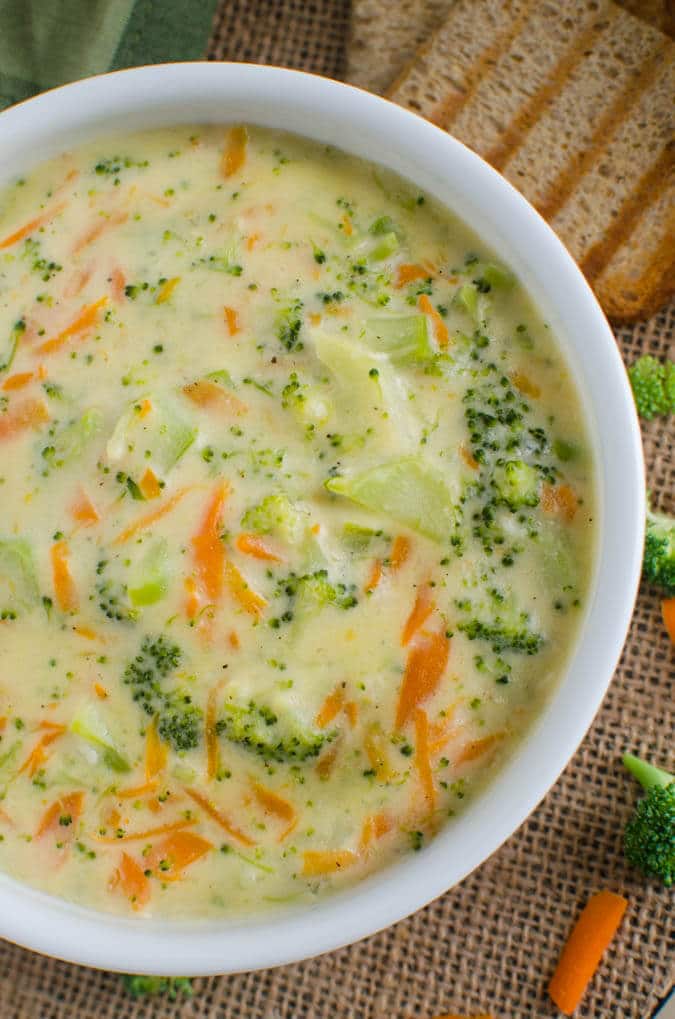 When I was in India, broccoli was not readily available. So, I never had a chance to try them. It was only after coming to the US, I tasted them in Asian restaurants. Since then, I have become its great fan.
I have always wanted to incorporate them in our regular diet however, I am not very successful yet. Even for trying out this healthy cream of broccoli soup, it took me three to four visits to the grocery store. My every purchase of broccoli went to the trash bin as it was kept in some remote corner of the refrigerator, far beyond my line of sight (:P). In order to overcome my guilt of wasting broccoli, my last visit to the grocery store was solely for this recipe. Today (and finally!)  I will be sharing with you all this easy broccoli soup recipe. It does not contain any dairy products, yet is creamy. Hope you all would give it a try!
How to make creamy and healthy broccoli soup?
Chop broccoli and grate carrot into small pieces. For giving a creamy texture to this soup, I used cashew cream, almond milk and a little bit of wheat flour. To make the creamy base for this soup, cook wheat flour with some oil in a medium pan on low heat for a couple of mins. Once the flour is fragrant, slowly add milk along with water. Whisk continuously while adding milk to avoid forming lumps. Don't worry if you find some. Simply use a hand blender to the mixture to break down the lumps before adding any vegetables.  Then, add the veggies and cook till they are nice and tender. Your creamy broccoli soup is ready to enjoy for light lunch or dinner or even as a side. It is also vegan and derives key nutrients from broccoli, carrot, and cashews.
How is this broccoli soup healthy?
This cream of broccoli soup is healthy as it is prepared using all clean ingredients
Broccoli is an excellent source of vitamin C and K. It also contains carotenoid compounds. It is a low-calorie vegetable with some amount of fiber and protein

Carrot is a powerhouse of vitamin A. It is also a good source of vitamin B6 and vitamin K 

Cashews are a good source of healthy fat. These are rich sources of dietary minerals, thiamin, vitamin B6 and vitamin K

It does not contain added saturated fat from dairy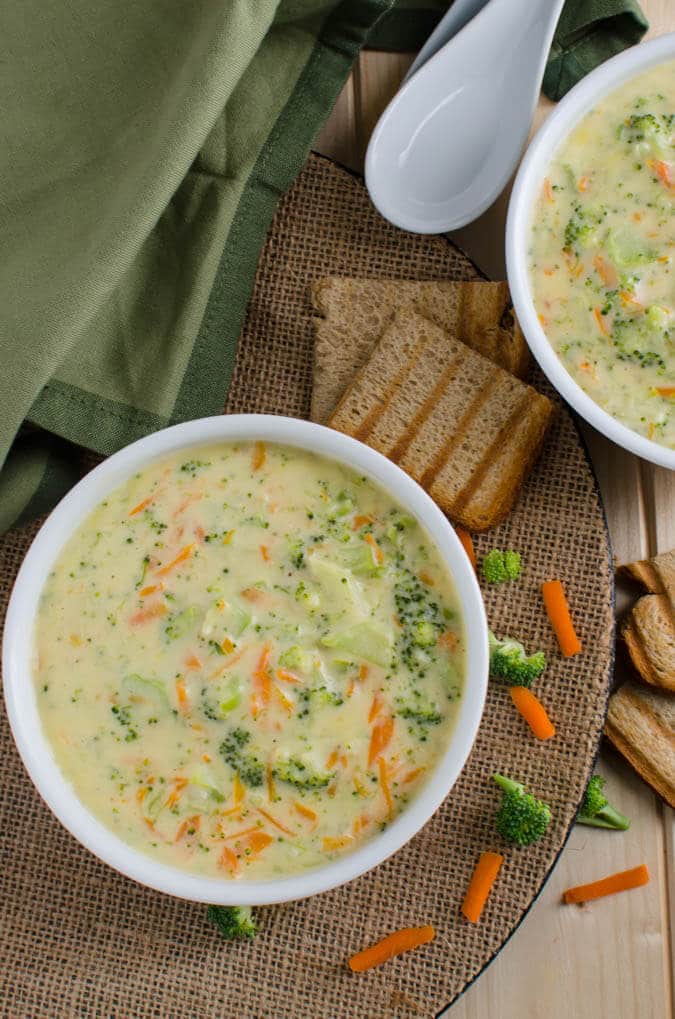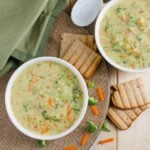 Healthy Cream of Broccoli Soup
This creamy and healthy broccoli soup is prepared using all clean ingredients. It is also dairy free and plant based. Nutritious and delicious soup for light lunch or dinner or as a side.

Ingredients
3

cup

roughly chopped broccoli

1

cup

grated carrot

1/4

cup

cashew cream

2

tbsp

all purpose flour

1

tbsp

avocado oil

2-3

cloves

small garlic minced

1

cup

almond milk

(or regular milk if not vegan)

2

cup

water

(or vegetable stock)

salt and pepper
Instructions
Add garlic and sauté for a few seconds or until fragrant. Then add the flour and cook for about 2 min. Continuously stir it to avoid browning.

Slowly add milk and water with continuous stirring. Take care not form lumps. Bring the mixture to a boil.

Now add broccoli, grated carrots, salt and pepper. Cook the mixture for about 15-18 mins.

Turn off the heat and serve warm to enjoy this bowl of deliciousness.
Recipe Notes
If lumps form, blend the mixture before adding vegetables. I use a hand blender to do this job when I find lumps. 
I like my cup of soup with toasted whole wheat bread. 
You can make cashew cream at home. Get the recipe here for homemade cashew cream.
Disclaimer: This page includes affiliate links which help make this blog possible. Thank you for your support.
You may also like these some healthy recipes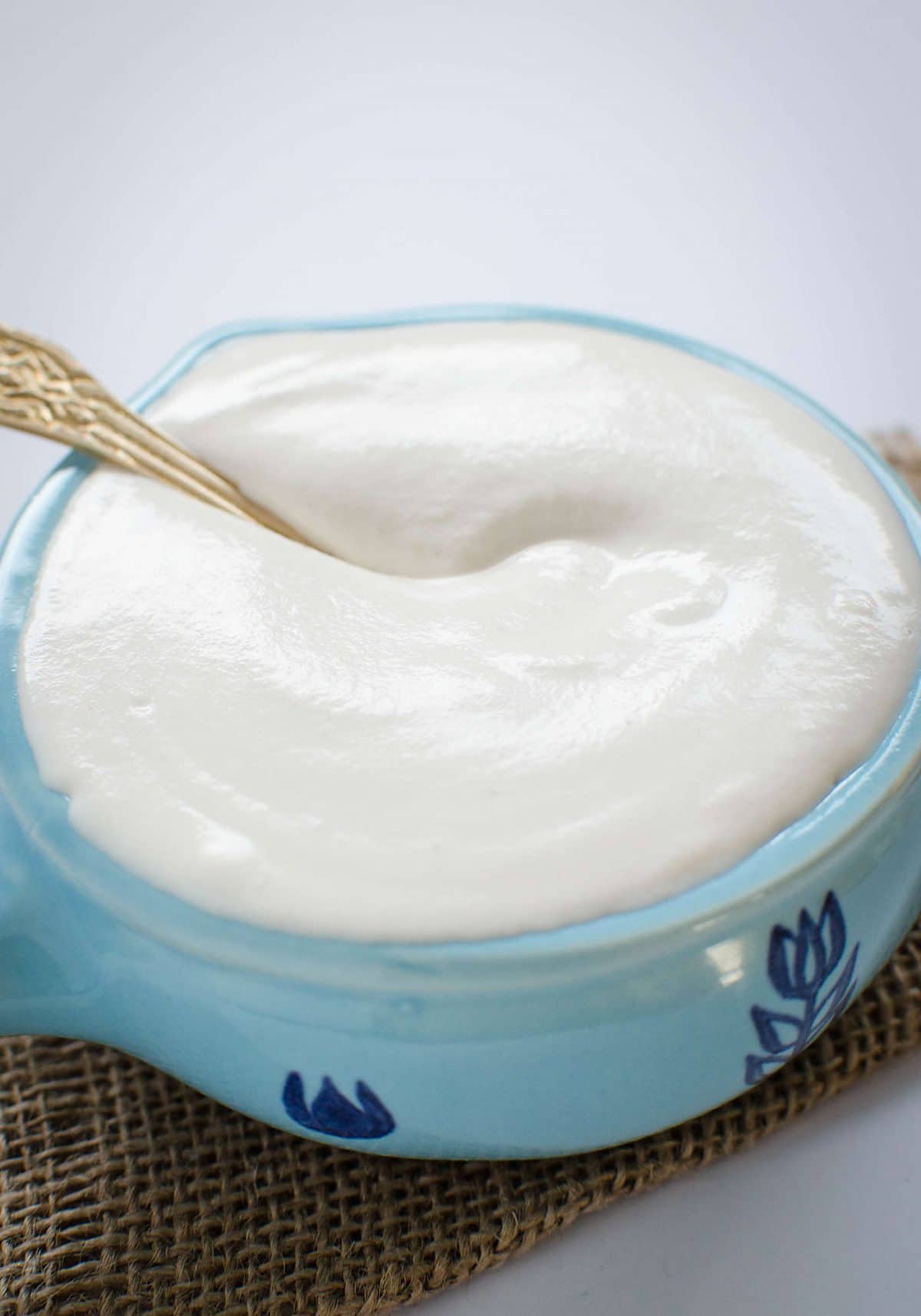 Dairy Free Creamy Cauliflower Soup