This healthy broccoli soup is for guilt-free eating. It is prepared using all healthy and clean ingredients. A bowl of this warm soup is perfect for a light lunch or dinner. It is also vegan and plant-based.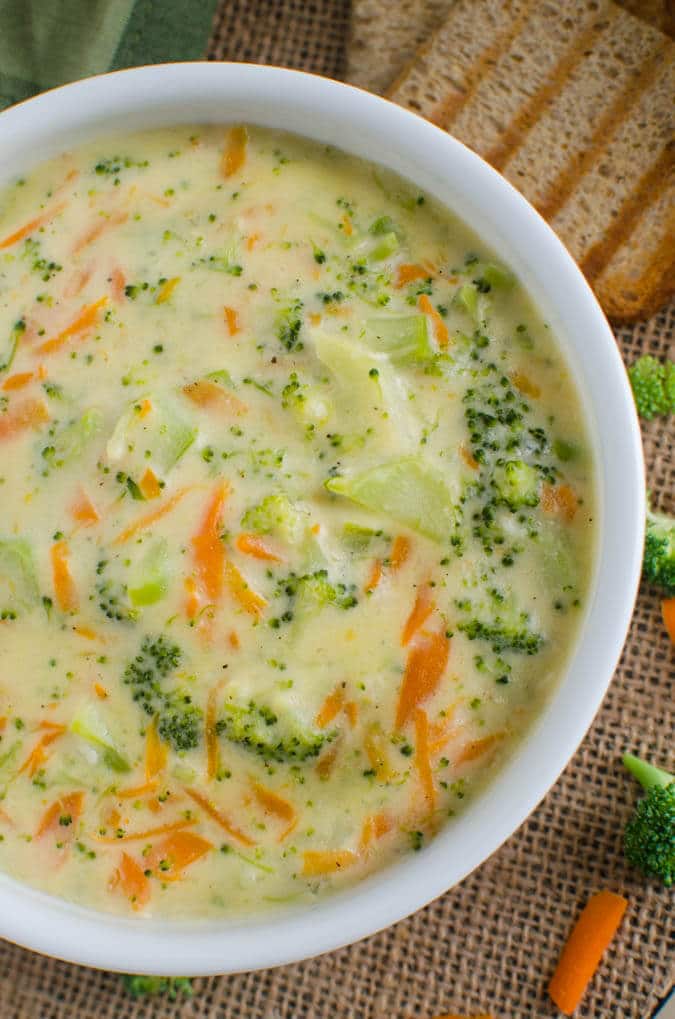 I am not a vegan or a pure vegetarian. However, I do love eating meatless and completely dairy-free dishes to cut down on some heavy calories. And this creamy broccoli soup is a perfect recipe when I want to avoid dairy.
Yes, this soup is made without dairy cream and butter yet it is super delicious and tempting. Let me disclose the secret ingredient that gives it a creamy texture. And that ingredient is cashew cream.
Let's dive in to learn more!
Ingredients you will need?
Broccoli – its a key ingredient in this recipe. Clean and chop it into small pieces
Carrot – peel, and grate on the largest setting of the box grater
Cashew cream – it helps to give a creamy texture to the soup without the need to add dairy cream. You can simply make cashew paste or follow this recipe to make cashew cream at home.
Flour – it will thicken the soup and add a creamy base to the soup
Garlic – use it to add additional flavors
Liquid – In this recipe, I use almond milk and water to prepare the soup base. You can also use vegetable stock instead of water.
Oil – I prefer using avocado oil or olive oil for cooking.
Seasonings – add salt and black pepper to enhance the taste.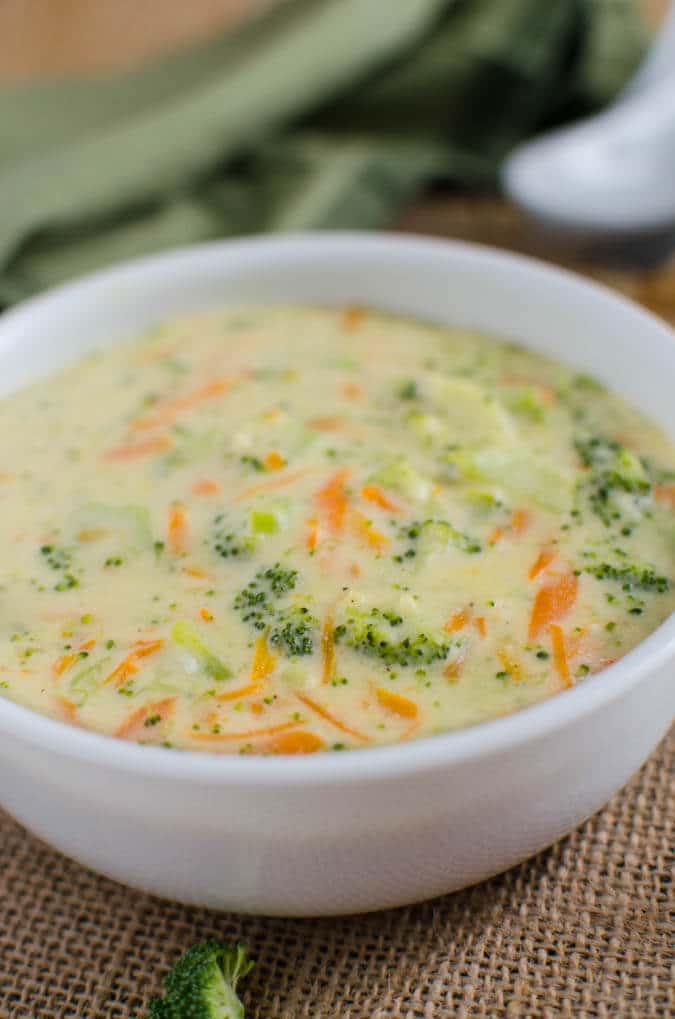 How to make creamy and healthy broccoli soup?
Chop broccoli and grate carrot into small pieces. For giving a creamy texture to this soup, I used cashew cream, almond milk, and a little bit of wheat flour.
To make the creamy base for this soup, cook wheat flour with some oil in a medium pan on low heat for a couple of mins. Once the flour is fragrant, slowly add milk along with water. Whisk continuously while adding milk to avoid forming lumps. Don't worry if you find some. Simply use a hand blender to the mixture to break down the lumps before adding any vegetables. Then, add the veggies and cook till they are nice and tender.
Your creamy broccoli soup is ready to enjoy for a light lunch or dinner or even as a side. It is also vegan and derives key nutrients from broccoli, carrot, and cashews.
Creamy soup or chunky veggie soup?
If you want a homogeneous and creamy soup without visible veggies in it then at the end of cooking simply blend the soup using a blender. Or, use a hand blender to blend the soup in the pot itself.
And if you want to enjoy the soup with visible colorful veggies then serve it without blending them.
Serving Suggestions!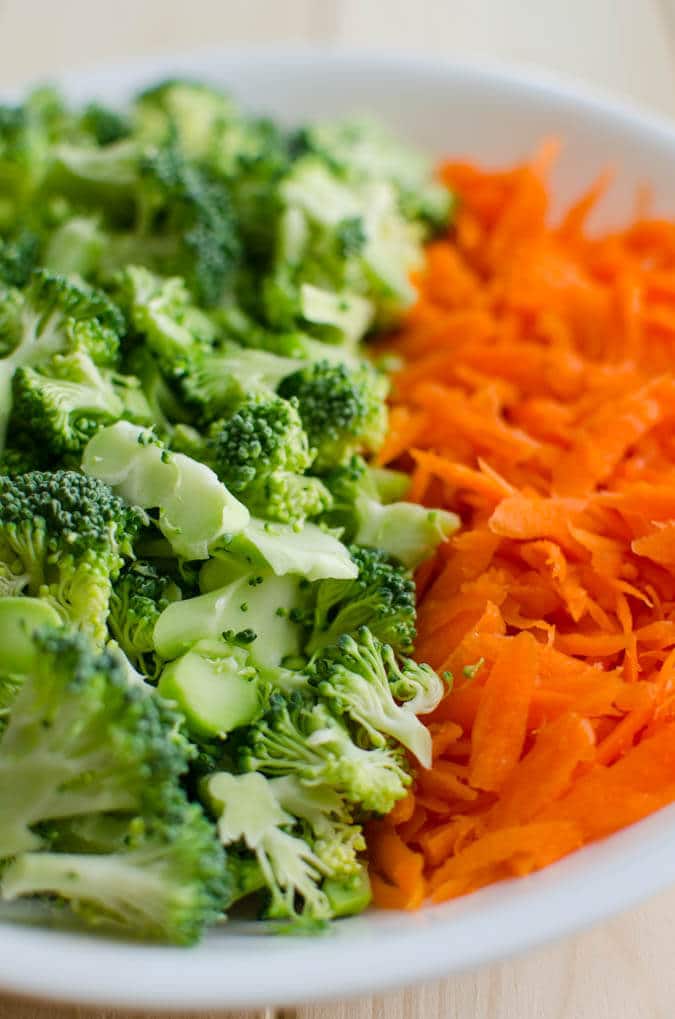 Helpful Tips!
Cutting broccoli – trim off the stem and separate the large florets. Then chop the florets into small pieces. The size of the florets depends on how chunky the soup you prefer.
Preparing carrot – peel, clean, and then grate it on the largest hole side of the box grater. This way it will be visible and would add a nice color to the soup.
While mixing the flour with milk if you find any lumps simply use a hand blender to break them and get a homogeneous soup base. Do this before adding the vegetables.
Recipe Substitutions!
Cashew cream – If you are okay with dairy products use regular dairy cream instead. However, it will be rich in saturated fat and cholesterol.
Flour – whole wheat flour will also work in place of all-purpose flour
Oil – using any cooking oil is fine in this recipe.
Milk – use reduced-fat dairy milk instead of almond milk.
Nutritional yeast – some readers have successfully used nutritional yeast in this soup recipe for the cheesy flavor without dairy.
Recipe Variation!
For classic cream of broccoli soup use regular dairy cream and milk to get the creamy texture in the soup. And add some cheddar cheese at the end of cooking for the cheesy taste.
How is this broccoli soup healthy?
This cream of broccoli soup is healthy as it is prepared using all clean ingredients:
Broccoli is an excellent source of vitamin C and K. It also contains carotenoid compounds. It is a low-calorie vegetable with some amount of fiber and protein
Carrot is a powerhouse of vitamin A. It is also a good source of vitamin B6 and vitamin K
Cashews are a good source of healthy fat. These are rich sources of dietary minerals, thiamin, vitamin B6 and vitamin K
It does not contain added saturated fat from dairy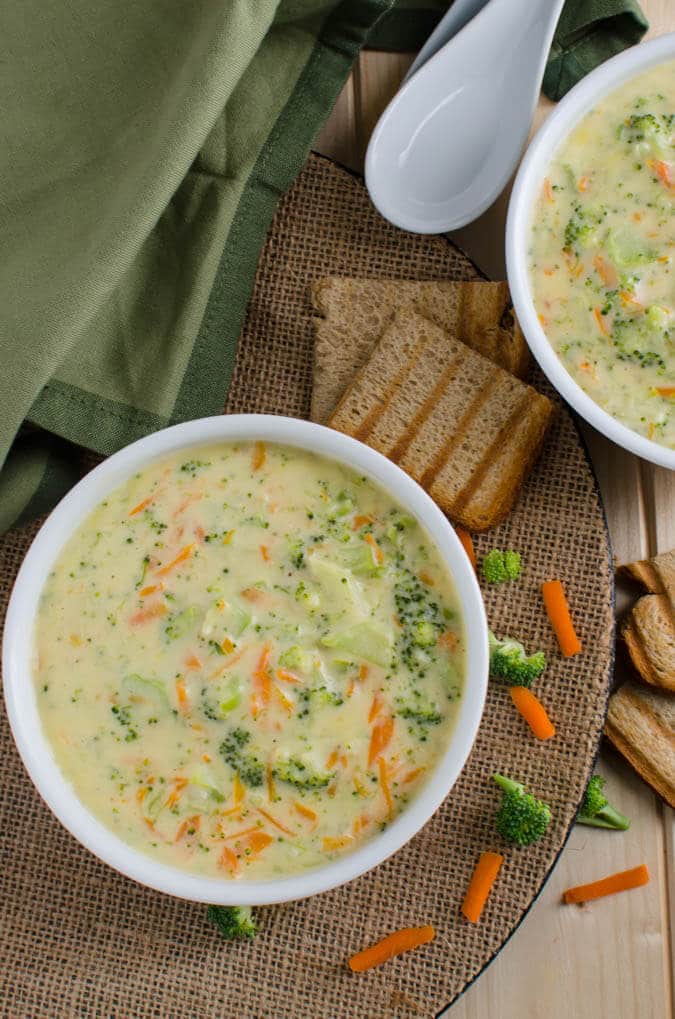 FAQs
How long broccoli soup will last in the refrigerator?
Leftover soup will last 2-3 days in the refrigerator. You can reheat it in the microwave or bring to boil on the stove before serving.
What is cashew cream? Where can I find it?
Cashew cream is prepared using raw cashew and water. Soak the raw cashews for a few hours and then blend them in a blender with some water until it is smooth and creamy in texture. You can find detailed instructions for making cashew cream at home here. As far as I know, it is not commonly available in grocery stores.
What if I am allergic to nuts?
You can use dairy-based products such as whole cream and regular milk instead of nut milk and cream in this recipe. Some people also use potatoes to get the creamy texture in different soups. However, I haven't tried using potato in this recipe yet.
YOU WILL ALSO LOVE THESE WHOLESOME SOUPS
📖 Recipe
Healthy Cream of Broccoli Soup
This creamy and healthy broccoli soup is prepared using all clean ingredients. It is also dairy free and plant based. Nutritious and delicious soup for light lunch or dinner or as a side.

Ingredients
3

cup

roughly chopped broccoli

1

cup

grated carrot

¼

cup

cashew cream

2

tablespoon

all purpose flour

1

tablespoon

avocado oil

2-3

cloves

small garlic minced

1

cup

almond milk

(or regular milk if not vegan)

2

cup

water

(or vegetable stock)

salt and pepper
Instructions
Add garlic and sauté for a few seconds or until fragrant. Then add the flour and cook for about 2 min. Continuously stir it to avoid browning.

Slowly add milk and water with continuous stirring. Take care not form lumps. Bring the mixture to a boil.

Now add broccoli, grated carrots, salt and pepper. Cook the mixture for about 15-18 mins.

Add cashew cream, mix well and cook for another 2-3 min.

Turn off the heat and serve warm to enjoy this bowl of deliciousness.
Notes
If lumps form, blend the mixture before adding vegetables. I use a hand blender to do this job when I find lumps. 
You can make cashew cream at home. Get the recipe here for homemade cashew cream.
Nutrition
Tried this recipe?
Tag us on Instagram @watchwhatueat or tag #watchwhatueat! OR leave us a comment & rating below. Your feedback is very important to us.
This broccoli soup was originally published in March 2017. In August 2020 it was updated with more useful information and helpful tips. Recipe ingredients and instructions are unchanged.