What is healthy eating? Sometimes, it is very confusing what to eat and what to avoid. After doing some research online what we learn is that healthy eating is having a balanced diet that should provide us with the necessary nutrients to maintain good health, provide energy and make you feel good and satisfied. But the question is how to have this balanced diet? And again, what is the balanced diet? However, answer to these questions is not difficult, simply follow the healthy food pyramid and food plate. It is a guide for a balanced diet originally provided by the USDA (United States Department of Agriculture).
Food Pyramid
The food pyramid is a triangle divided into sections which represents different food groups. We need to incorporate food in right amounts from each sections daily into our diet in order to have a healthy and balanced diet. See the following image for the food pyramid and how its sections represents different food groups. The sections are marked using numbers.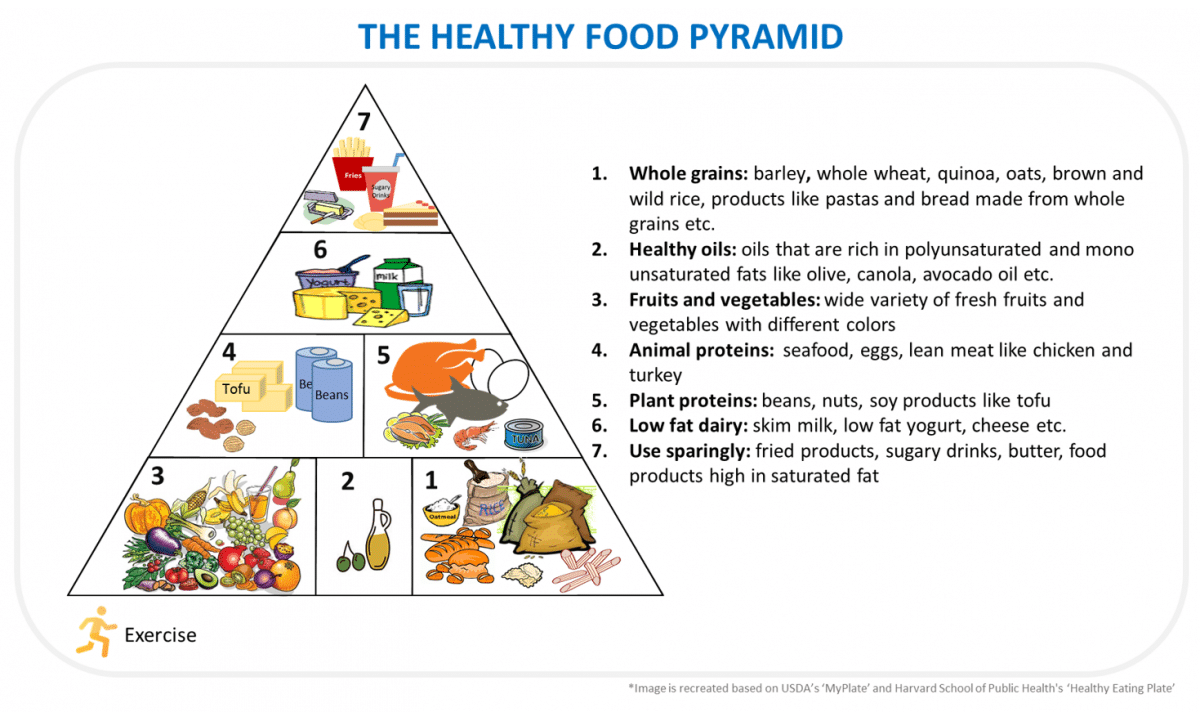 Whole grains:
Whole grains are a great source of carbohydrates. This food group includes whole grains such as wheat, corn, wild or brown rice, oats, barley, quinoa, sorghum, spelt, rye etc. Also, bread, pasta, cereals etc., that are made from whole grain flour fall into this category. One should not confuse whole grains with refined grains. Going deeper into the differences between whole and refined grains will need another post. In short, to increase the shelf life and appearance, whole grains are processed to remove bran and germ which are great sources of dietary fibre and vitamins in addition to complex carbohydrates. Though after processing, nutrients are added back to regain its nutritional value, fibre is still missing in the enriched and refined flour. Therefore, replacing processed grain with whole grains and 100% whole grain products in our daily diet is an important step towards leading a balanced and healthy diet.
Healthy Oils
All fats are not bad. Oils that are rich in monounsaturated and polyunsaturated fats help to reduce disease risk. Going deeper here into different types of fat and which are good and bad fats will make this article too lengthy to read (I will cover them in a separate article soon). Oils such as olive, canola, soy, corn, avocado etc., can be categorised into healthy oils as they contain essential fats needed by the body. These can be consumed in moderation to meet the daily fat requirements of the body while trying to limit saturated fats. Moreover, products that contains trans fats (such as processed products with partially hydrogenated oil) should be completely avoided.
Fruits and Vegetable
Fresh fruits and vegetables are natural sources of complex carbohydrates, fiber, vitamins and minerals that are necessary for normal body functioning. Different fruits and vegetables contain different vitamins and minerals. Therefore, a wide variety of fresh fruits and vegetables covering the entire color spectrum should be consumed.
Poultry and Seafood
This section of the food pyramid represent the source of animal protein. However, Harvard school of public health suggests to limit red meat and processed meat, and consume lean meat (such as chicken, turkey etc.) instead.
Nuts, Seeds, Beans and Tofu
These are great sources of plant proteins and essential fats. These are healthy proteins and fats that can be substituted when limiting on red meat. Vegetarians should consume these to meet their daily requirements of protein and fat.
Dairy
This section of the food pyramid represents dairy products such as milk, yogurt, cheese etc. Dairy products are rich in calcium and are also a source of protein, phosphorus, vitamin A and D. However, milk and milk products are rich in saturated fat and cholesterol. Therefore, skim (or low fat) version of dairy products can be used alternatively and in moderation.
Use sparingly
Tip of the pyramid represents fast foods, processed foods, products made from refined grain or flour, butter, added sugary products etc. It is advisable to consume them sparingly.
This was all about food pyramid in short. The problem with the original USDA recommended food pyramid is that it is too abstract and sometimes confusing, and requires us to memorise. Many people felt that it does not help to plan healthy diet at a time in reality. Therefore, in 2011 USDA turned this food pyramid into a circular guide to make it more realistic and easy to practice in daily meal planning.
Food Plate
The food pyramid if turned into a pie chart would look like food on a plate.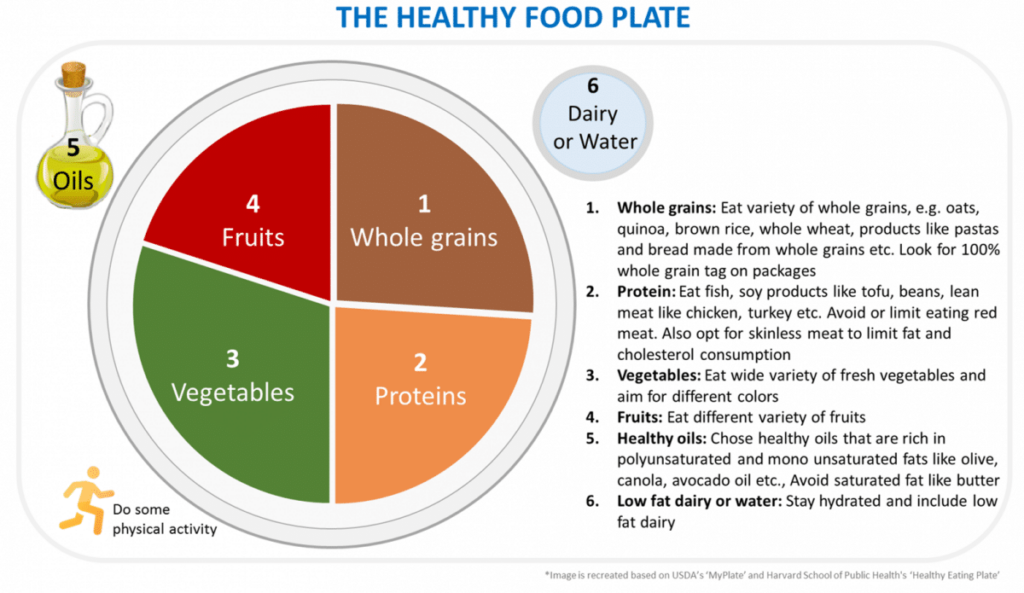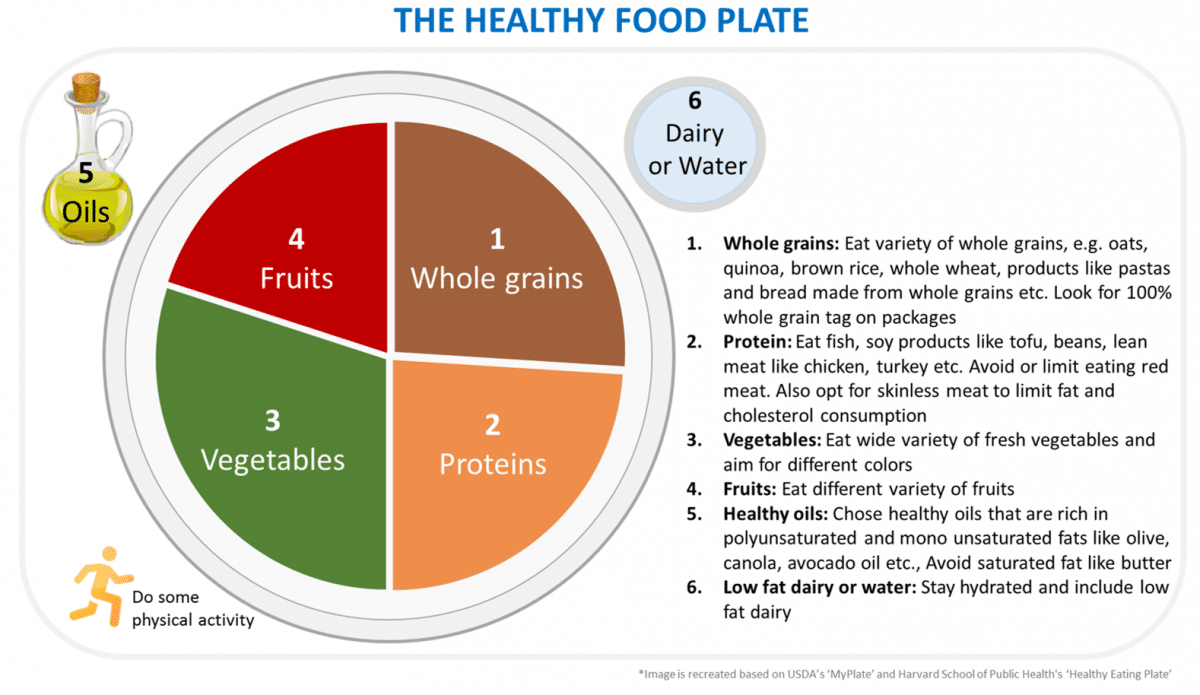 If you look at the above image carefully and imagine that it is our meal plate on the dining table, we can get a rough idea about how the food items from differents section of the food pyramid should be included in our daily diet. According to this MyPlate guide, half of the plate should contain fruits and vegetables. Roughly one fourth (¼) of the plate should contain whole grains while the remaining part of the plate should include proteins. According to a slightly improved version of MyPlate i.e Healthy Eating Plate from nutritionists at Harvard School of Public Health and editors at the Harvard Health Publications suggest to include healthy fats in preparing foods. A Small circle near the plate suggests to include a low fat dairy product or water.
In conclusion, this food plate guide will help us to watch what we are eating and make healthier choices. However, food pyramid can serve as a grocery shopping list for kitchen pantry. I think this makes sense. See the following image that compares food plate guide and a real food plate.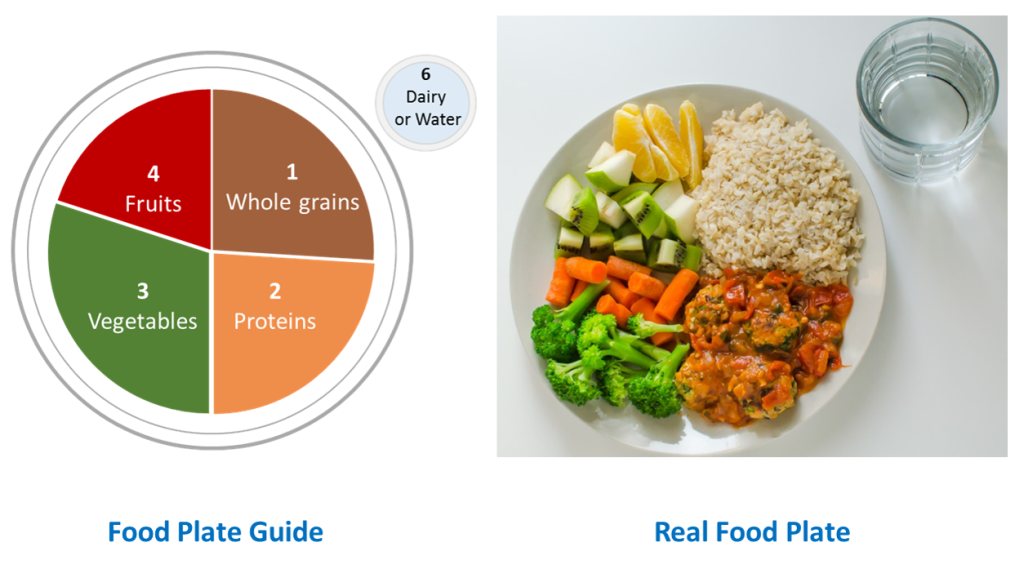 What is your opinion? Let us know your thoughts. Your feedback will encourage and help us to improve our articles.
Reference:
http://www.hsph.harvard.edu/nutritionsource/healthy-eating-plate/
https://en.wikipedia.org/wiki/Food_pyramid_(nutrition)
Terms: This article is just for educating and helping to make healthy food choices. It does not intend to offer any personal medical advice.