This recipe for homemade fresh strawberry lemonade is super easy to prepare in a few minutes. A perfect refreshing and cooling drink to enjoy the warm days of spring and summer.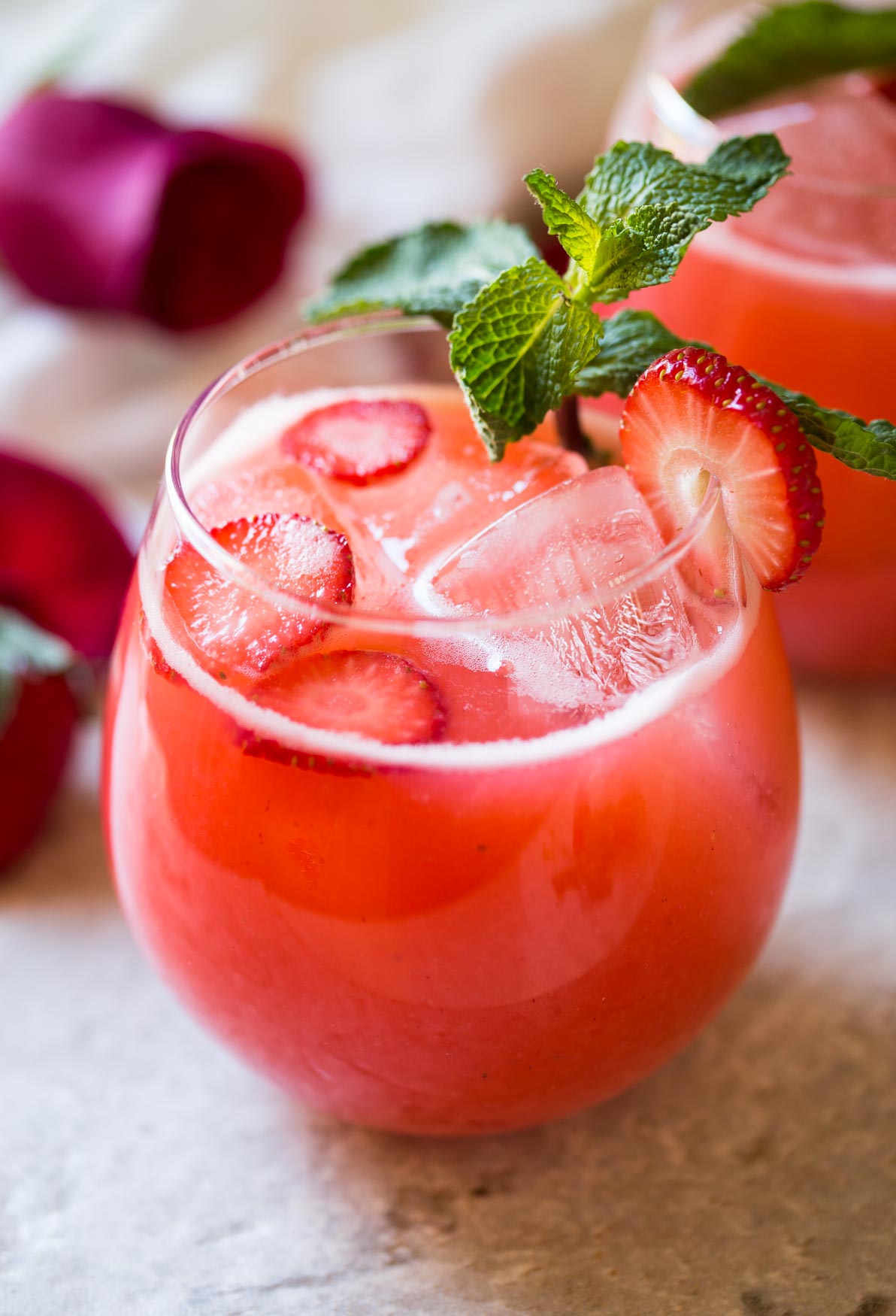 When strawberries or other fruits are in season I try to get creative by making something delicious out of them. For example, my favorite ways of using strawberries are to convert them into non-alcoholic drinks like these ice strawberry slush, strawberry lemonade, pineapple strawberry sangria, etc., or I simply add them to fruit salads like strawberry watermelon feta salad. Moreover, these recipes are perfect to include in any summer or outdoor party menus.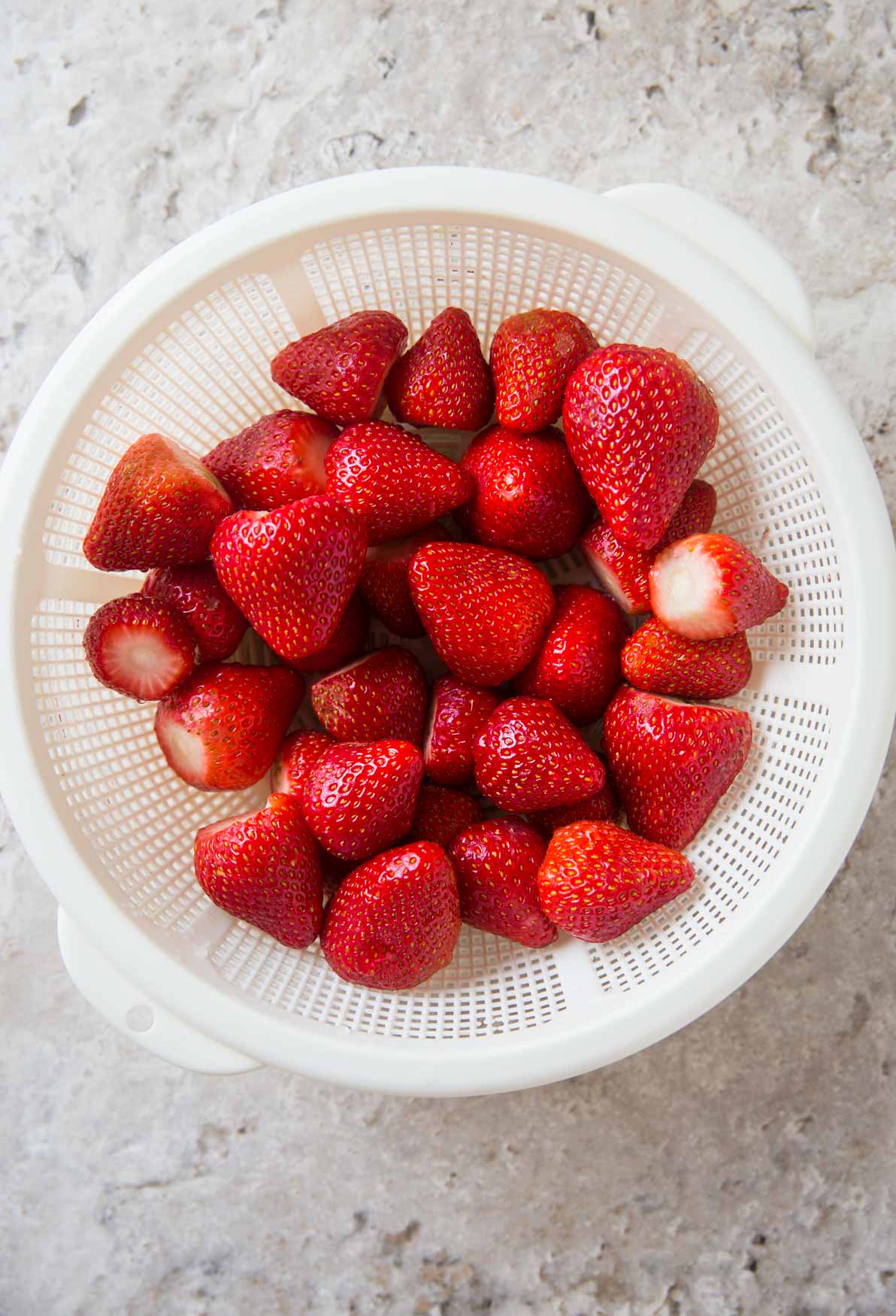 How to make fresh strawberry lemonade?
Blend fresh strawberries with some sugar and lemon juice in a blender. Then add sufficient chilled water to this mixture. Pour the lemonade into the glass with ice cubes. Garnish with fresh strawberry slices, fresh mint and serve. You can prepare this healthy strawberry lemonade in just 15 minutes.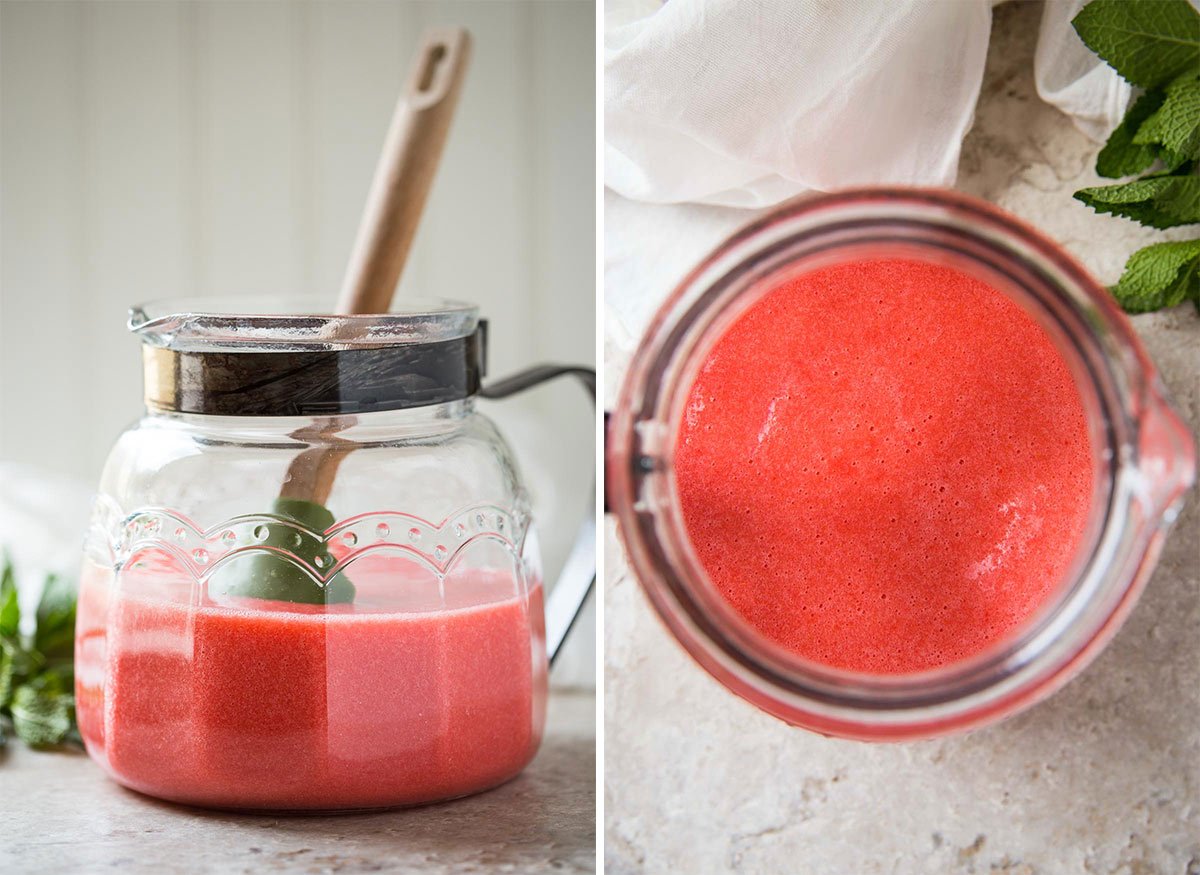 Homemade Strawberry Lemonade Recipe- Helpful Tips!
Use fresh strawberries and fresh lemon juice for super refreshing tastes.

The more strawberries you use the more vibrant your lemonade will be. However, by using more strawberries, the drink can become cloudy because of the pulp. I personally don't mind the pulp as it gives more strawberry flavors.

Strain the strawberry pulp mixture – You can use a large strainer to strain the strawberry pulp after blending. It will help to remove grits from the broken seeds that may taste unpleasant in the lemonade.
Sweeteners – You can use organic cane sugar or good quality honey or even agave to sweeten this homemade lemonade.
Prepare this strawberry lemonade well in advance and keep it in the refrigerator to chill. It will bring out nice flavors and also will reduce the hassle of making it in the last minute.
Want to make Strawberry Limeade? – Just replace lemon juice with lime juice to turn it into homemade limeade.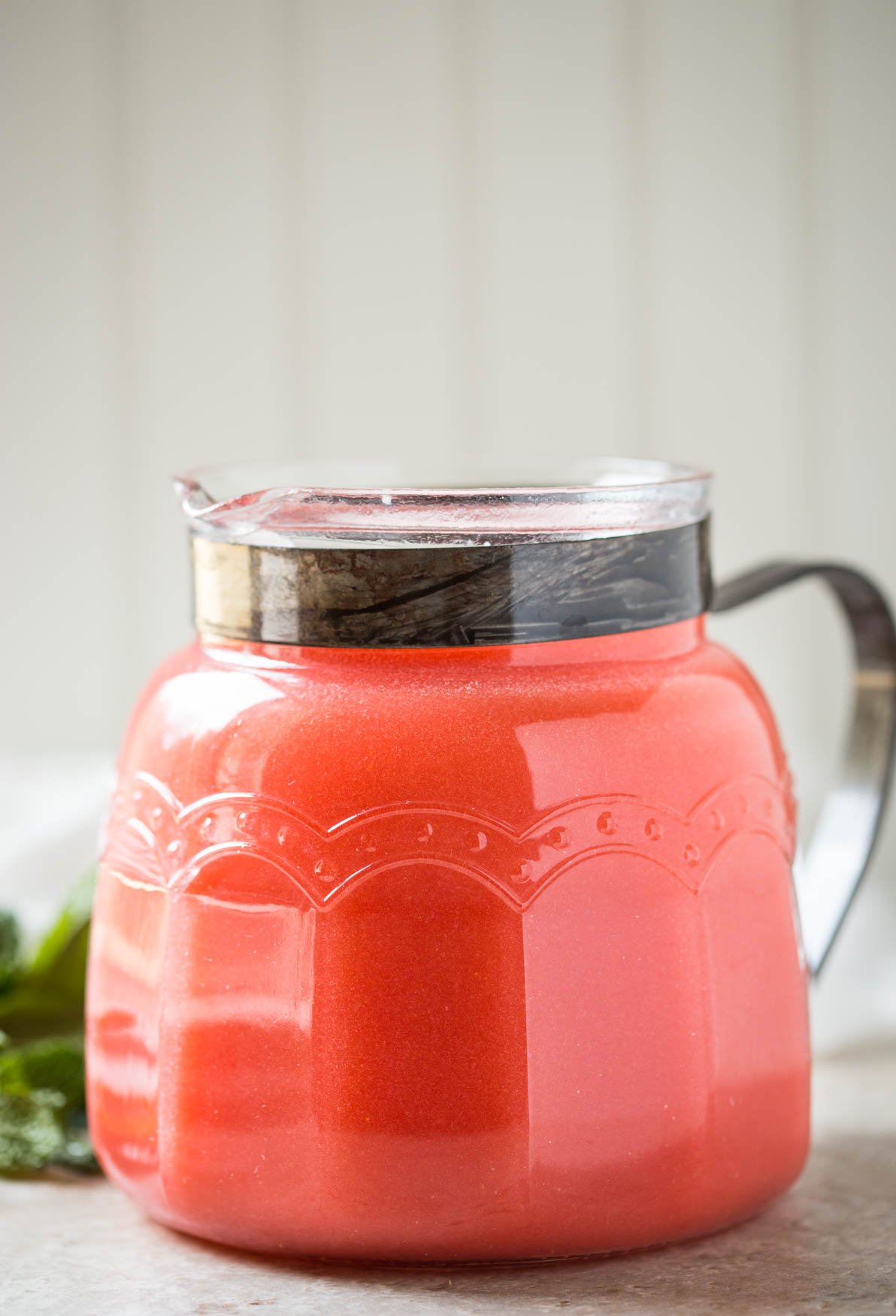 Is Fresh Strawberry Lemonade Healthy?
Homemade strawberry lemonade is definitely healthier than restaurant ones. Because you have control over the ingredients that are going into the drink. You can use good quality fresh strawberries (and organic too). Also, you can use naturally occurring sugars like honey, agave, etc. Moreover, you can adjust the sweetness of the drink. I find strawberry lemonades or any other lemonade or iced teas served in the restaurants too sweet.
Some Other Fabulous Drinks You Will Love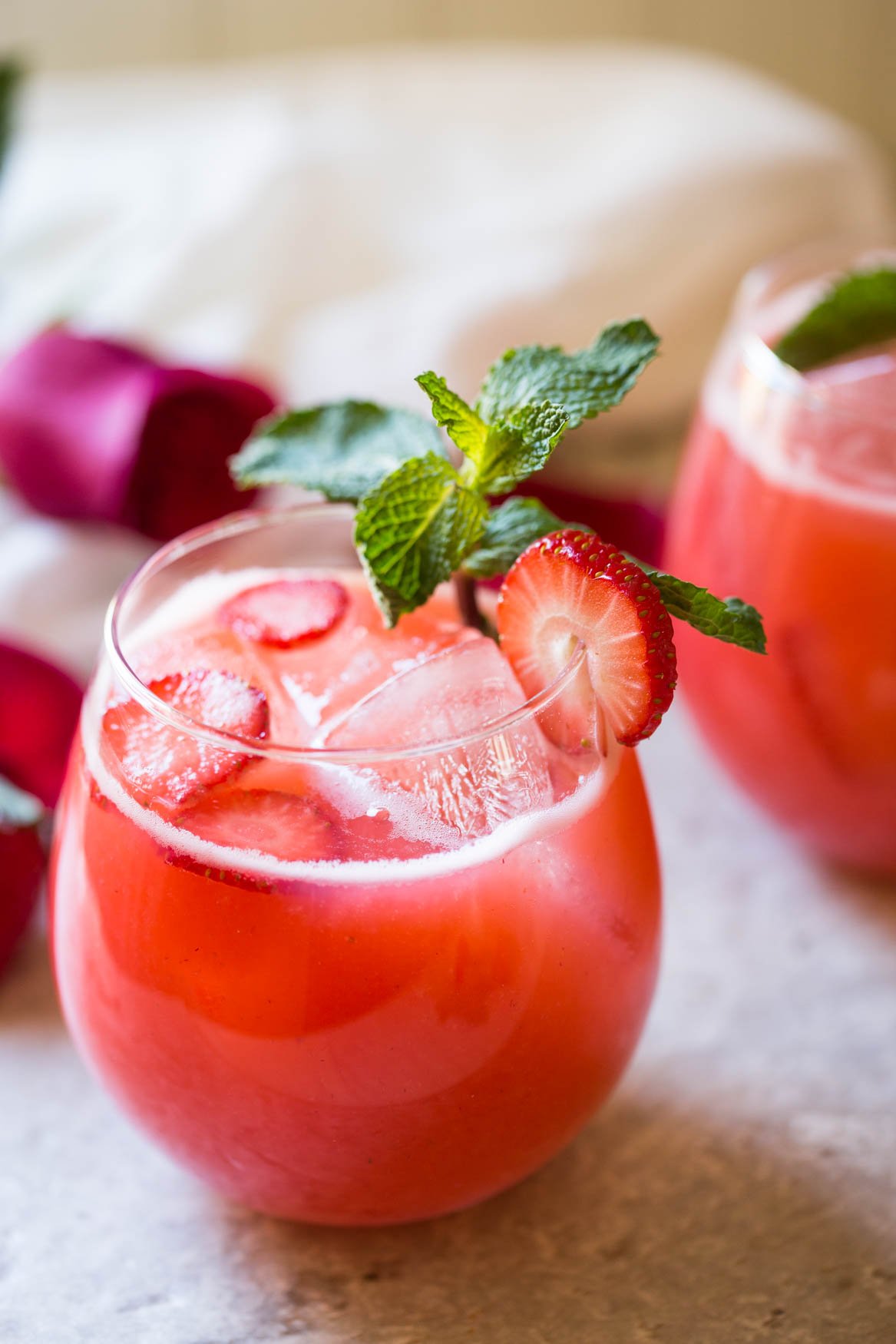 ---
FOOD FOR THE SOUL
"Yoga is a big misnomer in the West, people don't know what this yoga is. Yoga means union with the Divine. When you become one with the Divine, the Divine starts flowing through you and you become part and parcel of the whole. (Shri Mataji, Vienna Austria, 1984). (Experience your self-realization now.)
---
Homemade Fresh Strawberry Lemonade Recipe
Refreshing and cooling homemade strawberry lemonade for making summer party time special.
Ingredients
1 ¼

lb

fresh strawberries stems removed

1

cup

lemon juice freshly squeezed

¾

cup

cane sugar

4

cup

water chilled

ice

few fresh mint leaves to garnish

few strawberry slices to garnish
Instructions
In blender jar combine strawberries, sugar and lemon juice. Blend until everything gets pureed.

Strain the mixture using a strainer to remove the grits from the fine seeds of the strawberries.

Transfer the strained pulp mixture to a large pitcher.

Now add water and mix well. Let the lemonade chill before serving.

Serve with ice cubes and garnish with a few mint leaves along with a sliced strawberry.
Notes
Add more sugar if you want it sweeter. I usually prefer lemonade that is not oversweet. Therefore, with the amount of sugar I mentioned above you may find the lemonade little less sweet for you.
You can tear and add few mint leaves to the pitcher to get the nice minty flavor.
You can find more helpful tips above.
Nutrition
Tried this recipe?
Tag us on Instagram @watchwhatueat or tag #watchwhatueat! OR leave us a comment & rating below. Your feedback is very important to us.
SAVE it For Later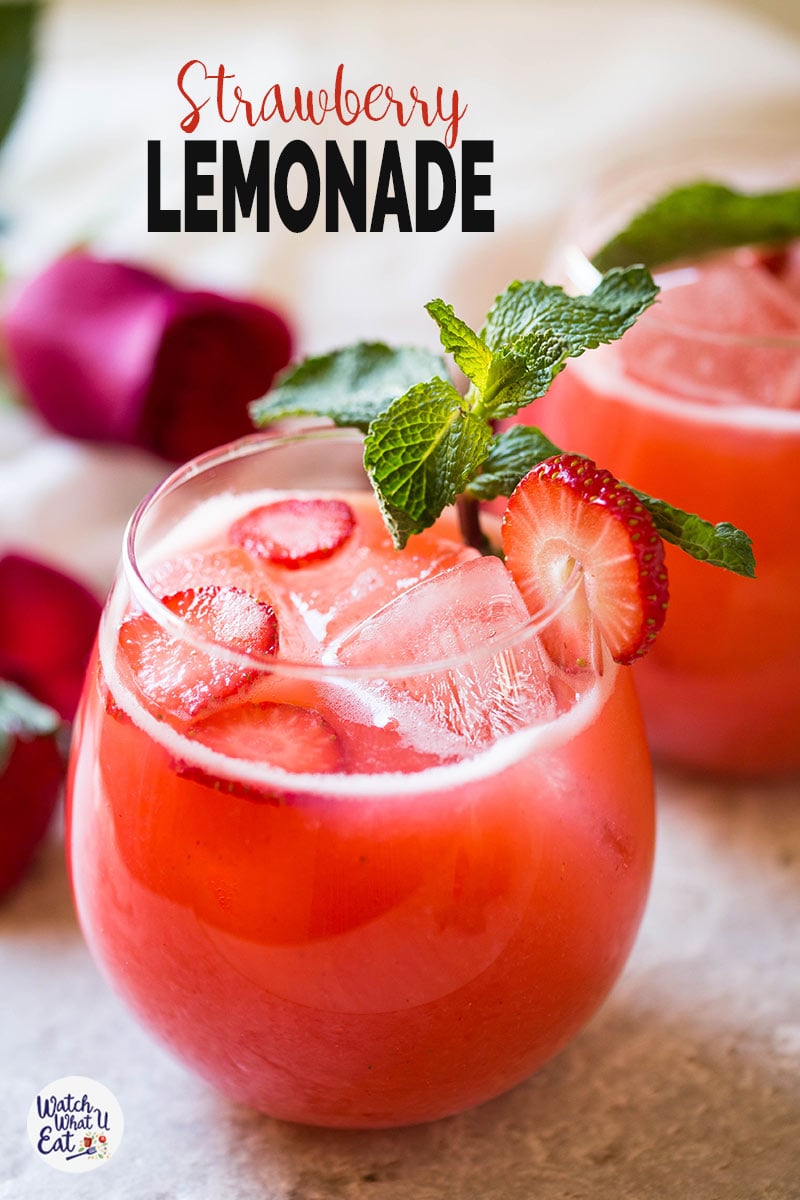 This post contains affiliate links. For more information on our Affiliate and Advertising Policy, please click here