Learn how to make healthy guacamole at home in a simple and easy way. Classic touch with all the fresh ingredients and prepared in an authentic way. This will be your go-to recipe once you try it.
Also, learn tips to store leftover guacamole without getting it brown.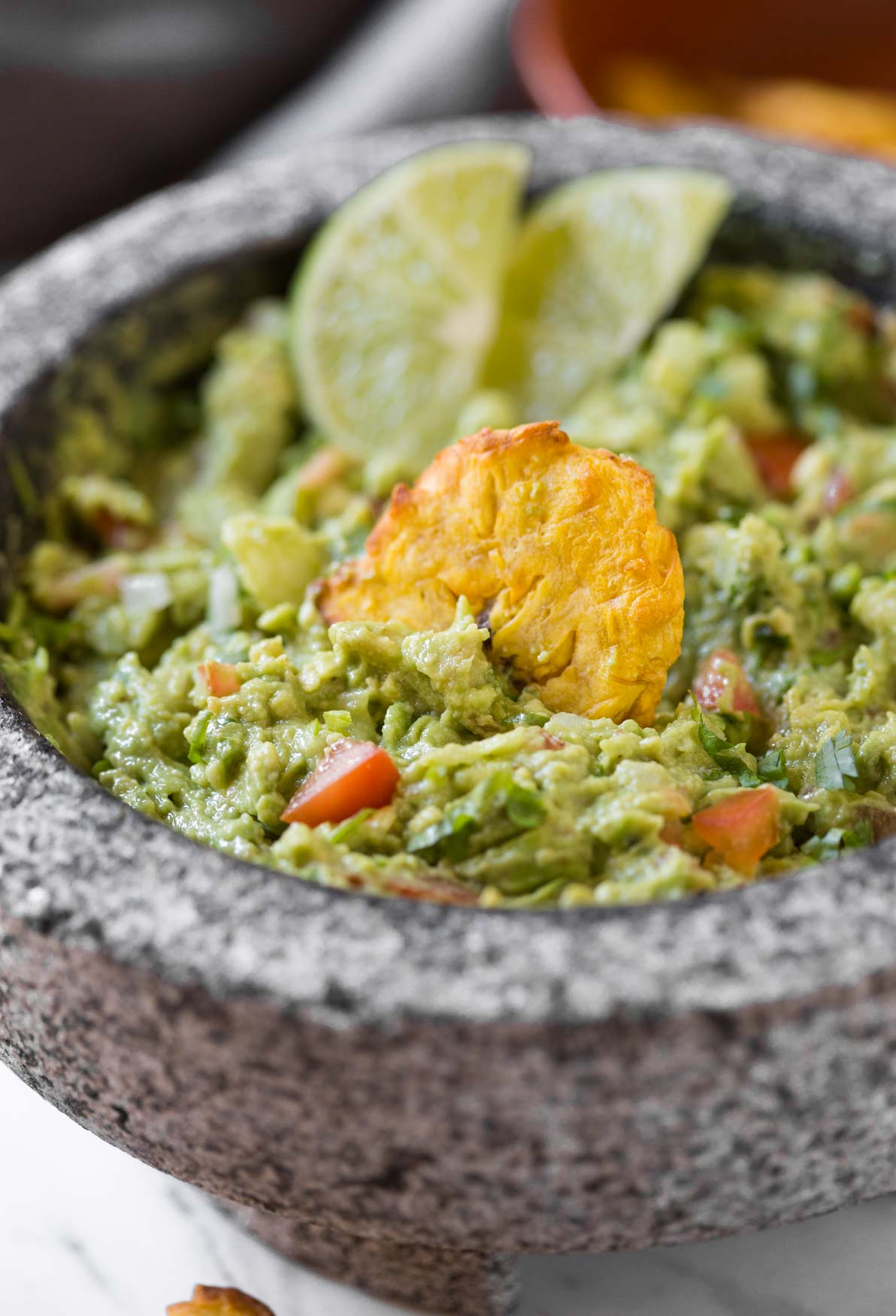 Here I am going to share with you my go-to recipe for making homemade easy guacamole using all the fresh ingredients. And this simple recipe does not have a ton of ingredients that you can go wrong with easily.
Jump to:
How to Make Healthy Guacamole?
To make this simple guacamole you will need onion and tomato, fresh garlic cloves, fresh cilantro and of course super awesome avocados. To make it more flavorful I use little ground cumin in addition to salt, and pepper. Finally, adding some lime juice will help to keep guacamole from turning brown.
Here I list two slightly different techniques for mixing these ingredients to make fresh homemade guacamole.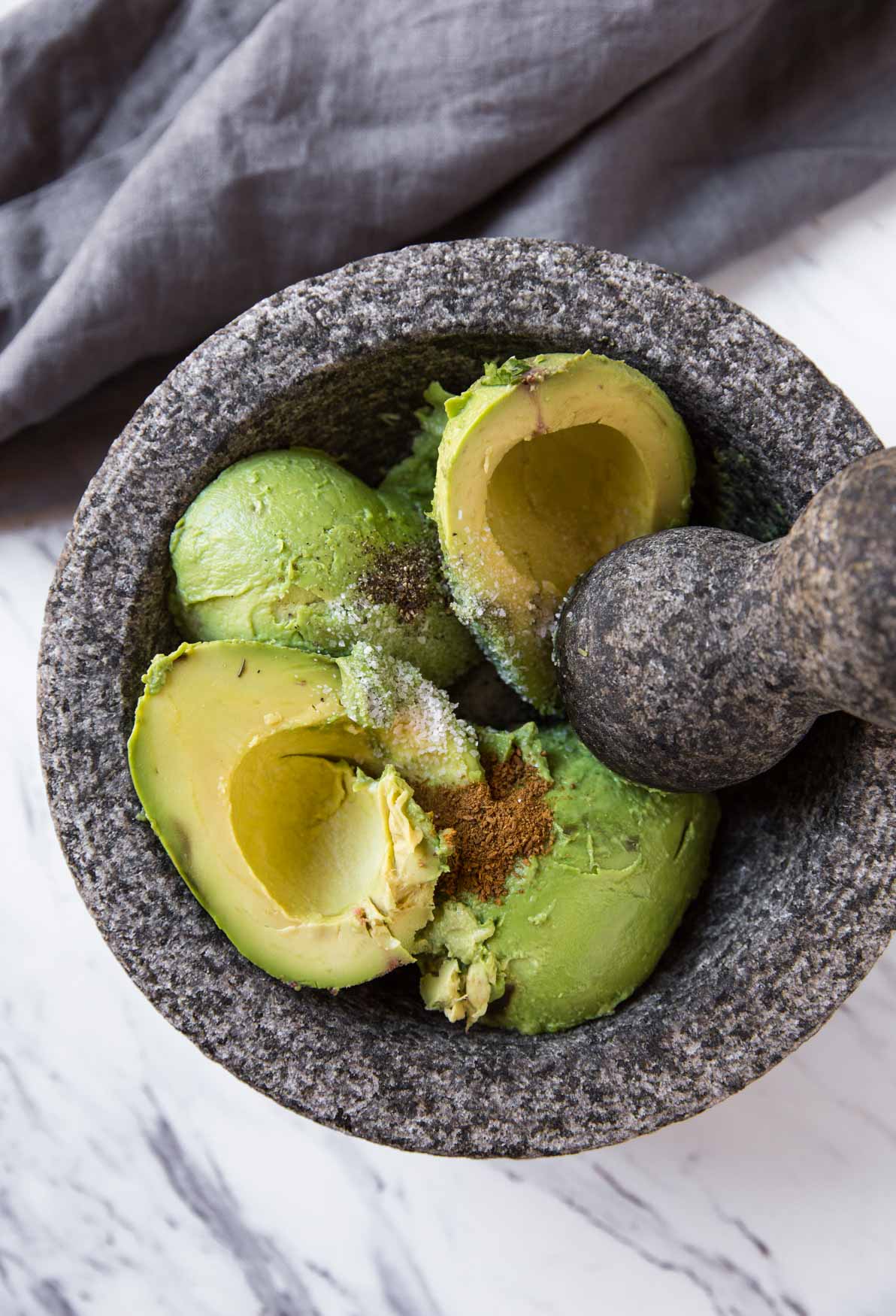 Guacamole in a Molcajete
In a molcajete add fresh garlic cloves, some fresh cilantro and then grind into fine pieces using a pestle. Add peeled avocado, ground cumin, salt, and pepper and mash using the pestle. Then mix this avocado pulp with onion, tomato, and some lime juice.
I always love to make my guacamole in a molcajete. You may wonder what is this molcajete!!
It is a traditional Mexican mortar and pestle carved from volcanic rock. You may find them in some Mexican restaurants where they will make fresh guacamole in front of you using this tool and serve. They call it tableside guacamole if I am not wrong.
I think this tool is a very helpful addition to the kitchen for those who love to cook and want to use minimally processed products like spices. Other than making guacamole in it, I use molcajete for making freshly ground spices (for example ground roasted cumin) or spice blends. Such homemade spices amazingly enhance the flavor of the dish.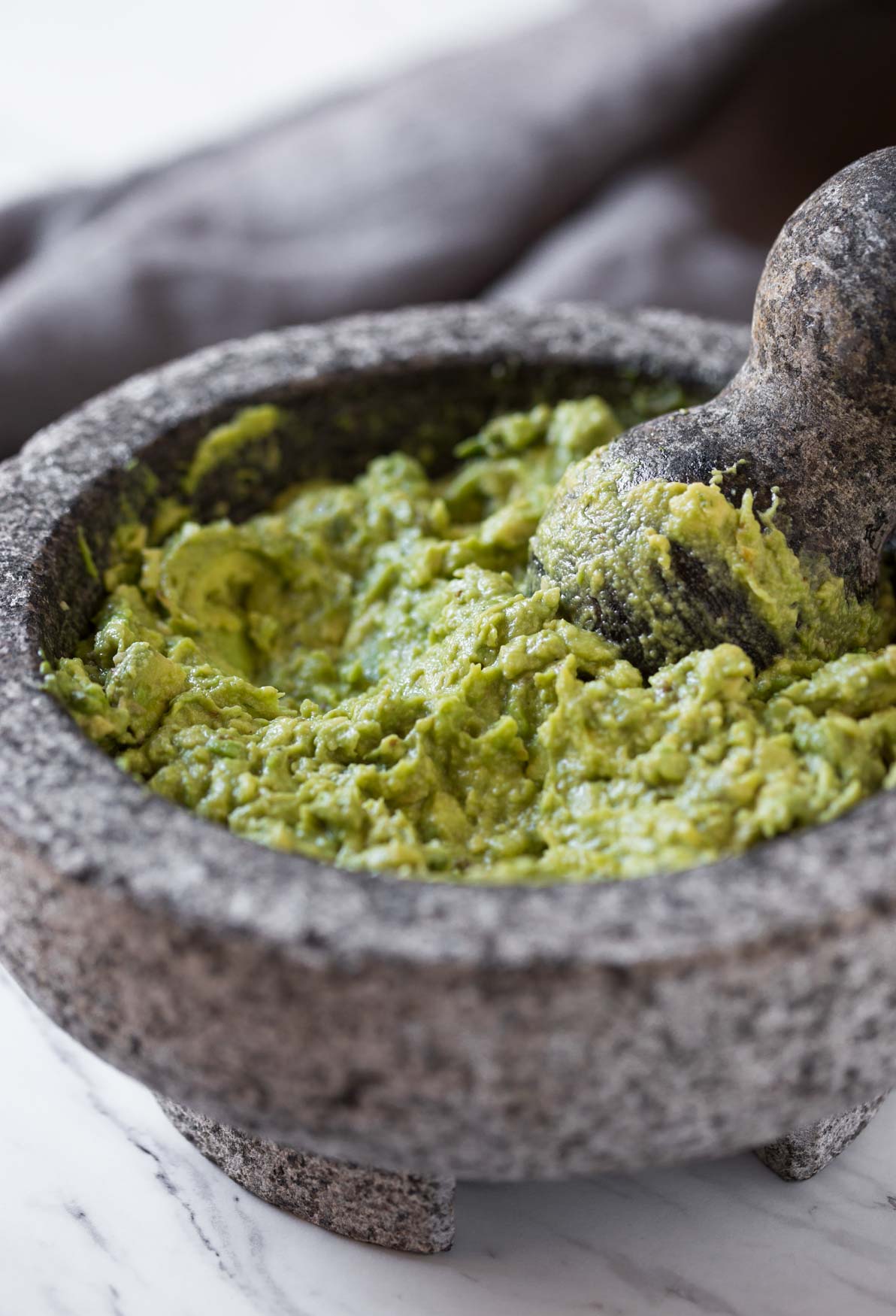 Guacamole without Molcajete!
It is not absolutely necessary to use molcajete for making this healthy guacamole.
In a large mixing bowl add peeled avocados. Using a fork or back of a wooden spatula mash avocados into small pieces or to a pulp-like texture. Then add finely minced garlic, chopped onions, chopped tomatoes, lime juice, cumin, salt, and pepper; mix everything to combine.
Helpful Tips!
How to choose avocados? – Choose avocados that are firm and dark green to blackish in color as opposed to pure green. You can use it within a day or two. If avocados are green in color and too hard to press, you may want to wait for a few days until they ripen. Never choose avocados that are soft to the touch or can be easily pressed. It should be firm, and when you press with the finger, it should bounce back to retain its shape. If it leaves a dent, it indicates that the avocado is overripe. You can store ripe avocado in the fridge for around 5-6 days, or else you should use it immediately.
I like the chunky texture of the avocados. However, if you want a creamy texture, make sure to mash the avocados to the desired texture before adding onion and tomato.
I use the roma tomato variety for making homemade guacamole. Cut it in half and remove the seeds and liquid. Then dice it into small pieces.
Jalapenos – This is optional. I use it sometimes or skip it altogether.
Season sufficiently with salt and pepper.
If you are one of those who hates cilantro flavor, then you can totally skip it.
Serving suggestions!
Fresh avocado dip goes perfectly well with many Mexican and Mexican inspired dishes.
You can serve this healthy guacamole dip with homemade plantain chips or tortilla chips, or plantain tostadas as an appetizer.
You can add as a topping to the these Mexican Inspired black bean soup, turkey chili, etc.
Serve on the side of Mexican flavored wholesome rice dishes like tomato brown rice, chicken and rice.
Also, you can try it over homemade tacos or nachos.
Or, use it in a salad or on this quinoa veggie burger instead of a dressing.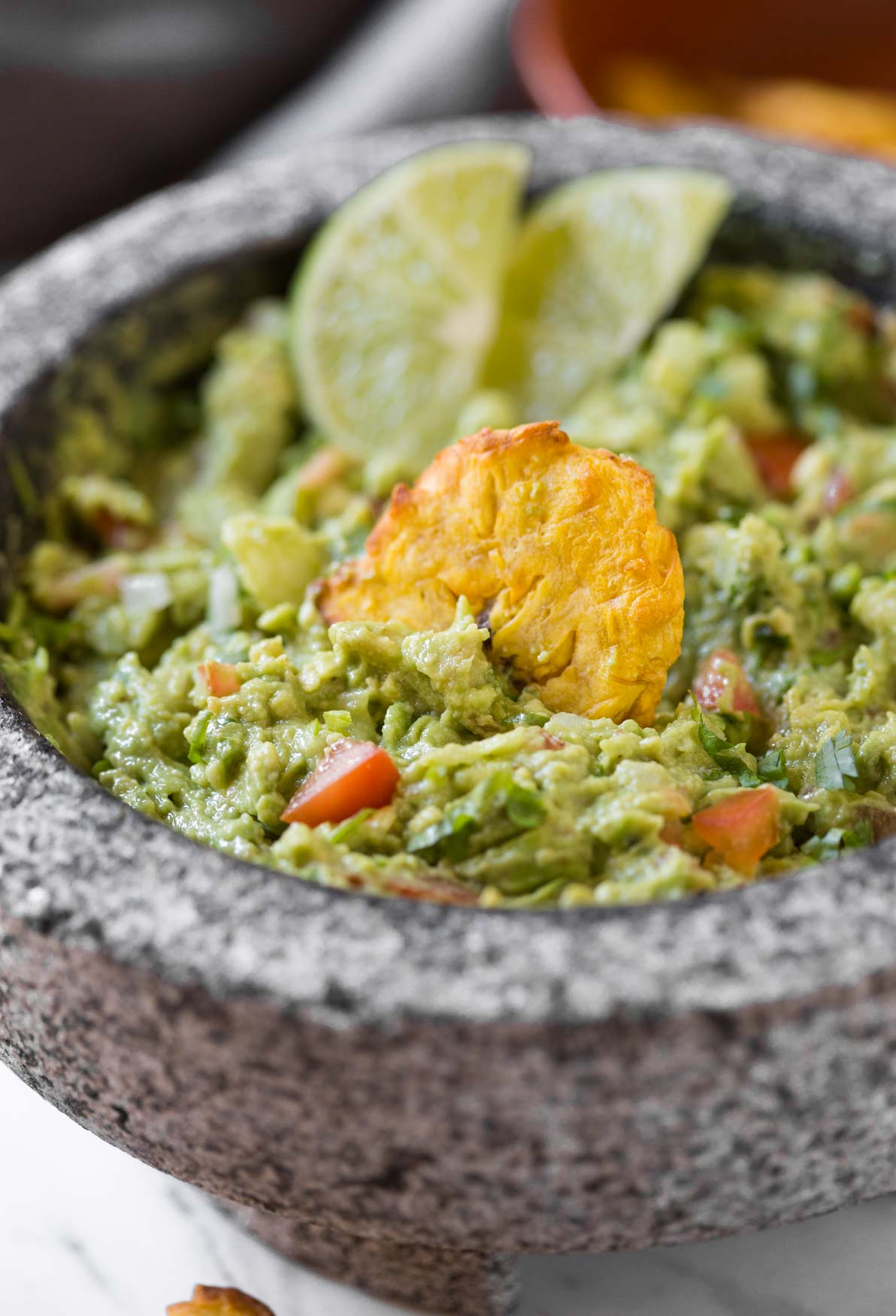 FAQs
How to store guacamole?
Refrigerate leftover guac dip in a glass airtight container. Without keeping it in an airtight container will turn guacamole brown quickly.
How to keep guacamole from turning brown?
Adding lime or lemon juice will help but cannot prevent the avocados from completely turning brown. Therefore place leftover guac in an airtight container. Place pits from the used avocado at different places. Then spread a plastic saran wrap on top of the guacamole removing air as much as possible. Finally, put the lid and store in the refrigerator.
How long will homemade guacamole last?
If you store the guacamole dip the way I described above it will remain fresh for 2-3 days. I am sure your family won't leave it for leftovers.
Is homemade guacamole healthy?
The star ingredient in guacamole dip is the avocado. And avocados are loaded with heart-healthy monounsaturated fatty acids which fall into the category of good fats. Also, avocados are nutritious as they contain several key vitamins and minerals.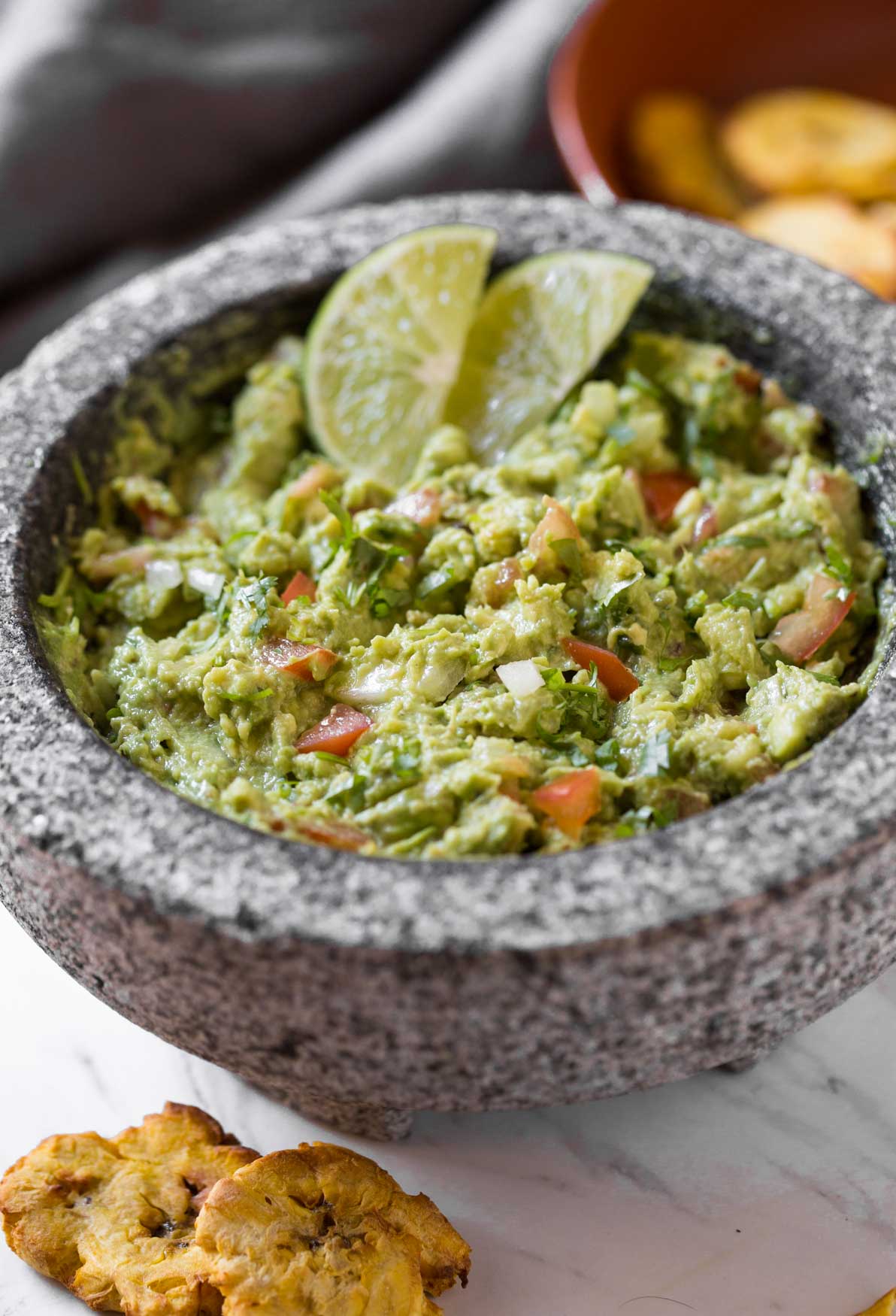 More Mexican inspired dishes to try
Love this recipe? Please leave a 5-star ⭐⭐⭐⭐⭐ rating in the recipe card below & a review in the comments if you REALLY like this recipe. Thank You!
📖 Recipe
Homemade Healthy Guacamole (Restaurant Style)
Simple Healthy Guacamole Recipe — Chunky avocado pulp mixed with fresh chopped tomatoes and onion. Lime juice, fresh cilantro, and seasonings make it even more flavourful. Try it and this will be your go-to recipe.
Ingredients
2

ripe avocados

peeled and pitted

½

small

onion

finely diced

½

roma tomato

seeds removed

1

medium

garlic clove

½

teaspoon

ground cumin

½

tablespoon

lime juice

salt and pepper

fresh cilantro
Instructions
Using Molcajete
Add fresh garlic clove and 1-2 stems of fresh cilantro to the molcajete and grind using a pestle to get a fine texture.

Then add peeled and pitted avocadoes to the molcajete.

Also add ground cumin, salt and pepper, and lemon juice after avocadoes. Then using pestle mash the avocados. Keep it chunky.

Add finely chopped onion and tomato; Mix well to combine.
Without Using Molcajete
In a large mixing bowl add peeled and pitted avocadoes. Mash them using the back of a fork or wooden spatula. Keep it chunky.

Add finely minced garlic and all the remaining ingredients to the avocado pulp. Mix well to combine.
Notes
Do not throw pits after peeling the avocadoes. It is believed that putting it back to leftover guacamole keeps it from browning.
You can add more seasonings and lime juice according to your likings.
You can easily scale this recipe and make it for larger gatherings.
I got the inspiration for this recipe from my dear friend Sandra Sinha (originally from Columbia).
Nutrition
Calories:
128
kcal
|
Carbohydrates:
8.7
g
|
Protein:
1.9
g
|
Fat:
10.6
g
|
Saturated Fat:
1.5
g
|
Potassium:
430
mg
|
Fiber:
5.5
g
|
Sugar:
20
g
|
Iron:
1
mg
Tried this recipe?
Tag us on Instagram @watchwhatueat or tag #watchwhatueat! OR leave us a comment & rating below. Your feedback is very important to us.