Make this 15 min simple and easy roasted fajita vegetables chipotle-style using fresh bell peppers and onion. You can use them in homemade tacos or fajitas.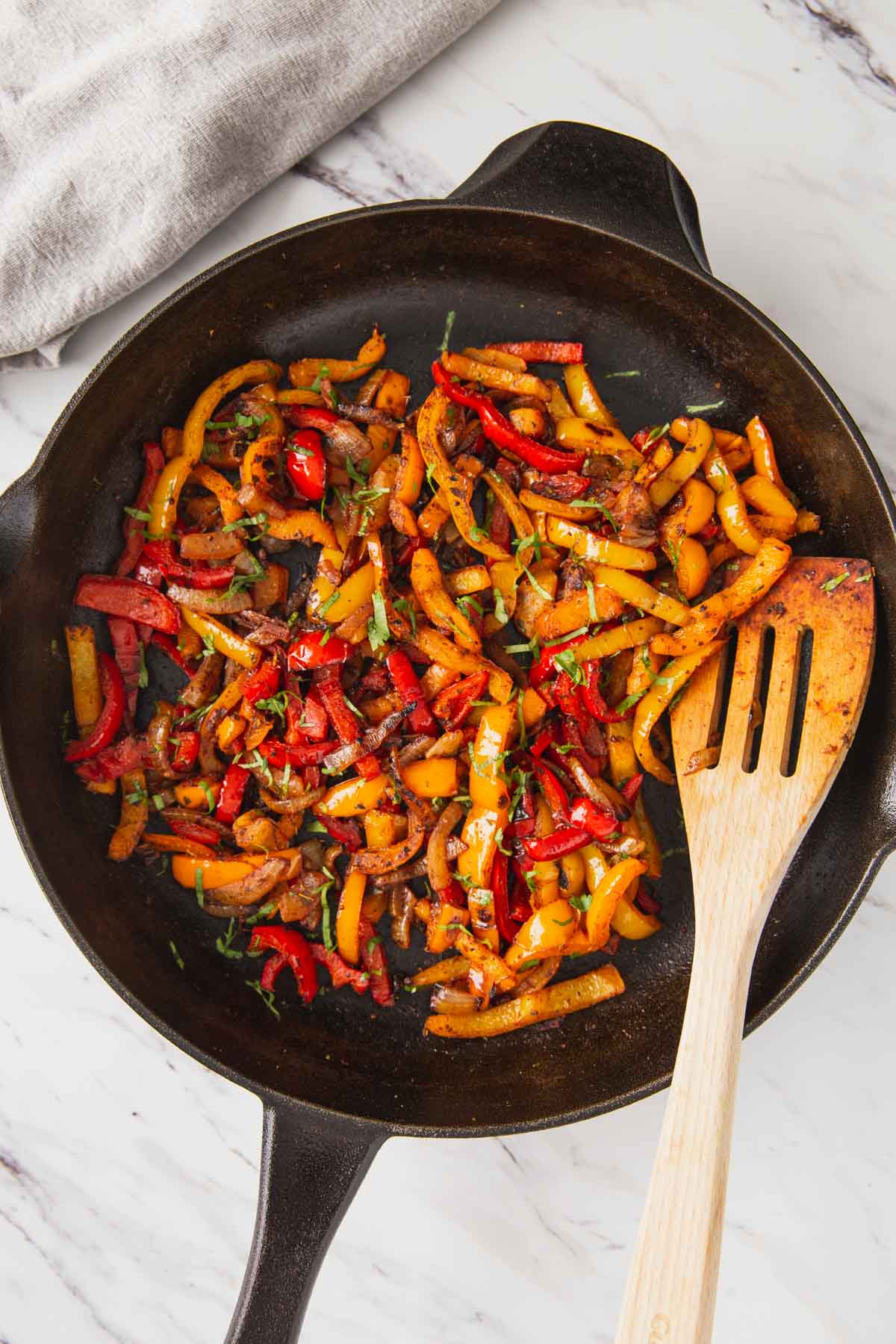 I feel roasted veggies do not need any introduction or explanation. It is fairly common to prepare roasted peppers at home, isn't it! However, these fajita roasted peppers and onions have unique flavors. These are chipotle style, and you can use them in most Mexican recipes.
Jump to:
What is special about This Dish
super easy and quick to prepare
colorful peppers make this an attractive dish
a one-pan recipe
nutritious and delicious
crunchy veggies with Mexican flavors, which you will love to make them often.
Ingredients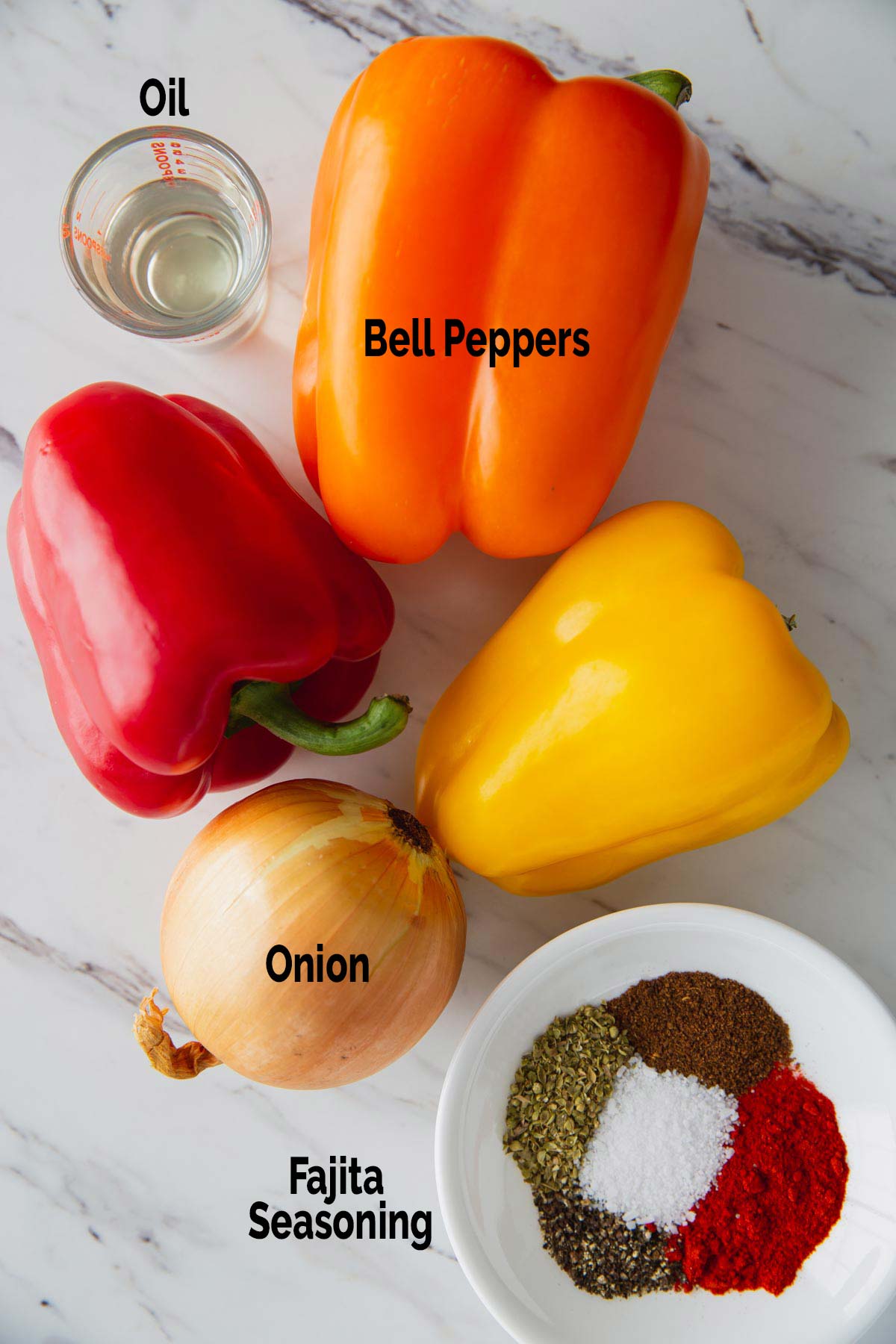 Bell peppers – Use red, yellow, and orange bell peppers for a colorful veggie dish.
Onion – you can either use red or yellow onion. I use whatever onion I have readily available in the kitchen.
Seasonings – use either store-bought or homemade fajita seasonings. I prefer making fajita seasoning at home using the herbs and spice blend.
Cooking oil – I prefer using avocado oil or olive oil suited for sauteing and grilling.
Recipe variations
Use a variety of veggies – you can add one or more veggies like mushrooms, broccoli, spinach, etc. in addition to the peppers and onion.
For a protein-rich dish, you can also use chicken. Cut chicken into bite-size pieces and cook them first for 2-3 min. Then add the veggies and follow the instructions given in the recipe.
You can change the seasoning to your favorite one. Follow the recipe to cook the veggies and add the seasoning of your choice.
Make grilled fajita veggies – you can grill sliced peppers and onion on your gas or charcoal grill.
Fajita seasonings
I make my own fajita seasoning at home, and it is relatively cheaper this way. I use smoked paprika, oregano, cumin powder, salt and pepper. Just mix all these spices, and your fajita seasoning is ready to use.
What Vegetables To Use In Fajitas
In this recipe, I am using multi-colored bell peppers and red onion. However, you can add a variety of veggies to the fajitas such as…
mushrooms (button or portabella)
broccoli florets
spinach
corn kernels or baby corn
jalapenos peppers
How to cut bell peppers and onion for fajita?
Clean bell peppers before cutting. Slice the bell pepper on all sides straight down, starting from the stem side. This will leave the stem and the core with the seeds intact. Then slice off the bottom and top to remove the core. Finally, cut each piece into thin strips.
For the onion, peel and cut in half and then thinly slice.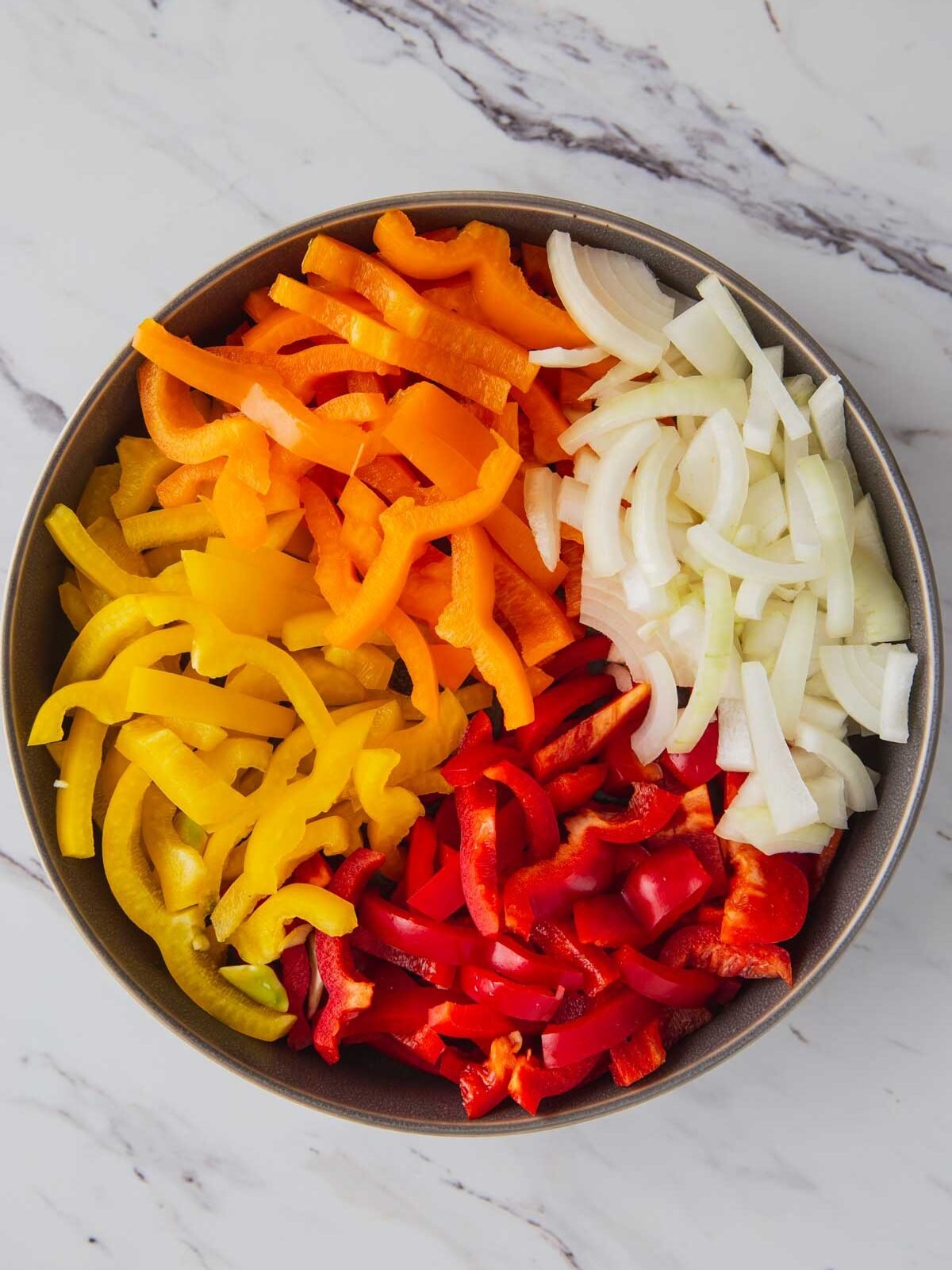 How To Make Roasted fajita vegetables?
Step 1
Heat some oil on medium heat in a large cast-iron skillet. Then add bell peppers and onion. Turn heat to high and saute the mixture for a few mins or until it starts getting golden brown/caramelized. Stir the mixture frequently using a spatula to avoid burning the veggies.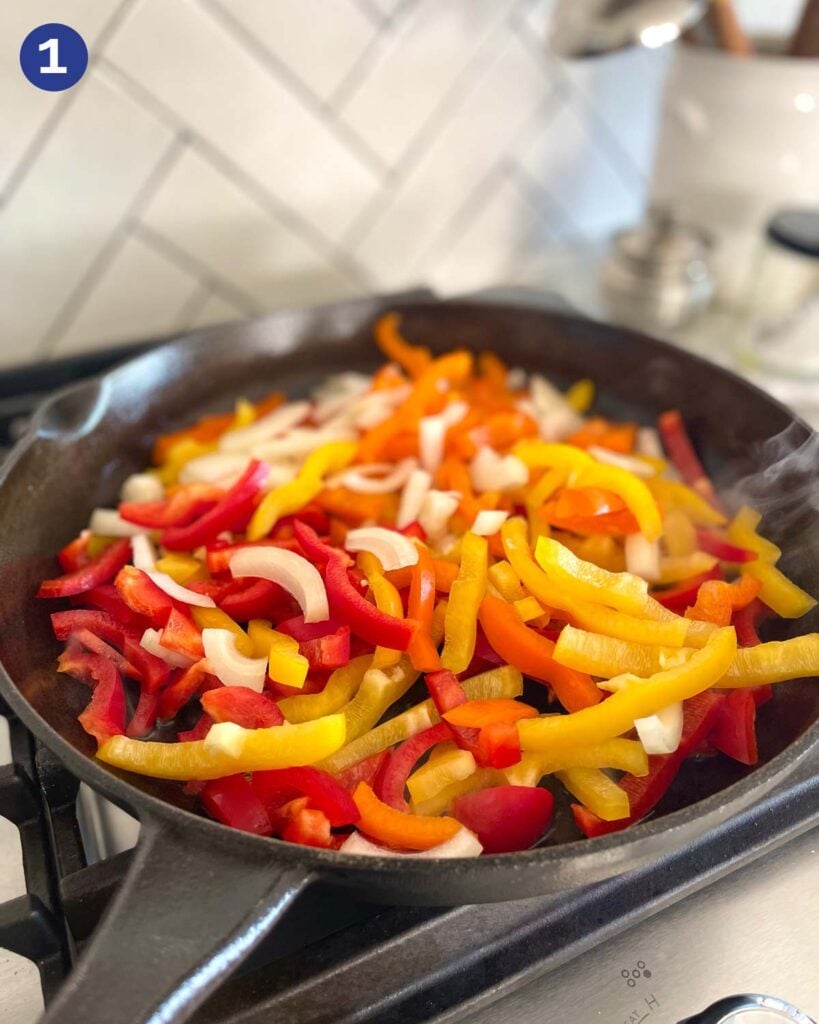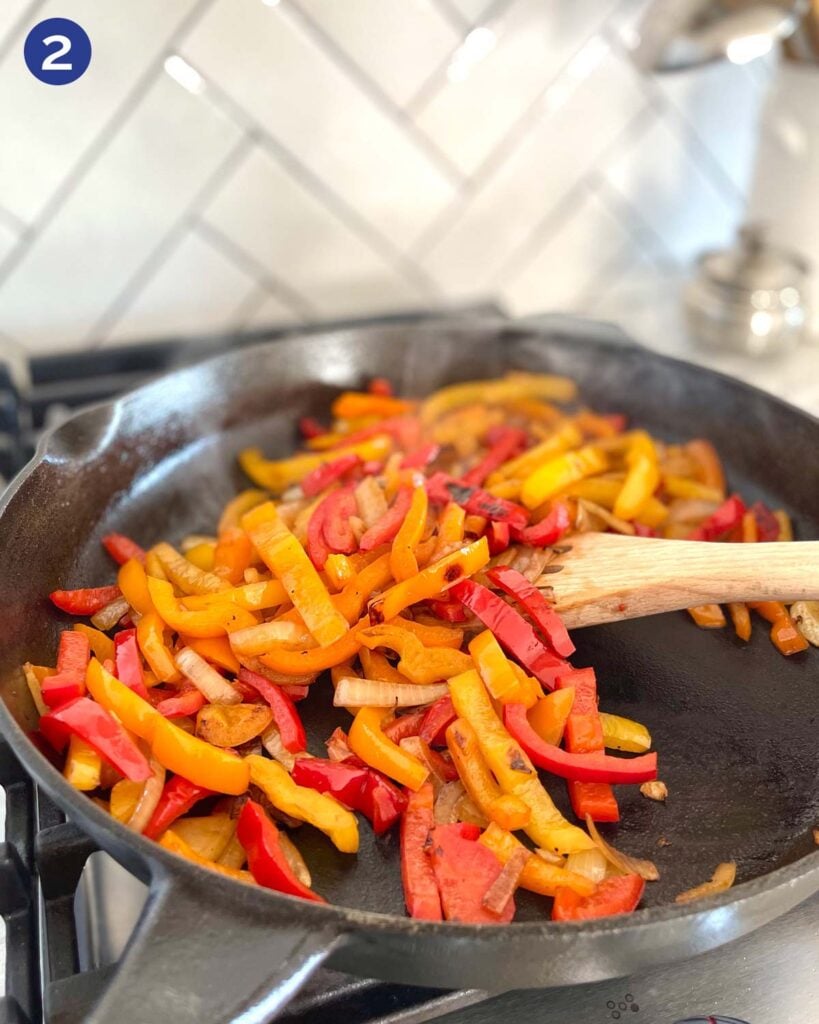 Step 2
Once the roasting is done, add fajita seasoning and salt. Mix well and sauté for a few more seconds. Turn off the heat and remove the pan from the hot stove.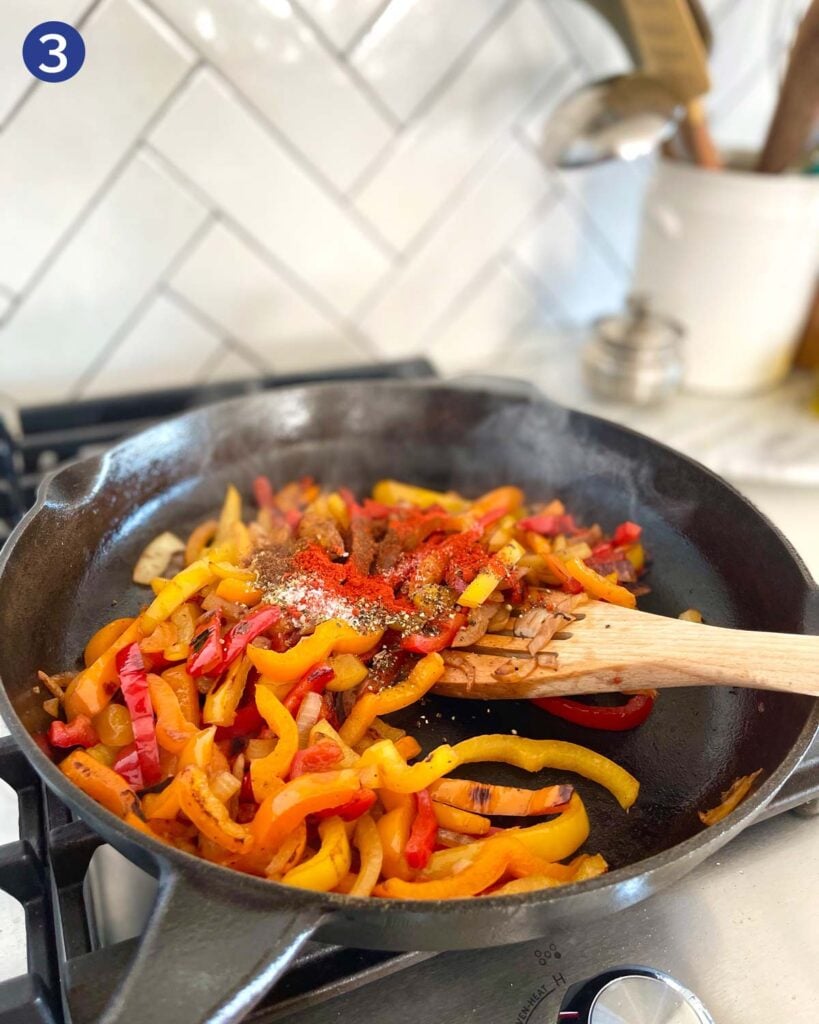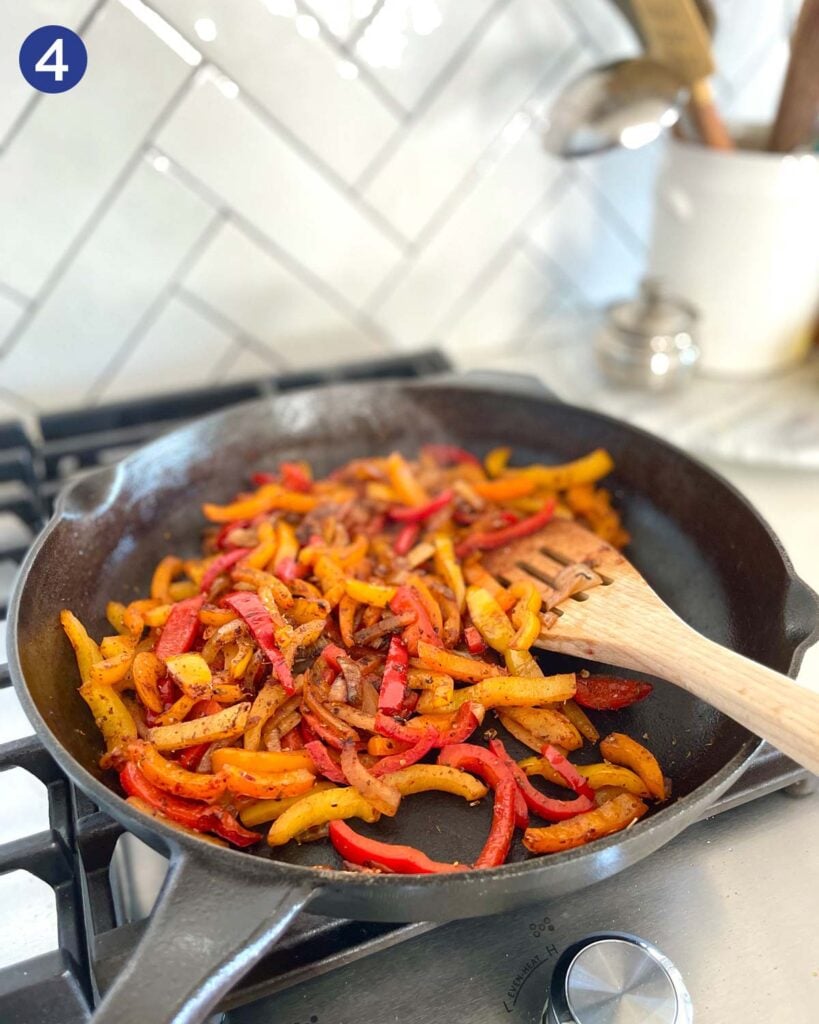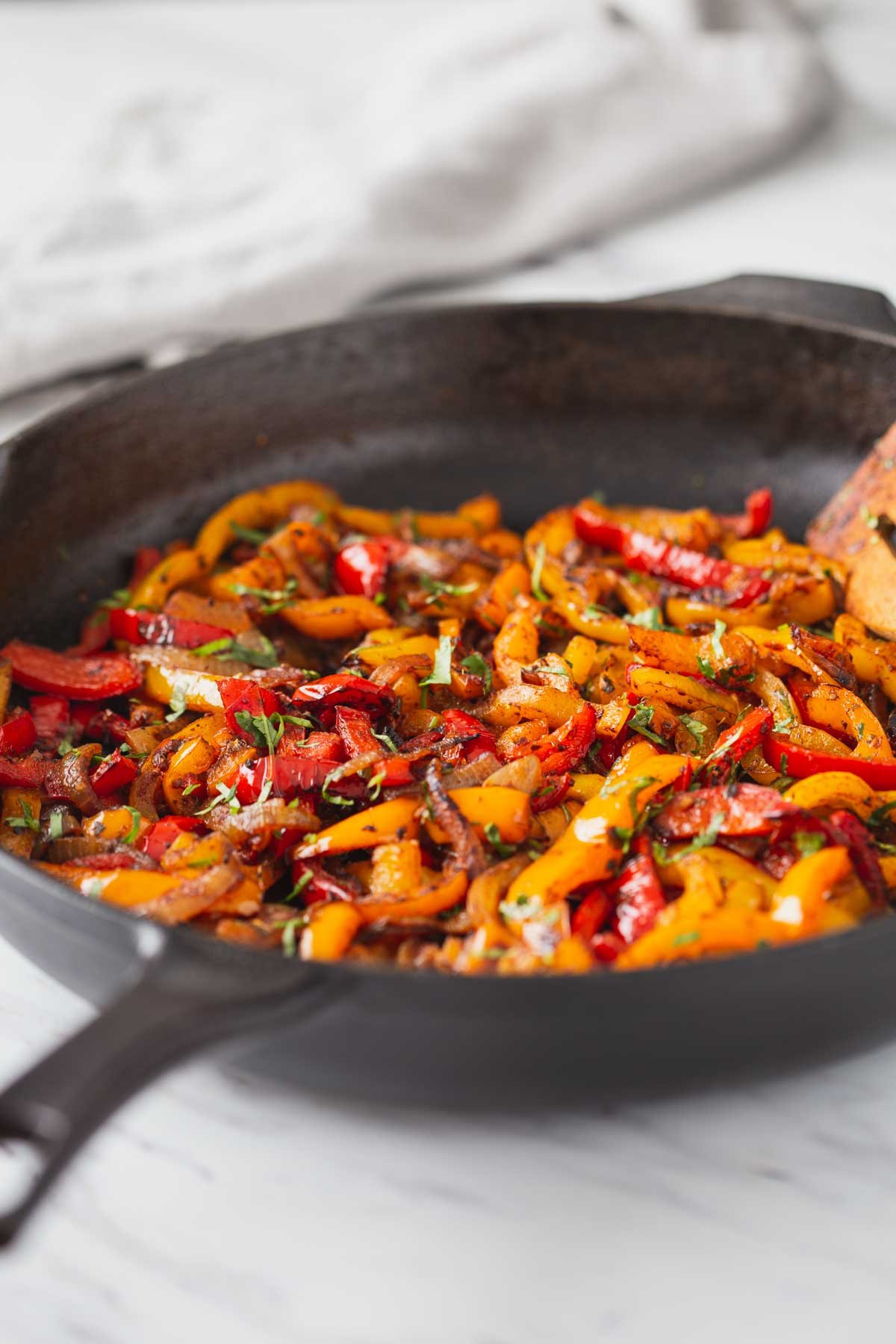 Helpful Tips
Cast iron pan – Use it for roasting the veggies. It heats evenly and gives the dish a nice roasted and caramelized color, taste, and texture. Also, once the cooking is done, remove the veggies from the pan as the food starts getting blackish in color if left longer in cast iron pans. It might affect the taste, too.
Do not cook the veggies longer after adding the seasonings; otherwise, they can burn easily and ruin the taste. Always add the seasonings towards the end of cooking.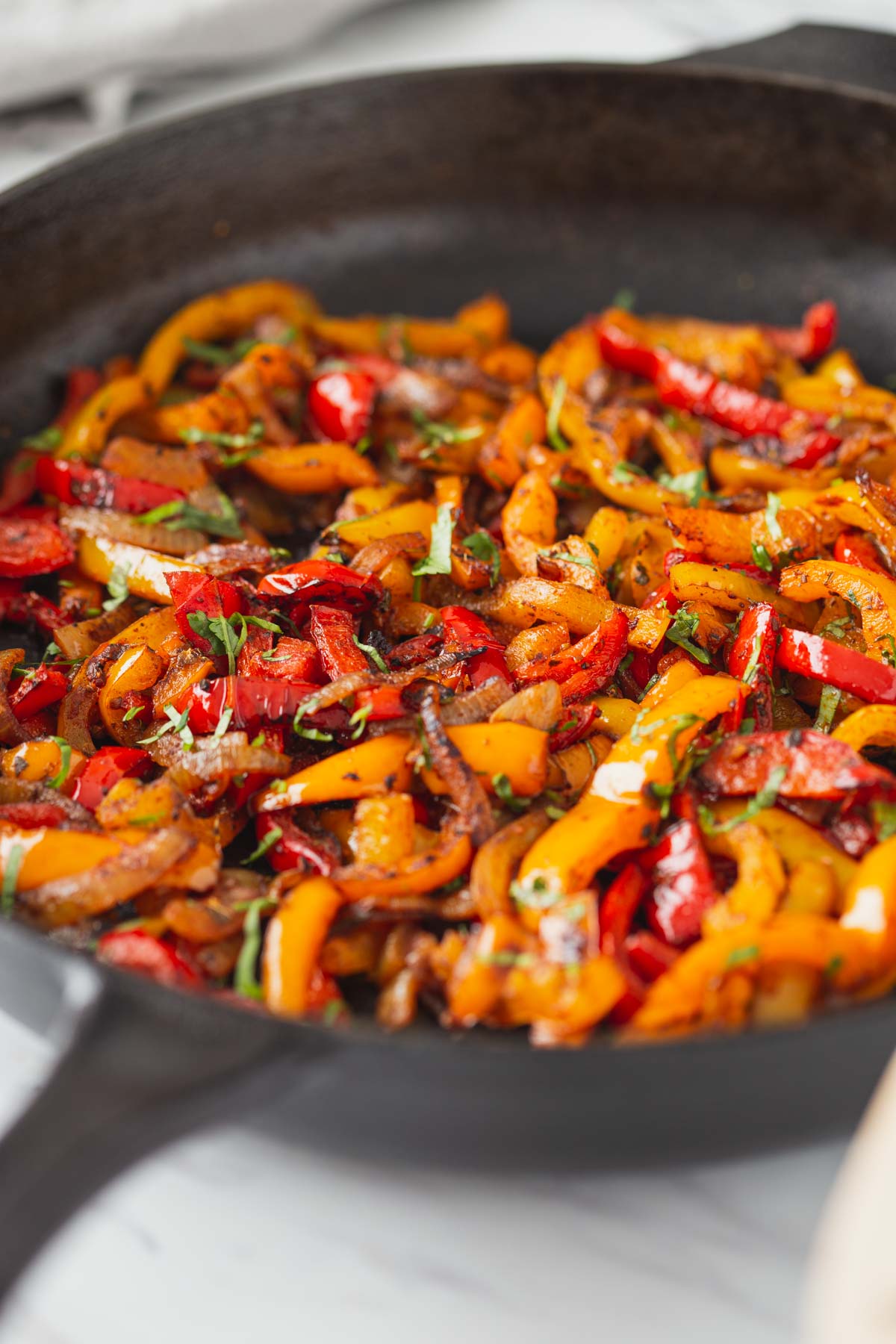 FAQs
How to store leftover fajita vegetables?
Store them in an air-tight container in the refrigerator and use them within 2-3 days. I prefer using glass or ceramic containers (microwave-safe ones) to store the leftovers.
How to reheat leftovers?
Heat them in a pan on the stovetop on medium heat until it gets hot to touch. Remove the pan from the heat and serve warm. A hot pan can also keep them warm until you serve the veggies.
Or, you can also cover and microwave them in a microwave-safe bowl or dish for 60-90 secs.
Fajita Vs Tacos what is the difference?
I feel the difference is very subtle to none, and one can use them interchangeably. As far as I understand, fajita seasonings are less loaded with peppers, while taco seasoning contains a generous amount of peppers like chili powder, smoked paprika, etc.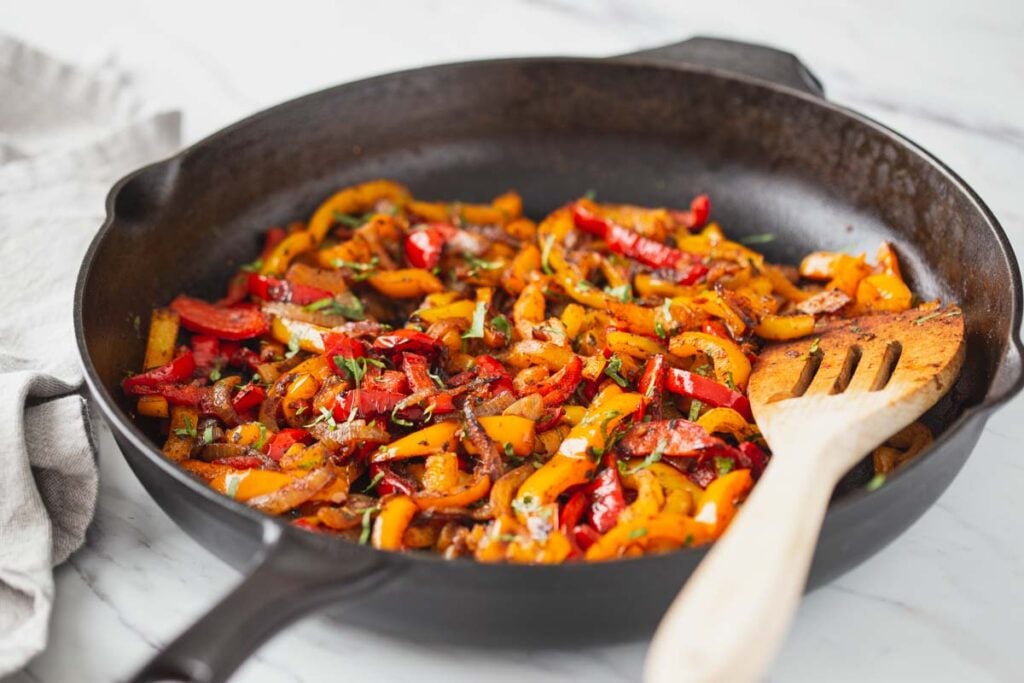 📖 Recipe
Healthy Roasted Fajita Vegetables
Make chipotle-style roasted onion and peppers with fajita seasonings at home. You will need hardly 15 min to make these nutritious and delicious fajita veggies.
Ingredients
3

bell peppers

sliced (use different colors)

1

large

onion

sliced

1

teaspoon

cooking oil
Instructions
Heat oil in a cast-iron skillet on medium heat.

Add all sliced peppers and onion and roast them for 4-5 mins on medium to high heat.

Then add smoked paprika, oregano, cumin powder, salt, and pepper. Mix well and saute the veggies for about 1 min.

Turn off the heat, and add fresh cilantro to garnish. Fajita peppers and onion are ready to serve.
Notes
Bell peppers – use a variety of colors to make the dish colorful. Also, using colorful veggies add a variety of nutrients to the dish.
Frequently stir the veggies while roasting on high heat to avoid burning and sticking them to the pan.
Use a cast-iron pan whenever possible to roast the veggies. An even heating helps to roast them nicely and develops a caramelized color and taste on the veggies.
Nutrition
Calories:
83
kcal
|
Carbohydrates:
12.2
g
|
Protein:
4.7
g
|
Fat:
3.2
g
|
Saturated Fat:
0.3
g
|
Sodium:
300
mg
|
Potassium:
87
mg
|
Fiber:
4.1
g
|
Sugar:
4.7
g
|
Calcium:
94
mg
|
Iron:
1
mg
Tried this recipe?
Tag us on Instagram @watchwhatueat or tag #watchwhatueat! OR leave us a comment & rating below. Your feedback is very important to us.