Prepare this delicious one-pot healthy potato soup without cream and without cheese to make the chilly nights bearable. Yet it is creamy and delicious.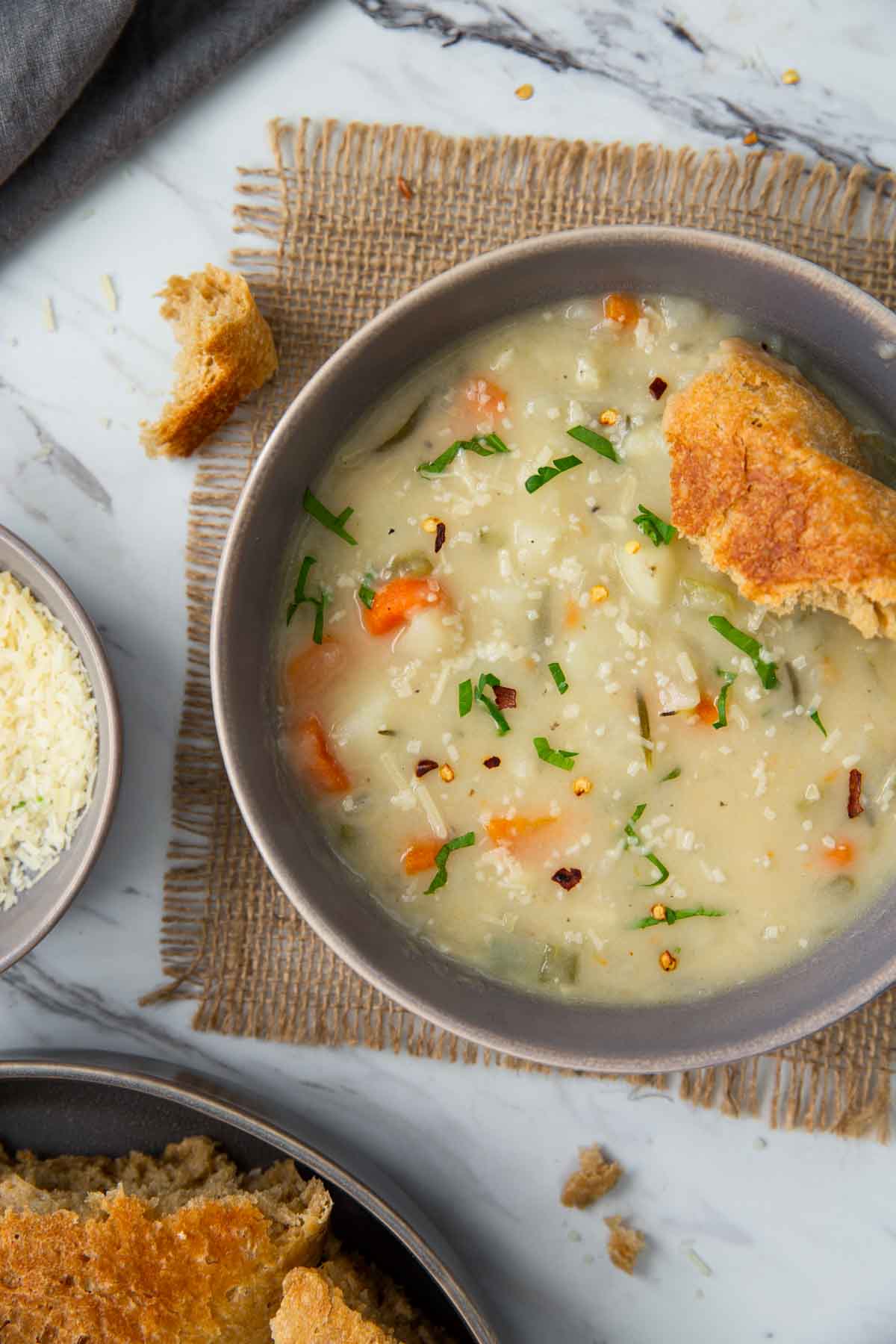 Any potato lovers out there? You should definitely try this homemade healthy potato soup.
My potato-lover husband appreciates it whenever I prepare. I made it several times this winter. We never get tired of eating it.
Warm creamy potato soup with fresh homemade bread to dunk in it is a blissful meal to enjoy during winter nights. Isn't it?
Jump to:
What is special about this soup?
a creamy soup without heavy cream
healthy and delicious
satisfying and filling
simple, quick, and easy to prepare
one-pot recipe makes it easy to clean up afterward
Key Ingredients
Potato – peel, clean, and dice them into small pieces. Organically grown potatoes do not need peeling. However, if you don't remove the peel it can make the soup a bit dark in color compared to the peeled version.
Broth/Stock – add liquid broth or vegetable stock for the deliciousness.
Flour – helps to make the soup creamy. And I prefer using whole wheat flour in our dishes.
Cooking oil – I use cooking grade olive oil or avocado oil or sunflower oil in my kitchen
Flavors and Seasonings – Use fresh rosemary, garlic, black pepper, and salt generously to make the soup full of flavors. Preferably use fresh rosemary for a more aromatic and flavorful soup.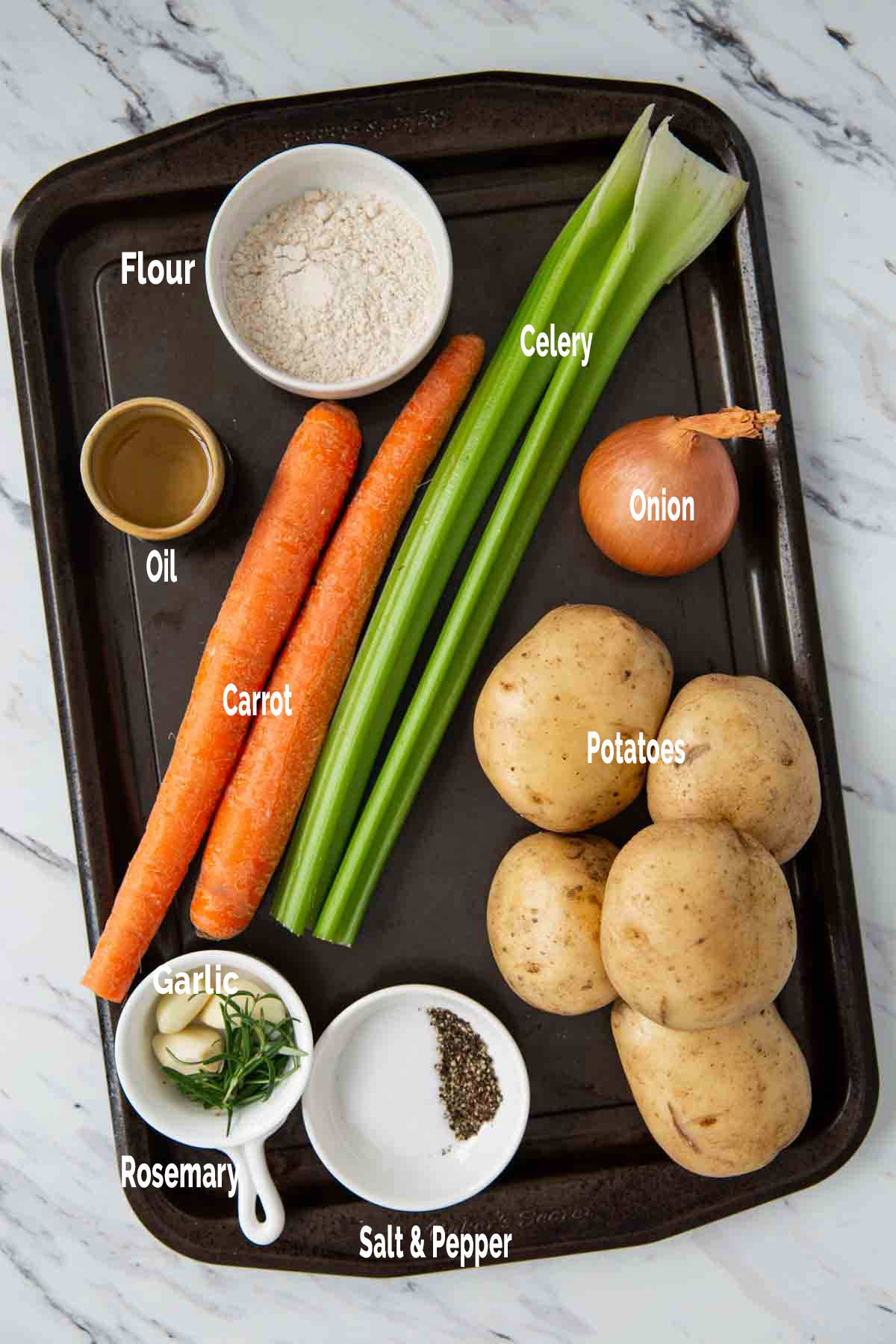 What potatoes are best for creamy potato soup?
Any type of potato can work in making this potato soup. Most of the time I use russet potatoes or butter potatoes as they are easily available. I have also used dutch potatoes from Trader's Joe to prepare this soup. I find any variety that is golden yellow or white in color can work in this recipe. However, small-size potatoes may need a little more effort to peel the skin than larger-sized ones.
Preparing potatoes and veggies
Peel the potatoes, rinse thoroughly to remove all the dirt, and then dice them into 1-1 ½″ size pieces. Keeping the skin can make the soup slightly dark in color. Therefore, I always prefer peeling them.
Thoroughly wash the veggies before using them. Peel and dice the onion and carrot into small pieces. Also, similarly, dice the celery stalks into small pieces.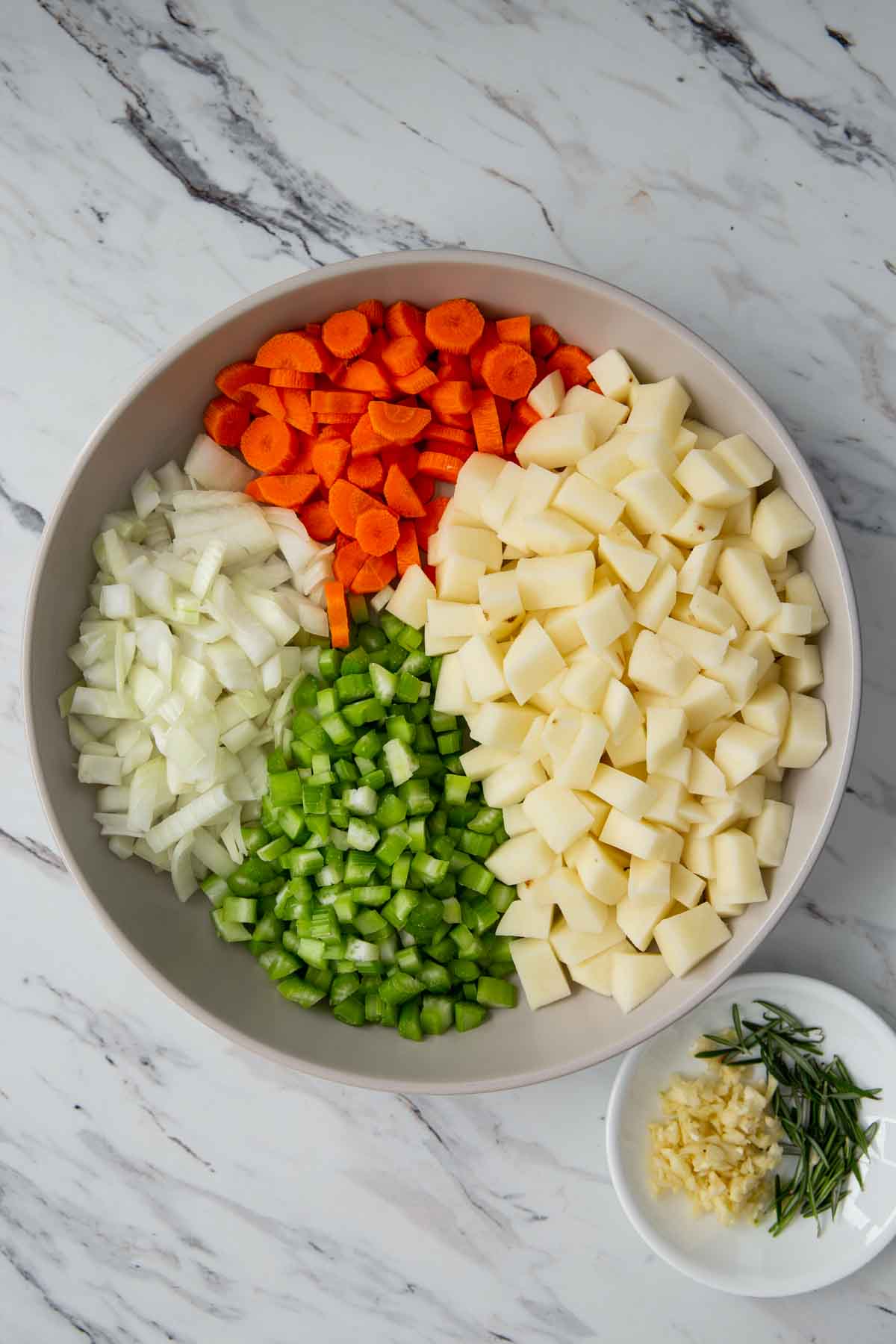 Step 2
Add diced potato, carrot, and celery, and sauté for a couple of mins.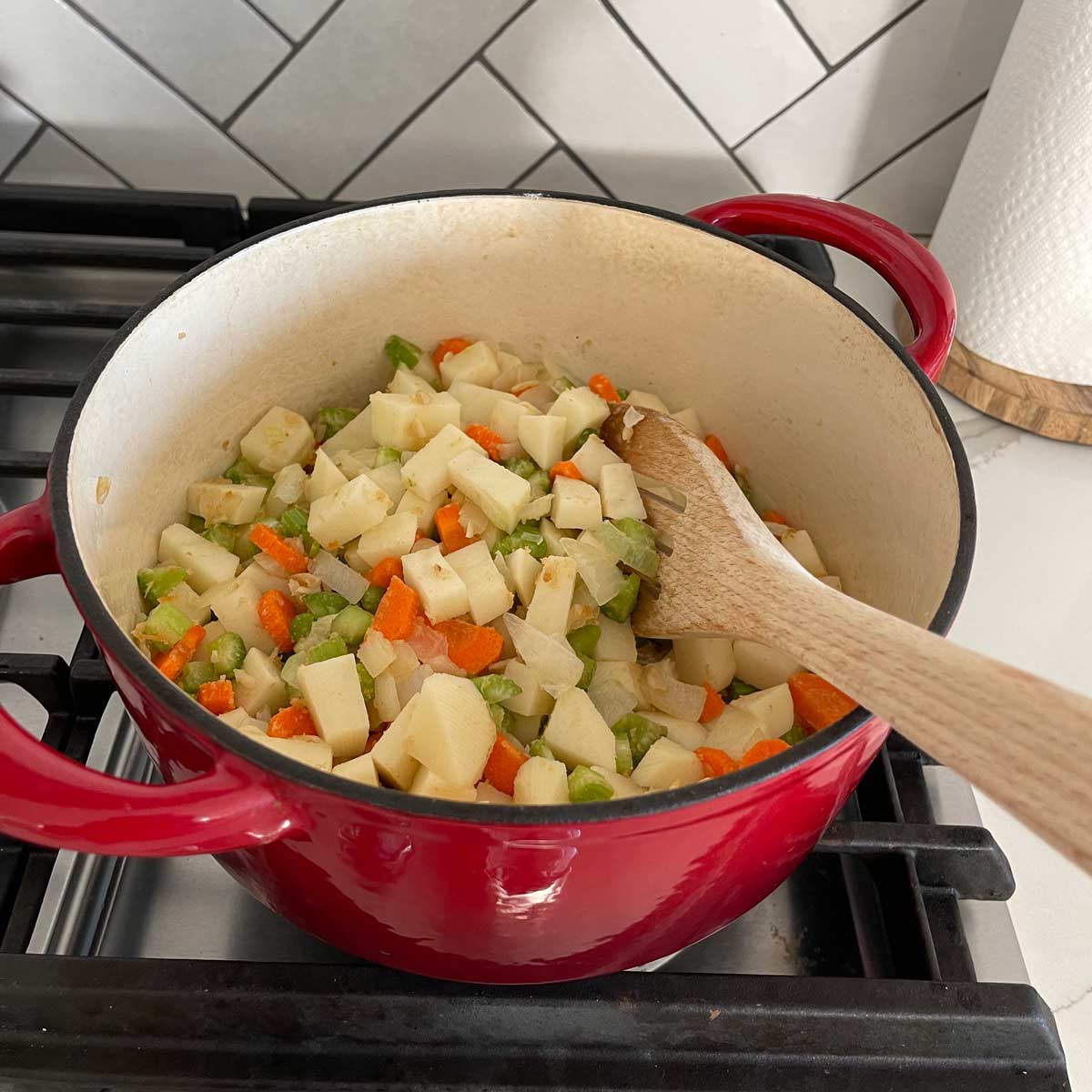 Step 3
Add liquid and bring the mixture to a boil. Season with salt, pepper, and fresh rosemary. Lower the heat and cook the soup mixture for about 15-20 min or until the potato is nice and tender.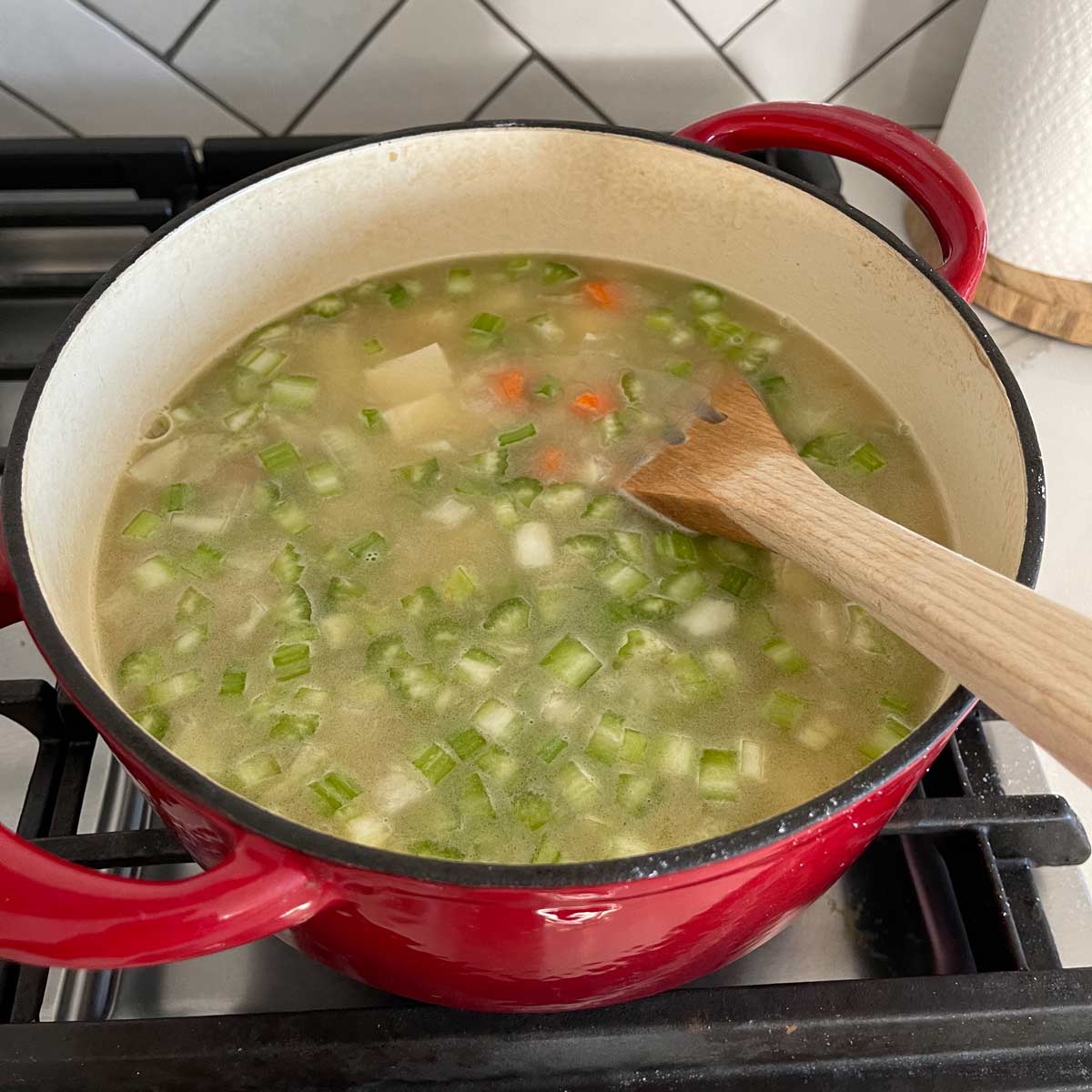 Step 4
Using a potato masher partially mash the cooked potatoes to thicken the soup. Do not mash the entire mixture; leave some chunky veggies in the soup.
Step 5
Garnish with fresh parsley and serve with rustic bread. Optionally, you can also add Parmesan cheese to garnish and enhance the taste.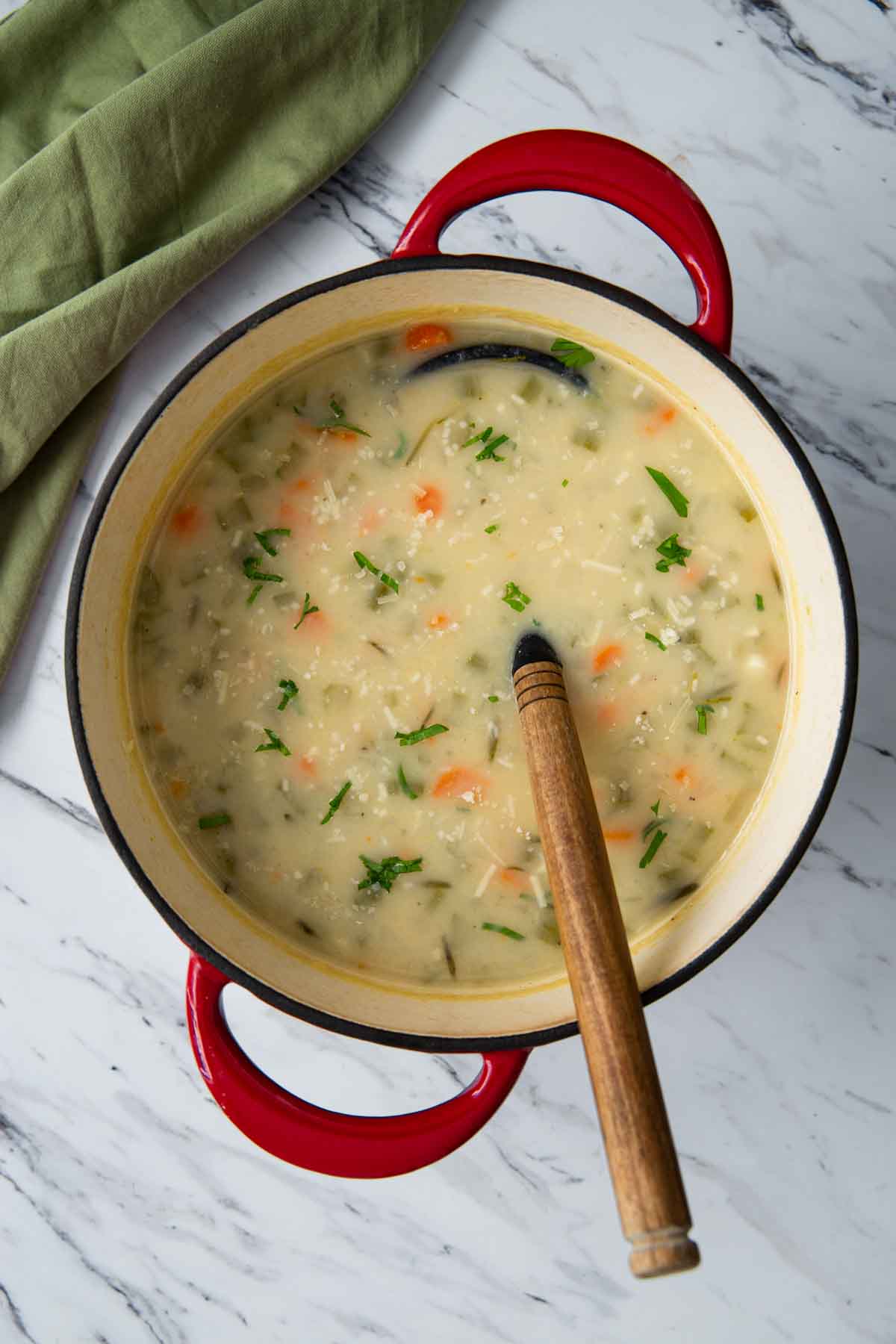 How to make loaded potato soup?
Add heavy cream or whole milk to the soup toward the end of cooking. Also, add some cheddar cheese and Parmesan cheese to turn this soup into the classic cream of potato soup. If you add these ingredients in moderation, you can enjoy this version of the soup without guilt.
Helpful tips!
Blending the soup – To maintain the creamy color of the soup, I prefer removing the cooked potatoes into a mixing bowl to mash them separately and then adding them back to the soup. Otherwise, the mashed carrots add an orangish color to the soup.
Use bone broth or vegetable stock to cook the soup for added nutrition and taste. You can use either a full serving of broth/stock or a mixture of water and broth/stock.
Recipe variations
Vegetarian/Vegan soup – use vegetable stock and skip the Parmesan cheese.
Cheesy potato soup – towards the end of cooking add cheddar cheese according to your preference.
With Seafood – You can also add cooked salmon to the soup. Just pan-sear the salmon with some salt and pepper, break it into small pieces, and then add it to the final soup.
Recipe FAQs
How to thicken the potato soup?
To thicken the soup and make it richer and classic-styled, folks usually add dairy cream and cheddar cheese. However, I avoid using them to make the soup healthy. Simply blending the cooked soup mixture can easily thicken the soup.
How to store leftover soup?
Store the leftover soup in an air-tight container in the refrigerator. Consume it within a couple of days.
Can you freeze the potato soup?
Yes, you can freeze the potato soup in the freezer. Pack it in an air-tight container and then freeze it. Before using it again bring it to room temperature and then boil in a pot thoroughly before serving. You can also add a little bit of rosemary to the soup while reheating.
My potato soup is too thick. How can I thin it out without losing the flavors?
Usually, leftover potato soup upon cooling can become thick. This can happen when there is insufficient liquid while cooking the soup. If this happens to you, simply add more vegetable stock or chicken broth to the soup and bring it to a boil. Add little salt and seasoning to the added liquid. This way the potato soup will not lose its flavor.
My potato soup is gluey.
Overly blended potato soup or overcooking the potatoes can result in a gluey texture. So, avoid using a blender and instead use a potato masher to blend the soup. Also, finely chopping the potatoes and then cooking them for a long time will cause the release of excess starch making your soup gluey. Therefore, cut the potatoes into large pieces and cook them until tender. You can insert a fork into the cooked pieces to check if they are cooked – the fork should go in pretty easily.
More Soup Recipes you will Love!
Love this recipe? Please leave a 5-star 🌟🌟🌟🌟🌟rating in the recipe card below & a review in the comments if you REALLY like this recipe. Thank You!
📖 Recipe
Healthy Potato Soup
Make this simple and easy one-pot healthy potato soup without cream and without cheese. Yet it is creamy and perfect for a clean eating diet.
Ingredients
1 ½ – 2

lb

potatoes

peel and cut into 1-1½" thick pieces

2

medium carrot

dice into small pieces

1

medium onion

dice into small pieces

2

celery stalks

dice into small pieces

2

tablespoon

whole wheat flour

2-3

garlic

finely chopped

2-3

spring of rosemary

2

teaspoon

cooking oil

2

cup

vegetable stock or chicken stock

plus 2 cup water

salt and pepper
Optional
½

cup

milk

2

tablespoon

parmesan cheese
Instructions
In a large pot heat oil on a medium heat. Add chopped garlic, onion and saute them for 1-2 min.

Then add flour and cook for about 1 min.

Add diced carrot, celery, and potato and saute them for 1-2 min.

Now add vegetable stock or chicken stock and water. Mix everything well and bring the mixture to a boil.

Season with salt and pepper and add fresh rosemary leaves. Lower the heat, cover the pot, and cook the mixture for 15-20 min or until the potatoes are well done.

Mash cooked potatoes using a potato masher to thicken the soup and make it creamy (see notes).

Optionally, add milk and parmesan cheese and bring the blended soup to a boil. Turn off the heat.

Finally garnish with fresh parsley and serve warm.
Notes
I use russet potatoes or butter potatoes most of the time to make this soup. As russet potatoes are big, they are easy to peel and cut.
You can skip using carrots as they may give an orangish color to the soup upon blending. I prefer using it to incorporate more veggies in the soup.
Adding a little milk will enhance the color of the soup and make it creamy. However, it's completely optional if you prefer the soup without dairy. I made it several times with and without dairy, and both versions were equally delicious.
Blending the soup – I always use a potato masher to mash the soft-cooked potatoes. It does the job quickly, and the cleanup is also very easy. You can also use a handheld or a regular blender for the job. However, don't over blend the soup rather, use the pulse mode, if possible. Over blending the potatoes can make the soup gluey as the potatoes will release more starch.
Nutrition
Calories:
204
kcal
|
Carbohydrates:
41
g
|
Protein:
4.8
g
|
Fat:
2.9
g
|
Saturated Fat:
0.5
g
|
Potassium:
991
mg
Tried this recipe?
Tag us on Instagram @watchwhatueat or tag #watchwhatueat! OR leave us a comment & rating below. Your feedback is very important to us.