Super simple, only 4 ingredients this watermelon feta basil salad is ready in a jiff! A perfect way to enjoy seasonal fresh watermelons. It is healthy, full of nutrients and gluten free.

Do you love watermelons?
YES!! then you should definitely try this watermelon feta salad.
I really find it amazing. WHY because of it is….
super easy to prepare
under 300 calories
nutritious
tasty
satisfying
So many reasons to eat this salad. You should try it yourself to understand how I felt when I tried it myself :).
How is this watermelon feta basil salad healthy?
This watermelon feta salad is healthy due to its ingredients.
Watermelon is a great source of Vitamin A, Vitamin C, and Vitamin B-6.
Strawberries are a good source of Potassium and Folate. It is also rich in dietary fiber, Vitamin C, and Manganese.
Feta Cheese provides calcium, protein, Vitamin B6 and B-12 to the body. Dairy products when eaten in moderate amounts are good for health as they contain saturated fat.
Basil is a herb. And, it contains anti-bacterial, anti-inflammatory and antioxidant properties.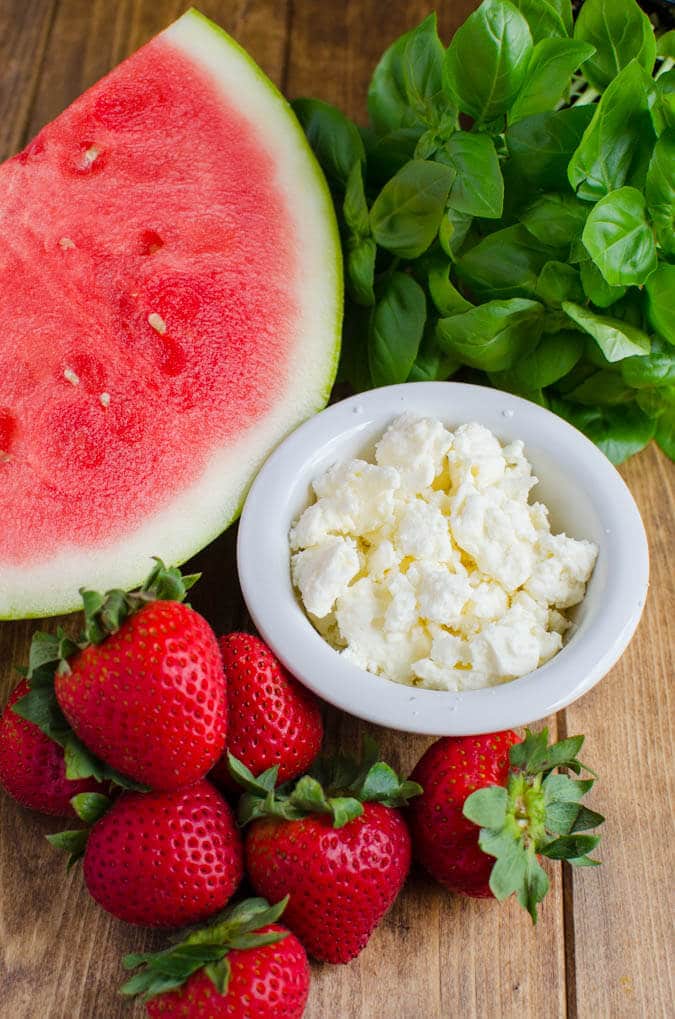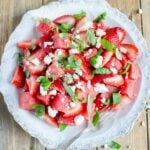 Watermelon Feta Basil Salad
Only 4 ingredients: this watermelon feta salad is perfect to enjoy seasonal fresh watermelons and strawberries.
Ingredients
5-6

cups

watermelon pieces

(about 1" in size)

2

cups

strawberries cut into quarter

1/2

cup

crumbled feta cheese

1/4

cup

loosely packed fresh basil roughly chopped

salt to taste

(optional)
Instructions
In a large mixing bowl combine watermelon, strawberries, cheese and basil. Gently mix to avoid breaking the watermelon pieces.

While serving, add little bit of salt to enhance the taste (remember feta cheese has some salt in it). It is completely optional and tastes great even without it.
Recipe Notes
Chill watermelon pieces before preparing the salad to enjoy the cold version.
Tastes amazing when fresh. However, you can refrigerate the leftovers for the next day.


Disclaimer: This page includes affiliate links which help make this blog possible. Thank you for your support.
If you loved this recipe you will also love these fresh fruit based summer recipes