This easy homemade granola is prepared using rolled oats, nuts, seeds and chocolate. It is almost like a mixture of trail mix + rolled oats. Super easy to prepare and can be customized according to our likings. If you are here for homemade granola recipe then you will definitely love this crunchy chocolate covered granola.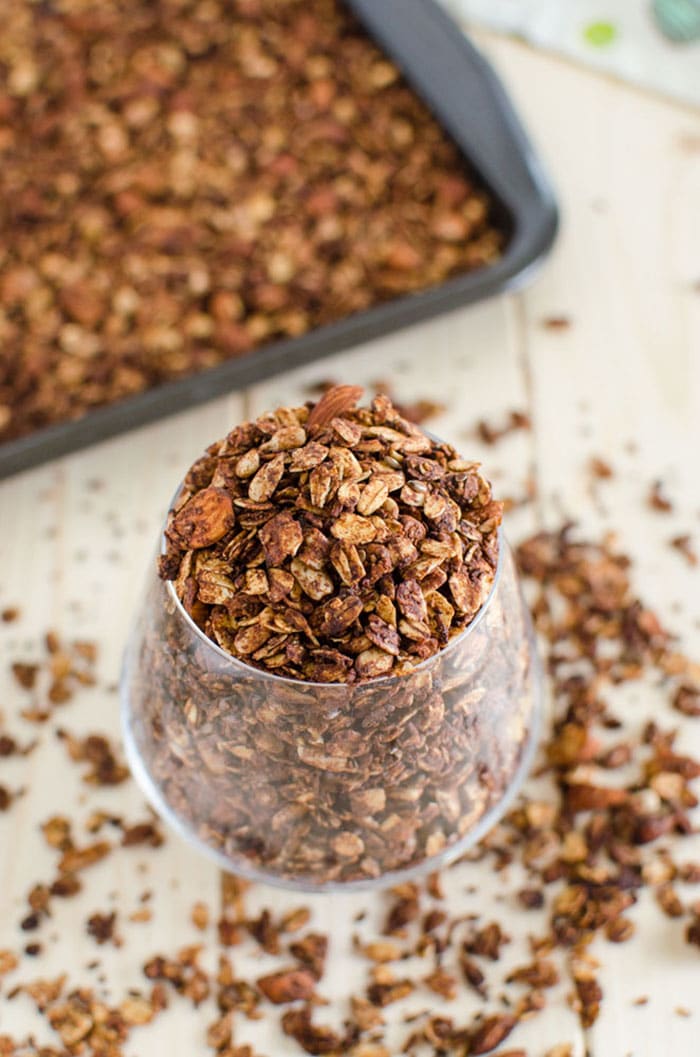 We have always bought granola from our local grocery store. The downside of store brought granola is that it is loaded with refined sugar. Also, it is much more sweeter than what we prefer eating. Therefore, (& finally :P) I decided to try it out at home. I never thought that making granola is so easy until I gave it a try in our kitchen. You just have to be careful about time and temperature of the oven. And, the result will be be perfectly crispy and a easy homemade granola that can be enjoyed in morning breakfasts.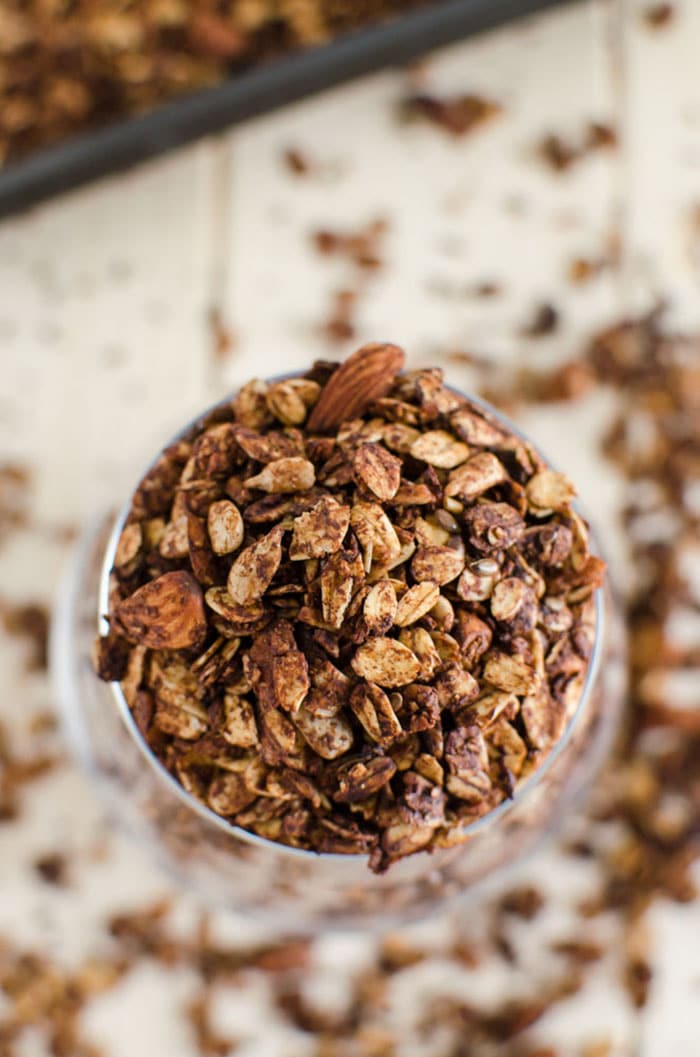 Once ready, this granola can be used in making different recipes such as granola parfait, granola bars, smoothies etc. Or, it can also be enjoyed as a breakfast cereal with milk in the old fashioned way. I love all the flavors in this version of granola… it is
nutty

chocolaty

crunchy

crispy

toasty

nutritious
How this easy homemade granola is healthy
This easy homemade granola is healthy because it is prepared using….
rolled oats that are healthy whole grains rich in dietary fibers

nuts like almonds, walnuts that are a natural source of healthy saturated, essential unsaturated and monounsaturated fats, vitamins, and essential amino acids

seeds like sunflower and flaxseeds that are excellent source of healthy protein, dietary fibers, essential vitamins and minerals

natural sweetener like agave or honey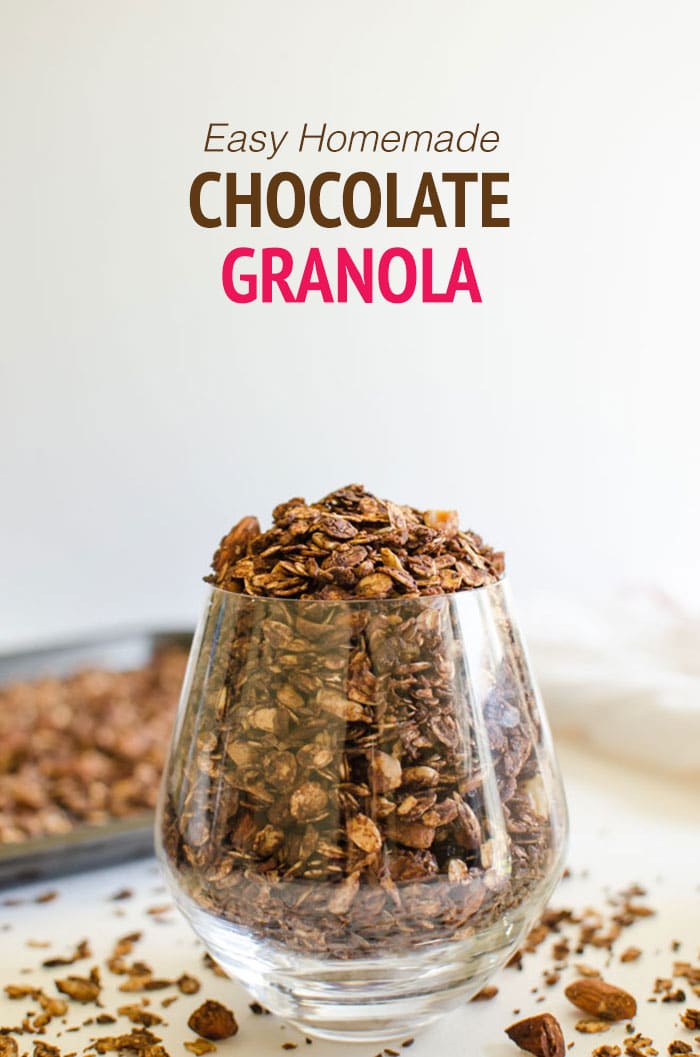 Chocolate Covered Homemade Granola
This homemade chocolate granola is super easy to prepare and has a perfect crunchy texture. Healthy, nutritious and naturally sweetened
Ingredients
2

cup

old fashioned rolled oats

1/2

cup

raw almonds

1/2

cup

walnuts

1/4

cup

sunflower seeds

1/4

flaxseeds

2

tbsp

cocoa powder

1/4

cup

agave*

2

tbsp

peanut butter

1

oz

100% dark chocolate*

2

tbsp

avocado or olive oil
Instructions
Preheat the oven at 350F.

In a large mixing bowl, add dry ingredients like rolled oats, almonds, walnuts, sunflower seeds and flaxseeds. Mix thoroughly.

Heat a small pan on a medium heat. Lower the heat and add agave, peanut butter, oil, cocoa powder and dark chocolate and mix until well combined. Then add the chocolate mixture into the oats mixture. Using spatula, give it a mix to coat the chocolate mixture evenly

In a large baking sheet, spread the granola evenly and transfer it to the preheated oven. Toast the granola for about 15-20 min or until oats and nuts become crispy. About halfway into the baking, stir the mixture for even cooking. Do not overcook else, it will give a burnt flavor.

Once cooked, remove the baking sheet and let it cool to room temperature. Store this healthy homemade granola in an airtight container to enjoy them whenever you want.
Notes
You can adjust the sweetener according to your taste
I used 100% dark chocolate. However, you can use any chocolate according to your preference
Nutrition
Tried this recipe?
Tag us on Instagram @watchwhatueat or tag #watchwhatueat! OR leave us a comment & rating below. Your feedback is very important to us.

If you like this recipe in any way, spread the love by sharing with your friends and family. 
Your valuable feedbacks and comments will make our day and encourage us to share more great healthy recipes with you. Thank you for stopping by!
If you love oats then you will also enjoy these breakfast recipes