This healthy and homemade sweet potato gnocchi is prepared using a whole grain flour blend and fresh sweet potato puree. You will never want to buy gnocchi from the stores once you try this.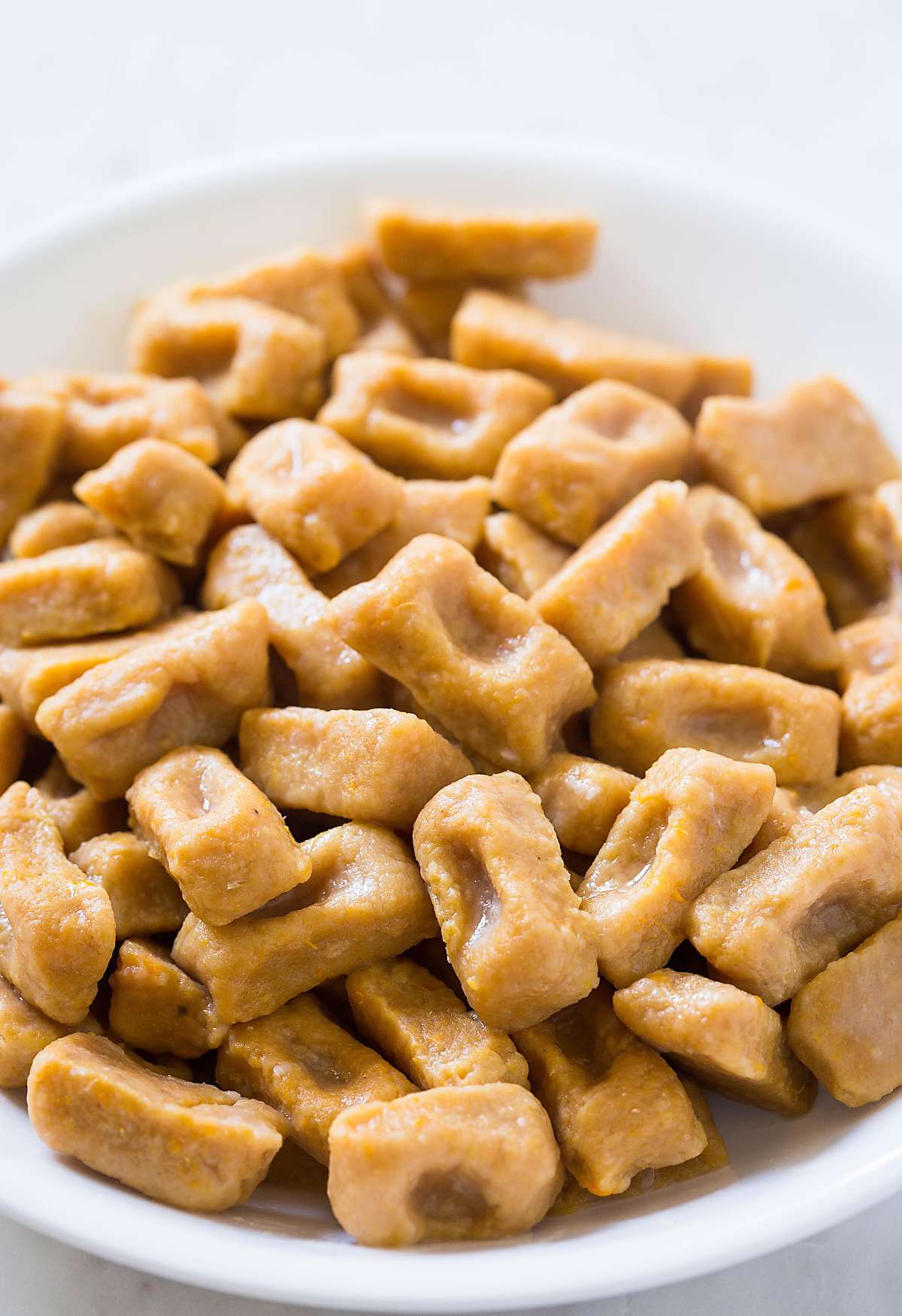 Have you ever tried making pasta at home?
If not, I'd strongly suggest trying at least once to see the difference between store-bought and freshly made pasta. I know sometimes it seems difficult to make staple dishes like pasta, and bread at home. Especially, when they are readily available in the market who would want to go the extra mile in making them at home. That's what I thought until I tried making whole wheat ravioli, healthy fettuccine, and this sweet potato gnocchi at home.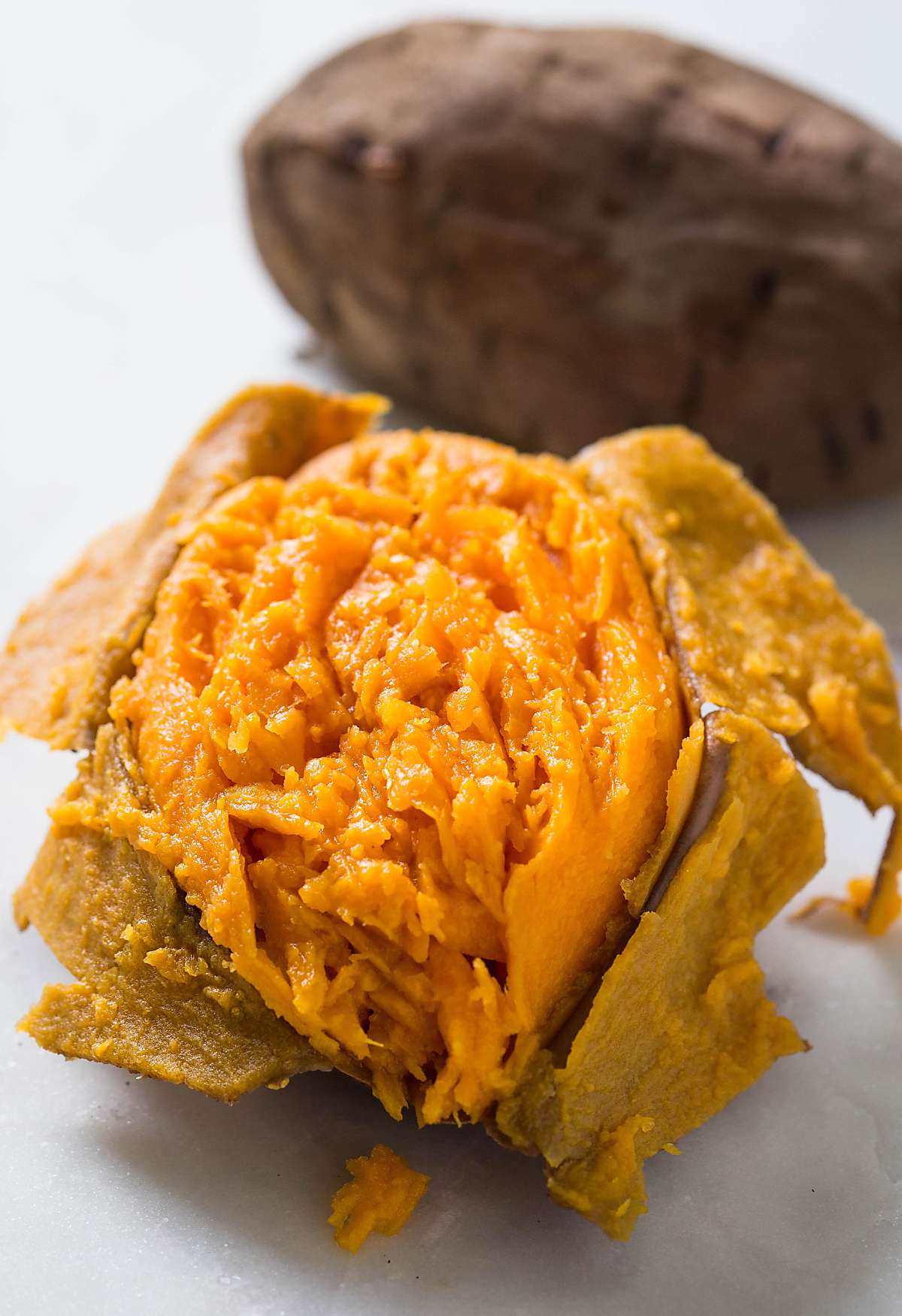 Homemade pasta brings such a huge difference in the taste of pasta dishes. I can't stress enough how tasty and flavorful they become. Moreover, it is healthy and free from all sorts of chemicals and artificial preservatives. You have full control over what's going in your pasta.
Don't worry, this gnocchi pasta recipe neither requires a whole lot of your time nor any special skills.
Healthy Sweet Potato Gnocchi Recipe
To prepare the pasta dough, combine whole wheat flour, some brown rice flour, and sweet potato puree. I also added some minced garlic to enhance the taste. Knead the dough until it combines well. Divide the dough into 6-8 equal parts and roll into ½ inch thick log. Then, cut the log into 1″ pieces to form the gnocchi. Give it any shape you like and cook them in boiling water for a few minutes.
Once cooked toss them in the sauce of your liking. Or, you can also make stir fry gnocchi with spinach and sun-dried tomato.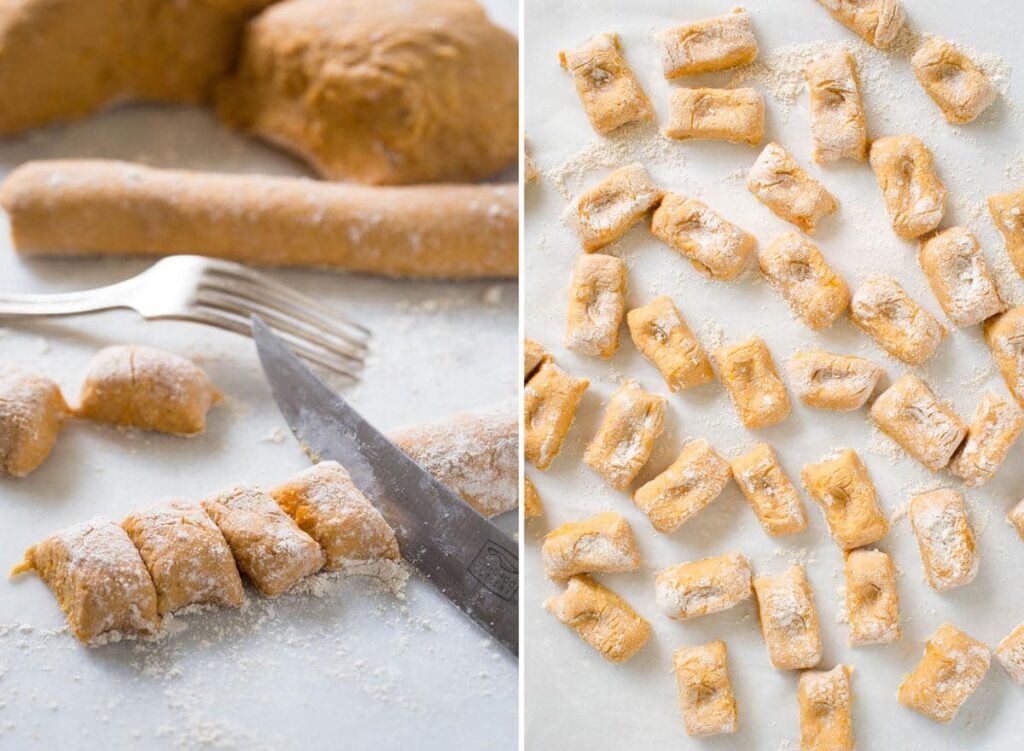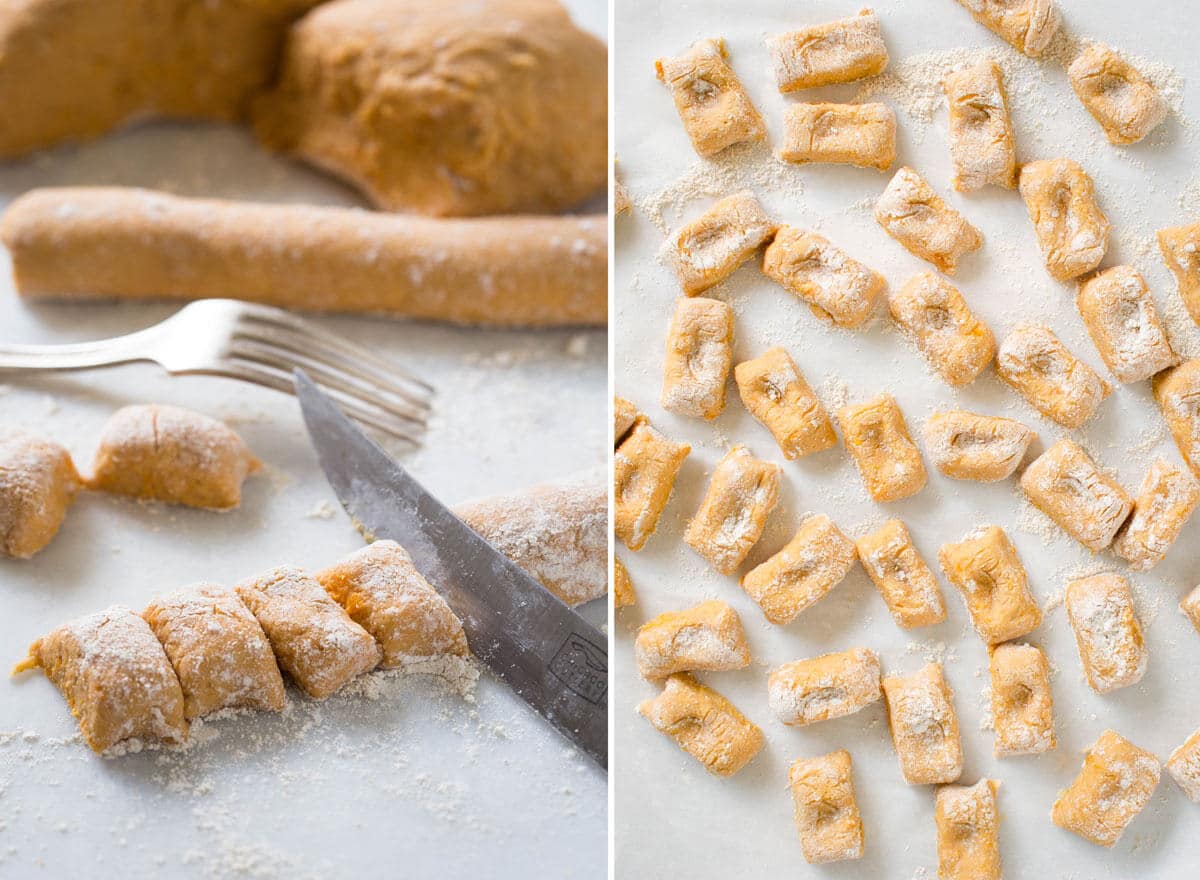 Helpful Tips!
To make sweet potato puree (for pasta) at home, either cook them in the microwave or roast them in the oven. DO NOT boil them in water. Boiled sweet potato puree absorbs a lot of water and requires much more flour than normal to make the dough.
Use a food processor to combine the sweet potato puree and flour. Pulse for a few seconds and then transfer the mixture onto a flat surface. Using your hands, form it into a dough ball. This way, it takes a lot less effort to make the dough.
Use the back of a fork or gnocchi board to give a traditional look to the gnocchi.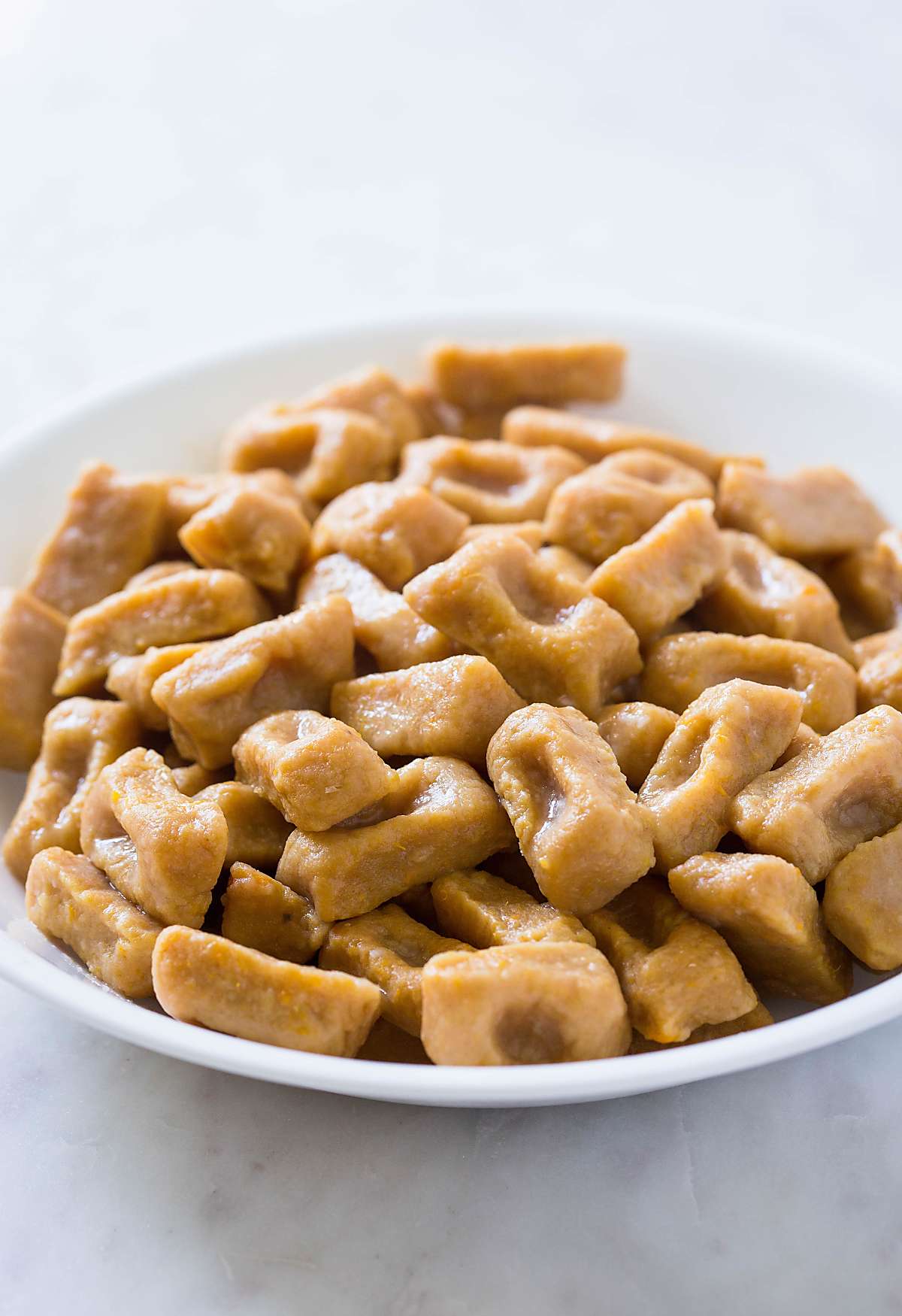 Health Benefits
The key ingredients of this gnocchi recipe are sweet potatoes, whole wheat, and brown rice flour.
In addition to simple starch content, sweet potatoes are rich in dietary fibers, complex carbohydrates, and beta-carotene. Beta-carotene is a precursor for vitamin A. It is also a decent source of vitamin C, potassium, and fiber. According to the Center for Science in the Public Interest sweet potato is one the best vegetable you should eat.
Whole grain-based flours like whole wheat flour and brown rice flour are high in dietary fiber compared to all-purpose flour.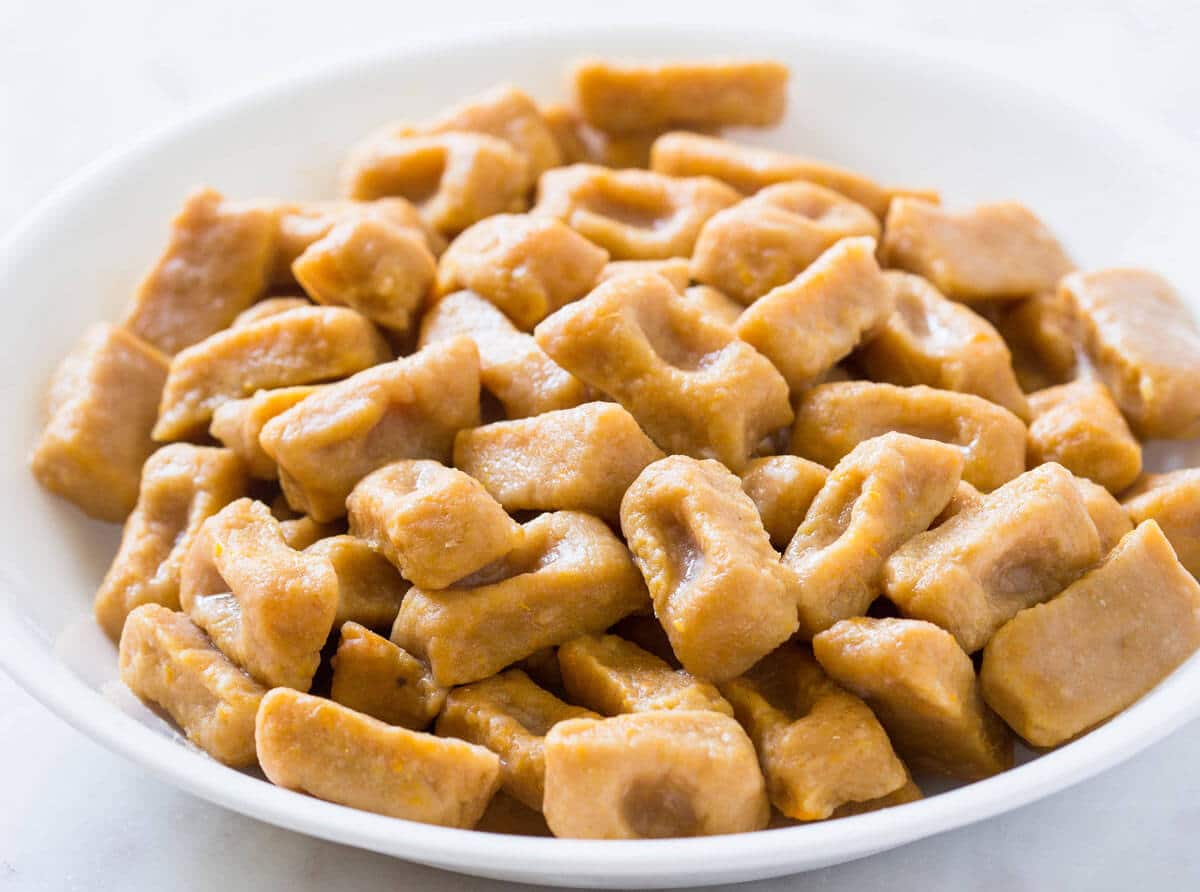 More Italian Inspired Dishes To Try
📖 Recipe
Homemade Sweet Potato Gnocchi Recipe
Learn how to make sweet potato gnocchi the easy way using fresh sweet potato puree and healthy flour blend.
Ingredients
2

large sweet potatoes

(around 1 lb)

1

cup

whole wheat flour

(plus more for dusting)

½

cup

brown rice flour

2-3

garlic

finely minced

salt and pepper
Instructions
Randomly poke sweet potatoes using a fork at some places. Then cook it in the microwave for 6-7 min or until soft and tender. Allow it to cool for some time.

Once cool scoop out the pulp from the sweet potatoes. Add the pulp to a food processor along with all other ingredients. Pulse the mixture until well combined.

Transfer the flour mixture to a flat surface and knead into a dough ball.

Divide the dough roughly into eight equal parts. Roll each part into ½″ log and then cut the log into 1″ pieces.

Slightly press the gnocchi using finger at the center to give it a pillowy shape. Else use back of the fork or gnocchi board to form the serrations.

Cook the prepared pasta in boiling water for 3-4 min or until they start to float on the surface.
Notes
If you do not have a food processor combine the pulp with other ingredients in a mixing bowl and knead it into a dough using your hands.
Once cooked stir-fry this homemade sweet potato gnocchi with sundried tomato and fresh spinach.
Nutrition
Tried this recipe?
Tag us on Instagram @watchwhatueat or tag #watchwhatueat! OR leave us a comment & rating below. Your feedback is very important to us.