Do you love NAAN BREAD and wonder what to eat with it? Then you have to try this naan bread vegan wraps. The filling for these wraps is prepared using mainly chickpeas and lettuce leaves topped with mint flavored avocado dressing.
A few weeks back I shared with you guys a recipe for making naan bread at home. I am very happy to tell you, this is the most viewed recipe on this blog till date. The other day when I was analyzing my google analytics, I realized that google is also indexing this naan bread recipe for the keyword "what to eat with naan". This implies people are looking for various options as to eat with naan bread. Now you can imagine, this inspired me to make this vegan wraps using naan bread.
If you have leftover naans then these wraps will be ready in less than 20 mins. You can also use pita bread instead of naan if yo don't have time to make homemade naans. And, the fillings of this wraps are so flavorful that it will taste wonderful even with soft tacos or tortillas.
How these vegan wraps are healthy?
These vegan wraps are healthy because:
the base for this wraps are whole wheat naan bread.
fillings of these wraps is prepared using chickpeas. And chickpeas are the source of good protein
it does not contain added saturated fats like butter and cheese
it contains good fat from avocado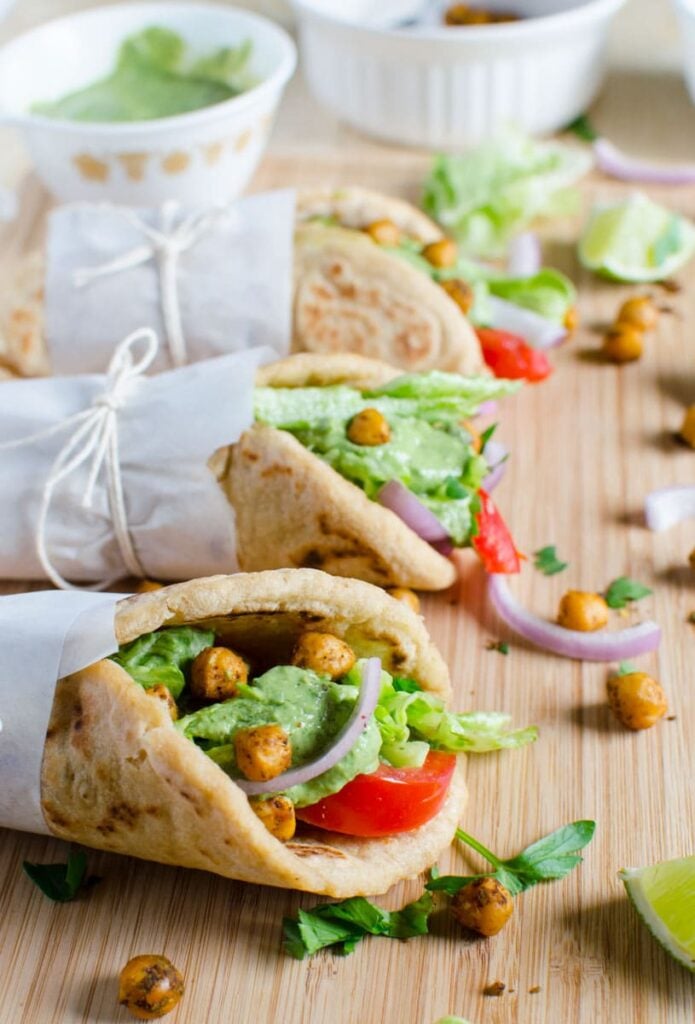 Vegan Wraps Using Naan Bread
Naan bread vegan wraps filled with toasted chickpeas. This wrap is healthy and filling.

Ingredients
4

whole wheat naan breads

(homemade or store brought)

1

roma tomato seeded and sliced

1/2

red onion sliced

leaves

lettuce of your choice

1

can chickpeas drained and rinsed

1-2

clove

garlic minced

1/2

sp cumin powder

1/2

tsp

curry powder

(or garam masala if you have)

1/4

cup

fresh parsley leaves

t

tsp avocado oil or cooking oil

salt and pepper

.

DRESSING:

1/2

avocado

1/2

cup

loosely packed fresh mint leaves

1/2

cup

plain non-fat greek yogurt

(optional for vegan)

1/2

tsp

cumin powder

1/2

cup

skim milk

(or water will work too)

1

Jalapino

(optional)

salt and pepper
Instructions
Heat oil in a pan on medium heat. Add garlic and toast it for few sec or until fragrant.

Add rinsed chickpeas, cumin powder, curry powder (or gram masala), salt and pepper. Toast the mixture on low heat for about 5-7 min. Let it cool for few min

Until chickpeas are cooling down, transfer all the ingredients listed under dressing. into a blender. Mix until you get a smooth consistency.

Place bread on a flat surface. Put some chickpeas, sliced onions, sliced tomatoes, parsley and lettuce leaf on the bread surface.

Drizzle some mint avocado dressing over chickpea fillings. Carefully wrap the bread. Enjoy these vegan wraps for any meal, dinner or lunch
Recipe Notes
If you love dark green color in dressing then add some fresh parsley or cilantro while blending the dressing ingredients

Some more recipe options that you may like:
If you like this recipe in any way, spread the love by sharing with your friends and family. 
Your valuable feedbacks and comments will make our day and encourage us to share more great healthy recipes with you. Thank you for stopping by!