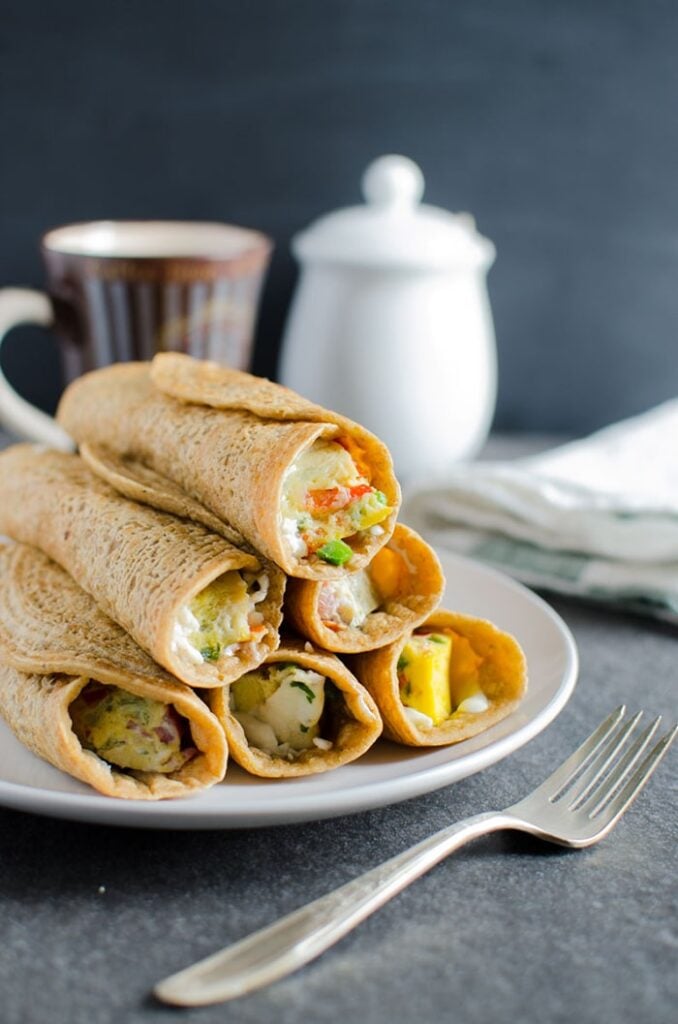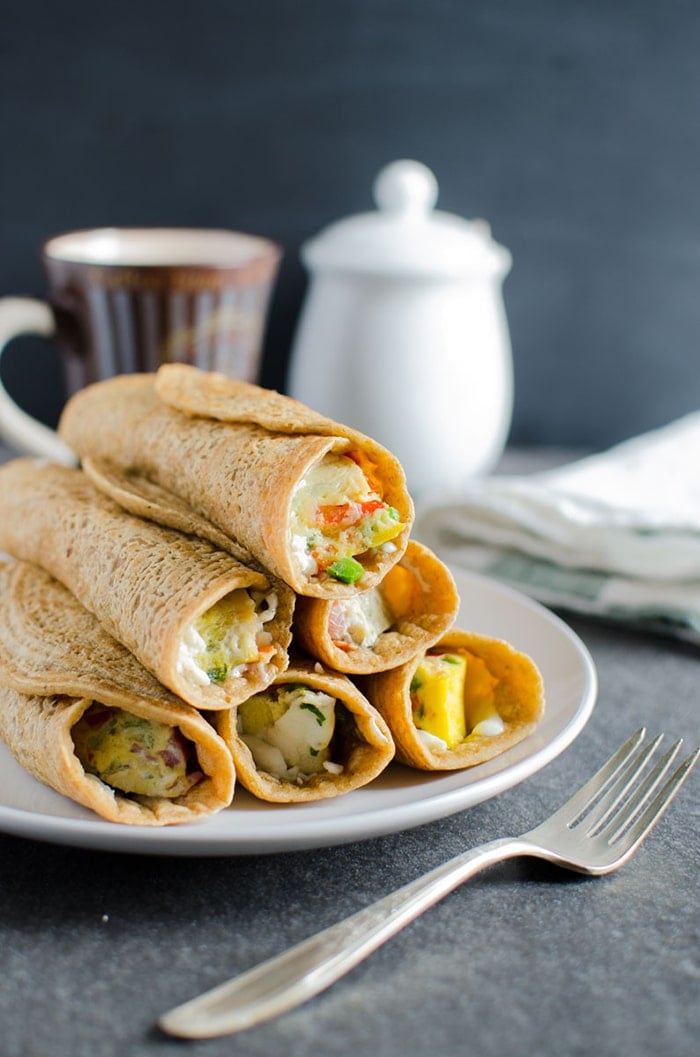 If you are looking for a sugar free and savory version of pancakes for breakfast—then you've stumbled at the right place! These oatmeal pancake roll-ups has everything that can count as an ideal breakfast. It contains whole grains, proteins, fresh veggies and in small amounts dairy too. 
I got an idea of making these oatmeal pancake roll-ups from Nutella or cream cheese filled french toast roll-ups. I feel God has given me a somewhat less sweet-craving tooth. This may be the reason that I have always look for recipes that are savory or less sweet. And, things are exactly the opposite with Dr. Gulati. He still gets confused while emptying the dishwasher and arranging cleaned dishes. But, he exactly knows where I keep all the sweet things in the house how hard I try to hide them. I think because of him you will find sweet recipes too on this blog. If you find anything sweet that you like here then thank him (:P).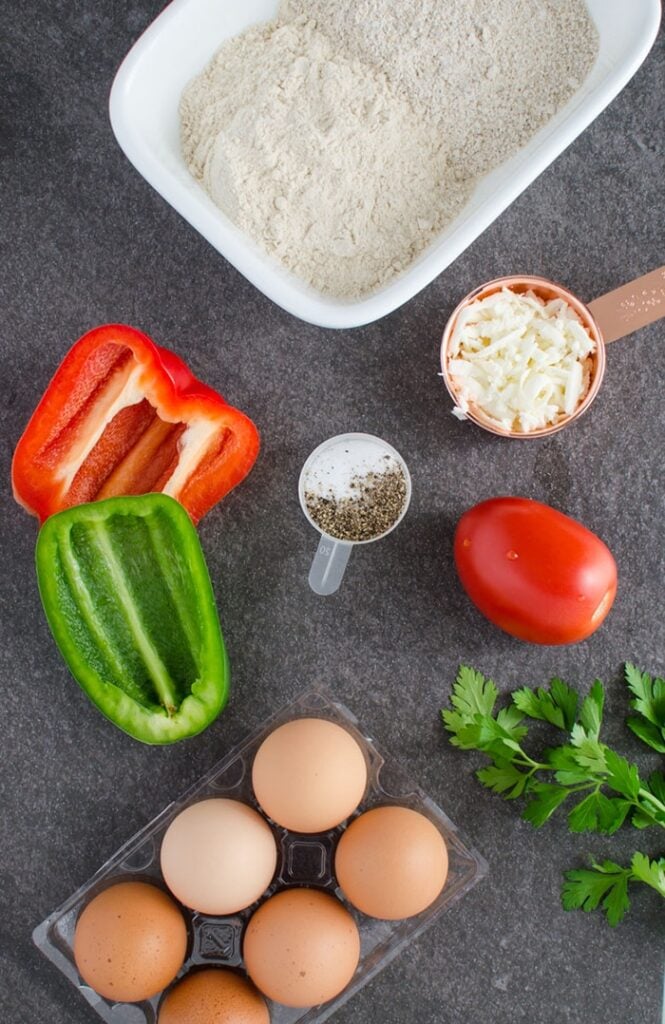 Coming back to the oatmeal pancake roll-ups. These are very simple and easy to prepare. Combine eggs, veggies and microwave in a dish with a flat bottom. Then, cut the cooked egg-veggie block into stripes. Prepare pancakes in the old fashioned way and wrap the egg-veggie stripes with the cheese of your liking. If you want to make egg free pancakes then you can try this healthy oatmeal pancake recipe.
How this oatmeal pancake egg roll-ups are healthy
These oatmeal pancake egg roll-ups are healthy, because these are:
high in protein content

rich in fibers and

does not contain added sugar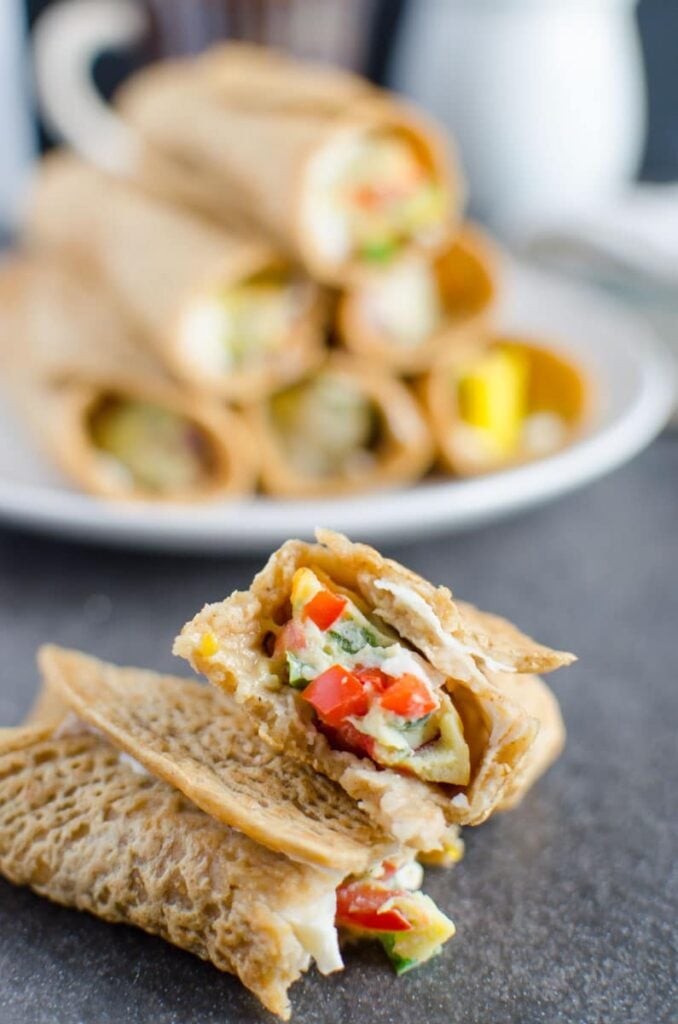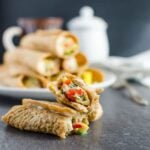 Oatmeal Pancake Egg Roll-Ups
Healthy oatmeal pancakes stuffed with eggs, fresh veggies and some cheese too. Ideal for sugar free morning breakfasts.
Ingredients
PANCAKES
1

cup

oats flour

(ground rolled oats)

1

cup

100% whole wheat flour

1 1/2

cup

water

1

tsp

baking soda

salt

1

tbsp

cooking oil
STUFFING
4

eggs

(possibly organic)

1/3

cup

finely diced red pepper

1/3

cup

finely diced green pepper

1

roma tomato seeded and finely diced

2

tbsp

chopped fresh parsley

1/3

cup

fresh mozzarella cheese

salt and pepper
Instructions
Combine all the pancake ingredients except baking soda and oil. Mix well and set aside

Whisk eggs in a medium bowl. Add finely diced peppers, tomato, parsley and salt; mix well

Transfer the egg mixture to a lightly greased microwave safe bowl with a flat bottom (preferably square).

Cook the egg mixture in the microwave for about 4 to 5 min or until well done. Once done, let it cool for about 5 min

Transfer the cooked egg-veggie block on to a flat surface. Cut the block into stripes of about 3/4" wide.

Heat a nonstick pan on medium heat. Add baking soda to the pancake batter and mix well. Pour about 1/4 cup batter on the lightly greased pan and spread the batter to make pancakes as thin as possible (thin pancake will be easy to roll). When bubbles start to appear and surface seem to dry flip it over. Cook for about a min. and flip it over again.

Spread about 1 tbsp of freshly grated cheese on one side of the pancake. Put the egg-veggie block on one side and carefully roll towards the other. The cheese will help hold the pancake roll. Serve warm to enjoy this protein filled and healthy oatmeal pancake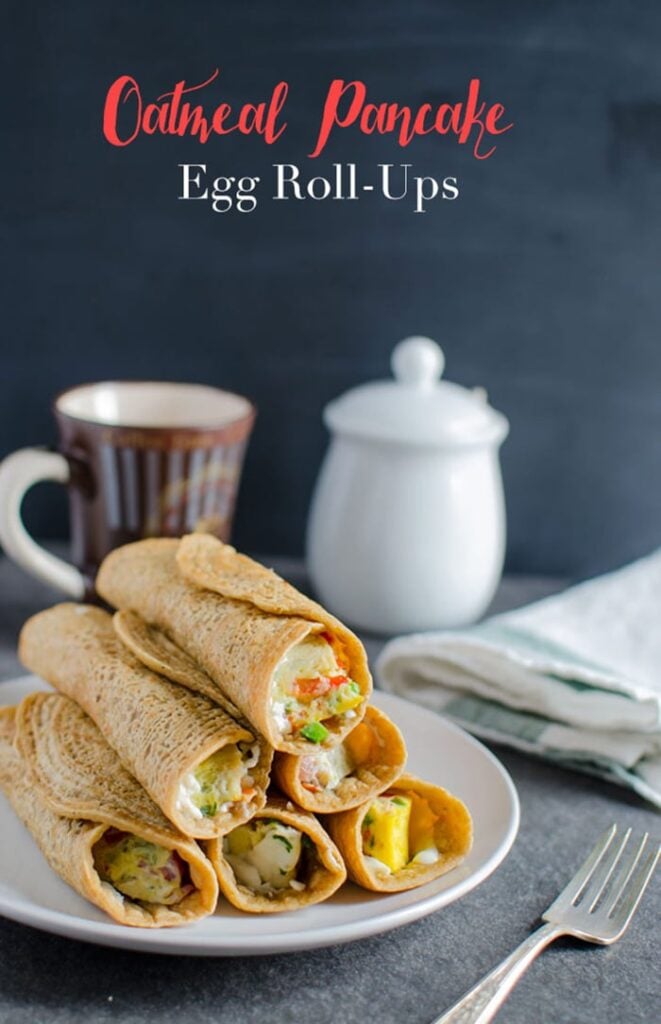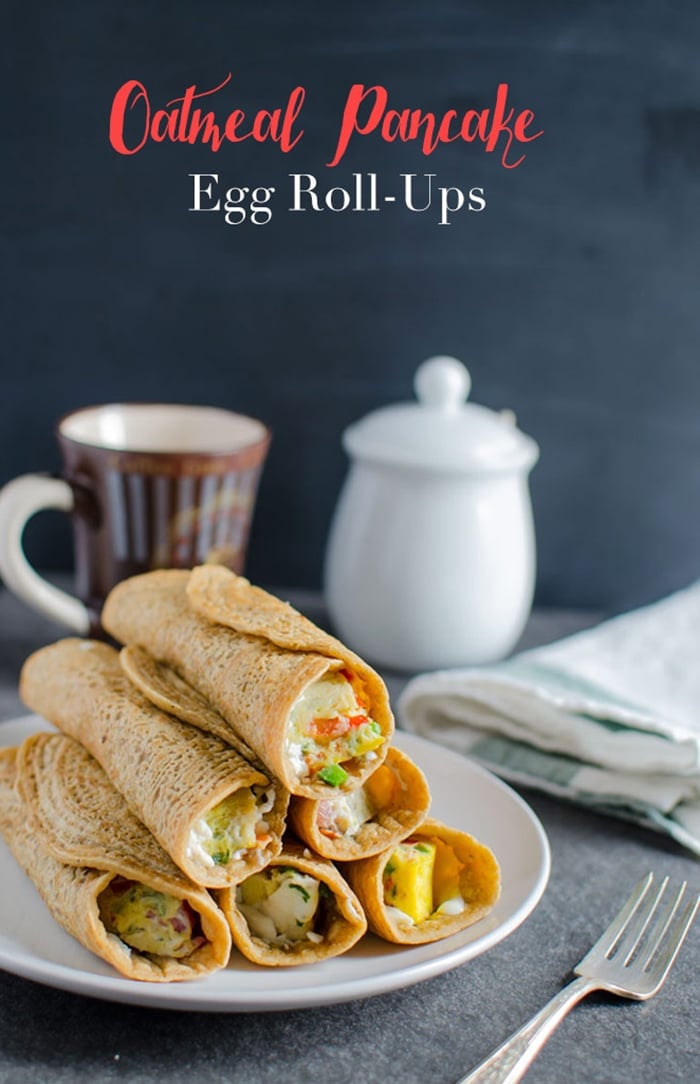 You may also like these breakfast options: